Out of the Kitchen January 2015
We're back with another Out of the Kitchen post! Here's what we've been up to for the month of January!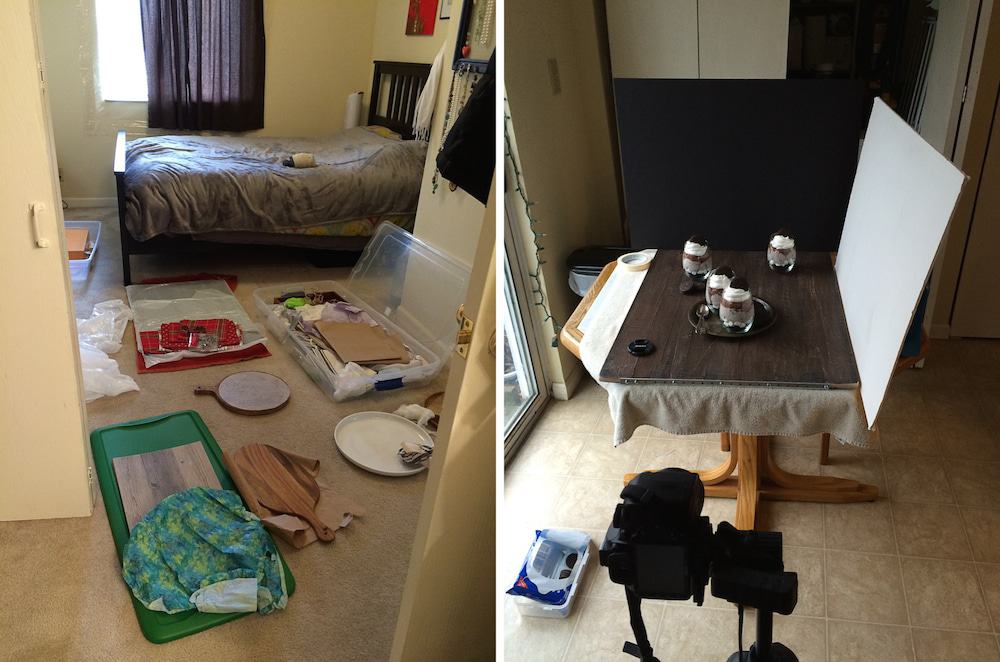 I find unique ways to store blog props in our tiny 600 square feet house. Sometimes they don't fit in there homes and they end up all over the floor. Which is great for me because than I can see everything, haha. And here is a behind the scenes from these amazing Over the Top Chocolate Cheesecake Oreo Parfaits I posted for Valentine's Parfait Week. Did you like that week? 3 delicious parfait recipes perfect for Valentine's Day!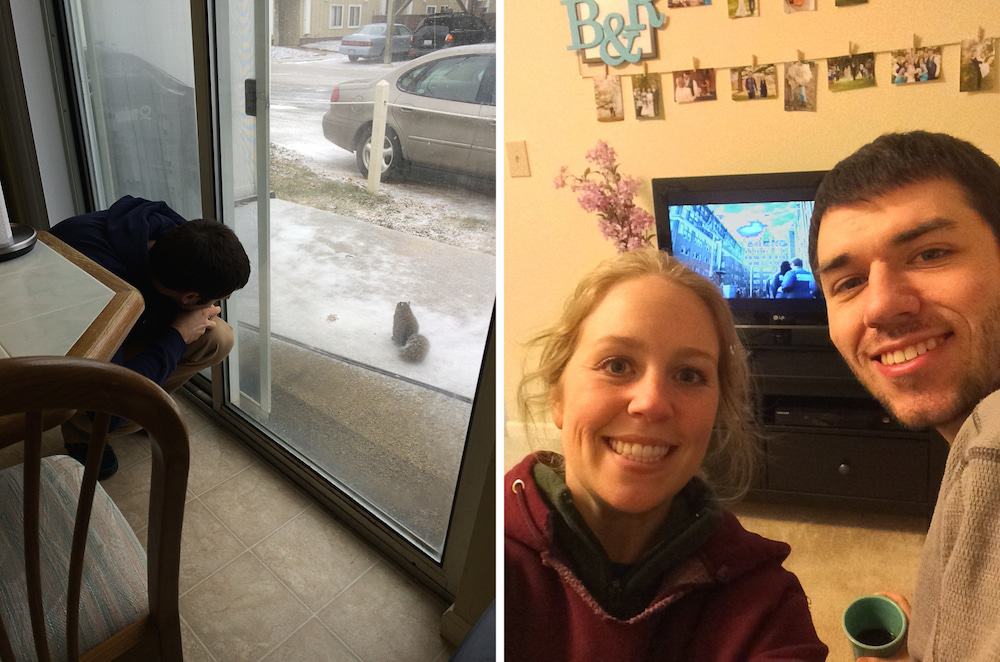 Ryan is still feeding the neighborhood squirrels, just like he did last month :) And this second photo was an exciting moment – we were actually watching a tv show when it was on tv! That never happens, our weeks become really busy. But we seem to be hooked on Gotham, have you seen it?
The cake that was almost a cake.. until it fell apart! Boooo. The strawberry mousse I used for the filling wasn't firm enough, so the cake started buckling and sliding off. But, it worked out in the end because I turned the recipe into easy strawberry mousse, find it here! And Ryan was helping me hold the football shaped pretzels on top of the oreo balls until they set. Remember to check out these football oreo balls for next season's kick-off game!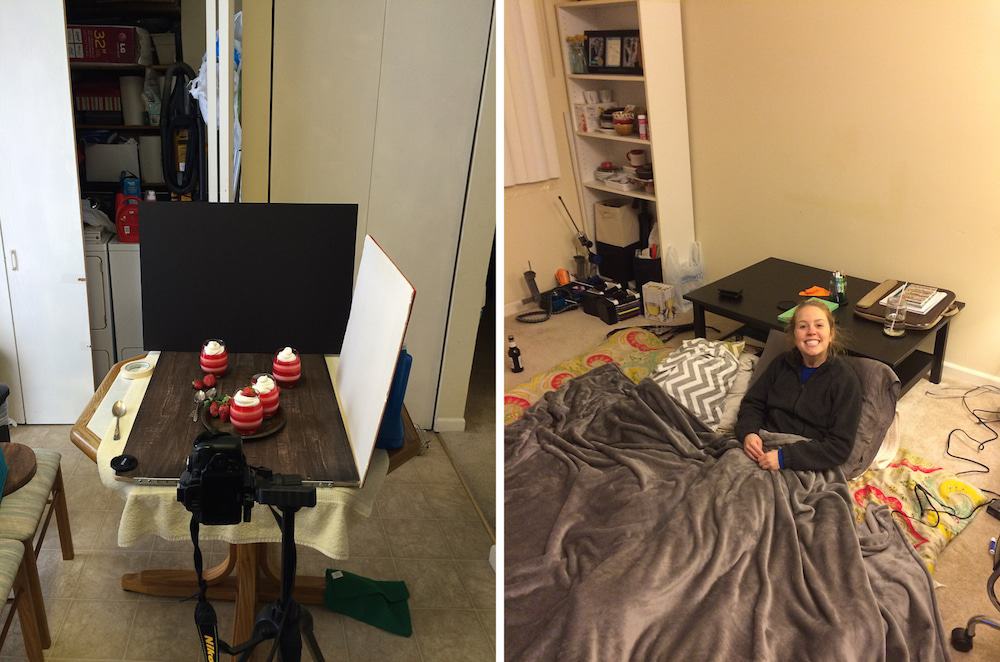 A behind the scenes from these crazy delicious and fun layered strawberry jello parfaits! You still have time to make these for your Valentine! And we've been without a couch since August, so this is our make shift 'couch'. We should be finally getting the couch we ordered this week!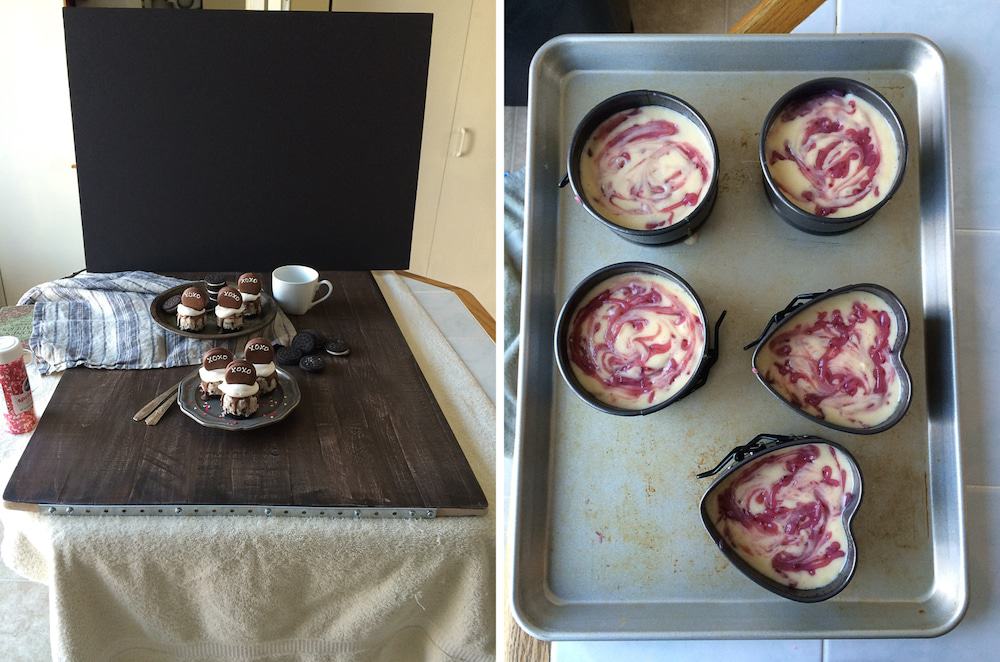 Did you see the no bake oreo cheesecakes we shared this week? Complete with XOXO chocolate dipped oreos! They are one of three recipes we're sharing for Valentine's Cheesecake Week! And this second photo.. these little cakes might look delicious, but after they got done baking, they were a total flop. All of the raspberry filling sunk to the bottom. I'll have to try this one again.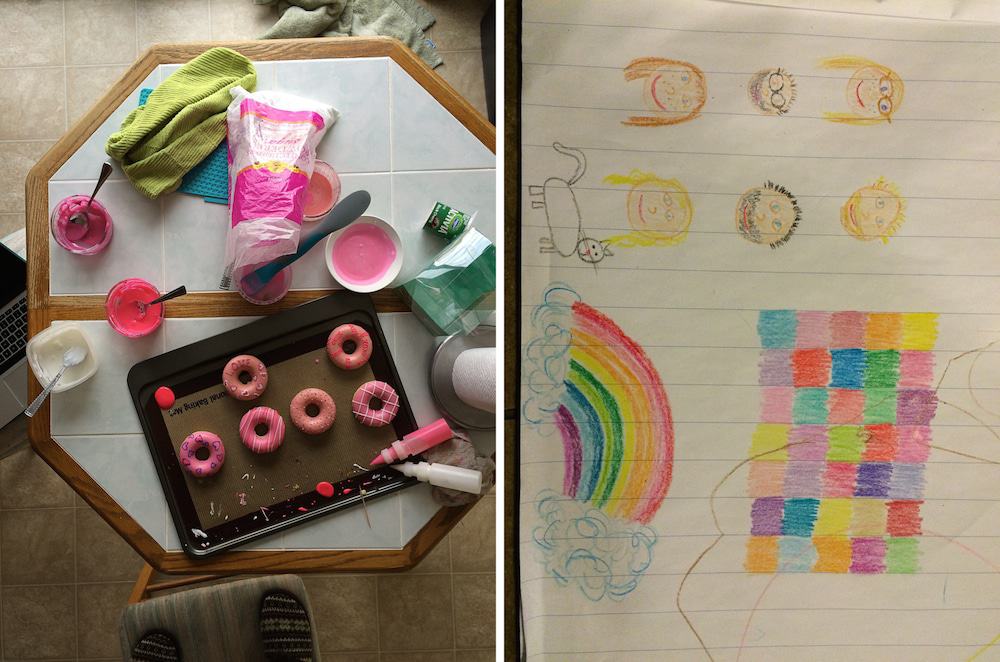 Here is a sneak peek of valentine's day donuts we'll be posting this week! They were a labor of love but turned out to be perfect! I'm usually not a pink girl, but I am loving the colors of these donuts. And my nanny kids love drawing with me, here is a picture I drew – very eclectic right?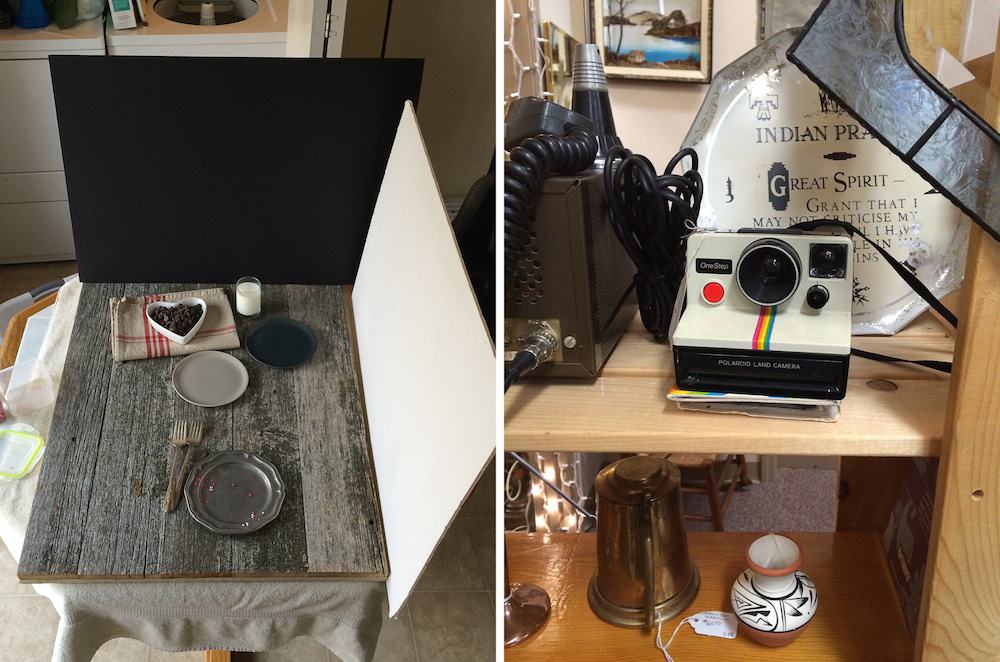 A behind the scenes picture from cheesecake week! I love this antique barn wood board from Erickson Wood Works, they make some amazing backgrounds! And here is a fun picture from our trip to the antique store – how awesome is this old Polaroid camera?!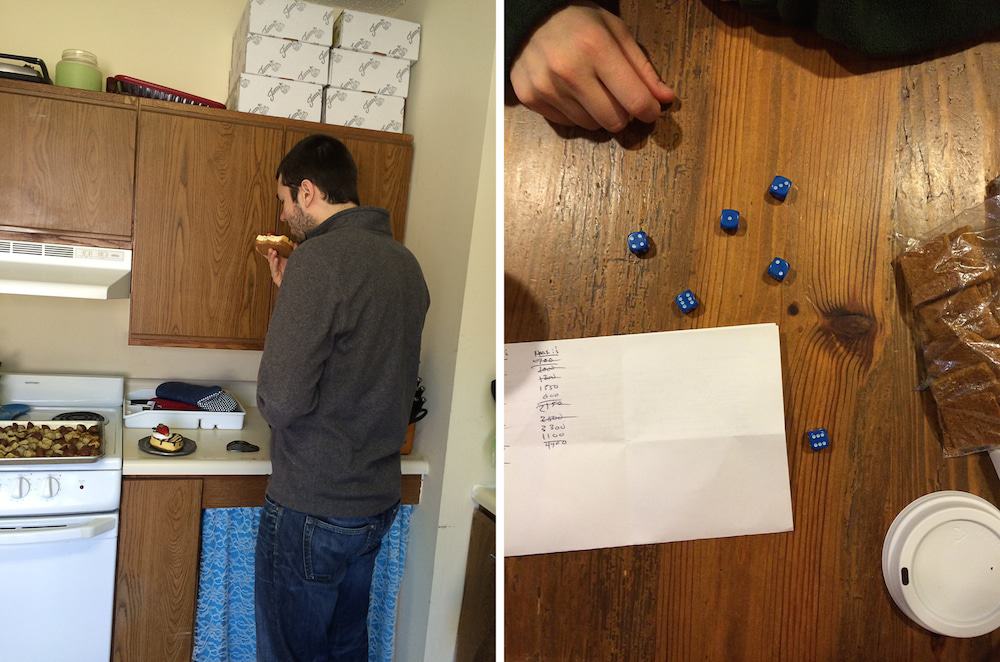 I caught someone eating these heart shaped classic cheesecakes! Not even with a fork.. he picked the whole thing up! And Starbucks date night with the game Farkel. It's a fun dice game, you can check it out on Amazon.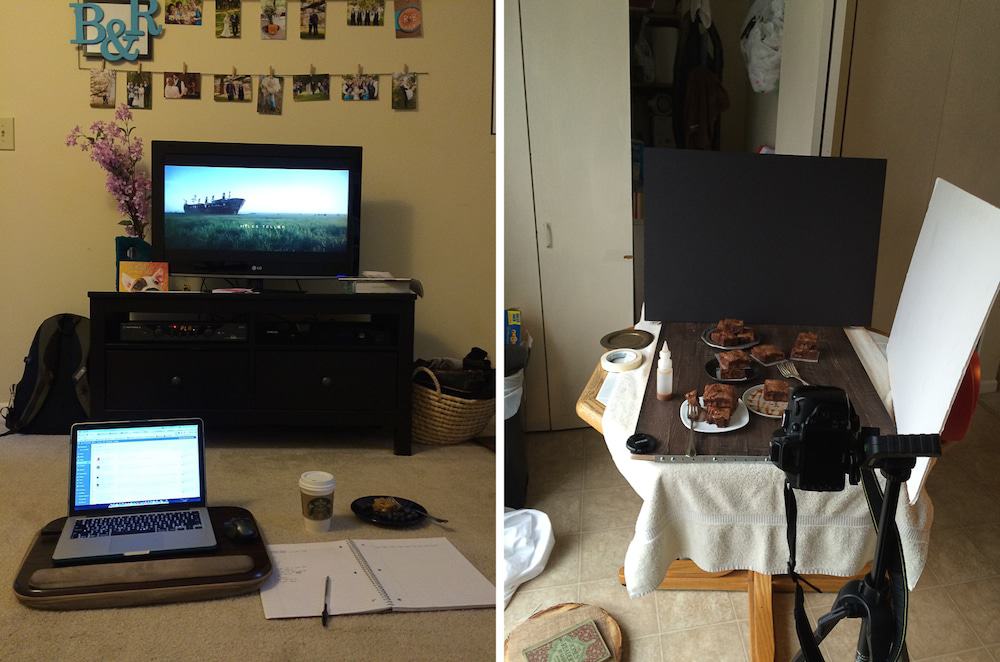 This is how I work – Starbucks (leftover from date night!), homemade quinoa granola bars, and Divergent. Plus lots of brainstorming for St. Patrick's Day recipes! And here is a behind the scenes photo from rolo stuffed brownies. They are oozing with caramel, don't miss that recipe coming up next week!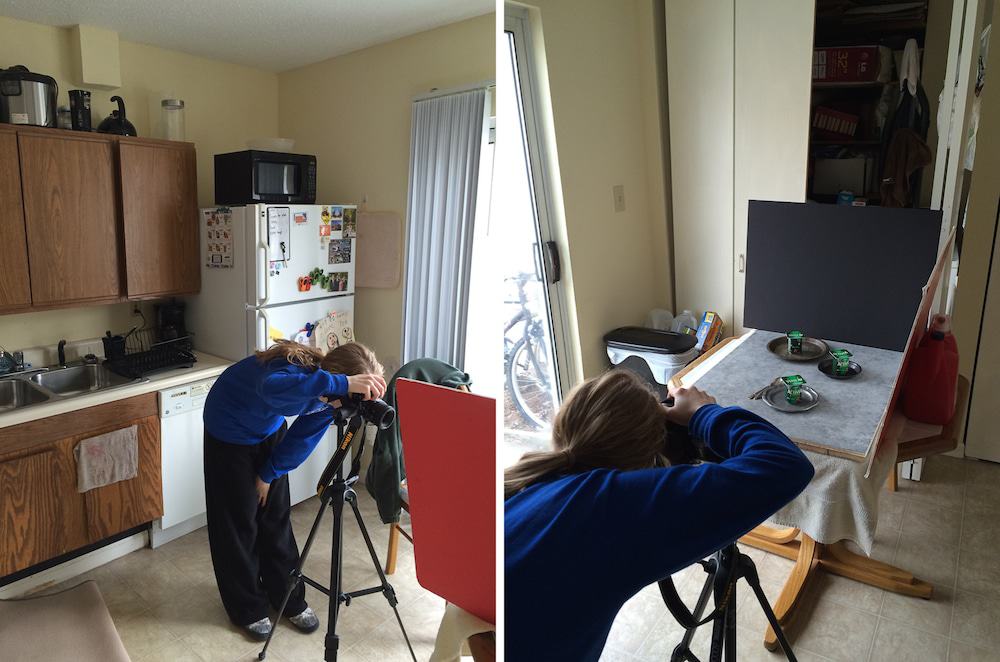 Ryan snapped a few behind the scenes pictures. Do you like my apparel? They are my PJs, and I love staying in my PJs all day Saturday if I can :) And you may be thinking, "Is Beth taking pictures of Activia yogurt?" They are acting as stand ins for the ice cream bars I was going to be shooting while I got my camera settings set up.
And we got a DOG!!
Just teasing. We offered to take our neighbor's dog for a snowy walk. Well it was more of a half run/walk during a blizzard but it was fun to pretend to be dog owners!
Do you have a favorite moment from January?