Over the Top Chocolate Cheesecake Oreo Parfaits
Over the Top Chocolate Cheesecake Oreo Parfaits – this is the BEST chocolate parfait!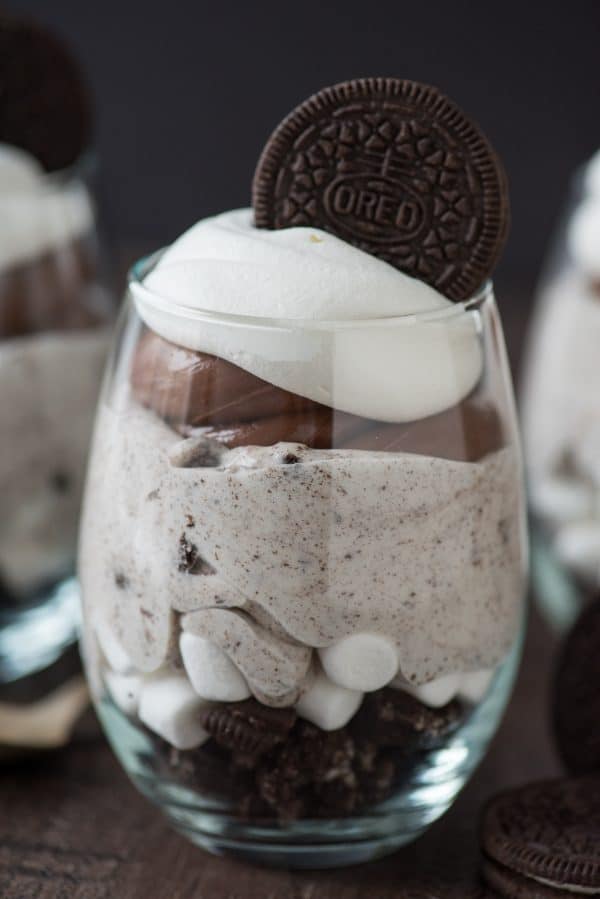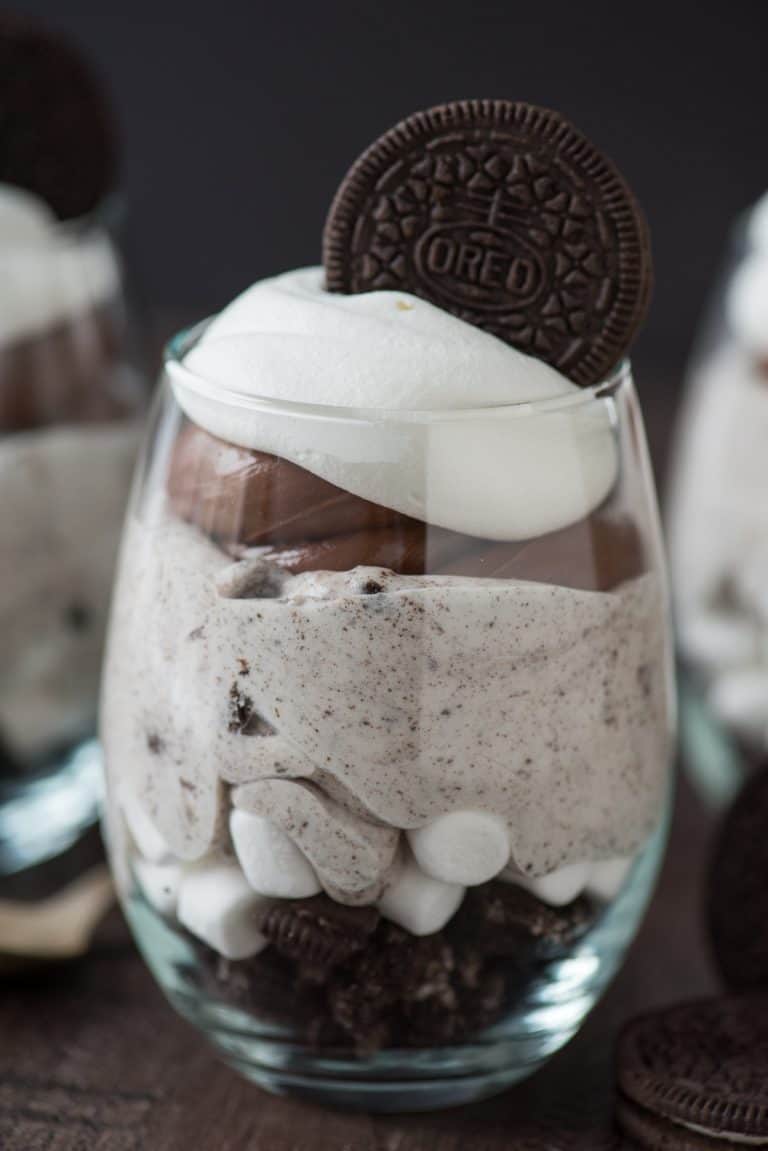 We're back with our final recipe for Valentine's Parfait Week! If you missed the other recipes, you can see them here.
This parfait is all about decadence. Chocolate. Cheesecake. And oreos. Layers upon layers of layers. Kind of like this fun parfait!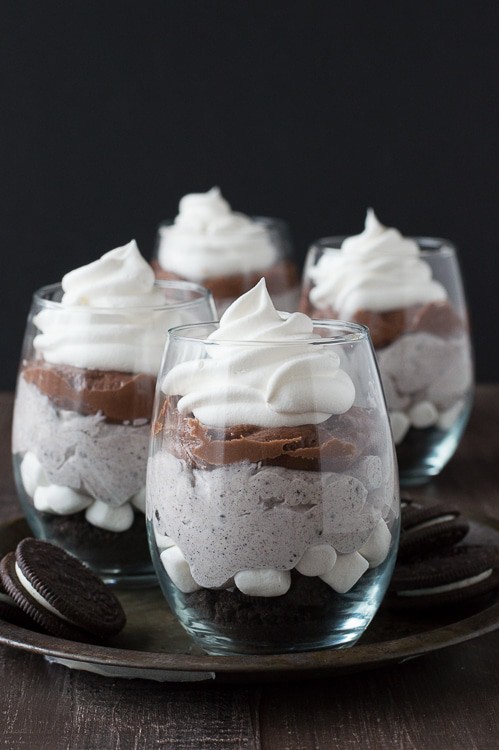 I am a chocolate girl through and through, and I am guessing a lot of you are chocolate fantastics too, otherwise you'd probably be looking at citrus or paleo recipes instead. (Just teasing, my paleo friends!)
But there is just something special about hardcore chocolate lovers (hi self!) … we appreciate chocolate in all its forms. We drool over decadent chocolate desserts. And the best part? We like to push the chocolate envelope.
To us, the more chocolate that is contained in one dessert, the better. Sure, we like candy bars, and we like chocolate cupcakes with chocolate frosting, but if you give us a chocolate dessert with like 6 layers, the tiny person inside our brains who is in charge of our happy center does flips.. for days. :)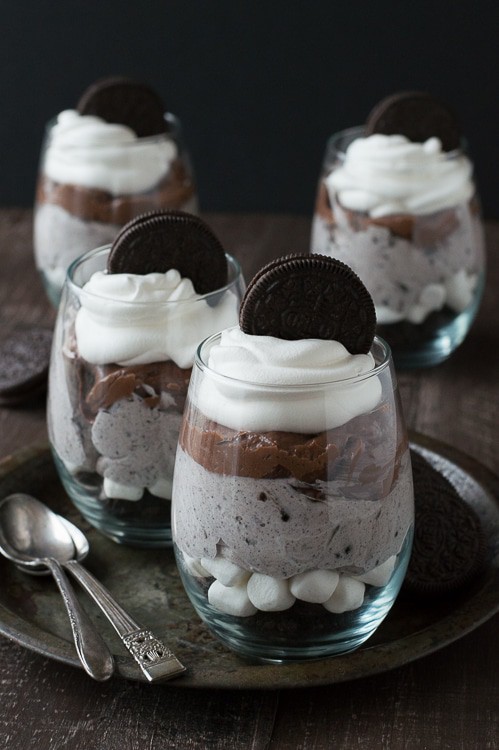 So my chocolate loving friends, I'm going to tell you what's in this parfait, because friends don't keep delicious recipes from friends.
There are oreos crumbs, marshmallows, homemade oreo fluff, rich chocolate cheesecake, a dollop of cool whip and it's all topped off with an oreo.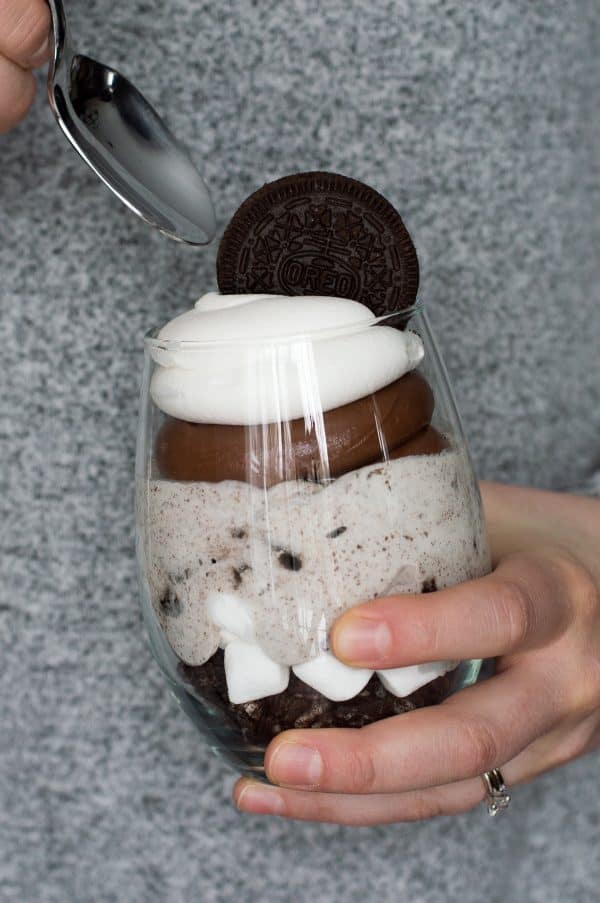 I am 100% convinced that oreos are like food's version of the diamond. Everyone likes diamonds and everyone likes oreos. If only I could trade my oreo parfaits for diamonds..
For a step-by-step of how to make this over the top oreo parfait recipe, watch this short video: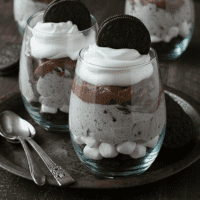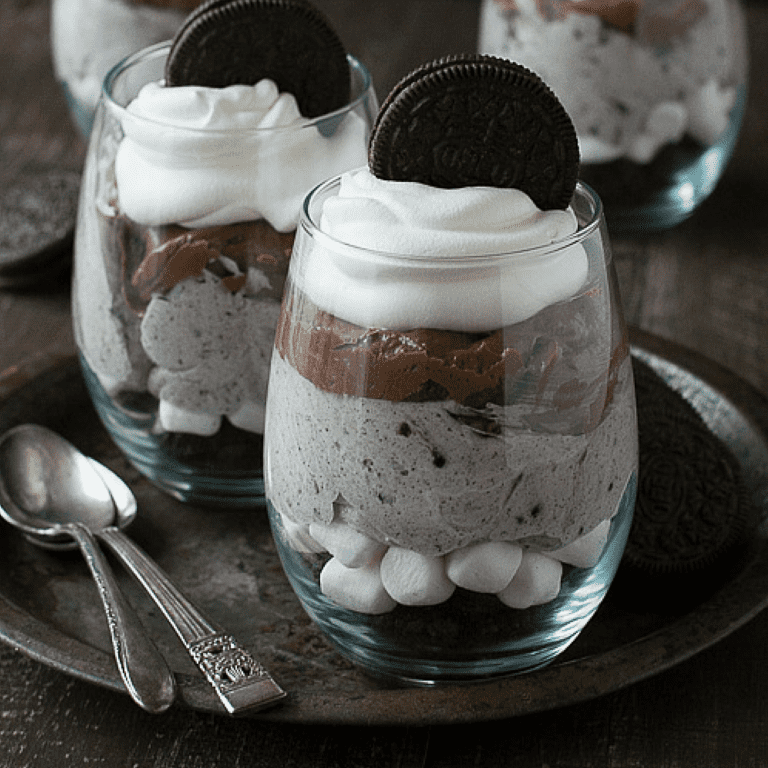 Over the Top Chocolate Cheesecake Oreo Parfaits
This parfait is all about decadence. Chocolate. Cheesecake. And oreos. Layers upon layers of layers. I definitely have a chocolate obsession!
Print
Pin
Rate
Servings: 4 parfaits
Ingredients
1 ½ sleeves oreos crushed for the bottom of the parfaits
1 handful mini marshmallows per parfait
cool whip to top each parfait
oreo to top each parfait
Oreo Fluff
1 box white chocolate pudding
2 cups milk
1 sleeve crushed oreos
½ container cool whip 4 ounces
Chocolate Cheesecake Filling
½ cup heavy cream
12 oz chocolate chips
8 oz cream cheese room temperature
Instructions
Crush 2 & 1/2 sleeves of Oreos. I like to stick the oreos in a ziploc bag and crush them using my rolling pin, they don't necessarily have to be oreo crumbs, but not large chunks. Set aside.
To make the oreo fluff
Combine 1 box of white chocolate pudding mix with 2 cups of milk. Beat using an electric mixture until smooth and combined with pudding.

Allow the pudding to set in the fridge for 10 minutes.

Once set, take half of the crushed oreos and half a container of cool whip and mix them into the white chocolate pudding until combined. Return the oreo fluff to the fridge until needed.
To make the chocolate cheesecake
In a small saucepan over low heat, combine the chocolate chips and heavy cream. Stir occasionally, until the chips are melted and smooth. This may take up to 10 minutes, but keep the heat on low or a little higher than low.

Once melted, remove the pan from the heat and allow it to cool on the counter for 10 minutes.

Once the chocolate is cool, combine the melted chocolate and softened cream cheese in a mixing bowl. Beat using an electric mixer until the mixture is smooth and no lumps remain.
To assemble the parfaits
Put 3 tbsp of oreo crumbs in the bottom of each parfait glass. Place a handful of mini marshmallows on top of the oreo layer. Next, add about 3 spoonfuls of oreo fluff to each glass, use the spoon to smooth the oreo fluff into an even layer. On top of the oreo fluff add a layer of chocolate cheesecake filling, using about 3 spoonfuls, then use the spoon to smooth the cheesecake filling into an even layer. Top the parfaits with cool whip. I like to transfer the cool whip into a piping bag and pipe the cool whip on top of each parfait. Top each parfait with an oreo.

Serve and enjoy!
Video
Nutrition
Calories: 795kcal | Carbohydrates: 78g | Protein: 10g | Fat: 51g | Saturated Fat: 30g | Polyunsaturated Fat: 2g | Monounsaturated Fat: 11g | Trans Fat: 1g | Cholesterol: 134mg | Sodium: 681mg | Potassium: 333mg | Fiber: 1g | Sugar: 62g | Vitamin A: 1471IU | Vitamin C: 1mg | Calcium: 261mg | Iron: 1mg