Easy Strawberry Mousse
Easy Strawberry Mousse – you only need 4 ingredients to make fresh strawberry mousse! A perfect recipe for Valentine's Day.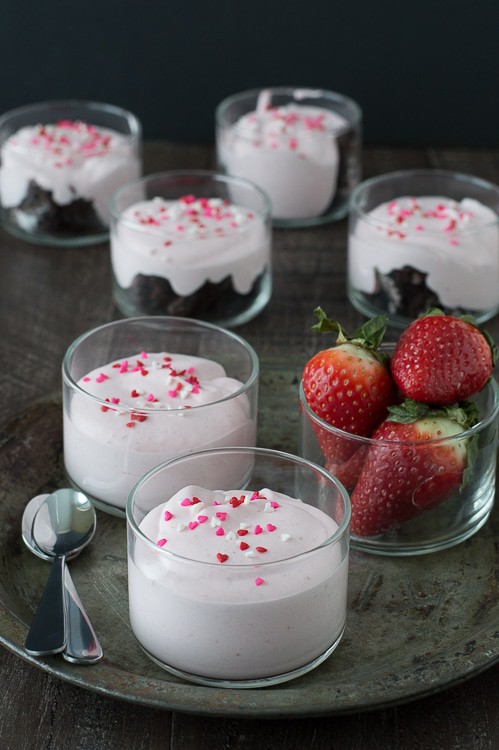 Valentine's Parfait Week continues! Did you miss yesterday's Valentine themed parfait? See it here!
Sometimes recipes go really well, and turn out as planned, and other times they totally fail. Like a "the cake I just made is all over the floor" kind of fail.
And that's exactly how this recipe was born, from a "the 3 layered cake I just made totally fell apart" kind of fail. See exhibit A below.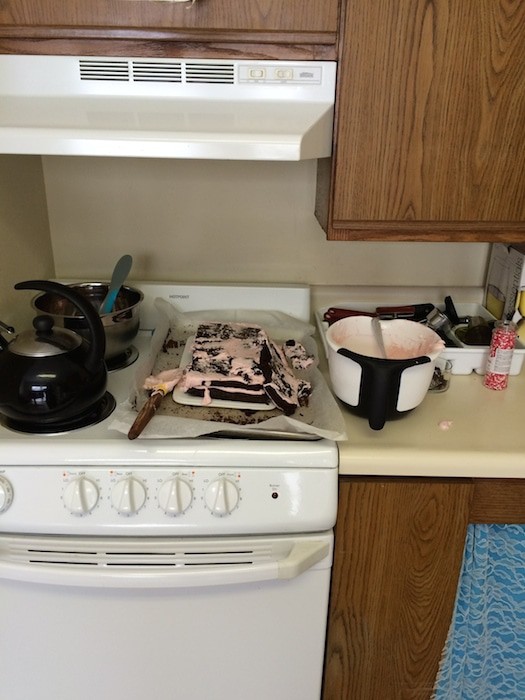 Doesn't that cake just look appealing? Haha.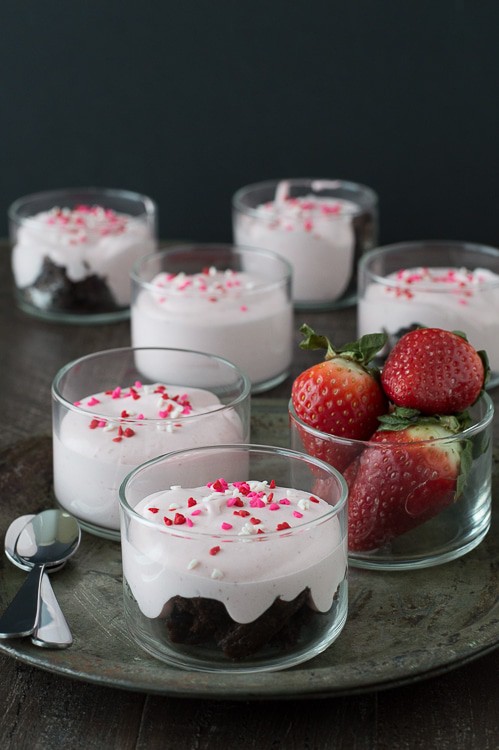 My original intention was to share a recipe for a chocolate strawberry mousse 3 layer torte cake. Well, there it is! And because it worked out so wonderfully, I am going to keep the recipe a secret, because it's just too good to share. :)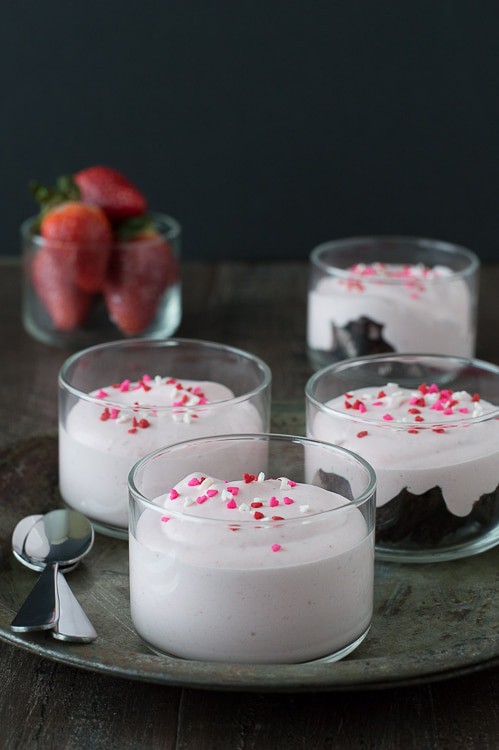 When my cake started to buckle and the layers were sliding off, a light bulb went off inside my head.
Actually it was more like "I just used a whole container of fresh strawberries and paid an arm and a leg in the middle of January to make this mousse… I'm going to make something work!"
And the mousse was really good just by itself, so I realized it didn't need to be used in a recipe, the mousse was the recipe. Tada, that's how this recipe came to be!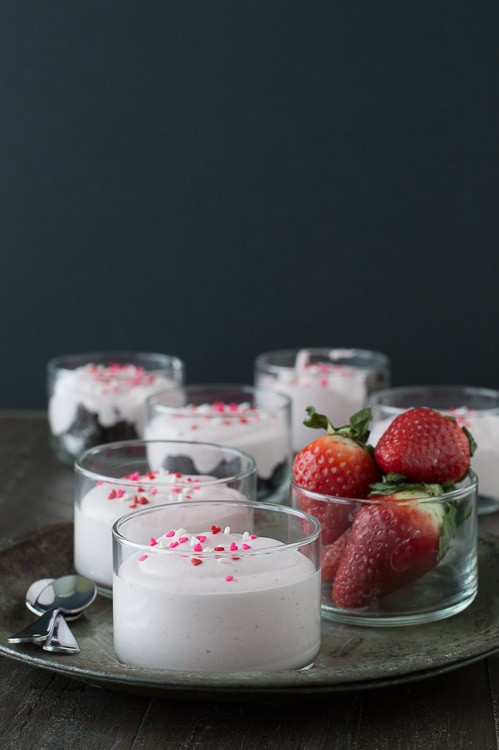 This mousse is great for eating with a spoon, dipping fruit into it, or serving it as a simple parfait with brownie or cake pieces in the bottom of each glass.
This mousse is not great as a filling for a cake because it's too light, meaning it can't hold up under the weight and support the layers of a cake.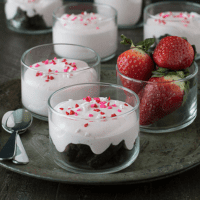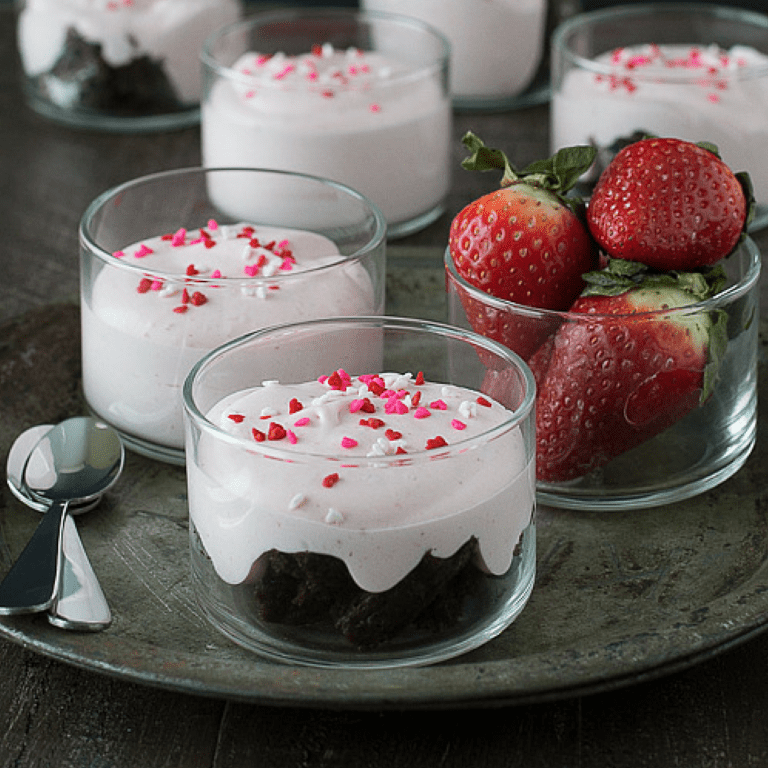 Easy Strawberry Mousse
You only need 4 ingredients to make fresh strawberry mousse! A perfect recipe for Valentine's Day.
Ingredients
1

pound

fresh strawberries

,

equal to one 16 oz container

2

tbsp

sugar

1 ½

cups

heavy cream

2

tbsp

powdered sugar
Instructions
Wash and dry the strawberries. Dice them into small pieces. Place the diced strawberries and sugar in a blender and mix until pureed. Set aside.

In a mixing bowl, combine the heavy cream and powdered sugar and use an electric mixture to whip it into soft peaks.

Once you have soft peaks, gently fold the strawberry puree into the cream, until everything is well combined. If you will be dividing the strawberry mousse into smaller containers, pour it into the containers and refrigerate for 30 minutes to one hour. If you will not be using the mousse right away, it can be covered and refrigerated overnight, until you're ready to use.
Notes
The strawberry mousse can be served with chocolate cake or brownie pieces. Simply prepare a chocolate cake or brownie mix according to the directions on the package. Bake as directed and once cooled break the cake/brownies into smaller pieces and place them in the bottom of glass bowls and top with strawberry mousse.
Calories:
383
kcal
,
Carbohydrates:
21
g
,
Protein:
3
g
,
Fat:
33
g
,
Saturated Fat:
21
g
,
Polyunsaturated Fat:
1
g
,
Monounsaturated Fat:
10
g
,
Cholesterol:
122
mg
,
Sodium:
35
mg
,
Potassium:
241
mg
,
Fiber:
2
g
,
Sugar:
16
g
,
Vitamin A:
1326
IU
,
Vitamin C:
67
mg
,
Calcium:
76
mg
,
Iron:
1
mg