Mixed Berry Galette
Summer berry pie recipe with an EASY all butter crust. This mixed berry galette is pie's nontraditional little sister!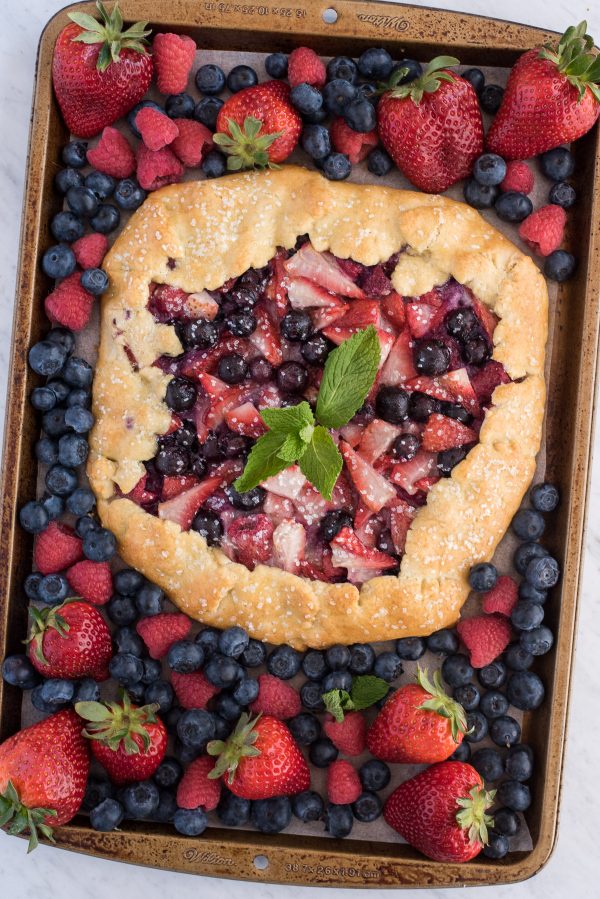 I fell in love with this pie the summer of 2014.
Why I haven't made it every summer since I have no idea! But it can be difficult as a food blogger to re-make an old recipe when I always have new ones waiting to be made!
But I have such fond memories of this one that I wanted to pull it out of the archives. You know.. those first few years I was blogging where I had no idea what I was doing! Yeah, those archives.
Sometimes I still feel like I don't know what I am doing. LOL.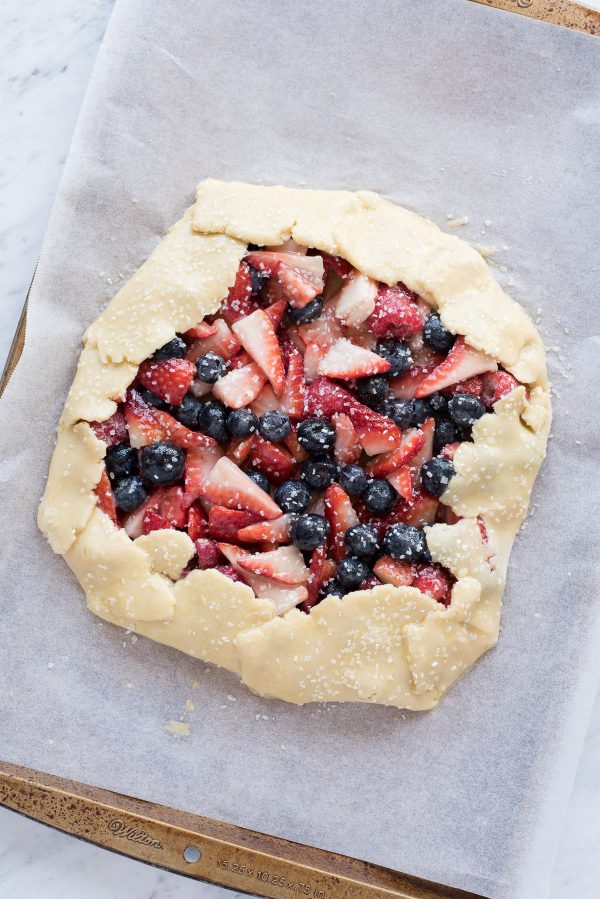 I will admit that there are 2 specific things that I am not good at making..
1. cinnamon rolls
2. pie crusts
I can make a graham cracker pie crust or an oreo pie crust, but making a regular, flaky, buttery pie crust for a fruit pie.. yeah, something I'm working on!
But this galette recipes solves my problem. Actually it just side steps it, but one thing at a time, friends.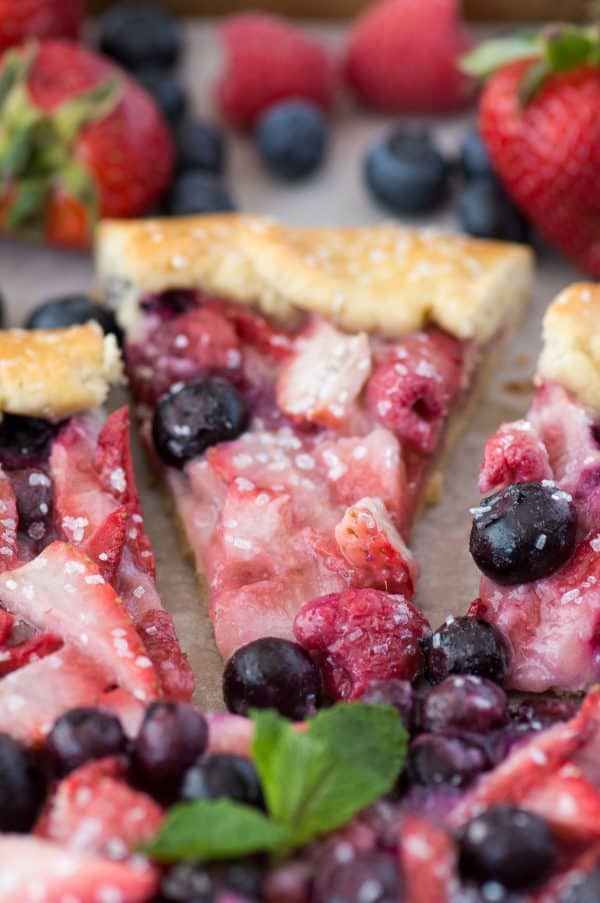 A galette is known to be a more rustic looking pie. Unlike it's proper counterpart that you bake in a pan pie, this pie is baked on a baking sheet and the pie dough is used to make its own "pan".
Pile fruit mixed with sugar in the center of the pie, then fold the dough up onto the fruit. It bakes up within 25 minutes and its heavenly.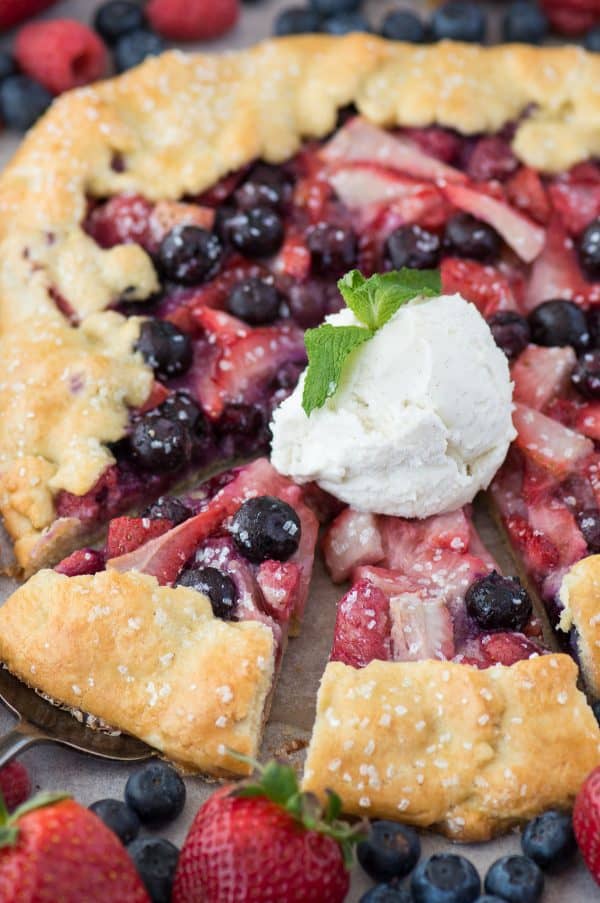 I am a die hard chocolate girl, so it has to take A LOT for me to want to eat fruit pie. And I want to eat this galette every day. The pie crust is flaky, puffy and just the right amount of sweet because you sprinkle it with sugar before baking. And the berry filling is sweet, not too tangy – the whole thing melts in your mouth.
You could make the filling to be mixed berry like I show here (strawberries, raspberries, and blueberries) or you can make it to be all one berry. I think once we go blueberry picking, I am going to make a BIG blueberry one!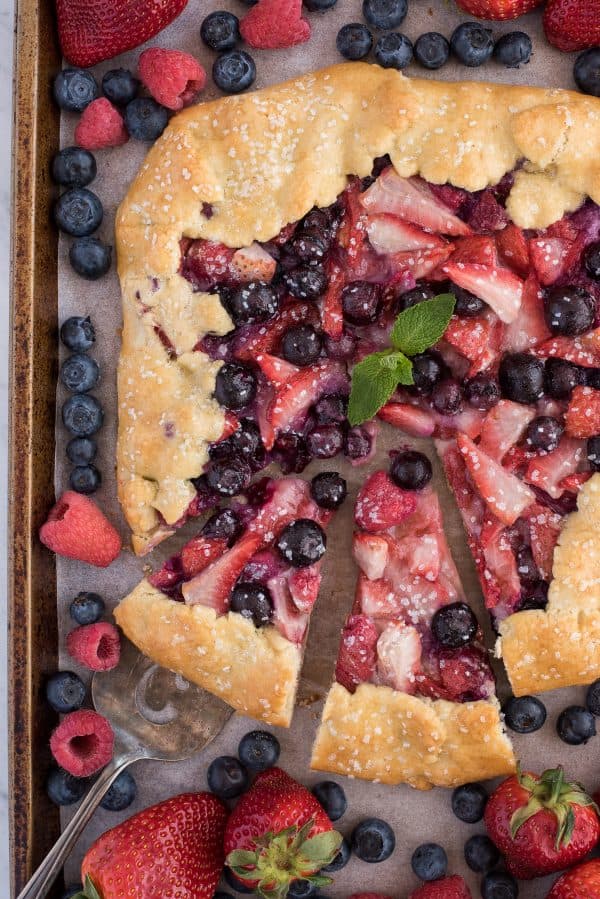 Baking tips:
-Bake this fruit galette on parchment paper or on a silicone baking mat. Nothing sticks to either of those!
-Be sure to refrigerate the dough for 30 minutes. However, you can refrigerate longer – I've done up to 24 hours!
-Double this recipe if you want 2 pies that will feed a larger crowd.
For a step-by-step of how to make this mixed berry galette recipe, watch this short video: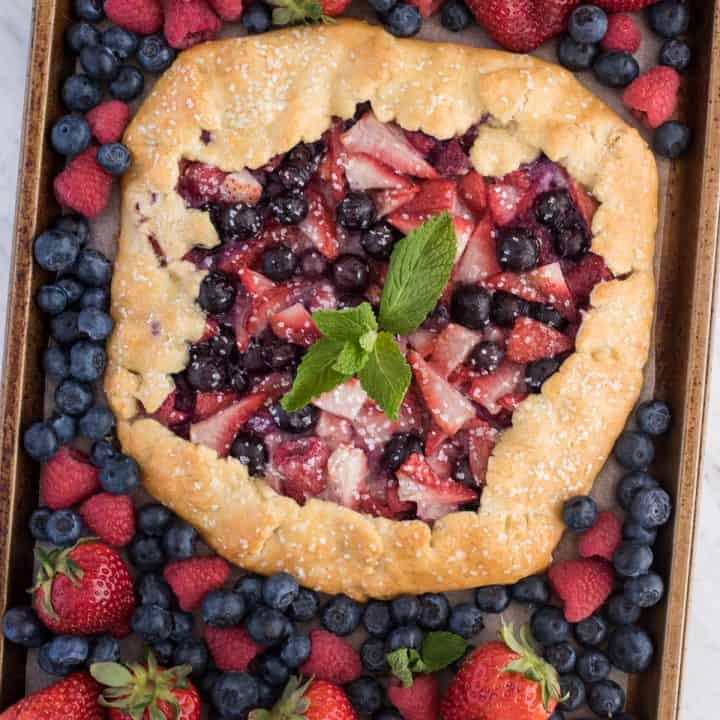 Mixed Berry Galette
Summer berry pie recipe with an EASY all butter crust. This mixed berry galette is pie's nontraditional little sister!
Ingredients
Crust
1 cup all purpose flour (we've also used King Arthur's Gluten Free Flour with awesome success!)
1/4 cup powdered sugar
1 tsp baking powder
1/4 tsp salt
6 tbsp cold butter, cut into small cubes
1 egg yolk
1 tbsp cold milk
Fruit Filling
2 cups fresh strawberries, blueberries and blackberries, washed and dried
2 tbsp sugar
2 tbsp all purpose flour
Egg wash: 1 egg beaten with 1 tbsp water
1 tbsp sugar for sprinkling on top
Instructions
Crust
In a large mixing bowl, combine the flour, powdered sugar, baking powder, and salt.
Using your fingers or pastry cutter, cut in the butter until the mixture is crumbly.
Add the egg yolk and milk, mix with spatula until the dough is just combined.
Gather the dough into a ball and cover or wrap with plastic wrap and refrigerate for 30 minutes.
Assemble
Preheat the oven to 350º F. In a medium bowl, toss the fruit with the sugar and flour.
Roll out the dough onto a piece of parchment paper or a silicone baking mat, create a 10-12 inch circle. You may need some flour to keep it from sticking.
Place the fruit in the middle of the pie, leaving a 1 & 1/2 inch to 2 inch margin all around the edge. Fold the edges of the dough in toward the center, pleating as necessary.
Brush the edges of the pie with the egg wash and sprinkle with 1 tbsp sugar. Bake for 20 minutes or until the crust is golden brown and the juices are bubbling.
Cut and serve.
Products used to make this recipe
(may include affiliate links)