Peanut Butter Cup Chocolate Pie
The BEST no bake peanut butter cup chocolate pie! Oreo crust, creamy peanut butter filling, chocolate ganache all LOADED with peanut butter cups!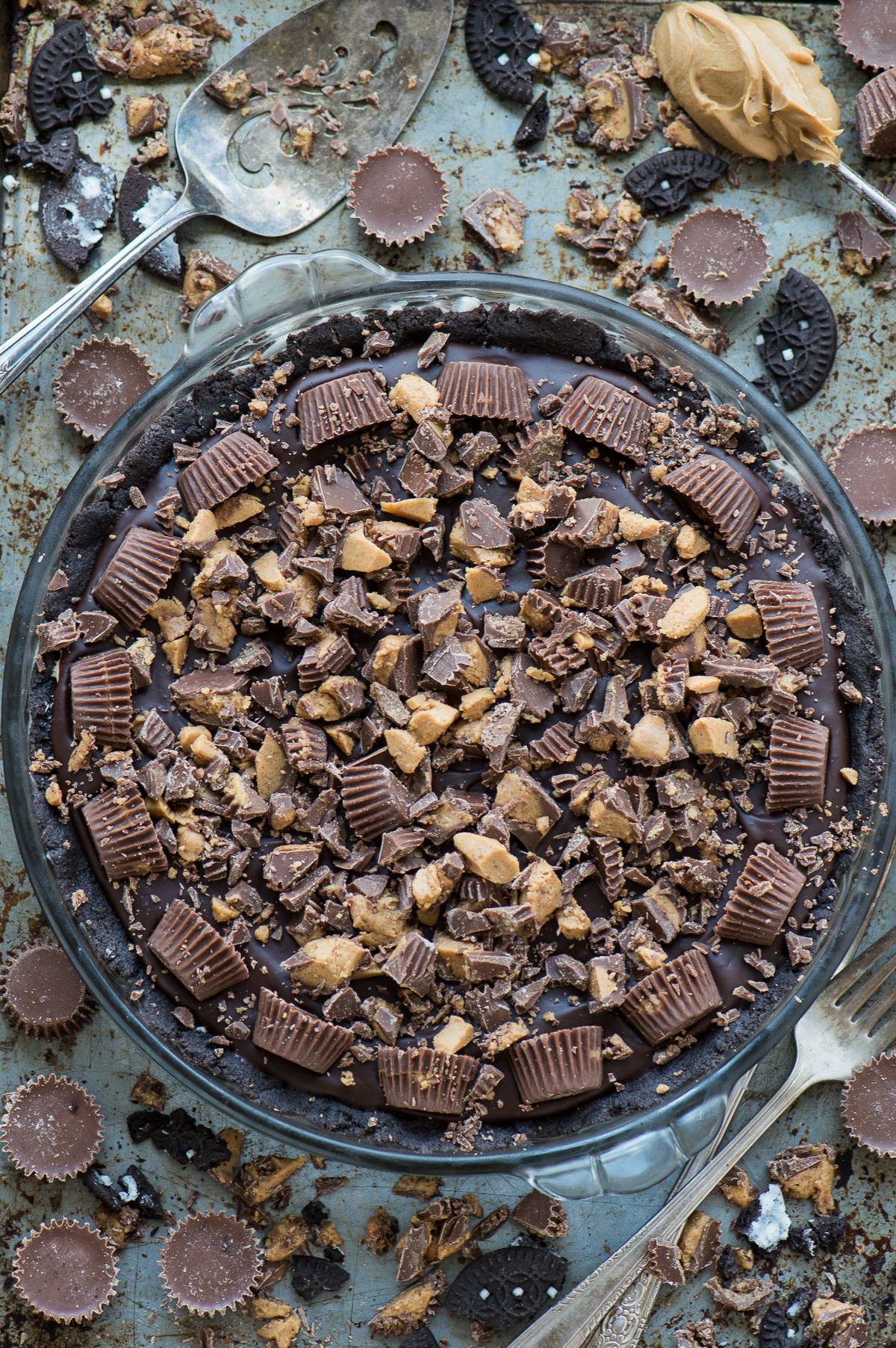 This recipe was updated March 2016 with new photos but it's the same great recipe!
This is my first ever homemade pie. What do you think? Well, it looked pretty good so I decided to have a piece at 9 in the morning when I was doing this photo shoot :) It seemed like a good way to celebrate my first homemade pie!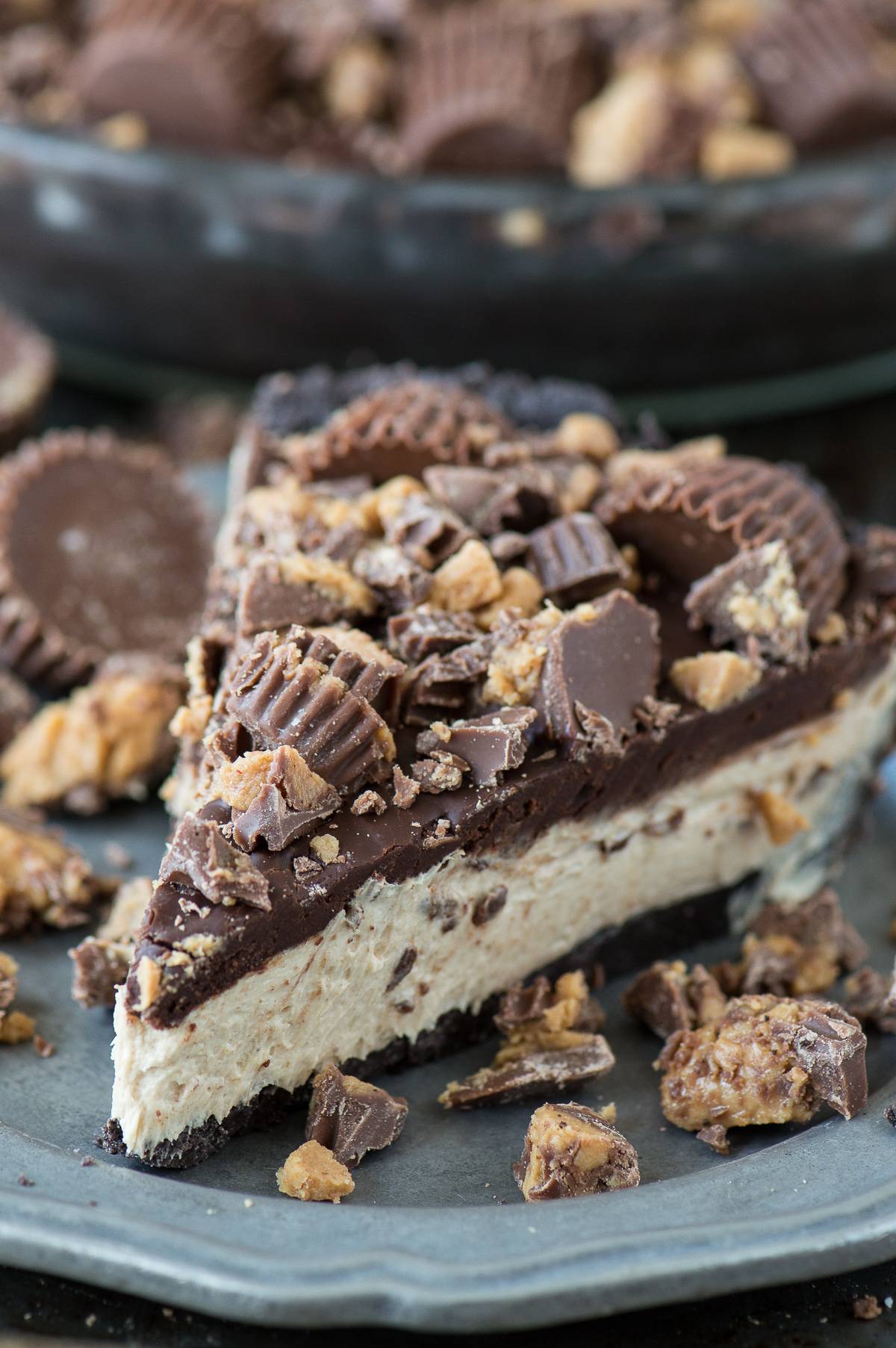 Making This Peanut Butter Cup Chocolate Pie
I decided to keep this Peanut Butter Cup Chocolate Pie recipe ridiculously simple. No baking, no pie crust, no lattice to weave. If you can press, pour and chop, I know you can recreate this in your kitchen!
A simple breakdown
1. pulse the oreos into crumbs, combine with melted butter and press that into the pie pan
2. mix the peanut butter filling and pour that into the pie pan
3. pour chocolate ganache on top of the filling
4. chop as many peanut butter cups as you want and put them on top of the pie
5. refrigerate or freeze until set
…then DEVOUR!

Easy Recipe
It was really easy to make this Peanut Butter Cup Chocolate Pie gluten free by using gluten free oreos for the crust. All of the other ingredients in the recipe are naturally gluten free, but sadly not calorie free, haha.
Now that I've made this pie a few times, I've discovered that I prefer it frozen rather then just refrigerated. Even when "frozen" the filling is still creamy and easy to cut through, the only thing that gives a little trouble to cut through is the oreo crust. But I figure I can dish out a little elbow grease for a piece of pie.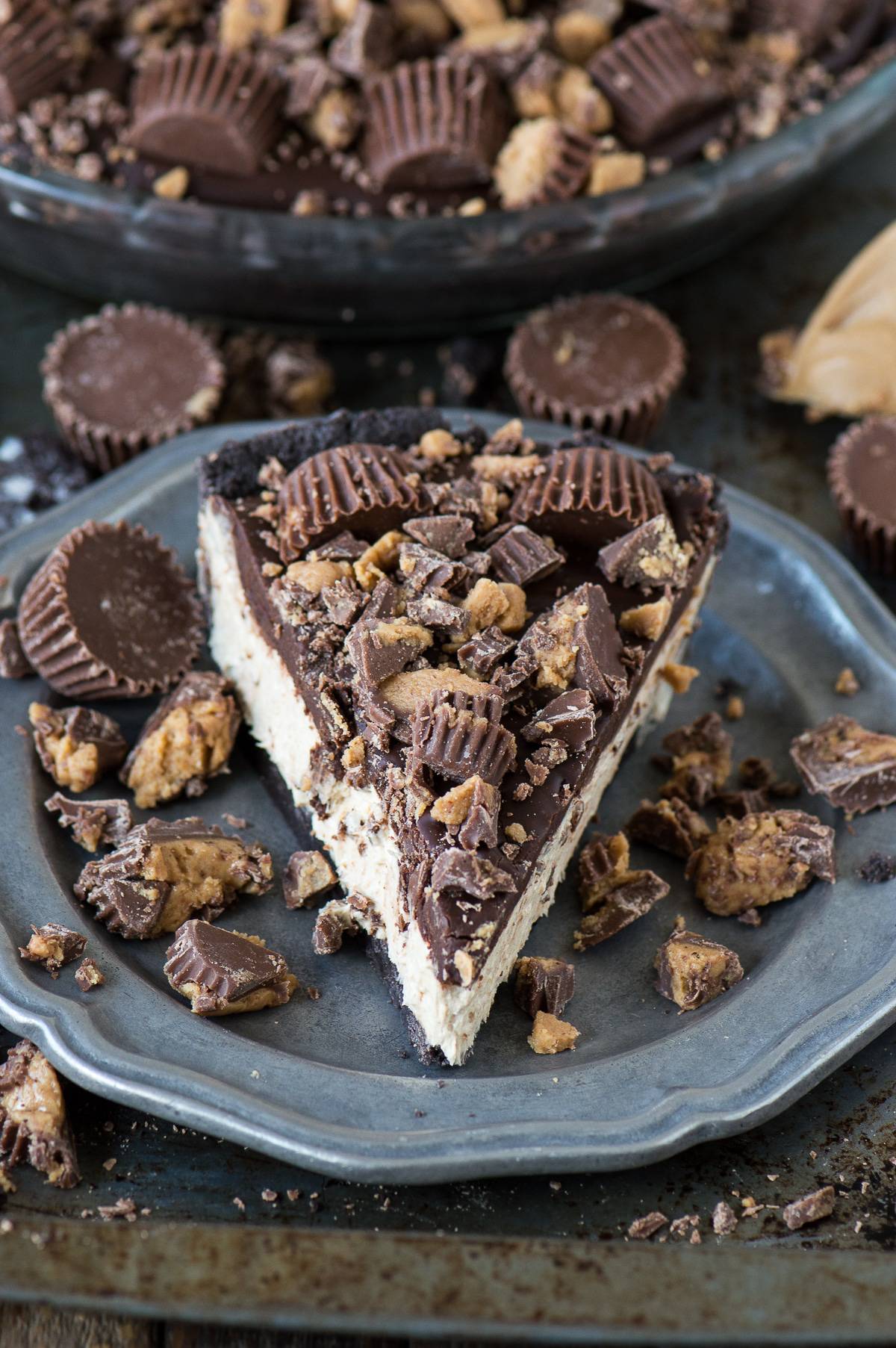 I'm pre-planning for my birthday (in july, lol) and there is no need for birthday cake when you can have this Peanut Butter Cup Chocolate Pie!
For a step-by-step of how to make this peanut butter cup chocolate pie recipe, watch this short video:
Peanut Butter Cup Chocolate Pie
Yield: one 9 or 10 inch pie
Total Time: 3 hours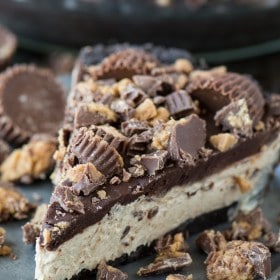 Ingredients:
Oreo Crust
1 package oreos
1/4 cup butter, melted
Filling
1 cup creamy peanut butter
4 oz cream cheese, softened
1 container Cool Whip (8 oz), thawed
Chocolate Ganache
1 & 1/2 cup chocolate chips
1/2 cup heavy whipping cream
Topping
Reese's Peanut Butter Cups, some cut in half, others chopped
Directions:
Oreo Crust
Process the oreos in a food processor until fine crumbs remain. In a large bowl, combine the crushed oreos with the melted butter. Press this mixture evenly into a 10 inch pie pan sprayed with non-stick cooking spray. Place in fridge until ready to use.
Filling
In a large mixing bowl, combine the peanut butter and cream cheese with an electric mixer until well blended. Add the cool whip and stir with a spatula until mixed. Spread this mixture on the crust and place in the freezer for 30 minutes.
Chocolate Ganache
Place chocolate chips in a medium heat-proof bowl.
In a small pot over low heat, heat the heavy cream until just before boiling.
Pour the heavy cream over the chocolate chips. Allow the mixture to stand for 1-2 minutes.
Use a spatula to stir the mixture until smooth.
Allow the ganache to come to room temperature before adding it to the pie.
Topping
Before the chocolate hardens, add the peanut butter cups. Start by adding the halved peanut butter cups around the edges, placing them as close or as far apart as you want. Then add chopped peanut butter cups to the center of the pie.
Cover the pie with tinfoil and return to the freezer or fridge for 1-2 hours. Before serving, remove the pie from the freezer and let it sit for a few minutes to make cutting it easier. Cover and freeze or refrigerate any leftovers.
Products used to make this recipe
(may include affiliate links)