Want our top 10 essential dessert recipes?
Get our favorite classic recipes in your inbox! It's 100% free, but we might make you hungry!
Mini Funfetti Cheesecakes
These are the best mini funfetti cheesecakes because they are loaded with sprinkles! Sprinkles in the graham cracker crust, in the cheesecake, and on top!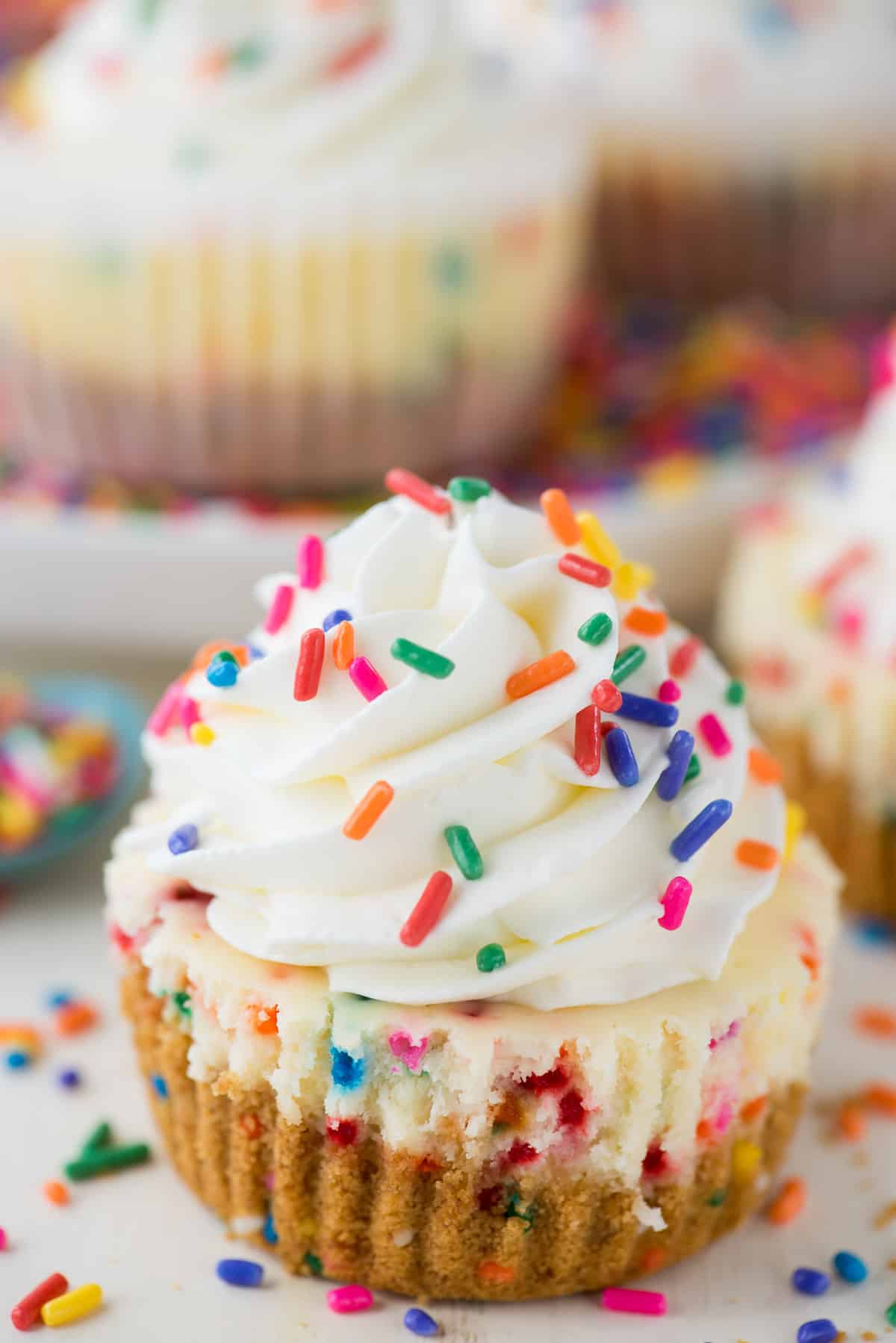 I have yet to meet a kid that doesn't like sprinkles.
What about you – do your kids, grandkids, nieces, nephews like sprinkles?
I mean how many times have you seen a kid pick a certain donut because it has sprinkles?!
But sprinkles aren't just for kids. Sprinkles are fun, and adults need to have fun too. ????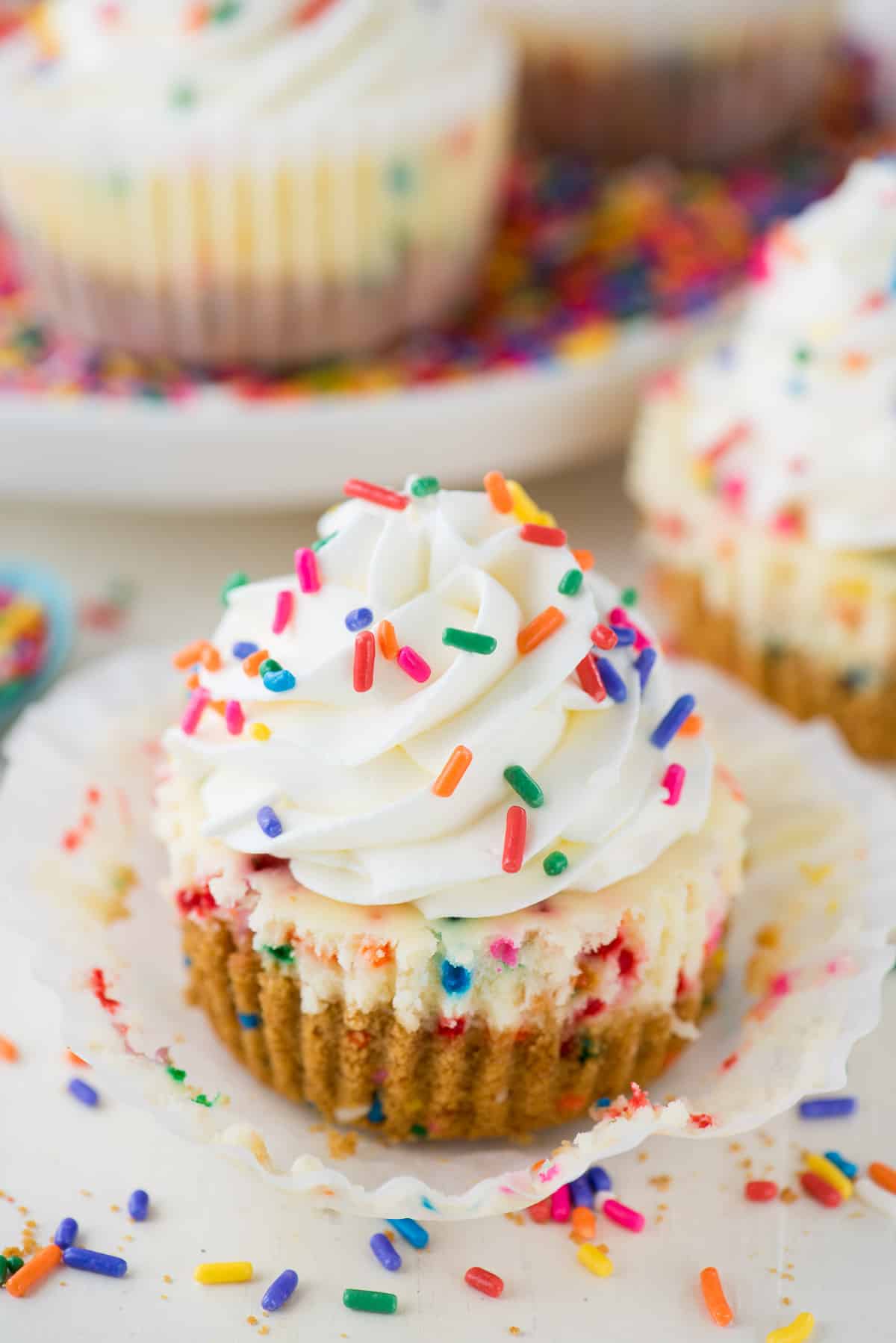 These mini funfetti cheesecakes are l-o-a-d-e-d with sprinkles. Sprinkles in the graham cracker crust, sprinkles in the cheesecake, and topped with sprinkles.
You'll want to use rainbow jimmies for this recipe. Jimmies are the long, skinny, rod shaped like sprinkles. The ball sprinkles, there fancy name is nonpareils, can bleed when you bake with them, so for best results I recommend jimmies.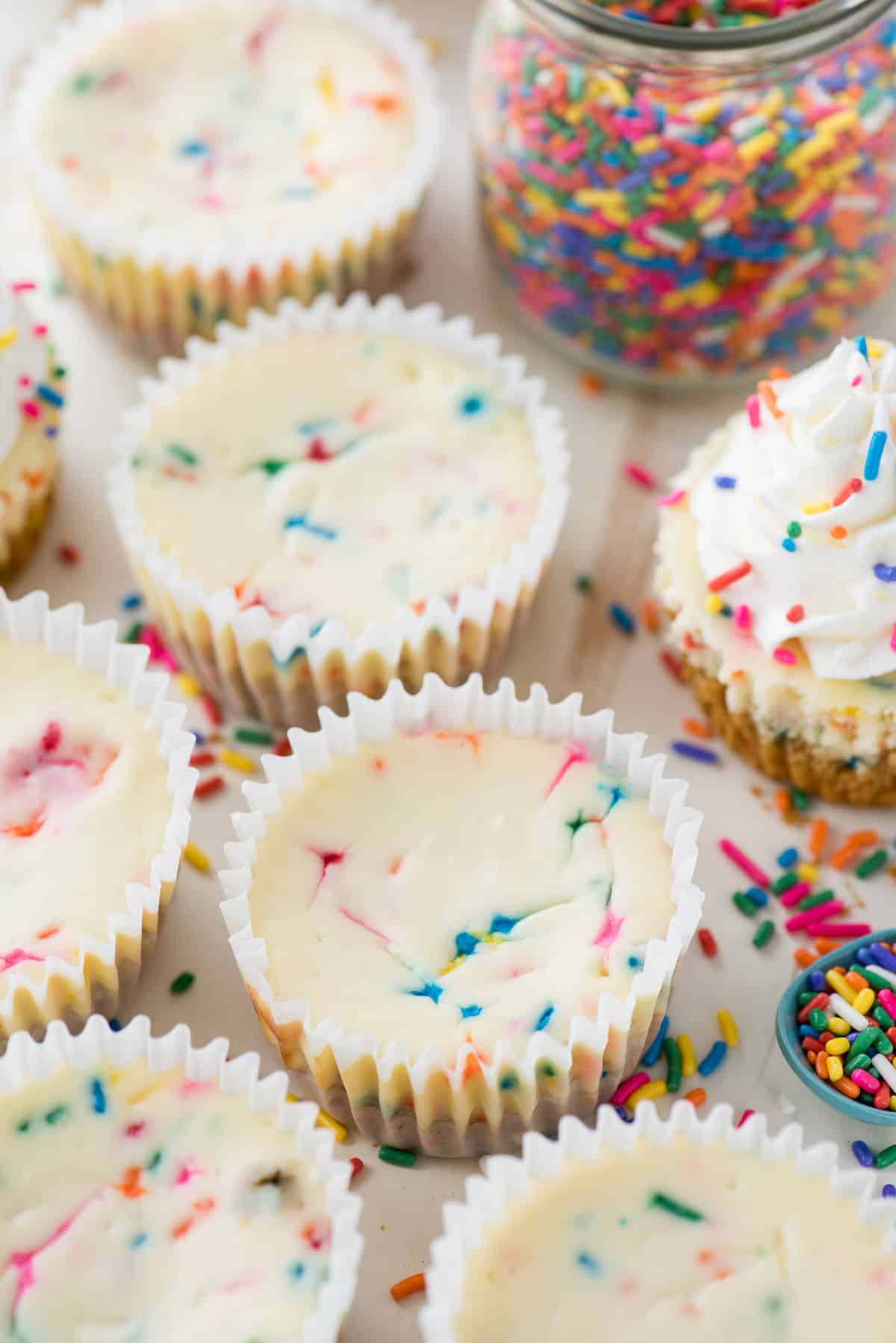 And I searched everywhere for the best rainbow jimmies. I didn't want a rainbow mix that included brown, why do some include that color anyway?! Plus, I wanted them to be bright and I was a little particular about which colors were included.
I'm going to skip over all the stores I searched at and tell you that I found the best rainbow jimmies at Walmart! They are SO bright, don't have a waxy appearance, plus they include bright pink and purple in their mix. I will definitely be going to Walmart when I am in need of rainbow jimmies again. ????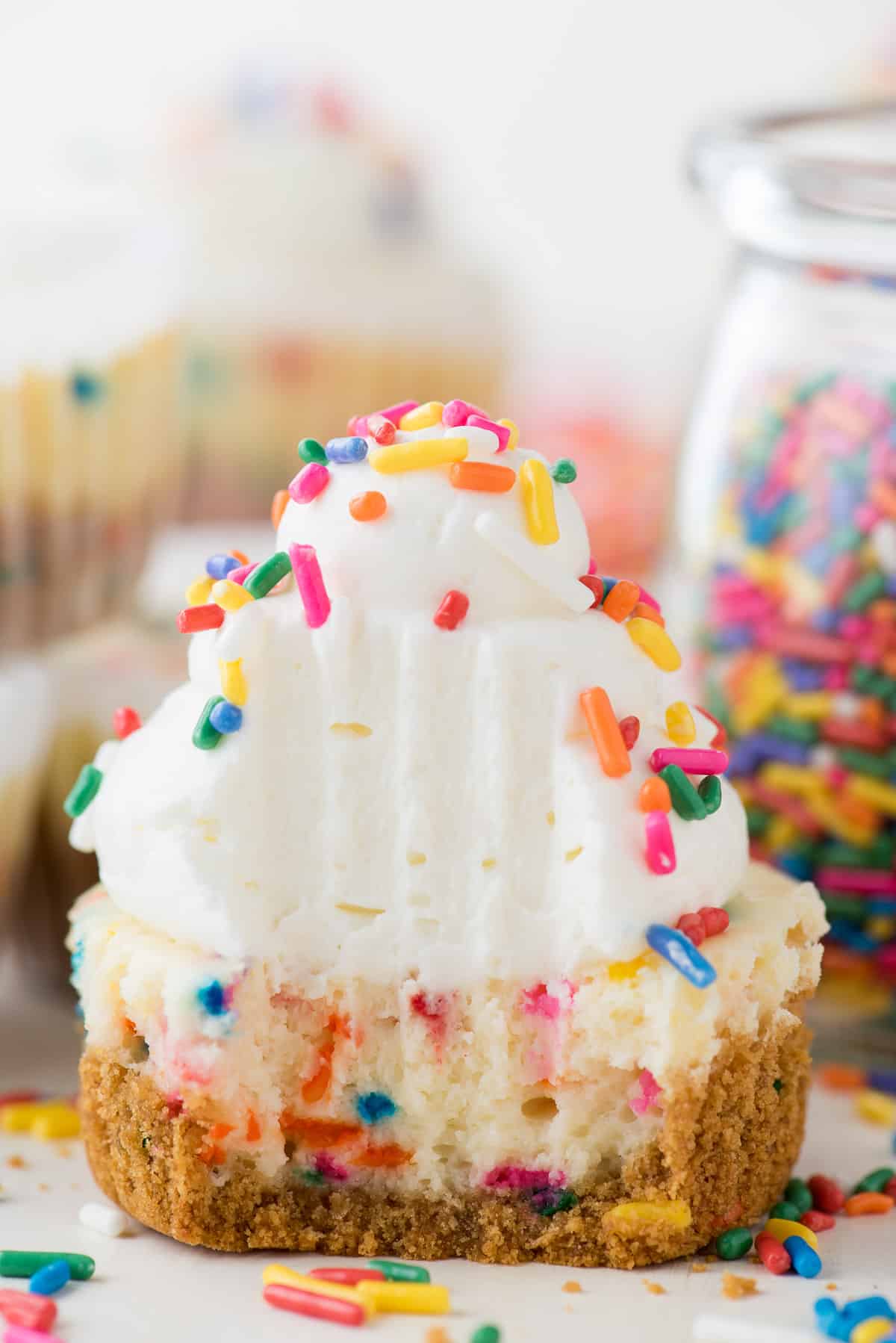 You'll need a regular size muffin pan and muffin liners to make funfetti cheesecakes. I use regular white paper muffin liners.
Once you press the graham cracker crumbs into the muffin liners, you'll pre-bake the crust for 5 minutes. Make sure you allow the muffin pan to cool before adding the cheesecake mixture. If you need to speed up that process, you can stick the muffin pan in the fridge.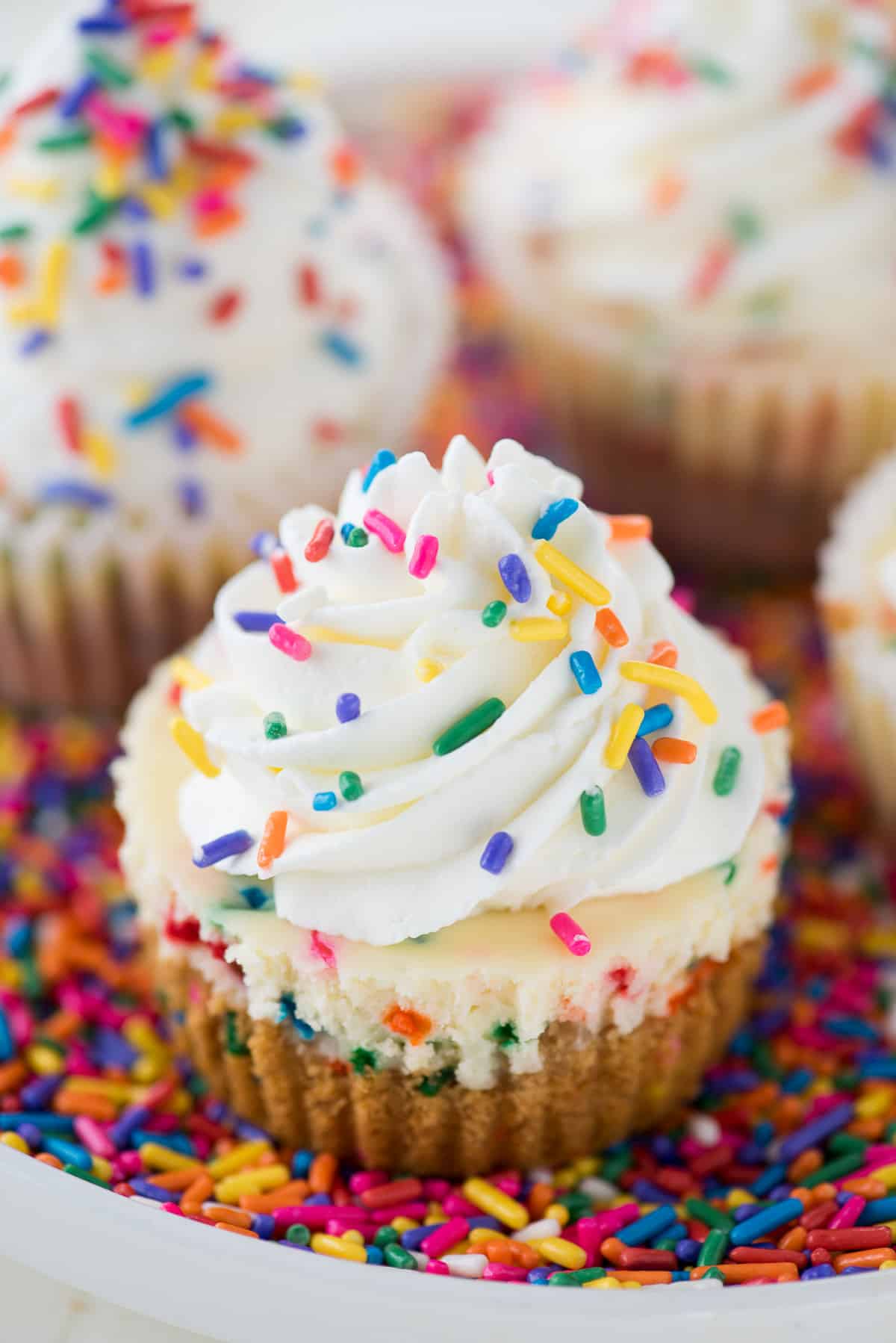 Mini cheesecakes aren't something you can eat once they are done baking. The key to delicious cheesecake is serving them chilled – so be sure to plan time to do that!

For a step-by-step of how to make this mini funfetti cheesecake recipe, watch this short video:
Mini Funfetti Cheesecakes
Yield: 12
Total Time:3 hours
These are the best mini funfetti cheesecakes because they are loaded with sprinkles! Sprinkles in the graham cracker crust, in the cheesecake, and on top!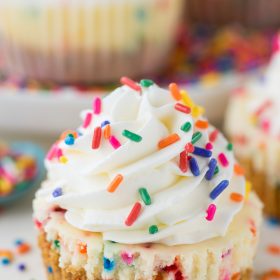 Ingredients:
Crust
1 cup graham cracker crumbs
1/4 cup rainbow jimmie sprinkles
4 tbsp unsalted butter, melted
Cheesecake
two 8 oz packages cream cheese, softened
1/4 cup sugar
1 tsp vanilla extract
2 eggs, added one at a time
1/3 cup rainbow jimmie sprinkles
Directions:
Crust
Preheat the oven to 350º F.
Line a regular sized muffin pan with 12 muffin liners.
In a mixing bowl, combine the graham cracker crumbs and melted butter until it resembles coarse sand.
Gently mix in the sprinkles.
Put 1 heaping tbsp of graham cracker crumbs in each muffin cup.
Use a 1/3 cup (or similar) to press the crumbs down firmly into the pan.
Bake the crust for 5 minutes. Remove the pan from the oven and allow it to cool while prepping the cheesecake.
Cheesecake
In a mixing bowl, beat the cream cheese with an electric mixer until smooth, 2-3 minutes.
Beat in the sugar and vanilla extract until smooth.
Beat in the eggs, one at a time.
Add the rainbow sprinkles, mix with a spatula.
Place a little more than 2 tbsp of cheesecake batter in each muffin cup.
Bake for 15-17 minutes or until the center of the cheesecake is only slightly jiggly.
Allow the cheesecakes to cool to room temperature then place them in the fridge for at least 2 hours to chill before serving. If refrigerating overnight, loosely cover the cheesecakes in plastic wrap.
For decoration: add a dollop of whipped cream to each cheesecake and top with sprinkles.
Products used to make this recipe
(may include affiliate links)