Red Velvet Cookies
Our red velvet cookies are chewy, soft and studded with white chocolate chips. They make great Valentine's Day cookies or Christmas cookies. Red velvet chocolate chip cookies are prepped in 10 minutes and can be baked right away, no chilling needed!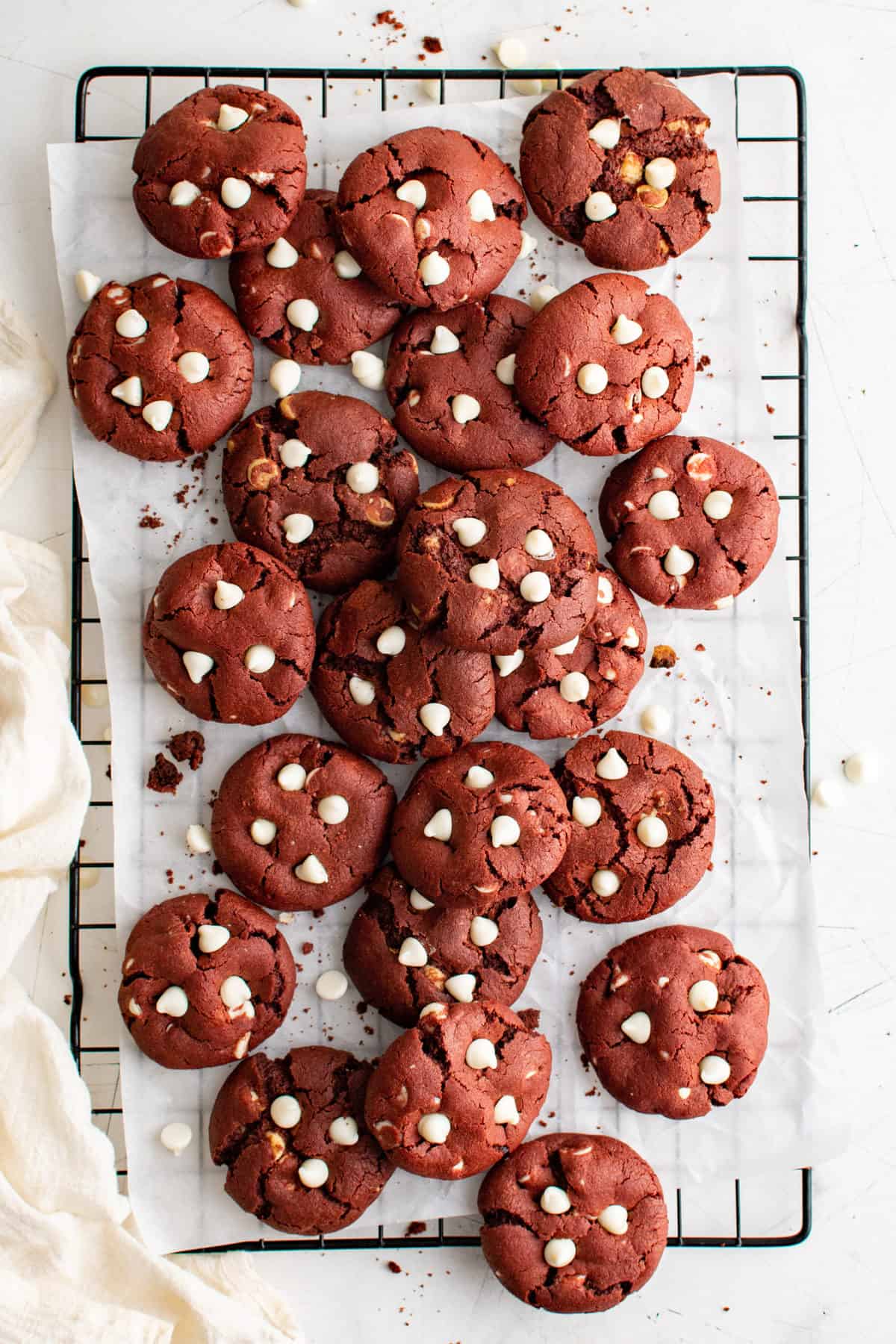 History of red velvet
Red velvet recipes didn't always call for food coloring. The chemical reaction that occurs between the cocoa powder and acid (either baking soda, vinegar, buttermilk, etc) causes the batter to turn a ruddy brown color. People started adding red food coloring to enhance the color.
Red food coloring
There are 2 different types of food coloring, liquid and gel. It will take a lot more liquid food coloring to achieve the same rich color that gel food coloring produces. Therefore, I recommend gel food coloring. The colors are more vibrant.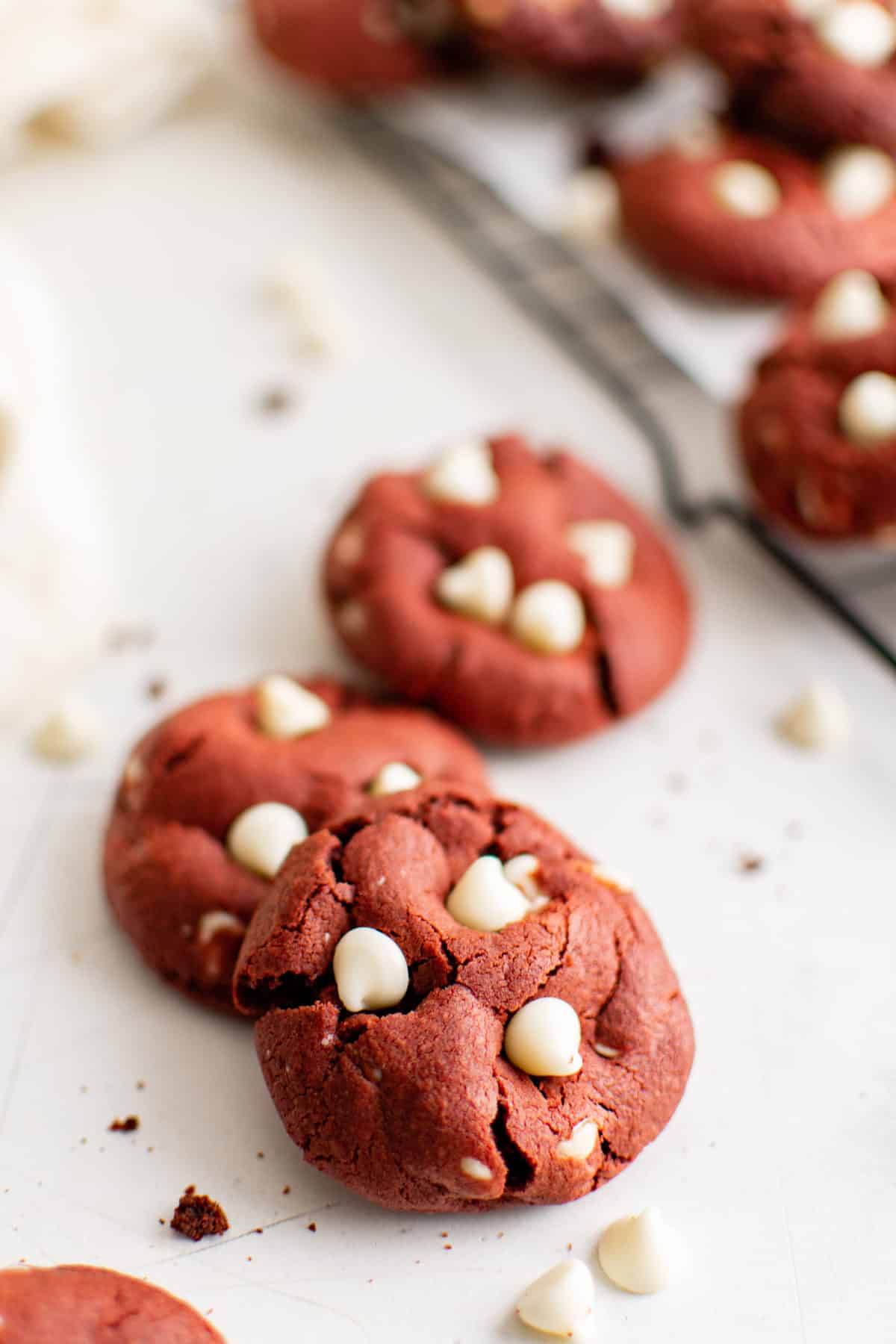 Variations
Use semi-sweet, milk or dark chocolate chips in place of the white chocolate chips
Omit the white chocolate chips and dip the cooled cookies in melted white chocolate
Omit the white chocolate chips and drizzle the cooled cookies with melted white chocolate
Skip the white chocolate chips and top the cookies with cream cheese frosting
Total time required
10 minutes to make the cookie dough
8-10 minutes to bake the cookies
15 minutes to cool the cookies
What causes cookies to spread
Quick answer: lots of things.
Not enough flour in the batter. If there isn't enough flour or structure to the cookie dough, the fat will melt fast, causing the cookies to spread.
Too much sugar / too much butter: too much of these ingredients and too little flour mess with the structure of the cookie. It's about finding the perfect balance.
Melted butter and not refrigerating the dough. Since our recipe doesn't call for refrigerating the cookie dough before baking it's crucial to use SOFT not melted butter.
Greased cookie sheets. Do not grease your cookie sheets, use parchment paper or silicone baking mats. Greased cookie sheets encourage cookies to spread.
Oven temperature. Too high, too low, or hot spots in your oven.
Cookie sheets that are warm. This can happen if you are using the same cookie sheet without allowing it to cool between batches. If I am using the same cookie sheet to bake all my cookies, I place it in the fridge for 2 minutes between batches. Ideally, I like to use 2 cookie sheets, so one can cool with cookies on it while the other one is in the oven.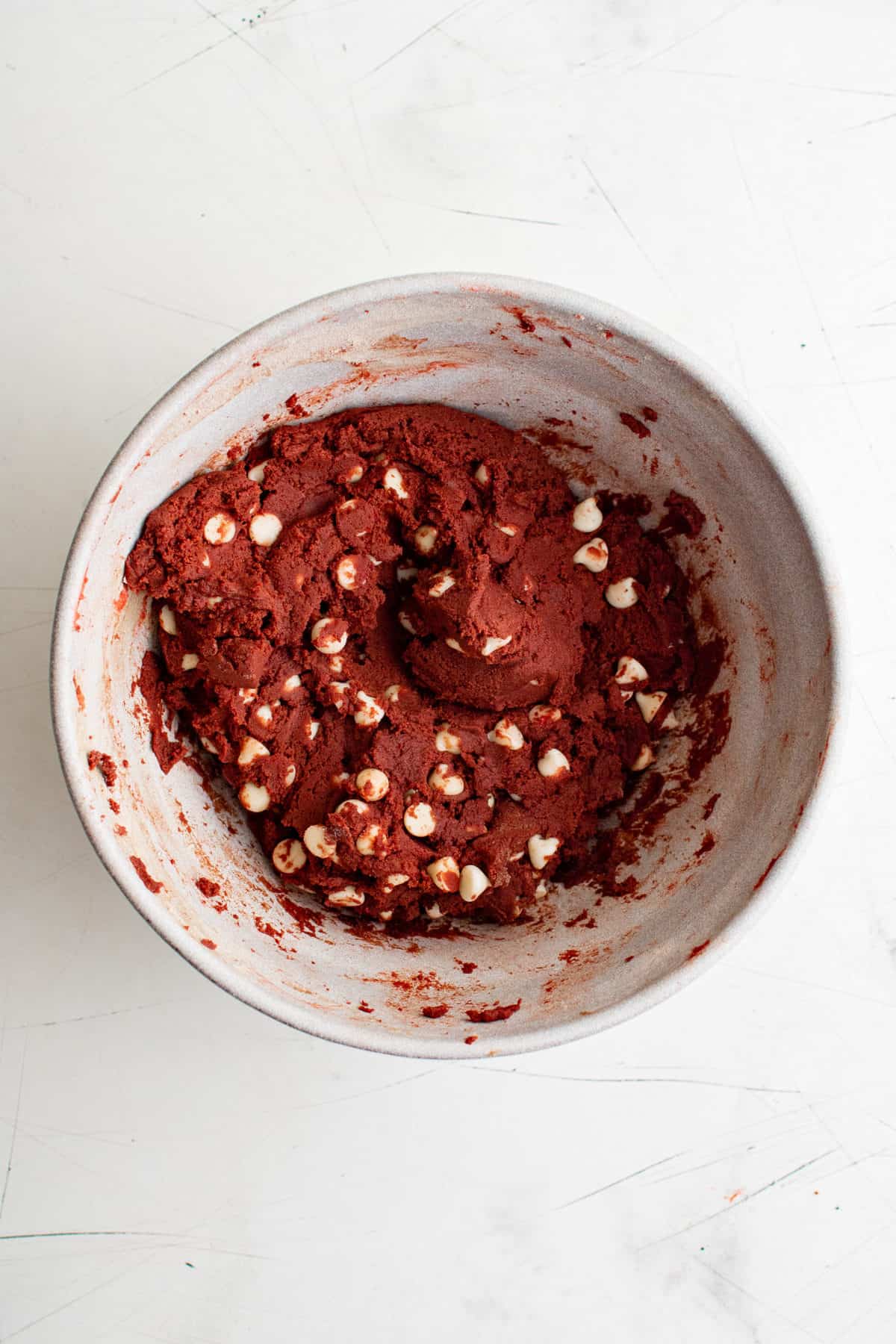 How to properly measure flour
Fluff the flour with a fork
Use a spoon to scoop the flour into your measuring cup
Use a butter knife to level off the flour in the measuring cup
Sticking the measuring cup straight into the bag of flour will result in too much flour to be packed into the cup, which can result in dry cookies.
How to store cookies
Store these red velvet cookies in an airtight container on the counter for up to 5 days. To ensure that cookies stay soft for days, place a piece of bread in the container. The moisture from the bread will be absorbed by the cookies.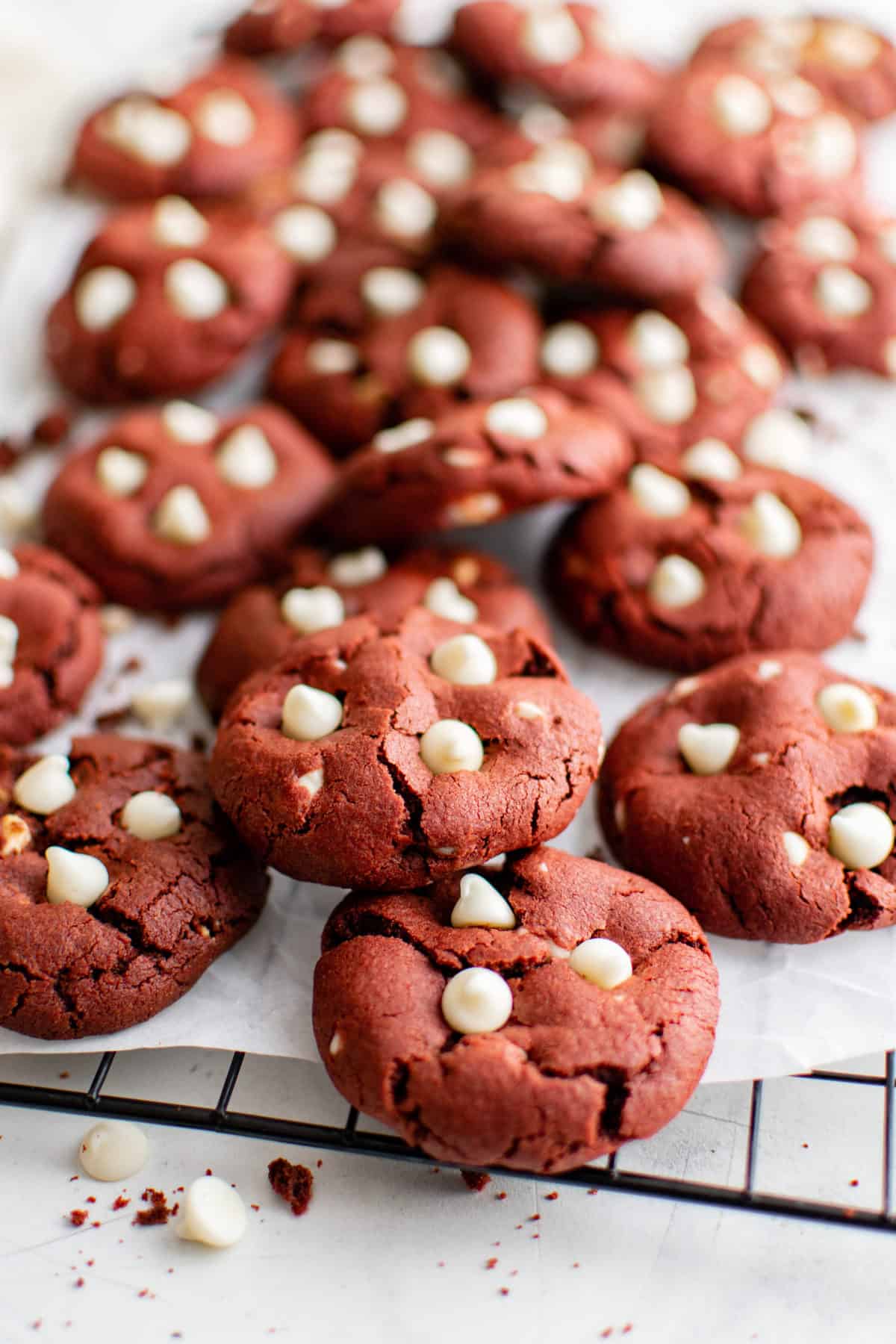 How to freeze cookie dough
Portion the dough into cookie dough balls. 
Place them on a baking sheet lined with a silicone mat. You can place the dough balls close together since you won't be baking them.
Place the baking sheet in the freezer until the cookies are frozen solid, about 1 hour.
Remove the baking sheet from the freezer and transfer the frozen cookie dough balls to a ziplock freezer bag. Label the bag with baking directions.
Freeze the cookie dough for up to 3 months.

To bake: remove the dough from the freezer. Pre-heat the oven to 350ºF.  Frozen cookies may need to bake for 1-2 minutes longer.
Recommended cookie baking tools
I use a cookie scoop that is 1.6" in diameter, this is technically considered a small cookie scoop. When I use it, I scoop the dough so it's heaping over the scoop.
I specifically like this brand of cookie sheets because they are light aluminum, which encourages even baking and browning. The half sheet size is perfect and the silicone baking mats fit perfectly on them. I recommend using shiny, heavy cookie sheets that have very low or no sides. Avoid dark aluminum sheets because they can cause overcooking.
Pro Tip: To ensure even baking, place only 1 cookie sheet in the oven at a time.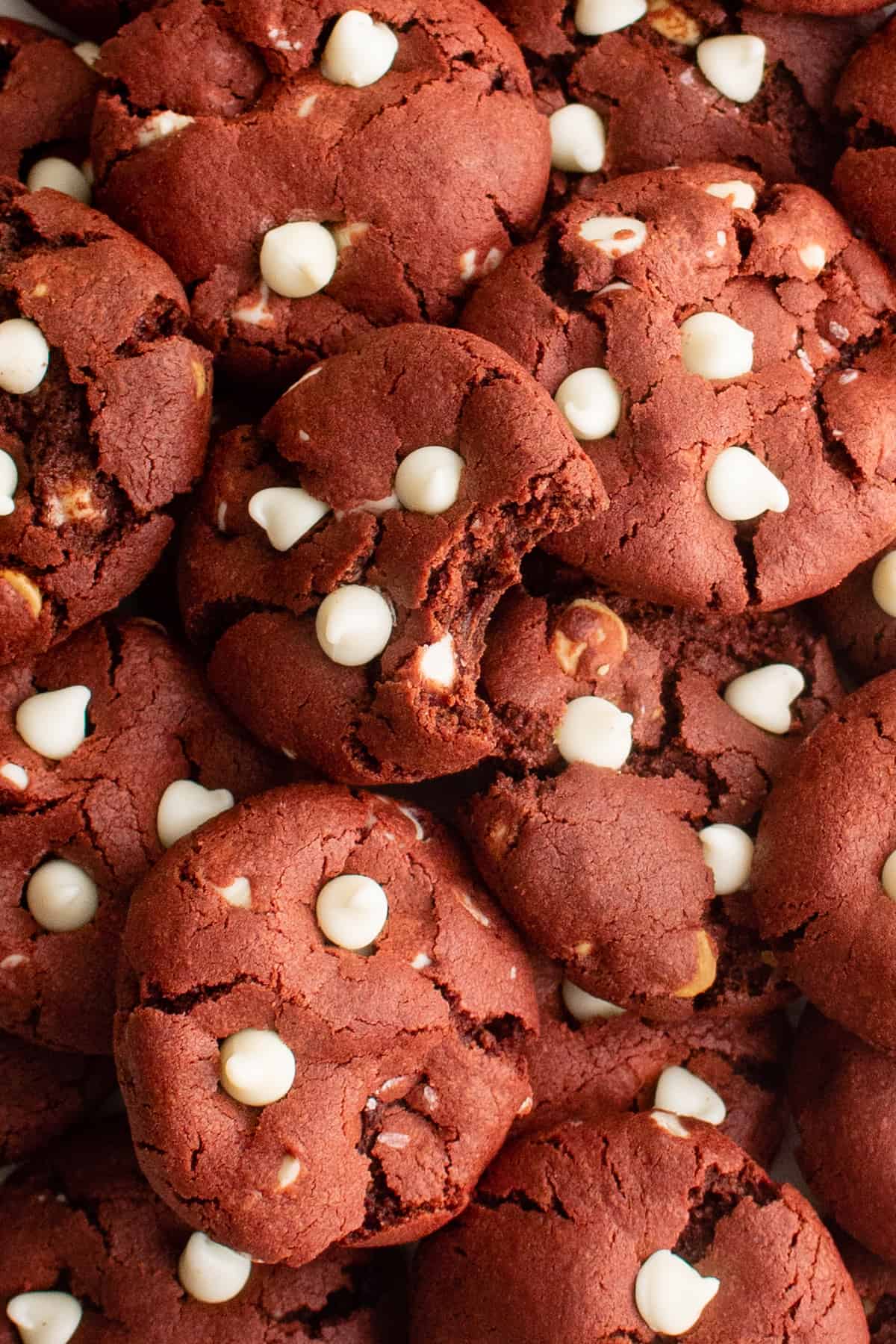 Tips for making the perfect cookies
Properly measure the all purpose flour using the spoon and sweep method.
Use room temperature butter for easier creaming of the butter and sugar.
Use a cookie scoop to form uniform balls.
Press white chocolate chips on the tops of the cookies once they are done baking for a loaded cookie presentation like the photos!
More cookies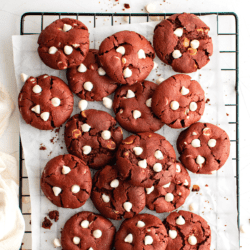 Red Velvet Cookies
Our red velvet cookies are chewy, soft and studded with white chocolate chips. They make great Valentine's Day cookies or Christmas cookies. Red velvet chocolate chip cookies are prepped in 10 minutes and can be baked right away, no chilling needed!
Print
Pin
Rate
Servings: 24 cookies
Ingredients
1 ¾ cups all purpose flour
⅓ cup unsweetened cocoa powder
1 tbsp cornstarch
1 tsp baking soda
½ tsp salt
1 cup white chocolate chips plus more for the tops of the cookies
1 ½ sticks unsalted butter room temperature
½ cup granulated sugar
½ cup brown sugar
1 large egg
1 tsp vanilla extract
2 tsp liquid red food coloring or 1/2 tsp gel red food coloring
Instructions
Preheat the oven to 350ºF and line 2 large baking pans with silicone baking mats or parchment paper.

Whisk the flour, cocoa powder, cornstarch, baking soda, salt, and white chocolate chips together in a medium bowl and set aside.

In a separate large bowl, use an electric mixer to cream the butter, granulated sugar and brown sugar together until smooth, about 60 seconds.

Beat in the egg, vanilla extract, and red food coloring until combined. Add more food coloring if you want your cookies to be a deeper red color.

On low, mix in the flour mixture until combined.

Use a cookie scoop to form 2-inch balls. Place 6-8 balls on each of the baking pans. Bake one pan at a time.

Bake for 8-10 minutes or until the cookies have started to dry out on top.

Once baked, removed from the oven and press some white chocolate chips into the cookies. Let them cool for 5 minutes then set them aside on a cooling rack to cool completely before repeating the baking process with the remaining dough balls.
Nutrition
Calories: 165kcal | Carbohydrates: 21g | Protein: 2g | Fat: 9g | Saturated Fat: 5g | Polyunsaturated Fat: 1g | Monounsaturated Fat: 2g | Trans Fat: 1g | Cholesterol: 24mg | Sodium: 106mg | Potassium: 60mg | Fiber: 1g | Sugar: 13g | Vitamin A: 189IU | Vitamin C: 1mg | Calcium: 24mg | Iron: 1mg