Pumpkin Spice Scotcheroos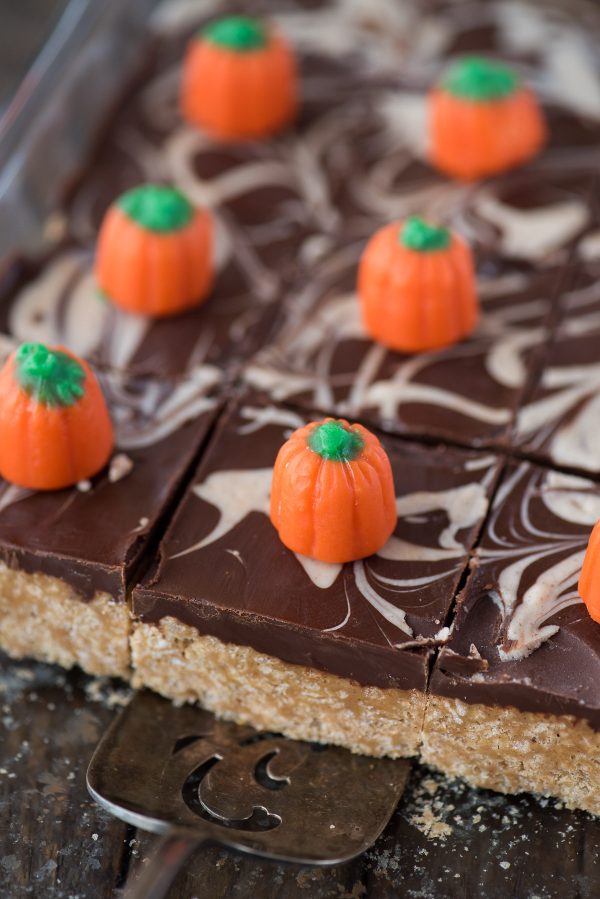 Take the classic scotcheroo dessert recipe and turn it into a pumpkin spice scotcheroo with a few additional ingredients! We look forward to making these pumpkin scotcheroos each fall – bring on all the pumpkin spice!
I created this recipe in partnership with Rodelle. Thank you for supporting the brands I love!
A scotcheroo is a classic dessert bar. It's right up there with rice krispies and puppy chow. There always seemed to be one of those three at a party when I was growing up in the midwest.
But I didn't actually know what a scotcheroo was. I just thought it was a rice krispie bar with chocolate on top. Which I can 100% see why my younger self thought that.
They both use the same cereal and they both have a chewy texture. I just thought some people put chocolate on top of their krispie bars and some didn't!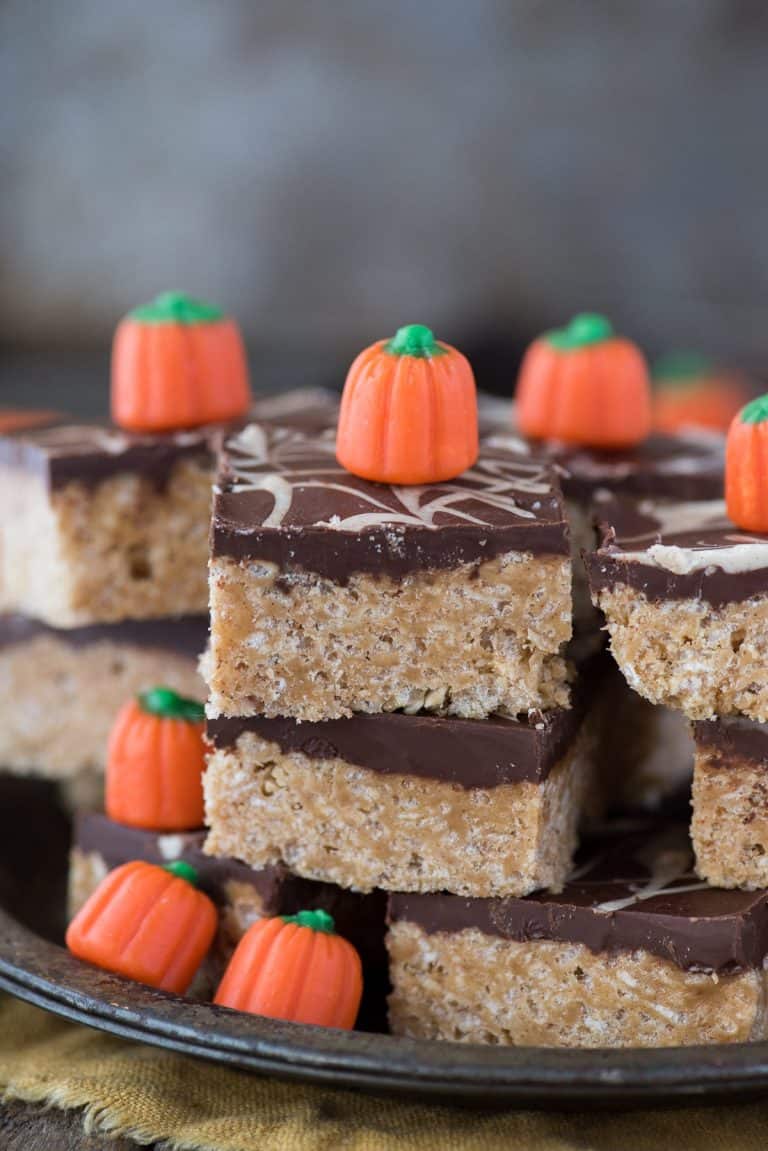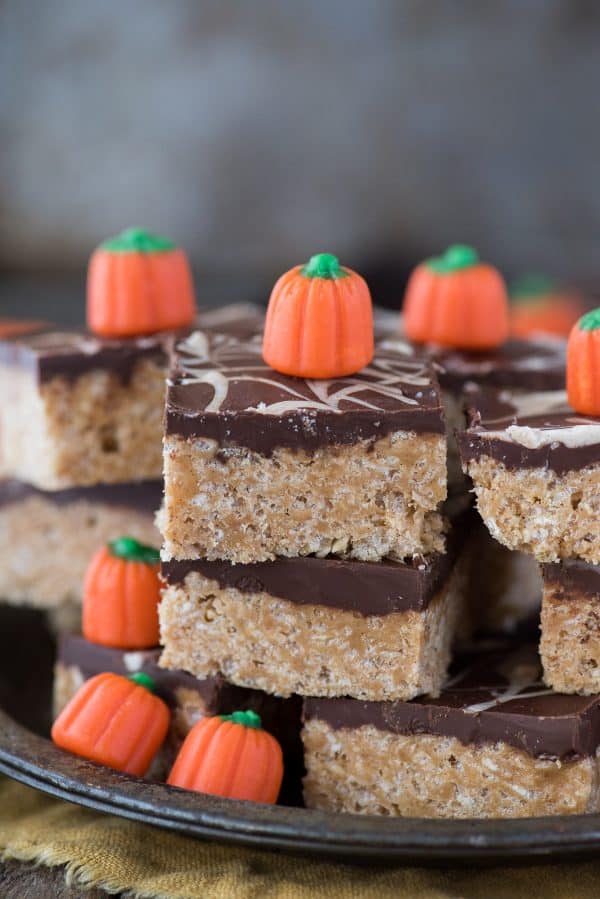 I have since learned the difference.
What are scotcheroos?
Scotcheroos start with a mixture of melted corn syrup, sugar and peanut butter – that's what you mix with the rice krispies. Press that mixture into a pan and once it's cool, pour a combination of melted chocolate and butterscotch over the top.
BUT…. I don't love butterscotch. It's intensely sweet – I know, coming from the girl who makes desserts for a living. So my scotcheroos just have a melted chocolate layer.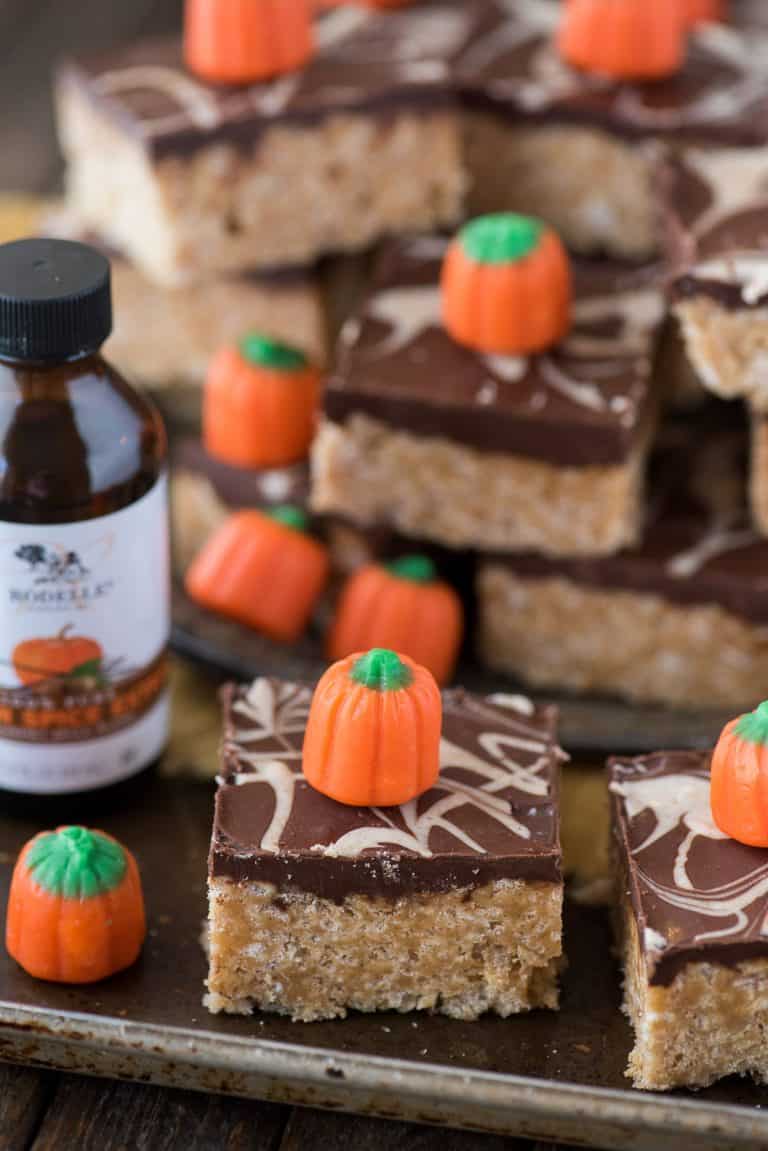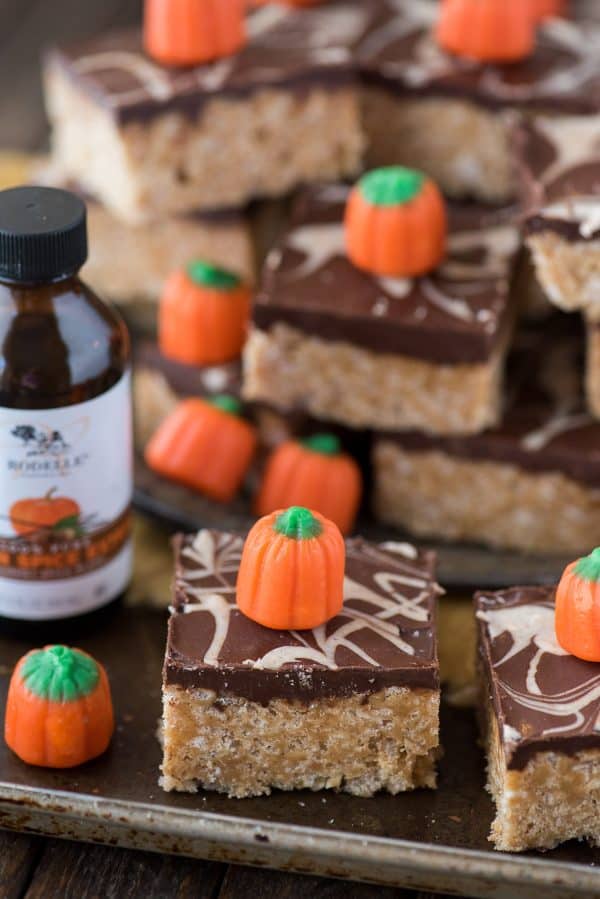 Since it's fall and everything is PUMPKIN SPICE flavor, these scotcheroos got a little makeover.
Just a few ingredients take these babies from regular scotcheroos to "I want to dip these pumpkin spice scotcheroos in my pumpkin spice latte while lighting my pumpkin spice candle."
There is no such thing as too much pumpkin spice. Just ask my husband, he's already on his 15th PSL. I'm pretty sure that his blood type is pumpkin spice at this point.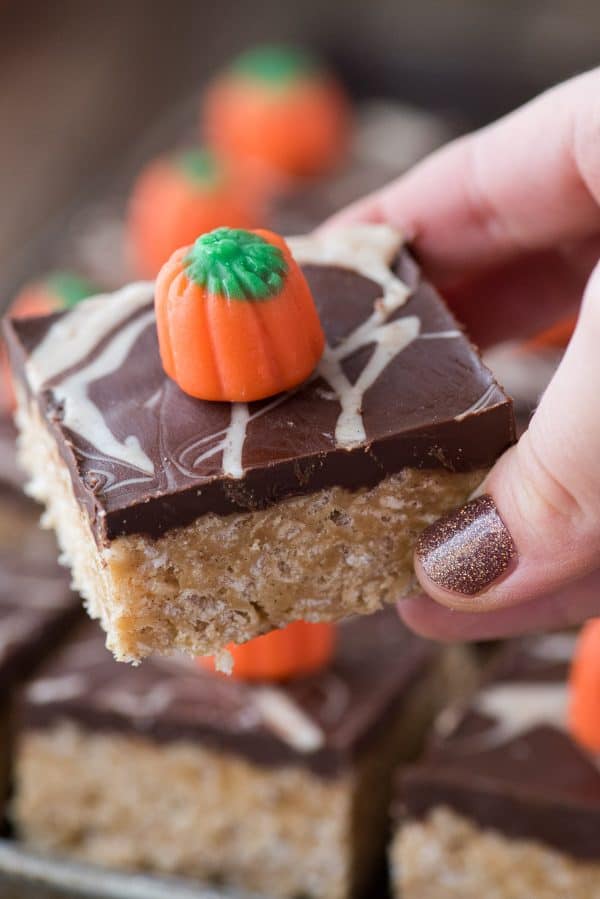 Tips
You can substitute pumpkin pie spice for the various spices, just add 2 & 1/2 tsp pumpkin pie spice in place of the individual spices.
Can you cover these in white chocolate? Yep! Top the pumpkin spice scotcheroos with whatever chocolate you want! I did milk chocolate and swirled in some white chocolate that I added a little bit of pumpkin pie spice to.
I topped the pumpkin scotcheroos with candy corn pumpkins – definitely optional, but adds some fall flare!
What else can I make with pumpkin spice extract? Check out these other fun fall recipes!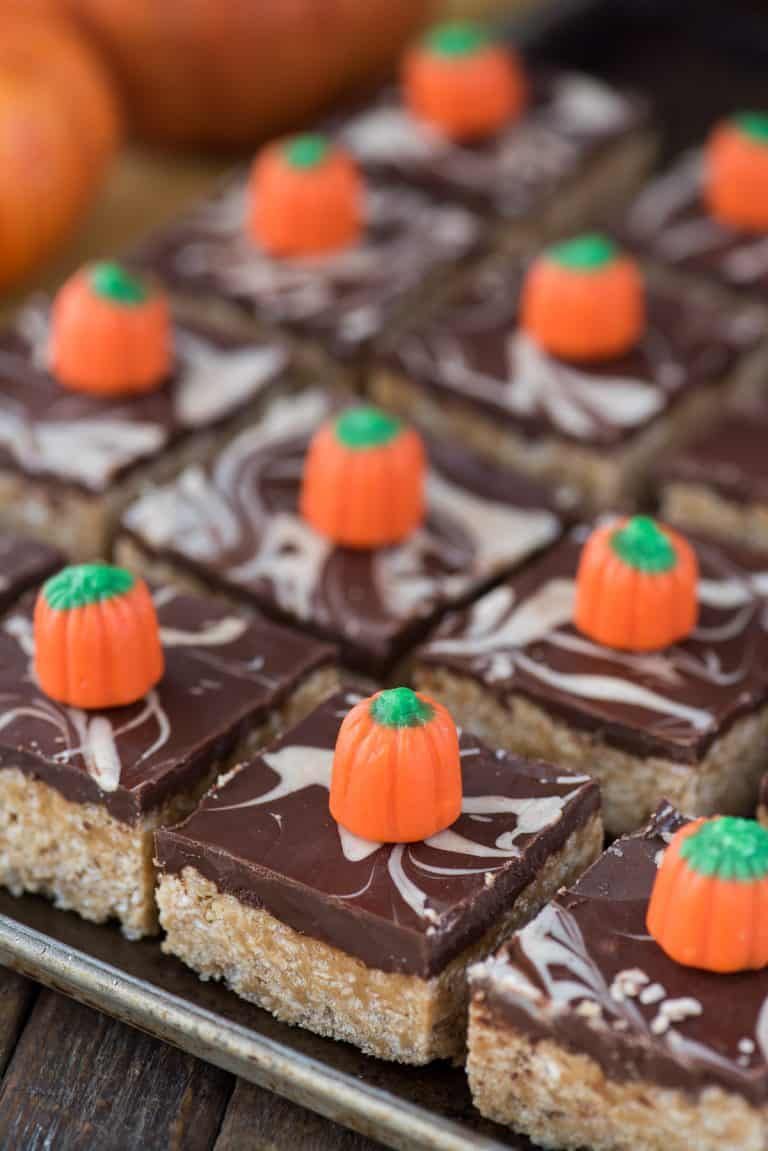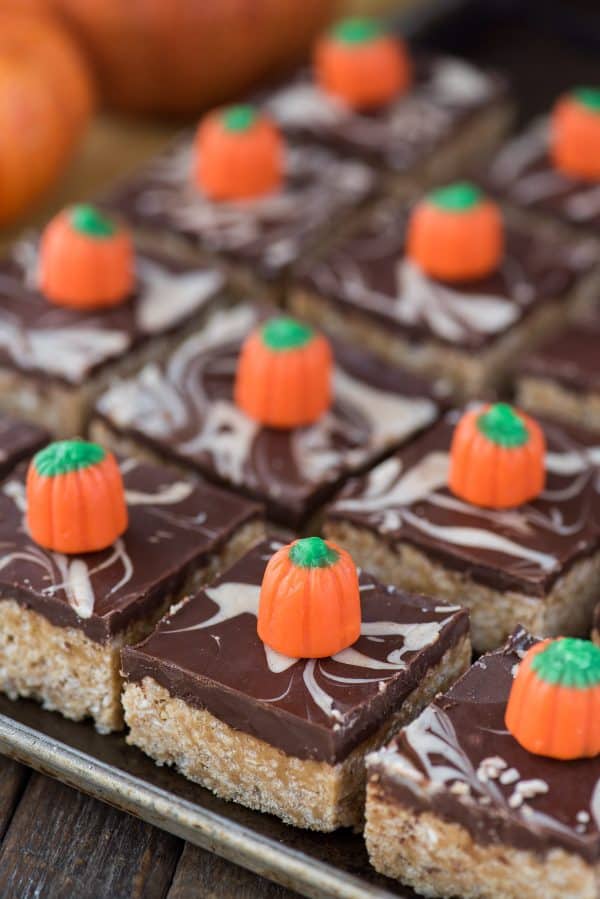 For a step-by-step of how to make this pumpkin spice scotcheroo recipe, watch this short video:
More Pumpkin Spice Desserts
Stay Connected

Subscribe to The First Year newsletter to get our recipes sent to your inbox! Follow along on Instagram, Facebook, Pinterest, and Youtube. If you make this recipe, tag @beth_thefirstyear on instagram!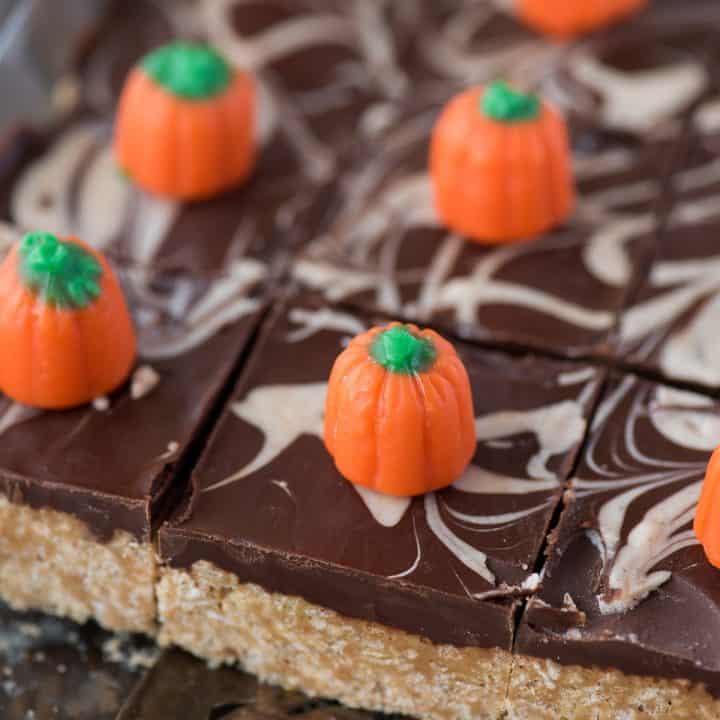 Pumpkin Spice Scotcheroos
Yield: 9x13 inch pan
Additional Time: 1 hour
Total Time: 1 hour
Take the classic scotcheroo dessert recipe and turn it into a pumpkin spice scotcheroo with a few additional ingredients! We look forward to making these pumpkin scotcheroos each fall - bring on all the pumpkin spice!
Ingredients
1 cup light corn syrup
1 cup sugar
3/4 cup creamy peanut butter
1 tsp cinnamon
1 tsp nutmeg
1/2 tsp ground ginger
1/2 tsp allspice
6 cups rice krispies cereal
2 & 1/2 cups semi-sweet chocolate chips
3 tbsp vegetable oil, for melting chocolate chips
Optional topping (drizzled white chocolate):
1/4 cup white chocolate chips
1/2 tbsp vegetable oil
1/2 tsp pumpkin pie spice
Candy corn pumpkins
Instructions
Spray a 9x13 inch baking pan with non-stick cooking spray or line with wax paper.
In a large mixing bowl, measure out 6 cups of rice krispie cereal. Set aside.
In a small pot over medium-low heat, combine the corn syrup and sugar, occasionally stir the mixture until the sugar dissolves and the mixture begins to boil.
Remove the pot from the heat and stir in the peanut butter, Rodelle Pumpkin Spice extract, and all spices.
Pour this mixture over the rice krispies and mix immediately with a spatula until all the cereal is evenly coated.
Press the cereal into an even layer in the prepared pan. Let the scotcheroos cool for 10 minutes.
In a small pot over low heat (or in the microwave on 50% power), melt the chocolate chips and the oil, stirring until it's smooth.
Pour the chocolate evenly over the cereal layer. Optional: melt 1/4 cup white chocolate chips with 1/2 tsp vegetable oil, then add in 1/2 tsp pumpkin pie spice and swirl the white chocolate top of the chocolate layer.
Allow the chocolate to set. Then cut and serve. Top with candy corn pumpkins if desired!
Recommended Products
As an Amazon Associate and member of other affiliate programs, I earn a small commission from qualifying purchases.