Blueberry Scones
Fresh blueberry scone recipe ready in 40 minutes!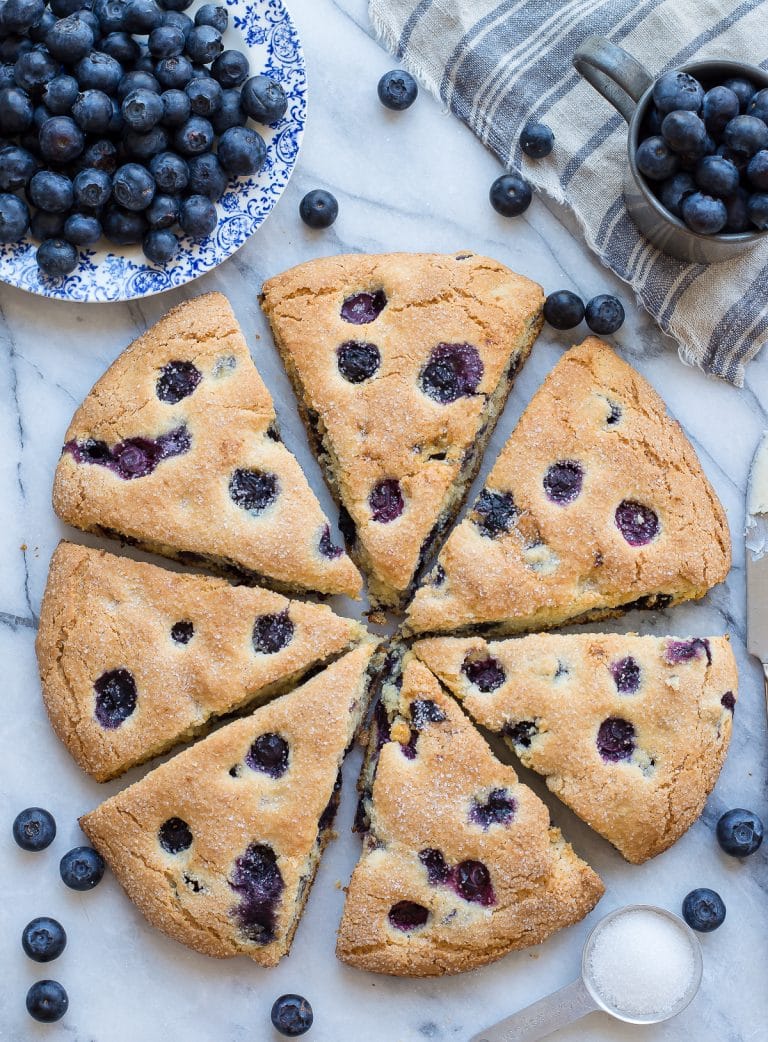 Guys… I am a blueberry hoarder.
If I buy blueberries it's not likely that I want to share them. Especially if they are the plump-y ones. And Ryan knows this too so when I do share I'm being extra generous haha
I will take my time looking at the blueberry containers at the grocery store, attempting to pick the one that has big, fat blueberries. Does anyone else do this?!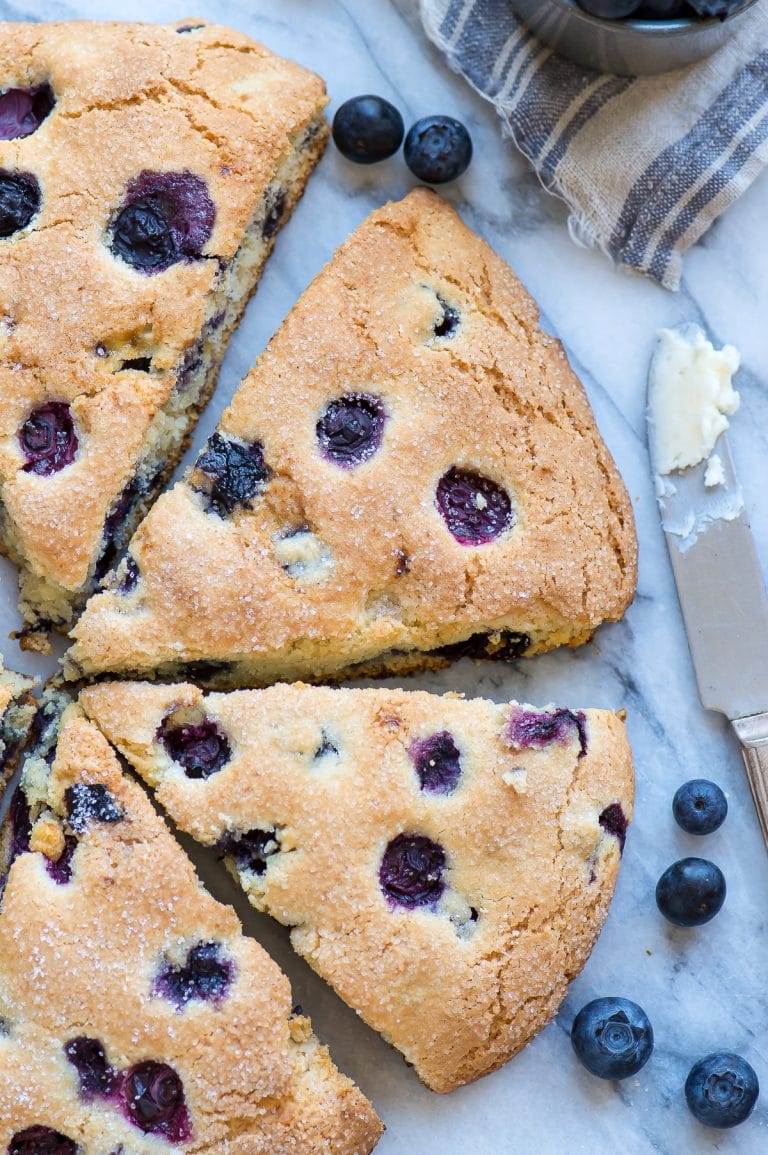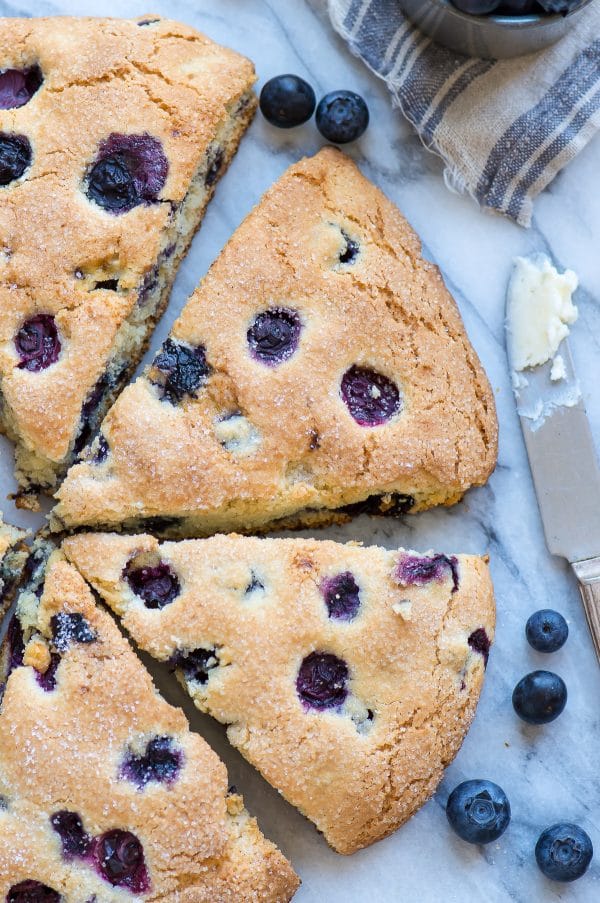 Every time I make scones I'm reminded of how easy they are to make. They are fast and simple to prep, no chilling or complicated steps and the bake time is short meaning you can have fresh homemade scones to eat in under an hour!
We have a few tips for making great blueberry scones!
Tip: I like to use my hands to cut the butter into the dry ingredients, that way the butter gets evenly distributed. The butter doesn't need to be 100% mixed in, small butter chunks are okay!
Tip: While you could use heavy cream as the liquid in this recipe, I found that using flavored creamer packs a more delicious punch. This time I used International Delight's Simply Pure vanilla creamer and I loved the extra vanilla flavor that it added.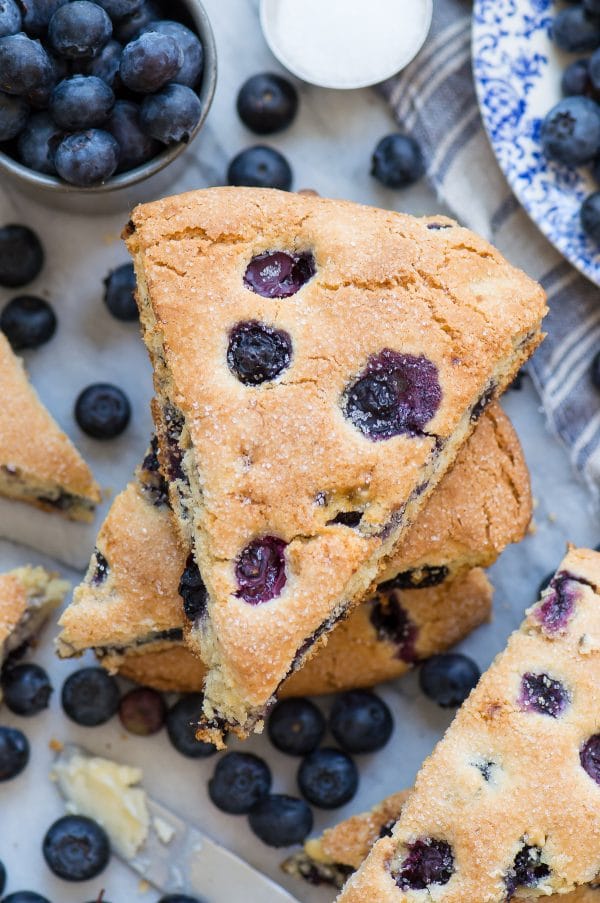 Tip: At first it might seem that you need more liquid when mixing the dry and wet ingredients, but keep mixing and the dough will come together perfectly.
Tip: I like to add the blueberries at the very end. Once the dough is together, add the blueberries and use your hands instead of a spatula to gently mix the blueberries into the dough. Ideally you'd like to keep the blueberries from breaking apart.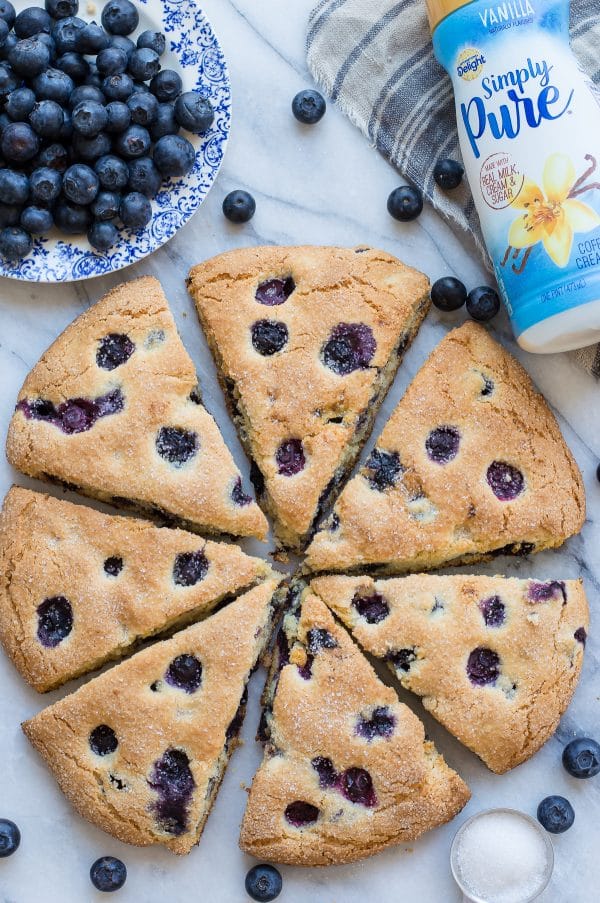 Place the dough on a baking sheet lined with a silicone baking mat or parchment paper and shape it into a uniform circle about 1/2 inch thick.
I like to use a pizza cutter to cut the dough into 8 sections and then I sprinkled my scones with sanding sugar before baking. Sanding sugar is a large crystal sugar that will not dissolve when subjected to heat. Some bakery style muffins and cookies have sanding sugar on top of them to give them that sparkle sugar look!
You can buy sanding sugar on Amazon or at stores that sell cake decorating products – I believe Party City carries sanding sugar.
Bake the scones for 15-20 minutes, then recut them with the pizza cutter, pull them apart and bake for 10-15 more minutes.
This is a sponsored conversation written by me on behalf of International Delight. The opinions and text are all mine.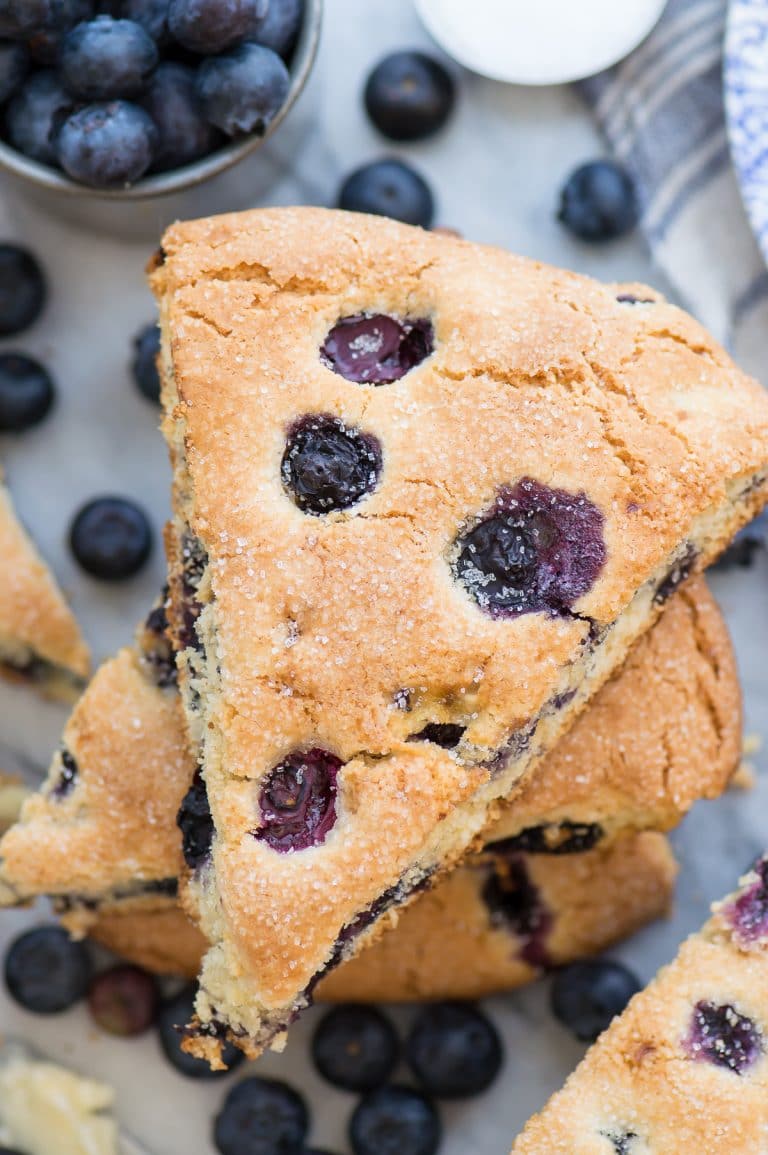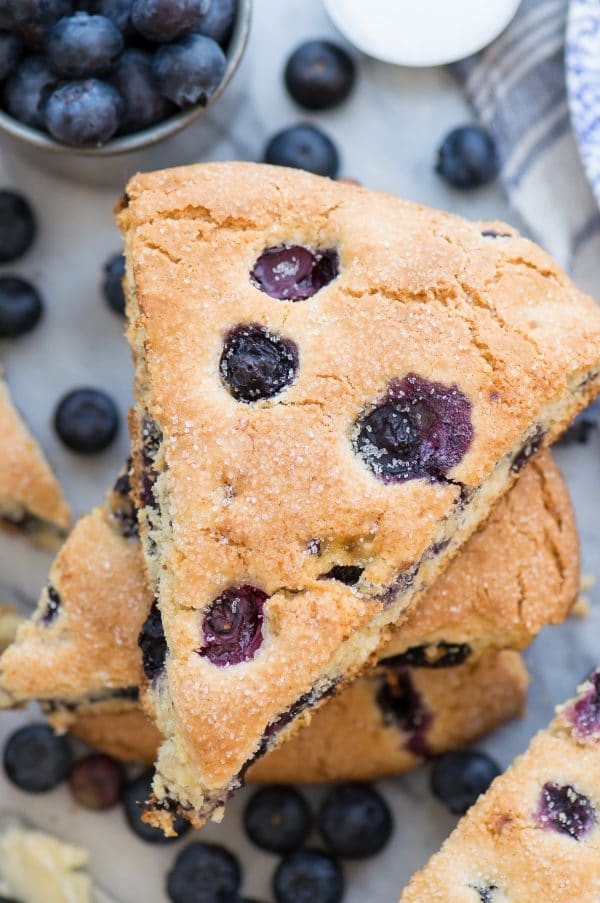 Blueberry Scones
Yield: 8 scones
Total Time: 40 minutes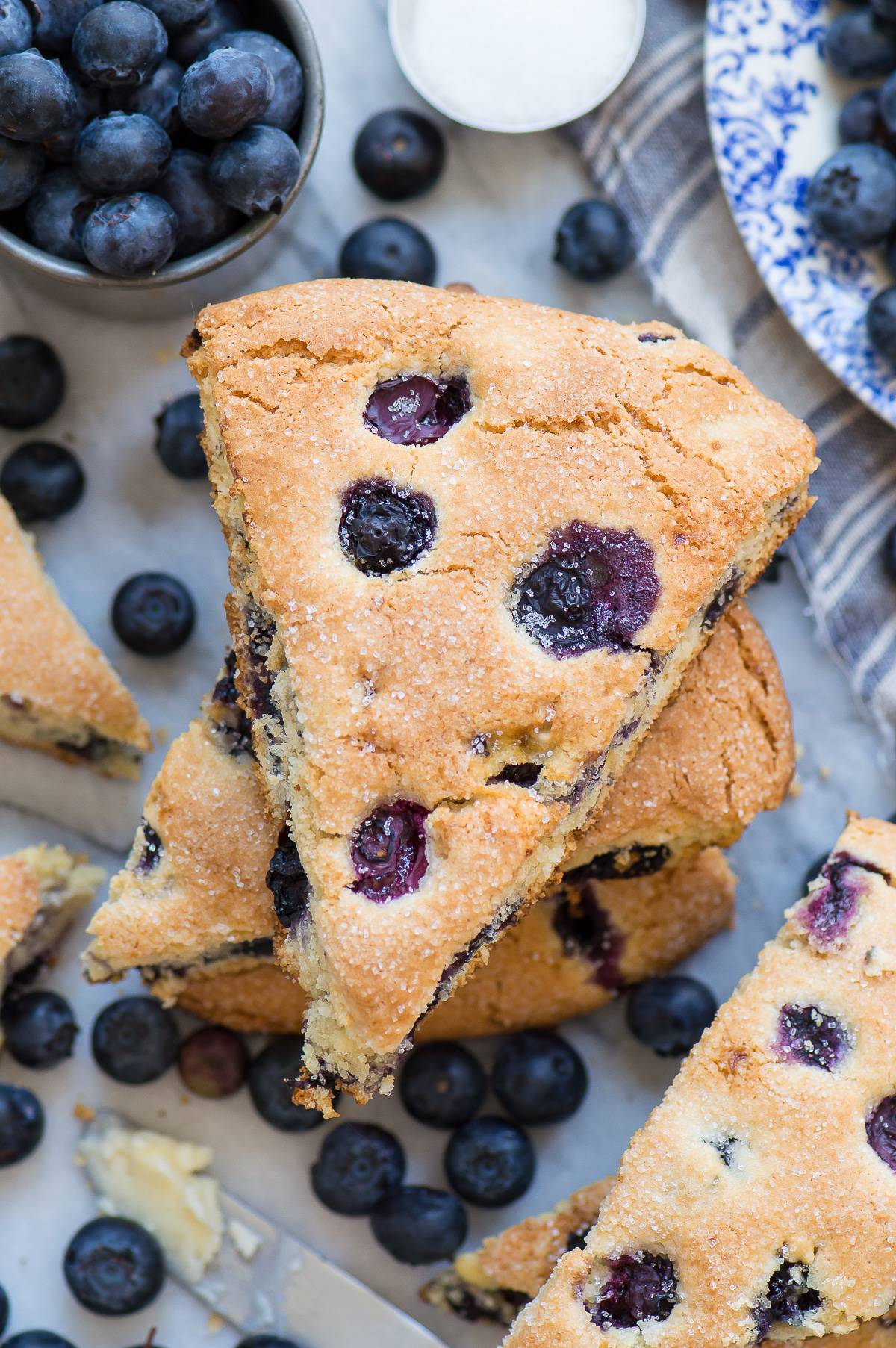 Ingredients:
2 cups all purpose flour
1/2 cup sugar
1 tbsp baking powder
1/2 tsp salt
1 stick butter, cold and cut into pieces
1 egg
1/2 cup Simply Pure International Delight vanilla creamer
1 tsp vanilla extract
1 cup blueberries
optional, sanding sugar for the tops
Directions:
Preheat the oven to 400ºF.
In a large bowl, combine the flour, sugar, baking powder and salt.
Using your fingers or a pastry cutter, cut the butter into the flour mixture until you have coarse crumbs.
In a separate smaller bowl, stir together the egg, creamer, and vanilla extract.
Add the liquid mixture to the dry ingredients, mixing until it's just combined.
Add in the blueberries, gently mix with your hands to combine.
On a baking sheet lined with parchment paper or a silicone baking mat, sprinkle a bit of flour on your surface then shape the dough into a circle between 1/2 to 1 inches thick.
Use a pizza cutter to slice the dough into 8 sections.
Sprinkle white sanding sugar on top of the scones.
Bake for 15-20 minutes. Then re-cut the scones using the pizza cutter, pull them apart on the baking sheet and bake for 5-10 additional minutes until they are golden.
Store the scones in an air tight container.