Want our top 10 essential dessert recipes?
Get our favorite classic recipes in your inbox! It's 100% free, but we might make you hungry!
White Chocolate New Years Eve Puppy Chow
I had a lot of fun making Christmas treats this season, and I didn't think it could get any better, but I'm having way too much fun covering my kitchen in gold sprinkles for NYE. Can't New Year's Eve be next week so I have more time to share gold recipes? I think it's my new favorite color, it should be the color of the year :)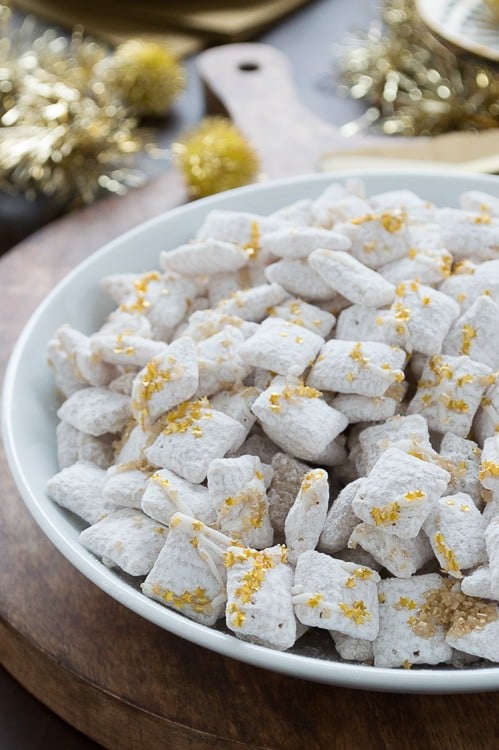 When I think of NYE food I think of appetizers, grab food, and snacky things. Oh and champagne! I shared a super fun champagne recipe last week. Imagine this.. white chocolate + champagne + cheesecake filling + graham cracker crumbs = dessert shooter! But they get better, I top them with.. cherries + white chocolate + gold sprinkles = cherries dipped in white chocolate and covered in gold sprinkles. I highly recommend checking out that recipe, see it here :)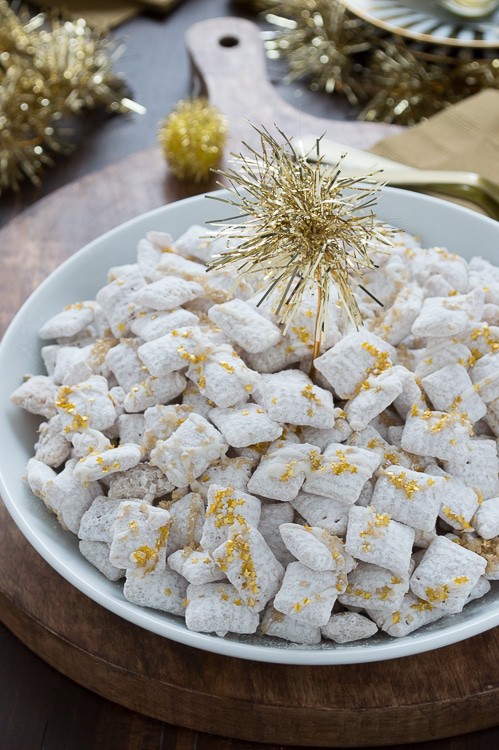 If you're looking for a quick NYE snack recipe, this is the one for you! Everyone loves puppy chow, or muddy buddies, so I know it will be a hit at any party! I decided to make this batch extra New Year's Eve-y (is that even a word?) by using gold sprinkles and edible gold stars!
I stuck with white chocolate puppy chow as the base so the sprinkles would stand out. In order to get the puppy chow as white as possible I omitted the peanut butter, so instead of melted chocolate and peanut butter it was just chocolate. I haven't tried making this recipe using white chocolate chips and peanut butter, but that could be something to explore if you like the addition of the peanut butter. Also, if you don't care about the puppy chow being extremely white, then I say add in the peanut butter which would be a half cup :)
I really really like the edible gold stars in this puppy chow, that's what makes this recipe. I used one entire container in making this puppy chow, and I think I could have used another container… could there ever be too many gold stars? No way, especially not for NYE! If you're looking to order the stars, here is a link on Amazon.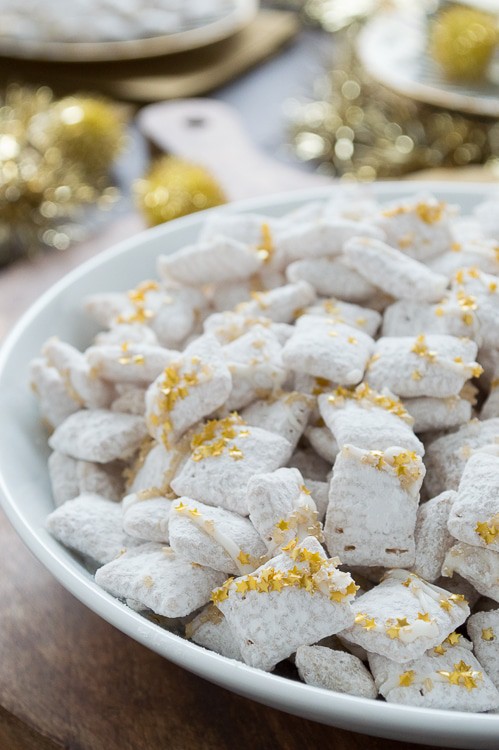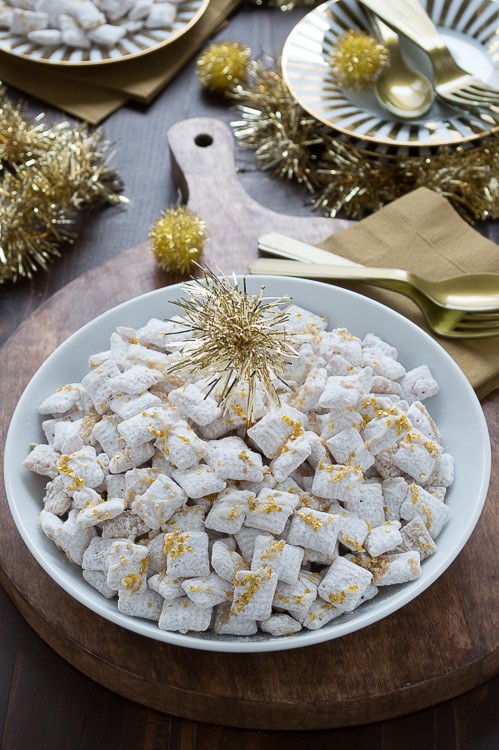 To make things a little bit more festive, put a gold tinsel topper in the serving bowl.
To make the topper you will need a string of gold tinsel (here is a link to hobby lobby to see what I'm talking about) and some gold wire (see here). Measure the gold wire according to how tall your glasses are and cut it. Take a 2-3 inch piece of gold tinsel and wrap it around one end of the gold wire. My tinsel stayed without needing to be taped or glued, but you could secure with tape or hot glue if needed. Make as many as you need if you want to use them for decorating with, and I suggest that you reuse them from year to year because they are so fun!
More top rated New Year's Eve recipes: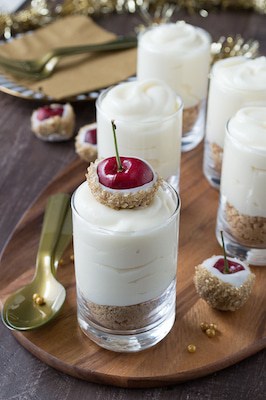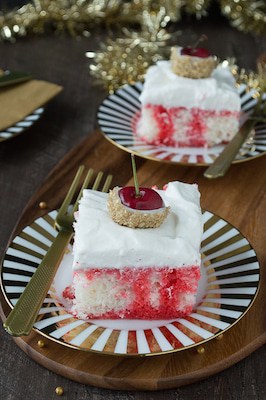 White Chocolate Champagne Cheesecake Shooters and Champagne Cherry Poke Cake
White Chocolate New Years Eve Puppy Chow
Yield: 8 cups
Total Time:30 minutes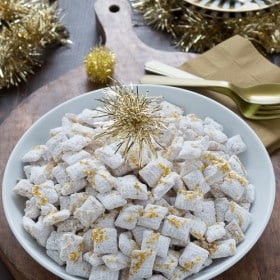 Ingredients:
8 cups chex cereal
1 package white chocolate candiquik
2 tbsp vegetable shortening
1 to 1 & 1/2 cups powdered sugar
gold glitter sprinkles
edible gold star sprinkles
Directions:
In a large bowl, place the chex cereal. Set aside.
Use a knife to divide the candiquik into squares for easier melting. In a small saucepan over low heat, combine the candiquik and vegetable shortening. Stir occasionally until the chocolate is melted and smooth.
Before pouring the chocolate, make sure to reserve some (about 1/4 cup) for drizzling on top of the puppy chow. Pour the chocolate on top of the chex and gently mix to evenly coat the cereal.
Quickly transfer the chocolate covered cereal to a large gallon sized ziploc bag. Add in 1 cup of powdered sugar, seal and shake viciously until the cereal is coated. If the cereal is not completely coated, add another 1/2 cup powdered sugar and shake again.
Pour the cereal onto a large baking sheet. Drizzle the remaining white chocolate on top of the cereal and then add the gold sprinkles and edible gold stars. I like to work in small sections when drizzling the chocolate so it doesn't harden before I add the sprinkles.
Allow the puppy chow to set on the pan for 15 minutes. Place the puppy chow in a bowl and add additional gold stars.
Products used to make this recipe
(may include affiliate links)