Easy Champagne Cupcakes
Easy champagne cupcakes with champagne frosting is a New Year's Eve dessert you won't want to miss! How to make champagne cupcakes using a box cake.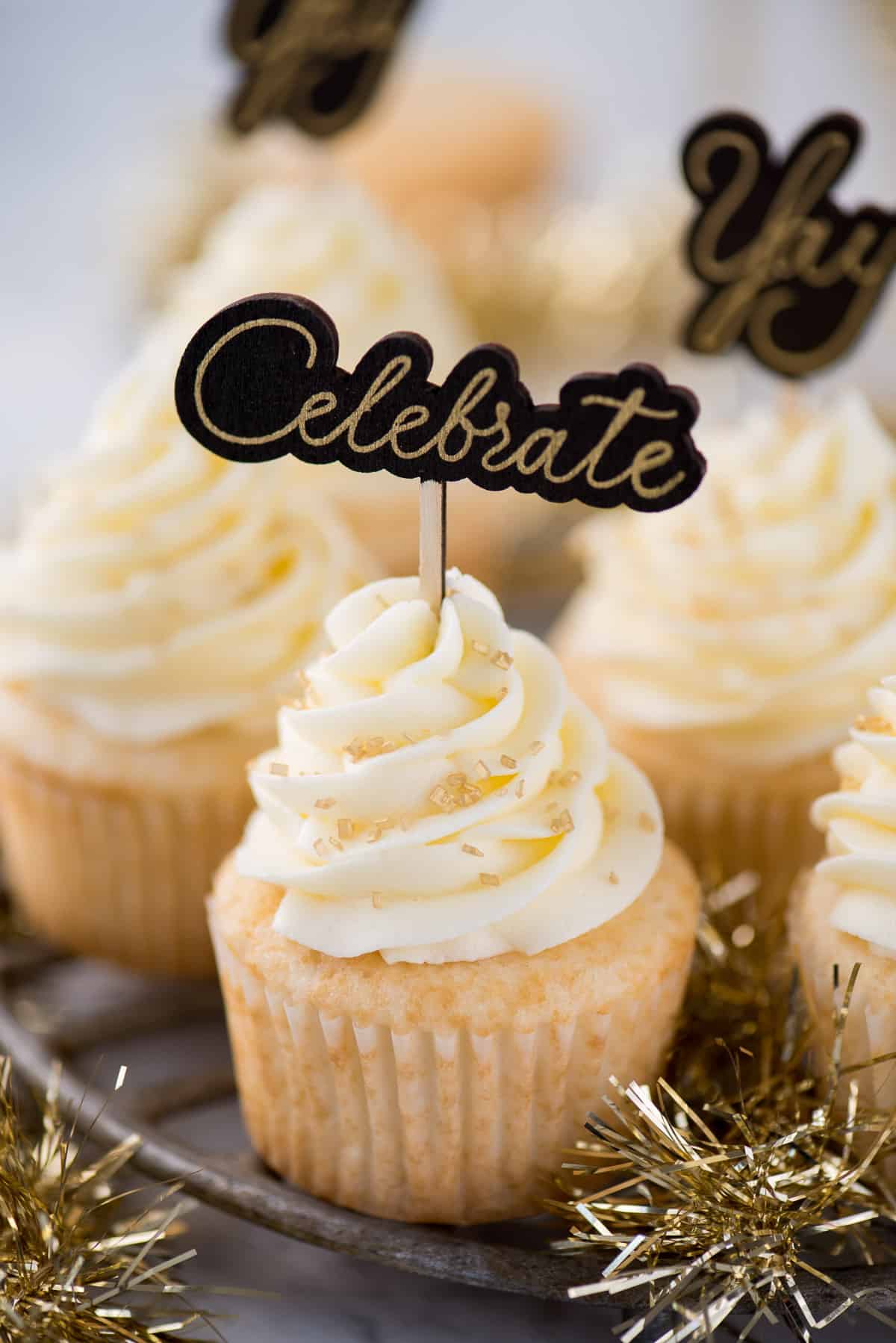 We just got back from spending time with our families in Minnesota! From where we live, it's an 8 hour drive each way. 16 hours total.. so that's a lot of time in the car.
The first 5-7 times we did that drive, Ryan and I would play various car games like the alphabet game or this weird game where whenever you pass a cow pasture the first person to say "those are my cows" gets to add a tally to their cow herd count.
But, whenever you drive past a McDonald's, the first person to spot the sign says "I killed your cows" therefore you lose a tally – whoever has the most tallies at the end of the drive wins. It is the weirdest game ever, but can become really competitive!
The car games just weren't cutting it, so when the first season of Serial was hot last Christmas, we binge listened to that on our last Christmas trip back to Minnesota. Ever since then, we rent audio books or listen to podcasts because it helps the time fly by!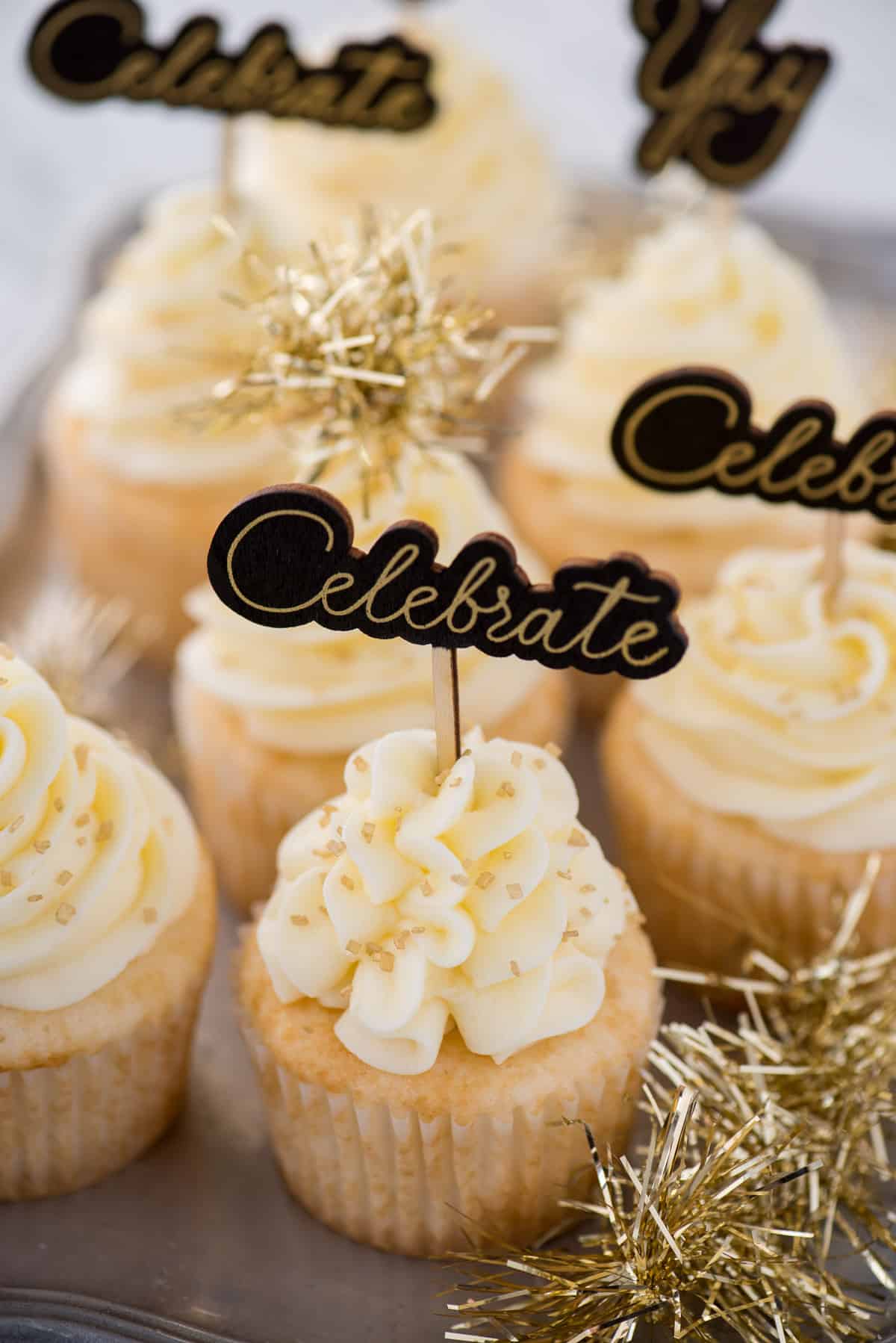 Since we were big fans of Serial, I found another podcast about the same case called Undisclosed: The State vs. Adan and it is SO good. Almost better than Serial.
They present new evidence and go more in depth – in fact we only got through 8 episodes out of 17! They even have FAQ episodes where the answer listener questions. Now we need to find the time to listen to the remaining podcasts.. and there goes my productivity!
I'm hoping we'll have the chance to squeeze in a few more episodes around NYE. I'm thinking if I listen to the podcast it will help guarantee that I stay awake to see the ball drop at midnight.. otherwise Grandma Beth might be snoozing :)
For those of you who have much more adventurous plans then me, consider taking these easy champagne cupcakes with you wherever you plan to celebrate!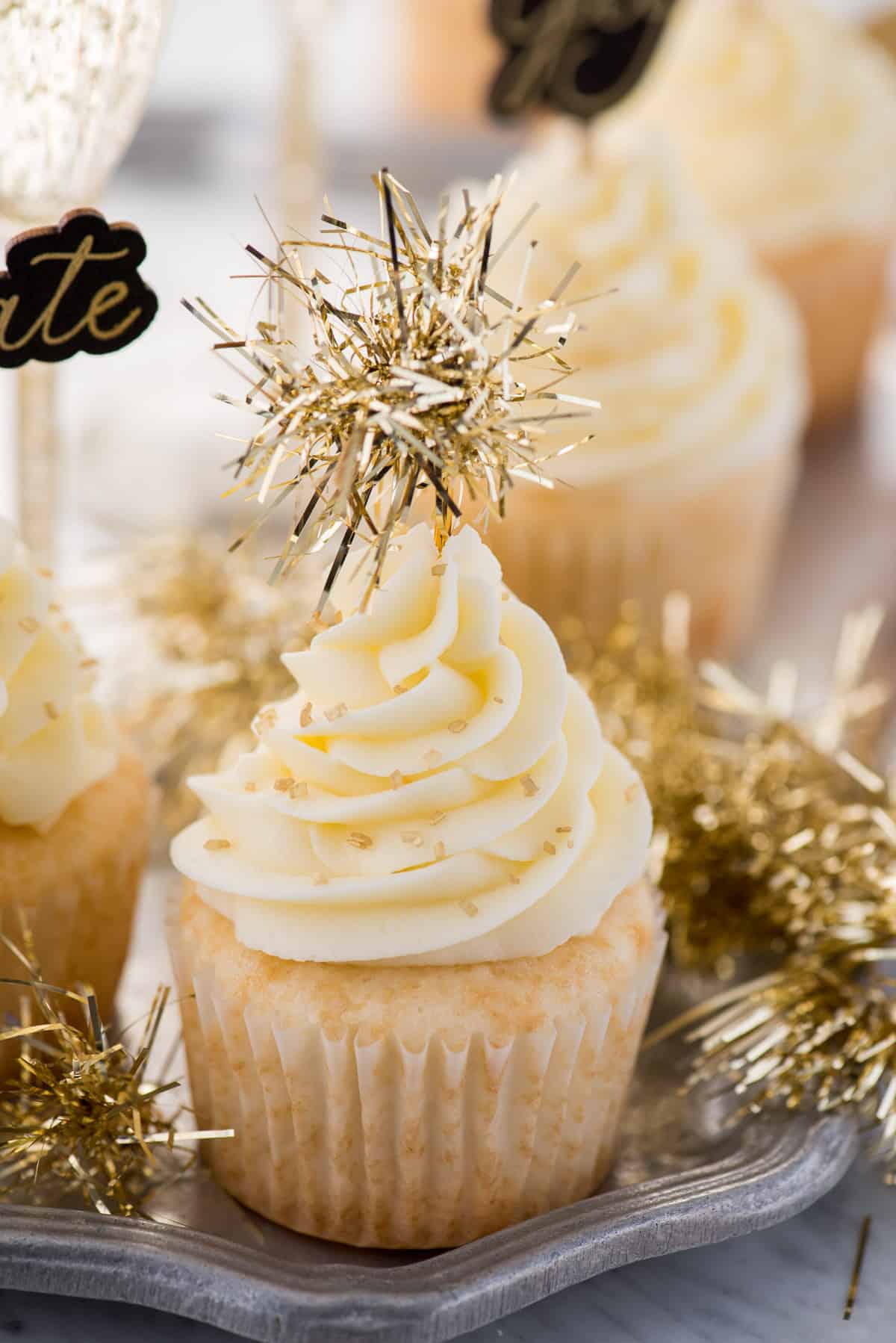 What do champagne cupcakes taste like?
These cupcakes have a subtle champagne taste in the cake and in the frosting. They do not taste like you are drinking champagne, but have a mild champagne flavor.
Ingredients
1 box of white cake mix, plus ingredients on back of box
2 sticks of butter
champagne
powdered sugar
gold sprinkles
How to make champagne cupcakes that taste like champagne
If you are wanting a really bold champagne flavor in these cupcakes, I would recommend using a champagne flavoring. Check out these ones here, here and here. You can add these "extracts" into the cake batter and into the buttercream.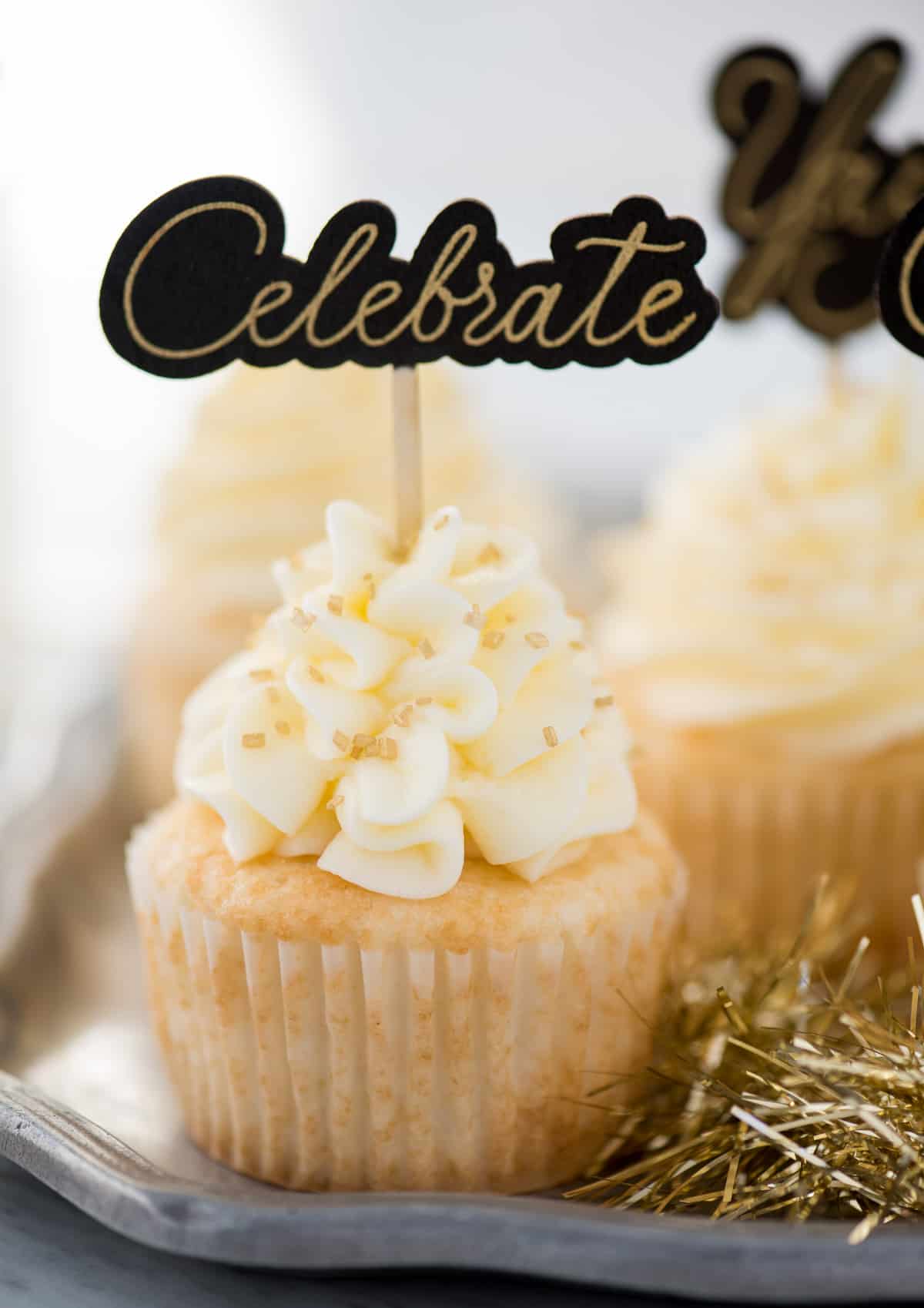 How to make champagne cupcakes with a box cake mix
Use your favorite box cake mix – I love and recommend Duncan Hines white cake mix. Next, follow the recipe as stated on the back of the box, BUT substitute your favorite champagne or cheap champagne for the water. That's it!
We paired these box cake champagne cupcakes with champagne buttercream. You'll use butter, powdered sugar and a few tablespoons of champagne.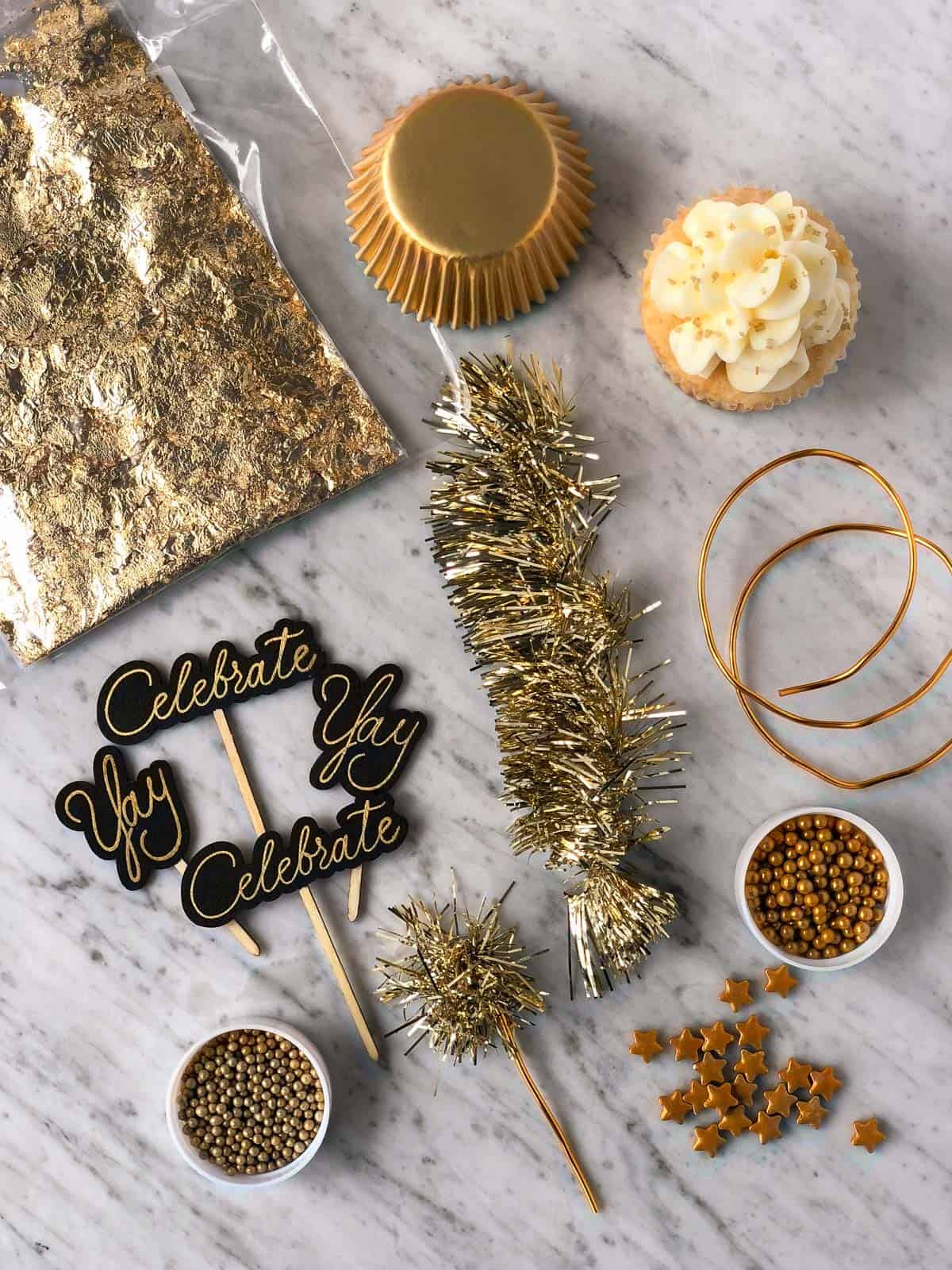 How to decorate New Year's Eve champagne cupcakes
There are TONS of fun decorating options! You can use gold sanding sugar, gold sprinkles, gold nonpareils, gold star sprinkles or edible gold leaf.
Or you can add a cute topper. I found the "Celebrate" and "Yay" wooden toppers at Michaels. You can also make your own new year's eve cupcake topper with gold decorating wire and gold garland, I found both at the Dollar Tree around Christmas time, leading up to NYE.
To make, cut the gold wire to the desired size, and bend the wire to make a small loop on one end. Cut off a small portion of gold garland, stick it through the loop and wrap it around until it stays. You should have a little gold puff ball!
Happy New Year!
More New Year's Eve Desserts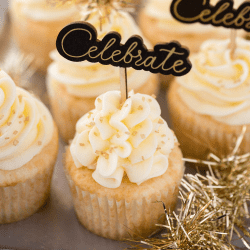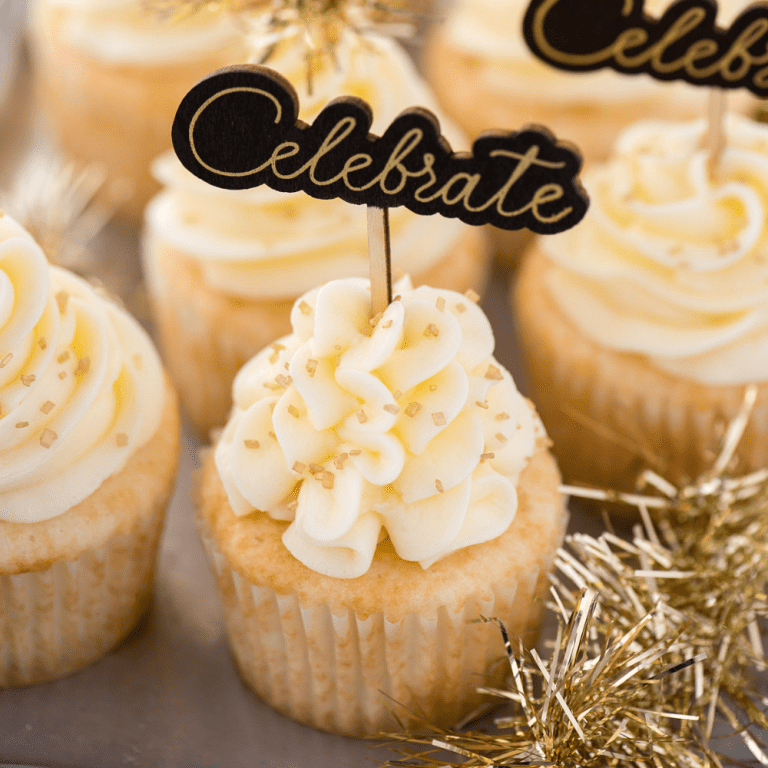 Easy Champagne Cupcakes
This easy champagne cupcake recipe with champagne frosting is a New Year's Eve dessert you won't want to miss! How to make champagne cupcakes using a box cake.
Ingredients
1

box

white cake mix

,

plus ingredients on back of box, ***replace the water with champagne***

2

sticks

butter, room temperature

,

1 cup

2-3

tbsp

champagne

4-5

cups

powdered sugar

gold sprinkles
Instructions
Preheat the oven according to the directions of the package.

Line a muffin pan with muffin liners.

Prepare and bake the cake mix according to the directions on the package, however substitute the water for champagne, so if your box calls for 2/3 cup water use 2/3 cup champagne. Divide the batter evenly among the muffins cups – but only fill them 1/2 full. They will puff up a lot!

Bake according to the suggested time – roughly 20-25 minutes.

Remove the cupcakes and place them on a cooling rack to cool.

When the cupcakes are cooled, prepare the frosting.

In a mixing bowl, beat the butter using an electric mixer until smooth, 1-2 minutes.

Add in the champagne, starting with less and adding more for stronger flavor if desired.

Begin to add the powdered sugar, about 1 cup at a time, mixing by hand first, then with the electric mixer. Continue adding powdered sugar until the frosting tastes good to you.

Place the frosting in a large piping bag fit with a wilton 1m piping tip. Push the buttercream down into the bag. Pipe the buttercream onto the cupcakes, starting in the center of the cupcake, swirling out, and then swirling back into the center, progressively stacking the frosting as you get to the center.

Top with gold sprinkles and a cupcake topper if desired.
Calories:
226
kcal
,
Carbohydrates:
37
g
,
Protein:
1
g
,
Fat:
8
g
,
Saturated Fat:
5
g
,
Polyunsaturated Fat:
1
g
,
Monounsaturated Fat:
2
g
,
Trans Fat:
1
g
,
Cholesterol:
20
mg
,
Sodium:
217
mg
,
Potassium:
17
mg
,
Fiber:
1
g
,
Sugar:
29
g
,
Vitamin A:
235
IU
,
Calcium:
50
mg
,
Iron:
1
mg