New Year's Eve Oreo Balls
Gold and glittery New Year's Eve oreo balls! Dipped in chocolate and white chocolate, decorated with edible gold leaf! Plus there is a star sprinkle hidden inside each!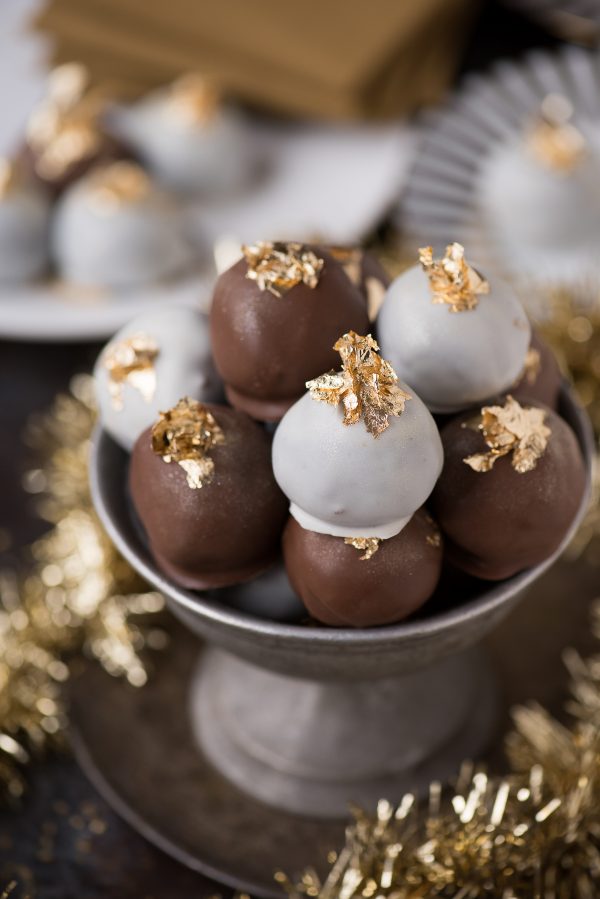 Every year I like to share at least one super festive new year's eve recipe!
NYE is a big deal and it deserves delicious recipes just like Christmas!
I really wish there was a few weeks between Christmas and New Year so there would be more build up and excitement for NYE like there is for Christmas! Plus, then I could share allll the gold and glittery recipes.
Edible glitter, of course!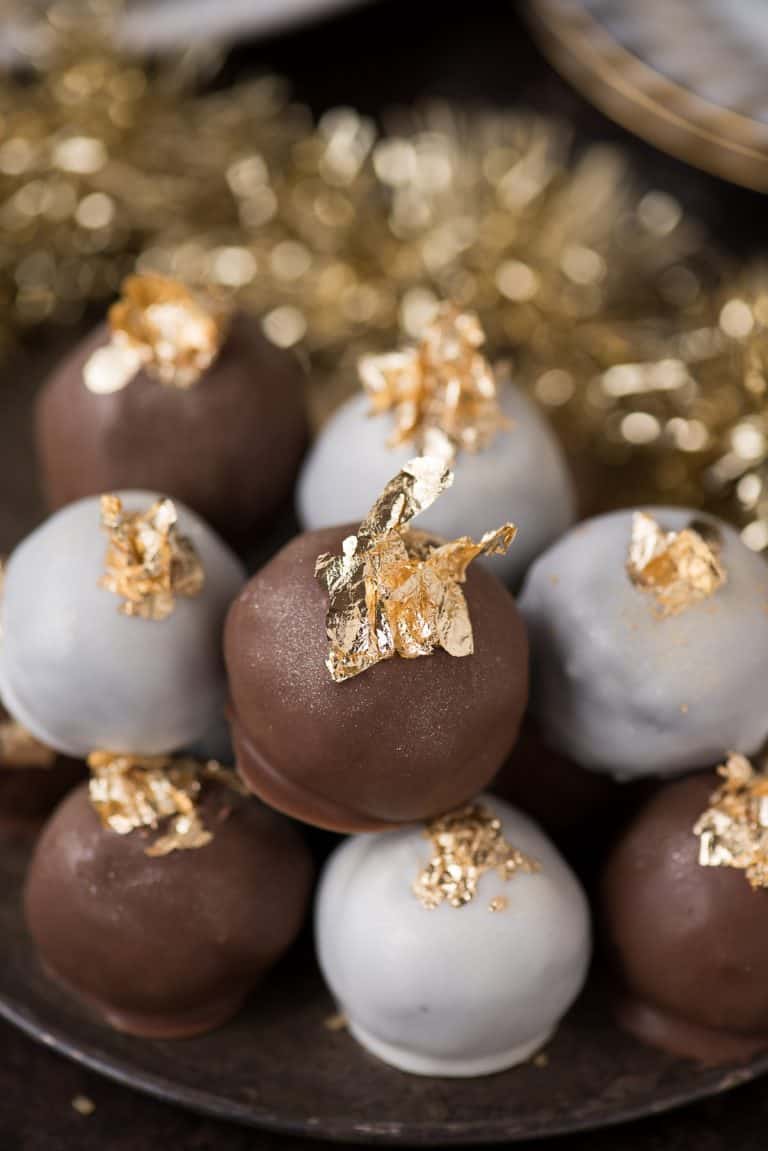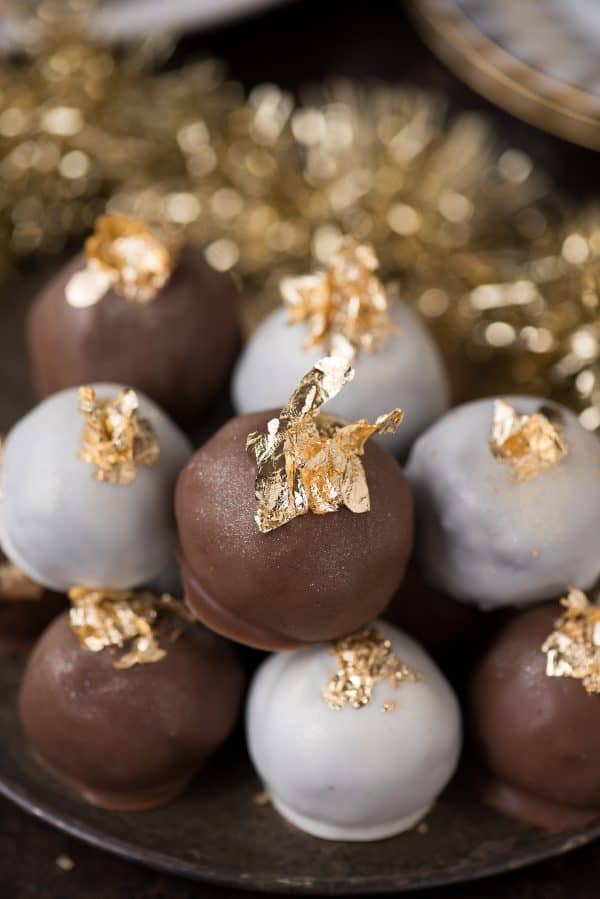 Oreo balls are always popular – for birthdays, holidays, etc, or for any plain day of the week! Our most popular christmas recipe is an oreo ball recipe, so I figured I would give the people what they want – another oreo ball recipe!
The base of all oreo ball recipes is the same – oreos and cream cheese. But the fun comes in the decorating!
New Year's Eve is all about gold, glitter, sparkles, and champagne. And chocolate, because chocolate is an every day thing.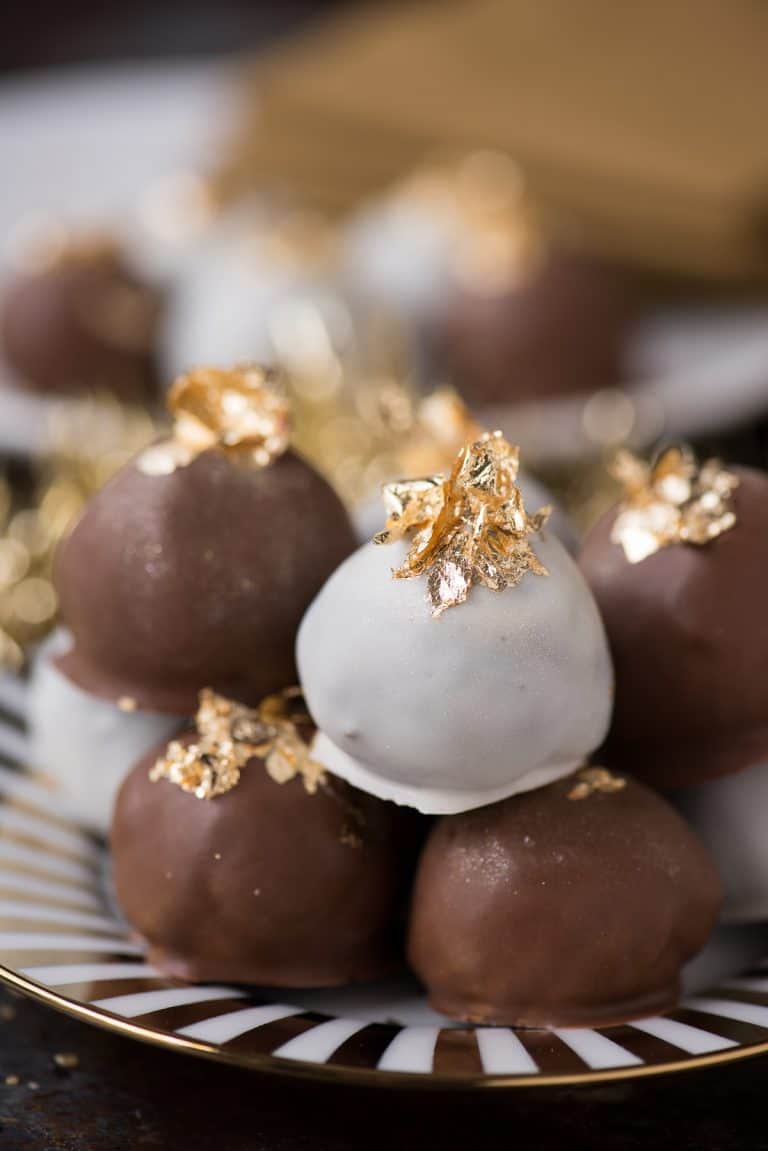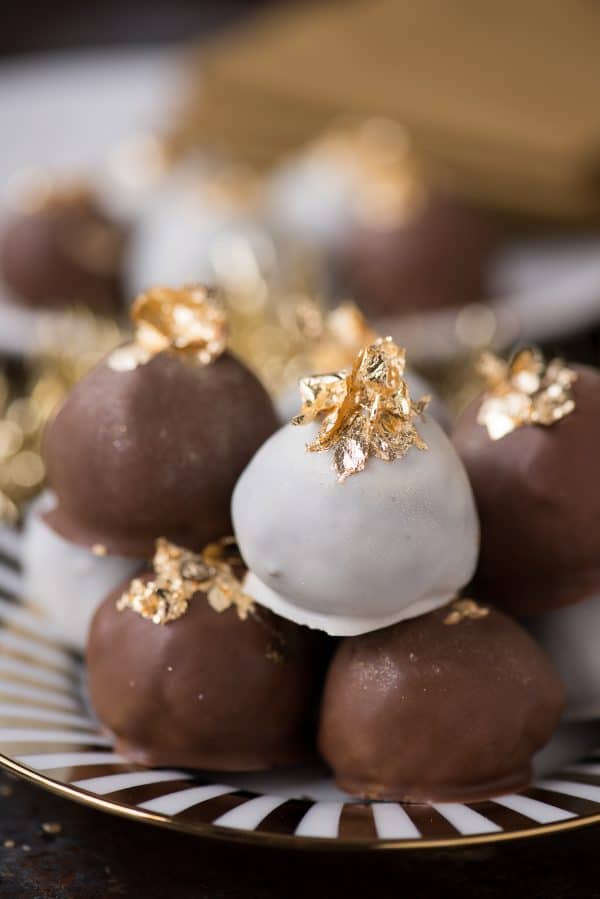 I dipped these oreo balls in vanilla and chocolate almond bark. I am 100% a chocolate person – not white chocolate, sorry friends – but I wanted to offer a variety for those white chocolate liking folks.
Right after you dip the balls in the almond bark, use a tweezers to add pieces of edible gold leaf to each. I didn't want the gold leaf to lay flat on the oreo ball, so I stacked some pieces on top of one another and adjusted certain pieces so they looked more "architectural".
You can find edible gold leaf on amazon or certain kitchen stores will carry it. Make sure the package says it's edible!
Once the almond bark is set, I used a clean paintbrush to add pearl dust to each oreo ball. Because there is nothing better than more sparkle :)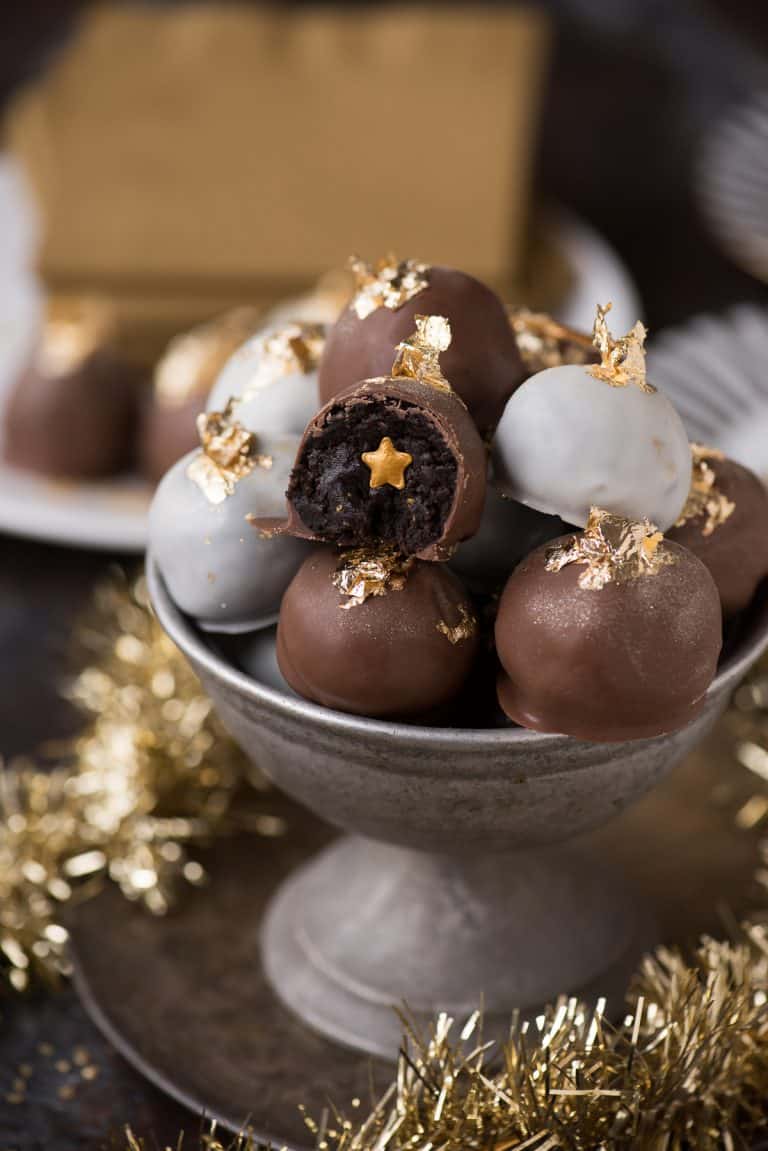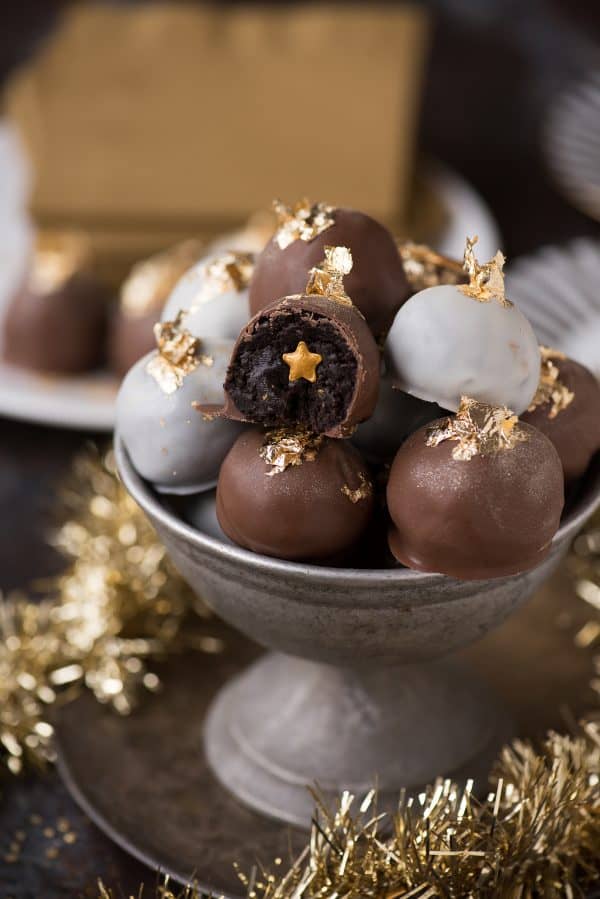 For a step-by-step of how to make this New Year's Eve oreo ball recipe, watch this short video: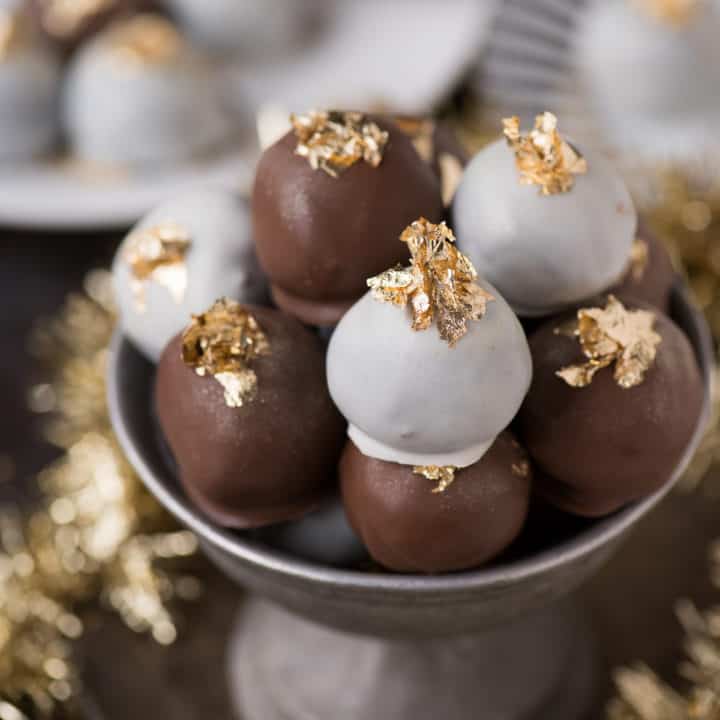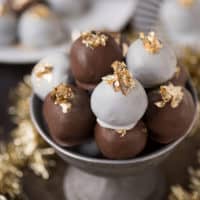 New Year's Eve Oreo Balls
Yield: 30 oreo balls
Additional Time: 1 hour
Total Time: 1 hour
Gold and glittery New Year's Eve oreo balls! Dipped in chocolate and white chocolate, decorated with edible gold leaf! Plus there is a star sprinkle hidden inside each!
Ingredients
1 package oreos
1 package cream cheese, 8 oz, softened
chocolate almond bark and vanilla almond bark
Instructions
Allow the cream cheese to come to room temperature.
Put half of the oreos in the food processor/blender and pulse until you have oreo crumbs. Add the other half of the oreos to the food processor and pulse again, until all the oreos are fine crumbs.
Add the cream cheese to the blender, mix until will blended.
Line a baking sheet with a silicone baking mat. Use a small cookie scoop to form uniform oreo balls. Place a few star sprinkles inside each oreo ball, roll it into a ball and place on the baking sheet. Refrigerate the oreo balls for 20 minutes.
After 20 minutes, begin to melt the chocolate and vanilla almond bark in separate small pots over low heat on the stove. Stir occasionally until completed melted.
Remove the oreo balls from the fridge. To dip, place 1 oreo balls in the pot with melted chocolate. Use a spoon to spoon chocolate on top, if needed. To remove the oreo ball, use a fork to lift it out of the chocolate. To remove excess chocolate from the oreo ball on the fork, scrape the bottom of the fork on the edge of the pot to remove chocolate, then put the oreo ball back on the silicone baking mat.
Use a tweezers to place edible golf leaf pieces on the freshly dipped chocolate. Make sure to add the gold leaf to the oreo ball before the chocolate sets.
Continue this process until all the oreo balls are dipped.
Allow them to harden at room temperature, then use a clean paint brush to add gold pearl dust to each oreo ball. Serve and enjoy.