Valentine's Day Donuts
Valentine's Day Donuts – treat your Valentine to a batch of these cute homemade donuts!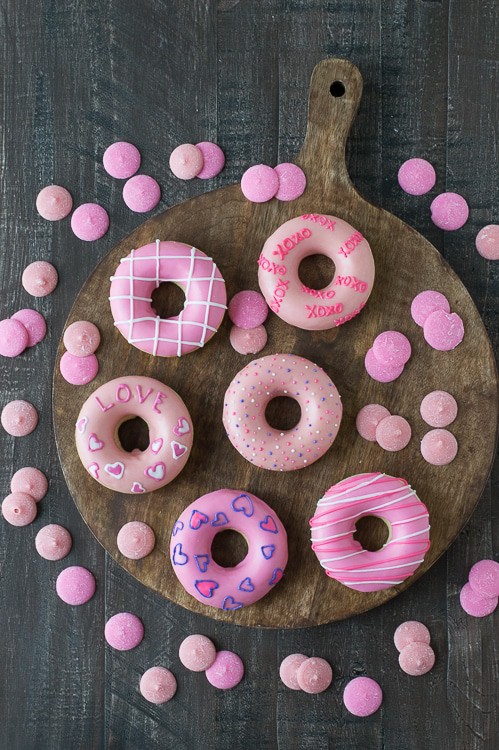 If you know us, you know that we like donuts. And if you like donuts too, you've come to the right place.
Out of all of the donuts I've made, I think these Valentine's Day Donuts are my favorites. But these snicker's donuts are a close second.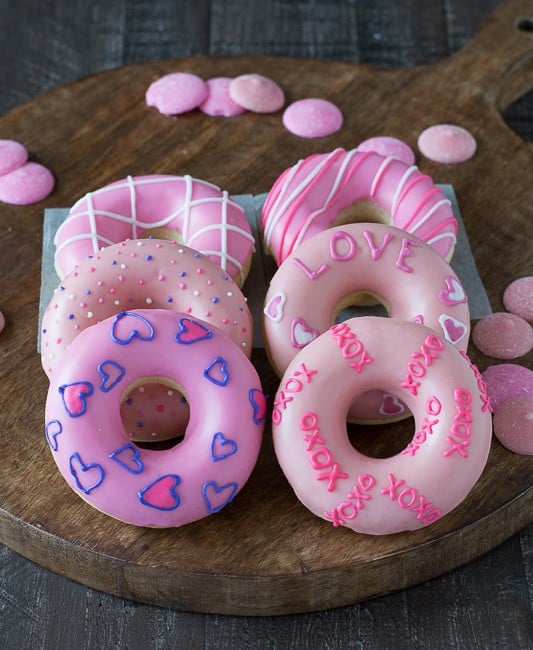 If my valentine (wink wink!) made a dozen of each for Valentine's Day, I'd beam from ear to ear. Actually, I think I'd really like to see how Ryan would 'decorate' the valentine's ones.. he might come up with some clever things like drawing cupid or kissy lips. I have not mastered the techniques of royal icing enough to be able to draw cupid with frosting.. hearts were challenging enough :)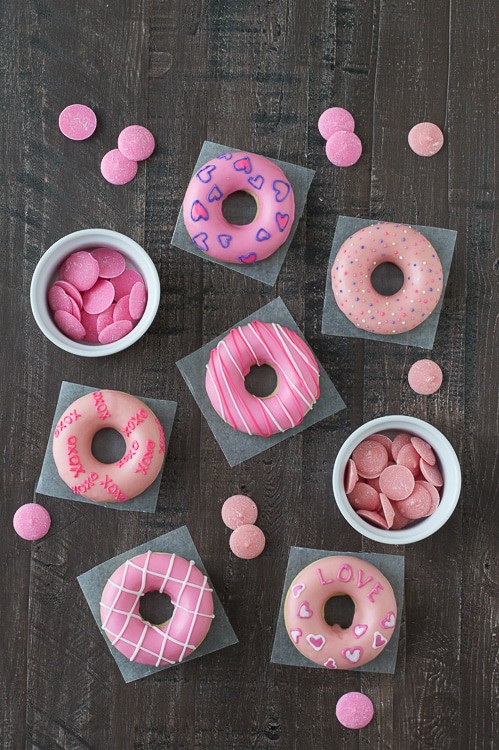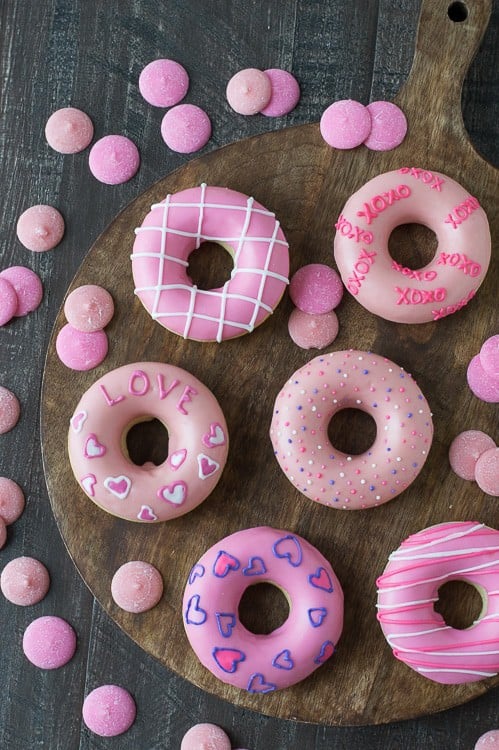 Memorable Valentine's
I'm sure everyone has a few memorable valentine's day moments. My guy is a sweetie pie and always makes me feel extra special on valentine's day.
When we were seniors in high school (cue the 'awwwwww's ..yes we're high school sweethearts!) Ryan was on the tennis team and he roped the younger players in to help him surprise me on Valentine's Day. Each guy brought in a balloon for me, one at a time, and there were about 8 of them! I was dying of embarrassment. Then Ryan came into my class and gave me a rose. It was so sweet!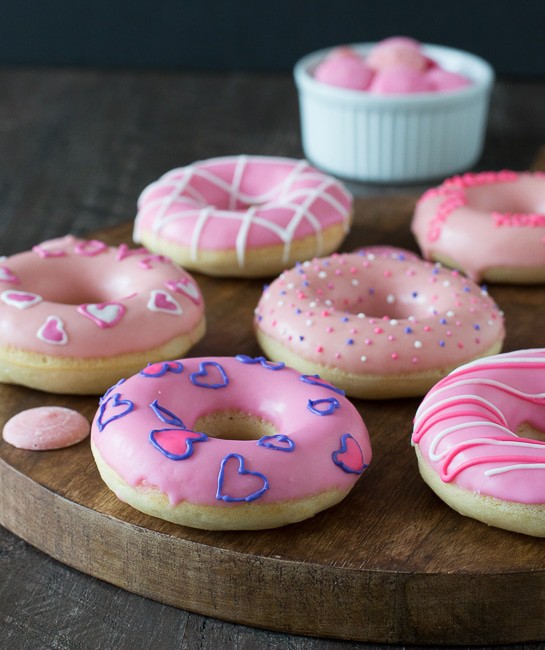 The following year we were freshmen in college, meaning we had no money and relied on public transportation to get everywhere.
We had a low key lunch at Noodles and planned on going to a fancier restaurant for dinner. The restaurant we had reservations at was in another city, so we had to take 2 buses and then walk half a mile. Somehow we got on the second bus going in the wrong direction, realized our mistake a few miles later, and got off the bus in the middle of a deserted street. It was cold and creepy, and we had to wait 20 minutes for the next bus to come.
By this time, we were really late for our reservation that was in another city and super hungry. Like, let's go eat at the first restaurant we see kind of hungry. And what restaurant did we happen to see? Noodles. Actually it was the only restaurant we saw. And that Valentine's Day we had noodles for lunch and dinner. I think we avoided Noodles for a few months after that.
Valentine's Day Donuts for My Sweetheart
Valentine's Day came early for my sweetie – we devoured these Valentine's Day Donuts. I guess I'll have to pick one of these parfait recipes or one of these cheesecakes to make him! Cherry dump cake, strawberry whipped cream, and chocolate whipped cream are great Valentine's Day recipes!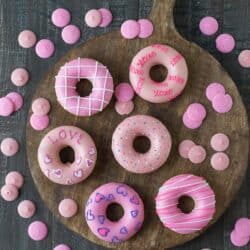 Valentine's Day Donuts
Treat your Valentine to a batch of these cute homemade donuts!
Ingredients
1

cup

flour

3

tbsp

sugar

1

tsp

baking powder

½

tsp

salt

6

tbsp

milk

1

larg

egg

½

tsp

vanilla

3

tbsp

vegetable/canola oil

⅓

cup

Wilton Candy Melts Light Pink + 1/2 tbsp vegetable shortening

⅓

cup

Wilton Candy Melts Bright Pink + 1/2 tbsp vegetable shortening
Royal Icing
1 ½

cups

powdered sugar

½

tbsp

meringue powder

1

tbsp

+ 1 tsp water

Plus: gel based food coloring

,

I used pink and purple
Instructions
Preheat the oven to 325 degrees F. Spray a donut pan with cooking spray, use a paper towel to lightly spread/remove excess spray.

In a large bowl combine the flour, sugar, baking powder and salt.

In another bowl combine the milk, egg, vanilla, and oil until well blended. Stir the dry ingredients into the wet ingredients, mix just until combined.

Transfer the batter to a large piping bag or use a ziploc bag with one corner cut off. Pipe the batter into the donut pan, filling each donut hole about 2/3 full.

Bake the donuts for 10 minutes, or until a toothpick comes out clean. Remove from the oven and let the donuts sit in the pan for 10 minutes before moving them to a wire rack to cool.

Remove the donuts from the donut pan and place them on a wire rack to cool.
Base icing for the donuts
Melt 1/3 cup of each color candy melts with the vegetable shortening in separate bowls. I like to microwave the candy melts on 50% power for 2 minutes, stirring every 20-30 seconds, until they are melted.

For dipping the donuts, it's easiest to transfer the melted chocolate to a small shallow dish, but large enough to fit a donut in. While hanging onto the edges of the donut, dip each donut into the chocolate and pause for a few seconds while the donut is upside down to allow to excess to fall off. Allow the donuts to cool on a cooling rack completely before adding hand drawn details.
Royal Icing
Combine the powdered sugar, meringue powder, and water in a small mixing bowl and mix on low speed with an electric mixer until the icing has a matte appearance, about 3-5 minutes.

Divide the royal icing into a few small bowls, depending on how many colors you want. Be sure to leave some of the royal icing white, if you'd like.

Begin to decorate the donuts as you desire. I found it easiest to transfer the icing to a small squeeze bottle to add the details. I chose to do one donut of each design: xoxo, dots, love with hearts, all hearts, multi-colored lines, and single colored cross hatched lines.

Surprise your Valentine with the donuts and put the leftover in an air tight container.
Calories:
401
kcal
,
Carbohydrates:
60
g
,
Protein:
8
g
,
Fat:
14
g
,
Saturated Fat:
5
g
,
Polyunsaturated Fat:
5
g
,
Monounsaturated Fat:
3
g
,
Trans Fat:
1
g
,
Cholesterol:
152
mg
,
Sodium:
345
mg
,
Potassium:
103
mg
,
Fiber:
1
g
,
Sugar:
43
g
,
Vitamin A:
243
IU
,
Calcium:
83
mg
,
Iron:
2
mg