Snicker's Donuts
A rich, chocolate donut with marshmallow peanut butter nougat topped with peanuts and caramel sauce. You need to make these, they are AMAZING!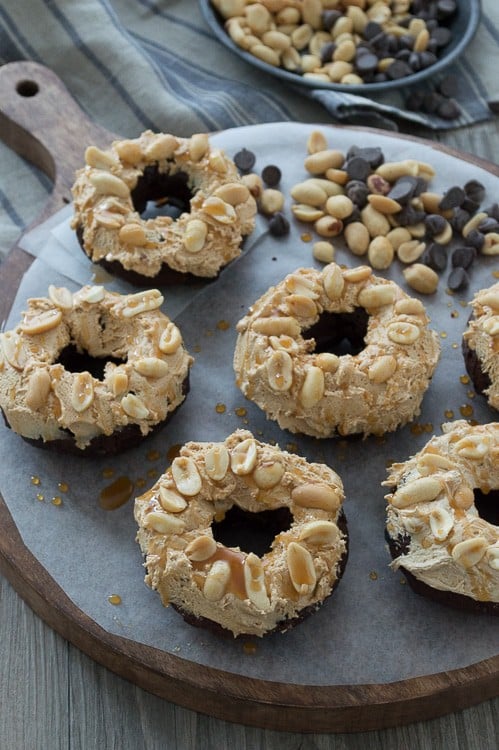 Did you see the picture I posted on Instagram yesterday?
This weekend I started my holiday baking. Gasp, I know!
I felt a little strange buying eggnog and candy canes, especially when the cashier said, "I see you're doing some holiday baking already." I tried to explain that I have a food blog, but he looked confused. I figured now that its after halloween its somewhat acceptable to buy those things, especially since the store was playing Christmas music while I was shopping.. now that's too early. When will you start listening to Christmas music?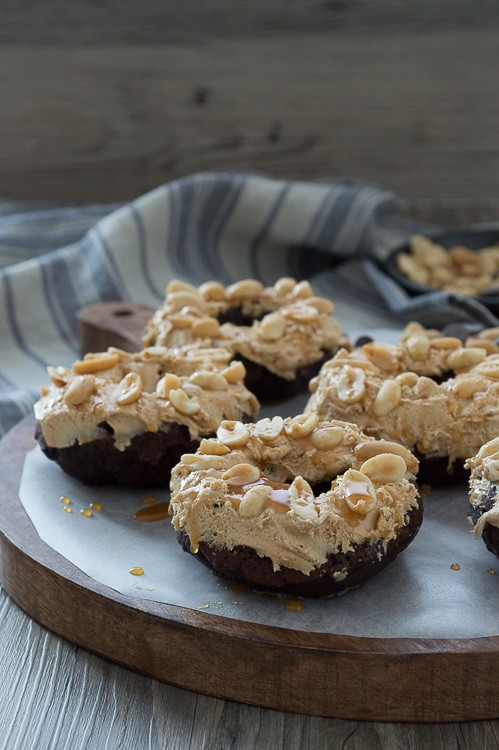 So, it's Monday and I have breakfast on my brain – what is your favorite breakfast food?
Some of you are probably thinking of eggs, oatmeal, toast, protein bars..
but you should be thinking SNICKER'S DONUTS! I am sure some of you are guilty of having leftover halloween candy for breakfast (that's definitely not me). But I'd like to point out that there is milk in those candy bars, that counts as dairy :)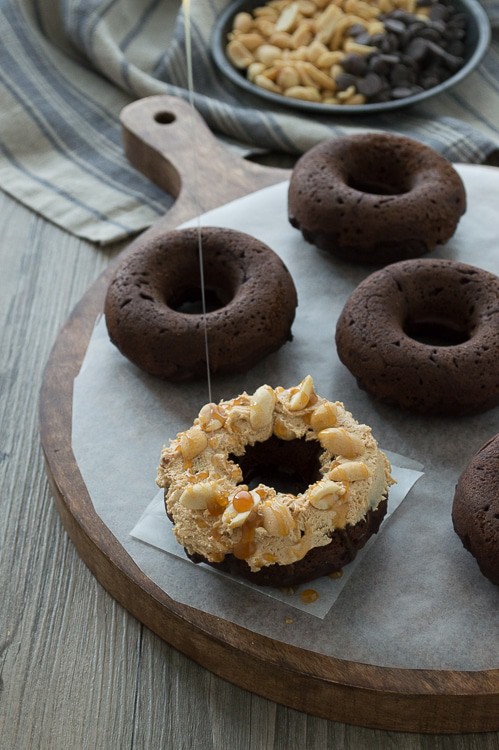 Donuts are a breakfast item, so I figure that any kind of donut is acceptable to eat for breakfast. Even if the donut is stuffed with peanut butter cups or oreos or tastes like a Snicker's bar. Anyone else like my thinking?
But, as much as I like the idea of eating a snicker's donut for breakfast, I can't handle that much sweetness and sugar right away in the morning – I usually opt for peanut butter toast. But for second breakfast, say around 10am, I'd love a donut. Or a 4pm donut snack.. mmm, that sounds pretty delicious. I like to think of donuts as a breakfast food that can be eaten at any time during the day. It's like brinner – breakfast for dinner.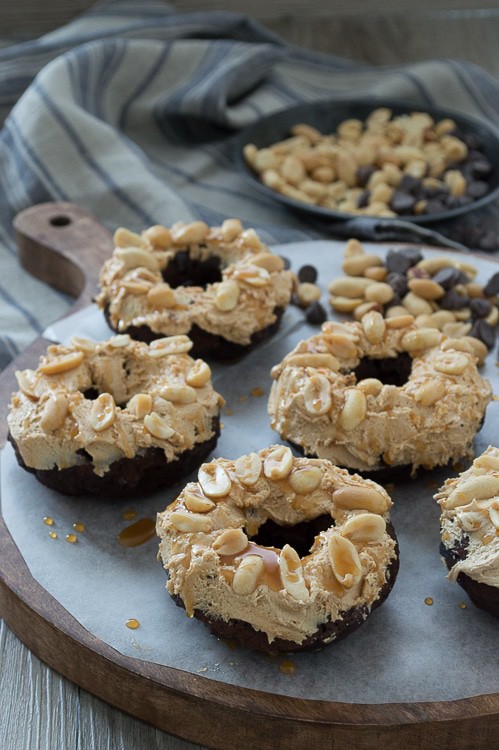 So, when would you like to eat a snicker's donut? For breakfast, second breakfast, snack, or brinner? I think anytime is a good time to have a donut :)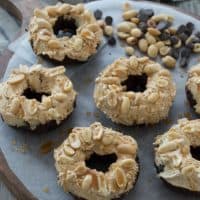 Snicker's Donuts
A rich, chocolate donut with marshmallow peanut butter nougat topped with peanuts and caramel sauce. You need to make these, they are AMAZING!
Ingredients
Donuts
1

cup

flour

½

cup

unsweetened cocoa powder

3

tbsp

sugar

1

tsp

baking powder

½

tsp

salt

6

tbsp

milk

1

large

egg

½

tsp

vanilla

3

tbsp

vegetable/canola oil
Snicker's Topping
½

cup

marshmallow fluff

¼

cup

peanut butter

peanuts

caramel sauce

,

to drizzle
Instructions
Preheat the oven to 325 degrees F. Spray a donut pan with cooking spray, use a paper towel to lightly spread/remove excess spray.

In a large bowl combine the flour, cocoa powder, sugar, baking powder and salt.

In another bowl combine the milk, egg, vanilla, and oil. Stir the dry ingredients into the wet ingredients, mix just until combined.

Transfer the batter to a large piping bag or use a ziploc bag with one corner cut off. Pipe the batter into the donut pan, filling each donut hole about 2/3 full.

Bake the donuts for 10 minutes, or until a toothpick comes out clean. Remove from the oven and let the donuts sit in the pan for 10 minutes before moving them to a wire rack.

Combine the marshmallow fluff and peanut butter in a small bowl and mix until smooth. Spread this mixture evenly on the donuts. Top with peanuts and drizzle with caramel sauce.
Calories:
294
kcal
,
Carbohydrates:
38
g
,
Protein:
8
g
,
Fat:
15
g
,
Saturated Fat:
3
g
,
Polyunsaturated Fat:
6
g
,
Monounsaturated Fat:
5
g
,
Trans Fat:
1
g
,
Cholesterol:
33
mg
,
Sodium:
334
mg
,
Potassium:
233
mg
,
Fiber:
4
g
,
Sugar:
15
g
,
Vitamin A:
69
IU
,
Calcium:
78
mg
,
Iron:
2
mg