Oreo Overload Donuts
The BEST oreo donut! Oreos in the batter and crushed Oreos on top of the white chocolate – so delicious!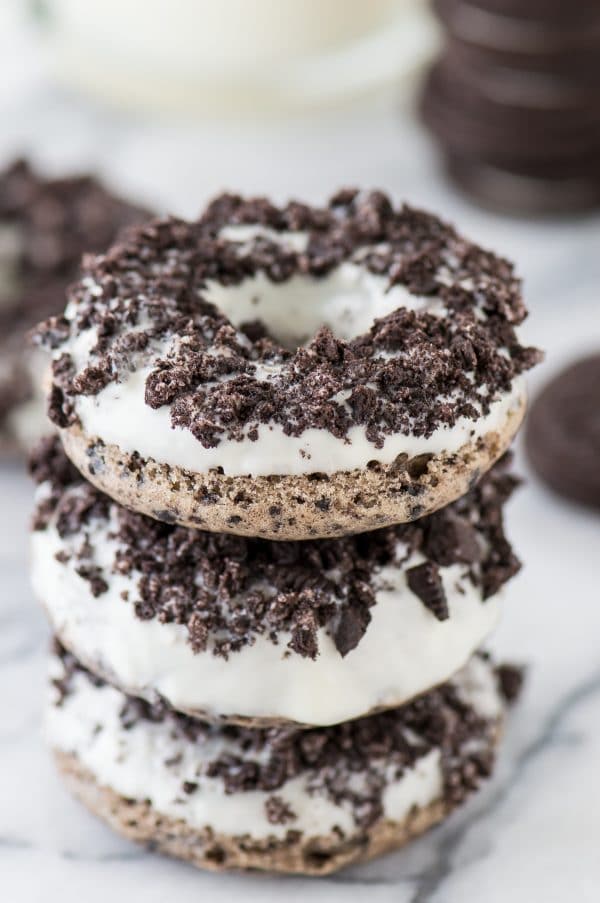 It's another donut recipe!
I thought it was about time to share another since it has been a little over a month since we shared our last donut recipe.
Our last donut recipe was one of my all time favorites because it incorporated my favorite fruit – blueberries! If you like blueberries and chocolate, I think you will like our recipe for double dipped chocolate and blueberry glaze donuts.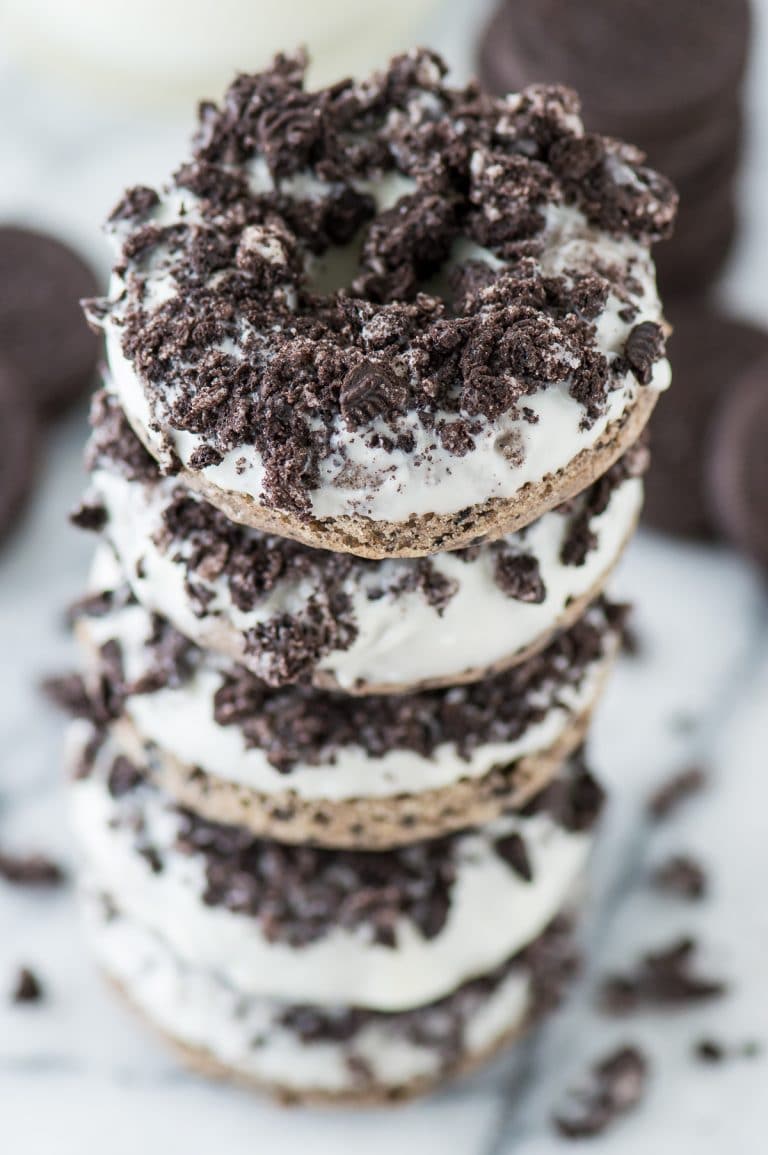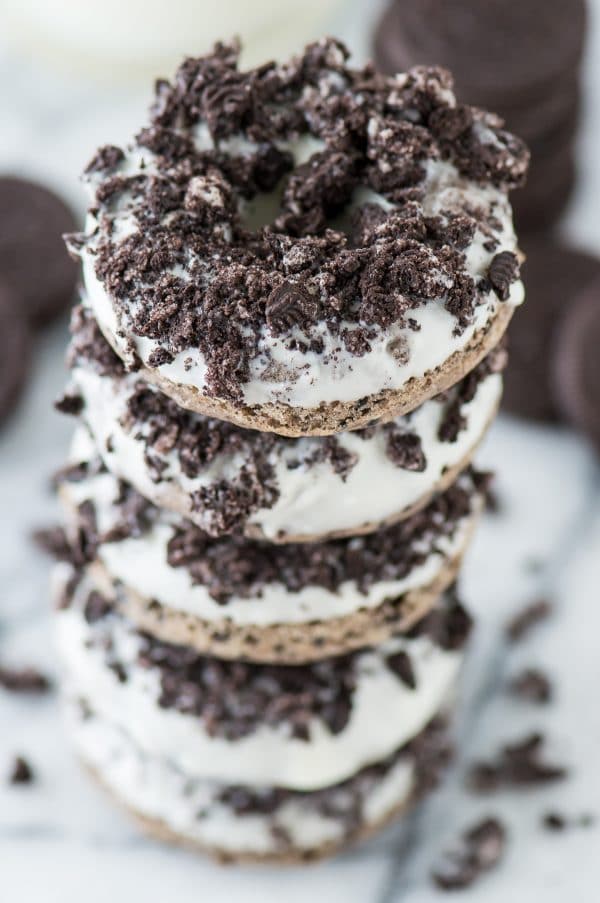 As much as I like blueberries, I really like oreos. And I especially like oreos in my donuts. So if you're like me, you will LOVE these Oreo Overload Donuts!
I mean, what better excuse to eat cookies for breakfast than in your donuts?
These donuts are extra delectable because there are oreo pieces baked into the donut AND oreo crumbs on top of the white chocolate frosting.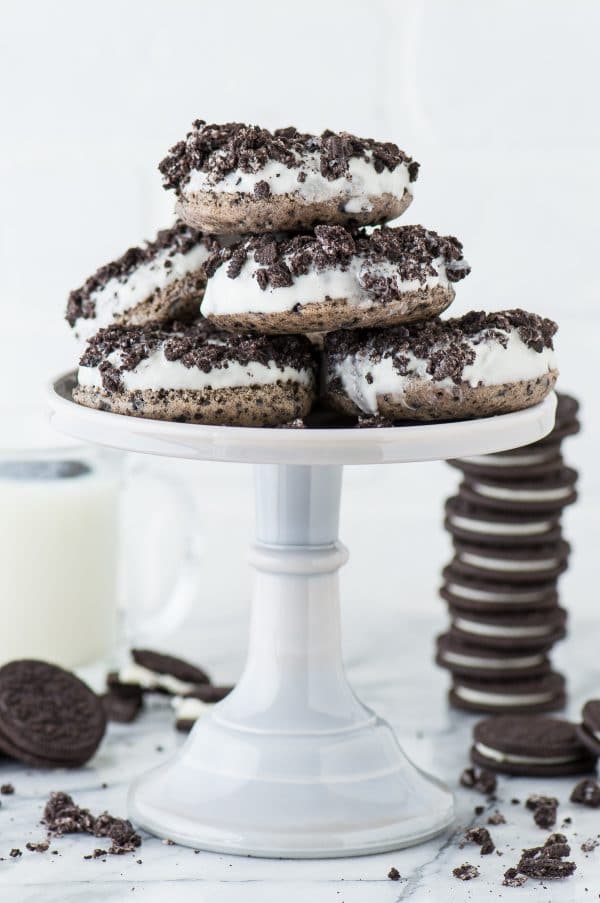 But don't limit yourself to feeling like you need to eat these for breakfast.
I'll all about having a donut for second breakfast, mid-morning snack, afternoon snack or after dinner snack.
In my mind donuts are more of a dessert (hello sugar!) – I'm boring and like to eat PLAIN oatmeal for breakfast :)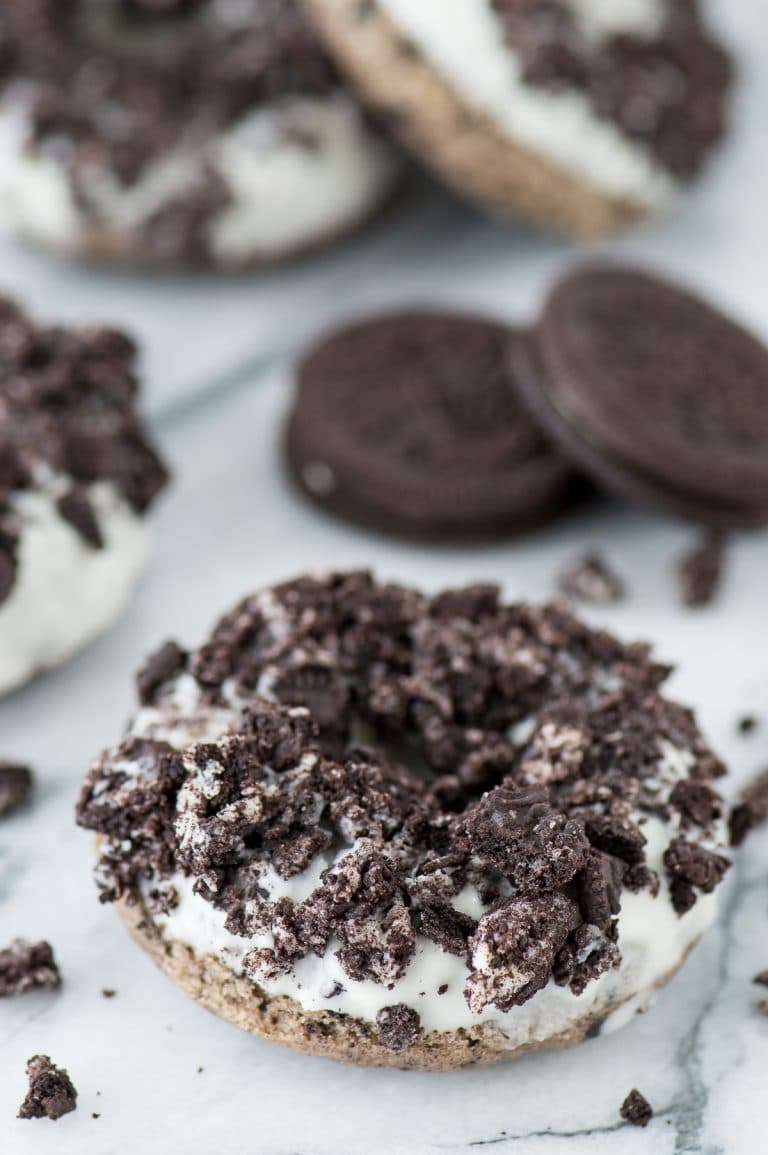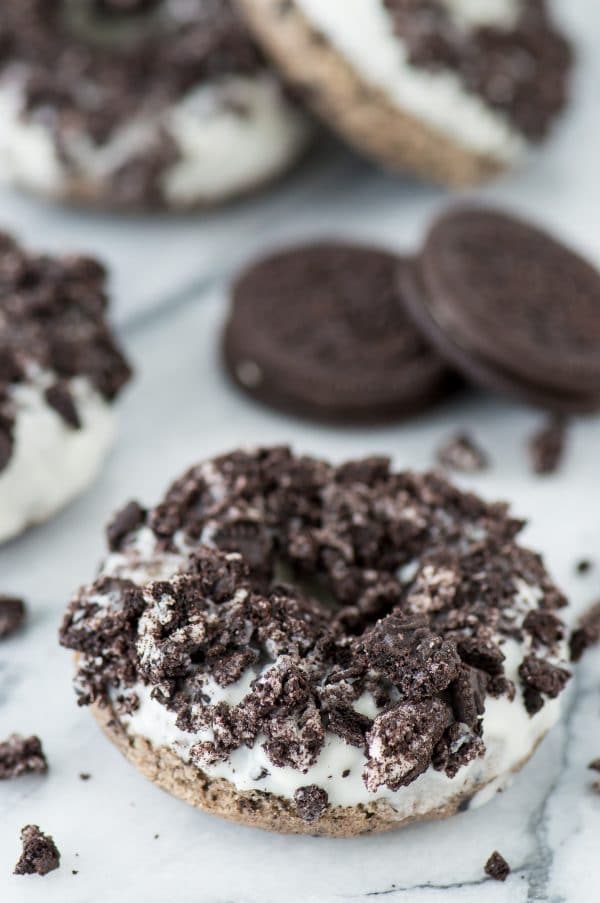 I sent these donuts to work with Ryan and although his co-workers aren't huge chocolate lovers, he said they disappeared in 2 minutes. I think it was the oreos, people go crazy for oreos!
So what started the donut craze on my blog? Ryan and I found a donut shop that offered gluten free donuts when we were visiting Chicago this past winter.
I hadn't had a donut in years since I have a gluten allergy, so after buying 4 donuts and devouring them, I decided that I needed more donuts in my life. And I haven't stopped making them since. I like to joke that I use my donut pan more than I use utensils!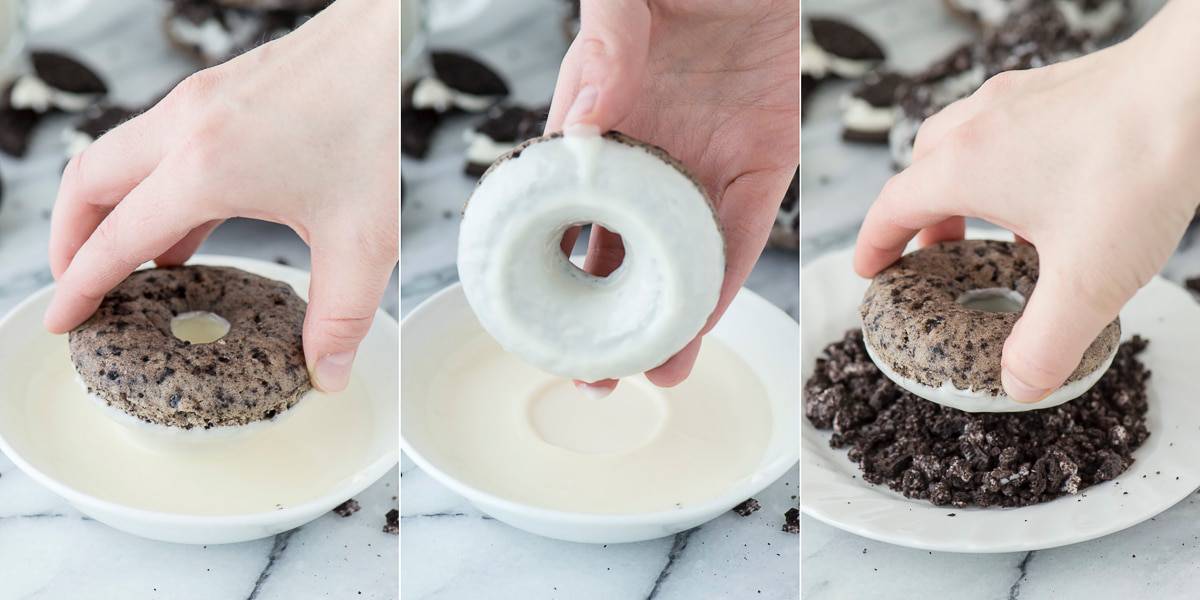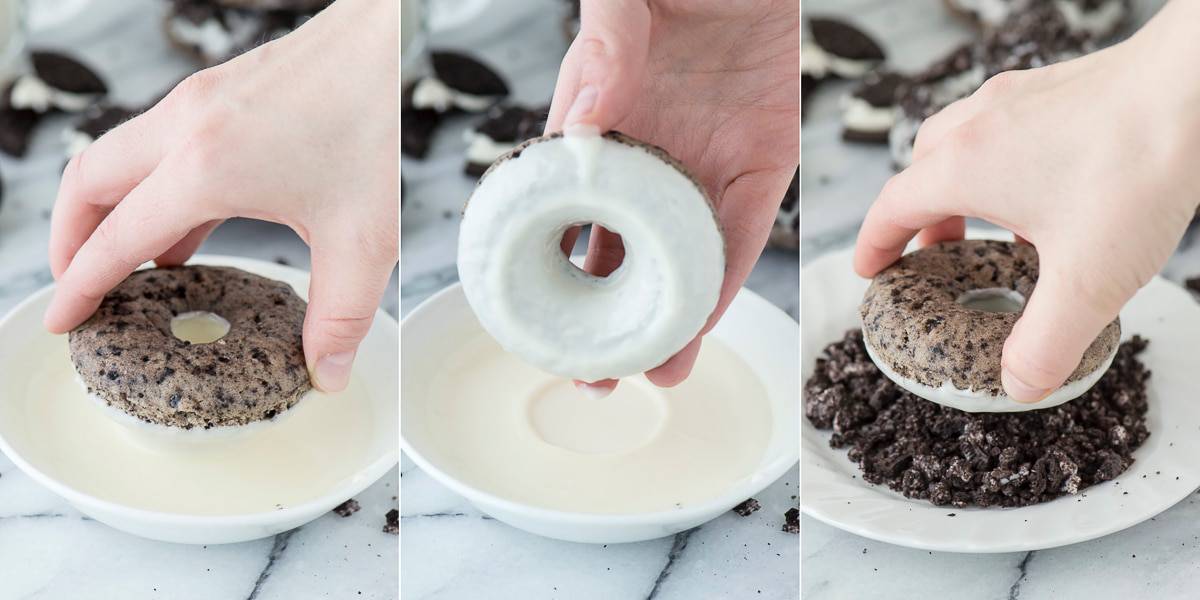 Give these a chance.. I think you'll LOVE them!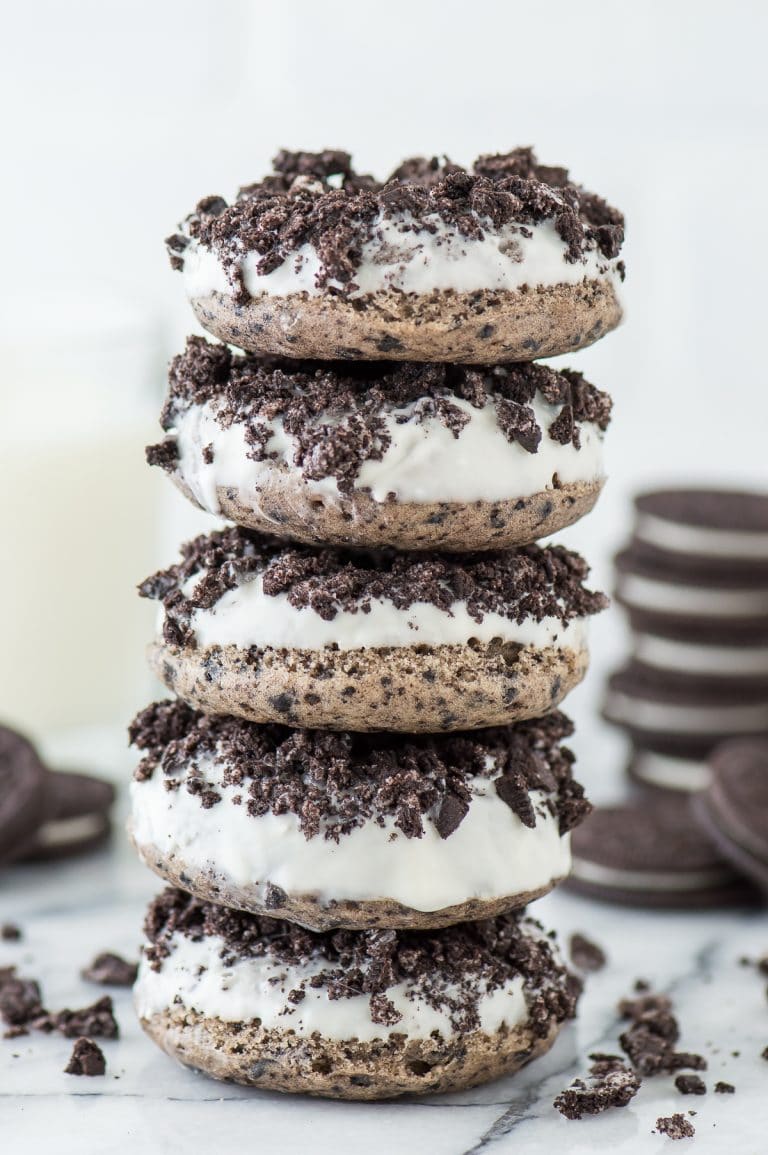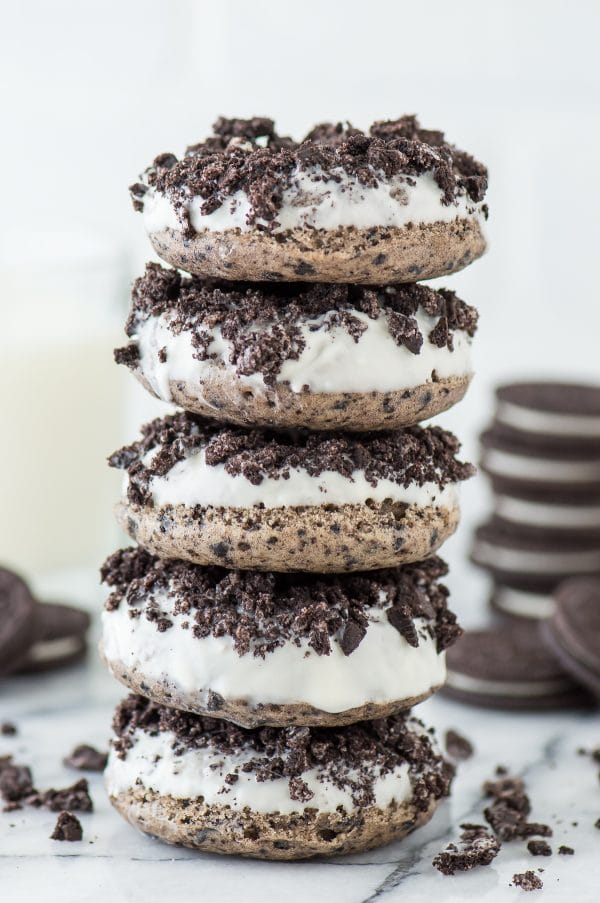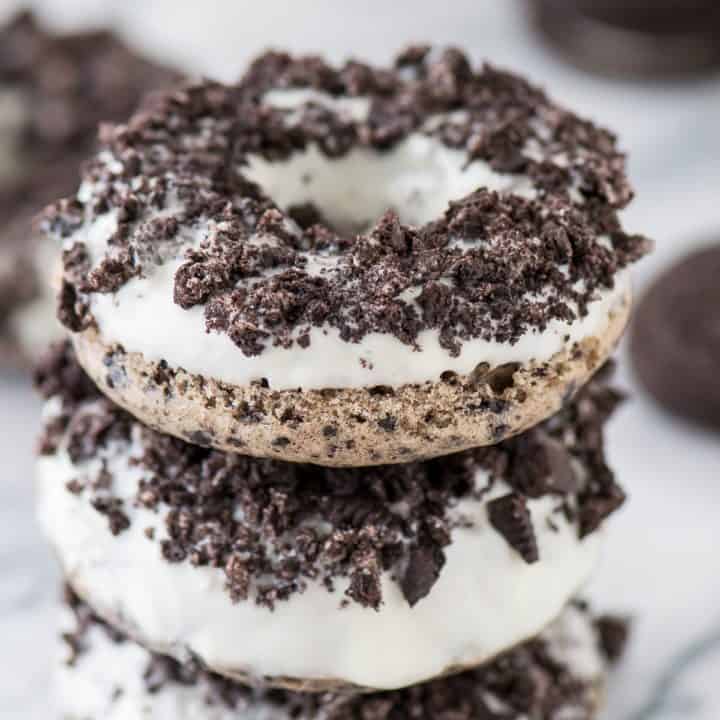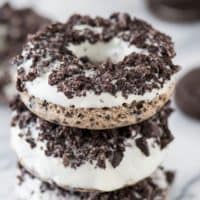 Oreo Overload Donuts
Yield: 6 donuts
Additional Time: 40 minutes
Total Time: 40 minutes
Ingredients
1 cup all purpose flour
3 tbsp sugar
1 tsp baking powder
1/2 tsp salt
6 tbsp milk
1 egg
1/2 tsp vanilla
3 tbsp vegetable/canola oil
9 Oreos, finely chopped that will go into the batter
Oreo crumbs to top the donuts, 5-6 oreos
2-3 pieces of Caniquik White Chocolate
Instructions
Preheat the oven to 325 degrees F. Spray a donut pan with cooking spray, use a paper towel to lightly spread/remove excess spray.
In a large bowl, combine the flour, sugar, baking powder and salt. In another bowl, combine the milk, eggs, vanilla, and oil. Stir the dry ingredients into the wet ingredients, mix just until combined.
Finely chop the oreos or use a blender to chop them, making sure the pieces will be small enough to fit through the piping bag. Add the oreo pieces to the batter and mix to combine.
Transfer the batter to a large piping bag or use a ziploc bag with one corner cut off. Pipe the batter into the donut pan, filling each donut hole about 2/3 full.
Bake the donuts for 10 minutes, or until a toothpick comes out clean. Remove from the oven and let the donuts sit in the pan for 10 minutes before moving them to a wire rack.
While the donuts are baking, pulse the other oreos in the blender into crumbs, these will be used for the topping. Put the crumbs on a shallow plate, set aside.
Follow the instructions on the Candiquik package to melt the chocolate. After it is melted, let it sit for a few minutes to thicken up slightly, so it won't be too runny when you dip the donuts.
Dip each donut into the white chocolate, allowing the excess to fall off on a cooling rack. Let the chocolate harden for about 3 minutes, you want the chocolate to set just enough so it doesn't run off when dipping the donuts into the oreo crumbs.
Dip the donuts into the oreo crumbs, slightly pressing the donut into the crumbs so they completely cover the chocolate.
Enjoy!