Toffee Bites
Homemade toffee bites made in a mini muffin pan, which is genius! This is the best homemade candy! Great for the holidays and gift giving.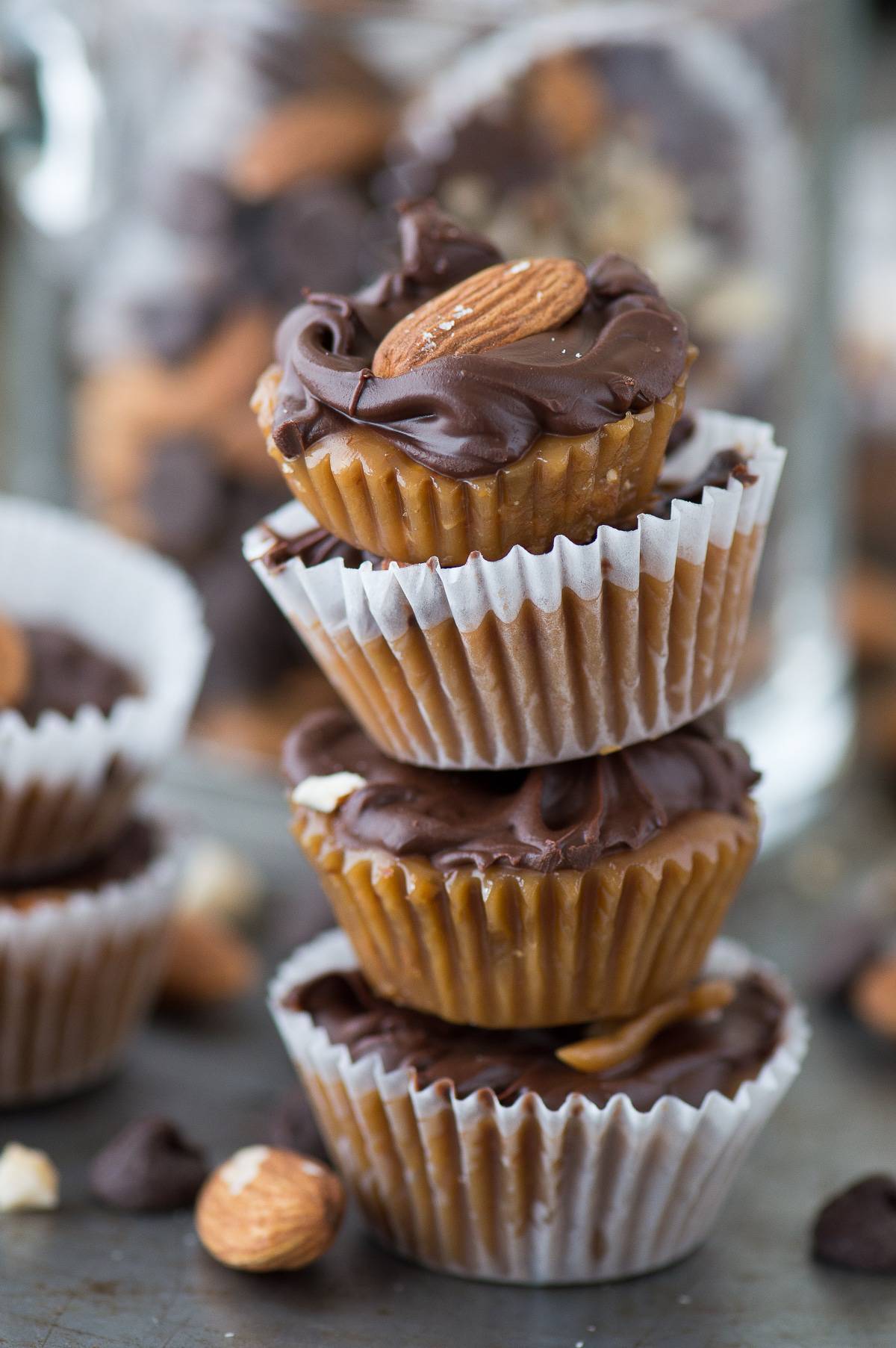 I'm a firm believer that there can never be too much toffee during the holidays.
There's what I call regular toffee (made in a sheet and broken into pieces), there's toffee squares (thicker pieces where the toffee is completely dipped in chocolate) then there's toffee without any chocolate.. which I don't really consider toffee because without the chocolate it's like naked toffee.
And now we have toffee bites! Which we could also call mini toffee cups because you make them in a mini muffin pan. If you used a regular muffin pan to make toffee bites you'd end up with GIANT toffee cups, but maybe you really life toffee and that's how you want to make it :)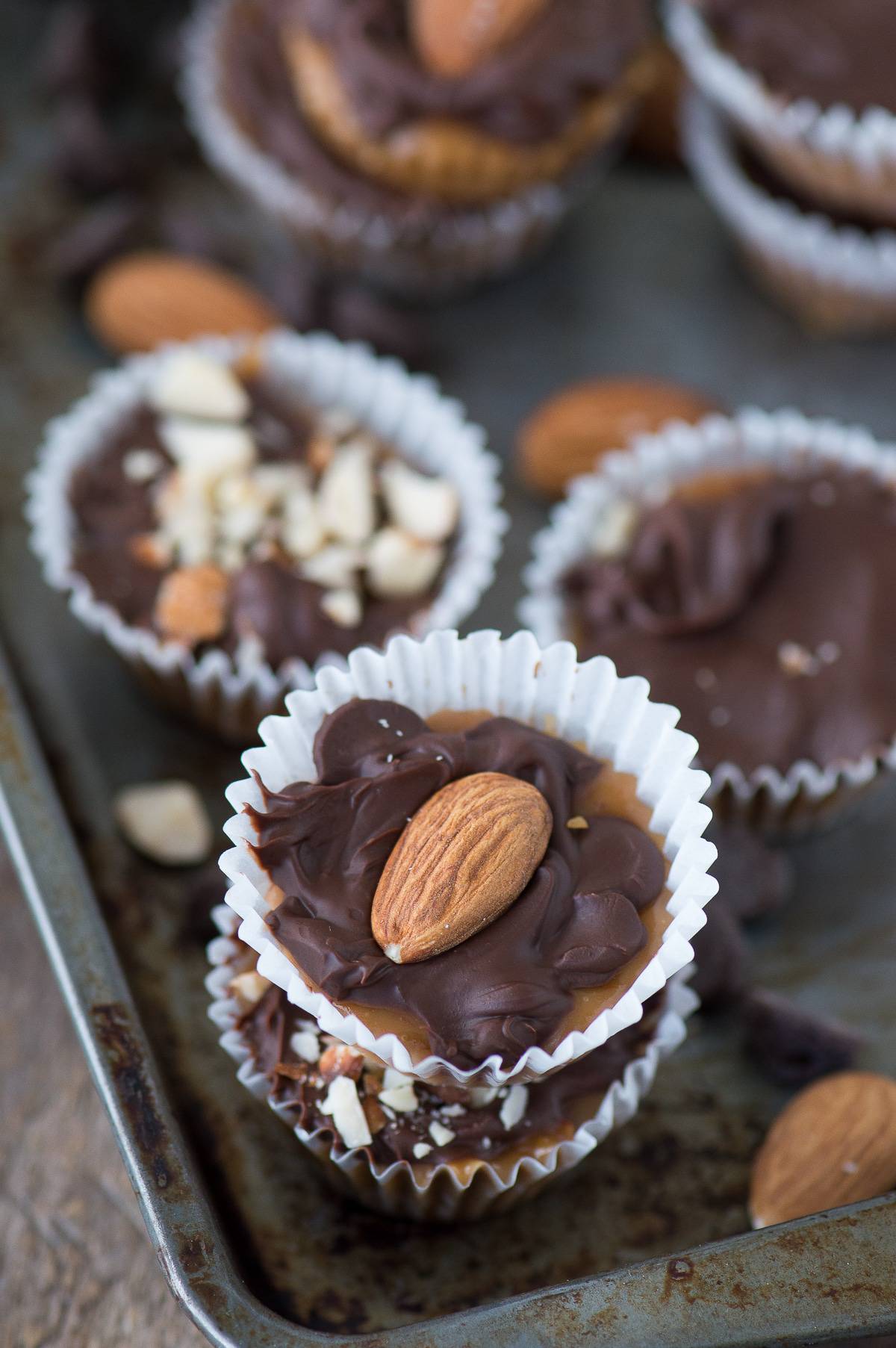 I know a mini muffin pan isn't the most common kitchen pan but I feel like I use mine way more frequently than I use my regular muffin pan. It's great for mini muffins (duh!) but it's also the perfect size for homemade candy like fudge, turtle clusters, peanut butter cups, mini pies, etc.
What Color Should Toffee Be?
This is a no candy thermometer required recipe – woohoo!! Instead, the color of the toffee will tell you when it's done cooking.
And here's the easiest part, you're not looking for a mysterious color like dark brown or golden brown, you're looking for your toffee to be the same color as an almond. Pretty easy comparison since you need almonds for this recipe! So put the bag of almonds next to you on the counter while making the toffee and you can easily compare the colors.
Word to the wise – if your toffee gets too dark in color, your toffee will taste burnt. Womp womp. So, err on the side of caution if you're concerned!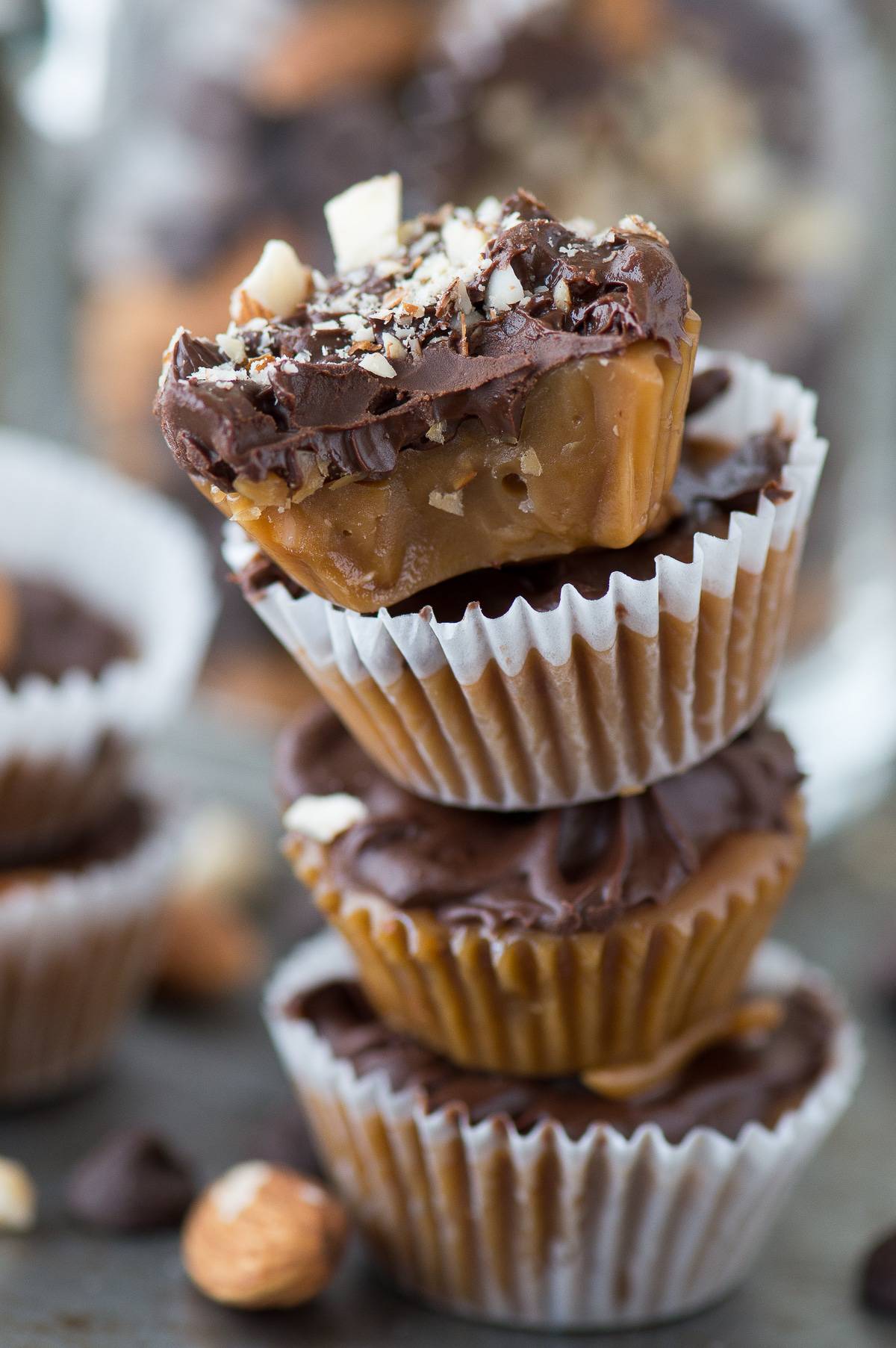 I'm also showing you 3 decorating options for the toffee bites –
1. plain – topped with just chocolate
2. whole almond – topped with chocolate and a whole almond
3. chopped almonds – topped with chocolate and chopped almonds
You could also sprinkle some sea salt on the chocolate before it hardens it you like that combo!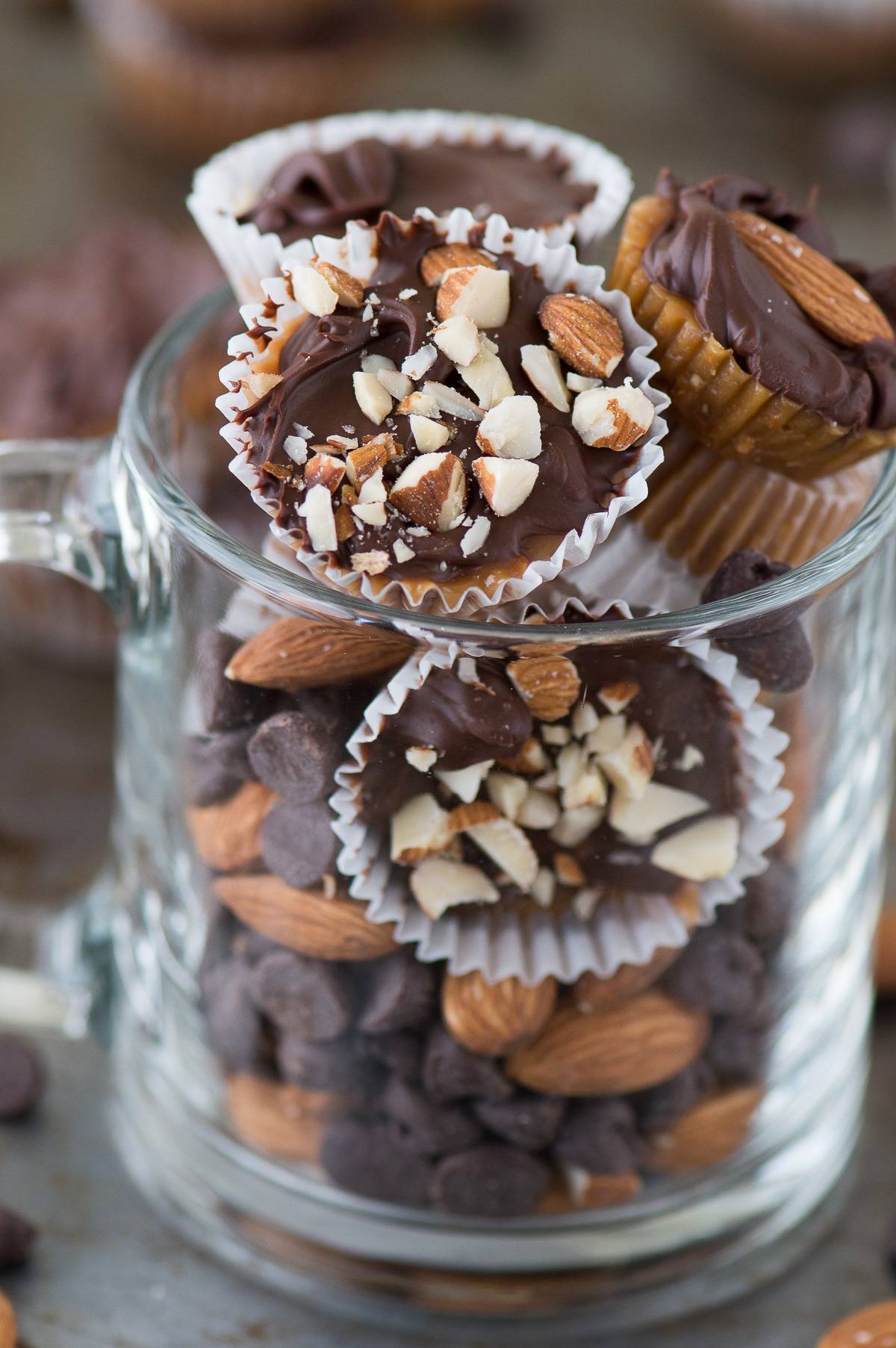 This recipe will make about 24 homemade toffee bites, give or take depending on how full you fill the mini liners.
You could easily stretch this recipe to get 36 bites by placing less toffee in each cup, which won't be a problem at all since the cups were really full when I made 24 bites.
More No Bake Desserts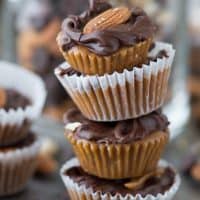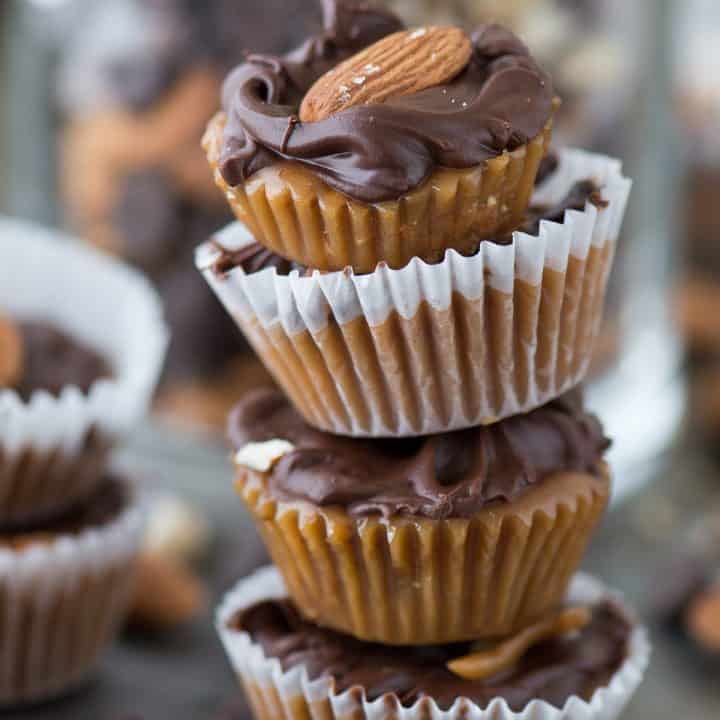 Toffee Bites
Homemade almond toffee bites made in a mini muffin pan, which is genius! This is the best homemade candy! Great for the holidays and gift giving.
Ingredients
1

cup

unsalted butter

,

2 sticks

1

cup

granulated sugar

¼

tsp

salt

½

tsp

vanilla extract

2

cups

milk/semi-sweet chocolate chips

,

equal to 12 oz bag

⅓

cup

finely chopped almonds

additional whole almonds or chopped almonds to top the toffee

,

optional
Instructions
Line 2 mini muffin pans with mini muffin liners.

In a heavy 2-quart saucepan combine the butter, sugar, salt, vanilla, and Heat over medium to high heat, stirring constantly till the butter is melted. Continue cooking and stirring for approximately 7 to 10 minutes till candy is the color of the brown skin of the almonds. It's okay if its starts bubbling or slightly smoking, keep stirring till it's the color of the almond.

Add in the 1/3 cup of finely chopped almonds, stirring to incorporate.

Working quickly, use a cookie scoop to place the toffee mixture into the mini muffin liners.

Add a handful of chocolate chips on top of each toffee. Wait 1-2 minutes and spread the melted chocolate until it is smooth over the toffee.

Top the toffee with a whole almond, chopped almonds or leave them plain.

Let the toffee cool in the fridge until hard. Serve and enjoy. I recommend storing the toffee in the fridge so the chocolate stays cold.
Calories:
199
kcal
,
Carbohydrates:
17
g
,
Protein:
1
g
,
Fat:
14
g
,
Saturated Fat:
8
g
,
Polyunsaturated Fat:
1
g
,
Monounsaturated Fat:
4
g
,
Trans Fat:
1
g
,
Cholesterol:
21
mg
,
Sodium:
27
mg
,
Potassium:
102
mg
,
Fiber:
1
g
,
Sugar:
14
g
,
Vitamin A:
244
IU
,
Calcium:
17
mg
,
Iron:
1
mg