Want our top 10 essential dessert recipes?
Get our favorite classic recipes in your inbox! It's 100% free, but we might make you hungry!
Mini Chocolate Silk Pecan Pie Bites
Mini chocolate silk pecan pie bites are the perfect dessert mash-up for Thanksgiving! These mini pies have a pecan pie layer and a chocolate silk layer!
Let's talk about the best part of Thanksgiving.
It isn't the turkey (I'm more of a ham girl anyway) and while I could live off of mashed potatoes, thanksgiving is really about pie!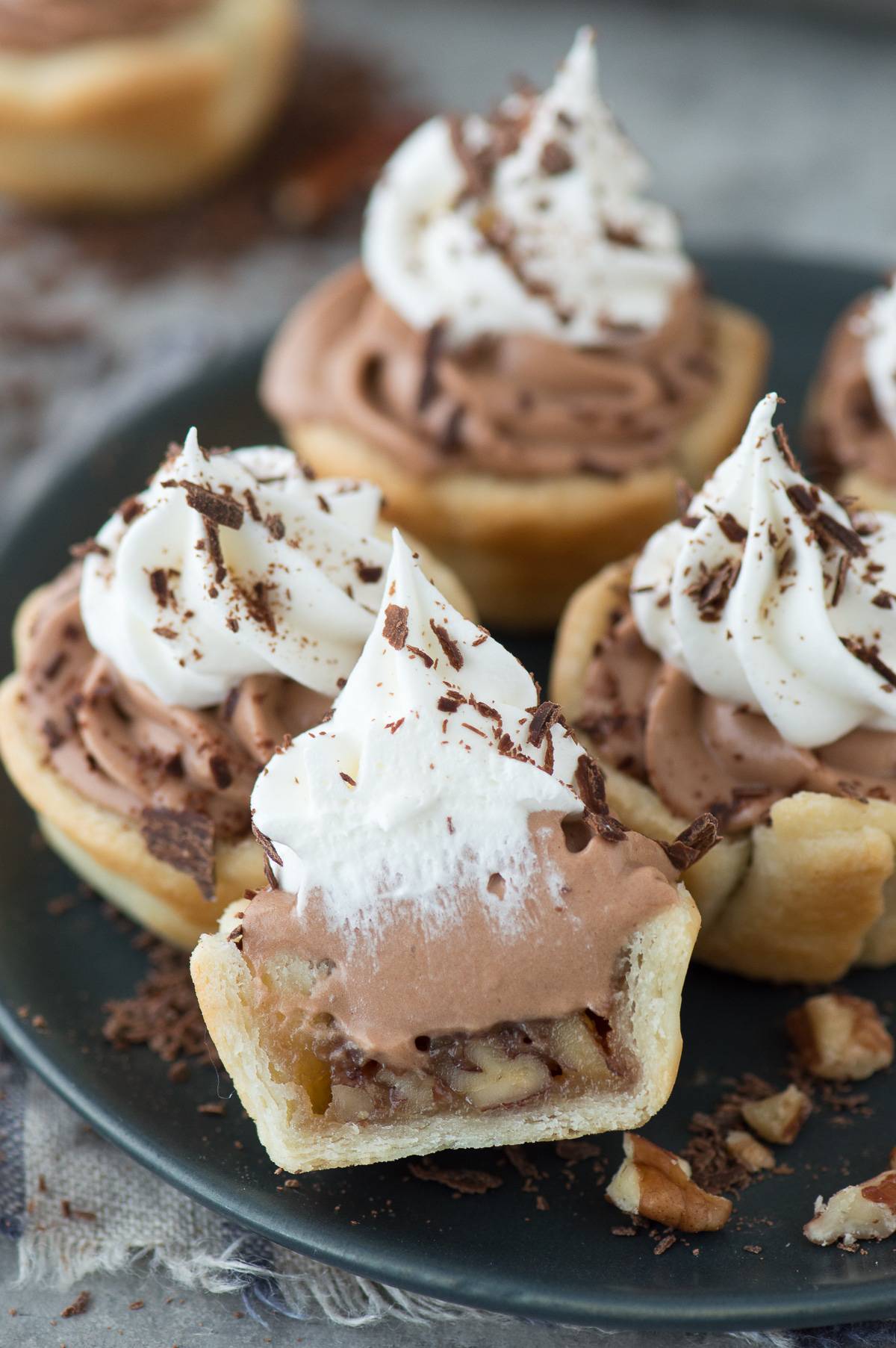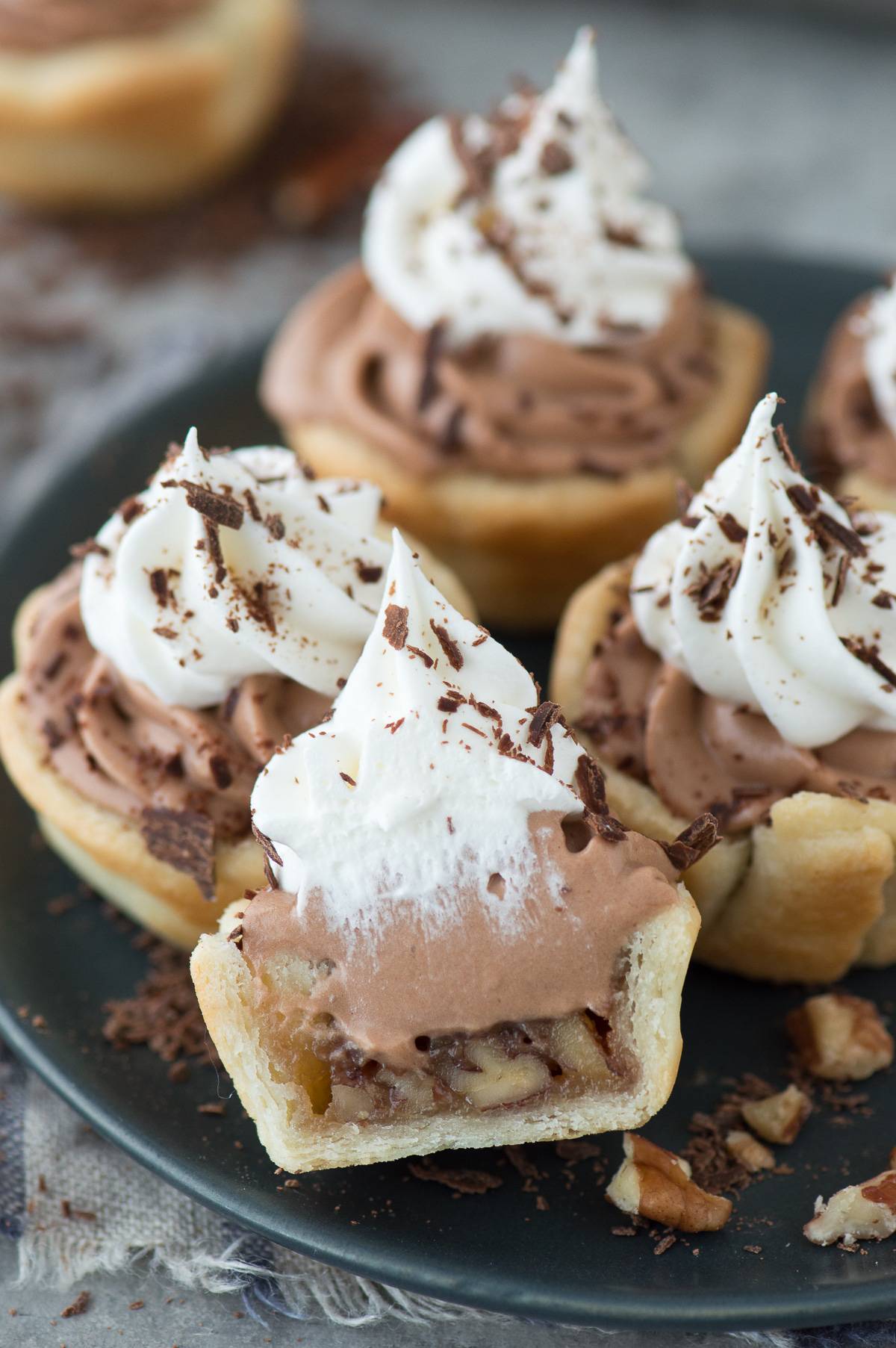 But here's the problem, everyone makes or buys large 9 inch pies and when it comes to picking dessert, you feel like you have to choose between pumpkin pie and french silk pie. That's a bad position to be in ;)
And of course the person serving the pie never cuts you a small slice even if you say "Okay, but just a small piece."
You really want a little of both – so enter the solution – mini pies!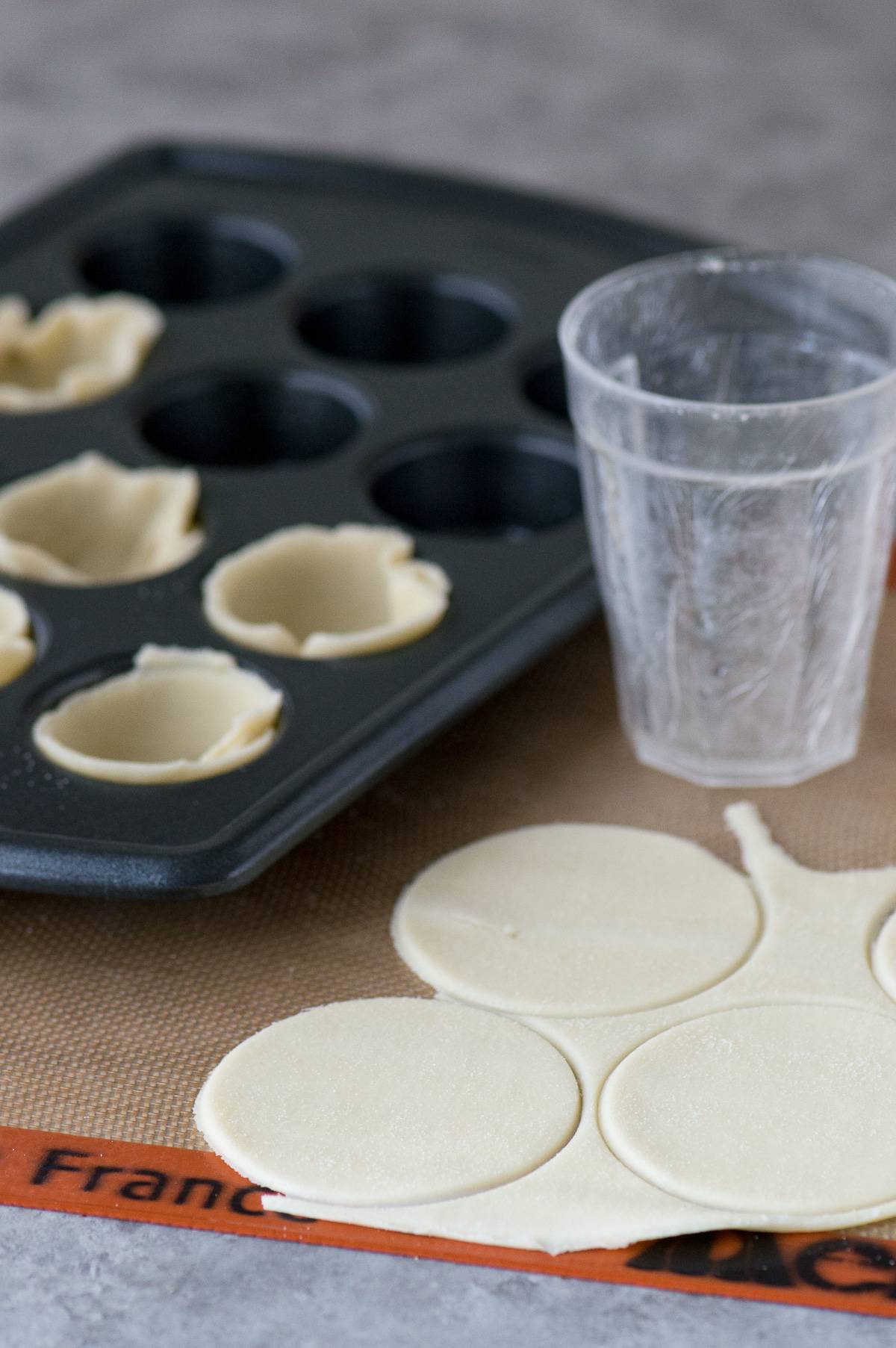 If you bring an assortment of mini pies to Thanksgiving, be prepared to make at least 5 new best friends. I brought these mini chocolate silk pecan pie bites to small group and multiple people said they have taken the #1 spot in terms of the things I have made!
Mini pies are easy to make and take about 1/4 the amount of time to make compared to a regular 9 inch pie.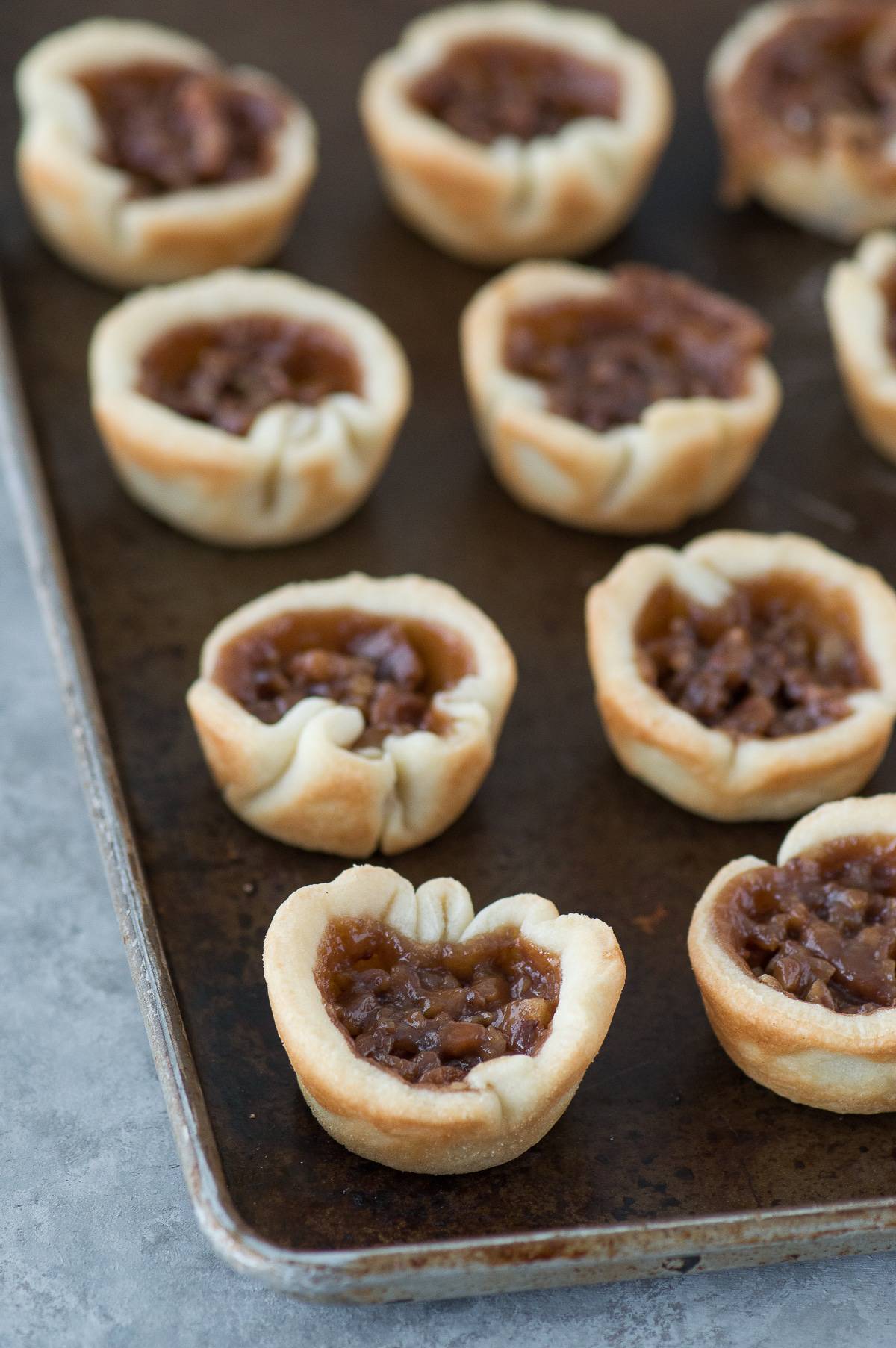 A few tools you'll need..
This recipe specifically calls for a mini muffin pan – that way the pies end up being bite sized! You'll also need either a round cookie cutter or small cup that's about 2.5-3 inches in diameter. Those are the 2 key tools you'll need. I also used a piping bag and star piping tip to pipe the chocolate filling and whipped topping. You can always use a ziploc bag as a piping bag.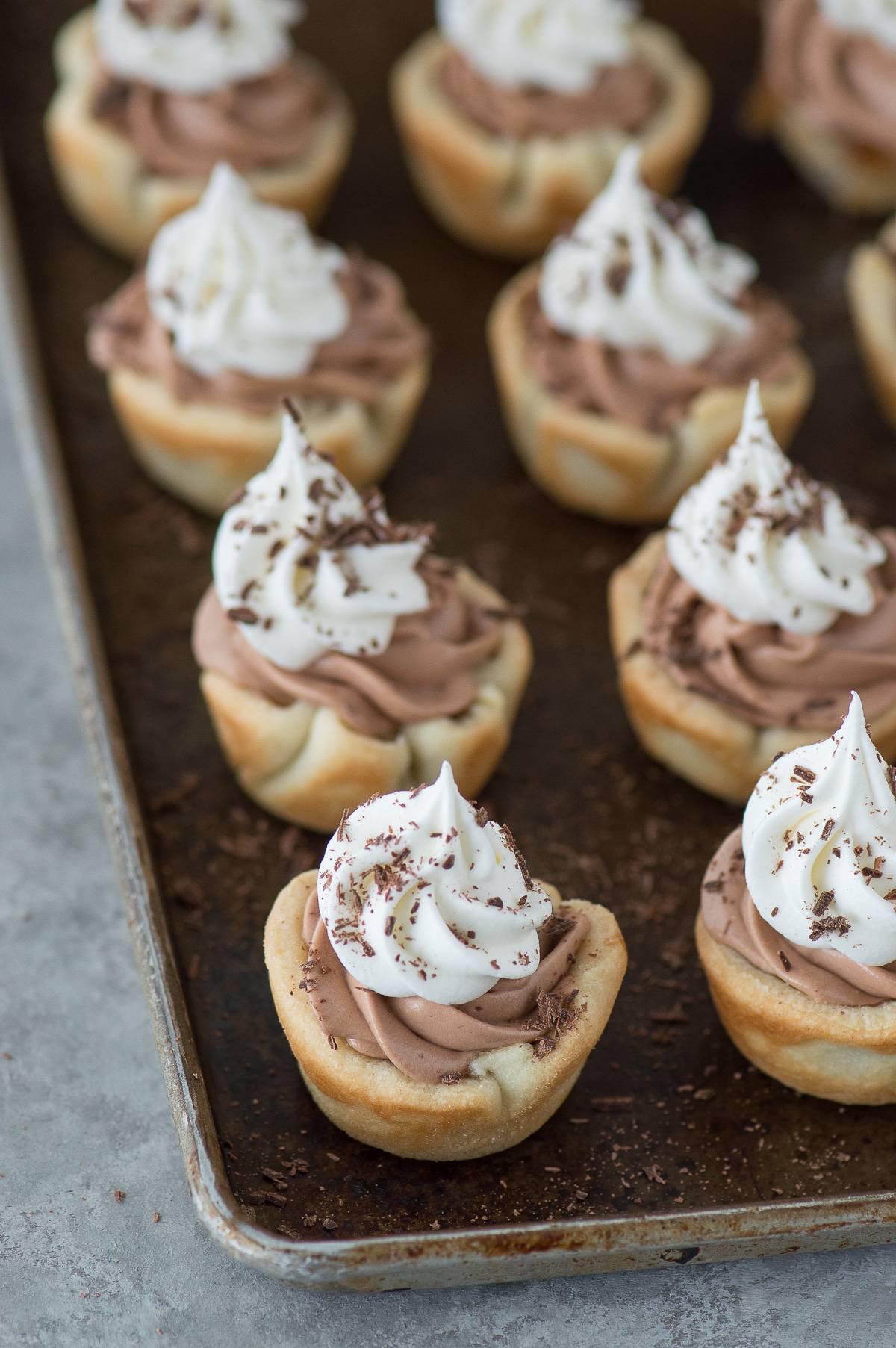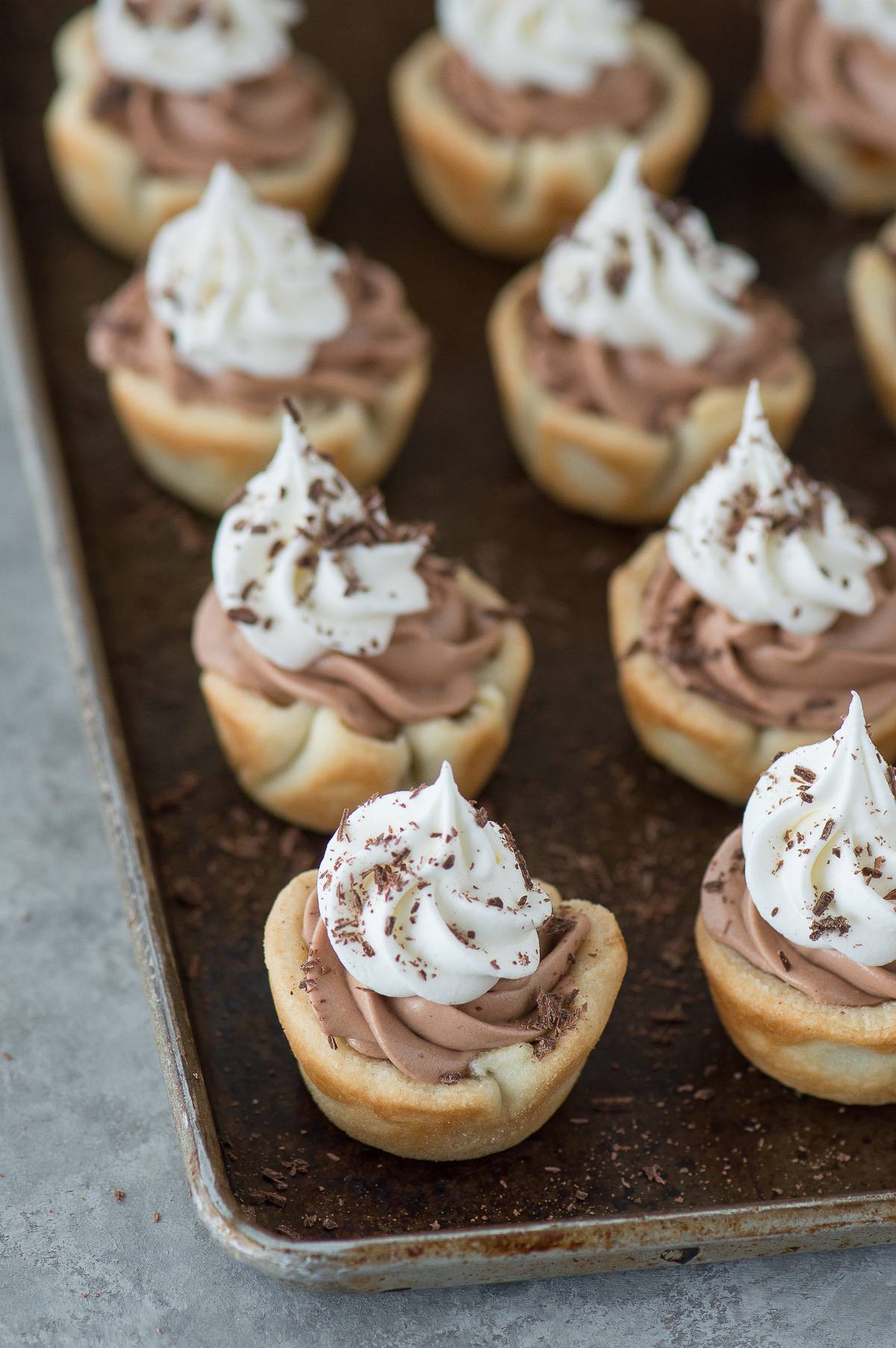 This recipe is what I like to call a divine mash-up! There is a pecan pie layer and a chocolate silk layer – all in one teeny tiny bite sized pie!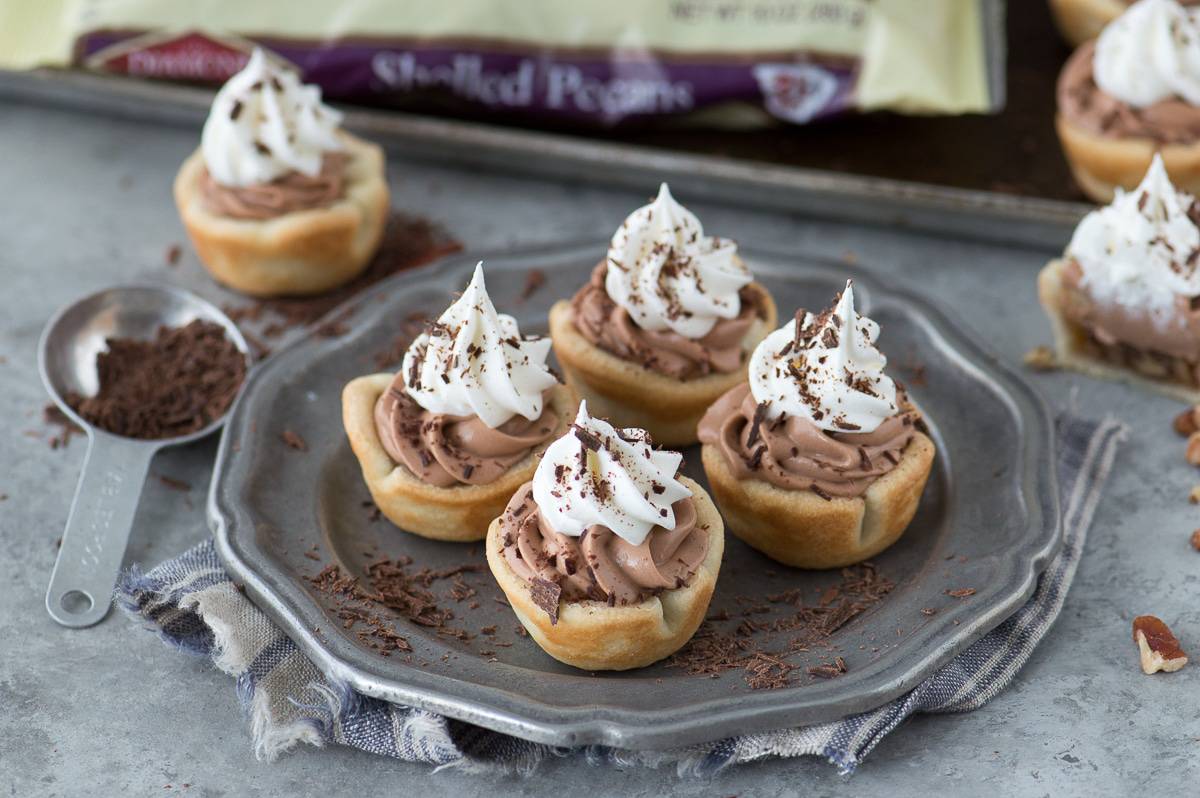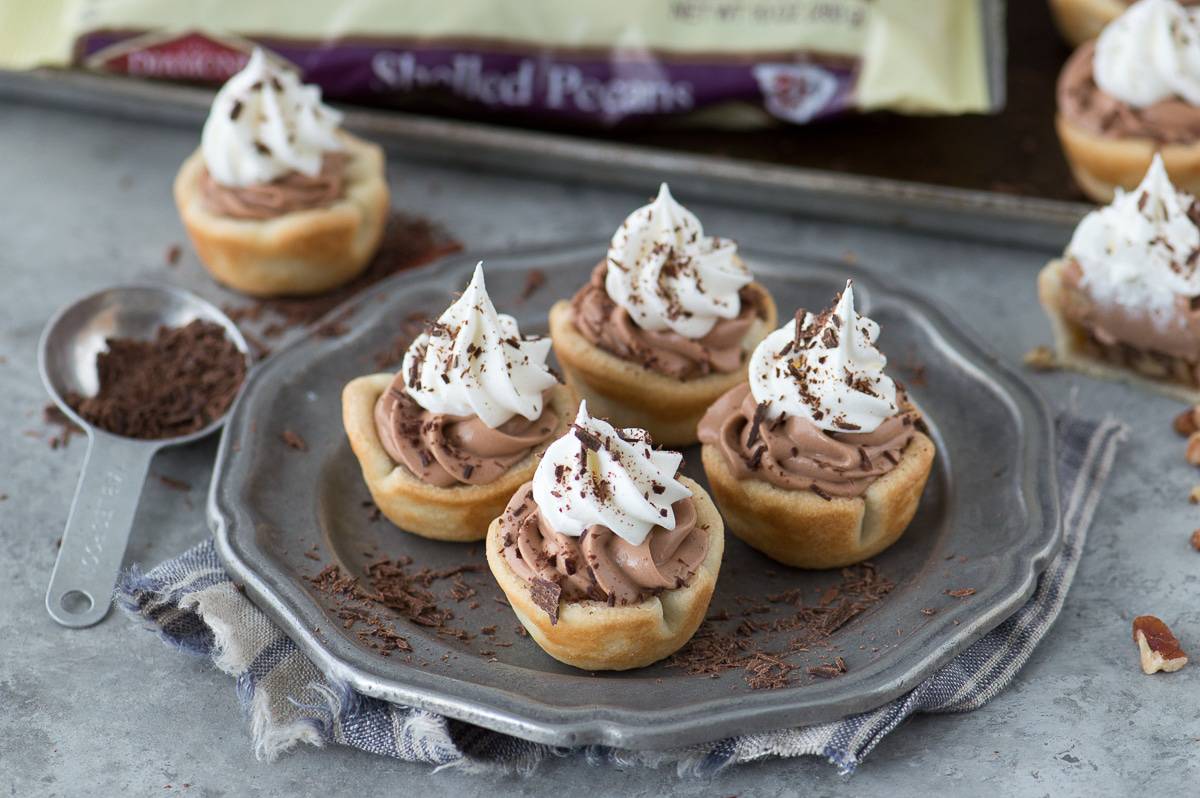 I created this recipe in partnership with Diamond of California. Thank you for supporting the brands who make it possible for me to share recipes with you!
Mini Chocolate Silk Pecan Pie Bites
Yield: 12 mini pies
Total Time:30 minutes
Mini chocolate silk pecan pie bites are the perfect dessert mash-up for Thanksgiving! These mini pies have a pecan pie layer and a chocolate silk layer!
Ingredients:
Crust
1 refrigerated pie crust (usually 2 crusts come in one package, you only need 1 to yield 12 mini pies)
Pecan Pie Filling
Chocolate Silk Filling
3 tbsp chocolate chips
1 oz cream cheese
1/3 cup heavy cream
3 tbsp powdered sugar
Cool whip or homemade whipped cream
Chocolate shavings
Directions:
In a small bowl, combine the finely chopped pecans, brown sugar, heavy cream and vanilla extract. Stir with a spoon until the mixture is thick, set aside.
In a small pot over low heat, (or in the microwave if you prefer) melt the 3 tbsp of chocolate chips with a tiny bit of vegetable oil. The oil will help the chips melt smoothly and prevent them from scorching. Stir the chocolate occasionally until it's melted. Set aside and allow it to come to room temperature.
Place a metal mixing bowl and beaters in the freezer - this will be used later to make the chocolate silk filling.
Preheat the oven to 350ºF. Spray a mini muffin pan with non-stick cooking spray. Use a 2.5-3 inch cup or round cookie cutter to cut small circles from the refrigerated pie crust. Carefully place one pie circle into each muffin well, using your fingers to press the dough down into the well. Place 1 tsp of the pecan pie filling into each muffin well. Bake for 8-10 minutes or until the pecan pie filling is bubbling and the pie crust is no longer doughy. Remove them from the oven and allow the mini pies to cool completely.
Remove the metal mixing bowl and beaters from the freezer. Combine the melted chocolate chips and cream cheese in the metal bowl and beat with an electric mixer for 2-3 minutes, or until the cream cheese is soft. Add in the heavy cream and powdered sugar, continue to beat for 4-5 minutes until the mixture has doubled in size and resembles homemade whipped cream.
Place the chocolate silk filling in a piping bag fit with a wilton 1M tip (or similar) and pipe chocolate filling into each mini pie. Top each mini pie with a piped dollop of cool whip and chocolate shavings. Refridgerate until ready to serve.
Products used to make this recipe
(may include affiliate links)