Reese's Pieces Peanut Butter Cookies
Reese's pieces cookies – EASY no chill peanut butter cookie recipe with reese's pieces and chocolate chips.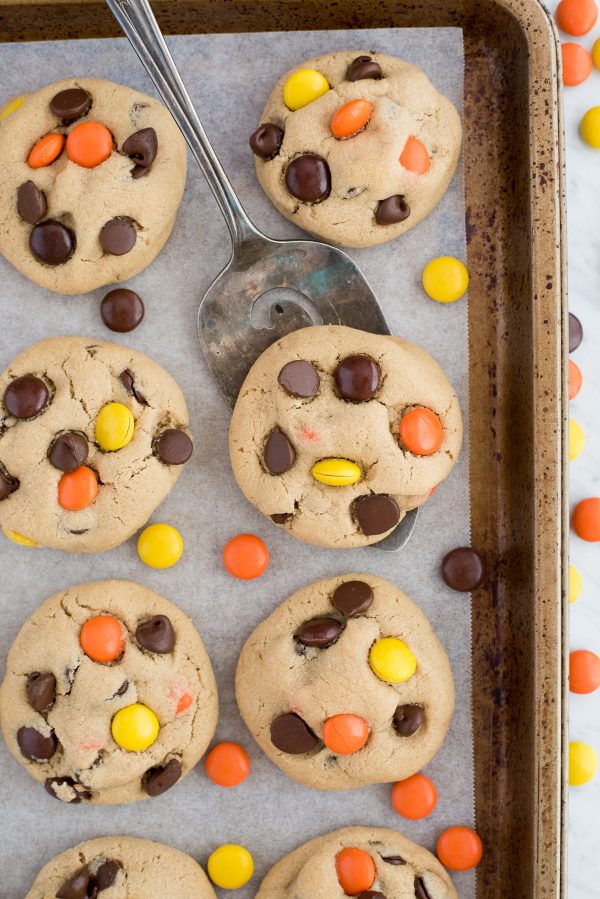 Ain't no shame in the peanut butter game!
I eat peanut butter on the daily. I starting eating natural peanut butter a few years ago and now I can't go back to creamy stuff.
In desserts, yes, I totally do the creamy stuff. But on toast or PB&J sandwiches, it's gotta be natural PB!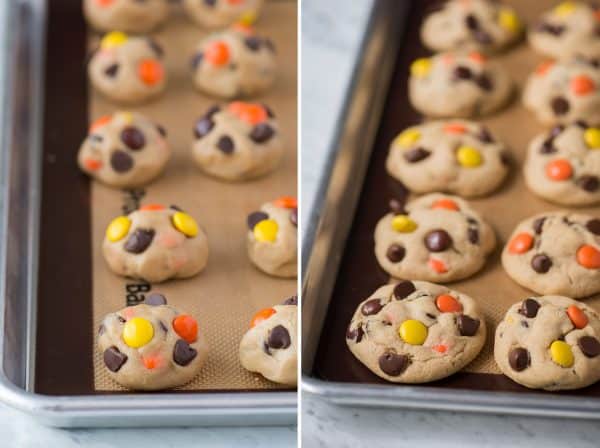 We actually have a lot of jars of peanut butter in our house.
Natural PB (which is kept gluten free, meaning no cross contamination or double dipping if spreading it on regular bread) Ryan has his own creamy gluten-full peanut butter, and then there's the jar of PB label "BLOG" – meaning it's used to develop recipes for the site!
We took our favorite peanut butter cookie recipe and added reese's pieces and chocolate chips because where there's peanut butter there should be chocolate.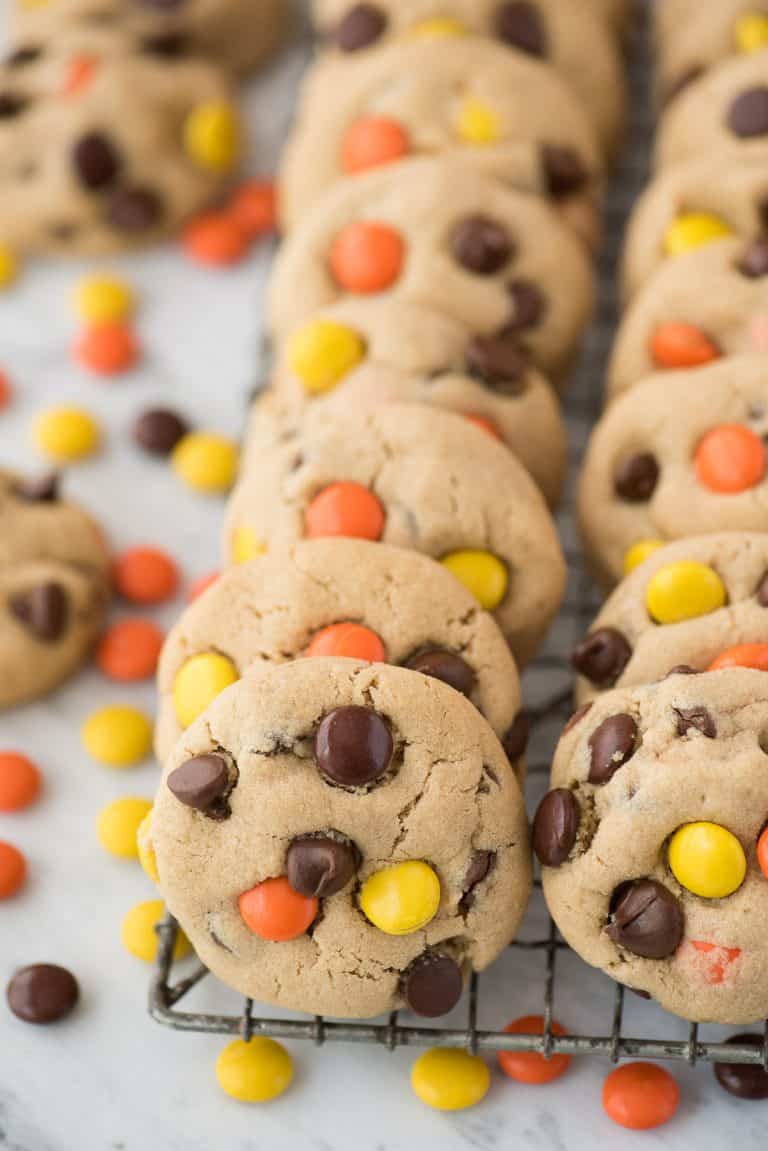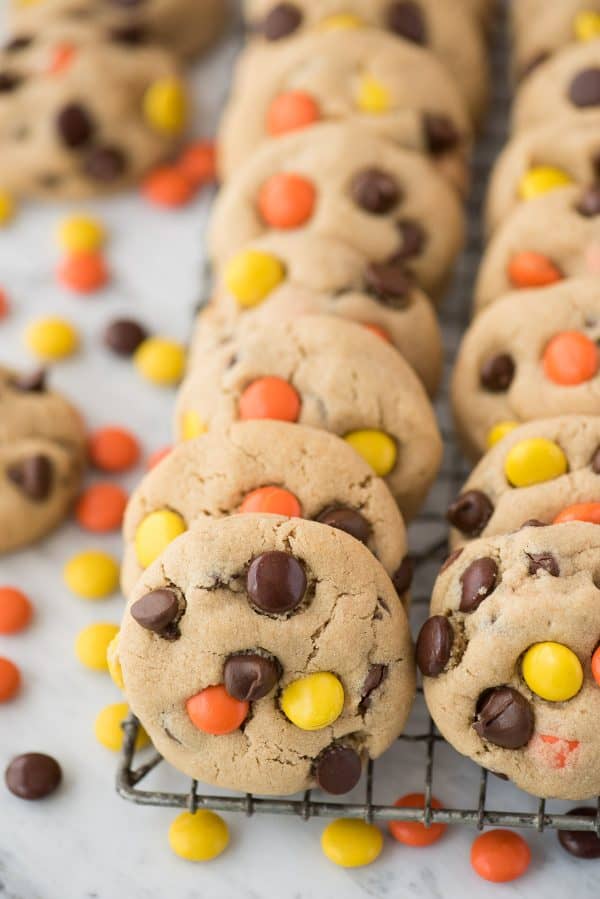 These cookies are the best! They are puffy but chewy, they don't spread out to be thin, and they leave you wanting a glass of milk, plus more cookies.
PRO TIP: The technique of making the top of the cookies look loaded with reese's pieces is to add additional candies/chocolate chips to the outside of the dough balls before baking.
Cram as many peanut butter candies as you can onto the surface of the dough!
I also made sure that each dough ball had a yellow, orange and brown reese's piece, that way people can associate what type of cookies they are. Plus, this type A blogger likes when all the cookies look uniform!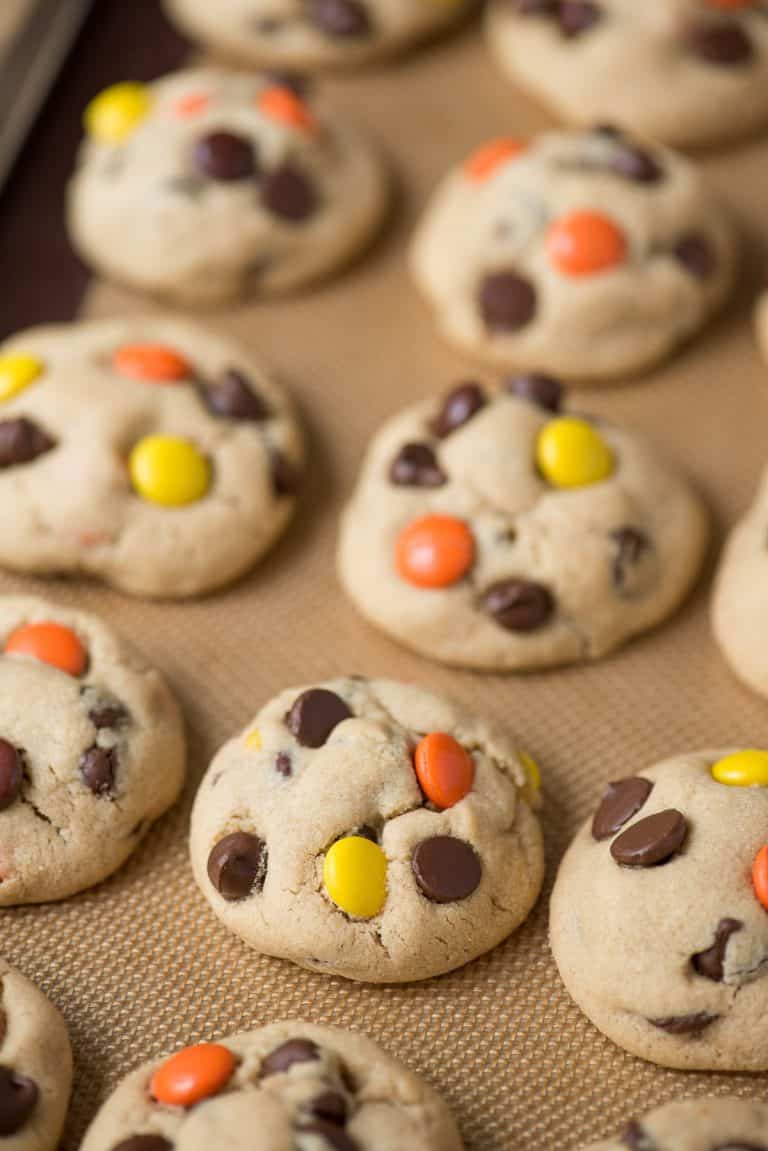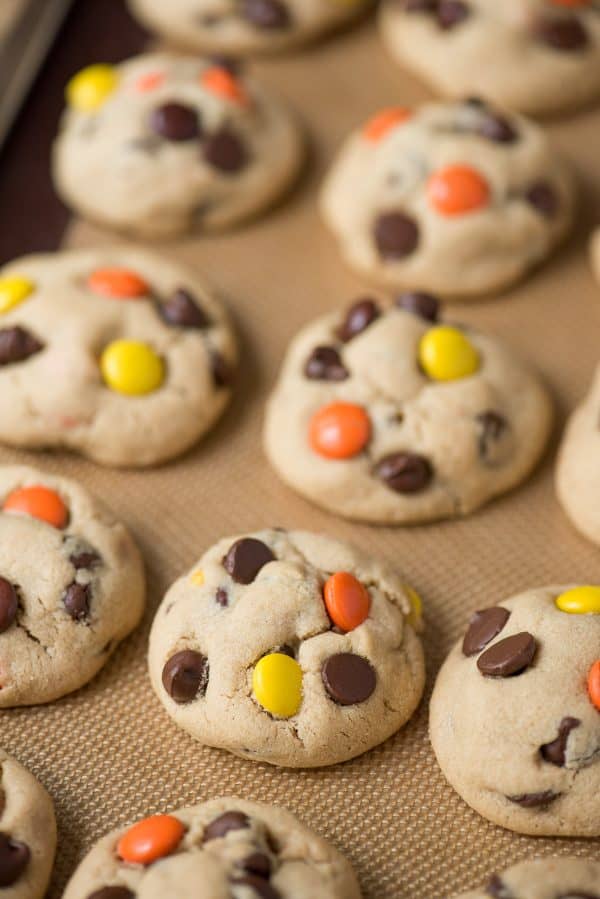 A few baking tips..
I like to use a cookie scoop to drop the dough onto the baking sheet. This way each cookie is about the same size and will bake at the same rate.
Don't flatten the dough out after you drop it onto the sheet.
I can't say enough good things about silicone baking mats. No more cookies sticking to the pan or burning.
Using a 1.5 inch cookie scoop (I believe that's medium size) this recipe makes about 2 dozen cookies.
For a step-by-step of how to make this reese's pieces peanut butter cookie recipe, watch this short video: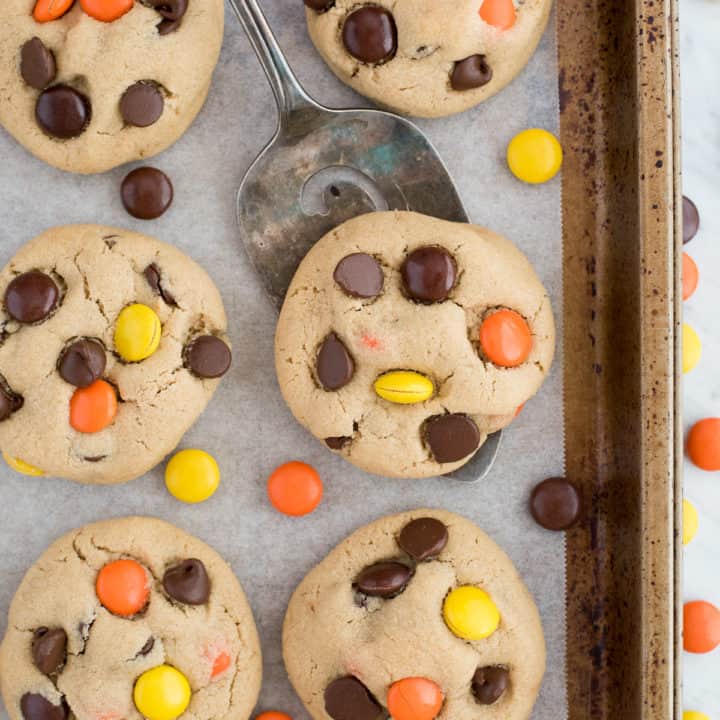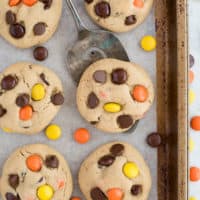 Reese's Pieces Peanut Butter Cookies
Reese's pieces cookies - EASY no chill peanut butter cookie recipe with reese's pieces and chocolate chips
Ingredients
1 stick butter (1/2 cup), softened
1/2 cup brown sugar
1/3 cup sugar
3/4 cup creamy peanut butter (not natural)
1 egg
1 tsp vanilla extract
1 & 1/2 cups all purpose flour
1 tsp baking soda
1/2 tsp baking powder
1/2 tsp salt
3/4 cup reese's pieces candies
3/4 cup semi-sweet chocolate chips
Instructions
Preheat the oven to 350ºF.
In a mixing bowl, combine the butter, brown sugar, and sugar. Beat with an electric mixer for 1 minutes, until smooth and fluffy. Add in the peanut butter, egg, and vanilla extract, beat again, less than 1 minute. Add in the flour, baking soda, baking powder and salt, mixing with a spatula just until there are small flour streaks left - it's okay if the batter has clumps! Be careful not to over mix. Gently mix in the reese's pieces and chocolate chips until combined.
Use a small cookie scoop to form balls from the dough. Add additional reese's pieces or chocolate chips to the dough balls if desired. Place the cookies on a silicone lined baking sheet and bake for 12 minutes or until the edges of the cookies begin to turn golden and the tops begin to crack slightly. Bake the cookies in batches so you don't crowd the baking sheet.
Allow the cookies to cool completely before serving.