Rainbow Jello
Rainbow Jello – create easy rainbow jello squares using 6 different colors of jello.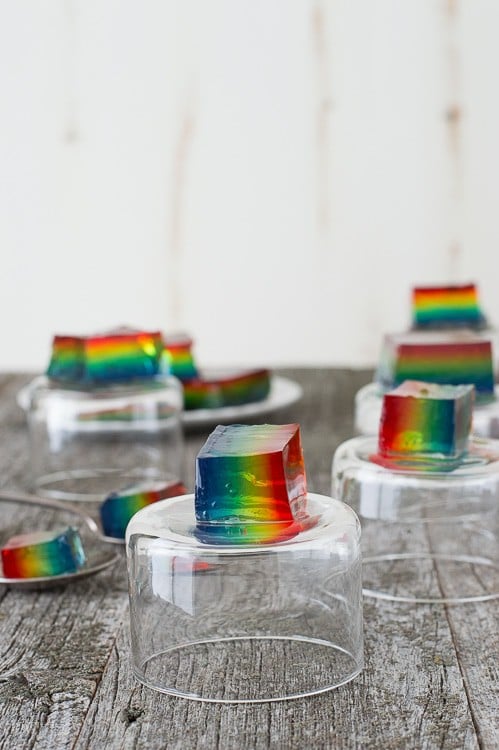 April showers bring.. rainbows! Spring is the perfect time for rainbow colored treats. Warmer weather is in the air, I hear the birds chirping again… and there is snow on the ground!
Grrrr.
I think I prematurely packed away all of our winter gear, but I am refusing to pull anything down from storage so my fingers will just have to put up with it.
You must have known that rainbow jello was in the works. First, we shared a recipe for cute Rainbow Donuts and I've been sharing a few recipes that use jello like melon kiwi layered jello cups and swimming peeps jello cups. So it's time to combine rainbows and jello :)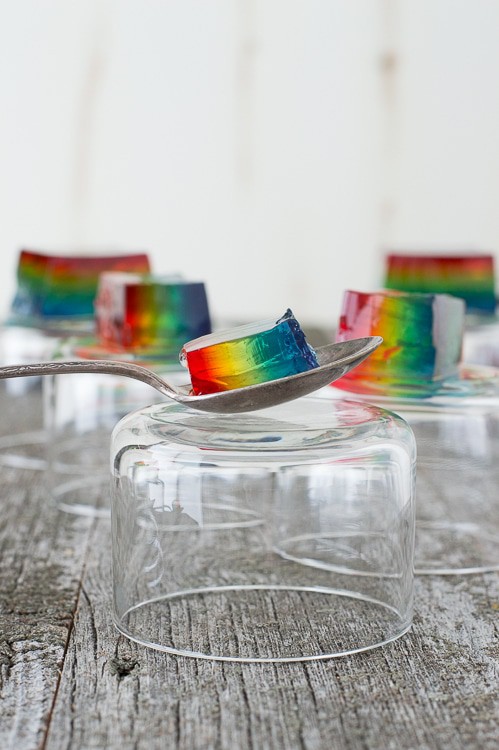 Can I let you in on a secret? I didn't like rainbows or things in rainbow order until recently. And by recently I mean, until I made those ridiculous rainbow donuts. Now I want to make everything rainbow colored! I even ordered a rainbow cookie cutter and I've been having dreams about rainbow dipped twinkies. Weird.
Well, my ways have changed and I'm on board with rainbows. And fluffy kitties and unicorn poop cookies.
Eww, just kidding. But unicorn poop cookies (see here on pinterest) are a real thing, and being rainbow colored, I now like them, except someone had to go and ruin them by calling them unicorn poop cookies.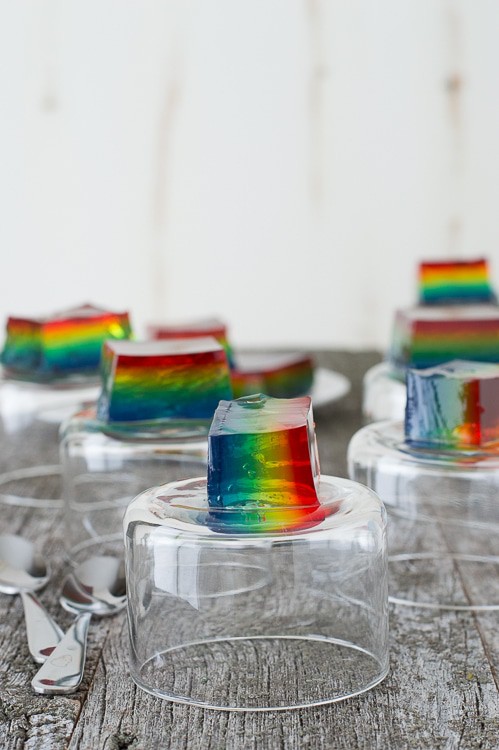 This rainbow jello is super easy to make, and it's really delicious. It's great that jello comes in so many different flavors. For the yellow layer, instead of having to get lemon jello, which I'm not sure lemon jello would be very good, they offer island pineapple, which is what I used and it's tasty! I also saw apricot, melon fusion, peach, and tropical fusion. Just pick the colors and flavors you want, and you're ready to make rainbow jello!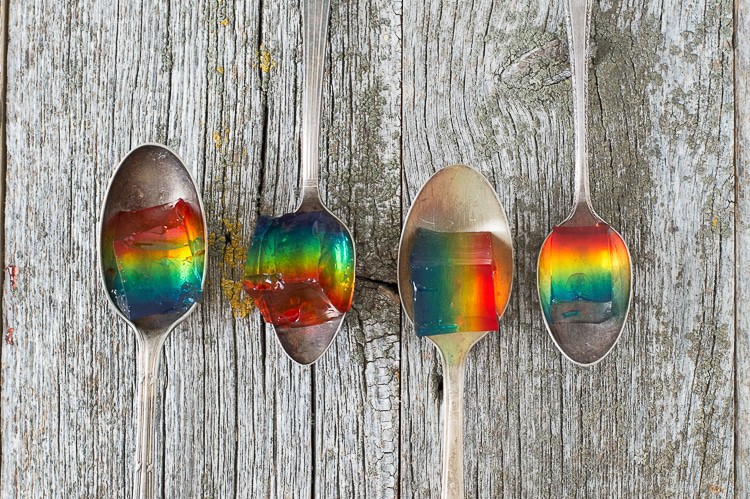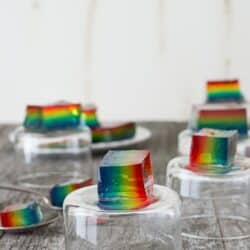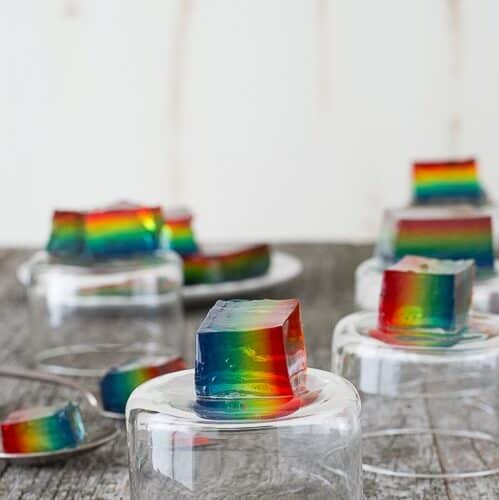 Rainbow Jello
Create easy rainbow jello squares using 6 different colors of jello.
Ingredients
1

box

red jello

1

box

orange jello

1

box

yellow jello

1

box

green jello

1

box

blue jello

1

box

purple jello

Water

,

boiling and cold
Instructions
Prepare each layer of jello according to the package directions. They directions should be similar to: empty one jello packet in a bowl, heat water to boiling, measure out 1 cup of boiling water and add it to the jello powder. Stir until the powder is dissolved. Add in 1 cup of cold water, and stir again.

Pour the jello into a 9×13 inch pan. Be sure that each jello layer sets before adding the next. Add the layers in this color order: purple, blue, green, yellow, orange, red.

Once all of the jello is set, slice it into squares and serve.
Notes
NOTE: DEPENDING ON HOW THICK YOU WANT EACH LAYER, YOU MAY HAVE LEFT OVER JELLO. I DID NOT USE ALL OF THE JELLO FOR EACH LAYER, I JUST TRIED TO MAKE THE LAYERS EVEN.
Calories:
97
kcal
,
Carbohydrates:
23
g
,
Protein:
2
g
,
Sodium:
119
mg
,
Potassium:
2
mg
,
Sugar:
22
g
,
Calcium:
1
mg
,
Iron:
1
mg