Peppermint Bark Pretzels
The easiest recipe for peppermint bark pretzels with only 6 ingredients!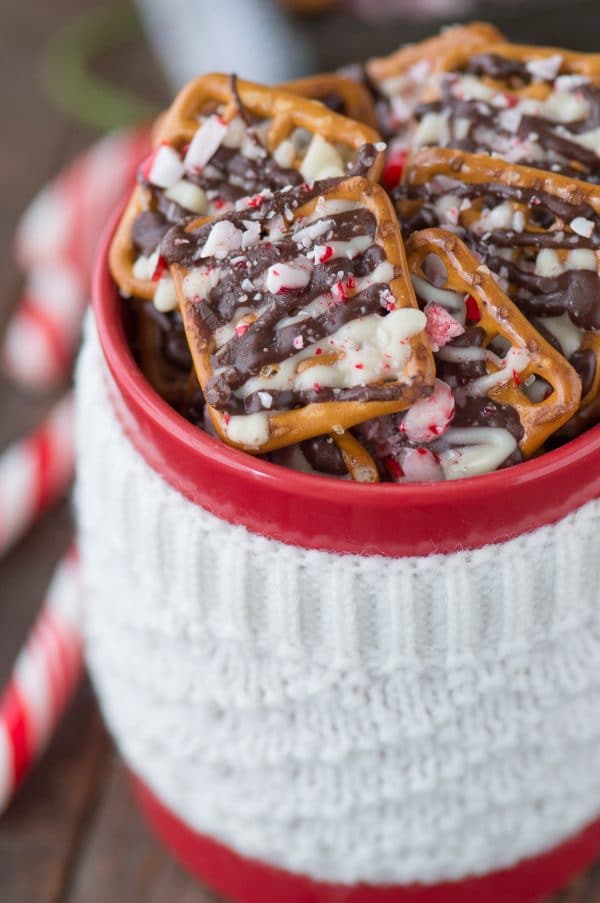 Continuing on with the Christmas goodies, we're sharing a simple recipe for peppermint bark pretzels.
If you like the combination of salty and sweet, along with some holiday cheer, these pretzels meet all those requirements!
I can bet you people won't be able to stop eating them, that's the good and bad thing about tiny snack-y type desserts.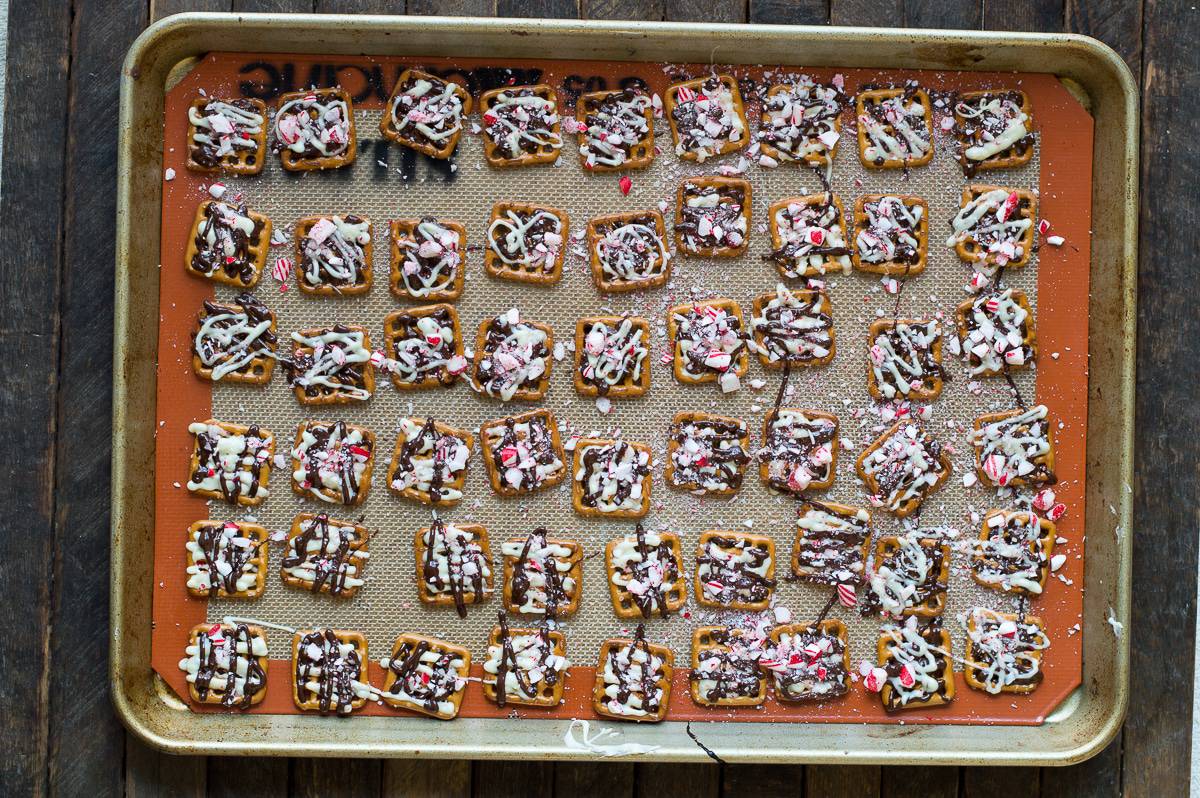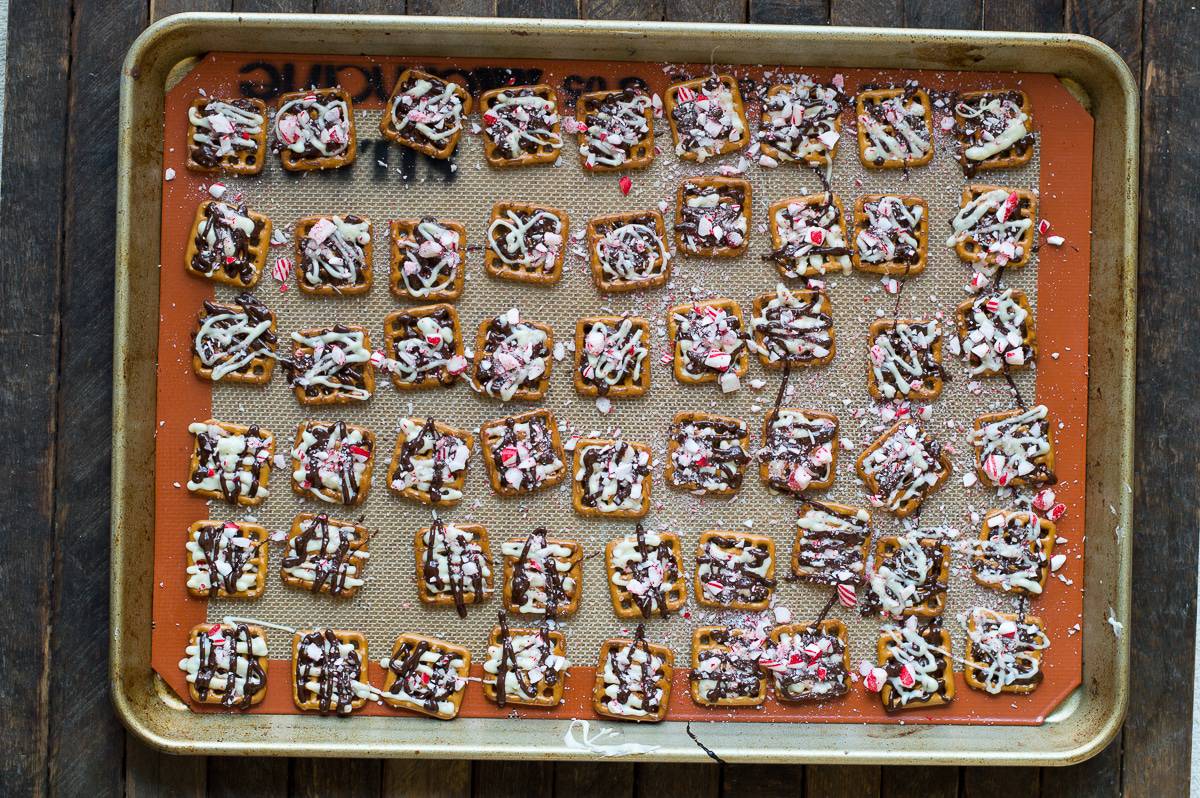 Ryan and I could have really used a bowl full of these when we watched the classic The Santa Clause on Friday night. It's one of my favorite Christmas movies. I remember when it first came out, I was in elementary school and I was determined to be one of Santa's elves after watching it.
The best part is that the movie is still good today, and Tim Allen's jokes still made us laugh.
Are there any movies you like to watch during the holidays? Another one of our favorites is Christmas with the Kranks – another movie with Tim Allen, haha.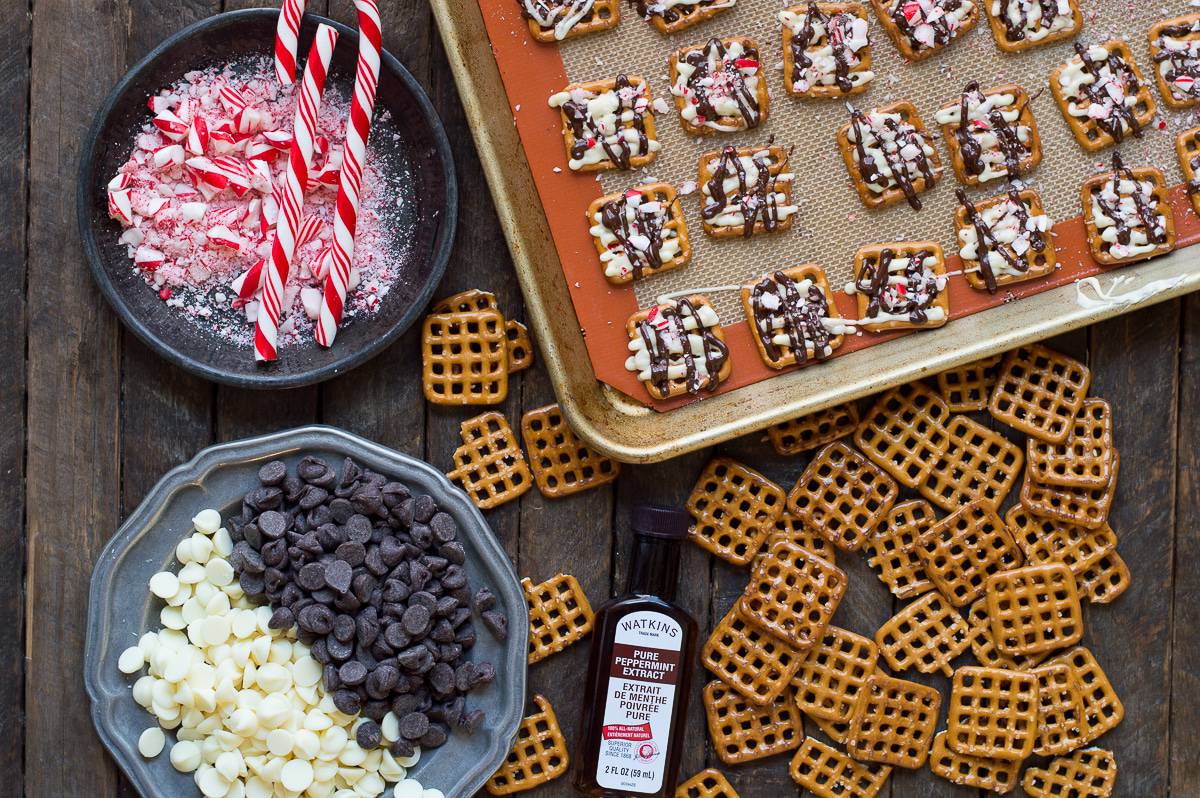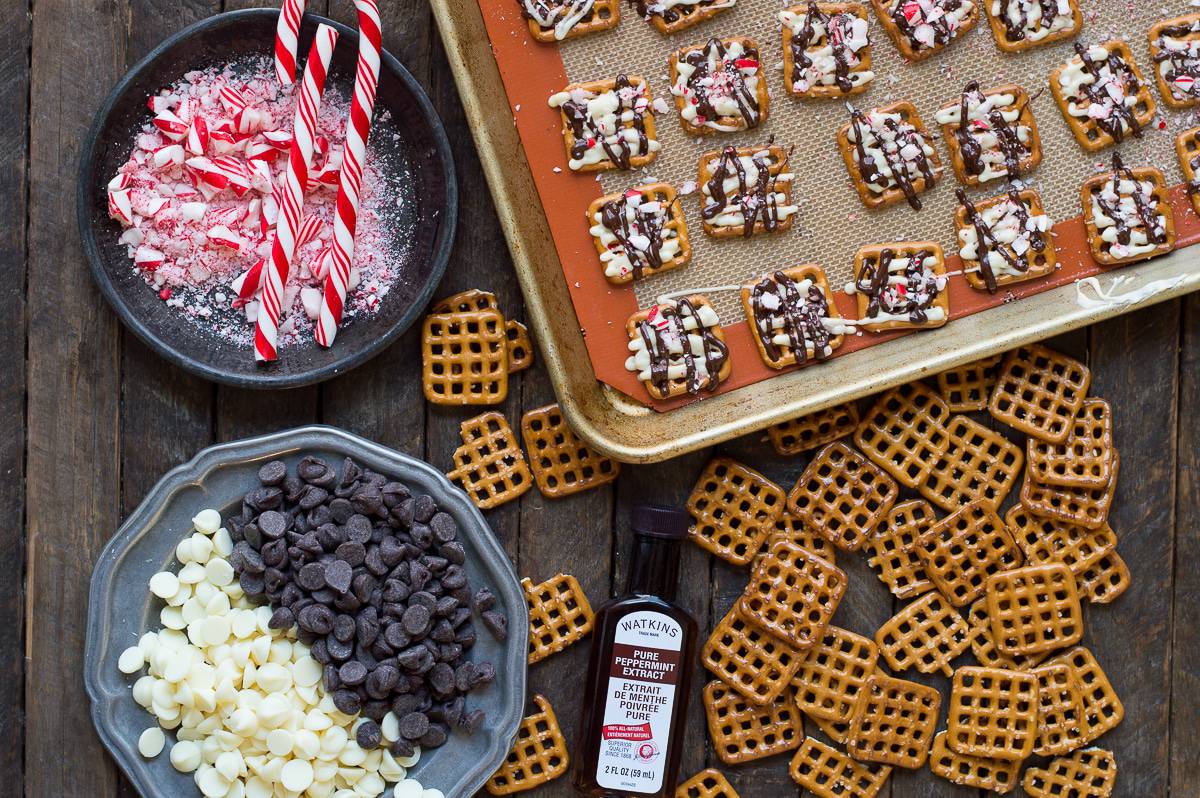 To make the peppermint bark pretzels you'll need
-waffle pretzels (or any pretzel of your choosing – the fun christmas shaped ones are out right now!)
-vegetable oil or coconut oil
-milk chocolate chips
-white chocolate chips
-peppermint extract
-crushed candy canes
Our 40 second video will give you a great overview of how to make the pretzels – the video is right above the recipe box, scroll down the page and you'll see it!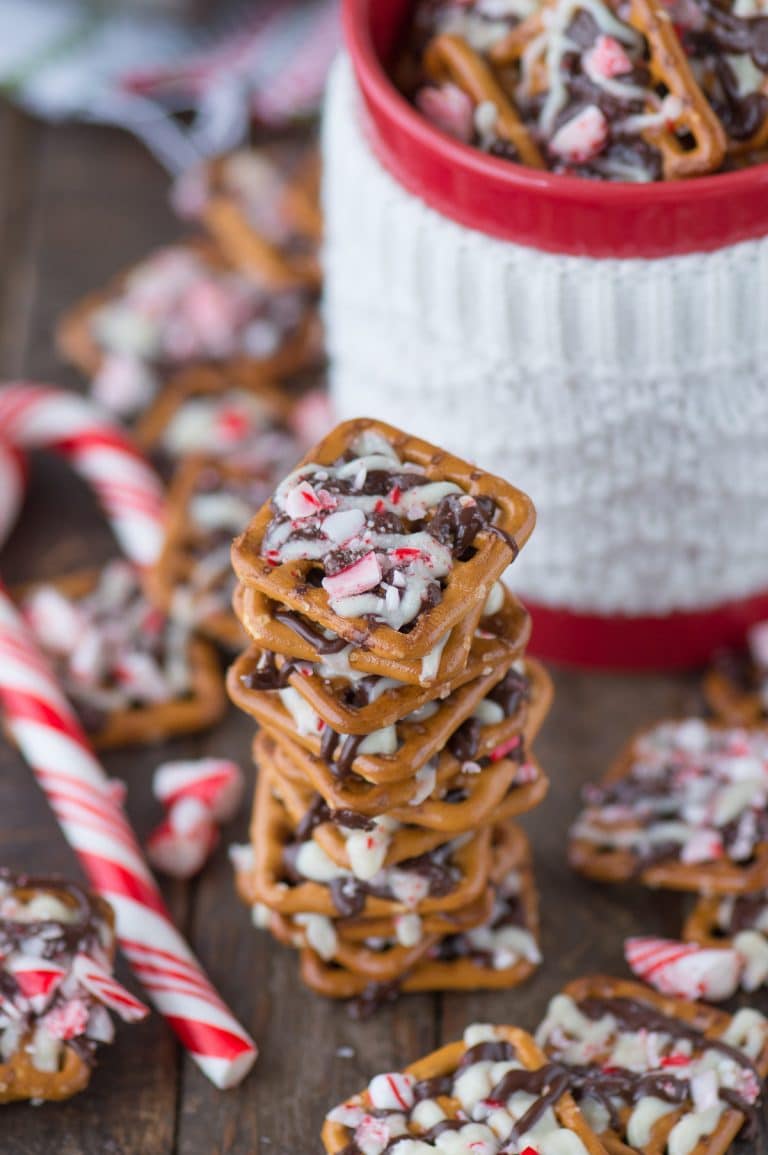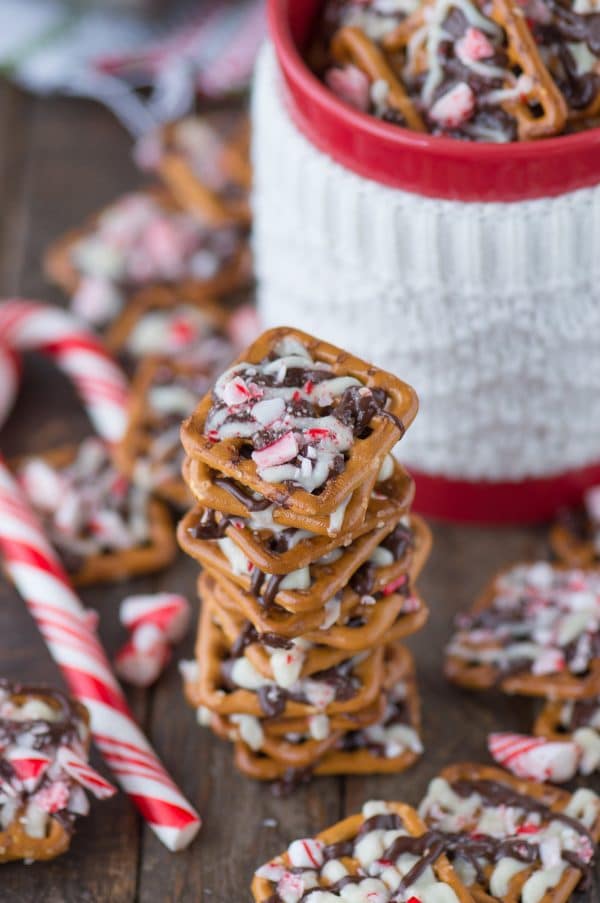 Melt the milk and white chocolate chips, then let the chocolate cool slightly. I put the melted chocolate in 2 different plastic squeeze bottles.
Squeeze bottles are great for drizzling or doing more intricate designs. I bought a set of 2 off of Amazon for $8. They also come in handy for decorating cookies with royal icing.
The best alternative to a squeeze bottle would be a ziploc bag with one corner cut off (beware, this can get messy) or using a spoon to spoon the chocolate on.
I recommend letting the chocolate harden at room temperature for a few hours, or you can put the tray of pretzels in the fridge for a few hours to harden as well.
Once they are set, peel them off the silicone baking mat and eat them (!!!) or put them in gift bags to make someone else's day!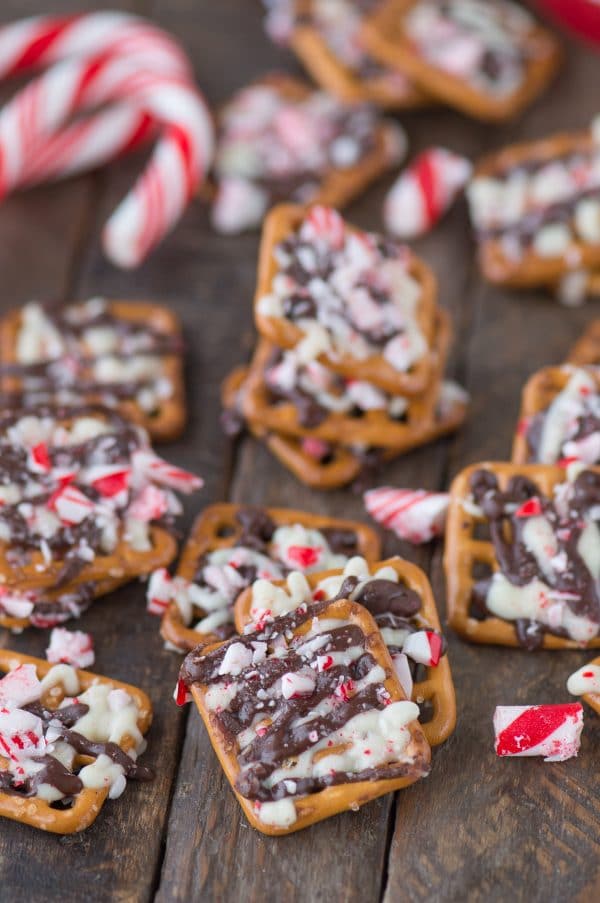 For a step-by-step of how to make this peppermint bark pretzel recipe, watch this short video: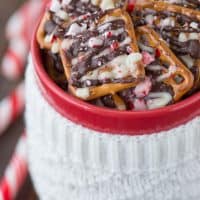 Peppermint Bark Pretzels
Yield: about 50 pretzels
Additional Time: 20 minutes
Total Time: 20 minutes
The easiest recipe for peppermint bark pretzels with only 6 ingredients!
Ingredients
Waffle pretzels (or any pretzel of your choosing)
1 cup milk chocolate chips
1/2 tbsp vegetable oil / coconut oil
1 cup white chocolate chips
1/2 tbsp vegetable oil / coconut oil
1/4 tsp peppermint extract
crushed candy canes (I used about 5 whole candy canes)
Instructions
Place the pretzels on a baking sheet lined with a silicone baking mat or parchment paper.
Over low heat on the stove, melt the milk chocolate chips and white chocolate chips in separate pots. Add a little bit of vegetable or coconut oil to each pot to help the chocolate melt smoothly. Stir the pots until the chocolate in completely melted - this make take up to 7 minutes. Remove the pots from the heat and allow the chocolate to cool slightly. Add a small amount of peppermint extract to the melted white chocolate.
While the chocolate is cooling, place several candy canes (I think I used 5) in a ziploc bag, cover with a towel and use a rolling pin to crush the candy canes. Put the crushed candy canes into a bowl.
Transfer the melted chocolate into 2 separate squeeze bottles. Drizzle the chocolate on top of the pretzels and then go back and drizzle the other chocolate on top - you can alternative which chocolate goes on first.
Sprinkle crushed candy canes over the melted chocolate.
Place the baking sheet in the fridge for a few hours until the chocolate is set. Remove the pretzels from the tray and enjoy!