Out of the Kitchen September 2016
WE'RE BACK WITH ANOTHER OUT OF THE KITCHEN POST – HERE'S WHAT WE'VE BEEN UP TO FOR THE MONTH OF SEPTEMBER!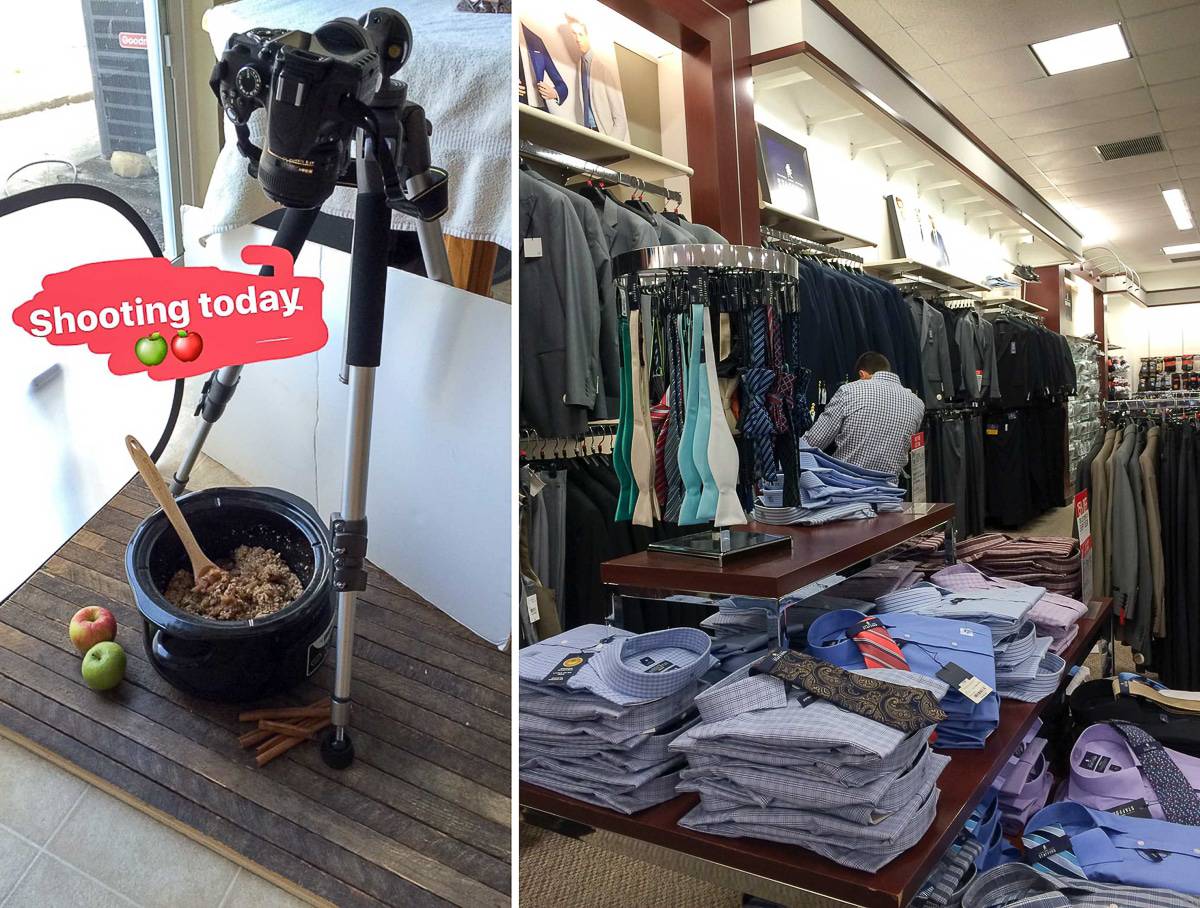 This September was the first time (in like my whole life) that I got into apple desserts. Normally I'm not a fruity person, but the crock pot apple crisp pictured is divine. Of course I still like to pair mine with ice cream. The second photo – Ryan and spent many weekends shopping for "business" clothes. He had a whole bunch of job interviews in September, in preparation for his defense coming up in March. The good news is that he got a job! See more at the end of this post.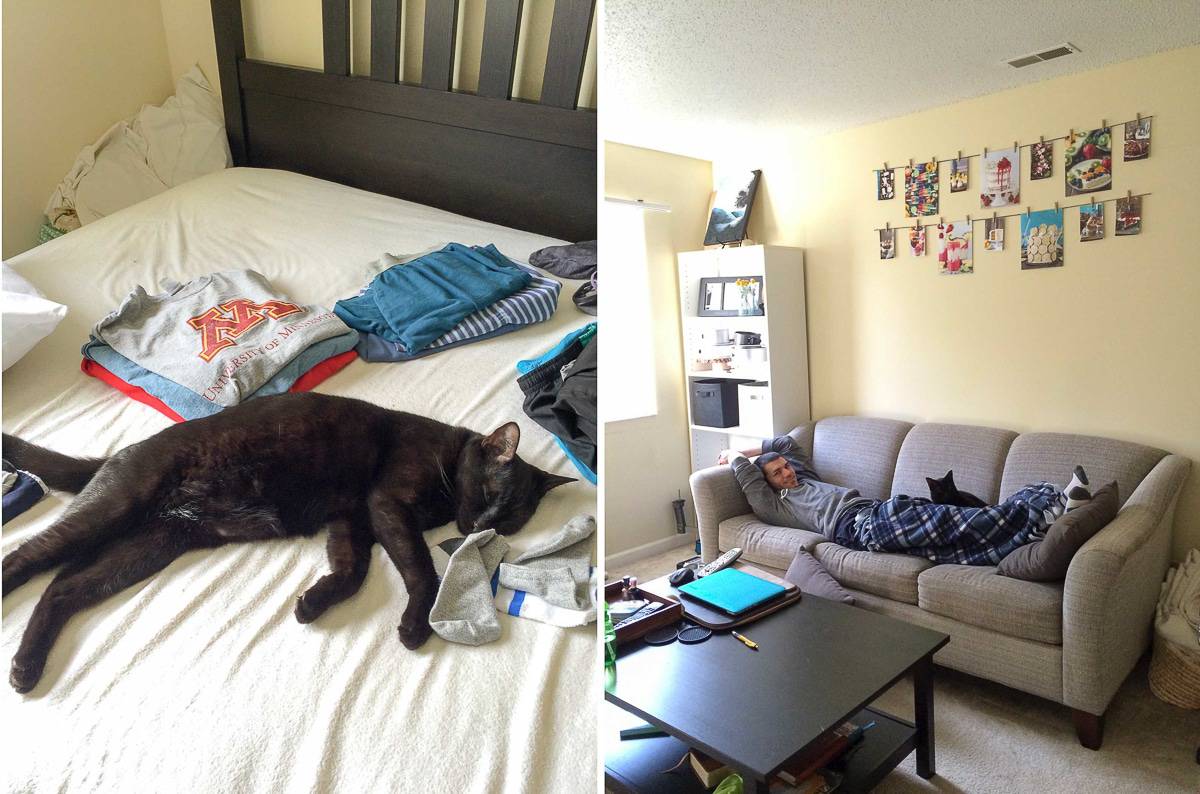 Awwww cat snuggles are just the best. Although I can't really snuggle with Salsa.. he will bite me. The only time he likes to snuggle is in the middle of the night when I am tiring to sleep. He comes and sleeps on my chest, sometimes right on my face. The second photo – but when there are rare moments during the day where Salsa is willing to snuggle, it's the perfect photo opportunity!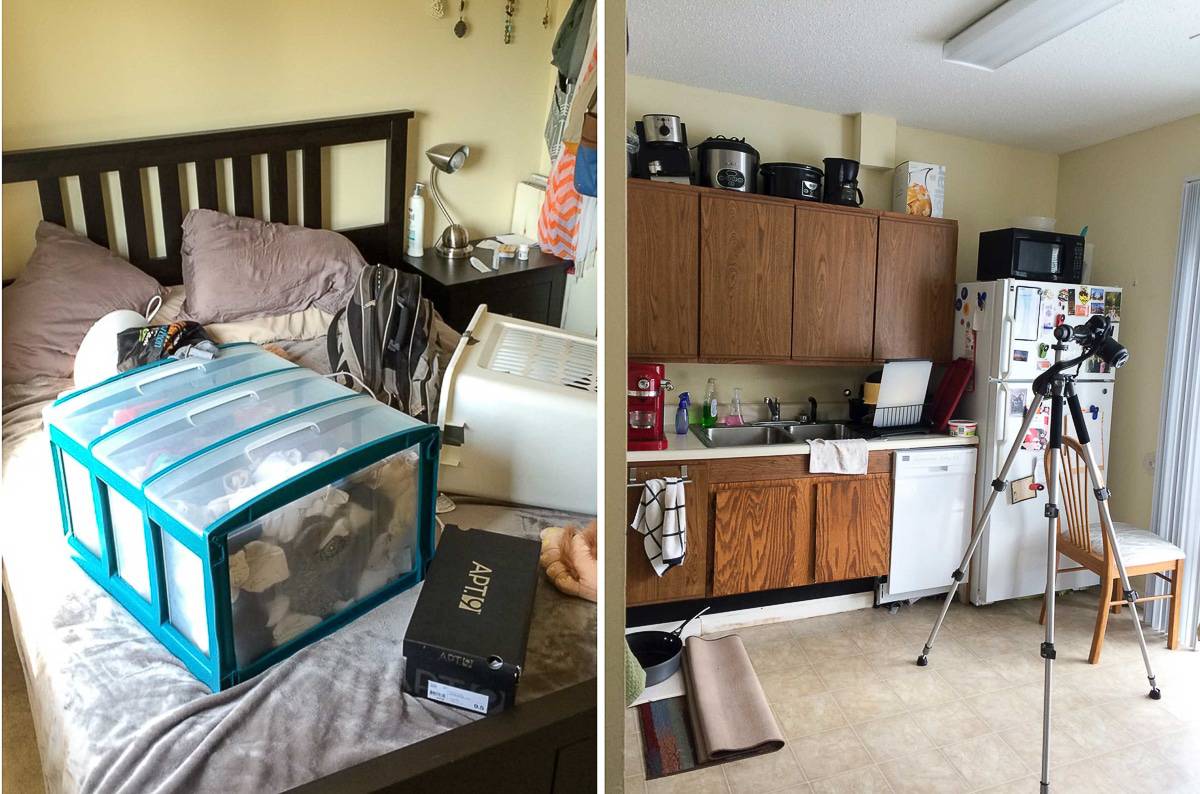 Ryan came up with this brilliant idea to keep me from taking naps on the bed during the day since I'm blogging full time out of our home. It's called put everything on the bed.. it's actually quite effective! The second photo – I don't see any free space on the counters or on top of the cupboards.. do you?!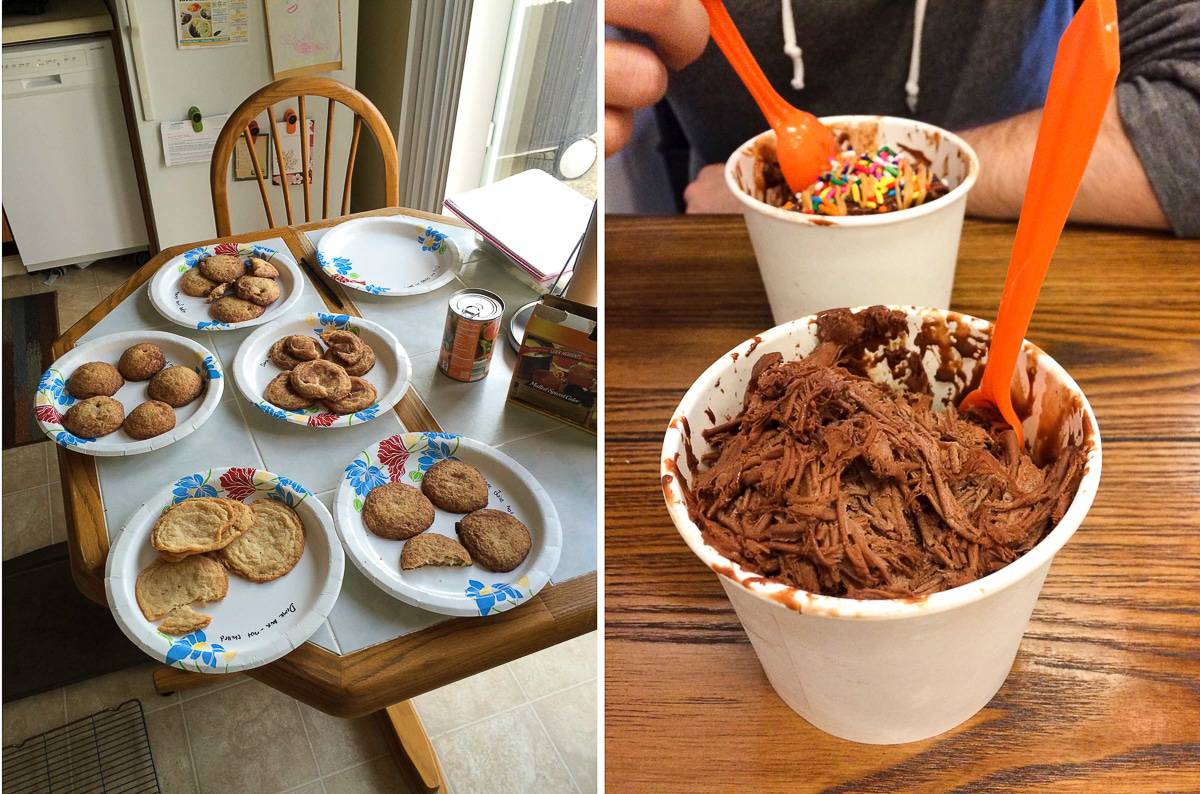 It took 6 batches of caramel apple snickerdoodles but I finally nailed the recipe! They are so good and the perfect fall twist on a classic cookie. The second photo – we tried snow cream for the first time. I am still not quite sure what snow cream is but it's delicious and not as rich as regular ice cream.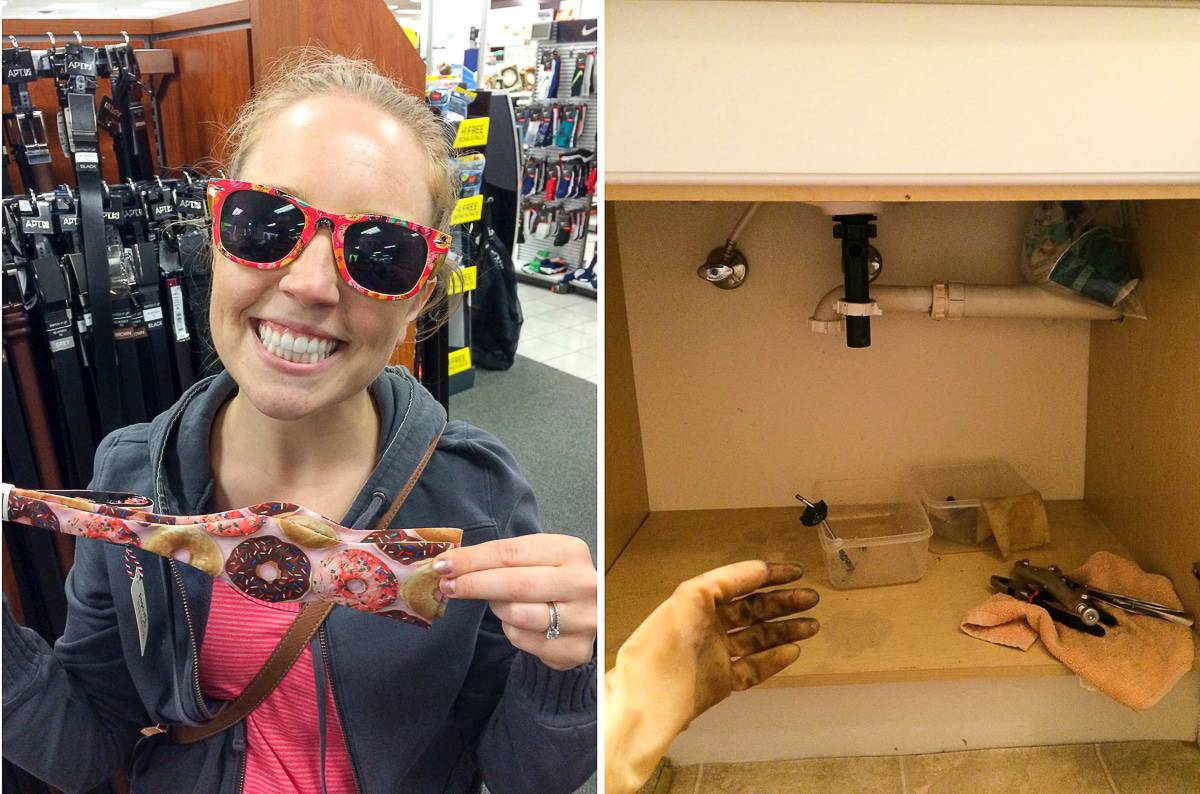 While we were shopping for Ryan's business clothes, I found THE perfect bow tie – it matches my donut sunglasses! The second photo – while Ryan was gone for a week of interviews, I channeled my inner plumber and fixed our bathroom sink that wouldn't drain. I learned some plumber lingo that I totally all forgot now.
I am going to preface this by saying we are not golfers AT all, but we spent a Saturday afternoon at the driving range, looking like we had no idea what we were doing (mostly me, Ryan's actually pretty good). And it turned out to be really fun! We definitely contributed to the divots in the grass :)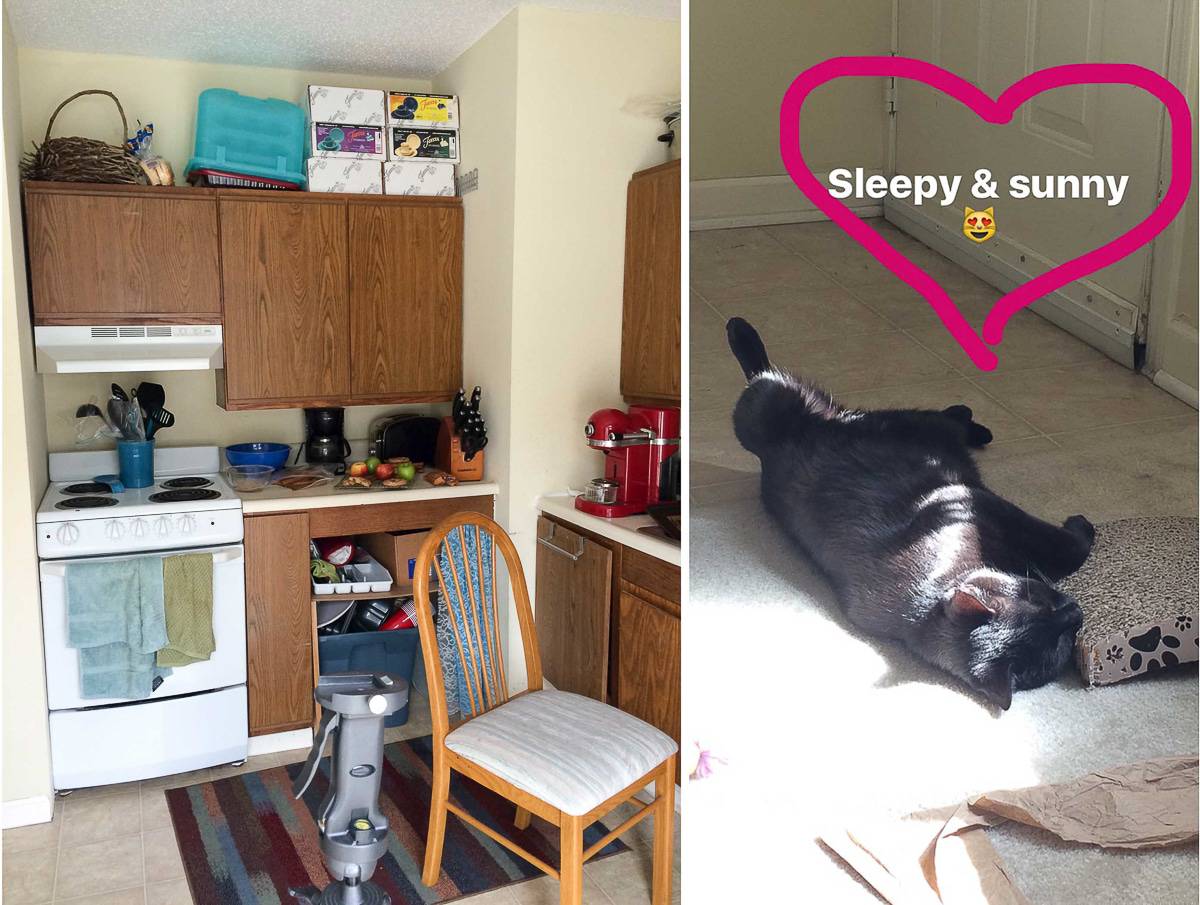 A mid photo session picture of half of the kitchen. Again.. do you see any empty counter space?! The second photo – seriously, cats are the cutest when they are sleeping!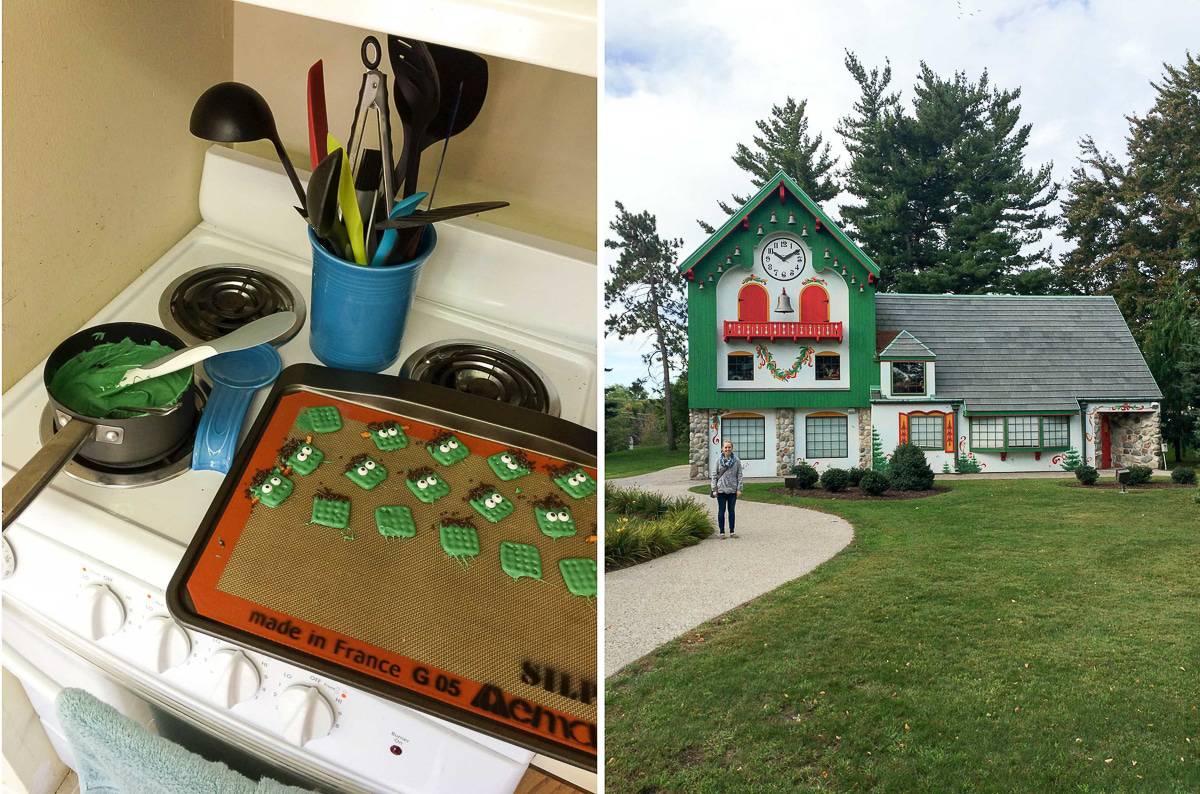 Working on these fun frankenstein pretzel treats for halloween! They are simple to make with waffle pretzels, colored candy melts, brown sprinkles and candy eye balls. The second photo – we took a quick trip to Michigan and here I am in front of Santa's Training Center! No joke Santas from all over the world come here to be trained in how to be a good Santa.
Opening Up..
The reason we took a trip to Michigan is because we'll be moving there this spring! Ryan accepted a job offer at a large chemical company and we'll be moving there after Ryan's defense. Obviously when you start a phd the end goal is to get a job, but it's crazy how fast the time flew, how quickly he received offers and how quickly we made our decision.
God works in surprising ways because if you would have asked me a year ago, even 3 months ago where I would have liked to move my answer was close to a big city and in an area with less snow. We are doing THE exact opposite. We're moving to a small town in Michigan! But I can feel God softening my heart towards his plan and giving me excitement.
In addition to moving and Ryan starting his first real job, we're looking at buying our first house! Cue the excitement!!! Being potential first time home owners is a whole another ball league but looking for a house in a different state is like completely outside of the ball park fence.
I wrote last month about how change causes anxiety and I'm sure I will have to walk through what seem like valleys over the next 8 months, but right now I feel like the excitement is stronger than the fear. I'm still not sure how to prepare myself to leave a place that seemed so foreign when we first moved here 5 years ago and now IS home. The Lord has provided for us in Illinois and I trust that He will provide for us in Michigan.
—
See previous out of the kitchen posts.