Out of the Kitchen August 2016
WE'RE BACK WITH ANOTHER OUT OF THE KITCHEN POST – HERE'S WHAT WE'VE BEEN UP TO FOR THE MONTH OF AUGUST!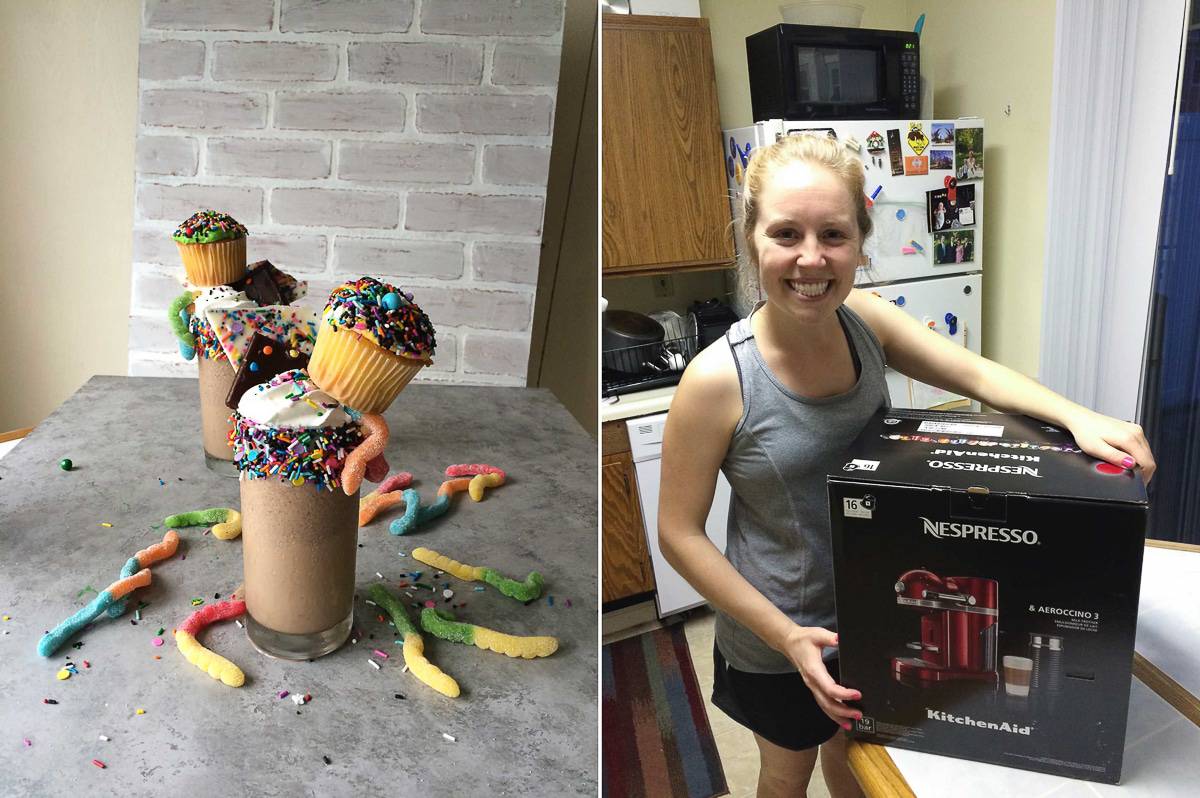 It was so much fun making a crazy milkshake! If you missed the recipe, get it here. Complete with a cupcake, brownie and sprinkles! The second photo – we're excited to be partnering with KitchenAid again! This Nespresso machine is amazing! If Ryan wasn't addicted to espresso before, he is now! We'll be sharing a recipe using the Nespresso in a few weeks.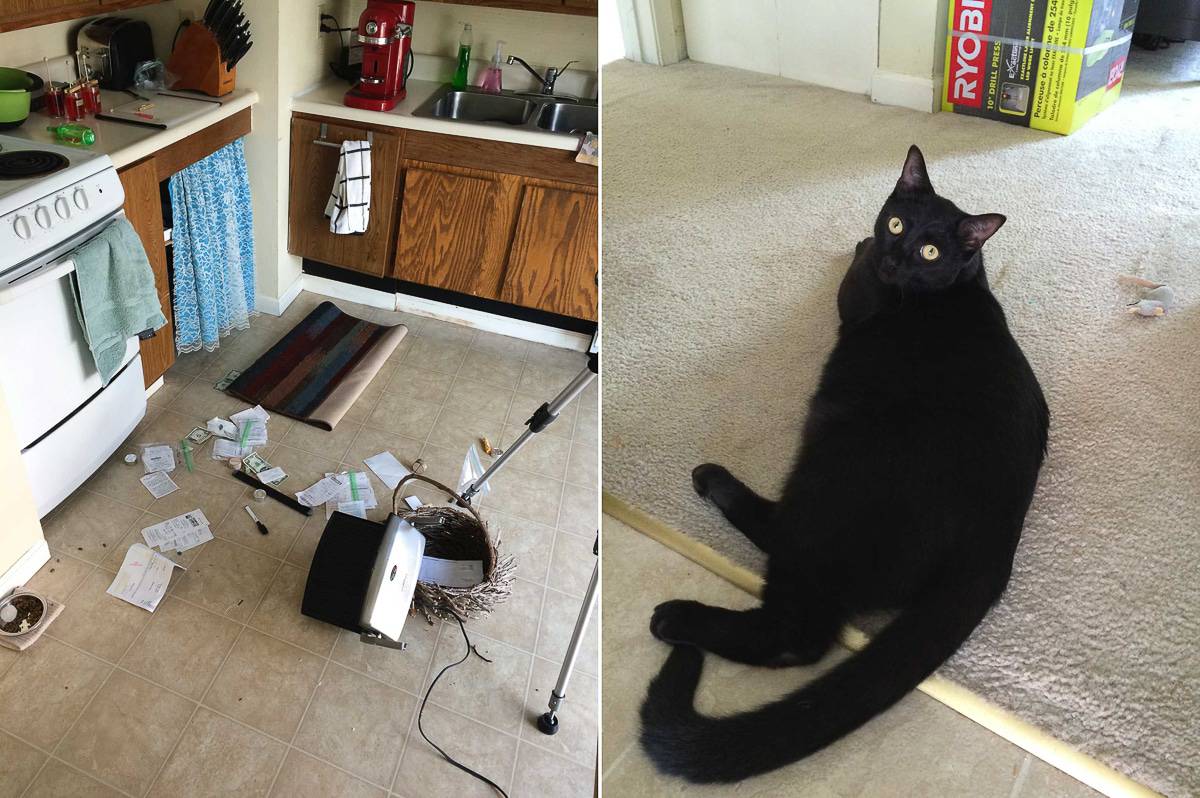 Salsa was being naughty and climbing on top of the cupboards. He somehow pushed the panni press (it broke) and a twig basket off the shelf and oh my goodness, look how close it was to hitting my tripod that was holding my camera!! Plus an after shot of Salsa.. caught red handed.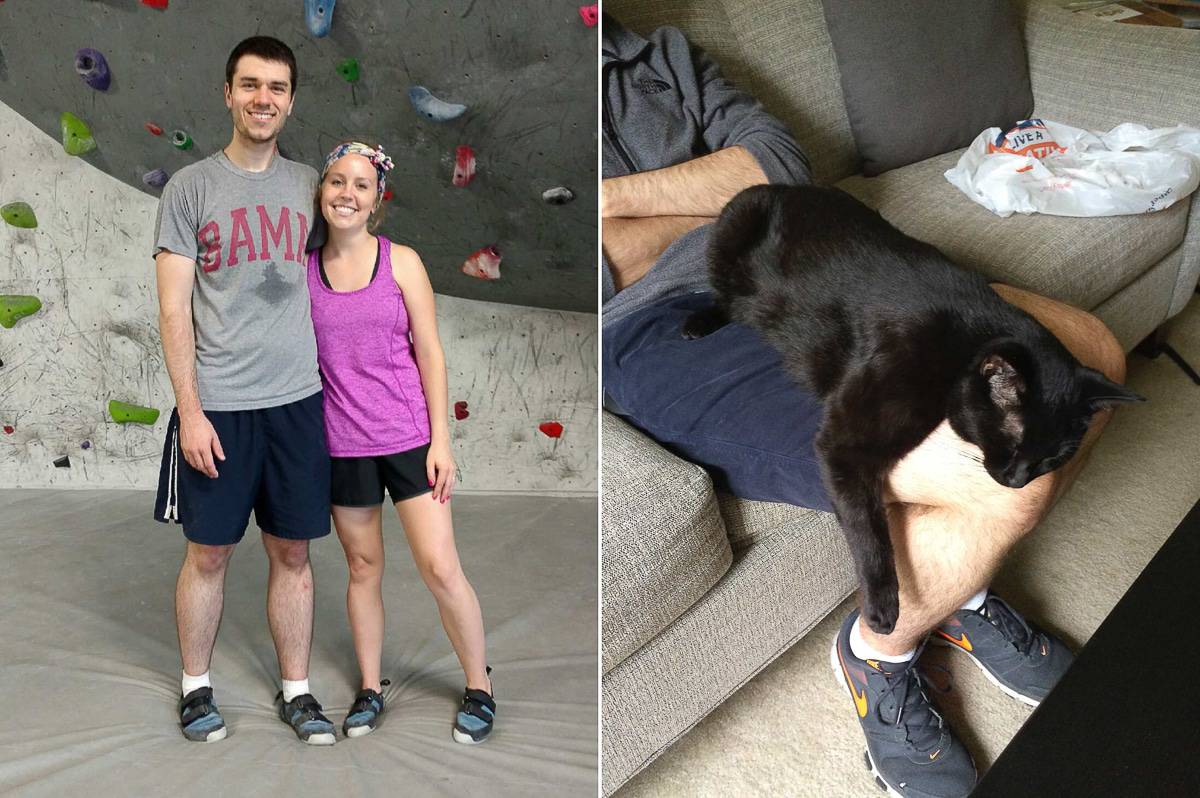 A new rock climbing place opened up near us – but you don't use any ropes, it's all free climbing! It was a lot of fun and hard work and I think I learned that I have a small fear of heights. The second photo – I gotta capture those rare motions where Salsa snuggles with Ryan :)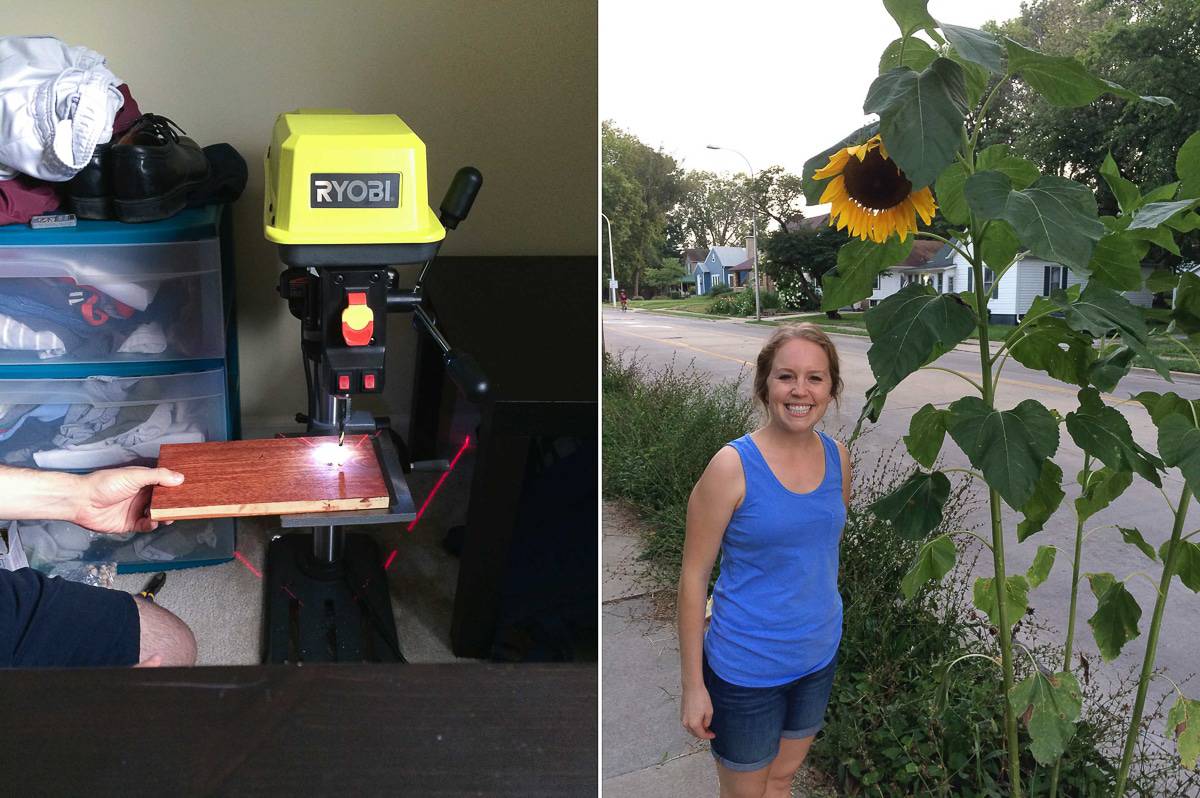 This photo makes me laugh. Yes.. that's a drill press.. in our BEDROOM. #smallhouseproblems
The second photo – look at those monstrous sunflowers!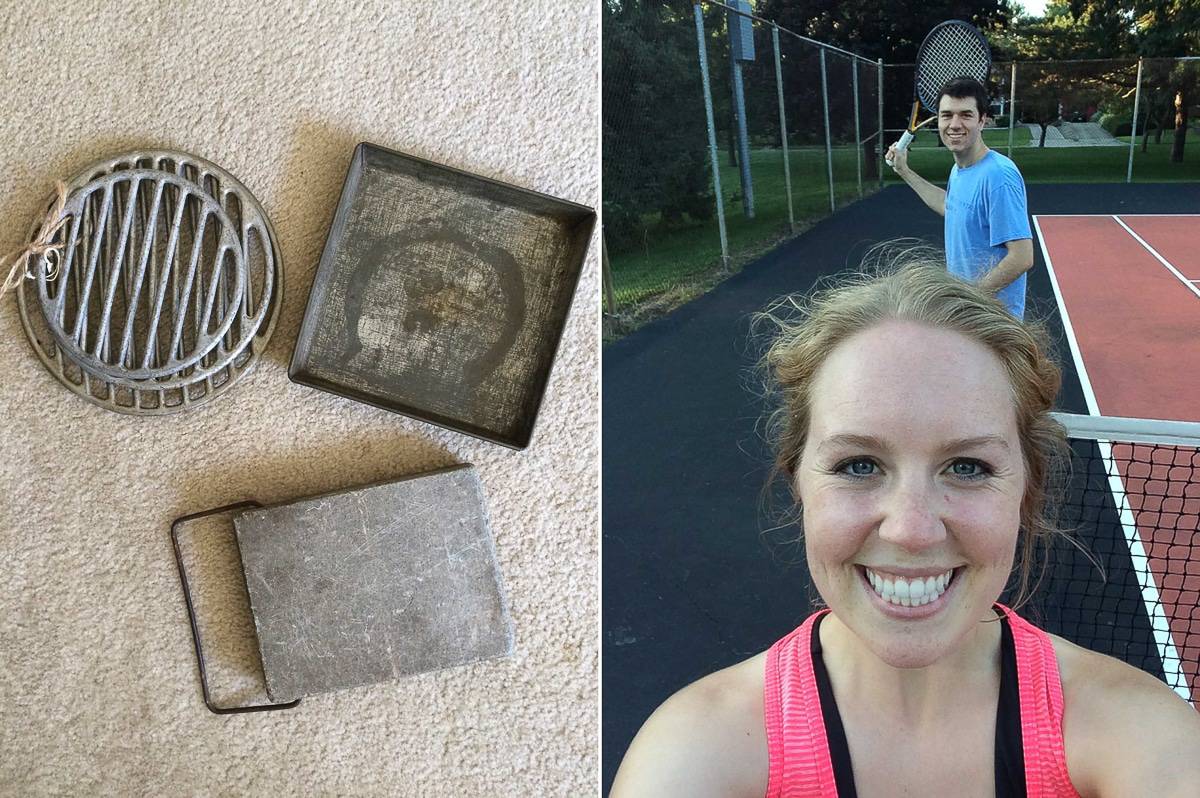 I went to the antique market in August and it's one of my favorite places ever! I picked up a few blog props and a cute metal bucket to hold flowers on our front porch. The second photo – we had our first tennis date of the summer! Ryan played tennis in high school so I'm really no competition, usually I run out of steam way before him!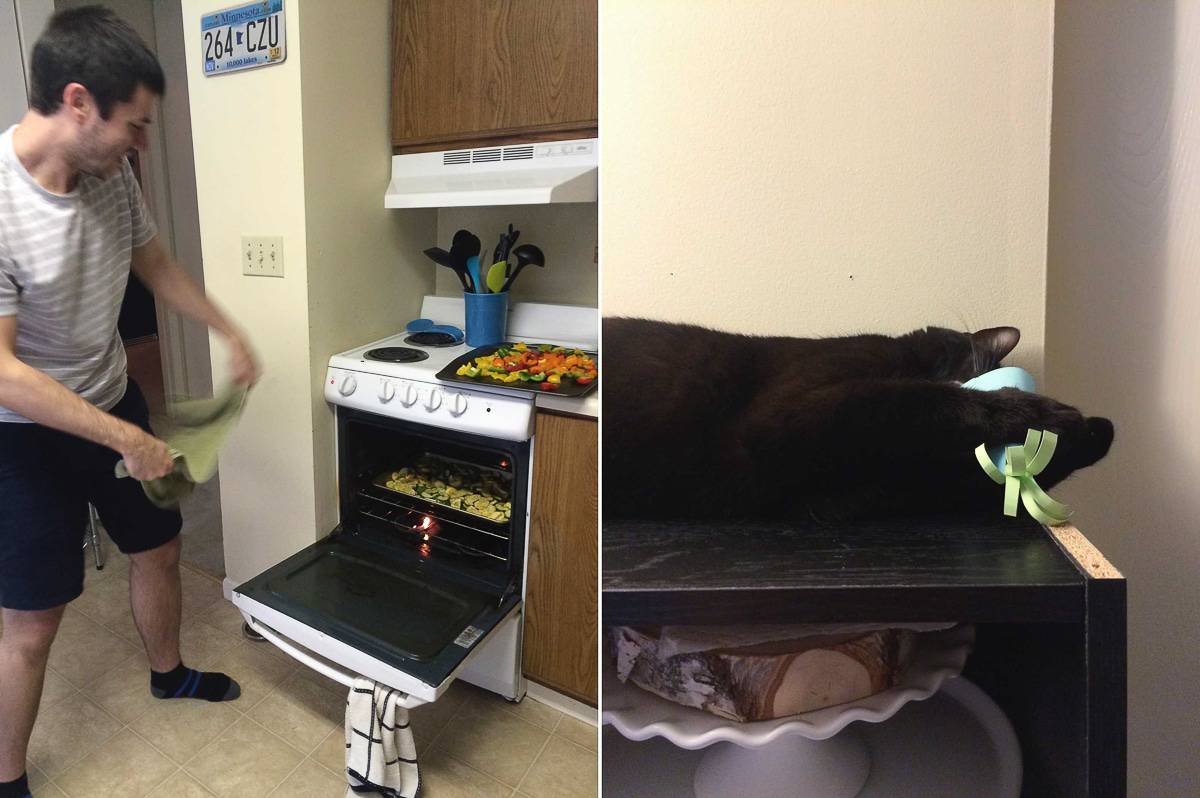 We had a small oven fire – I'm so glad Ryan was home because I panicked. Our vegetables had a really nice smoky flavor, haha, but the house smelt for days. The second photo – we celebrated Salsa's 1st birthday! He wouldn't cooperate and wear his party hat for a photo.. so this is the best we got, him attacking it!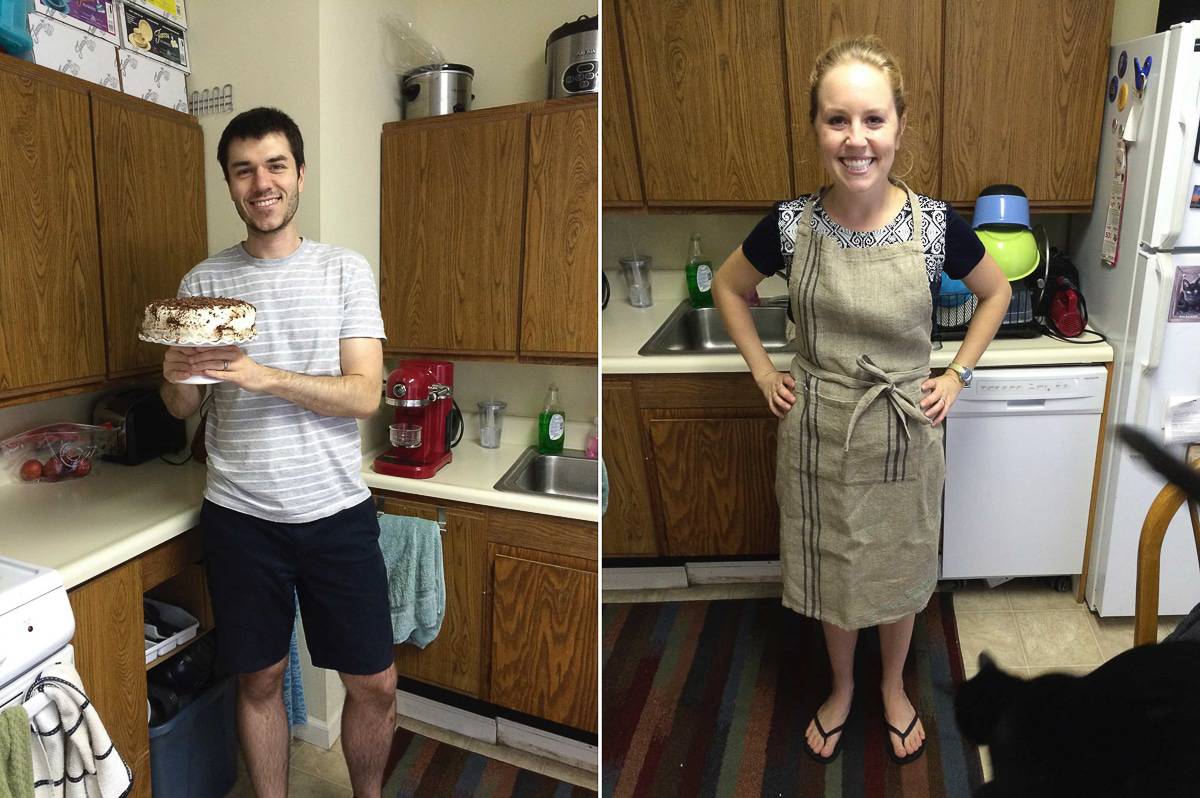 I had my last day of nannying in August, it was bittersweet and emotional. Ryan surprised me and made an espresso tiramisu cake from scratch and all by himself to celebrate. It was amazing! I'm trying to get him to join the blog ;) The second photo – my sweet nanny family gave me this cute apron, embroidered with a message. Such an awesome gift for a baker!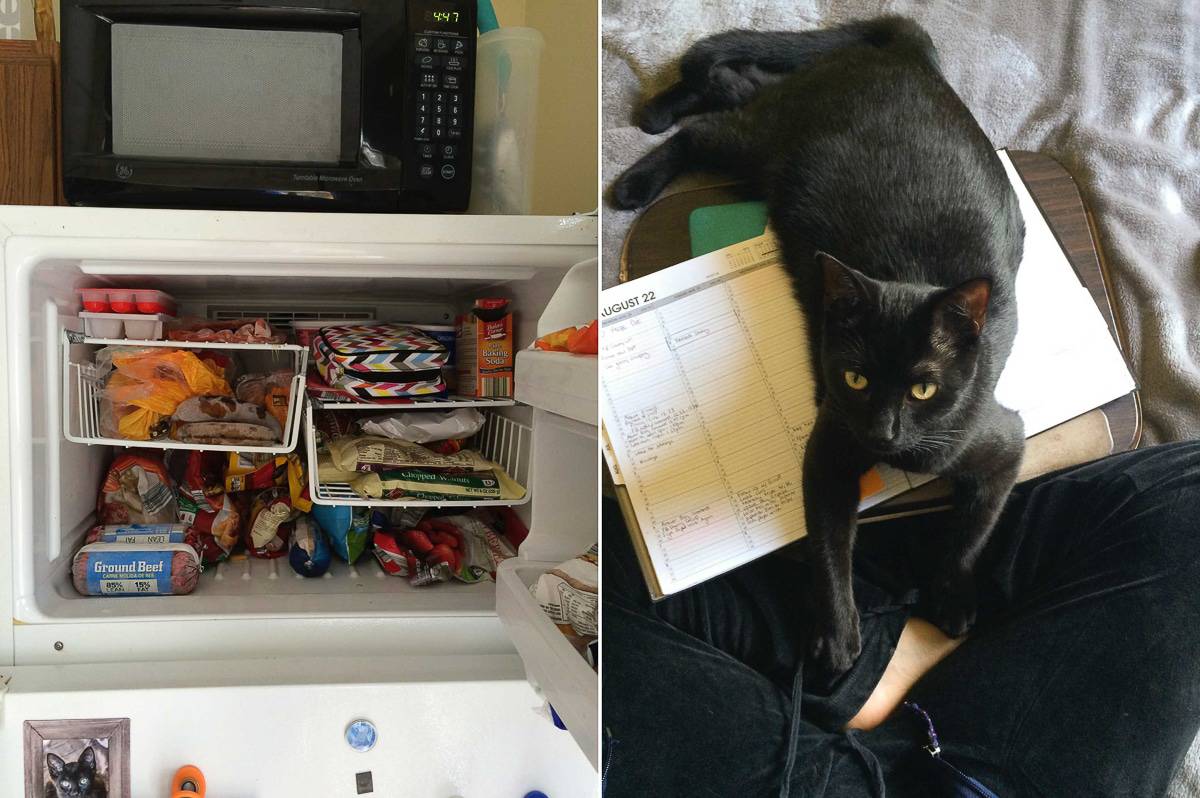 The freezer got a little makeover! I ordered a few basket shelves to help with everything always being stacked on top of one another. I will admit that I had to use some duck tape to keep them in place! The second photo – Salsa is totally a momma's cat and he likes to lay right on top of whatever I'm working on.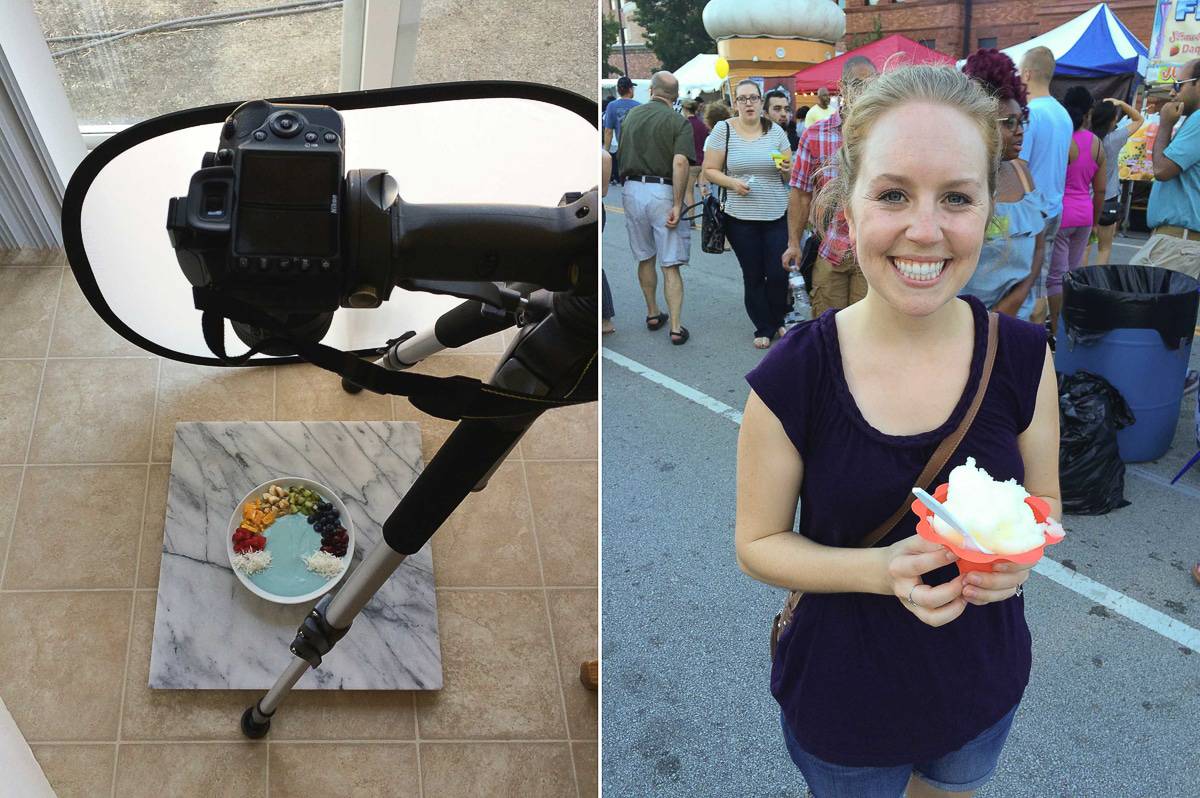 I shot a fun rainbow yogurt bowl recipe for a client project I'm working on – rainbows are just the best! The second photo – we went to the annual sweet corn festival and my friend Lindsay introduced me to italian ice – it's amazing!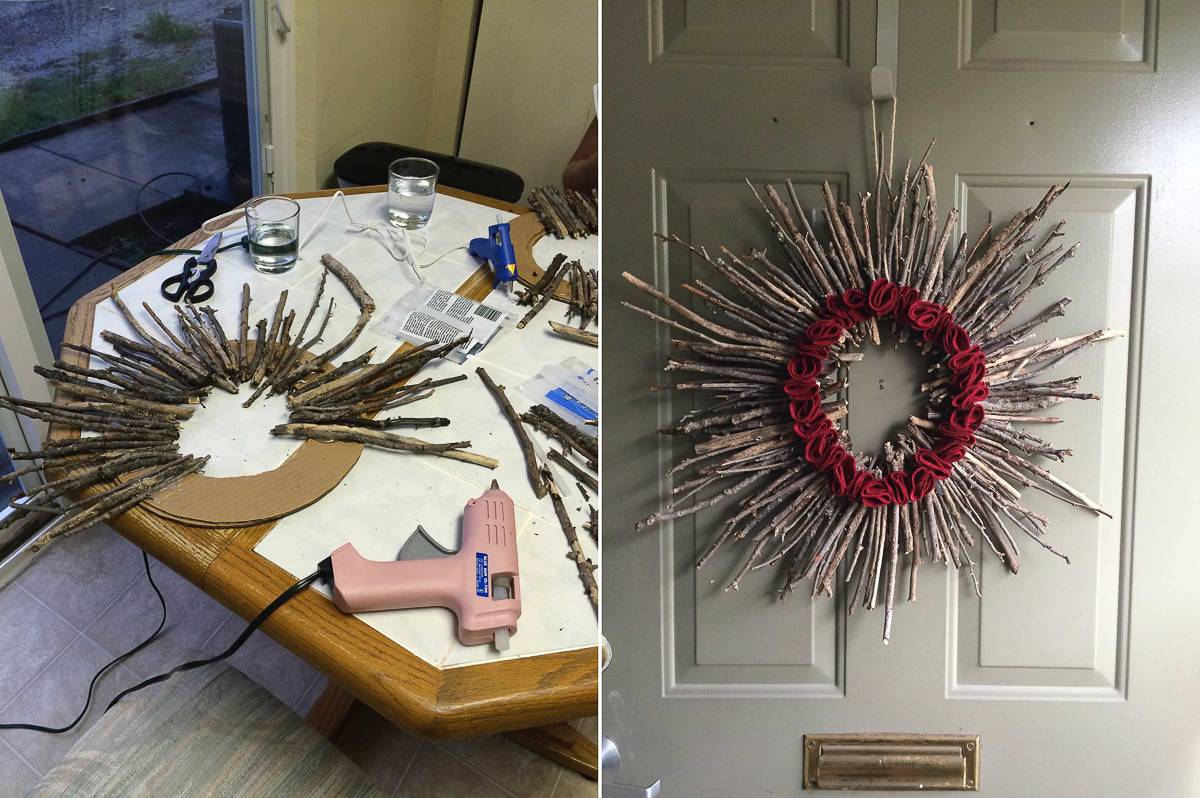 Doing crafty projects is something I love but don't do enough. My friend Abbey and I created some cute fall twig wreaths. I glued felt flowers on mine. The project was nearly free – just had to pay for glue sticks! But I'm not too thrilled about all the bug bites I got while collecting those sticks!

Our church is trying out a new location and it happens to be at this historic church with gorgeous vaulted ceilings and stained glass windows – the picture doesn't do it justice! The second photo – of course I end with a picture of Salsa. I'm so glad we got a cat, he brings us so much joy :)
Opening Up…
Ahh August. It's one of those awkward months, kind of like March. It's still hot but school is starting and you start craving apple desserts and pumpkin spice everything and you're just not sure if you should wear summer dresses or starting pulling the boots and scarves from the back of the closet.
Normally I dread the end of August and the first few weeks of September. I am a summer baby all the way, although I burn like a piece of toast. Turning the calendar from August to September brings big changes and I've always been as resistant to change as a 10 pound boulder.
But there is something different about me this fall. I'm not dreading the change, I'm actually excited about it. There is freshness and excitement. I think some of that excitement comes from the ability to blog full time – which is an incredible blessing and I'm so thankful to the Lord for how his plans work. I feel focused this fall, like I am able to put all my energy into something that feeds my soul instead of dividing my attention between 8 priorities.
There is this other excitement too – the moving excitement. For anyone who knows me very well, they know that this move has been on the horizon for 4 years and I have 100 mixed feelings about this next chapter. Right now the strongest emotion is excitement – but the reality of uprooting and moving across the country will hit sometime. Right now it's fun to play the "where do we want to live?" game, envisioning our new city, our home, and our friends. But once we nail down the actual location, I think that's when things will get real.
Ryan has several onsite interviews coming up and so far we're blown away by the Lord's goodness. An avenue Ryan didn't want to explore in grad school but was placed in, now happens to be leading to these interviews. Coincidence? I call it God's plan.
There's this other thing I want to talk about – I'm coming up on my one year anniversary of battling anxiety. That in itself produces anxiety, thinking about where I was a year ago and how much emotional and physical pain I was in. Is it weird to think of this past year as the best year of my life? I know myself way better than I ever have. With the help of counseling I've been able to see the roots of my anxiety – that doesn't mean that the roots are gone, but I know where they are and how they affect me.
So for someone who doesn't like change because it produces anxiety, I feel like I am embracing it well right now. I'm excited to see what the rest of this season holds and embrace God's plan for our future.
—
See previous out of the kitchen posts.