Out of the Kitchen October 2016
WE'RE BACK WITH ANOTHER OUT OF THE KITCHEN POST – HERE'S WHAT WE'VE BEEN UP TO FOR THE MONTH OF OCTOBER!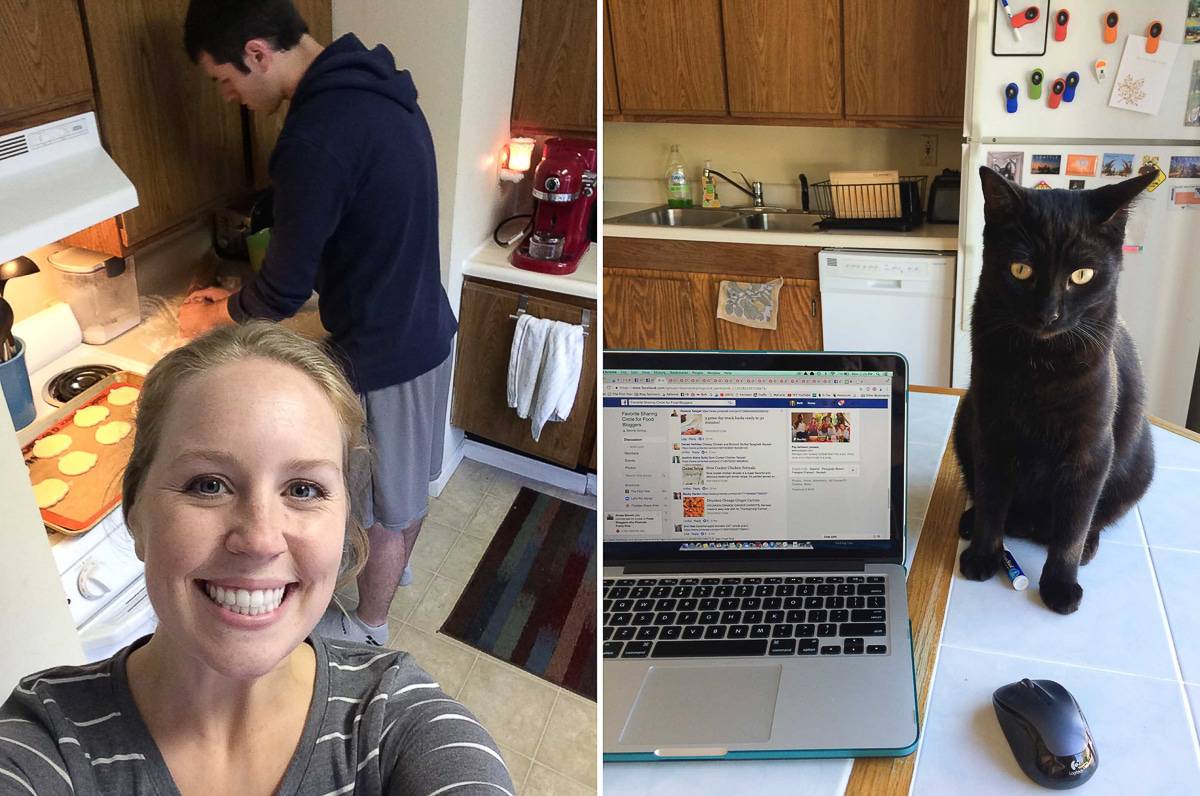 To start off the month we made pumpkin sugar cookies and decorated them with tons of sprinkles. Especially when you're a food blogger you have TONS of sprinkles in your cupboard! The second photo – I love Salsa so much. Sometimes he's naughty but he has his sweet moments when he just wants to be by his momma. And of course he found my chapstick to play with.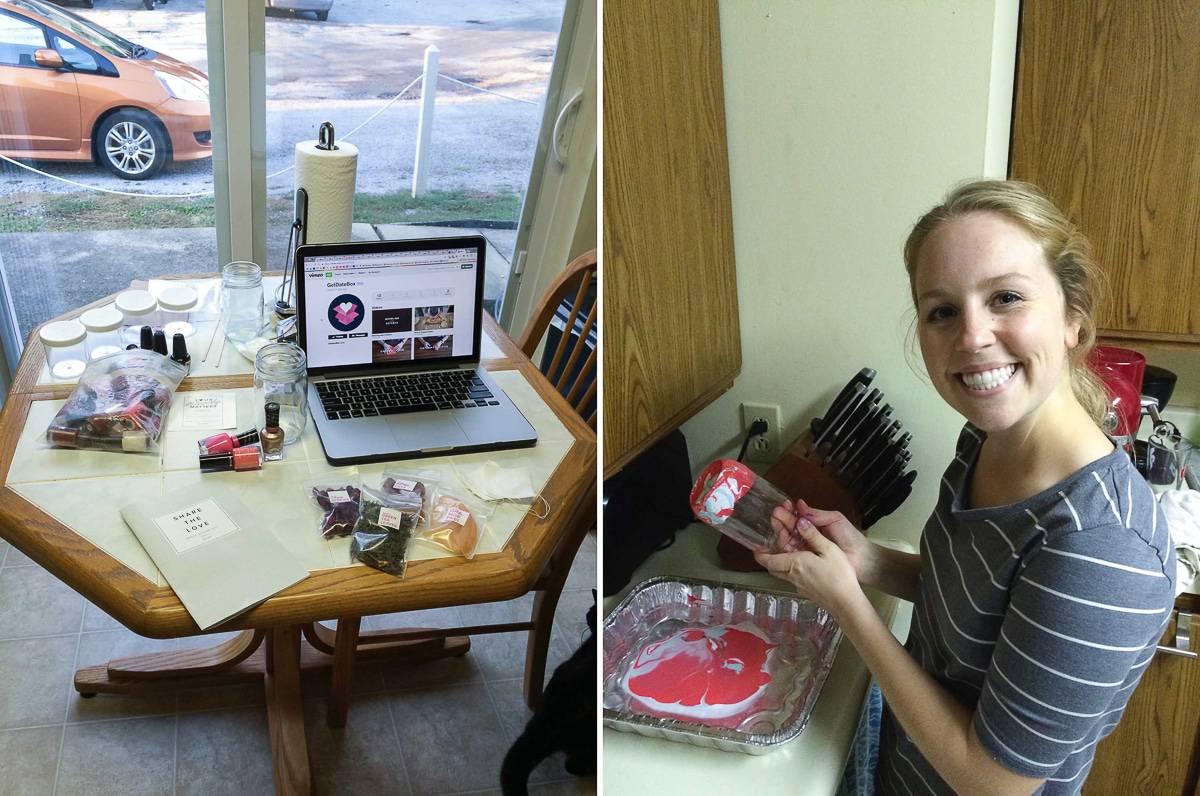 Ryan and I have been getting Date Box for a few months. This month they sent us supplies for marbling (did you know you can marble glass with nail polish?!) It definitely took some practice but it was really fun!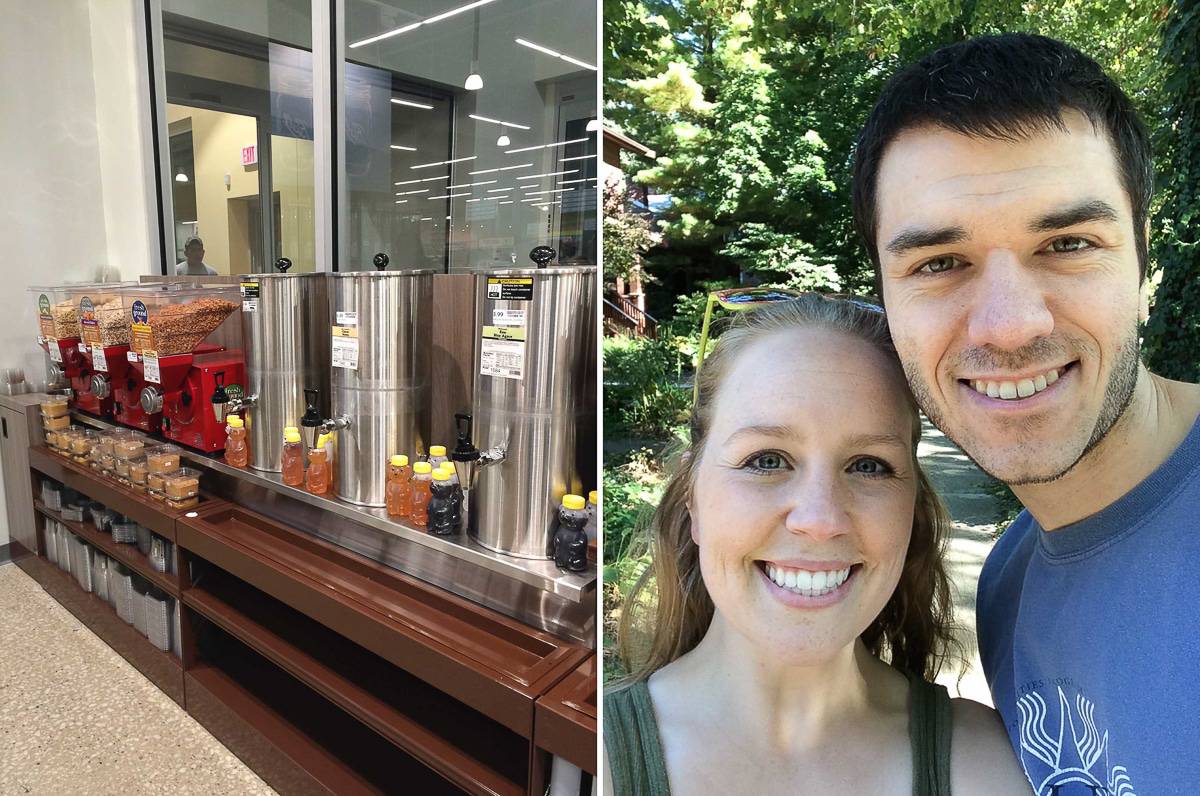 A new grocery store opened this month (it's funny how that's what you get excited about when you're an adult!) They have a big emphasis on local products from the various farms nearby – they even have a pour your own honey station and a make your own nut butter station! The second photo – a picture of the two of us during a neighborhood walk!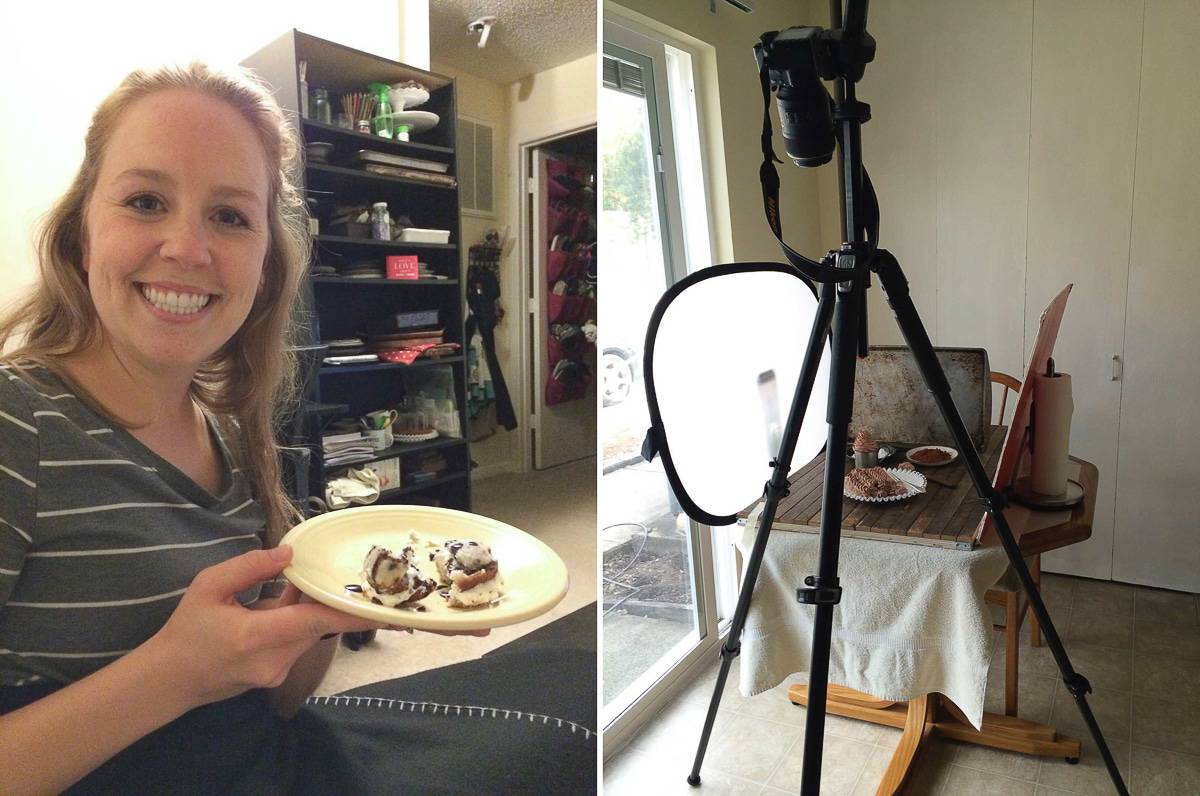 We had no dessert in the house so Ryan made me a blueberry muffin whoopie pie with cool whip and drizzled with chocolate. Talk about fancy ;) But it did hit the spot at the moment! The second photo – a behind the scenes photo from our chocolate whipped cream recipe! Aka the whipped cream that will change your life.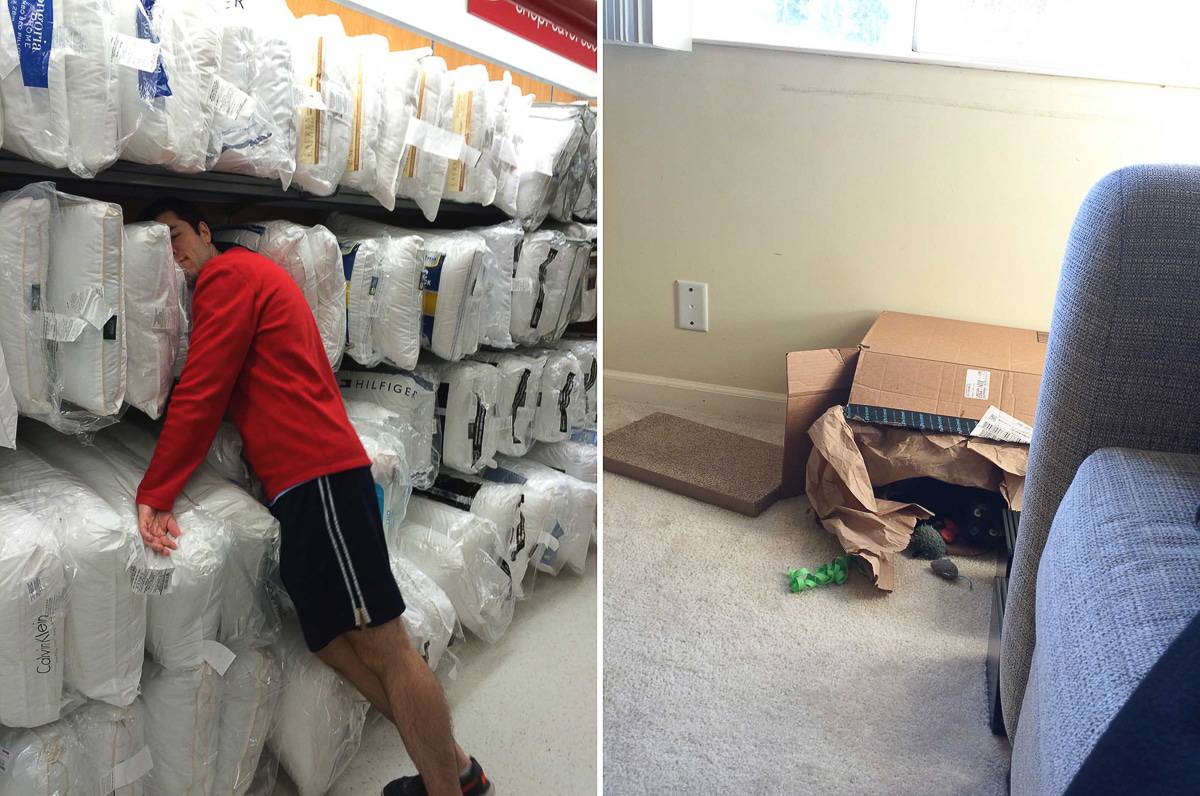 This photo makes me laugh – Ryan is getting comfy in the pillow section!! The second photo – if you look close you can see Salsa hiding in his box :)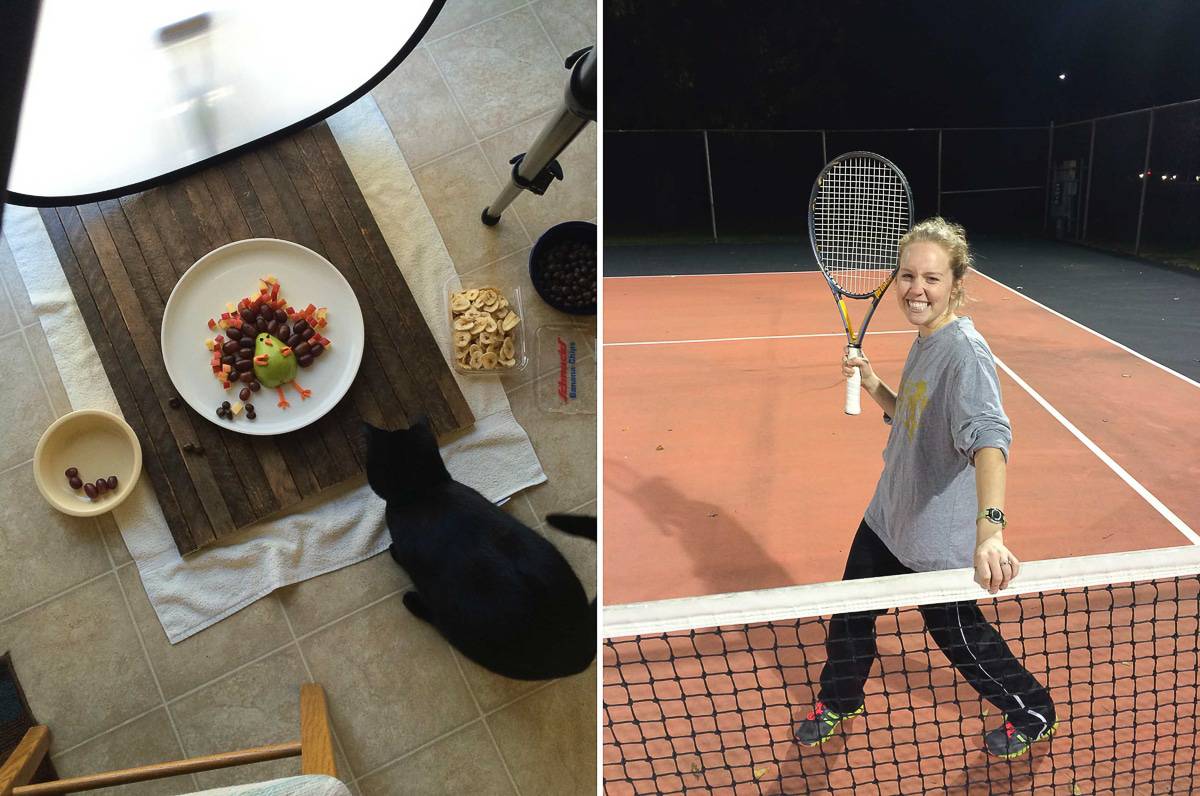 When I have to shoot on the floor, Salsa is always curious. I was making a video for our fun turkey fruit platter – you gotta see it, it's so cute for thanksgiving! The second photo – Ryan and I like playing tennis. I'm pretty bad, but Ryan is great at racquet sports. Normally my arm is tired waaay before his!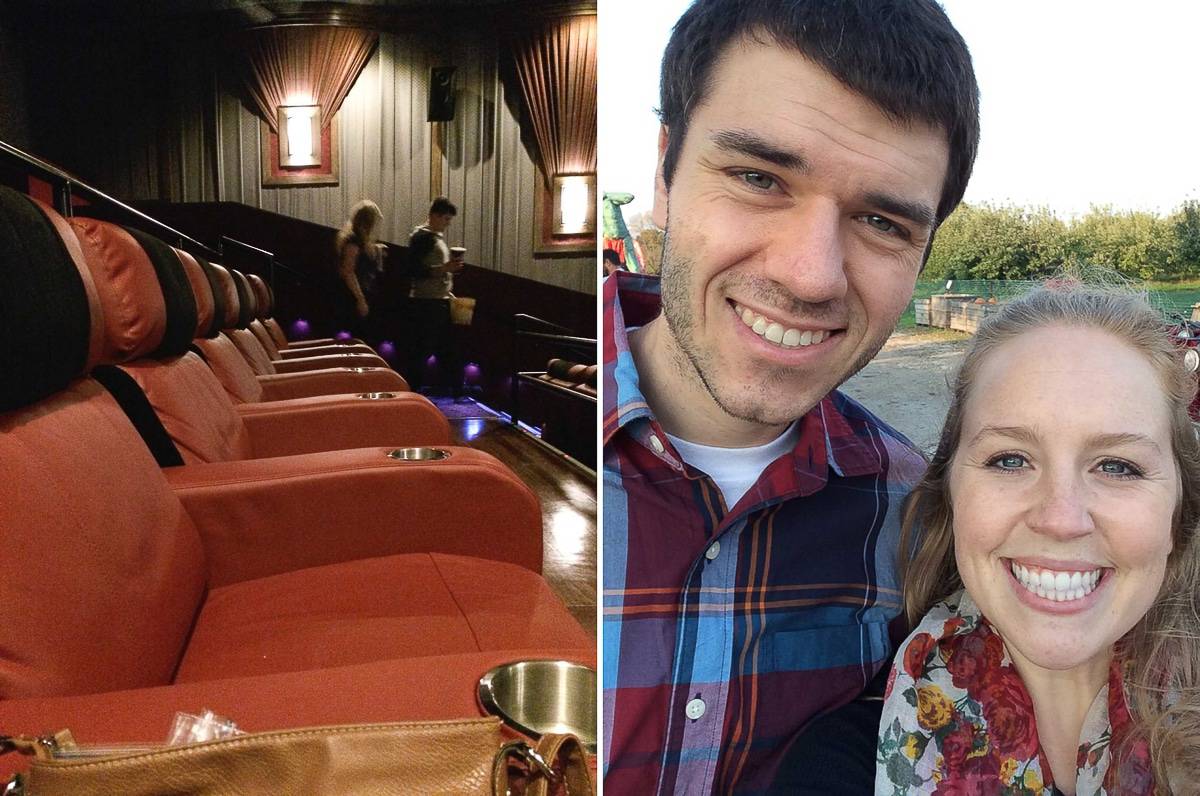 We went and saw a movie and I didn't even know there were special theaters in our movie theater that have comfy reclining chairs!!! What have I been doing all my life?!! It was a fun treat – we actually didn't read the times correctly and thought we were going to a regular theater so it was a total surprise! The second photo – at the pumpkin patch! Where we spent $18 on pumpkins just to have the squirrels destroy them.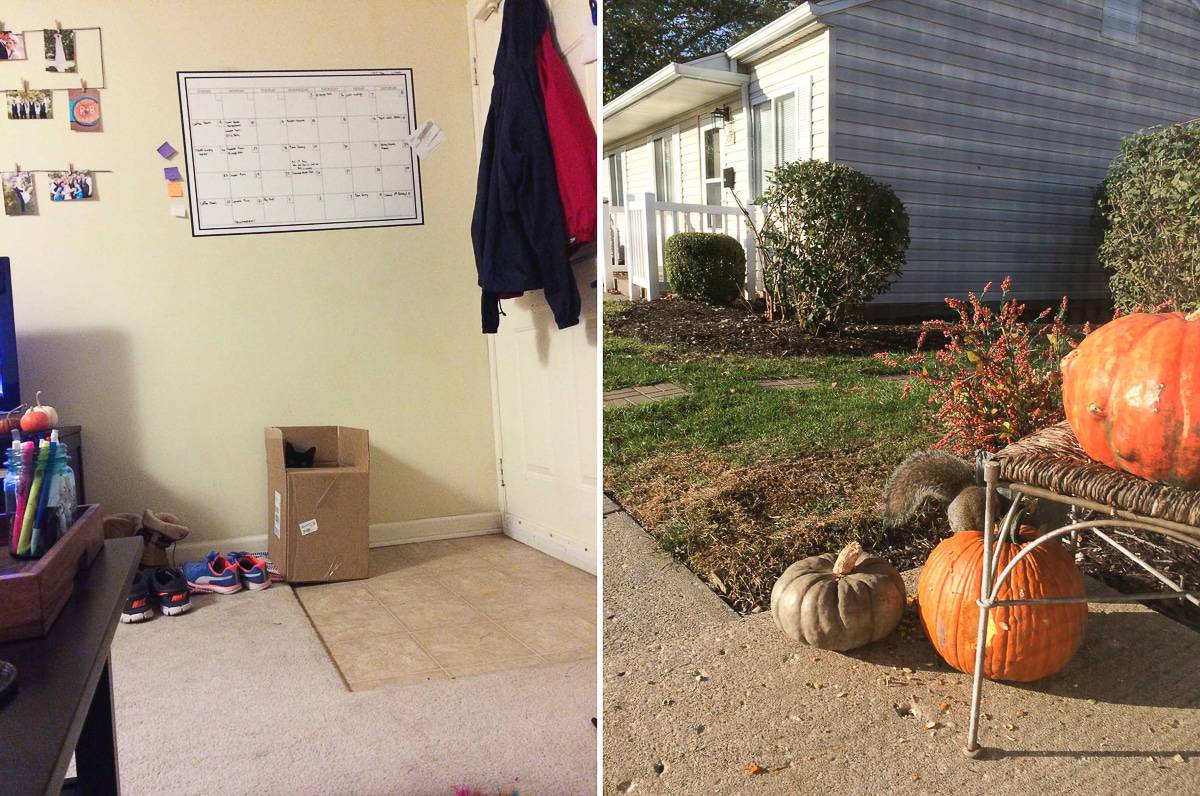 There it is again! Salsa in a box!! The second photo – see! The squirrels destroying our pumpkins. Salsa was intensely watching through the window. They actually dug a major hole in that one and pulled out all of the seeds. So far they don't seem to like the gray one though.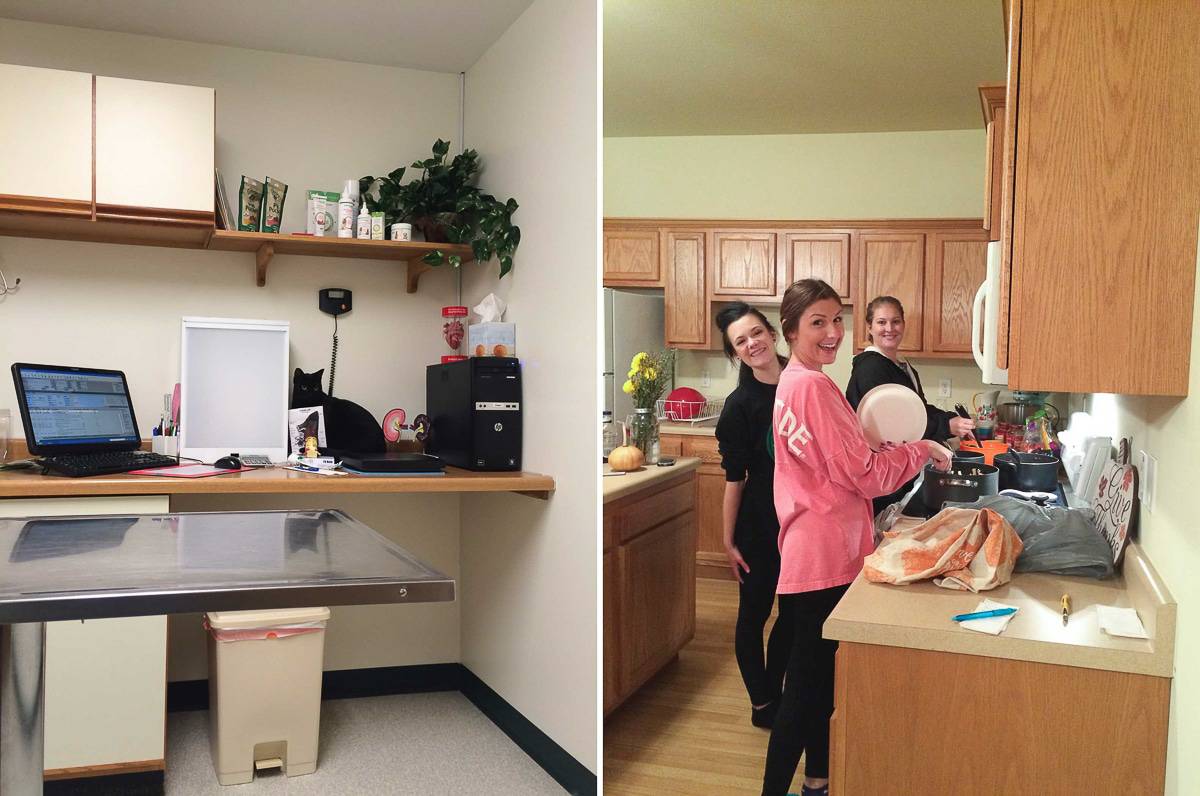 Salsa had his yearly check up at the vet, I can't believe we'd had him for one year! When the vet came in he was trying to hide behind that white piece of paper in front of him. He did great but has to go on a diet :) The second photo – spaghetti dinner with my bible study! I think we decided that monthly spaghetti dinner's are necessary. A little jesus and a little pasta!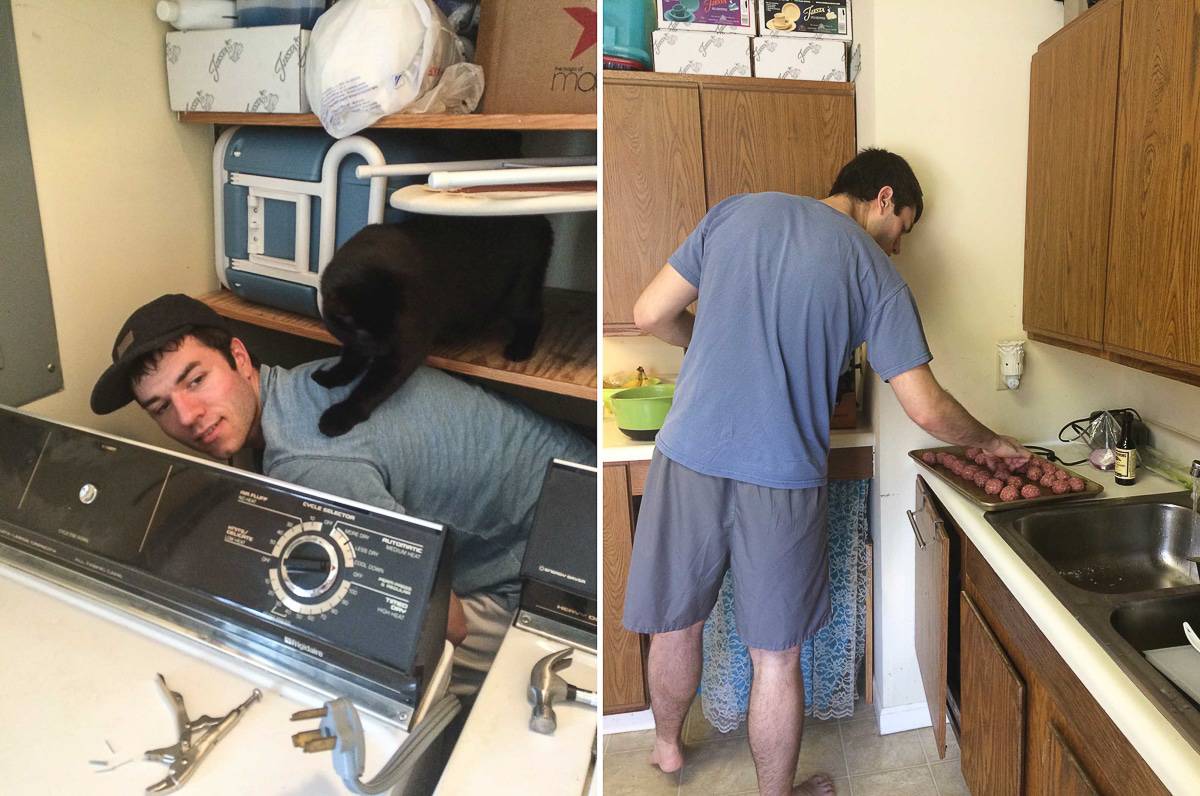 We had an eventful last weekend of October – the kitchen flooded! With standing water and dirt everywhere – it was quite the process to clean up. Then we waited for maintenance to come and unclog our drains. This is one the great thing about renting – you can just call maintenance, so that will be different as we look to buy a house in Michigan when we move. The second photo – Ryan took on homemade meatballs. They were really good (!!!) but we learned that we aren't meatball people.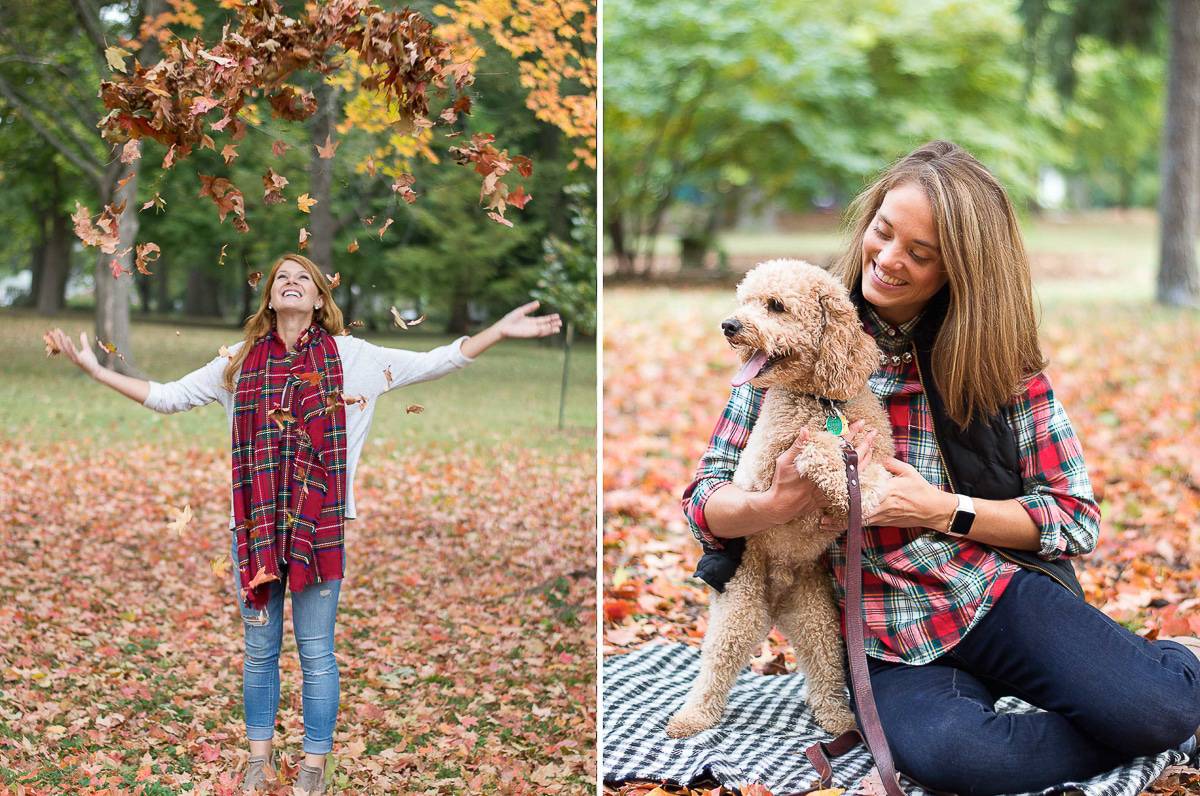 October has been so fun because I've been doing fall photo sessions! The ladies in my bible study are great models and they've been sweet enough to let me practice my human photography skills on them! It's something I've actually fallen in love with. It's fun to see the joy on their faces when they see their photos and feel comfortable in front of the camera. This picture of Abbey throwing leaves is so cute and I love this picture of Meg and Baker!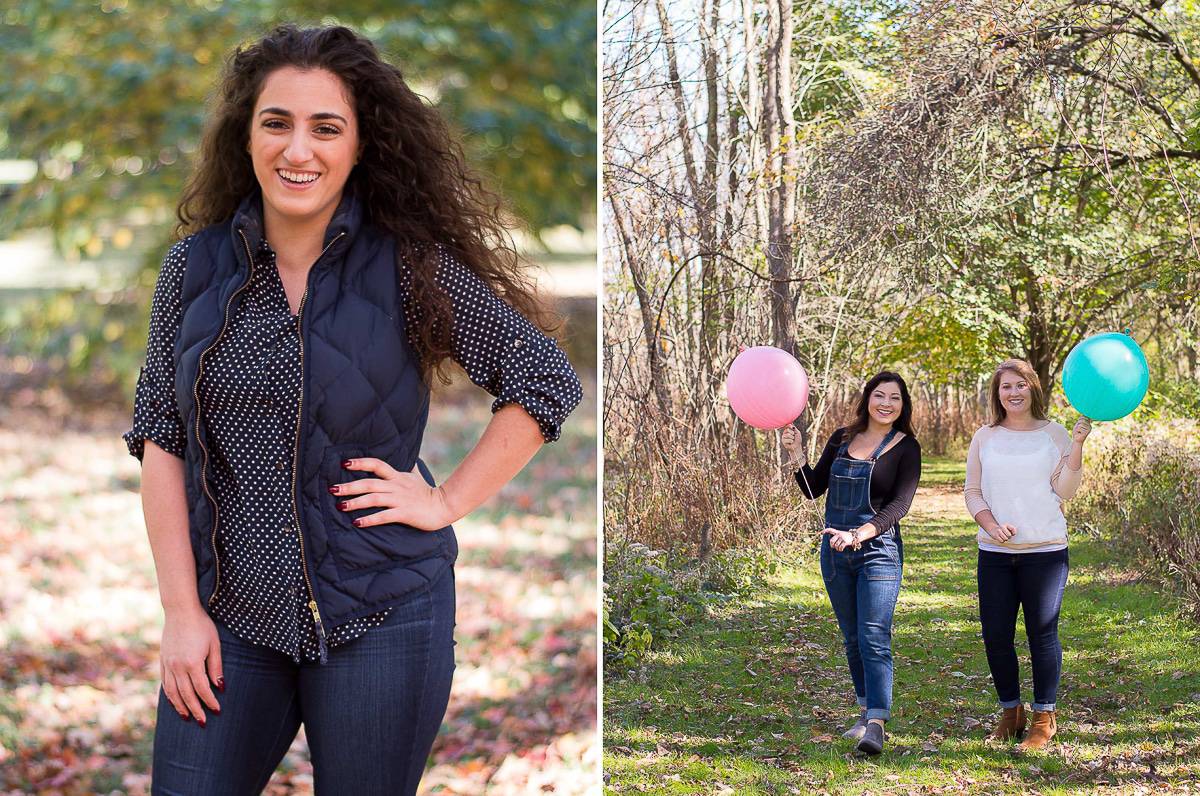 Such a gorgeous picture of Hannah (look at her beautiful hair!) and I did some sister pictures for Tabitha and Shelby! They brought some fun props with them!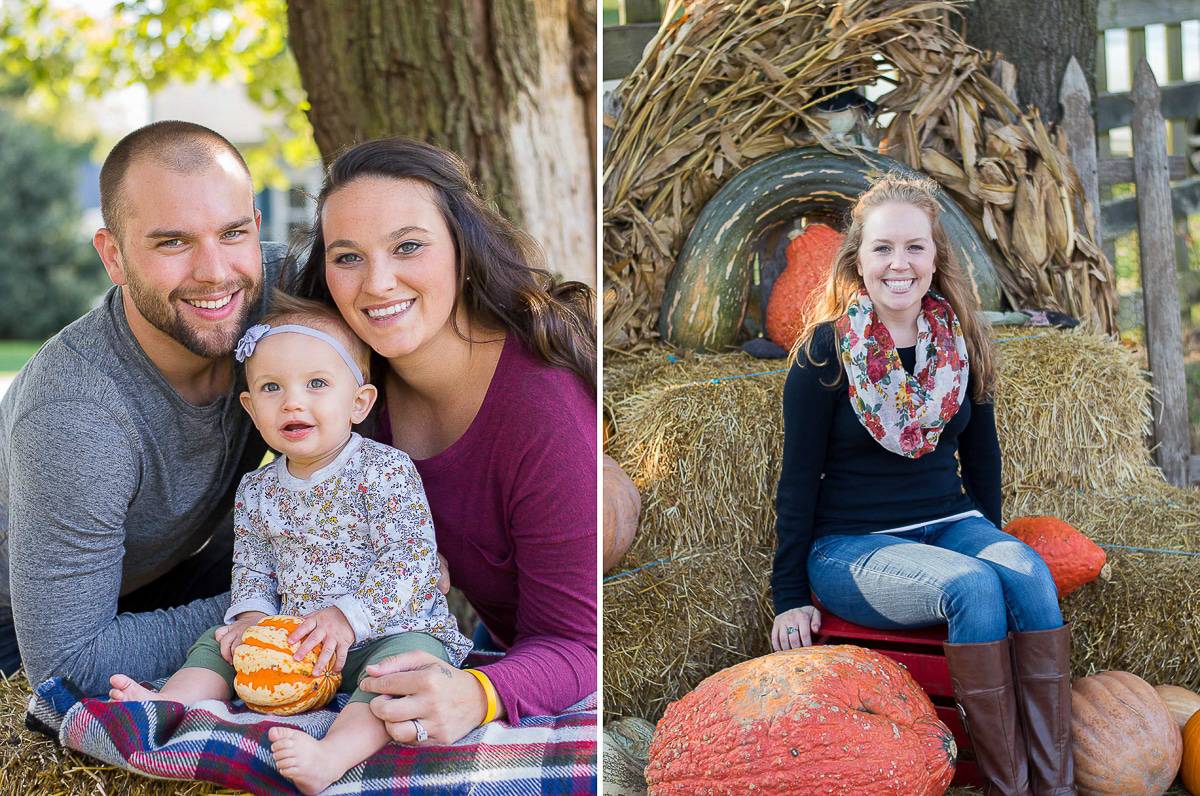 I got to take pictures for my dear friend Ashley and her family! But gosh, working with little ones is hard! I love that set up though. The second photo – Ryan became the photographer and snapped a quick picture of me when we were at the pumpkin patch. That big pumpkin reminds me of my favorite fall book – The Big Pumpkin!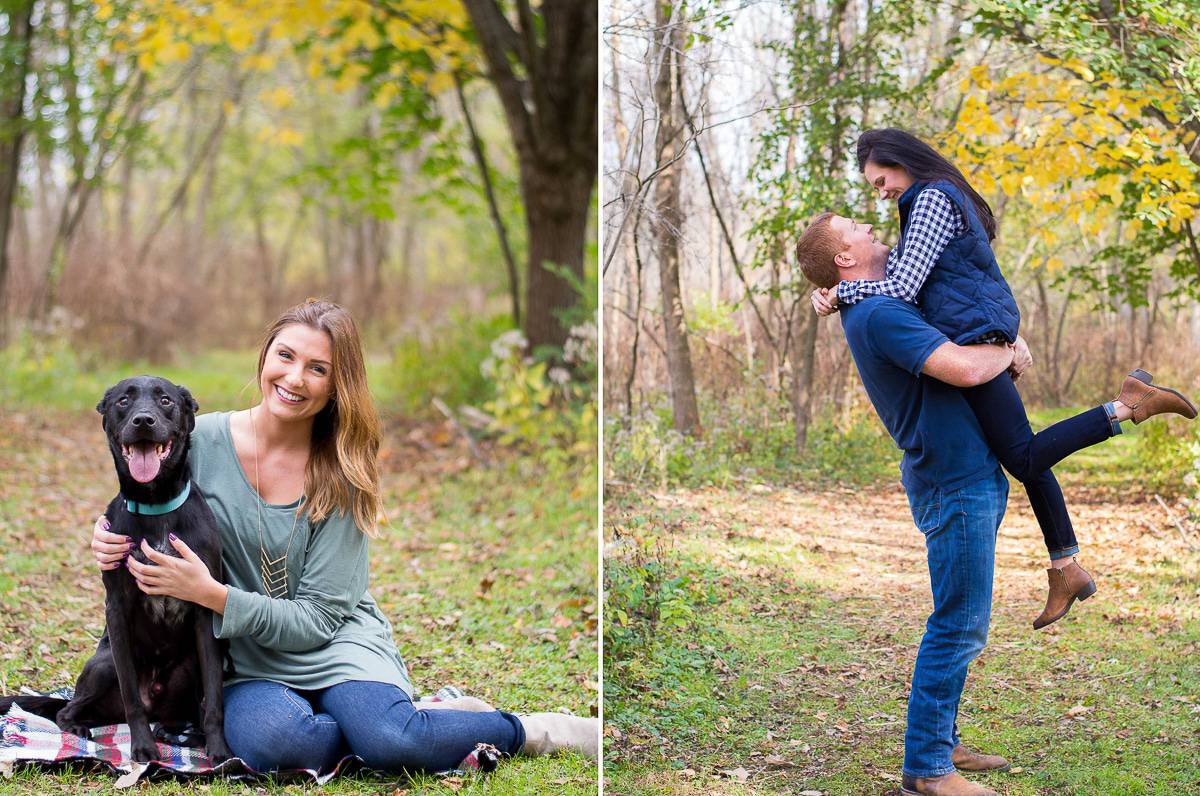 2 more sessions – Jessica and her uber adorable and photogenic dog Dexter (I mean they both are!!) I totally want a dog now. And this sweet photo of Margaret and Nick!! If you're local to me and want to do a fall session, e-mail me!
OPENING UP..
This month has been really great. Our upcoming move to Michigan is kind of setting in. At least the exciting parts are. Like looking for a house, exploring a new city, getting to "nest" and paint and make a house our own.
But I'm not ready to leave our sweet friends. I'm not ready to start over in a new city and feel lonely until those solid friendships are formed. I'm a tribe person, I need people to do life with.
I think Ryan and I feel like we're in a bit of a waiting period. We have half a dozen months here still – which feels so weird to say. This is home. My heart is conflicted. I'm sure these feelings are normal – but just knowing that the move is on the horizon, I secretly want time to speed up. Being patient in the waiting is hard but I hold fast to the truth that being patient during times of waiting is a form of worship – praising God and trusting him in where he has us now.
—
See previous out of the kitchen posts.