Want our top 10 essential dessert recipes?
Get our favorite classic recipes in your inbox! It's 100% free, but we might make you hungry!
Turkey Fruit Platter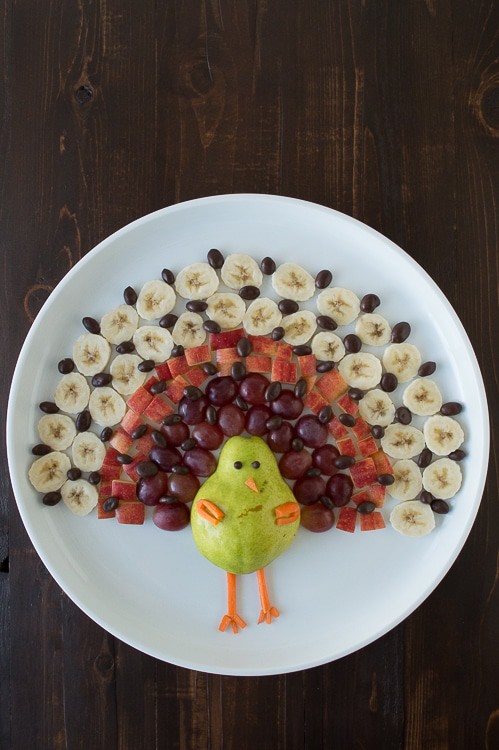 Back in August I received our city's program guide, I am sure a lot of you receive those, listing all of the activities for the next semester. I was flipping through it and I saw an advertisement for the annual turkey trot on Thanksgiving. I was getting excited about it, especially since it's free, I thought Ryan and I should do this! What better way to start our Thanksgiving Day then with a run!
Watch this quick video to see how to make a turkey fruit platter
So I tore the ad out of the book and clipped it to our fridge. Luckily I didn't put anything in front of the paper so whenever I was in the kitchen doing dishes, I could look over and remember that the turkey trot is coming up!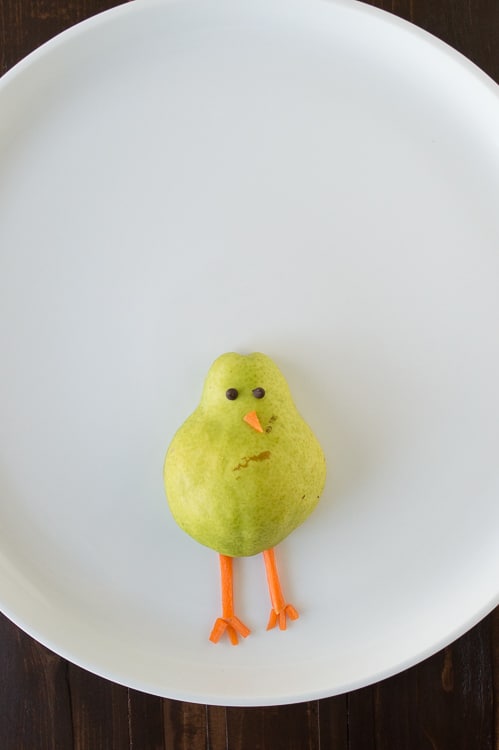 I thought since the flyer had been hanging up for 2 months I should probably tell Ryan that I made plans for us to run the turkey trot on Thanksgiving day. So we had a quick chat about it back in October, and he wasn't too excited. But I convinced him that we should do it, since it's only a one mile run, and it would be good for us to work out before we eat all day long.
So it was settled, we were doing the turkey trot.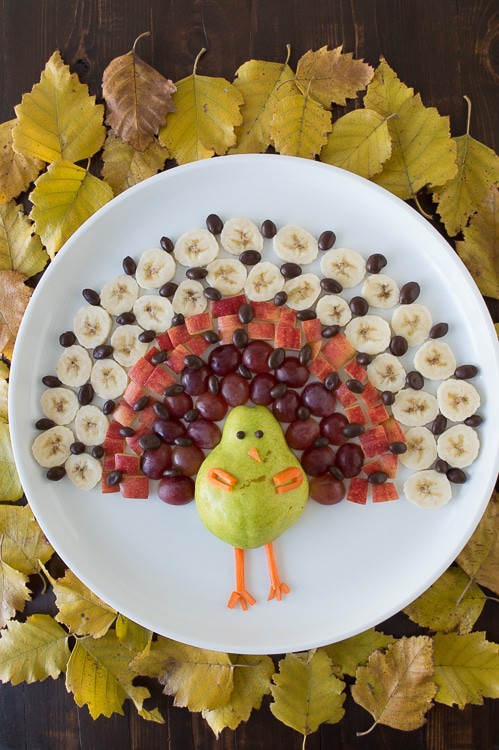 But you know what? …the flyer has been staring at me, like it's out to get me, now that it's getting closer to Thanksgiving!
And all that excitement I had a few months ago has completely worn off.
There is no possible way that getting up early and putting on my running tights on Thanksgiving sounds like fun. All I want to do is cozy up to the yule log on tv and watch the Macy's Day Parade while Ryan and I bake our annual thanksgiving mini chocolate lava cakes.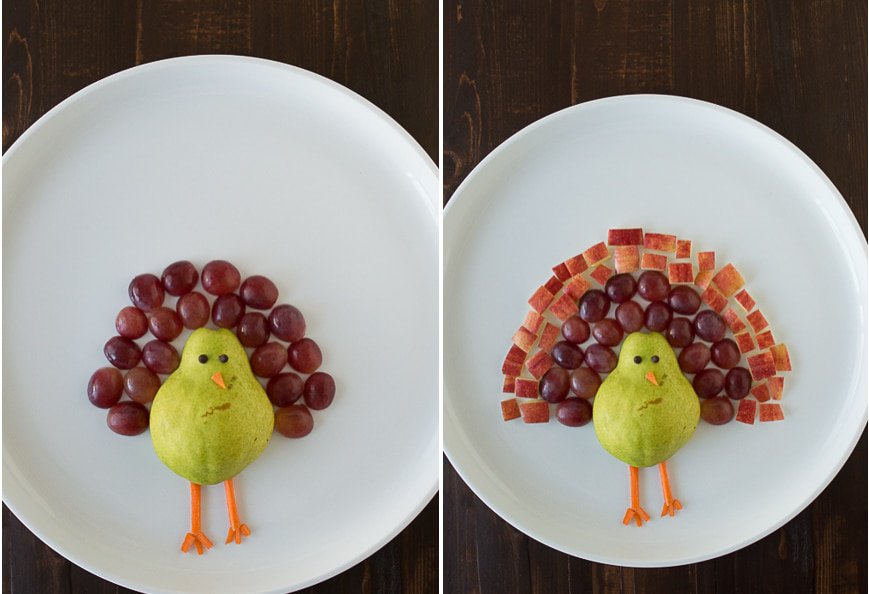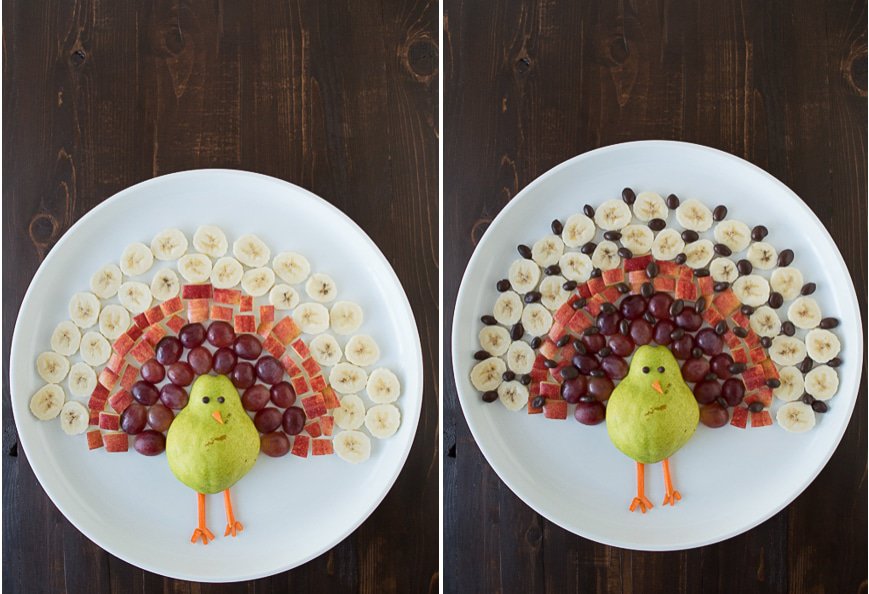 So I figured if I'm not going to do the turkey trot, I should at least eat something healthy to balance out all of the mini lava cakes I'm going to eat… Tada! How about an adorable turkey fruit platter?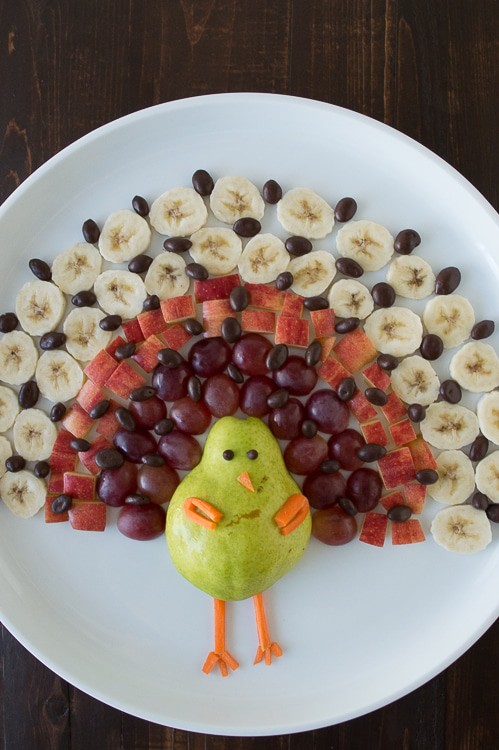 You could serve this turkey fruit platter for breakfast or as a healthy pre-turkey snack. Or, if you're like me.. you could look at it all day, I couldn't eat it, it was just too adorable!
Cute Turkey Desserts!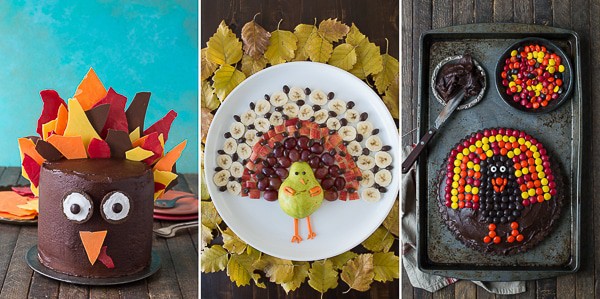 3 Layer Pumpkin Chocolate Turkey Cake, Turkey Fruit Platter, and Chocolate Brownie Turkey Tart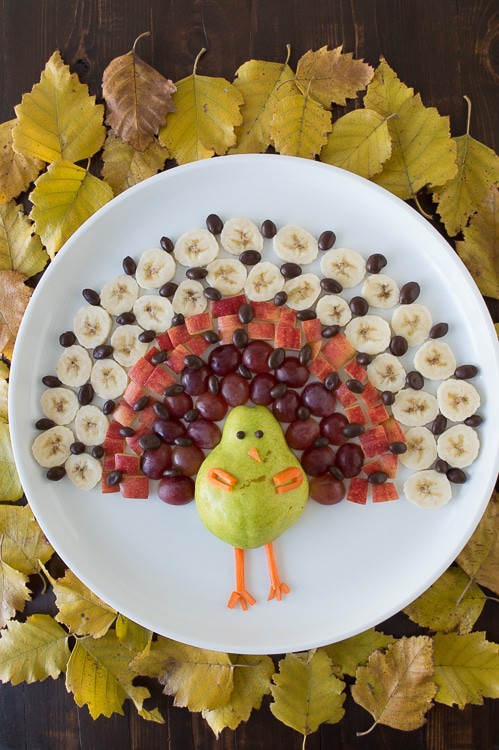 Ingredients:
1 pear, cut in half
grapes, cut in half
1 apple, cut into small squares
1 banana, sliced
chocolate covered raisins
1-3 baby carrots, to make beak, wings, and legs,
2 mini chocolate chips
Directions:
Cut the pear in half and place in the center of a platter.
Arrange the sliced grapes around the pear, forming 2 rows.
Arrange the square apple pieces around the grapes, forming 2 rows.
Arrange the sliced bananas around the apples, forming 2 rows.
Place the chocolate covered raisins evenly between the fruit.
Cut out the beak, wings, and legs from baby carrots using a sharp knife.
Add those items to your turkey.
Place 2 mini chocolate chips on the turkey for eyes. Gobble up the fruit or just look at how cute it is!
Products used to make this recipe
(may include affiliate links)