Oreo Scotcheroos
Oreo Scotcheroos – oh my gosh! If you love oreos and peanut butter, you will LOVE these!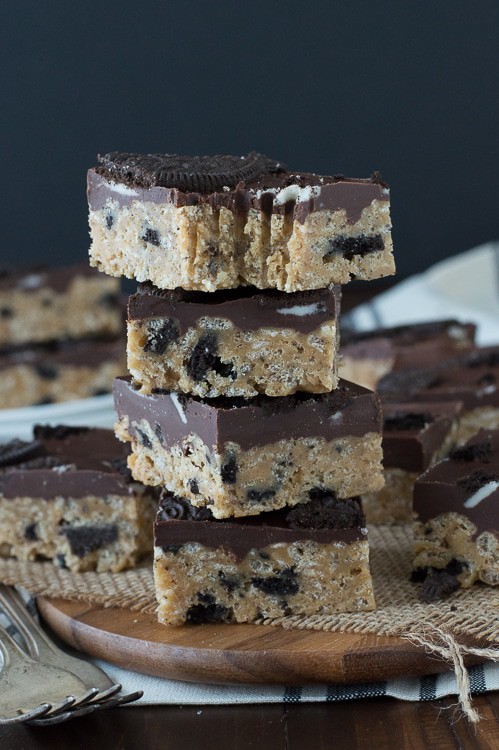 Meet the new scotcheroo bar, it's loaded with oreo goodness. :)
Did you know that you can put oreos inside scotcheroo bars? I'm convinced that you can probably put oreos inside anything. Like donuts and red velvet bars.
If you like to smoother peanut butter on your oreos (oh hey, that's me!) I think you'll want to try this recipe. You might like them so much that you decide to bring them to your next party. And at the party your best gal pal might ask for the recipe, and then she shares it with her sister… and this is the start of something good.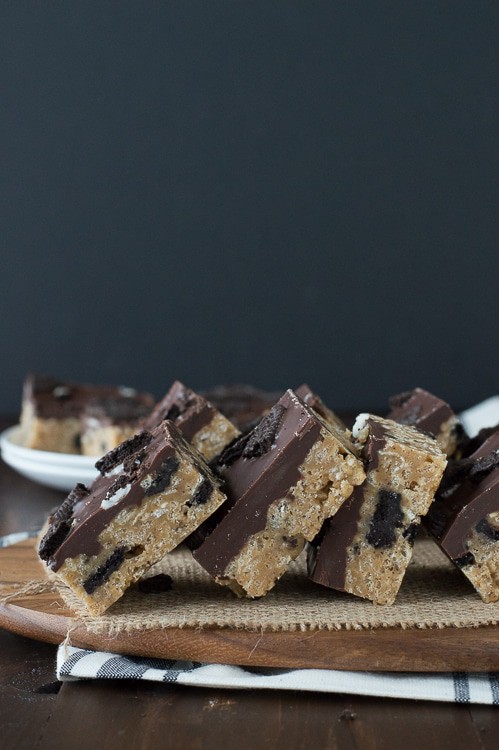 I know a lot of people associate scotcheroos with a chocolate and butterscotch topping. I mean, I suppose that is how scotcheroos got their name.. but I don't like butterscotch. Funny thing, I actually bought a bag of butterscotch chips for this recipe, but when I got home, I was like "WHY DID I BUY THIS?!" I must have been on auto pilot when I wrote the ingredients on my shopping list. And the bag of butterscotch chips will probably sit in my pantry for a few months, untouched, until my tastebuds decide to like butterscotch, which might be never.
So these babies were made with only a chocolate topping. But I did include an option for a chocolate and butterscotch topping in the recipe.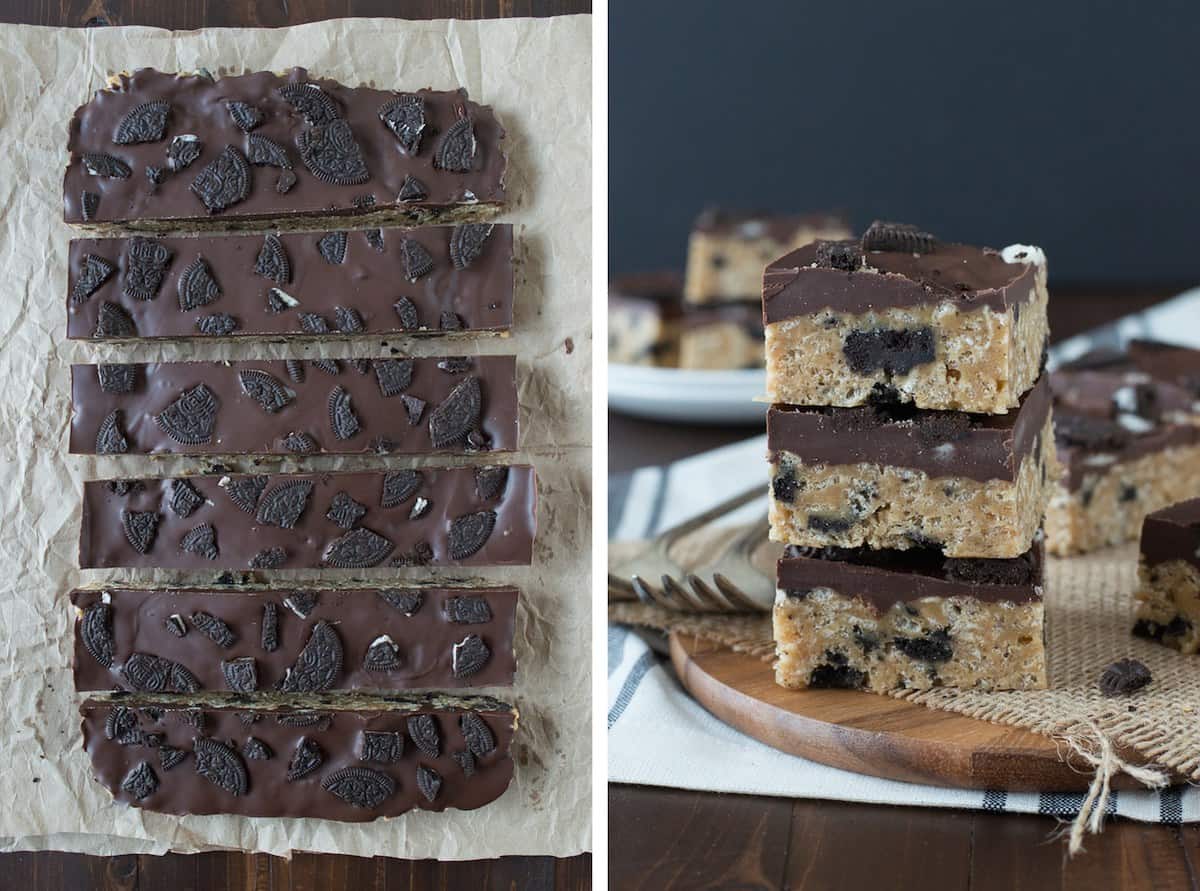 I do have a little secret for how I cut the bars. Or maybe its more of a pain in the neck.. I wipe my knife on a paper towel after each cut. This method leaves perfect, clean cut lines every time.
I am also the type of person who measures (errr.. with a ruler, not eyeballing!) my bars into neat 2 inch squares. But don't they look so perfect and you just want to reach through your screen?!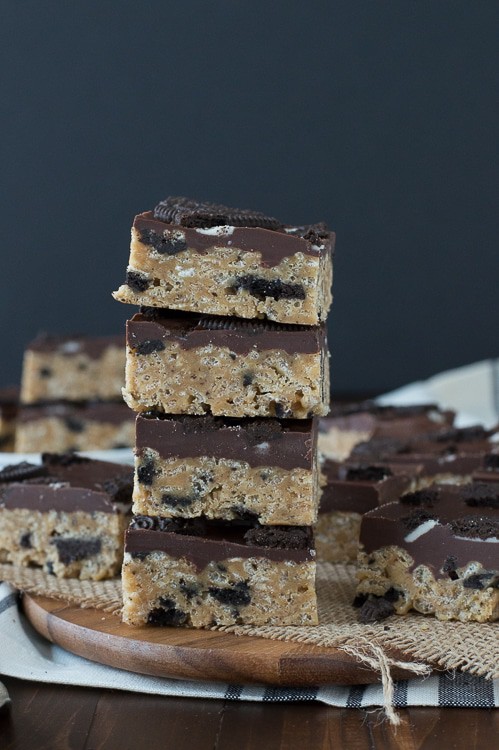 Now.. how will I get rid of that bag of butterscotch chips? Do squirrels like them?…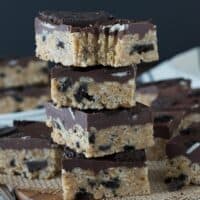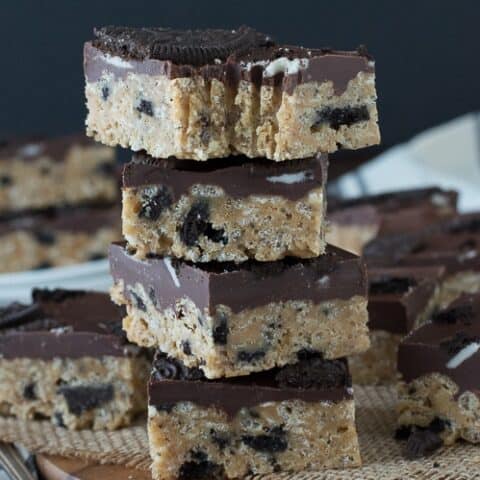 Oreo Scotcheroos
Oh my gosh! If you love oreos and peanut butter, you will LOVE these!
Ingredients
1

cup

light corn syrup

1

cup

sugar

1

cup

creamy peanut butter

4

cups

rice krispies cereal

14

oreos

,

roughly chopped

6

oreos

,

roughly chopped for top

2 ½

cups

chocolate chips

,

or 1 & 1/4 cups chocolate chips and 1 & 1/4 cups butterscotch chips

3

tbsp

oil

,

for melting the chocolate chips
Instructions
Line a 9x13 inch baking pan with wax paper and spray with cooking spray.

Heat the corn syrup and sugar in a large pot over medium heat. Stir the mixture until the sugar dissolves and the mixture begins to boil. Remove the mixture from the heat and stir in the peanut butter until incorporated.

Add the rice krispies and oreos to the peanut butter mixture and mix until they are well coated.

Transfer this mixture to the baking pan, making sure to press it down firmly. Set for about 15 minutes in the refrigerator or 25 minutes on the counter.

In a small pot over low heat, melt the chocolate chips and the oil, stirring occasionally until it's smooth. This may take up to 10 minutes, but keep the heat on low to avoid burning the chocolate.

Pour the chocolate over the cereal layer.

Place the 6 rough chopped oreos on top of the chocolate, gently pushing them into the chocolate. Refrigerate until set, up to one hour, but do not cover at this time.

Remove the scotcheroos from the pan using the wax paper. Cut into 2 inch bars using a large knife. Store in an air tight container.
Calories:
415
kcal
,
Carbohydrates:
60
g
,
Protein:
5
g
,
Fat:
19
g
,
Saturated Fat:
6
g
,
Polyunsaturated Fat:
4
g
,
Monounsaturated Fat:
7
g
,
Trans Fat:
1
g
,
Cholesterol:
5
mg
,
Sodium:
200
mg
,
Potassium:
146
mg
,
Fiber:
1
g
,
Sugar:
48
g
,
Vitamin A:
466
IU
,
Vitamin C:
4
mg
,
Calcium:
13
mg
,
Iron:
4
mg