Want our top 10 essential dessert recipes?
Get our favorite classic recipes in your inbox! It's 100% free, but we might make you hungry!
Mini White Chocolate Mousse Holiday Pies
This recipe for Mini White Chocolate Mousse Holiday Pies is a part of the #HolidayMadeSimple campaign and has been compensated by #CollectiveBias. As always, all opinions are my own.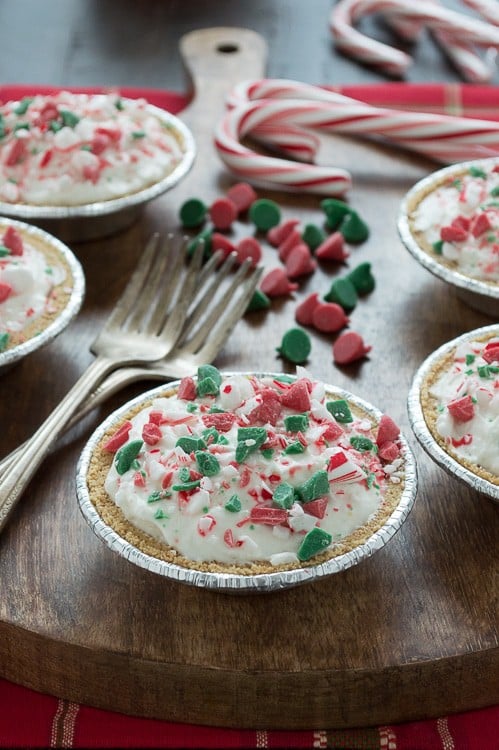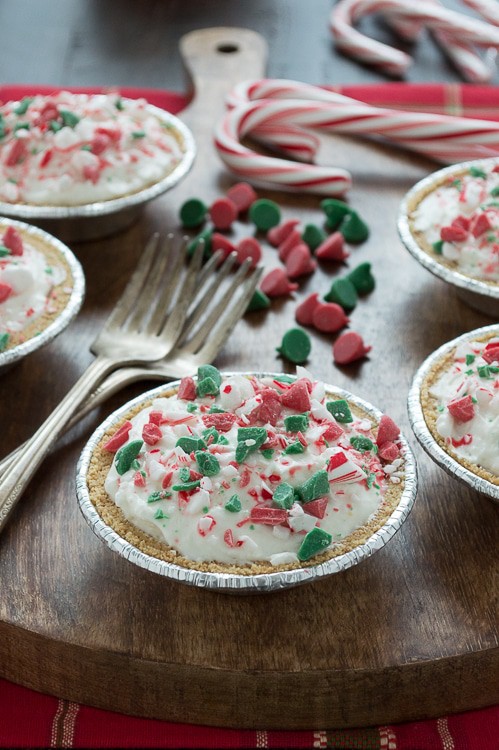 Last week I mentioned that Ryan was preparing for his pre-lim exam. For the exam, he had to give an oral presentation about his past research to a handful of chemistry professors while they grilled him with questions. They also determine if his purposed future research plans are good enough to allow him to continue on with his program. Well, great news – he passed and I'm so proud of him!! I knew he was going to pass, but it feels extremely great now that the pressure is off, and I wasn't even the one having to do everything for it!
Although Ryan's pre-lim is over, the hustle and bustle of the holiday season is just beginning for us, do things ever slow down?! We have Ryan's birthday and a christmas party this week, caroling week next, gifts to wrap and then we're making the long drive back home to be with our families for Christmas.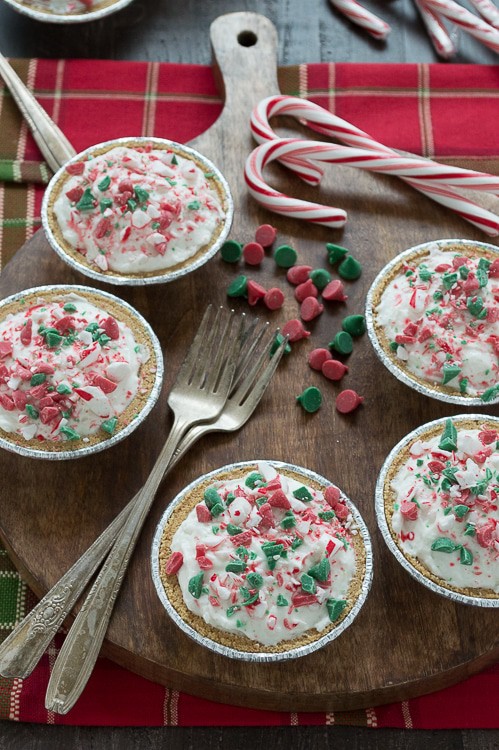 Between everything that is going on, who has time to be in the kitchen making 40 candy cane oreo balls? Oh yeah, that was me :) While I adore those candy cane oreo balls and I really hope you get a chance to make them, a more practical and time friendly holiday recipe are these no bake mini white chocolate mousse pies!
This recipe will take 45 minutes to make, and you know what? 30 of those minutes are spent waiting for the white chocolate mousse to set in the fridge, which means you could take a nap, prep another recipe, or watch half an episode of Dance Moms :)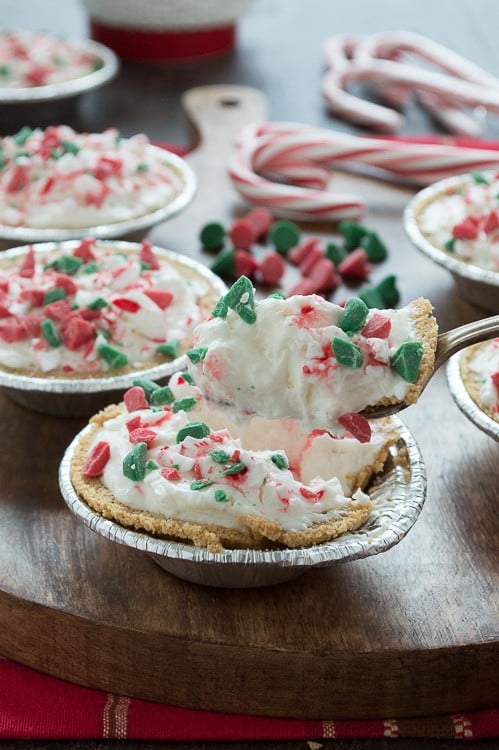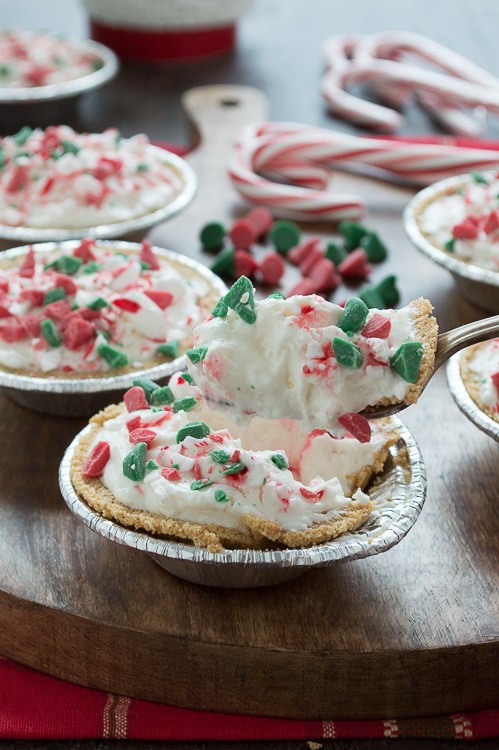 I bought Nestle Toll House Limited Edition Holiday Morsels from Walmart to add some extra holiday cheer to this recipe, and the chips really stand out against the white chocolate mousse! I really love Nestle's holiday chocolate chips, they make any recipe feel more christmasy.
They are only available for a limited time, so pick some up the next time you're at the store! While you're at it, add some Edy's Limited Edition Peppermint Wonderland Light Ice Cream to your cart. They are real peppermint pieces in the ice cream, and if you pair the ice cream with these no bake pies, you can scoop, eat, and be merry all season long!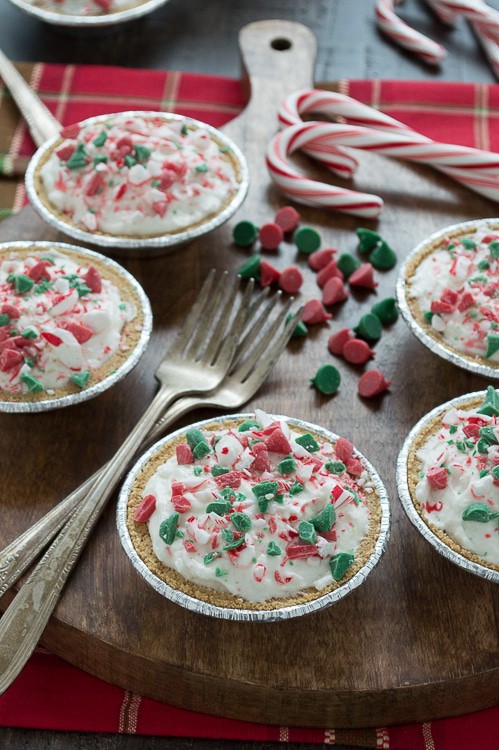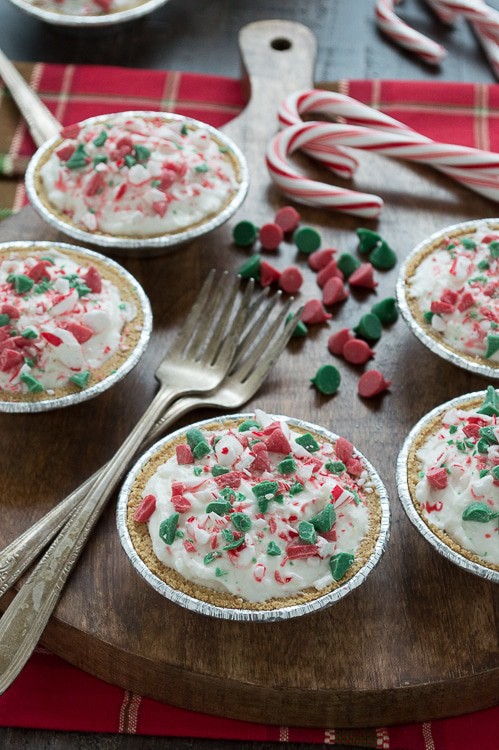 Get more Christmas baking inspiration here!
Mini White Chocolate Mousse Holiday Pies
Yield: 6-8 mini pies
Total Time:45 minutes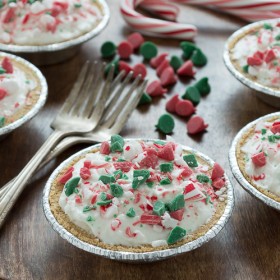 Ingredients:
6-8 pre-made mini graham cracker pie shells
1 tbsp milk
2 oz white chocolate baking bar
1 box of White Chocolate Pudding mix, 3.56 oz
1 & 3/4 cups milk
1 container of cool whip, thawed
Nestle Toll House Limited Edition Holiday Morsels,1/3 cup red and green chips only, chopped
1 candy cane, chopped
Directions:
In a small saucepan, heat the milk and white chocolate baking bar over low heat. Stir constantly until the chocolate is melted and smooth. Let this mixture cool while you mix the pudding.
In a mixing bowl, combine the box of pudding and 1 & 3/4 cup milk with an electric mixture.
Add in the melted white chocolate mixture and stir to combine.
Fold in the cool whip.
All the mixture to set in the refrigerator for 30 minutes.
Once set, scoop the white chocolate mousse mixture into the pre-made pie shells. Top with chopped holiday morsels and candy cane pieces.
Serve immediately.
Products used to make this recipe
(may include affiliate links)