Want our top 10 essential dessert recipes?
Get our favorite classic recipes in your inbox! It's 100% free, but we might make you hungry!
Oreo Eggnog Parfaits
If you're an eggnog lover, you'll like these holiday oreo eggnog parfaits!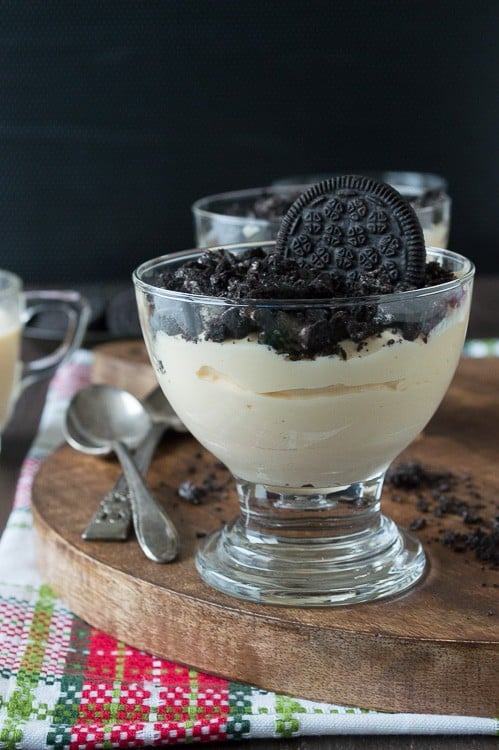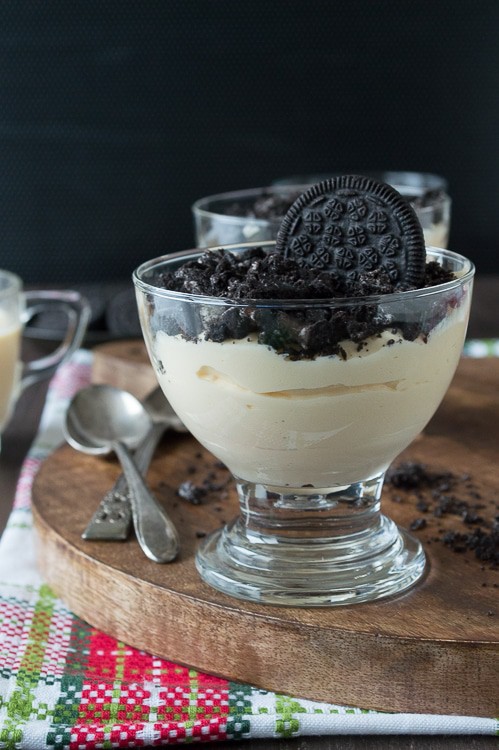 Wheww, that was a busy few days! I'm sure a lot of you agree, and I didn't even host Thanksgiving at my house and it was still super busy!
On Thanksgiving, I did learn that if you put cheese in your mashed potatoes and leave the dish in the oven at 200 degrees to keep warm for a few hours, the potatoes will no longer look like potatoes when you pull them out, and they will only taste like cheese. Yuck. I think it would be better to heat them up right before, instead of keeping them in the oven for a long period of time.
Did you go Black Friday shopping? We did! We went and bought an artificial Christmas tree, because apparently Rent-A-Center didn't get my request that they should rent christmas trees. Now I have to figure out where to store this 7 foot Christmas tree in my tiny house. I think rentable christmas trees would be a lucrative business, maybe I can start it, but then I would have to store all of those trees somewhere!
Friday was our highly anticipated christmas decoration day. We put up the tree (our first ever!), decorated the house, listened to 5+ hours of christmas music on Pandora, and baked moose sugar cookies. You can see a sneak peek of the cookies on instagram here!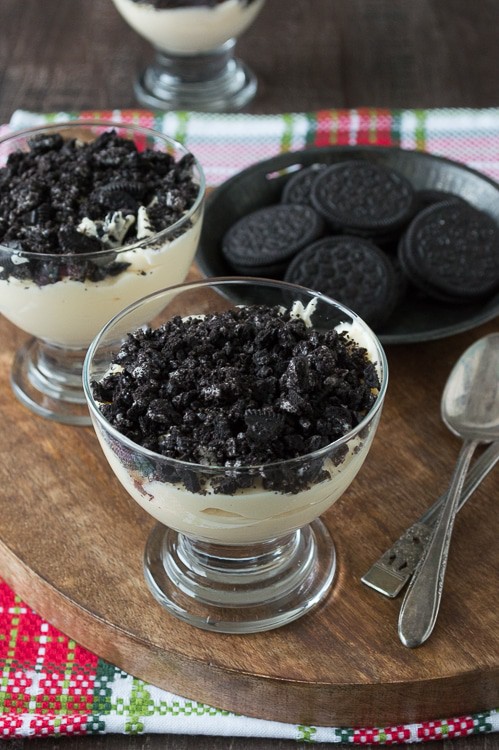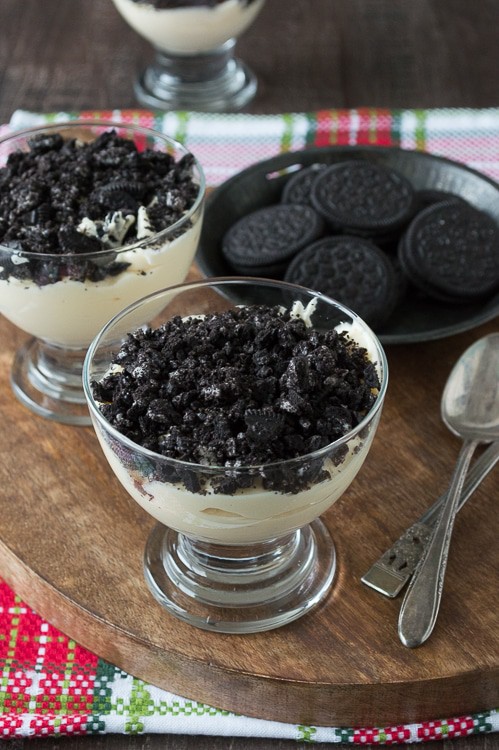 This coming December 4th is a very special day. Ryan will have his pre-lim exam, where a handful of chemistry professors will grill him with questions about his past research and discuss his future research plans to determine if he is eligible to continue on to get his PhD. Talk about pressure, I mean it's only been 2.5 years in the making!!
While I can't help Ryan with his actual research (he works with polymers, and I can't really tell you what that is) I've been trying to keep him motivated and full with lots of delicious food. I know he appreciates it greatly :)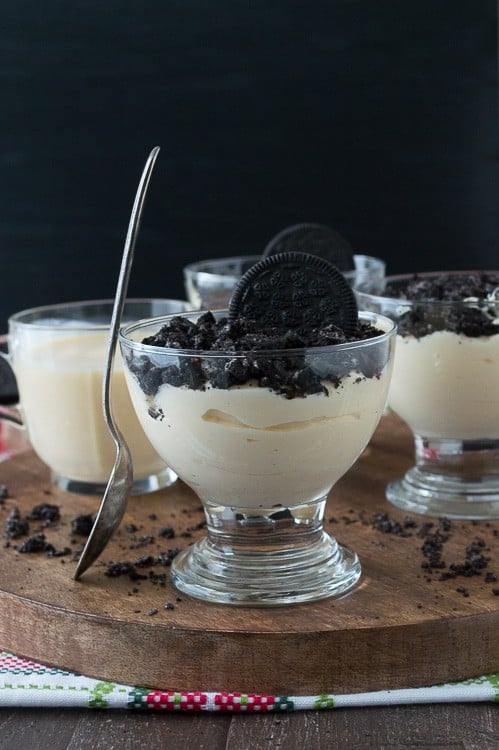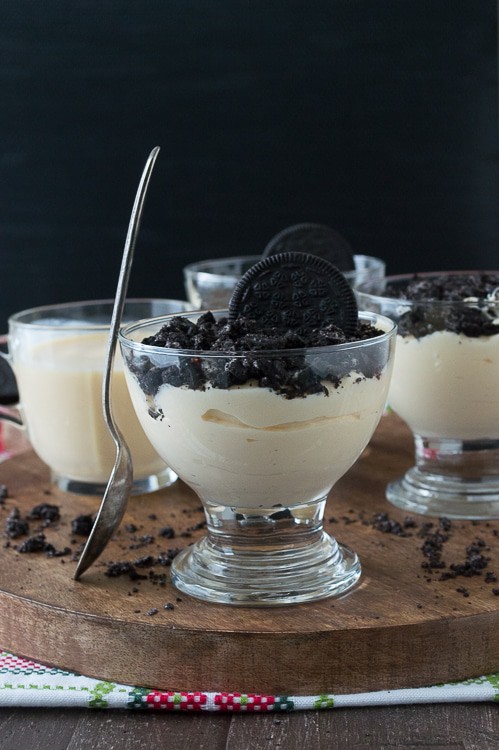 This recipe is so easy that it shouldn't even be consider baking. I pretty much dumped, blended, and let the pudding mixture set in the fridge. I did have to crush oreos, which is one of my least favorite tasks because it gets my food processor all crumby, but it's worth it!

Ingredients
2 packages White Chocolate Pudding, 3.3 oz each
2 & 3/4 cup eggnog
Crushed oreos but not crumbs
Instructions
In a tall bowl, combine both packages of white chocolate pudding with the eggnog and beat using an electric mixer until smooth. Cover and refrigerate until set, about 30-60 minutes.
Pulse oreo cookies in a food processor, or blender, until you have crushed oreos. You don't necessarily want oreo crumbs, somewhere in-between.
To assemble the parfaits, add the eggnog pudding to each glass and top with crushed oreos.
https://thefirstyearblog.com/oreo-eggnog-parfaits/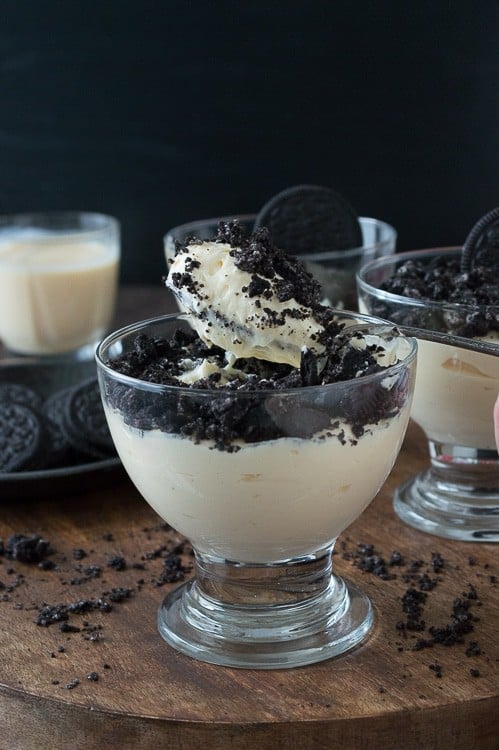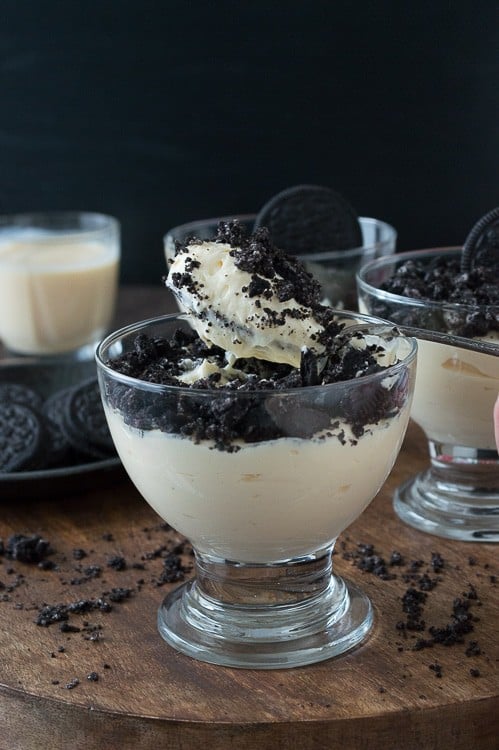 These parfaits would be fun to serve at a holiday party. You could even make them into mini parfaits so your guests can try a little bit of everything at the party!