Want our top 10 essential dessert recipes?
Get our favorite classic recipes in your inbox! It's 100% free, but we might make you hungry!
Mini Carrot Cheesecakes
Mini Carrot Cheesecakes made in a muffin pan! These carrot cake cheesecake cupcakes have a graham cracker crust and a creamy carrot cheesecake filling.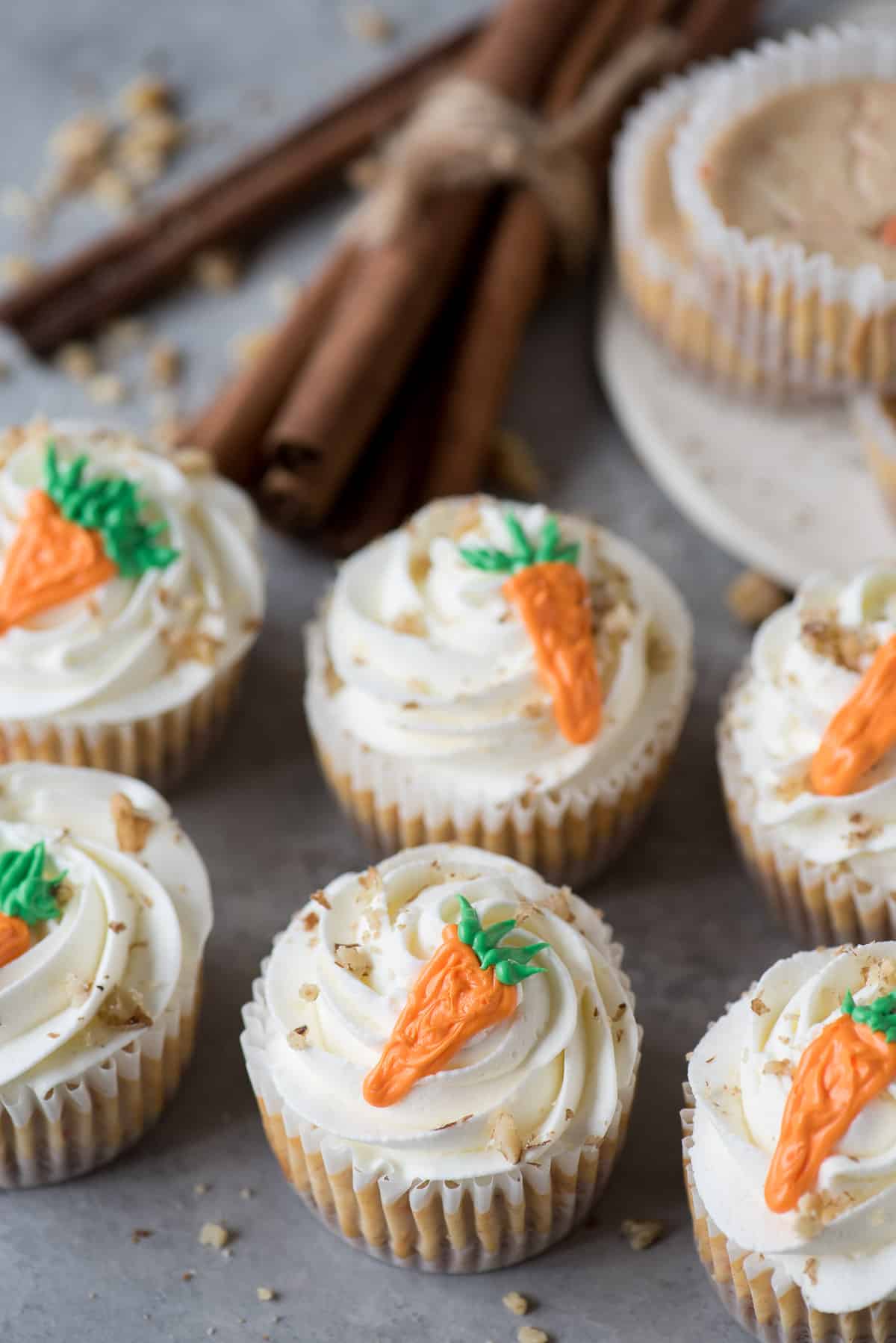 A few years ago I was on the hunt for a mini cheesecake pan. I thought I HAD to have one. I looked at Meijer, Target and Bed, Bath & Beyond with no luck so I decided to order one from Amazon.
I was so excited when it came!
I've only used it twice.
In 3 years.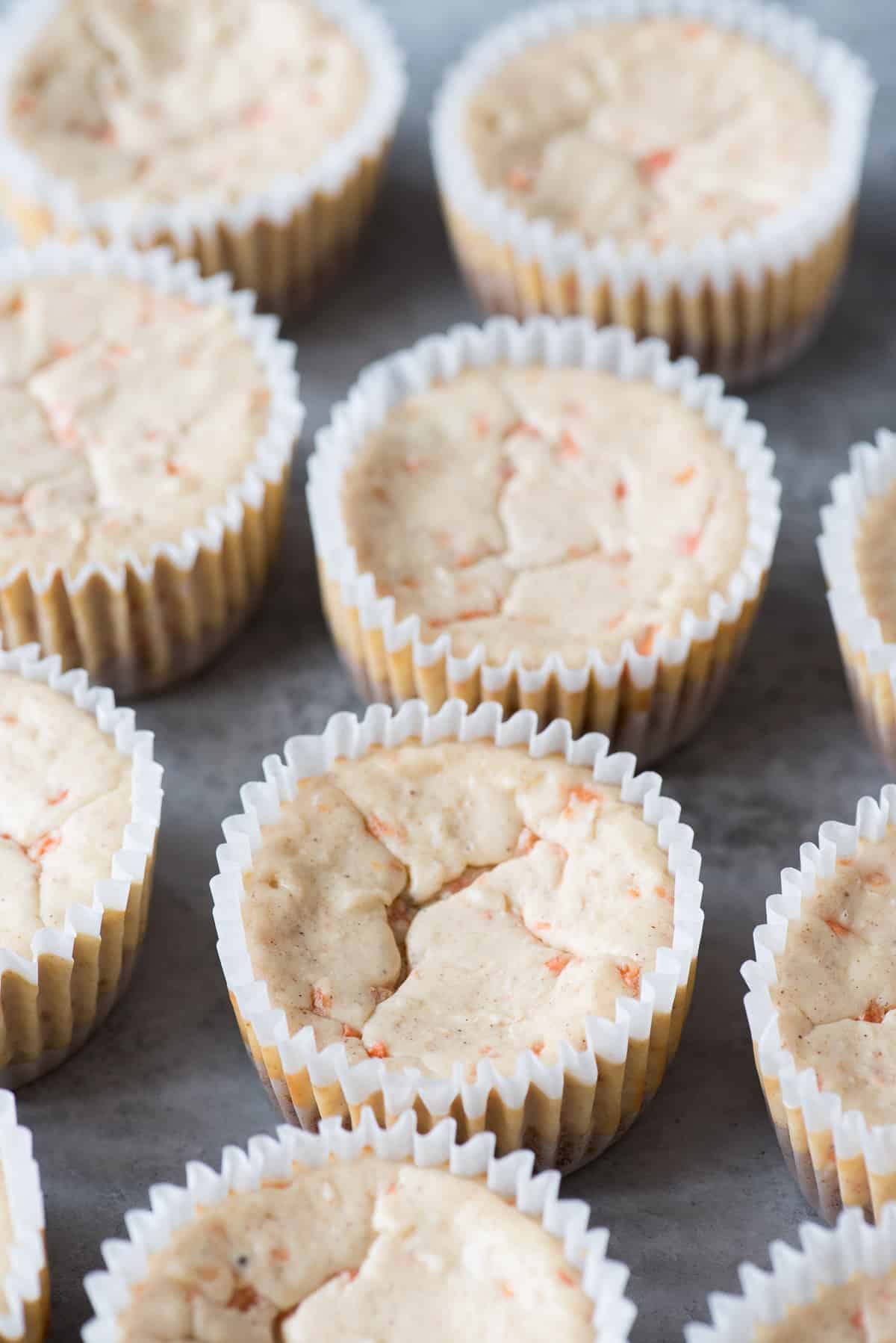 Using a muffin pan to make mini cheesecakes is SO much easier, and everyone has a muffin pan, so it's more accessible to the general public.
Moral of the story? I should probably sell my mini cheesecake pan and then I can take the moolah and go to Target :)
Or Good Will! I love going to GW because the stores in my area carry Target clearance. ????
These mini carrot cheesecakes are everything you love about carrot cake but in luscious cheesecake form – because if you could pick between cake and cheesecake, I know which one I would pick!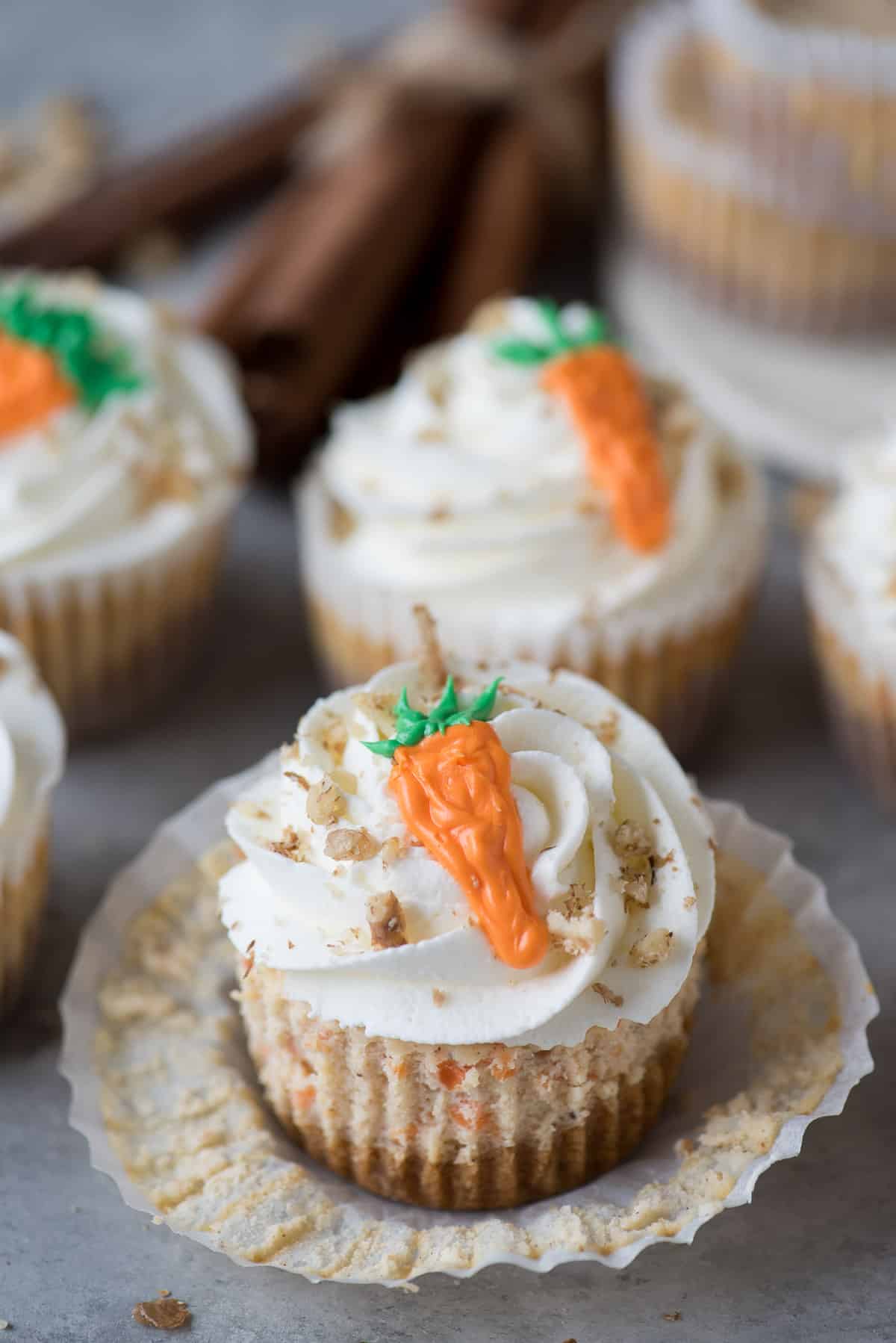 The graham cracker crust is simple and good. Did you know that you can buy graham cracker crumbs at the grocery store? YEAH. You don't even have to blend the crackers into crumbs anymore!!! I've seen the graham cracker crumbs near the pre-made pie crusts in the baking aisle.
What's in carrot cake cheesecake?
The cheesecake base comes together fast too. The cinnamon, nutmeg and ground ginger give the carrot cheesecake that classic carrot cake flavor and you can't forget the shredded carrots.
How to tell when mini cheesecakes are done baking?
Now, here's a reminder about cheesecake baking time. Sometimes I forget that cheesecakes are cheesecakes and NOT cupcakes. The toothpick trick will not work on cheesecake. The best way to tell when the mini cheesecakes are done is the jiggle test. The center of the cheesecake should jiggle slightly and the edges of the cheesecake will be slightly more puffy or airy.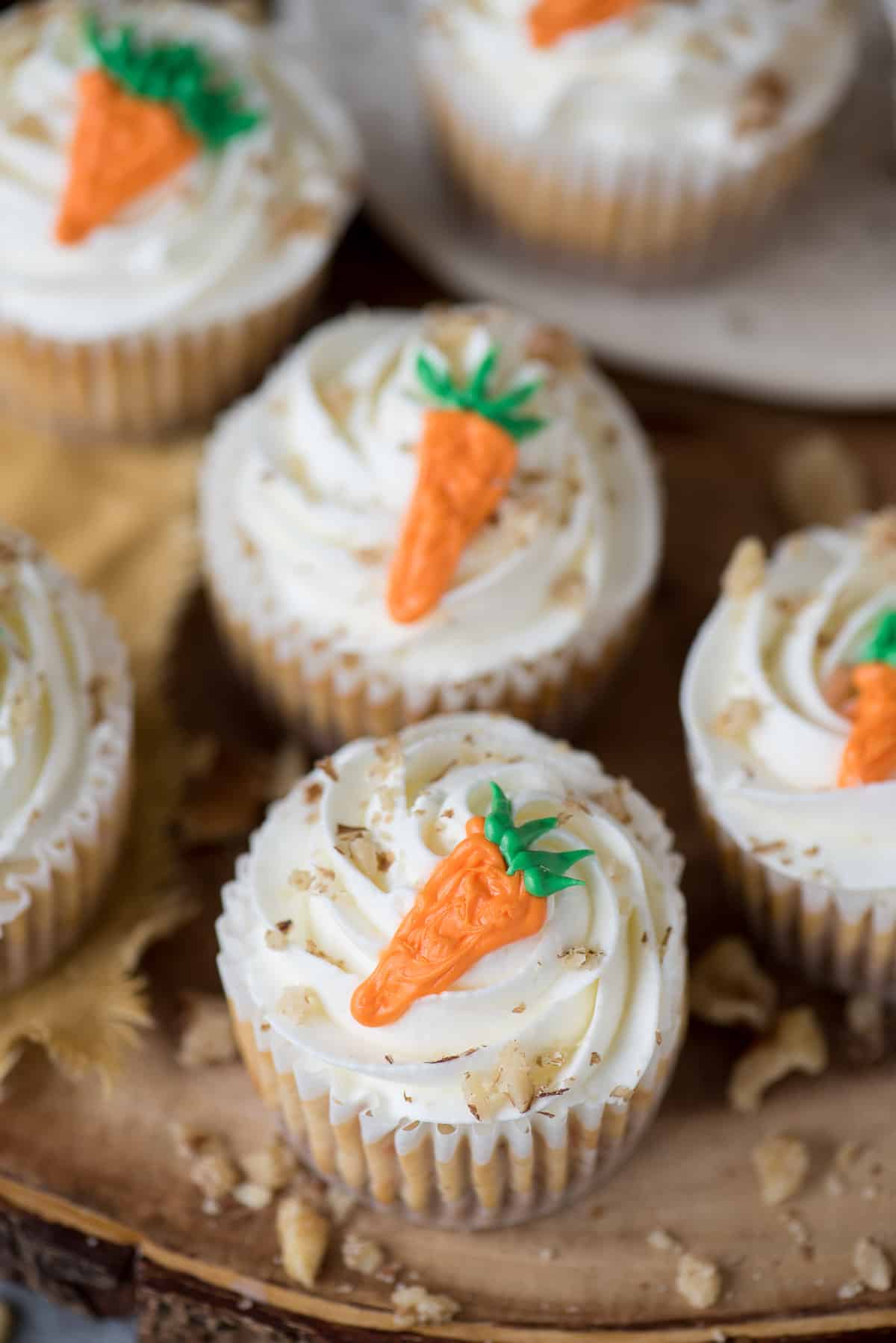 To dress them up a bit more I decided a swirl of whipped cream to each cheesecake and then used orange and green buttercream to draw a carrot on top!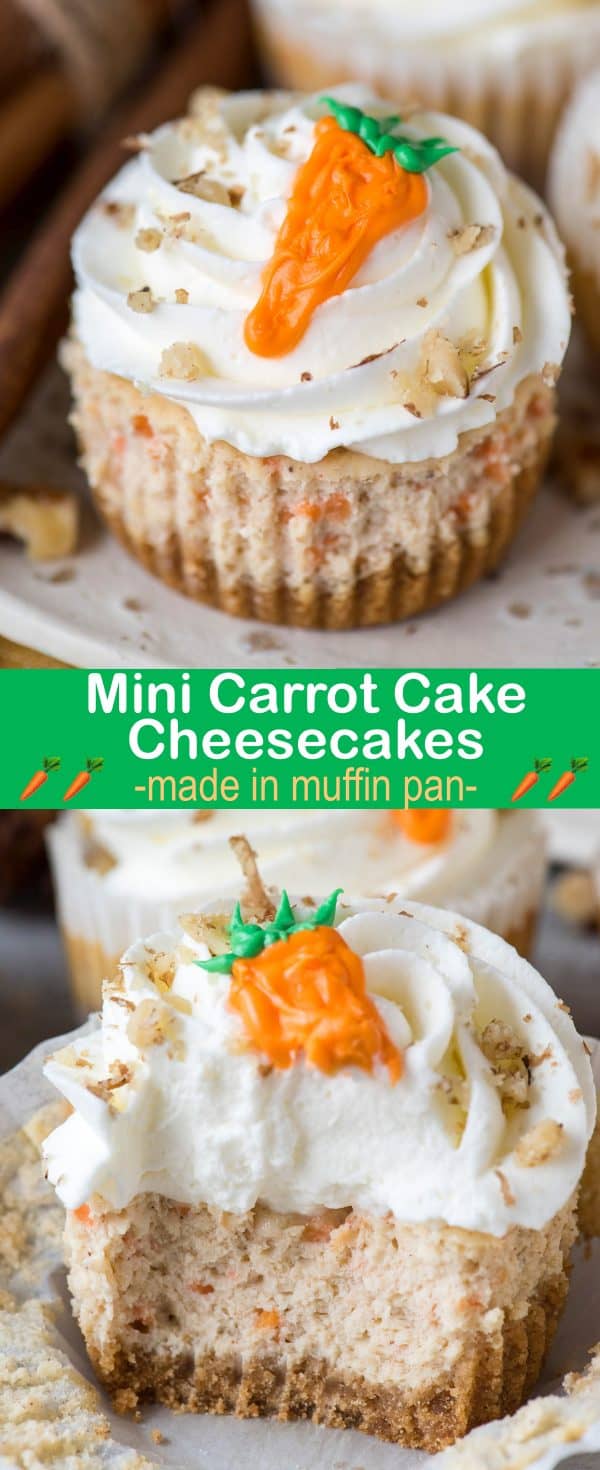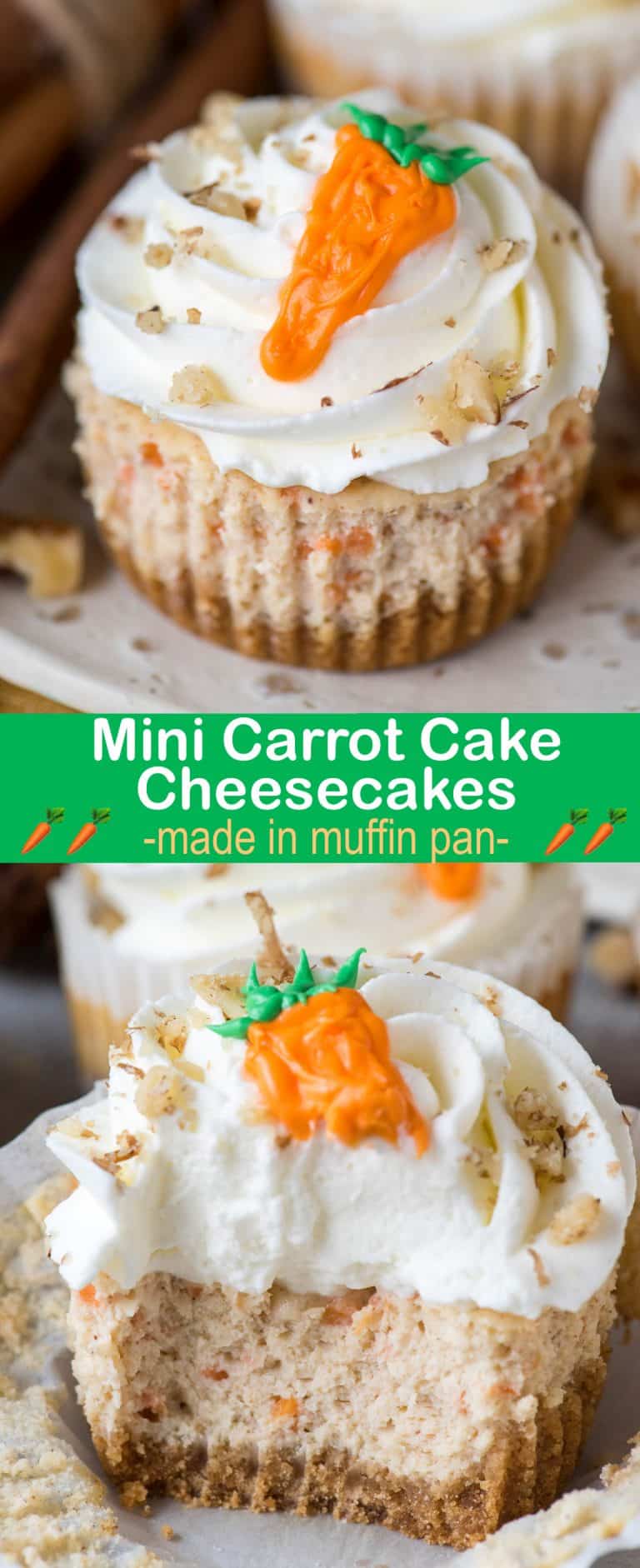 For a step-by-step of how to make this mini carrot cheesecake recipe, watch this short video: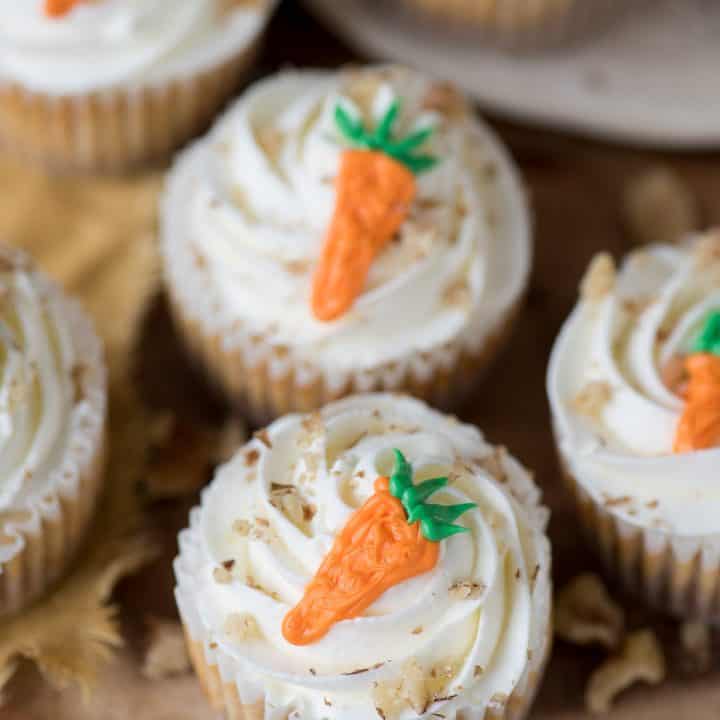 Mini Carrot Cheesecakes
Yield:
12 mini cheesecakes
Additional Time:
30 minutes
Mini Carrot Cheesecakes made in a muffin pan! These carrot cake cheesecake cupcakes have a graham cracker crust and a creamy carrot cheesecake filling.
Ingredients
Crust
10 graham crackers (1 & 1/2 cups graham cracker crumbs)
4 tbsp melted butter
Cheesecake
2 packages cream cheese, 8 oz each, room temperature
1/3 cup sugar
2 eggs
1 tsp vanilla extract
1/2 tsp cinnamon
1/4 tsp nutmeg
1/4 tsp ground ginger
1/4 tsp salt
1/2 cup finely shredded carrots
Optional garnish
whipped cream, buttercream colored orange and green
Instructions
Crust
Preheat the oven to 350º F.
Line a regular sized muffin pan with 12 muffin liners.
In a mixing bowl, combine the graham cracker crumbs and melted butter until it resembles coarse sand.
Put 1 tbsp plus 1 tsp of graham cracker crumbs in each muffin cup.
Use a 1/3 cup (or similar) to press the crumbs down firmly into the pan.
Bake the crust for 5 minutes. Remove the pan from the oven and allow it to cool while prepping the cheesecake.
Cheesecake
In a mixing bowl, beat the cream cheese and suar with an electric mixer until smooth, 2 minutes.
Beat in the eggs, vanilla extract, spices and shredded carrots.
Place a little more than 2 tbsp of cheesecake batter in each muffin cup.
Bake for 18-21 minutes or until the center of the cheesecake is only slightly jiggly.
Allow the cheesecakes to cool to room temperature then place them in the fridge for at least 2 hours to chill before serving. If refrigerating overnight, loosely cover the cheesecakes in plastic wrap.
To garnish:  Place whipped cream in a piping bag fit with a wilton 1M piping tip, pipe whipped cream swirls on each of each cheesecake. Use a small amount of buttercream (colored with orange and green food coloring) to draw mini carrots on top of the whipped cream with 2 piping bags and size 4 round tips.
Recommended Products
As an Amazon Associate and member of other affiliate programs, I earn a small commission from qualifying purchases.
Products used to make this recipe
(may include affiliate links)