Want our top 10 essential dessert recipes?
Get our favorite classic recipes in your inbox! It's 100% free, but we might make you hungry!
Funfetti Sheet Cake
Homemade funfetti sheet cake recipe that bakes in 40 minutes! Makes a 9×13 inch cake that has amazing flavor and is loaded with sprinkles!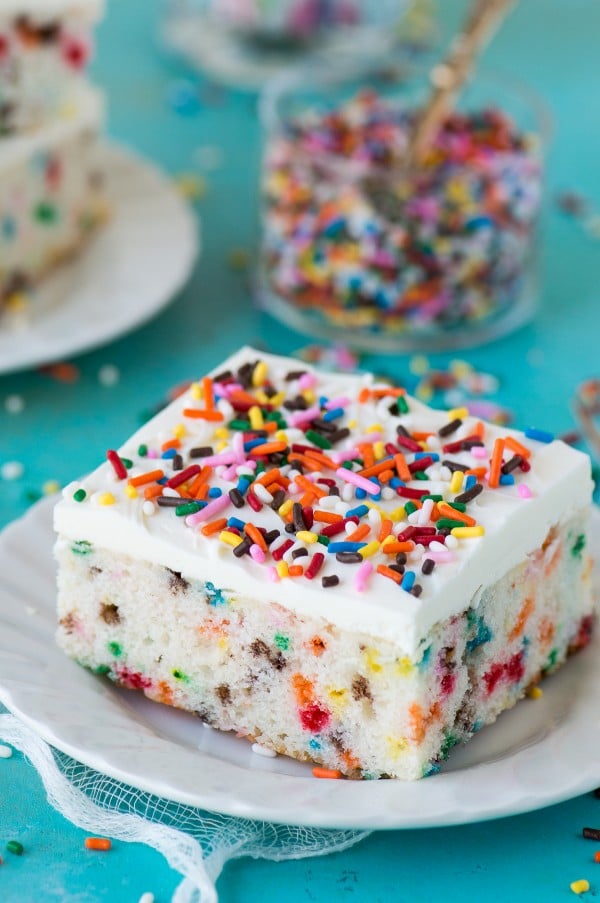 If I were to introduce myself in a baking anonymous type group it would go like this..
"Hi I'm Beth, I'm a food blogger and I don't think box mixes are bad."
After I spend all week baking for the blog, the last thing I feel like doing is making up a batch of homemade brownies, so I make brownies from a box or sometimes I eat ice cream instead, haha.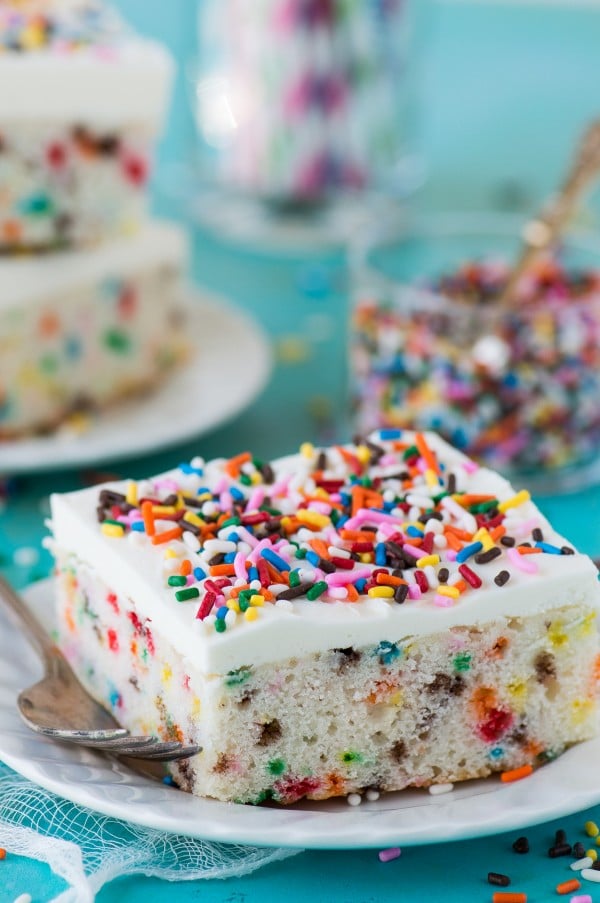 My least favorite part of baking from scratch is not beating the butter, cracking the eggs, or needing special ingredients.. it's having to measure out the darn flour!! It's pesky and floury and it gets everywhere. And plus you gotta measure it the right way. Don't be sticking that measuring cup into the flour bag, you need to use a spoon to scoop the flour into the cup then use a knife to level it off.
Least favorite part. If I could have pre-measured flour at my disposal that would be AMAZING! So that's why I'm not a hater of box mixes — the dry ingredients are measured for you!
All in all, I think there's a time for box mixes and there's a time for homemade. Having the option is wonderful, right?!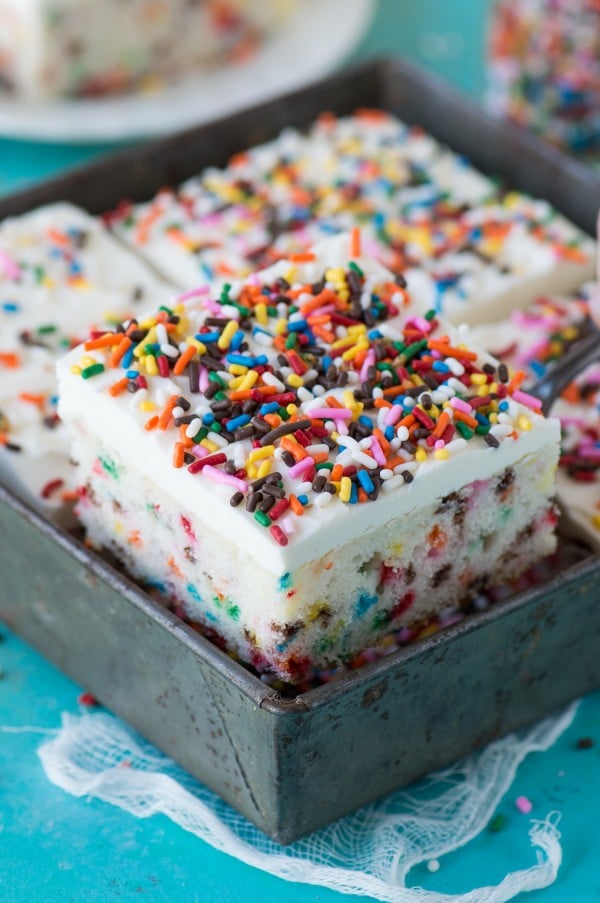 If you're wanting to up your baking game a bit, this homemade funfetti cake recipe will sure to impress! Plus when your family and friends find out you made it from scratch they'll think you're a baking goddess and tease you by calling you Martha. Not to shabby :)
And since this is a homemade funfetti cake, you can add as few or as many sprinkles as you'd like!! I say if you're making funfetti, go big and add at least 3/4 cup of sprinkles to the batter. Don't forget to top the cake with sprinkles… hello the picture above is drowning in sprinkles ;)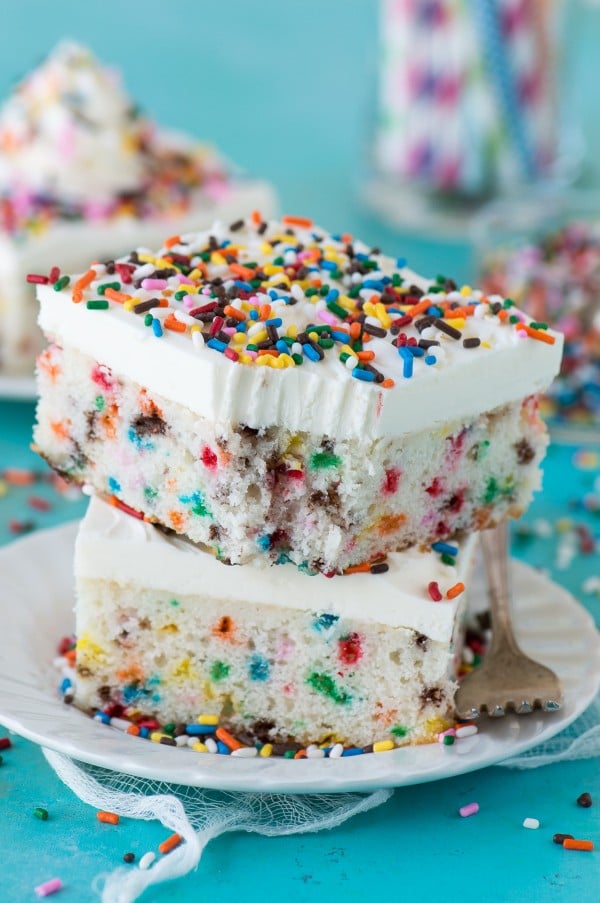 Funfetti Sheet Cake
Additional Time:
40 minutes
Ingredients
Cake
2 sticks butter, softened
1 & 3/4 cup sugar
4 egg whites
1 & 1/2 cups sour cream
1/2 cup milk
2 tsp vanilla extract
2 & 1/4 cups all purpose flour
1 tsp baking soda
1/4 tsp salt
3/4 cup jimmies sprinkles (the long ones, not the ball ones)
Frosting
2 sticks butter, softened
1 tsp vanilla
3-4 cups powdered sugar
more sprinkles, to top the cake
Instructions
Cake
Preheat the oven to 350º F. Spray a 9x13 inch pan with cooking spray.
In a mixing bowl combine the butter and sugar, beat using an electric mixer, 1-2 minutes until fluffy.
Add in the egg whites, one at a time, lightly mixing with a spatula after each one.
Add in the sour cream, milk, and vanilla extract. Beat lightly with the electric mixer.
In a separate mixing bowl combine the flour, baking soda, salt and sprinkles.
Gradually add the flour mixture to the wet ingredients a few spoonfuls at a time.
Mix until just incorporated.
Pour the batter into the pan. Bake for 29-33 minutes or until a toothpick inserted in the center comes out clean.
Allow the cake to cool completely before adding the frosting.
Frosting
In a mixing bowl beat the butter with an electric mixer until smooth, about 2 minutes.
Add in the vanilla extract and 2 cups of powdered sugar, mix by hand with a spatula.
Add in more powdered sugar as you see fit, then mix one last time with the electric mixer.
Spread the frosting over the cooled cake.
Cut and serve.
Products used to make this recipe
(may include affiliate links)