Pumpkin Cupcakes
No fail pumpkin cupcakes with pumpkin buttercream! These are the pumpkin cupcakes you'll want to make each fall!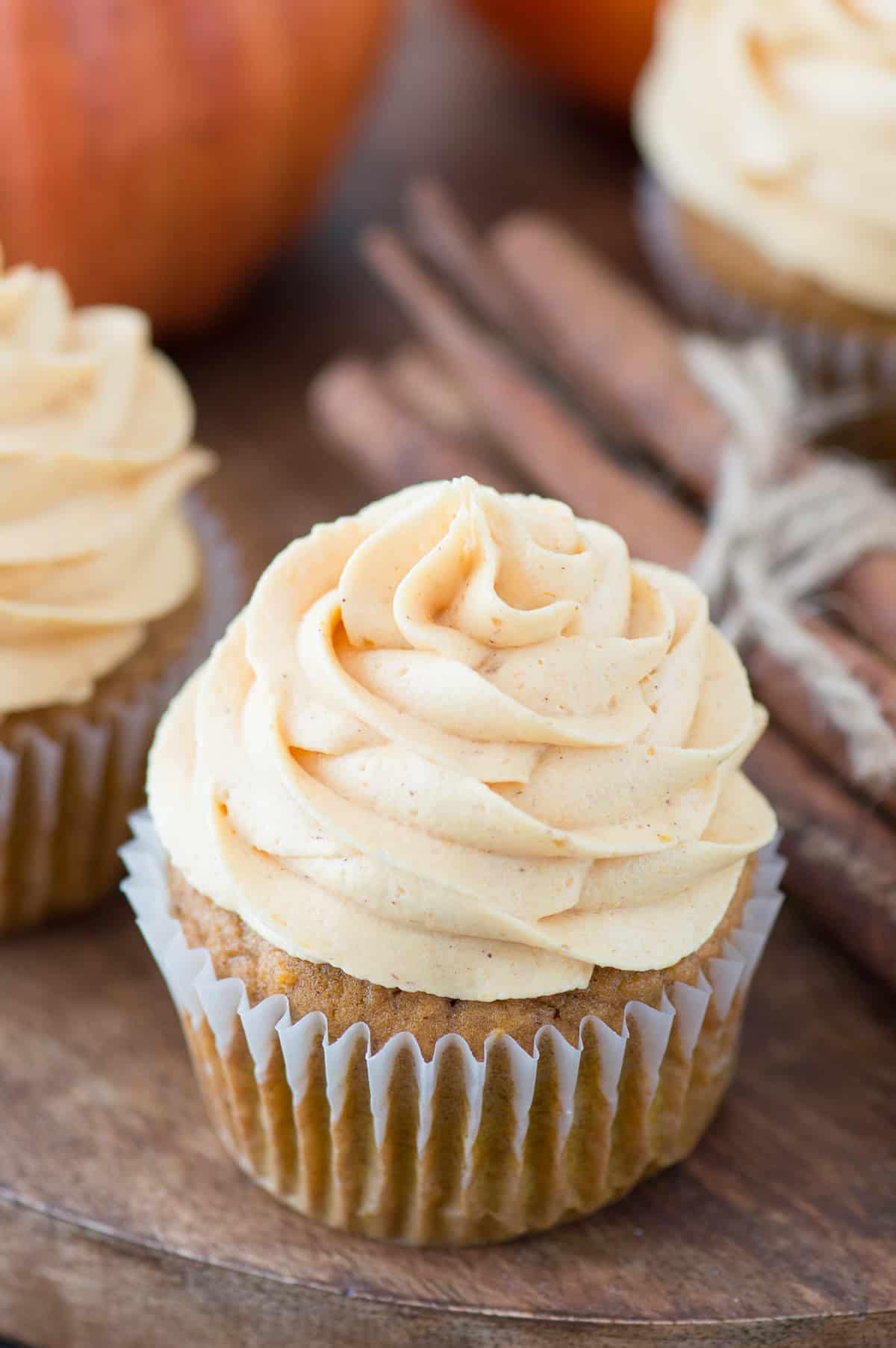 Are pumpkin cupcakes with pumpkin buttercream too much?
NAH! Definitely not.
Because when else is a good time to indulge in all things pumpkin except for in the fall?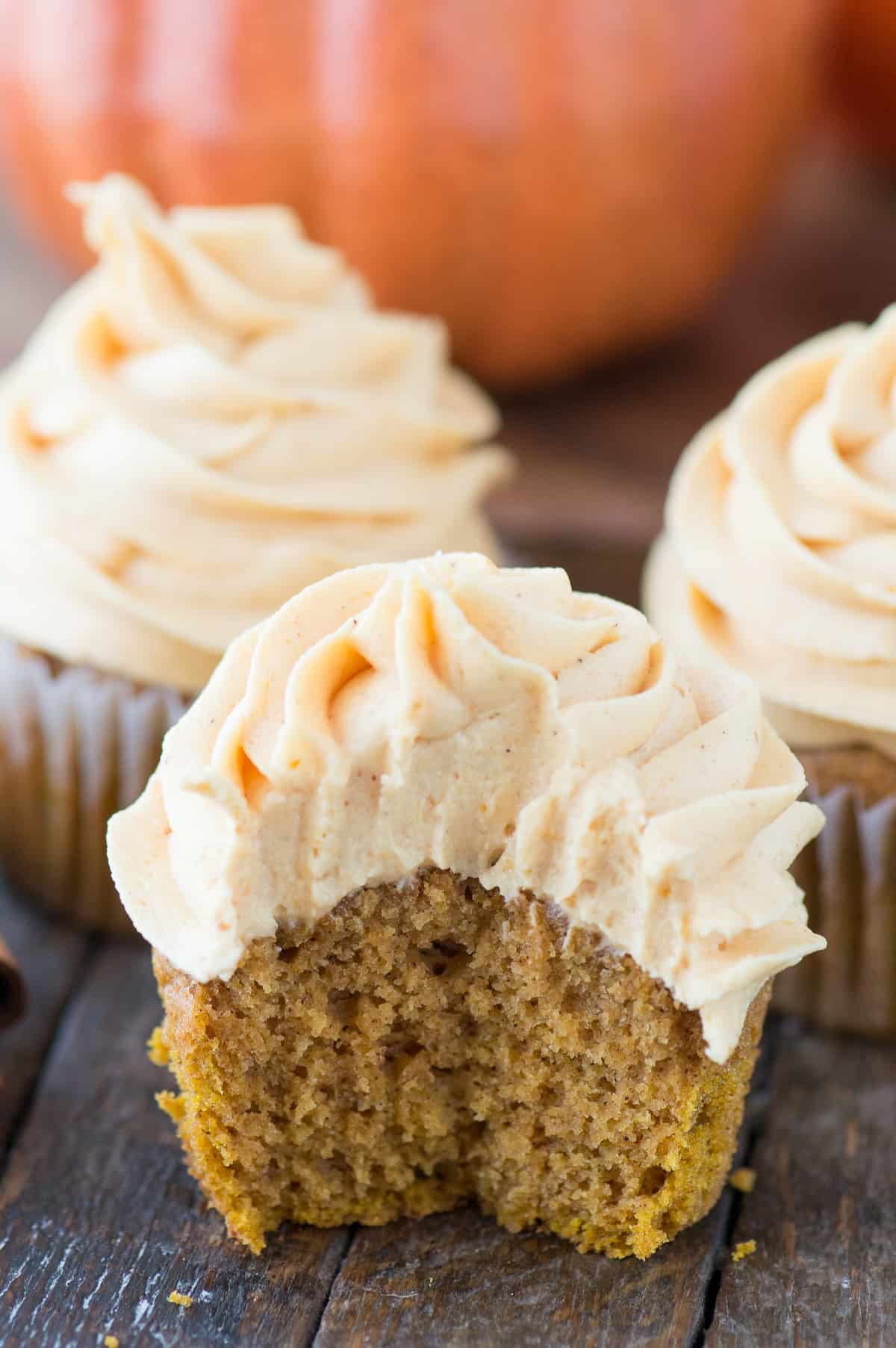 Being a food blogger I think my brain is a little different.. especially when it comes to holiday food flavors.
In my mind, I tend to think that apple season is the end of August through the middle of September, then pumpkin season takes over and lasts till the 2nd week of October, then Halloween treats take over and last through Halloween, and then Thanksgiving forward marks peppermint, fudge, toffee, and eggnog season.
See I didn't mention November…there is this weird time between November 1 through November 15 that I am not really sure what food to pair with it. Yes, pumpkin is still in season – but a lot of people are focusing on turkey and thanksgiving side dishes.
But let's slow down.. I'll worry about what to post when we get there.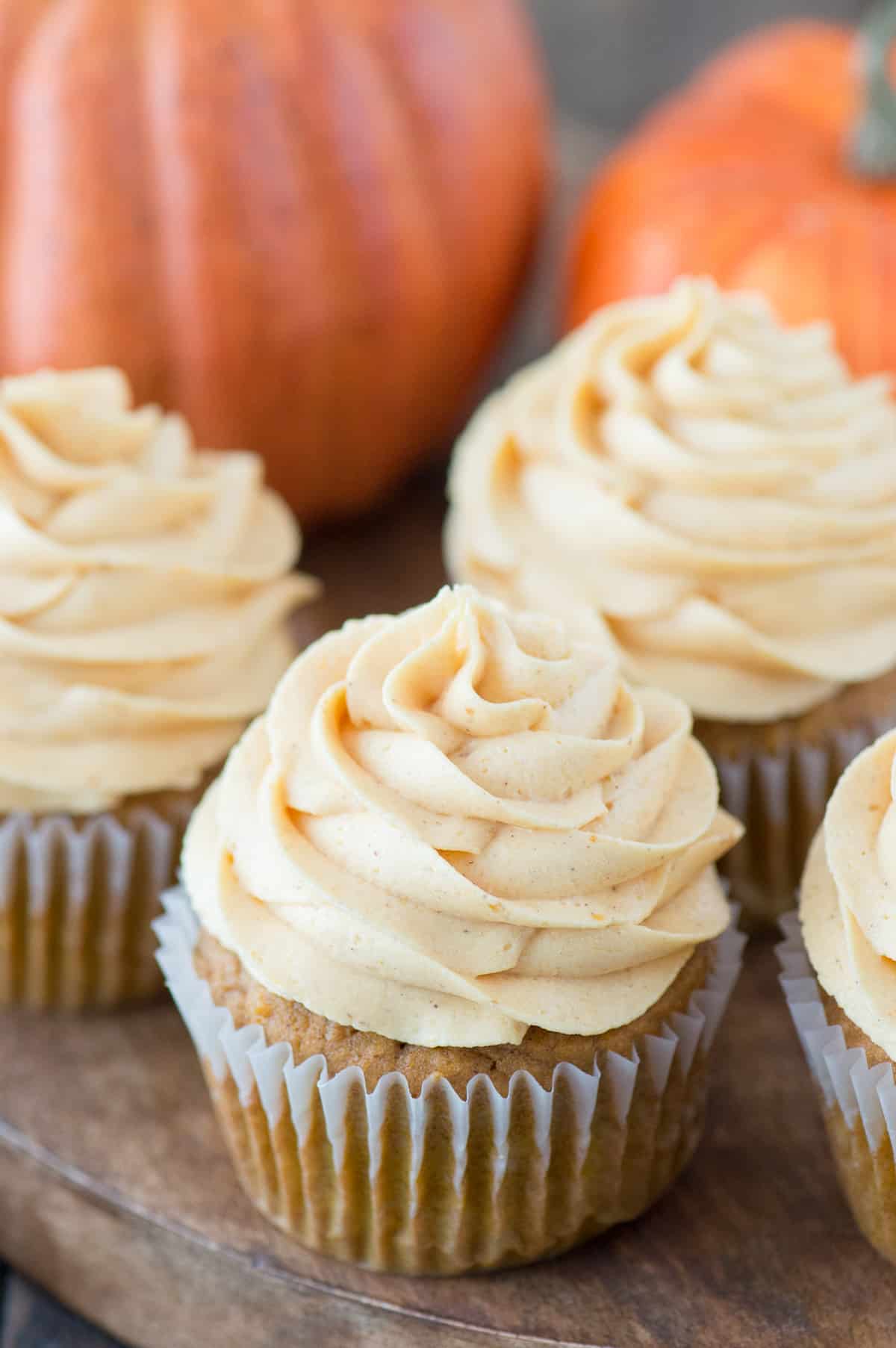 So, while most of you are probably JUST heading to the apple orchard, I feel like I've already said 'see ya' to the apples and hello to all the cans of pumpkin.
In most people's eyes it's acceptable to eat pumpkin desserts from September through November, but if you're a die hard pumpkin fan, I'm giving you permission to eat these pumpkin cupcakes whenever you want.
And if you're like me, it's hard to resist putting chocolate on anything, so let's go ahead and add some chocolate chips to these babies.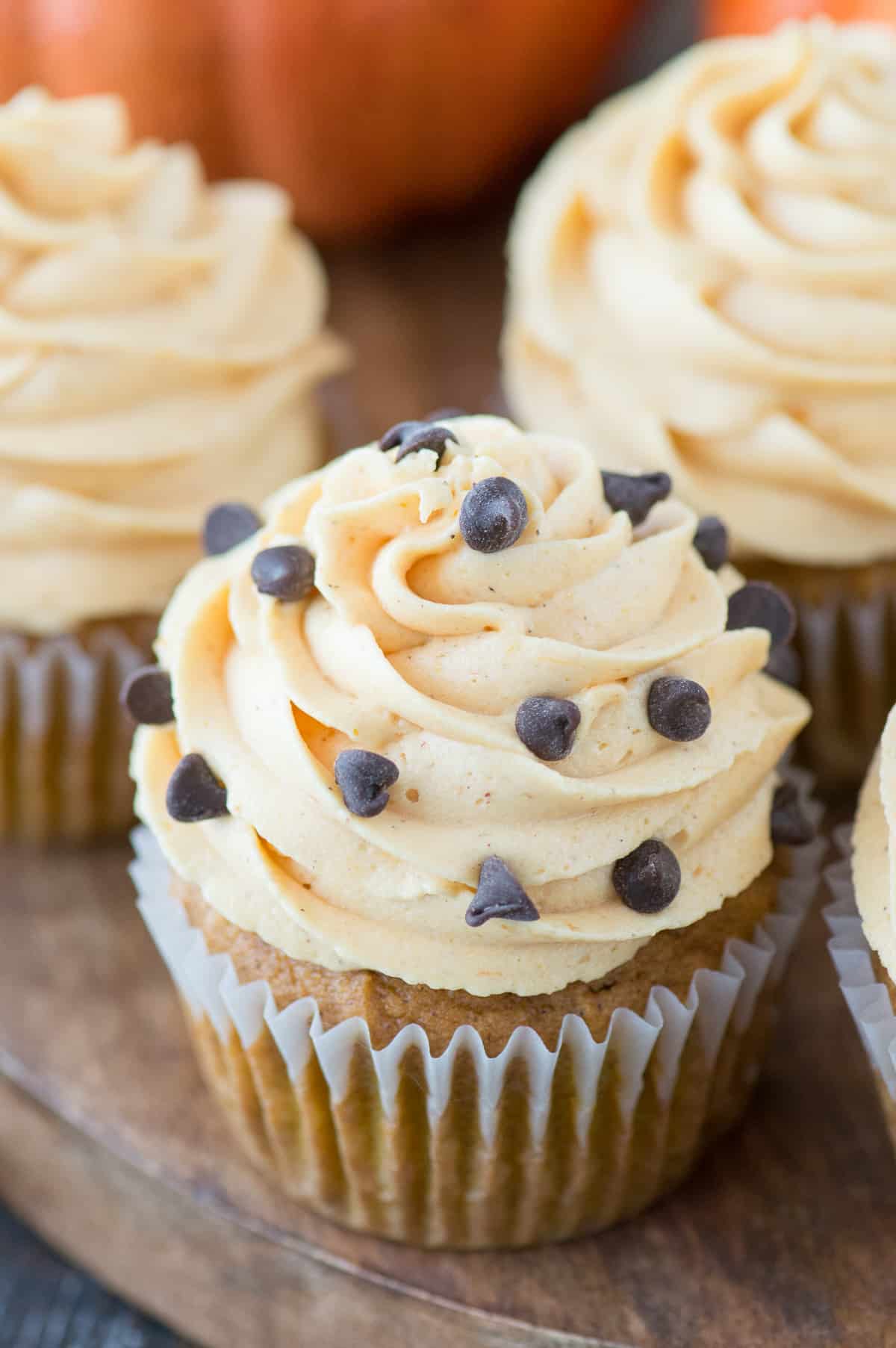 For a step-by-step of how to make this pumpkin cupcake recipe, watch this short video: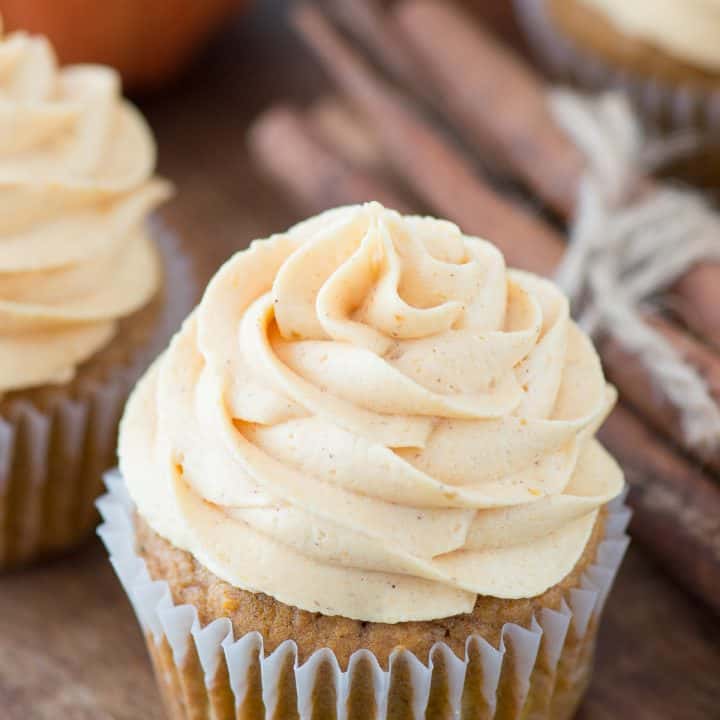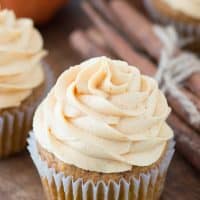 Pumpkin Cupcakes
No fail pumpkin cupcakes with pumpkin buttercream! These are the pumpkin cupcakes you'll want to make each fall!
Ingredients
Pumpkin Cupcakes
1 & 1/4 cup all purpose flour
1 tsp baking powder
1/2 tsp baking soda
1/4 tsp salt
1/2 tsp cinnamon
1 tsp pumpkin pie spice
3/4 cup brown sugar
1 stick butter (1/2 cup), room temperature
2 eggs
1 cup pumpkin puree
Instructions
Pumpkin Cupcakes
Preheat the oven to 350º F. Line a muffin pan with 12 muffin liners.
In a bowl combine the flour, baking powder, baking soda, salt, cinnamon, and pumpkin pie spice. Mix well to combine.
In a separate bowl, combine the brown sugar and butter, beat together using an electric mixer until creamy, 1 minute.
Add in the eggs, one at a time, beating the mixture after each one.
Add in the pumpkin puree, mixing by hand with a spatula.
Add half of the flour mixture to the wet ingredients, do not dump it in, rather take spoonfuls of the flour mixture and gently shake it over the wet ingredients, as if you were sifting in the flour. Fold in the mixture until no flour remains. Repeat with the other half of the flour, folding it in and scraping the sides and bottom of the bowl to incorporate everything.
Evenly divide the batter among the muffin pan, filling each 2/3 full. Bake for 15-18 minutes or until a toothpick inserted in the center comes out clean.
Allow the cupcakes to cool for about 3 minutes in the pan, then take them out and allow them to cool on a cooling rack. Allow the cupcakes to cool completely before adding the frosting.