Pumpkin Cheesecake Bars
Easy to follow recipe for pumpkin cheesecake bars that are made in a 9×13 inch pan!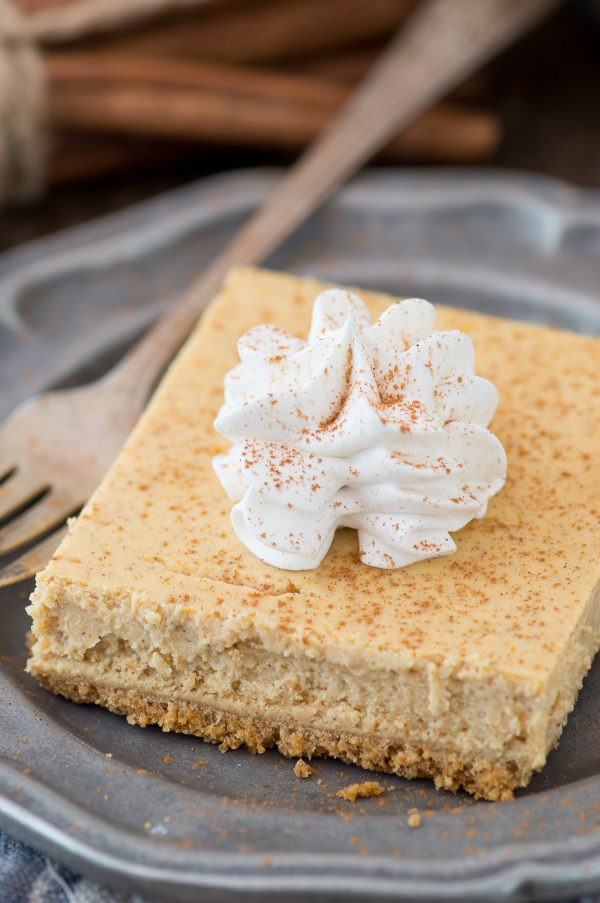 What keeps you from making cheesecake at home? I know I used to be afraid of tackling it!
Cheesecake bars are a great alternative to a round cheesecake. First, you don't need a springform pan with cheesecake bars – all you need is a 9 x13 inch pan. Second, you don't have to add a water bath for cheesecake bars, BUT if you want to ensure that your cheesecake bars don't crack at all, you can place a pan of water in the bottom of your oven, which is way easier than placing the cheesecake in a water bath.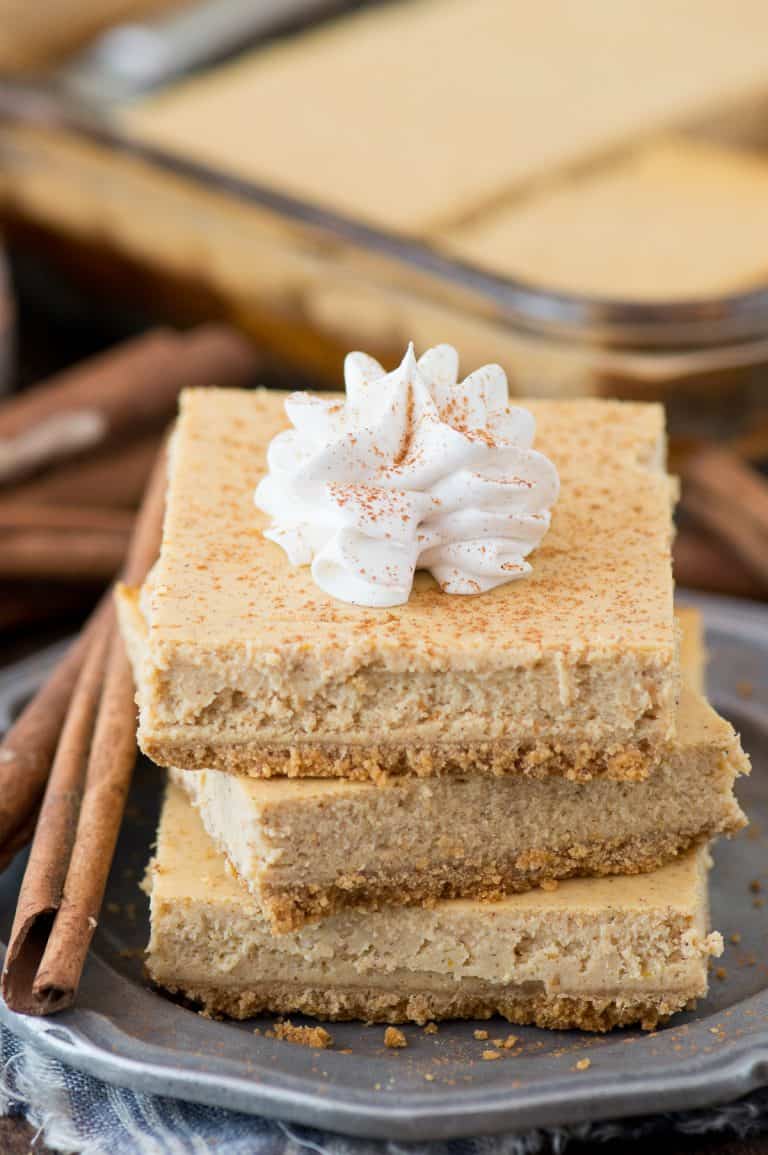 Let's outline some of the substitutions that you could make to this recipe.
You could swap chocolate graham crackers in for the regular graham crackers. There is nothing like pumpkin AND chocolate. If you want to get really bold, you could even use OREO crumbs in place of the graham crackers. YUM.
For the actual cheesecake, you could jazz things up by adding mini chocolate chips to the batter. Now we're talking, right?
Or you could add a layer of chocolate ganache to the cheesecake bars once they have been chilled. However you decide to serve them, they will be awesome!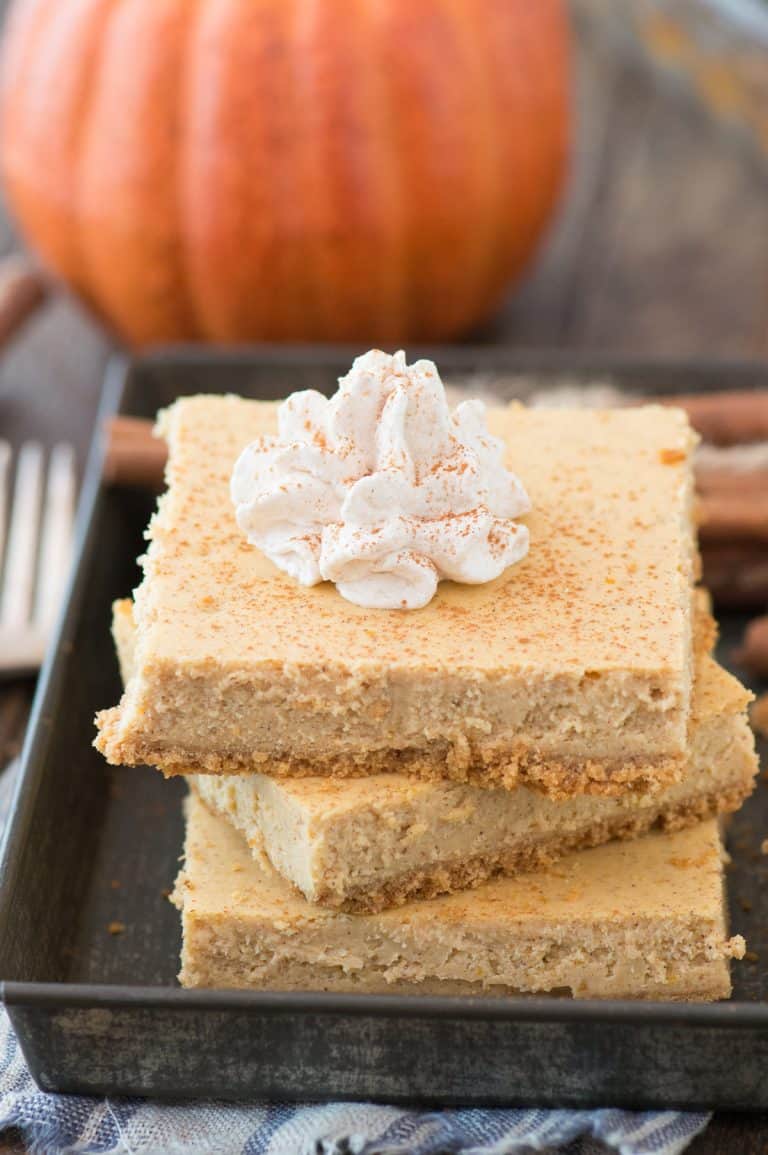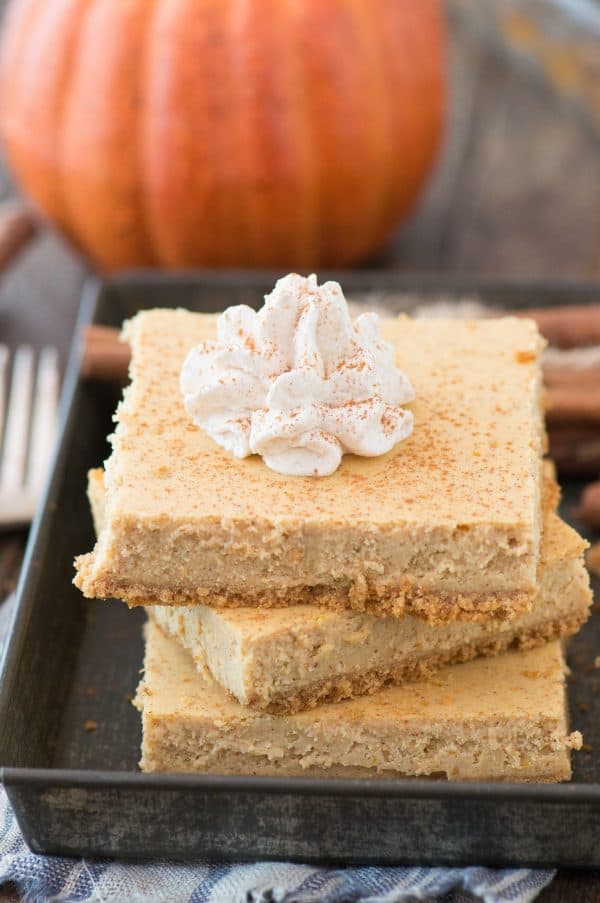 For a step-by-step of how to make this pumpkin cheesecake bar recipe, watch this short video: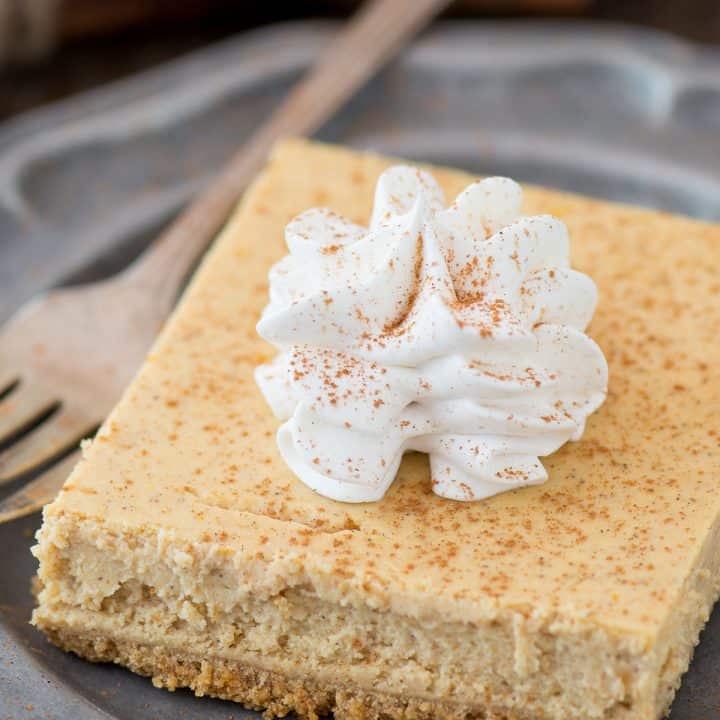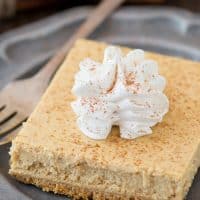 Pumpkin Cheesecake Bars
Yield: 9x13 inch pan
Additional Time: 1 hour
Total Time: 1 hour
Easy to follow recipe for pumpkin cheesecake bars that are made in a 9x13 inch pan!
Ingredients
Crust
2 cups graham cracker crumbs
6 tbsp melted butter
1/4 cup sugar
Cheesecake
3 packages cream cheese
1/2 cup sugar
2 tsp pumpkin pie spice
1/2 tsp cinnamon
1 tsp vanilla
3/4 cup pumpkin puree
3 eggs
Instructions
CRUST
Preheat the oven to 350º F.
If using whole graham crackers, pulse them in a blender or food processor until they are very fine. You can also find graham cracker crumbs in the baking aisle. Measure out 2 cups of crumbs. In a small bowl, combine the crumbs with the melted butter and sugar, mix well until incorporated.
Add the crumbs to a 9x13 inch pan, distribute them evenly, using a cup or the bottom of something flat to press the crumbs into the pan.
Place the pan in the oven, pre-bake the crust for 8-10 minutes or until golden.
Remove the pan from the oven, and allow it to cool to room temperature before adding the cheesecake mixture.
Turn the oven down to 325º F.
CHEESECAKE
In a large mixing bowl, beat the 3 packages of cream cheese until smooth, about 2-3 minutes. Add in the sugar, pumpkin pie spice, cinnamon, and vanilla extract, beat again. Beat in the pumpkin puree. Add in the eggs, ONE at a time, beating after each one. Beat the mixture for 1 additional minute. Pour the cheesecake mixture on top of the cooled crust.
Bake the cheesecake for 40-45 minutes. The cheesecake is done when the center wobbles a little when you jiggle the pan. The edges of the cheesecake should look firmer than the center
Once your cheesecake looks done, turn the oven off and open the oven door a little. Allow the cheesecake to cool to room temperature inside the oven before removing - this could be 60-90 minutes.
Once cooled, place the cheesecake in the fridge for at least 6 hours or overnight.
Cut and serve.