4th of July Fruit & Jello Cups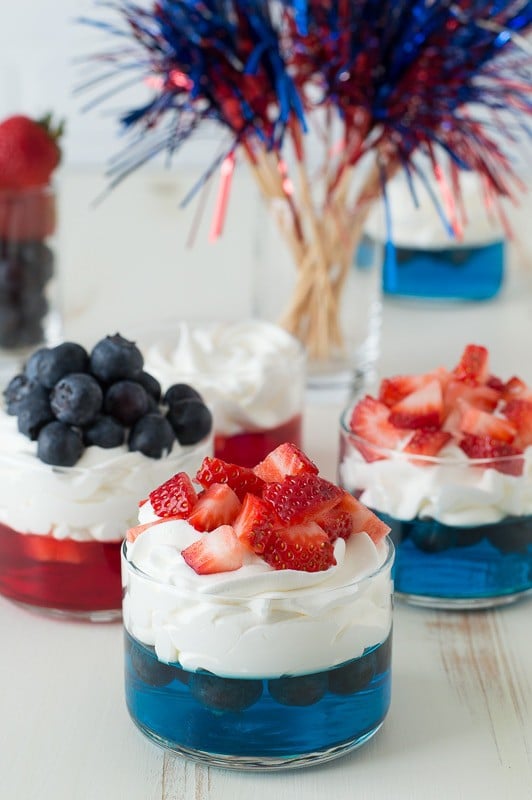 It's Tuesday! How's your week going? Mine is pretty normal except that I sat on my peanut butter toast yesterday morning.. *palm to face*
I was in a rush to get some things done before I had to leave for work and my computer has been alerting me everyday that my computer hadn't been backed up in 10 days, 11 days, 12 days.. so I was trying to get the external drive hard set up and I must have forgot that I put my plate of peanut butter toast on the couch.. usually I set the plate of the right side of the couch, but that morning I put it on the left. I went to sit down and I sat right on my toast.. peanut butter side up sticking to my pants and everything. I wiped it off the best I could while still wearing my pants but it left a good mark because everyone I told on Monday could see the stain. The kids I nanny for thought it was the most hilarious thing ever.
And if you're wondering.. I did still eat my toast.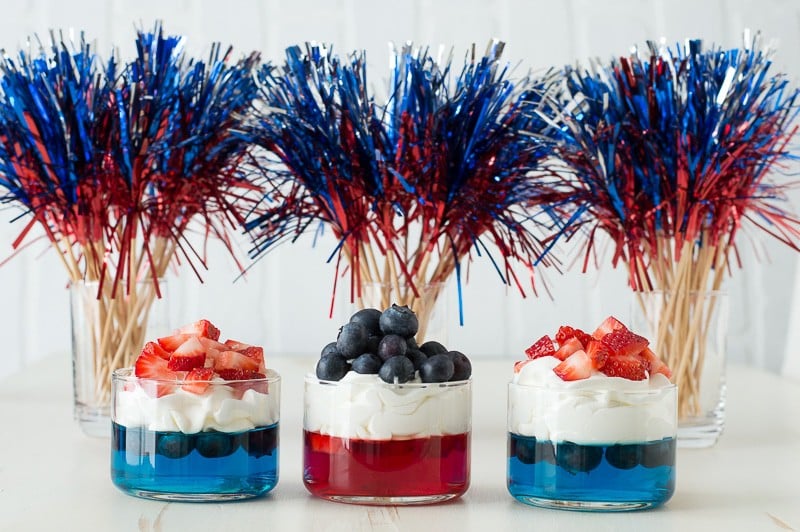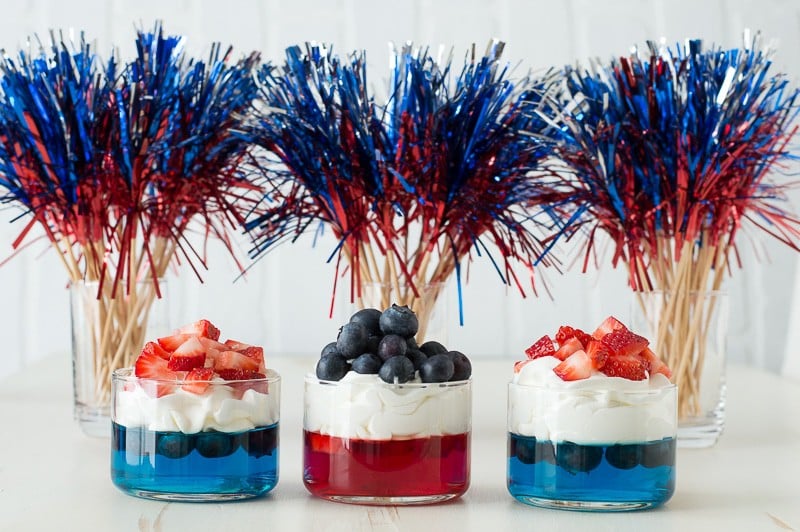 The general trend on my blog as of late seems to be cake, jello, and cheesecake. I just love jello and want to turn everything into a gelatinous mixture. It stays in one place and never falls over, unlike the great cake fail of 2015 where cake layers were sliding all over the place during a photo shoot.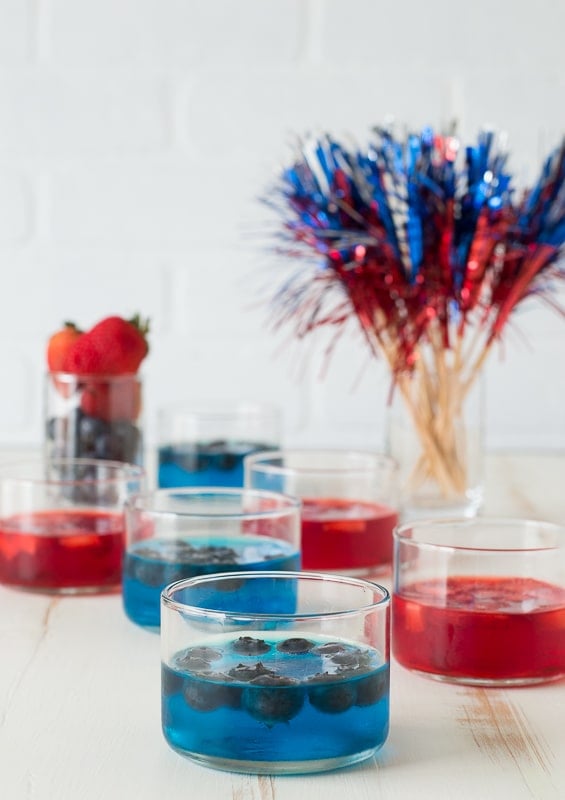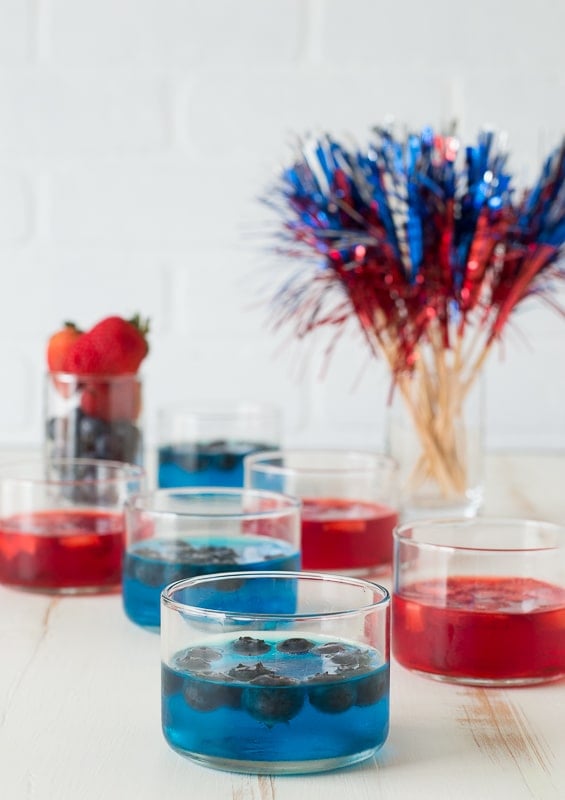 These fruit and jello cups are perfect for 4th of July. You can easily make a whole bunch to serve a crowd. And the best part is that they are easy enough to prepare so you could make them a day in advance and cover the glasses with plastic wrap after the jello sets or you could make them about 2 hours before you want to serve them. Just be sure that your jello sets!
If you're bringing them to a party, you could even assemble them there in a matter of minutes. Just bring along some cool whip, a piping bag and tip, blueberries and chopped strawberries.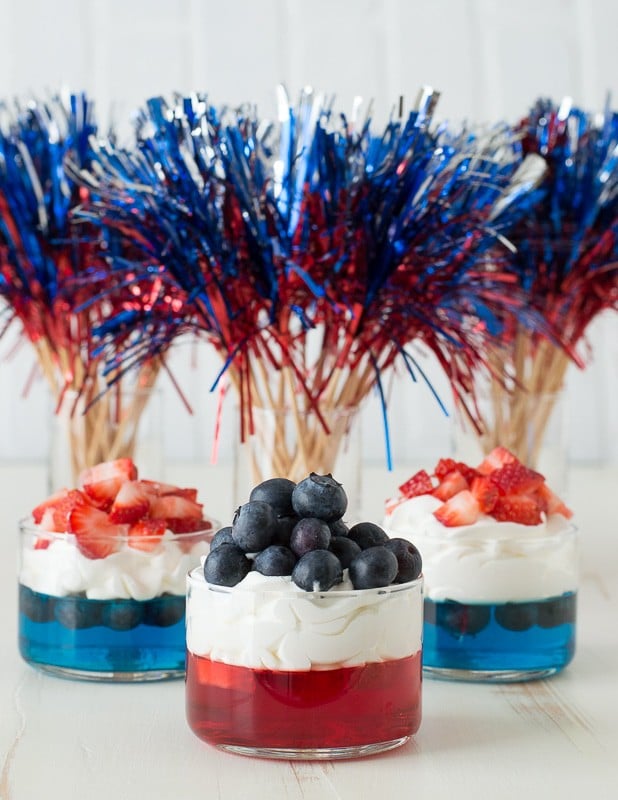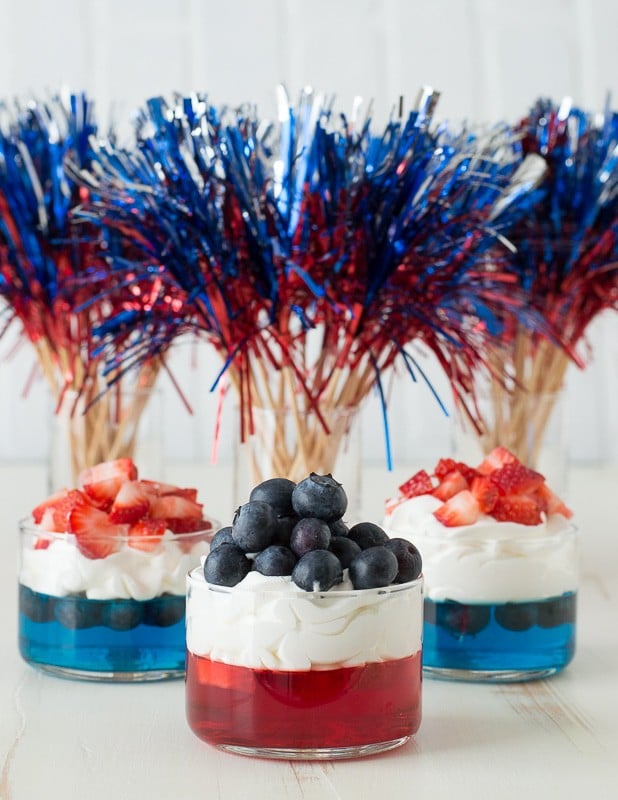 For a step-by-step of how to make this 4th of july jello recipe, watch this short video: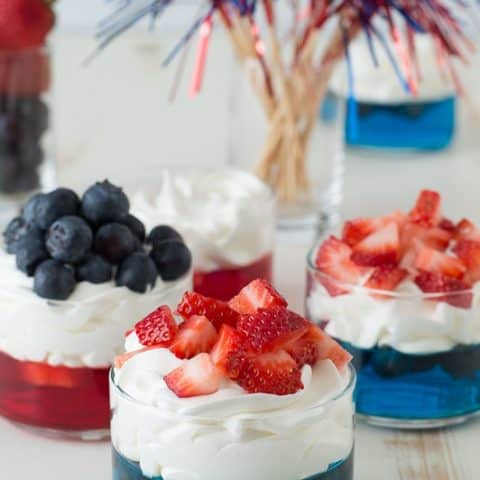 4th of July Fruit & Jello Cups
4th of July Fruit & Jello Cups - these are perfect for the 4th of July, and super easy to make!
Ingredients
Strawberry Jello
Berry Blue Jello
Water
Cool whip
Blueberries
Strawberries, chopped
Instructions
For each packet of jello, prepare using 1 cup of boiling water and 1 cup of cold water. You can easily double this recipe - for example if you only wanted to use strawberry jello, you can prepare both boxes of jello at one time in the small bowl, just double the amount of water added.
Pour the jello powder into a mixing bowl. Add in 1 cup of boiling water, and stir for 1-2 to dissolve the mixture. Add in 1 cup of cold water, and stir to combine. Evenly divide the jello mixture among the glasses or cups. I chose to fill my glasses halfway full. If you're using strawberry jello, place chopped strawberry pieces in each glass. If you're using berry blue jello, place blueberries in each glass.
Place the glasses in the refrigerator to set.
Before serving, place cool whip in a piping bag fit with a piping tip (I used wilton 2D). Pipe a layer of cool whip on top of the jello. Top each jello cup with either chopped strawberries or blueberries.