Easy Banana Chocolate Chip Bread
This is one of those recipes that you can pull together in about 10 minutes.
I like to think of it as the perfect sunday afternoon recipe. I'll be relaxing around the house and I'll decide that I want banana bread. 10 minutes later, the bread is prepared and baking in the oven. And the best part? This banana bread is made in one bowl, so you'll have less dishes to clean!
To be exact you'll probably have one mixing bowl, one spatula, the 1/2 cup, the 1/3 cup, the 1 cup, and the teaspoon to clean. If you're really wanting to cut corners, skip the 1 cup and just use the half cup twice :)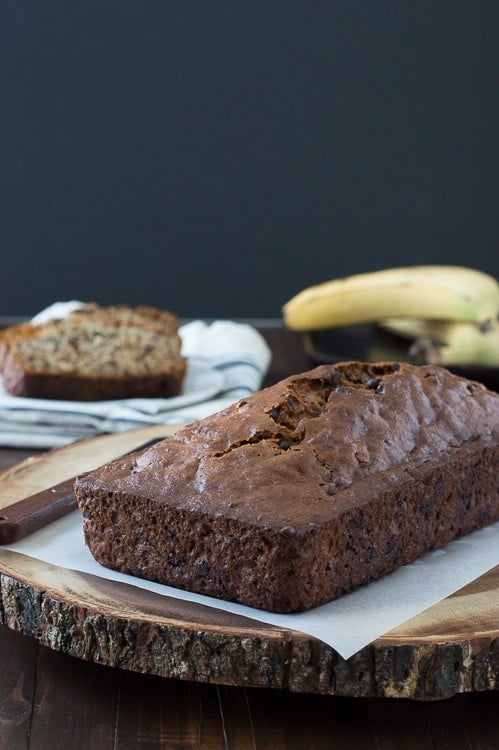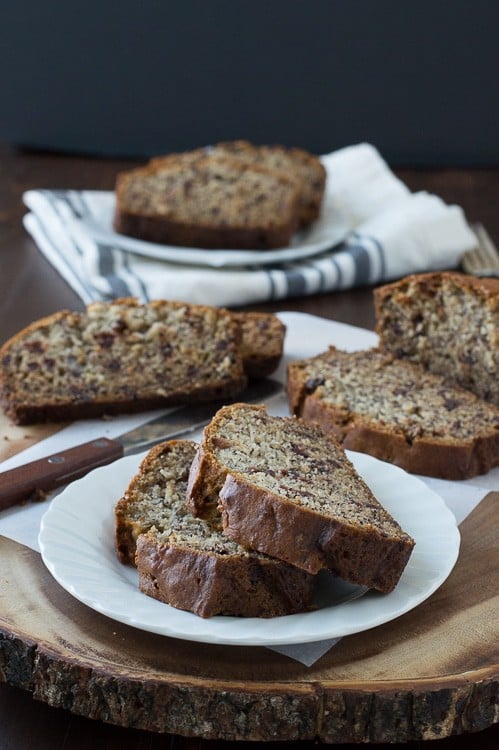 I thought it was pretty standard to put chocolate chips in banana bread. That's how I grew up eating it. But then I met someone who's mind was blown when I told them that I put chocolate chips in my banana bread. It's funny because I don't think I've ever made banana bread without chocolate chips.
That would be like making a PB&J without the jelly, it just doesn't seem right :)
But if you really prefer your banana bread without chocolate chips, you can (gasp!) skip them.
If you're all about the chocolate chips, lets do an air high five! But, I do have this teeny tiny weird obsession about banana bread and chocolate chips. I must use mini chocolate chips.
That way the chips are evenly distributed and I don't end up with a large pile of melted chocolate in one area. If you only have regular chocolate chips on hand, you can give them a quick chop on a cutting board to get them into smaller pieces.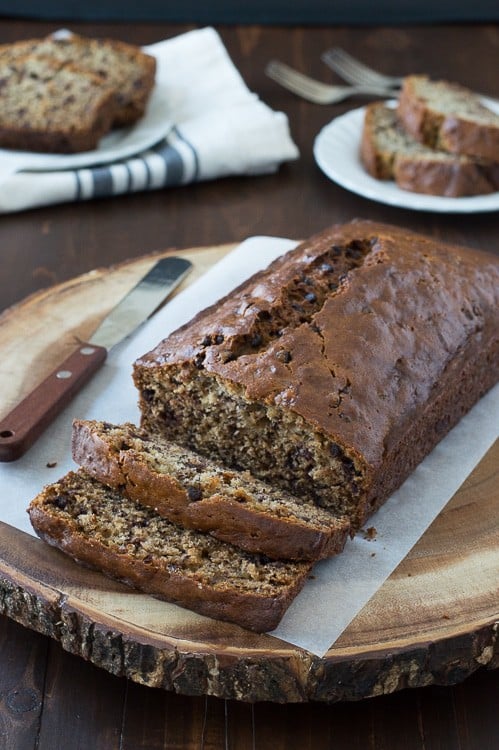 We also love making this recipe into banana bread muffins. That will cut the baking time down to about 15-20 minutes. I think you'll fall in love with how easy this recipe is and how much it reminds you of the bread your mom or Grandma used to bake!
Easy Banana Chocolate Chip Bread
Yield: one loaf
Prep Time: 10 minutes
Cook Time: 55 minutes
Total Time: 1 hour 5 minutes
Ingredients:
3 ripe bananas, smashed
1/3 cup vegetable oil
1/2 cup sugar
1 egg

1 tsp vanilla
1 & 1/2 cups of flour

1 tsp baking soda
dash of salt

1/2 cup mini chocolate chips
Directions:
Preheat the oven to 350 degrees F and lightly spray a loaf pan with non-stick cooking spray.
Smash the bananas in a mixing bowl.
Add in the vegetable oil, stir with a spatula.
Mix in the sugar, egg, and vanilla. Stir to combine with a spatula.
Add in the flour, baking soda and salt, stir together with a spatula.
Lastly, mix in the chocolate chips.
Pour batter into the loaf pan and bake for 50-55 minutes or until a toothpick comes out clean.
Allow the bread to cool in the pan before slicing.
To make this recipe into muffins: Line a muffin pan with muffin liners or if you're not using muffin liners, lightly spray each muffin cup with non-stick cooking spray. Prepare the batter as directed. Evenly divide the batter among the muffin cups and bake at 350 degrees F for 15-20 minutes, or until a tooth pick comes out clean. Yield about 10-12 regular size muffins. View our
recommended baking equipment here
.
Products used to make this recipe
(may include affiliate links)
62 Responses to "Easy Banana Chocolate Chip Bread"

Trackbacks/Pingbacks
Leave a Comment