White Chocolate Champagne Cheesecake Shooters

All that glitters is gold! And all that is gold scream New Year's Eve!! I wish there was more anticipation for NYE, like there is for Christmas. I would totally be okay with creating lots and lots of recipes with gold sprinkles, gold plates, and champagne :)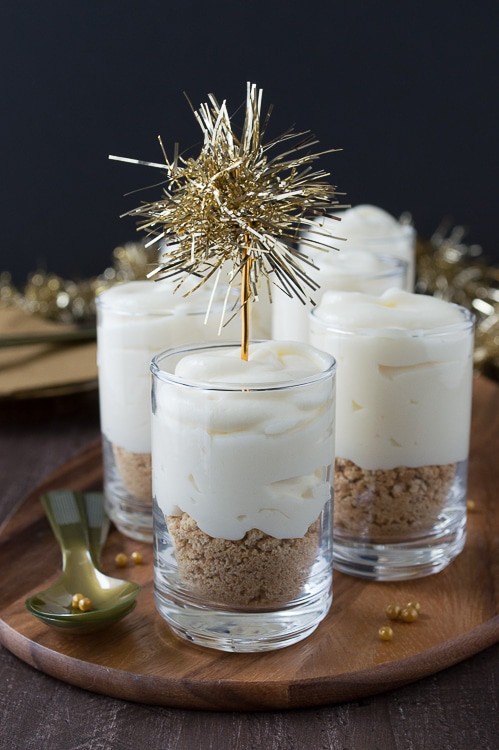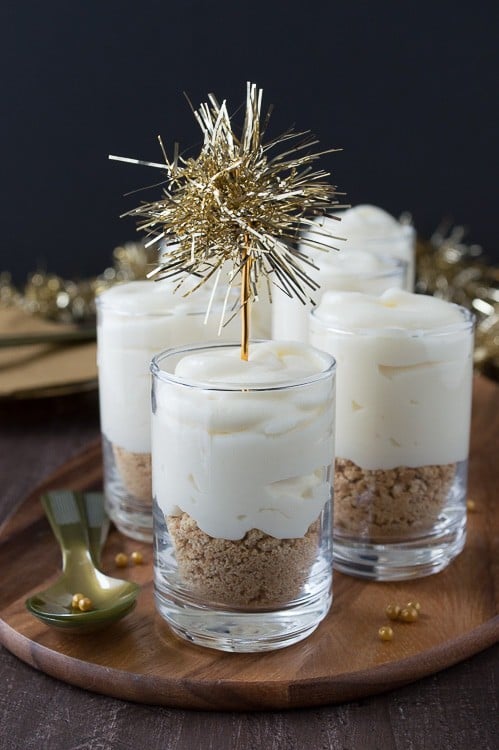 I just loved creating and shooting the NYE recipes I'll be sharing. They are fancy and a bit different from what I've been creating the past few weeks. I think NYE doesn't get the attention it deserves until December 31st, but we're going to squeeze in as many NYE recipes as we can, and hopefully you'll find one you want to make this year!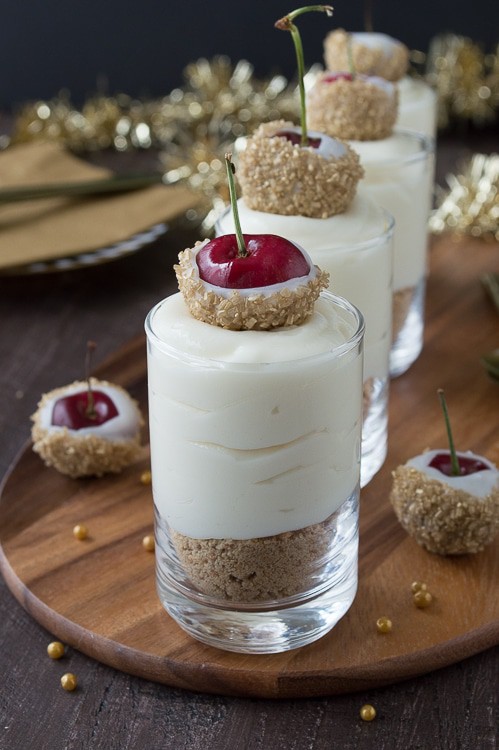 This recipe has everything you could want white chocolate, cheesecake, and champagne! But it doesn't stop there! You can top these dessert shooters with your choice of gold tinsel balls that look like the NYE ball or cherries dipped in white chocolate and covered in gold sprinkles! I know, it's hard to choose between the two!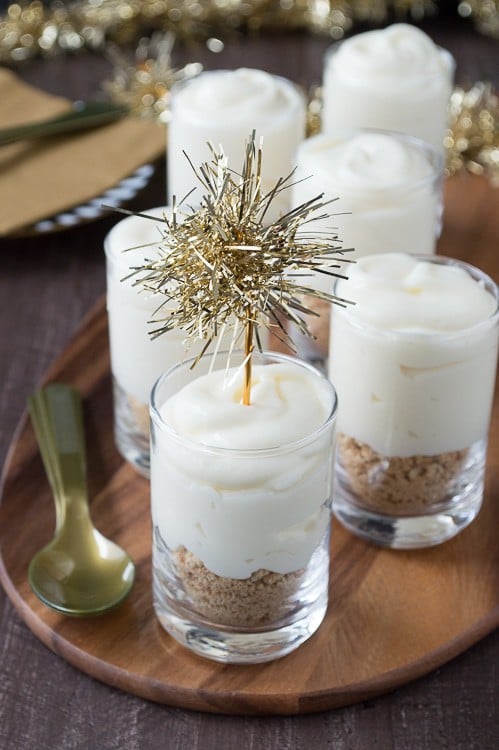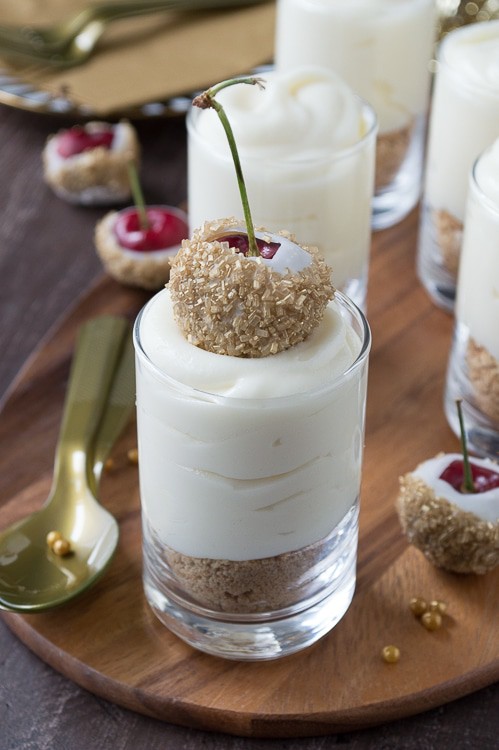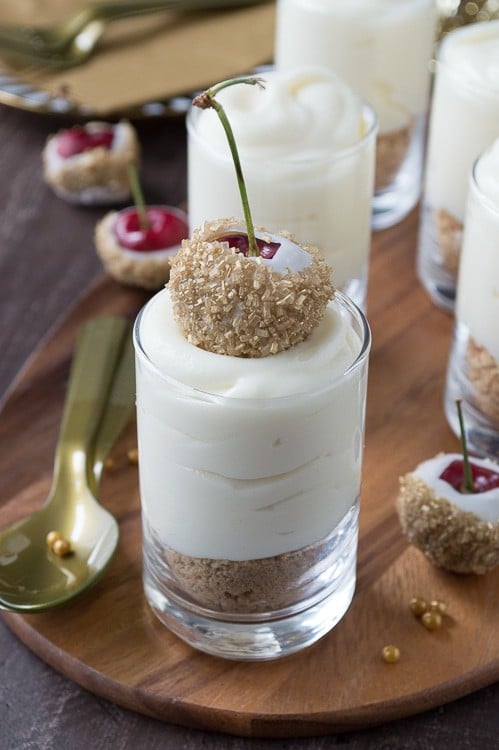 If you want to top these shooters with the gold tinsel balls, you will need a string of gold tinsel (here is a link to hobby lobby to see what I'm talking about) and some gold wire (see here). Measure the gold wire according to how tall your glasses are and cut it. Take a 2-3 inch piece of gold tinsel and wrap it around one end of the gold wire. My tinsel stayed without needing to be taped or glued, but you could secure with tape or hot glue if needed. Make as many as you need, and I suggest that you reuse them from year to year because they are so fun!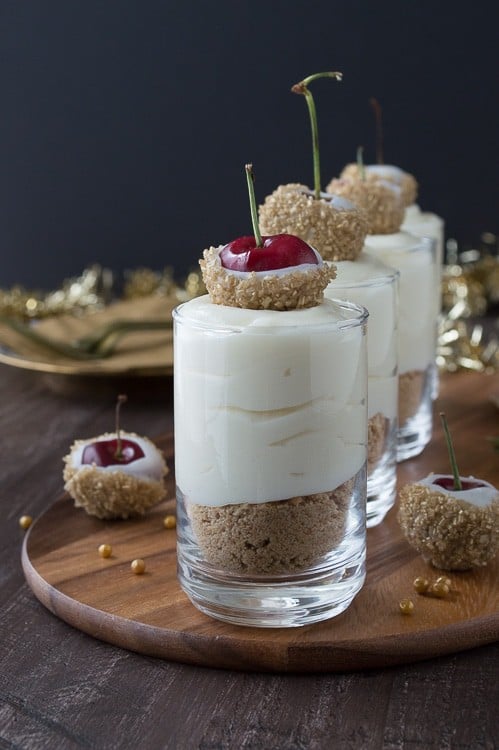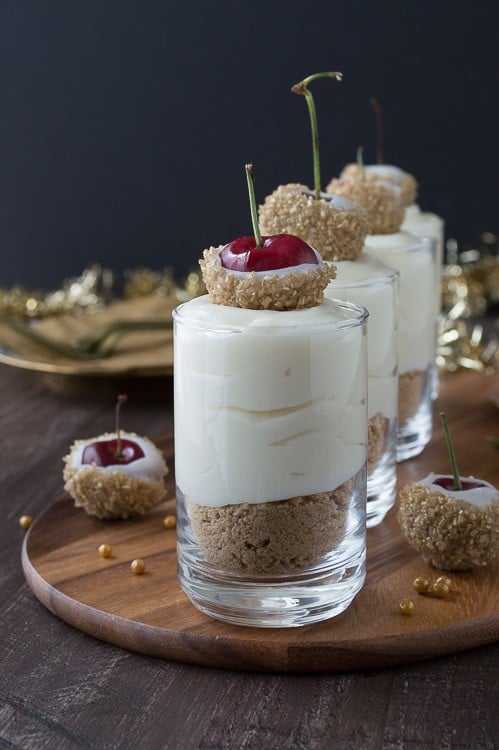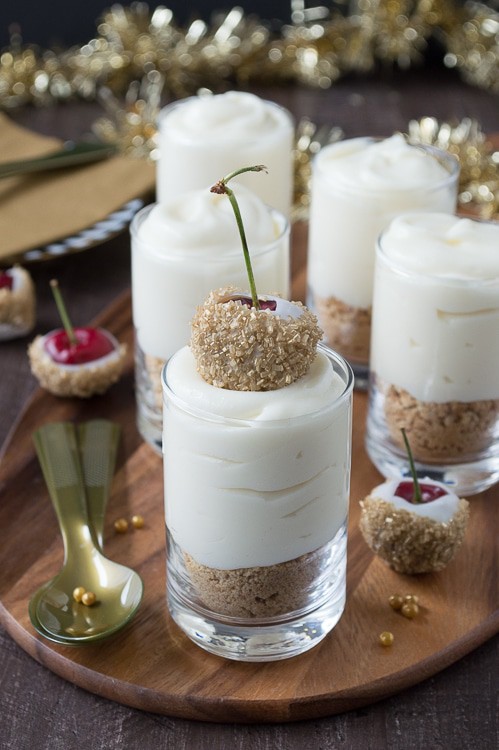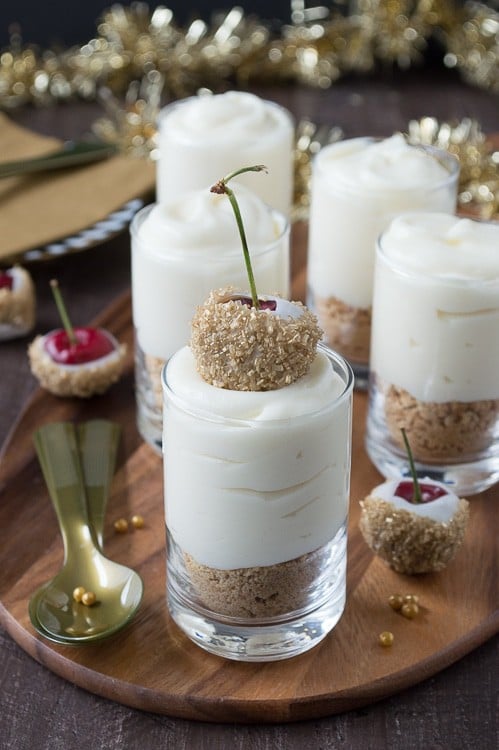 Which would you choose: the gold tinsel balls or the cherries dipped in gold sprinkles?
More top rated New Year's Eve recipes: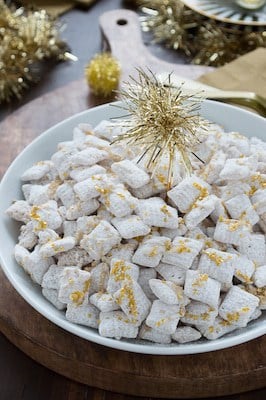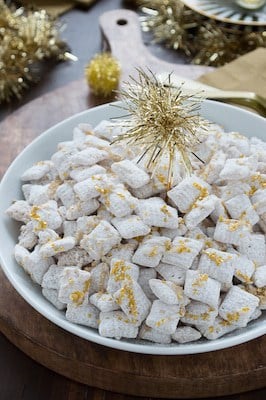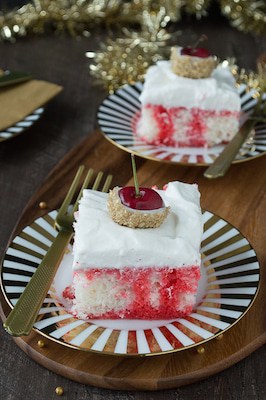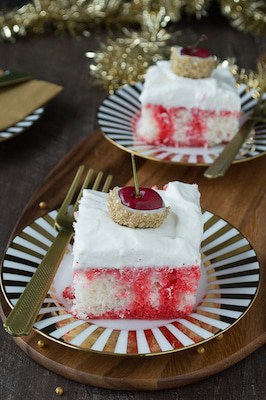 White Chocolate New Year's Eve Puppy Chow and Champagne Cherry Poke Cake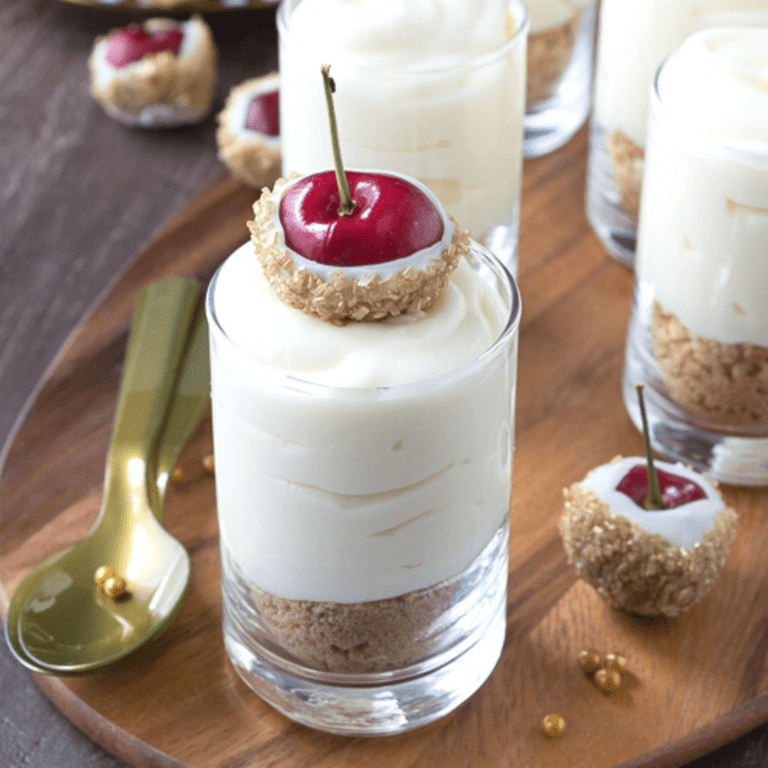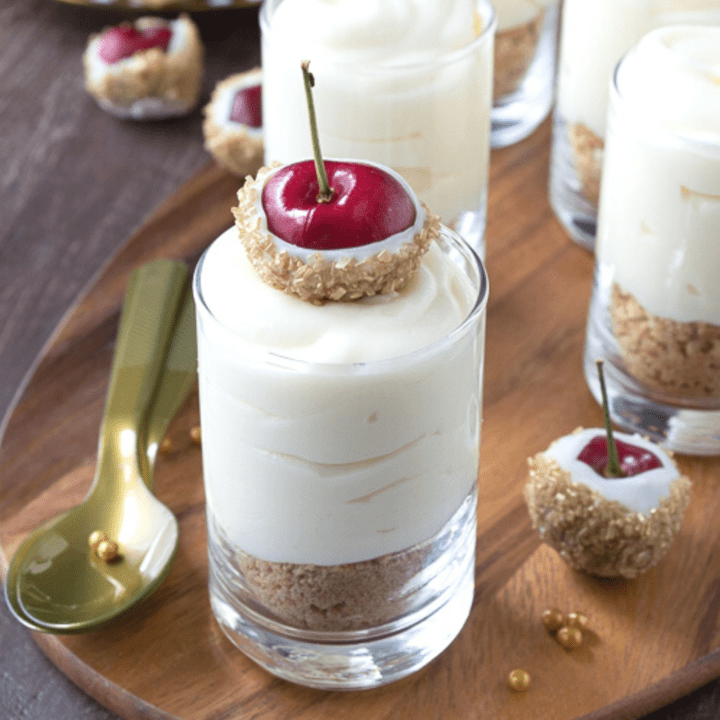 White Chocolate Champagne Cheesecake Shooters
Yield: 6 shooters
Additional Time: 1 hour
Total Time: 1 hour
Ingredients
White Chocolate Champagne Cheesecake
12 oz white chocolate chips
1/2 cup heavy cream
3/4 cup champagne
1 package, 8 oz, cream cheese, softened
graham crackers, 2 sleeves, crushed
Gold Cherries
cherries, one for each shooter
1 square white chocolate candiquik
1/2 tsp vegetable shortening
gold glitter sprinkles
Instructions
Cheesecake
In a small saucepan over low heat, combine the white chocolate chips and heavy cream. Stir occasionally, until the chips are melted and smooth. This may take up to 10 minutes, but keep the heat on low or a little higher than low.
Once melted, remove the pan from the heat and add in the champagne and stir well. Allow it to cool on the counter for 15 minutes.
Once the chocolate is cool, combine the melted chocolate and softened cream cheese in a mixing bowl. Beat using an electric mixer until the mixture is smooth and no lumps remain. Refrigerate for 20 minutes.
Crush the graham crackers. I like to break them up and put them inside 2 ziploc bags (to ensure the crumbs don't get out) and use my rolling pin to crush them. Once crushed, add 2 tbsp of graham cracker crumbs to each glass.
Transfer a little bit of the cheesecake mixture to a piping bag and pipe the cheesecake into each glass. Refill the pipping bag as needed. *You could just spoon the cheesecake into the glasses, but I think piping it makes the filling like a little fancier.
If you plan to serve them later, refrigerate and be sure to cover the glasses with plastic wrap or tin foil. Top each glass with a gold cherry or gold tinsel ball before serving.
Gold Cherries
Pour the gold sprinkles in a very small bowl.
Wash and dry the cherries. Melt 1 square of white chocolate candiquik with vegetable shortening in the microwave for 1 minute on 50% power. Continue to microwave on 50% power in 20 second intervals until the chocolate is melted.
Dip one cherry at a time in the melted chocolate, allowing the excess chocolate to fall back into the bowl.
Then dip each cherry into the bowl with gold sprinkles. You may have to shake or rotate the sprinkles to get them to cover all of the chocolate. Place on a plate to harden.