Turtle S'mores Bites
A twist on classic s'mores -Turtle S'mores Bites! Made with a pecan graham cracker crust, rolo's, and toasted marshmallows! Make them in the oven in less than 20 minutes!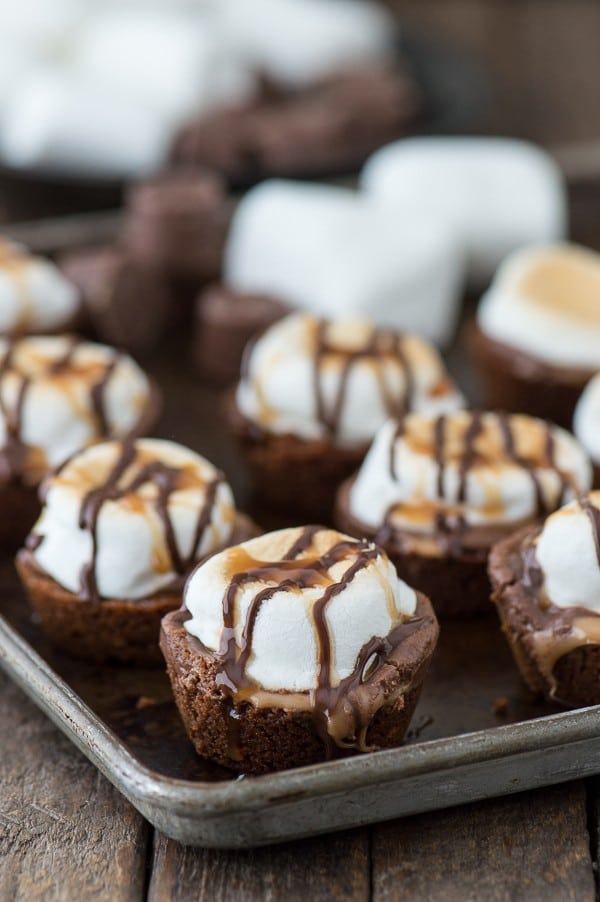 Everyone loves these
s'mores bites
so I decided to make a delicious variation – a very turtle-y variation with chocolate, caramel, and pecans!
The original recipe is very simple and I wanted to keep it that way. No need to complicate a good thing!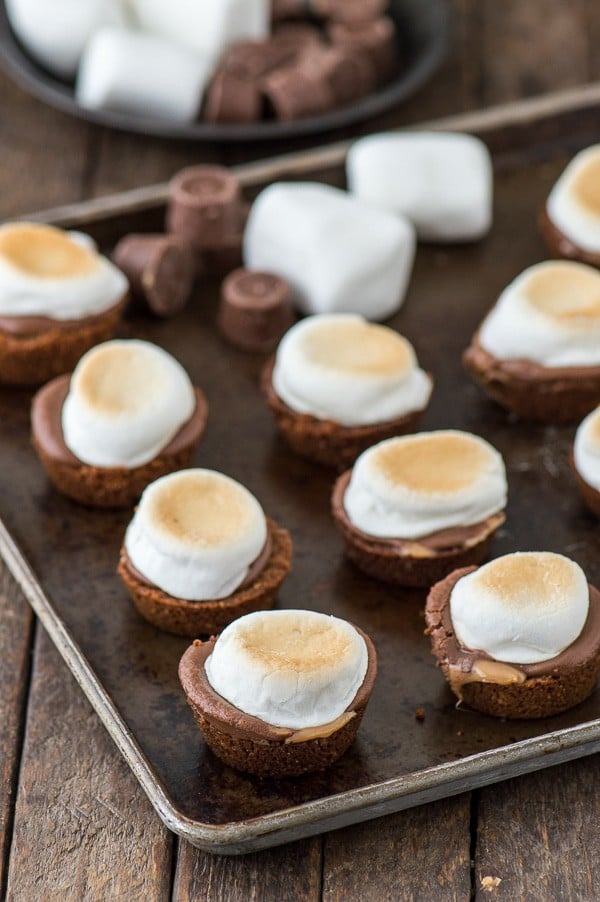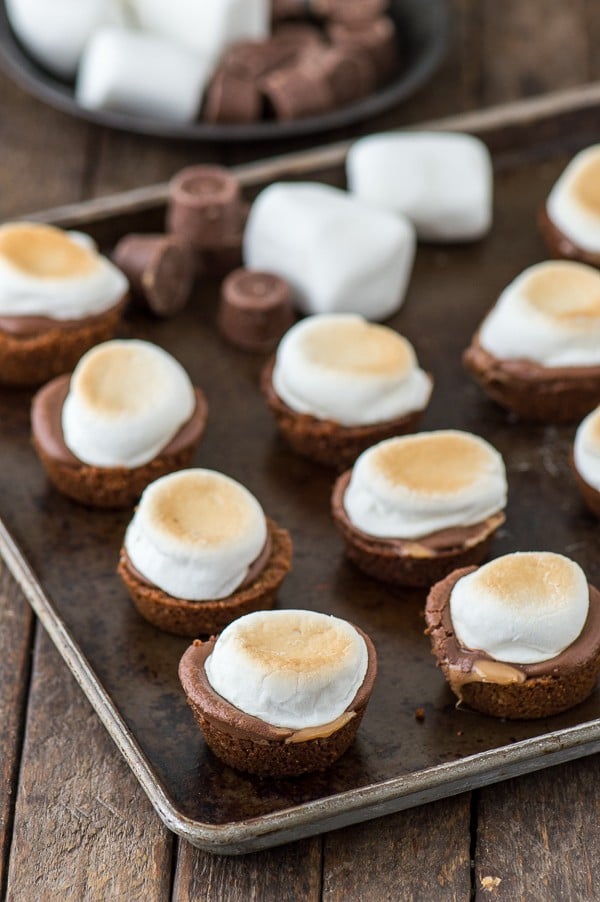 The crust is made out of graham cracker crumbs, finely chopped or pulsed pecans, butter, and powdered sugar.
Instead of using a small hershey's chocolate bar like in the original, this turtle variation calls for rolo's! A little chocolate and a little caramel, it's heavenly.
The turtle s'mores bite is topped with a marshmallow, which I like to toast in the oven using the broiler. Allow the bites to cool, remove them from the mini muffin pan, then my favorite part.. drizzle each with caramel and chocolate!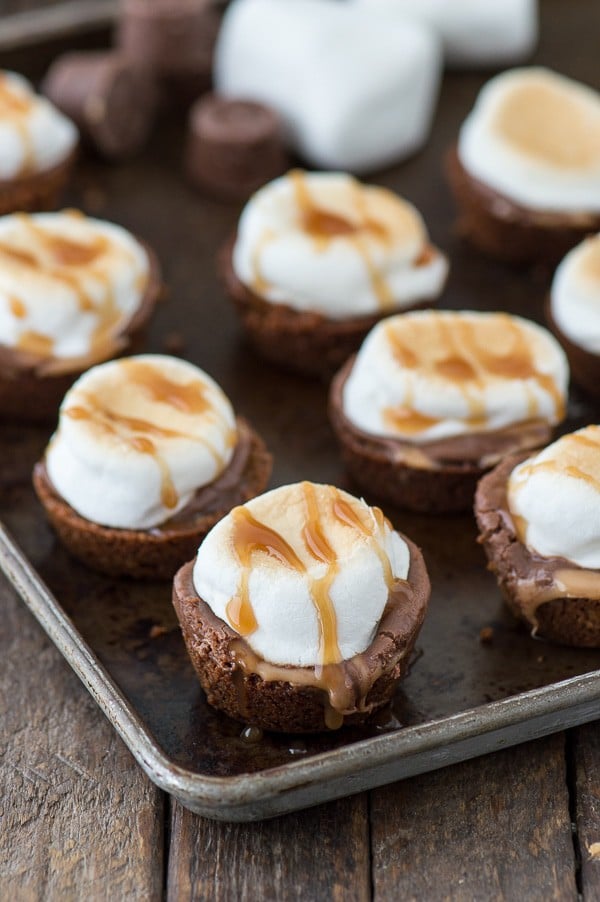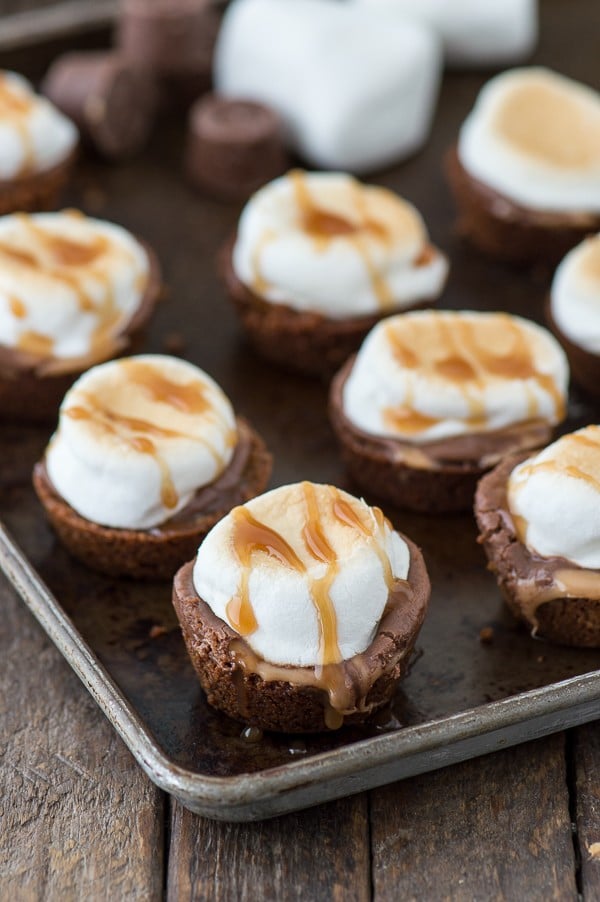 I have a teensy bit of a secret.. in some of these bites I put 2 rolo's. How daring, I know ;) More rolo's = more chocolate and more caramel = ooey gooey-ness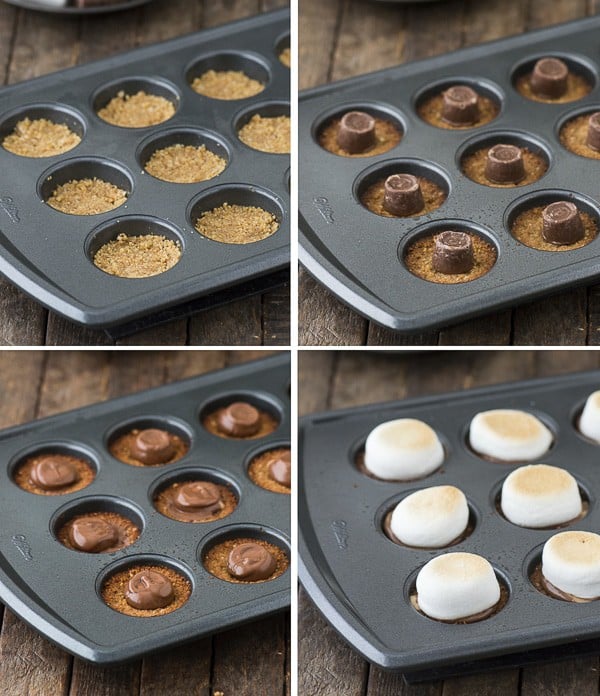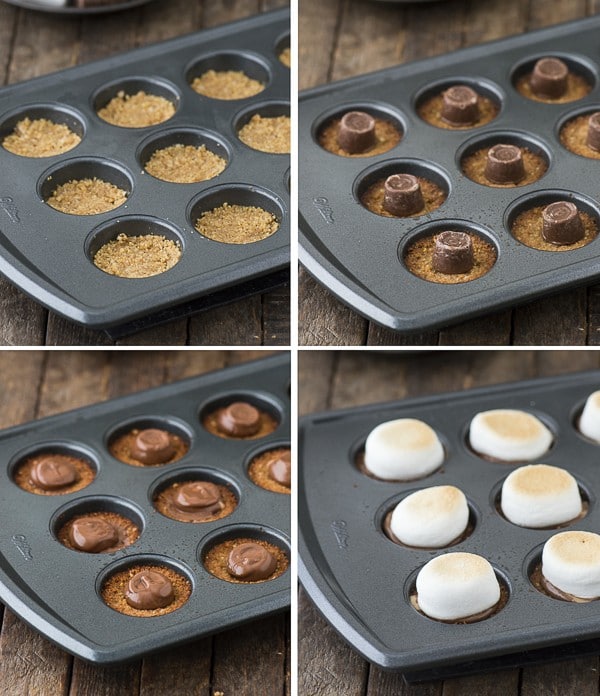 A few tips for successful turtle s'mores bites:
-make sure the pecans are chopped very fine. If they aren't, the crust won't hold together as well. I used a blender to pulse mine into almost what I would call pecan dust.
-I absolutely love squeeze bottles for drizzling chocolate, caramel, peanut butter, etc. They are easy to use and give you great control over drizzling. I'll put a link below to the squeeze bottles I have. However, if you don't have a squeeze bottle on hand, I'd place the chocolate inside a sandwich bag and cut a very tiny hole on one corner.
-my secret to cutting marshmallows in half without ending up with a sticky mess is to place a pair of scissors in cold water before cutting them! Re-dip the scissors as needed to keep the stickiness at bay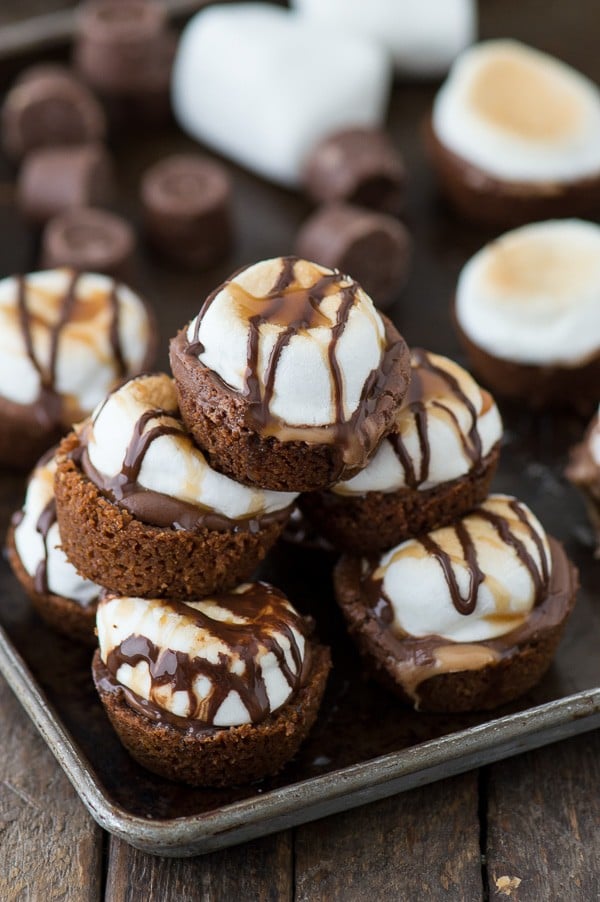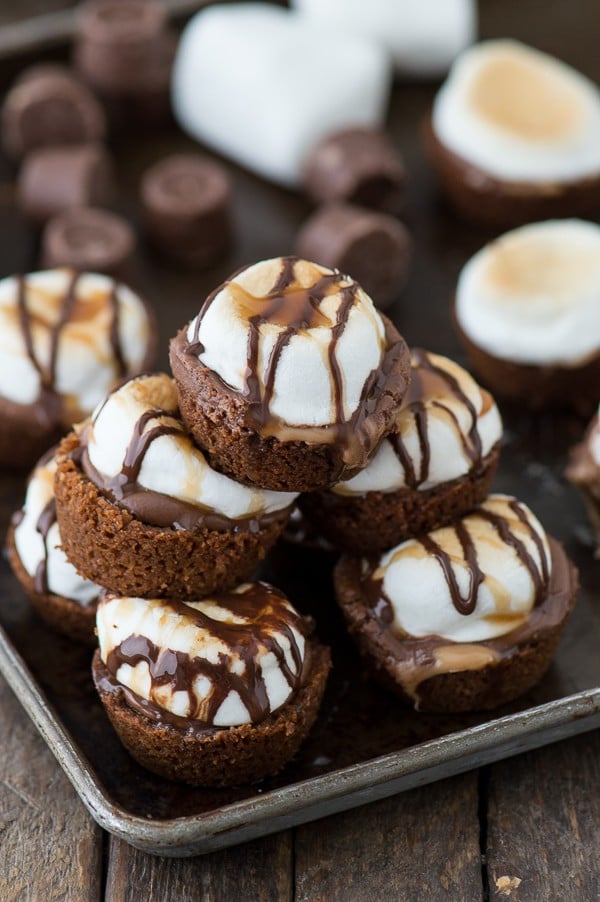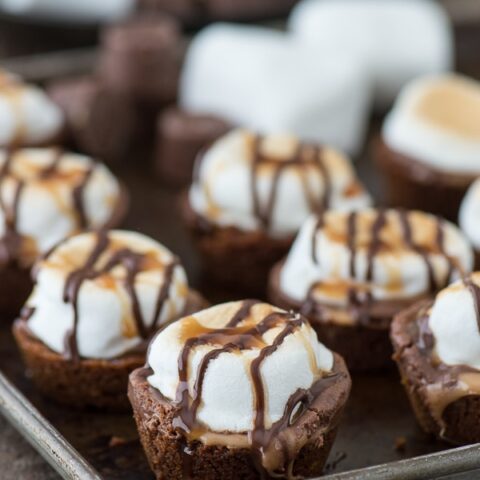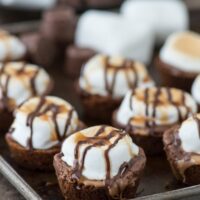 Turtle S'mores Bites
Yield: 24 bites
Additional Time: 30 minutes
Total Time: 30 minutes
Ingredients
2 tbsp pecans, chopped finely or pulsed in blender
1 & 1/2 cup graham cracker crumbs, very fine
1/3 cup powdered sugar
1 stick butter, melted
24 Rolo's (chocolate covered caramels)
12 large marshmallows, cut in half
Chocolate and caramel for drizzling
Instructions
Preheat the oven to 350°F.
Finely chop or pulse the pecans in a blender.
Finely crush the graham crackers into crumbs using a blender.
Combine the pecans, graham cracker crumbs, powdered sugar and melted butter into a medium bowl.
Lightly spray a 24 cup mini muffin pan with non-stick cooking spray.
Evenly divide the crumb mixture into each cup, pressing down firmly to form shallow cups.
Bake for 6-9 minutes or until edges are bubbling.
While that's baking, unwrap 24 Rolo's. Also cut the marshmallows in half using a scissors that has been sitting in cold water.
Remove the pan from the oven and place one (or two!) Rolo's into each cup. Return to the oven for 2-4 minutes to melt the chocolate and caramel.
Remove the pan from the oven and place one marshmallow half, cut-side down, into each cup.
Return to oven for 2-4 minutes or until marshmallows are just slightly softened.
If you'd like the tops to be brown, turn the oven to broil, and broil the turtle s'mores bites for 1-2 minutes.
Cool on a cooling rack for 5-10 minutes before carefully removing them from the pan.
Drizzle with chocolate and caramel.
Notes
Do not freeze. Preferably eat within 3 days of making, but best served same day they are made.