Fudgy Brownies
These fudgy brownies are a family favorite and loaded with 3 kinds of chocolate. Not your average brownies, these are dense, thick, and super chocolatey!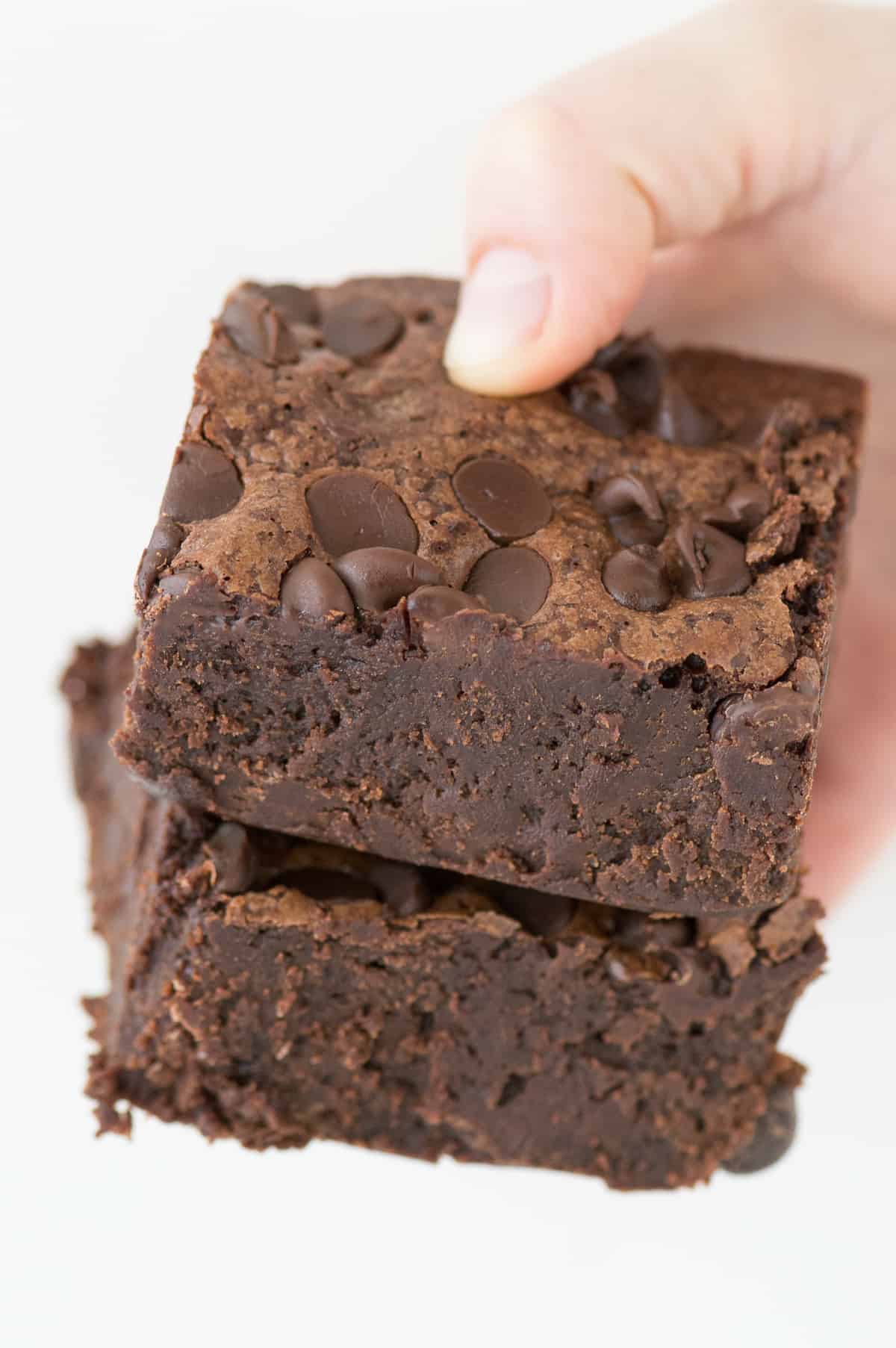 I am having no trouble getting rid of all the desserts I make now that Ryan has about 80 coworkers in his hallway.
Some of his coworkers know about my food blog, but he's been leaving my business card with the dessert, which is so sweet of him. Most people just take some dessert and they are on their merry way, but Ryan has had a few people come to his office to say how much they enjoyed whatever I sent him with.
One of his coworkers came to his office before 9am and mentioned how good these brownies are. People, I'm all for brownies.. but brownies before 9am?! I'm not sure I can do that! But I'm so glad everyone liked them!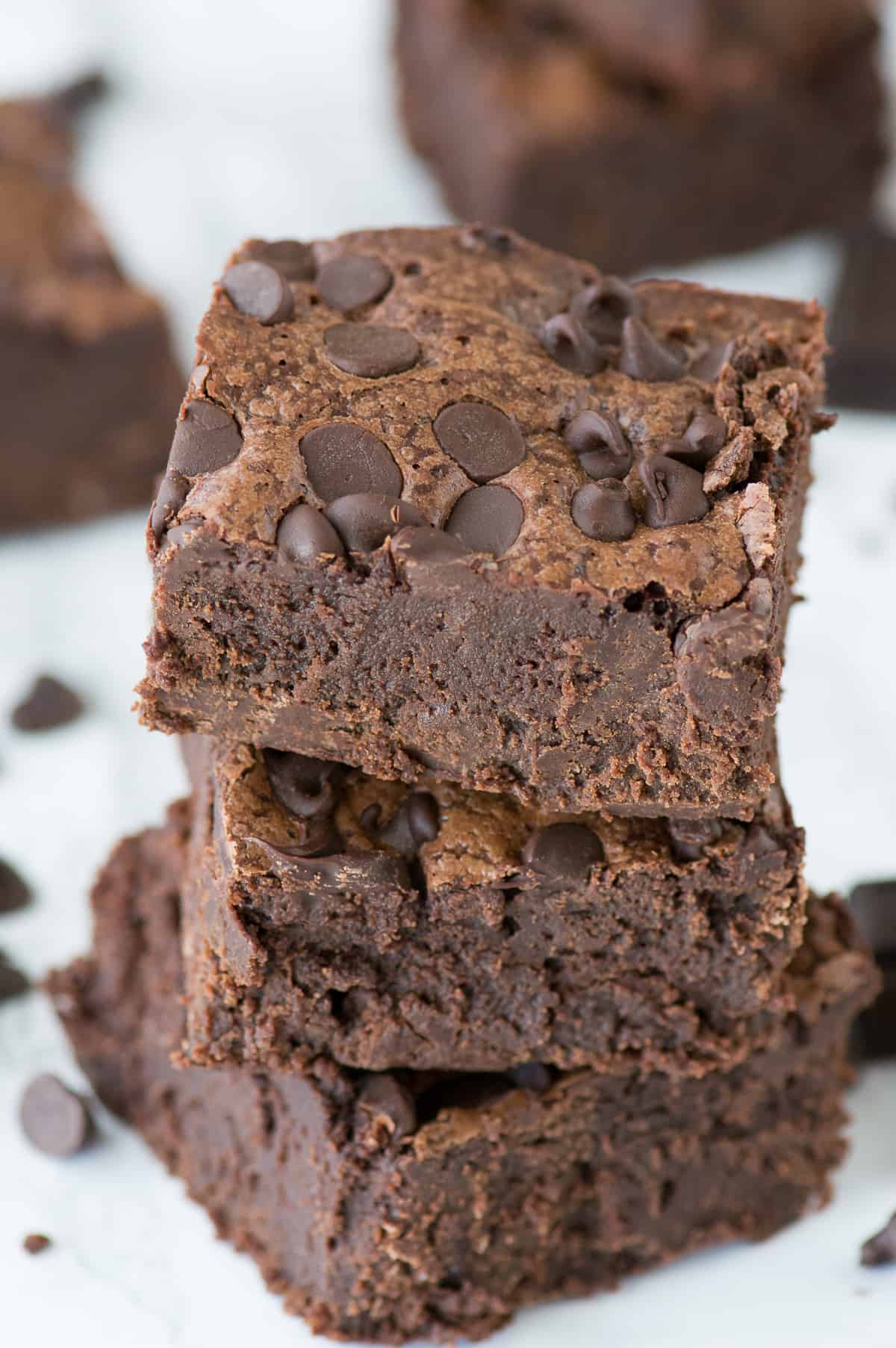 A warning about these brownies: they are SUPER fudgy! And chocolatey, and dense.
They are definitely not cake like, and not like a box of brownie mix, they really are fudgy. I don't mind a fudgy brownie, heck, I like any kind of brownie! But I want to make sure you know what you are getting yourself into – prepare for a chocolate explosion!
I prefer to keep these brownies in an air tight container on the counter. You can eat them at room temperature, warmed up, and I certainly recommend scooping up a bowl of ice cream!
This would also be a great recipe for swapping add ins. For example, you could swap some of the chocolate chips for peanut butter chips, white chocolate chips, butterscotch chips, M&Ms, peanut butter cups, andes mints, oh I am reaallly brainstorming now!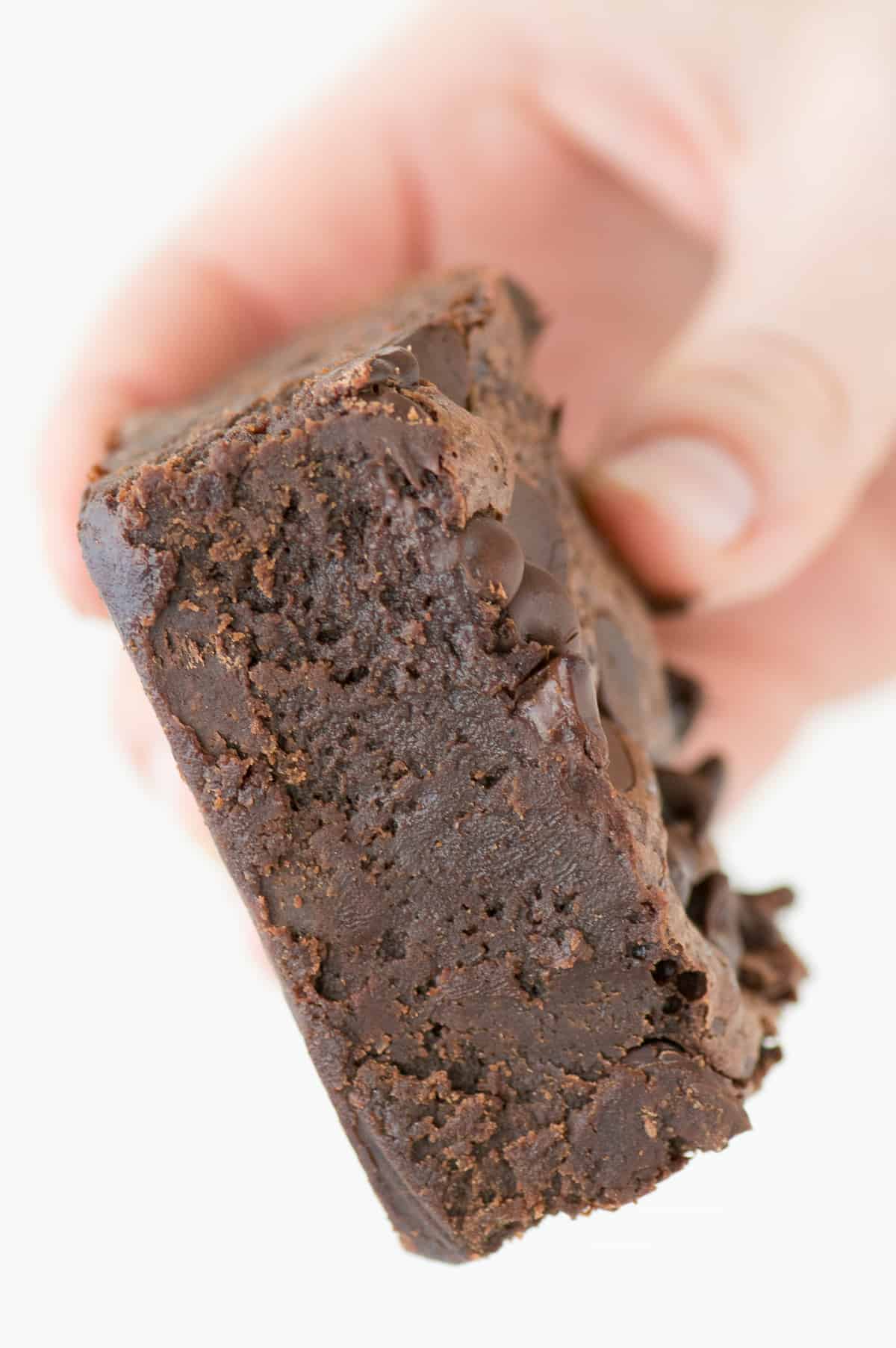 How To Make Fudgy Brownies
The key to fudgy brownies is to start by melting chocolate and butter together. This helps the brownies have a higher fat to flour ratio. Our recipe doesn't include a leavening agent (like baking soda or powder), so the brownies stay fudgy instead of cakey.
3 Types of Chocolate
Our recipe calls for 3 kinds of chocolate – unsweetened baking chocolate, unsweetened cocoa powder, and semi-sweet chocolate chips.
If you've ever had a piece of unsweetened baking chocolate you know that it's bitter because there is no added sugar, it's just cocoa solids and cocoa butter, but this type of chocolate adds a strong chocolate flavor to baked goods.
Unsweetened cocoa powder is similar to baking chocolate in that it's bitter and flavorful because there isn't any sugar, butter, or milk to dilute the flavor. I read that if cocoa powder was sweetened, that would pretty much be like hot cocoa mix.
And last there's semi-sweet chocolate chips, because what's a brownie without some chocolate chips? You could also use milk or dark chips.
Total Time Required
1 minute to combine the dry ingredients
5 minutes to melt the butter and chocolate
5 minutes to whip the eggs
5 minutes to combine the rest of the ingredients
45-55 minutes to bake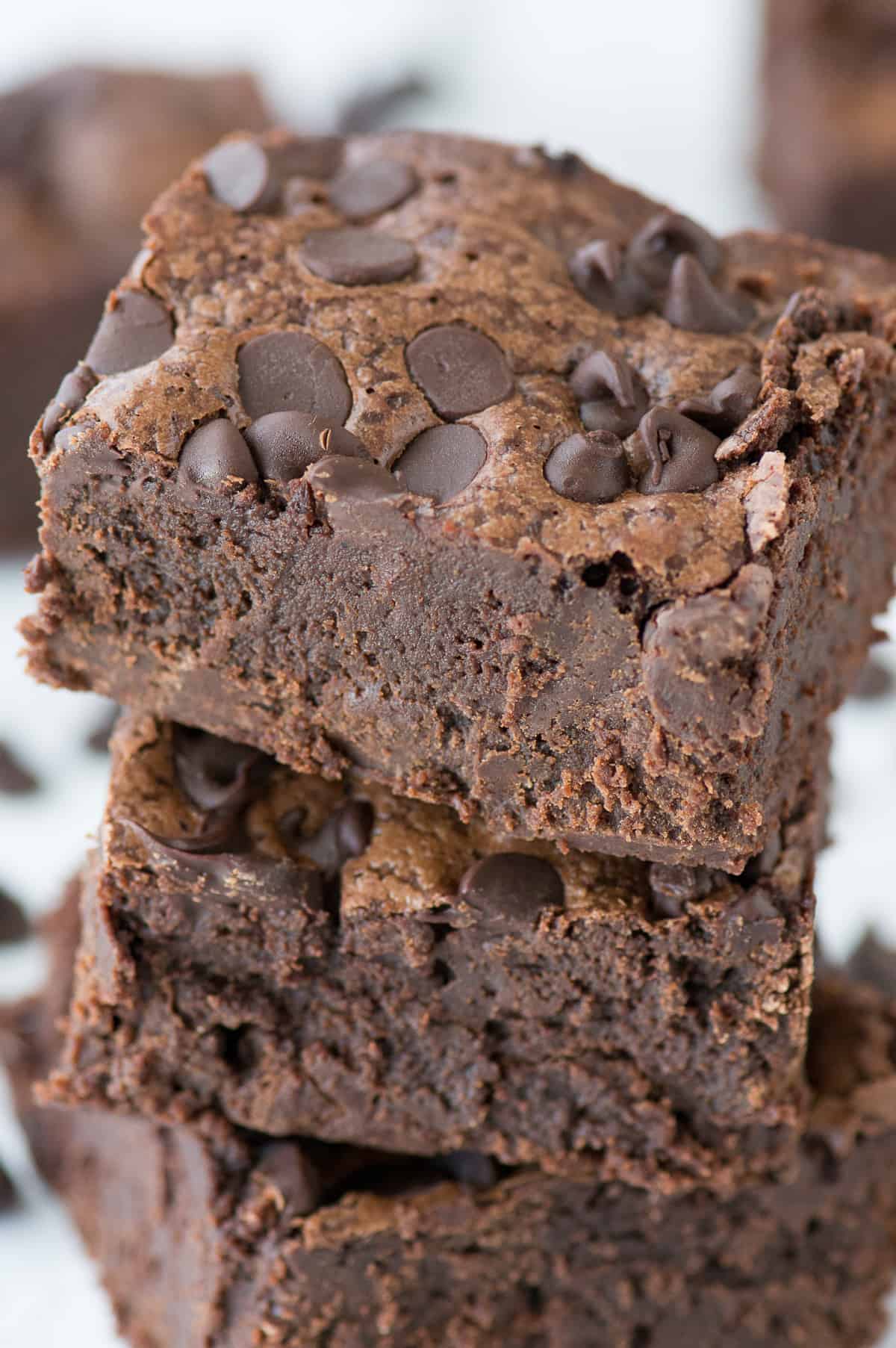 Tips
Beat the eggs for 5 minutes. This is crucial! The eggs need to be pale and frothy.
Mix in the dry ingredients with a spatula to prevent over-mixing.
Allow the brownies to cool before cutting.
More Brownie Recipes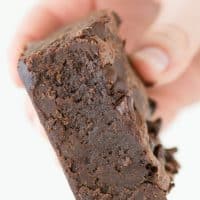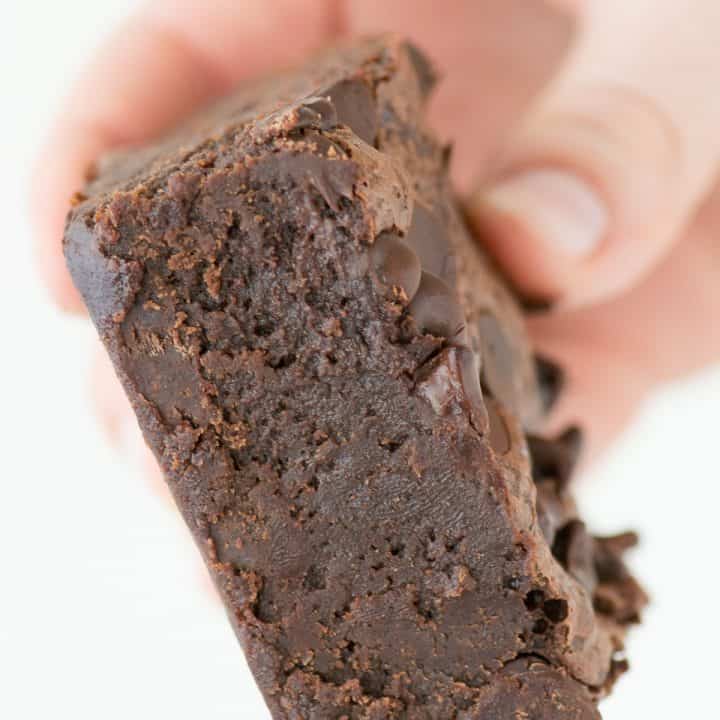 Fudgy Brownies
These fudgy brownies are a family favorite and loaded with 3 kinds of chocolate. Not your average brownies, these are dense and super chocolatey!
Ingredients
½

cup

all purpose flour

½

tsp

salt

2

tbsp

unsweetened natural cocoa powder

6

oz

unsweetened baking chocolate

,

chopped

2

sticks

unsalted butter, chopped

,

1 cup

4

large

eggs

1 ½

cups

granulated sugar

1

tbsp

vanilla extract

1

cup

semi-sweet chocolate chips

,

divided
Instructions
Preheat the oven to 300º F.

In a small mixing bowl combine the flour, salt and cocoa powder. Set aside.

In a medium pot over low heat combine the unsweetened baking chocolate and butter, stir occasionally until smooth. Remove from the heat.

In a large mixing bowl, beat the eggs with an electric mixer for 5 minutes, until the eggs are pale and frothy. Add in the sugar, mix again. Add in the vanilla extract and melted chocolate mixture, mix to combine.

Gradually add the dry ingredients, mixing with a spatula until just combined (some flour streaks are okay!). Add 1/2 cup of chocolate chips to the batter, mix.

Spray an 8 x 8 inch square pan with non-stick cooking spray, pour the batter into the pan. Top the batter with the rest of the chocolate chips. Bake for 45-55 minutes or until a toothpick inserted in the center comes out clean. Allow the brownies to cool completely before cutting. Store the brownies in an air tight container on the counter.
Calories:
437
kcal
,
Carbohydrates:
42
g
,
Protein:
6
g
,
Fat:
30
g
,
Saturated Fat:
18
g
,
Polyunsaturated Fat:
1
g
,
Monounsaturated Fat:
9
g
,
Trans Fat:
1
g
,
Cholesterol:
103
mg
,
Sodium:
128
mg
,
Potassium:
251
mg
,
Fiber:
4
g
,
Sugar:
31
g
,
Vitamin A:
568
IU
,
Calcium:
40
mg
,
Iron:
4
mg