Strawberry Cheesecake Donuts
Strawberry Cheesecake Donuts with strawberries in the batter, topped with a cream cheese glaze and strawberry coulis.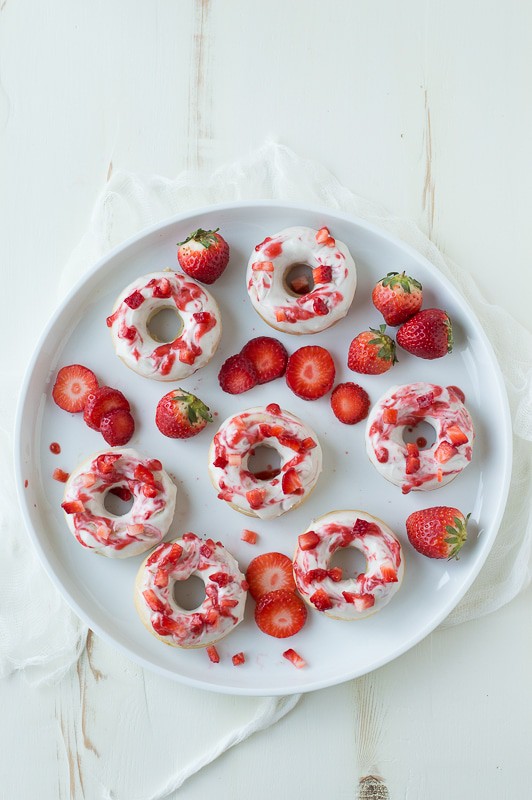 Do'nut you know that we LOVE donuts? :) See all of our donut recipes here.
If you saw our out of the kitchen post from March – you most likely saw a picture of me throwing donuts into the garbage. Well.. that was the first and second batch of strawberry donuts. They were mushy and under cooked. A big thumbs down. And it was an even bigger bummer because I used gluten free flour to make them. Precious gluten free flour that costs an arm and a leg.. in the garbage. Such is the life of a food blogger.
Enter strawberry donuts round three… Perfection. Not mushy. Not thick. These ones certainly did not end up in the garbage. They ended up in our bellies.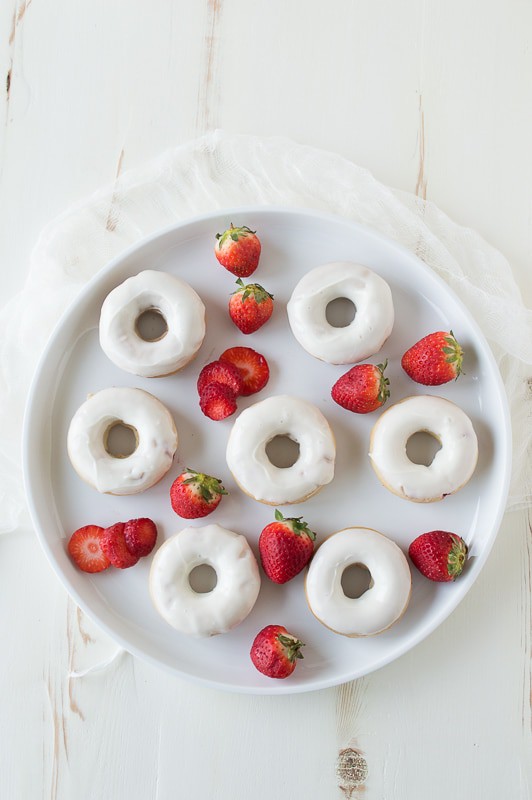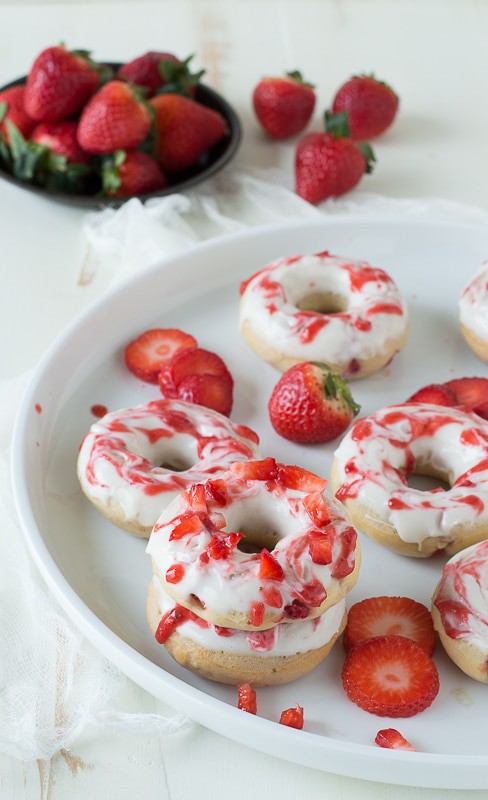 When I shoot on Saturdays, Ryan is usually working too, but at lab, so I'll text him a picture of whatever I'm working on. When I sent him a picture of these donuts, he replied saying, "they are a work of art!" Awww, sweet Ryan. I usually don't think of my own photography as a piece of art, but my heart is smitten with the first photo. I want to get it printed and hang it in my kitchen, but I think that could cause a lot of unnecessary donut cravings :)
These strawberry donuts are topped with a cream cheese glaze and then drizzled with strawberry coulis. Coulis, pronounced koo-lee, is a fancy word for sauce. I learned it from watching Kids Baking Championship. It's a tv show on the Food Network. Since all of the kids on the show are better bakers than I am, they've actually inspired me to try and make new things. Corny? Maybe, but I wish I had their baking skills when I was 12!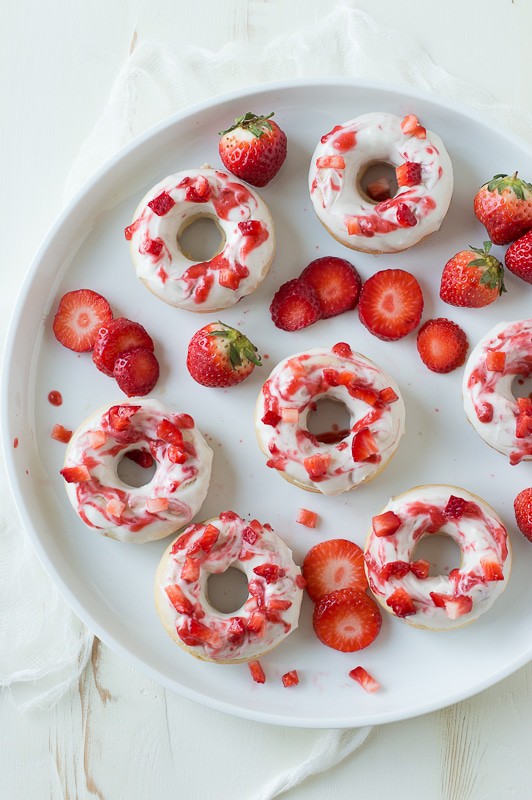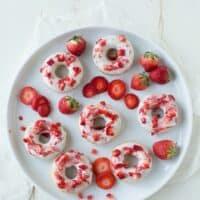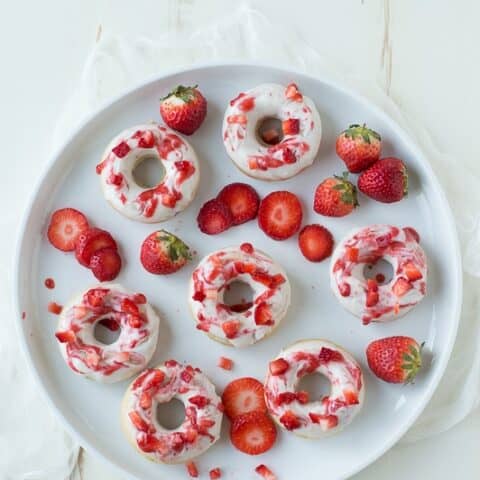 Strawberry Cheesecake Donuts
Strawberry Cheesecake Donuts with strawberries in the batter, topped with a cream cheese glaze and strawberry coulis.
Ingredients
Donuts
1

cup

flour

3

tbsp

sugar

1

tsp

baking powder

½

tsp

salt

3

tbsp

milk

1

large

egg

½

tsp

vanilla

3

tbsp

vegetable/canola oil

¼

cup

chopped strawberries
Cream Cheese Glaze
4

oz

cream cheese

,

softened

1

cup

powdered sugar

1-2

tsp

milk
Strawberry Coulis
⅓

cup

diced

,

small strawberries

1

tbsp

sugar

squirt of lemon juice
Instructions
Donuts
Preheat the oven to 325 degrees F. Spray a donut pan with cooking spray, use a paper towel to lightly spread/remove excess spray.

In a large bowl combine the flour, sugar, baking powder and salt.

In another bowl combine the milk, egg, vanilla, and oil until well blended. Stir the dry ingredients into the wet ingredients, mix just until combined.

Add in the chopped strawberries and gently fold to combine.

Spoon the batter into the donut pan.

Bake the donuts for 10 minutes, or until a toothpick comes out clean. Remove from the oven and let the donuts sit in the pan for 10 minutes before moving them to a wire rack to cool.

Remove the donuts from the donut pan and place them on a wire rack to cool.
Cream Cheese Glaze
Place the softened cream cheese into a mixing bowl and beat with an electric mixer until fluffy, about 1-2 minutes.

Add in the powdered sugar and milk, and stir by hand or use the electric mixer to combine. The glaze will be ready when no powdered sugar streaks remain. The glaze will be more runny.

For dipping the donuts, it's easiest to transfer the cream cheese glaze to a small shallow dish, but large enough to fit a donut in. While hanging onto the edges of the donut, dip each donut into the cream cheese and pause for a few seconds while the donut is upside down to allow to excess to fall off. Place the donuts on a cooling rack.
Strawberry Coulis
Combine the strawberries, sugar, and lemon juice in a small pot over medium-high heat on the stove. The mixture will kind of bubble and juice will begin to form. Continue to stir while mashing up the strawberries with a spatula. Cook until the sauce thickens, about 5-7 minutes. Drizzle the strawberry coulis on top of each donut. If desired, top each donut with a few chopped strawberries.
Calories:
336
kcal
,
Carbohydrates:
46
g
,
Protein:
6
g
,
Fat:
15
g
,
Saturated Fat:
5
g
,
Polyunsaturated Fat:
4
g
,
Monounsaturated Fat:
4
g
,
Trans Fat:
1
g
,
Cholesterol:
56
mg
,
Sodium:
424
mg
,
Potassium:
81
mg
,
Fiber:
1
g
,
Sugar:
29
g
,
Vitamin A:
313
IU
,
Vitamin C:
4
mg
,
Calcium:
76
mg
,
Iron:
1
mg