Sangria Cupcakes
These Sangria Cupcakes are made with fruit in the batter and a red wine buttercream, these are the perfect party cupcakes! They can be a great start to a relaxing weekend. Let me tell you a little bit about how my week has gone…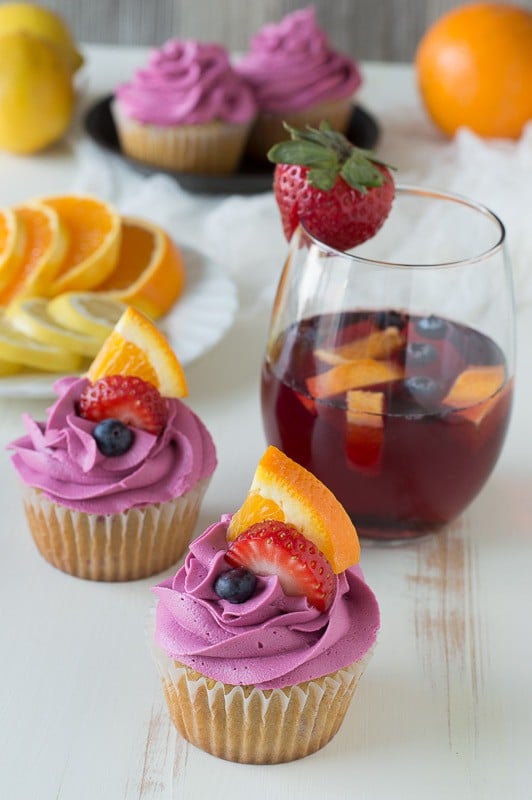 So.. I recently found out that someone was making fraudulent purchases on my credit card.
Eeekkk! It gives me all sorts of bad, icky feelings. I found out last Sunday night, which was terrible, because no one is at work on a Sunday evening. And what makes it even worse – it's been happening for FOUR MONTHS!
Don't give me a lecture on how I should be checking over my statements better and yadada. I've already realized that. Instead, I'm going to share a little public service announcement because I hope this never happens to you!
I was scammed by Vistaprint – a big brand name photo and card printing company. And it all started when I ordered our Christmas cards back in November. Ordering the cards went smoothly and when they showed up at our house, they looked great. No problems. I didn't think I had any lasting ties to Vistaprint, it was a one time order.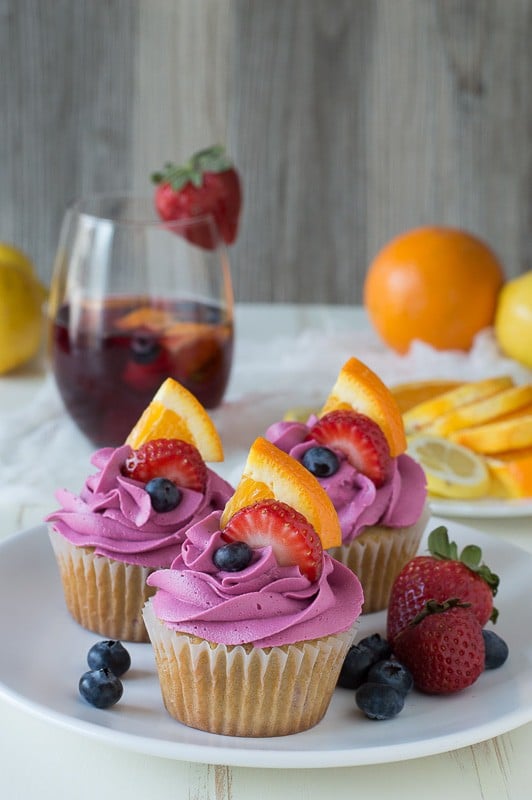 Sunday night I was looking at my credit card account because I was getting ready to pay the bill and I saw a charge from Vistaprint for $9.99, which was posted on my account 2 days prior. So, I was trying to think if I ordered something, then I asked Ryan if he ordered something. Nope. We started looking back through my previous statements, and sure enough on the 2nd of every month Vistaprint was charging me $9.99. Ryan immediately googled 'vistaprint scam' and tons of information came up. Apparently, I am not the first person this has happened to. We were reading through people's horror stories about how Vistaprint had been charging them anywhere from 9.99-14.95 a month and that people had no luck in getting their money reimbursed. Great.
I don't know what kind of scam they used – some online reviews were saying that if they offer you a coupon code and you use it, in the very fine print in a separate link, it says something about a monthly membership fee.
I decided I didn't even want to mess around with Vistaprint, so I went straight to my credit card company instead. And you know what they told me? That I had to wait until they charged me in June before I could fail a complaint. WHAT?! No way jose. I am not going to let them charge me again.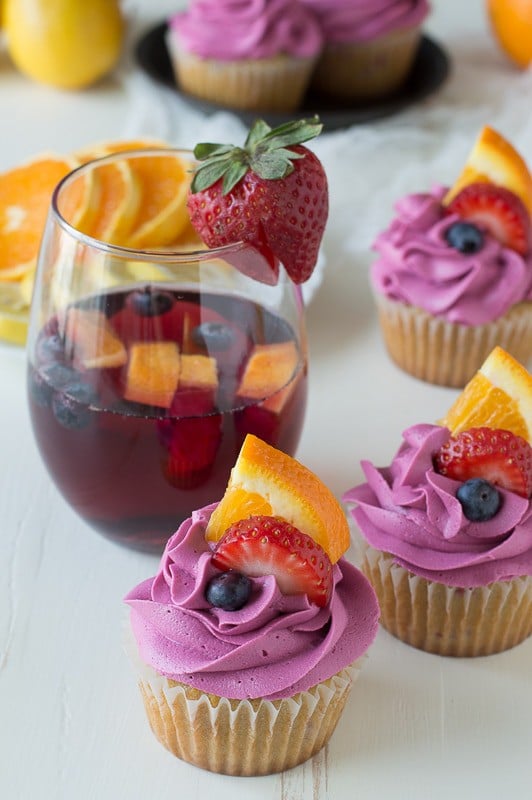 Why I Need These These Sangria Cupcakes
There was only one thing left I could do, so I called Vistaprint. The customer representative said that they couldn't see any other charges on my account other than my christmas cards. Um, hello! You're charging me 9.99 every month! A long conservation went by, the rep was trying to be helpful, but it was ridiculous. I finally asked, do you even have a monthly membership where people can sign up and pay 9.99 a month? She said no. Then what am I even being charged for?!
I had to file a complaint and then their complaint department had to decide if my complaint was valid. It was approved. I was told my money would be reimbursed.. but I am still waiting for it. Hence, I need about 12 sangria cupcakes.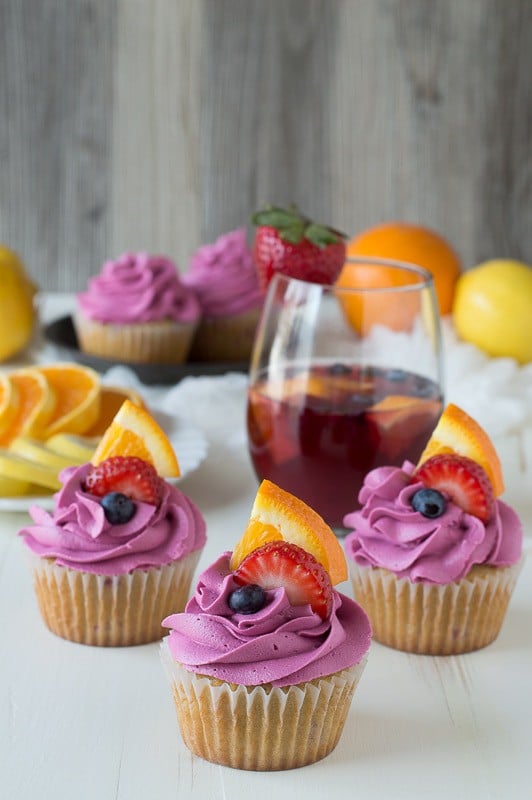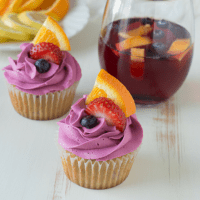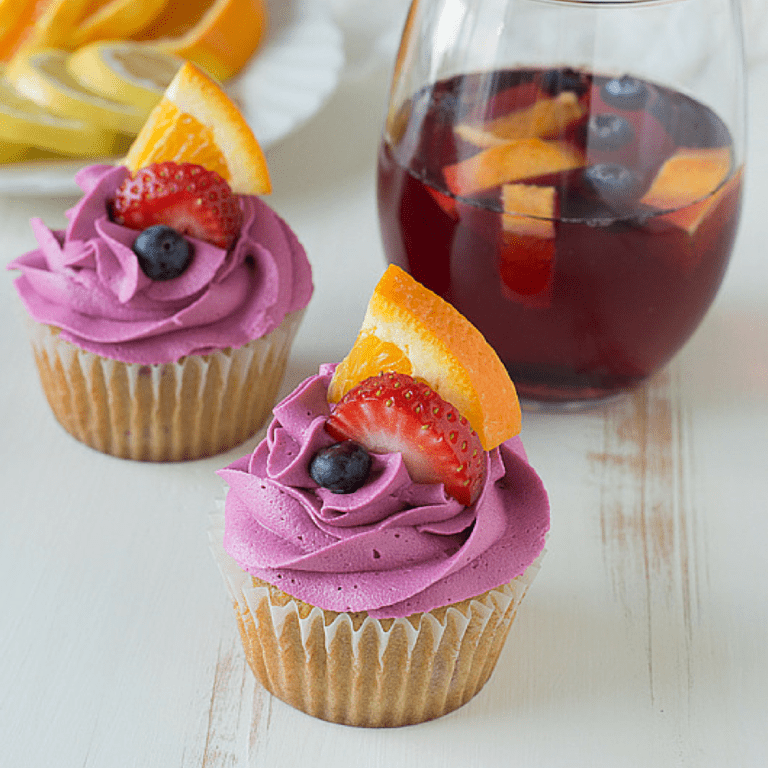 Sangria Cupcakes
These Sangria Cupcakes are made with fruit in the batter and a red wine buttercream, these are the perfect party cupcakes! They can be a great start to a relaxing weekend. 
Print
Pin
Rate
Servings: 12 cupcakes
Ingredients
Cupcakes
1 ½ cups flour
1 tsp baking powder
½ tsp baking soda
¼ tsp salt
¾ cup sugar
2 large eggs
1 stick butter melted (1/2 cup)
1 ½ tsp vanilla
½ cup sour cream
½ cup chopped strawberries or a little less
zest of 1 orange
¼ cup blueberries or diced apples
To top the cupcakes
Orange slices strawberry slices and blueberries.
Buttercream
1 stick butter room temperature (1/2 cup)
½ cup vegetable shortening
2-2.5 cups powdered sugar
½ tsp vanilla
Red Wine Syrup
2 cups red wine
¼ cup sugar
Instructions
Cupcakes
Preheat the oven to 350º F.

In a small bowl combine the flour, baking powder, baking soda, salt and sugar. Whisk and set aside.

In a mixing bowl combine the eggs, melted butter, vanilla, and sour cream until combined.

Slowly add half of the flour mixture to the liquid, stirring to combine. Repeat with the rest of the flour mixture. Add in the chopped strawberries, orange zest, and blueberries or chopped apples. Stir to mix.

Divide the batter among a muffin pan lined with muffin liners, fill the muffin cups to be about a little more than 1/2 full.

Bake for 14-16 minutes or until a tooth pick inserted in the center comes out clean.
Red Wine Syrup
In a saucepan over medium-high heat, bring the red wine and sugar to a boil. Once the wine starts to boil, reduce the heat to medium-low, you still want to see the wine boiling, just not a rigorous boil. Allow the wine to thicken and reduce, about 20-30 minutes. Remove the saucepan from the heat and allow it to cool at remove temperature. This is where the wine will begin to thicken. Once the wine has cooled to room temperature, you can place the saucepan in the fridge to help speed on the cooling process.
Buttercream
In a mixing bowl, combine the room temperature butter and shortening, beat using an electric mixer for 2 minutes, until light and fluffy.

Add 1/4 cup of the red wine syrup and mix. You can add more later, but you do not want the buttercream to become too wet.

Begin to add in the powdered sugar, about 1 cup at a time. Slowly beat the mixture until the powered sugar is incorporated. Continue this process, adding enough powdered sugar to make sure the frosting isn't too wet. You can add more red wine syrup at this time if you'd like the flavor to be stronger. You may have to add more powdered sugar too.

Transfer a portion of the frosting to a large ziploc bag or piping bag fit with a piping tip. Push or squeeze the frosting down, getting rid of any air pockets. If using a ziploc bag, cut half one corner, making a hole between the size of a dime and a penny.

Begin to pipe the frosting onto a cupcake, starting with the outside edge and working your way into the center of the cupcake, progressively stacking the frosting as you go around in circles. I used a wilton 2D piping tip.

Top each cupcake with a small orange slice, strawberry slice and one blueberry.
Nutrition
Calories: 480kcal | Carbohydrates: 51g | Protein: 3g | Fat: 27g | Saturated Fat: 13g | Polyunsaturated Fat: 3g | Monounsaturated Fat: 8g | Trans Fat: 2g | Cholesterol: 76mg | Sodium: 286mg | Potassium: 110mg | Fiber: 1g | Sugar: 37g | Vitamin A: 579IU | Vitamin C: 4mg | Calcium: 47mg | Iron: 1mg
On the Better Business Bureau website, Vistaprint has 131 reviews and 96 of them are negative. I guess I won't be ordering christmas cards from Vistaprint next year.