Pumpkin Donuts
Simple, baked pumpkin spice donuts that taste and LOOK like pumpkins! These donuts that look like pumpkins add a lot of fall flare!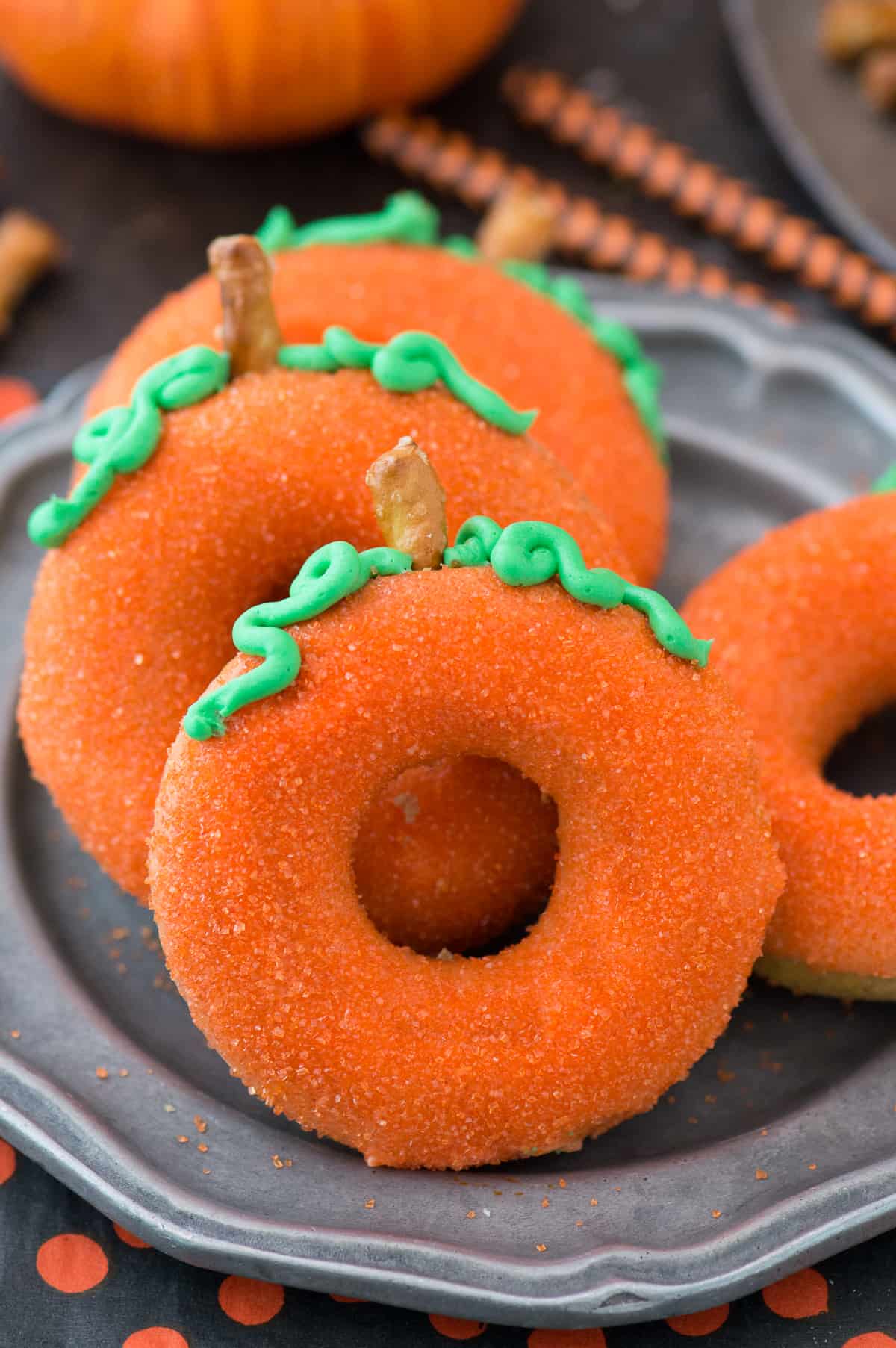 Not only do these donuts look like pumpkins, they taste like pumpkin too with the addition of pumpkin puree and pumpkin pie spice creamer in the batter!
We haven't gone to the pumpkin patch yet.. I'm not quite sure I'm allowed to buy any more fall decorations since I already bought 10 fake pumpkins at Michaels.
I was torn between buying real pumpkins or fake pumpkins to put on our porch.
I sort of decided that I would rather invest in fake pumpkins that I can use every year than spend $50+ on real pumpkins that will go bad and may be eaten by squirrels.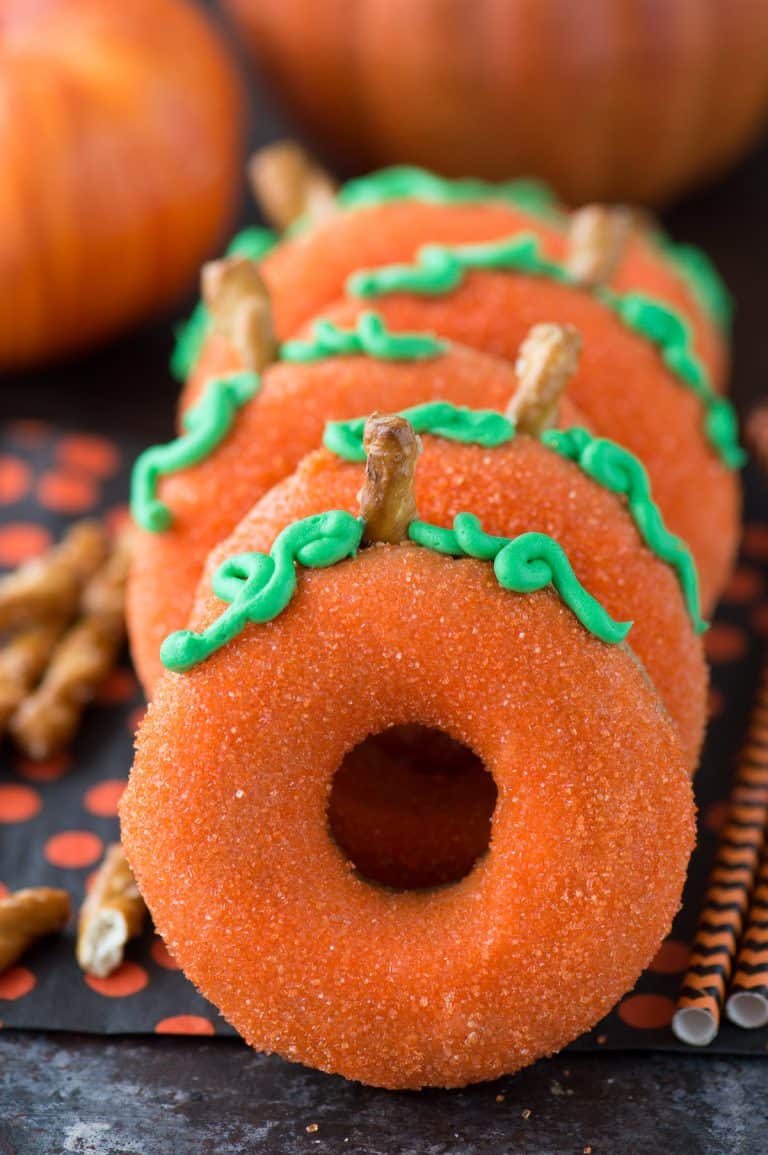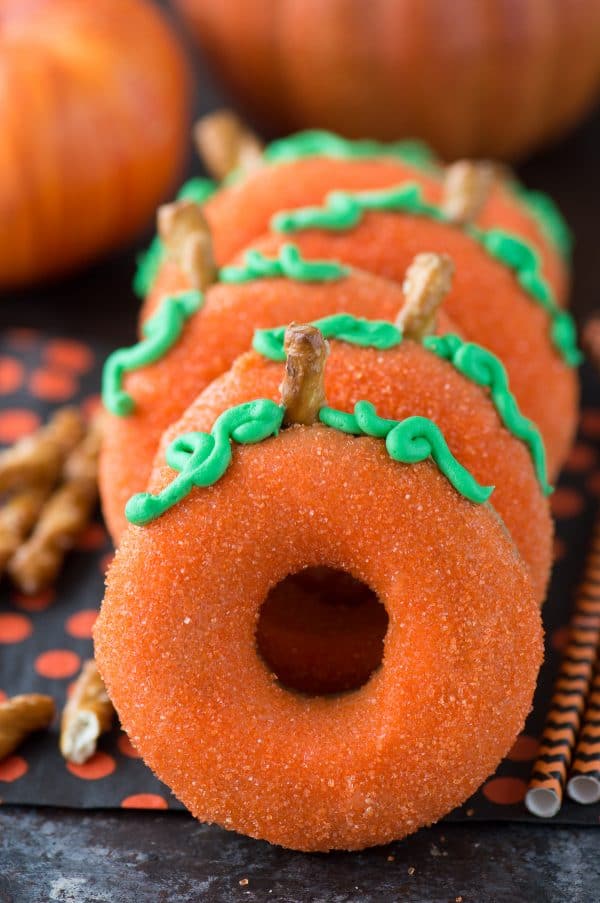 But I've having some issues with the fake pumpkins falling off the porch when a big gust of wind blows in. AND now that real pumpkins are available pretty much everywhere, I really do want some real ones :)
I just want alllll the pumpkins, but my decorating budget is spent.
Good thing edible pumpkins don't fall under the fall decoration category!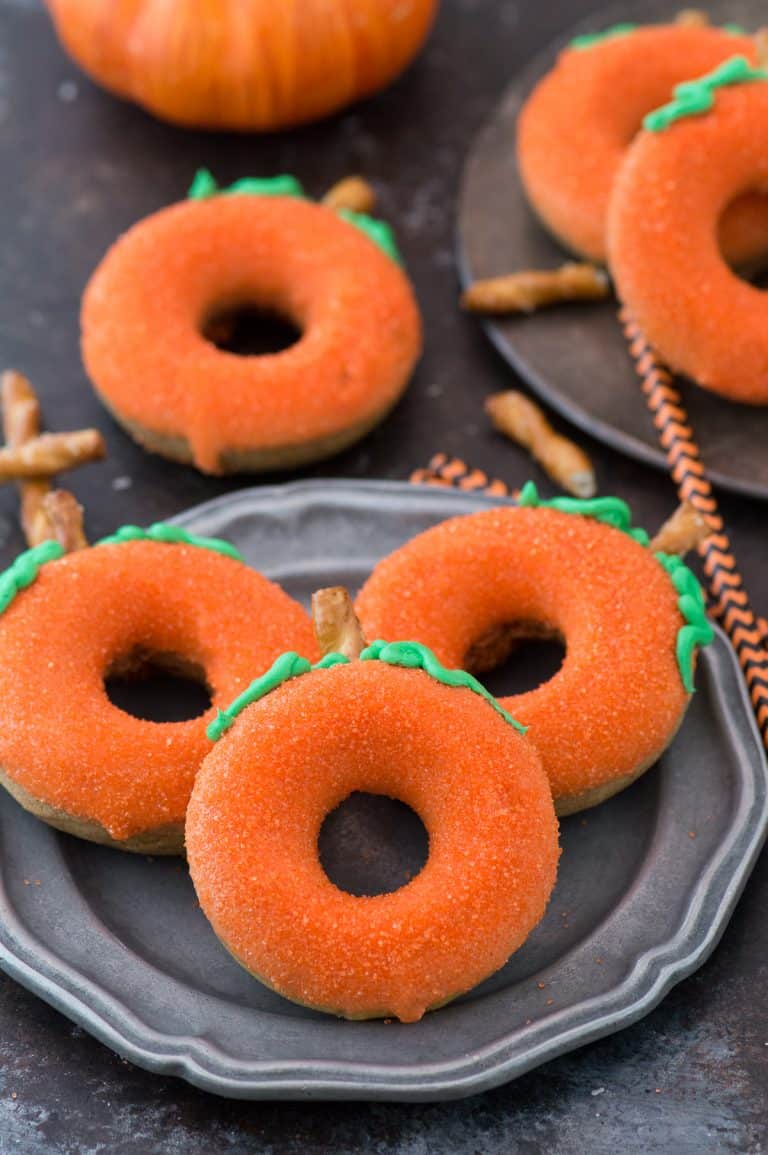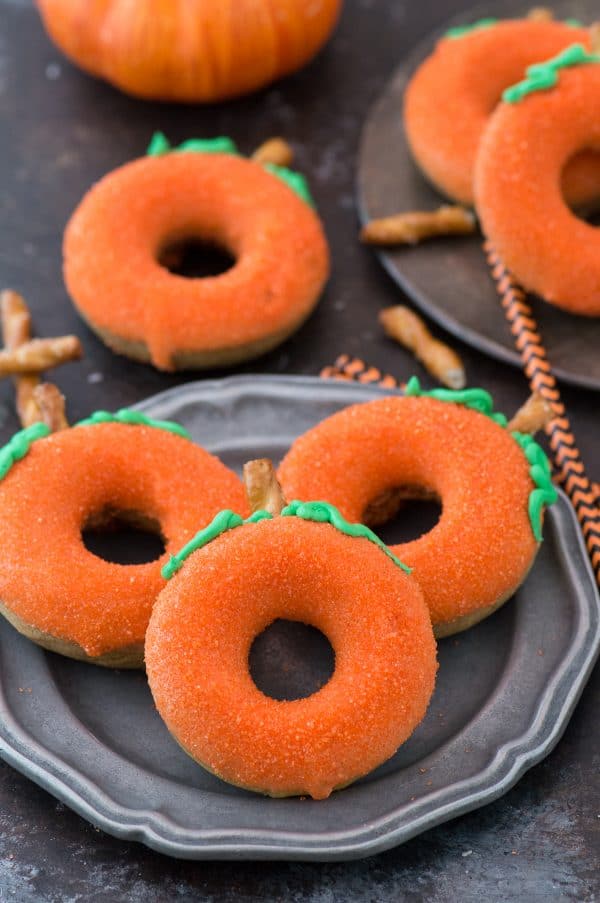 These pumpkin donuts are adorable and really add a lot of fall flare to any morning breakfast or snack time, because I am not above eating donuts for snack.
From my experience, the best way to ensure perfect donuts is to pipe the batter into the donut pan (rather than spooning in the batter) and do not overfill the pan! This method has worked flawlessly for me.
You'll need a few things to make these pumpkin donuts..
a donut pan, orange candy melts, orange sanding sugar, green food coloring added to buttercream, and broken pretzels. And of course the actual supplies for the donut batter.
For a step-by-step of how to make this pumpkin donut recipe, watch this short video: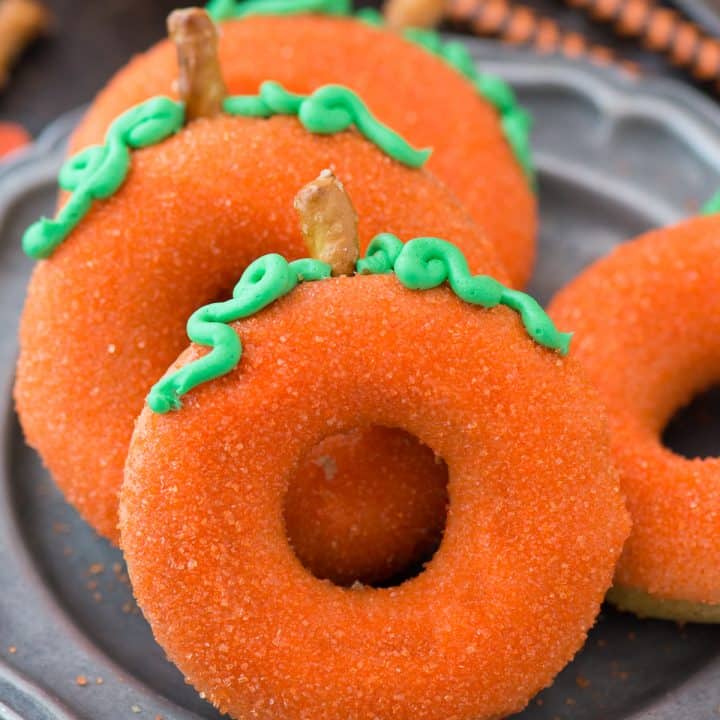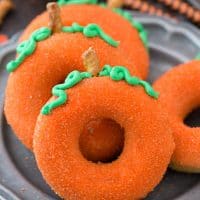 Pumpkin Donuts
Simple, baked pumpkin spice donuts that taste and LOOK like pumpkins! These donuts that look like pumpkins add a lot of fall flare!
Ingredients
Donuts
1 egg
3 tbsp vegetable oil
3 tbsp sugar
1/4 cup pumpkin puree
6 tbsp milk
1 cup all purpose flour
1 tsp baking powder
1/2 tsp salt
1/2 tsp pumpkin pie spice
1/2 tsp cinnamon
Decorations
1/2 bag orange candy melts
orange sanding sugar
a few braided pretzels, broken into smaller size
green buttercream
2 tbsp butter
3-4 tbsp powdered sugar
kelly green food coloring
Instructions
Preheat the oven to 325 degrees F. Spray a donut pan with cooking spray, use a paper towel to lightly spread/remove excess spray.
In a large bowl, combine the egg, vegetable oil, sugar, pumpkin puree, and milk, whisk until combined.
Add in the flour, baking powder, salt, pumpkin pie spice and cinnamon, mix with a spatula just until combined.
Transfer the batter to a large piping bag or use a ziploc bag with one corner cut off. Pipe the batter into the donut pan, filling each donut hole about 2/3 full.
Bake the donuts for 13-15 minutes, or until a toothpick comes out clean. Remove from the oven and let the donuts sit in the pan for 5 minutes before moving to a wire rack. Allow the donuts to cool completely before moving on.
Melt the candy melts according to the package. You can add vegetable oil or shortening to help thin out the candy melts. Dip the top of each donut into the melted orange candy melts. Allow the donut to set for 1-2 minutes before sprinkling on the orange sanding sugar. Allow the candy melts to harden.
Meanwhile, make the buttercream. In a small mixing bowl, beat the butter until smooth. Add in the powdered sugar and kelly green food coloring, beat until combined. Transfer the buttercream to a piping bag fit with a small round piping tip.
Use a skewer or something similar to make a small hole on the top of the donut. Put a broken pretzel piece in the hole as the pumpkin stem.
Pipe the green buttercream onto the donut, making vines or leaves.