Peanut Butter Sheet Cake
From scratch moist and peanut buttery PEANUT BUTTER SHEET CAKE! Pair this cake with chocolate frosting!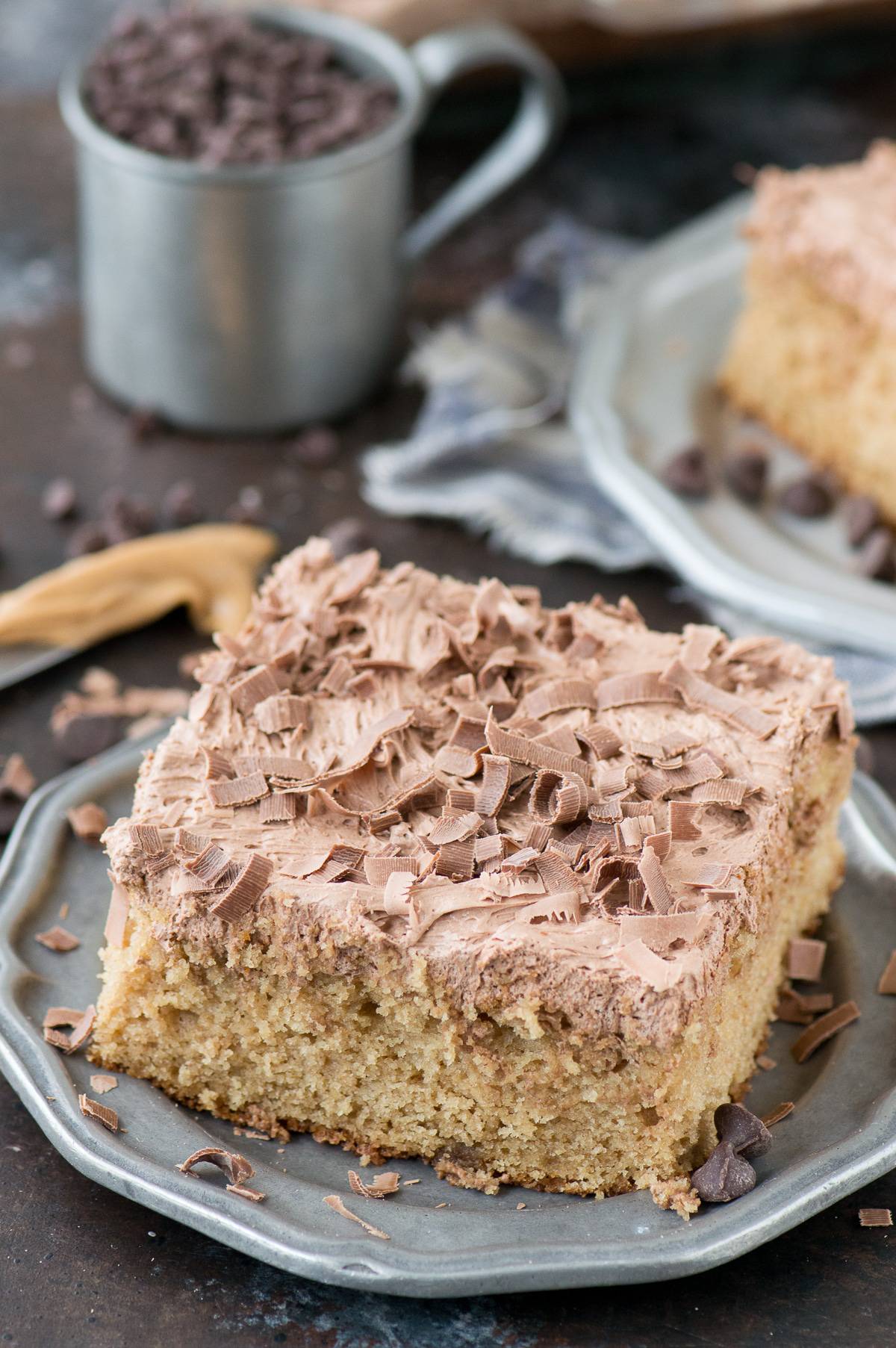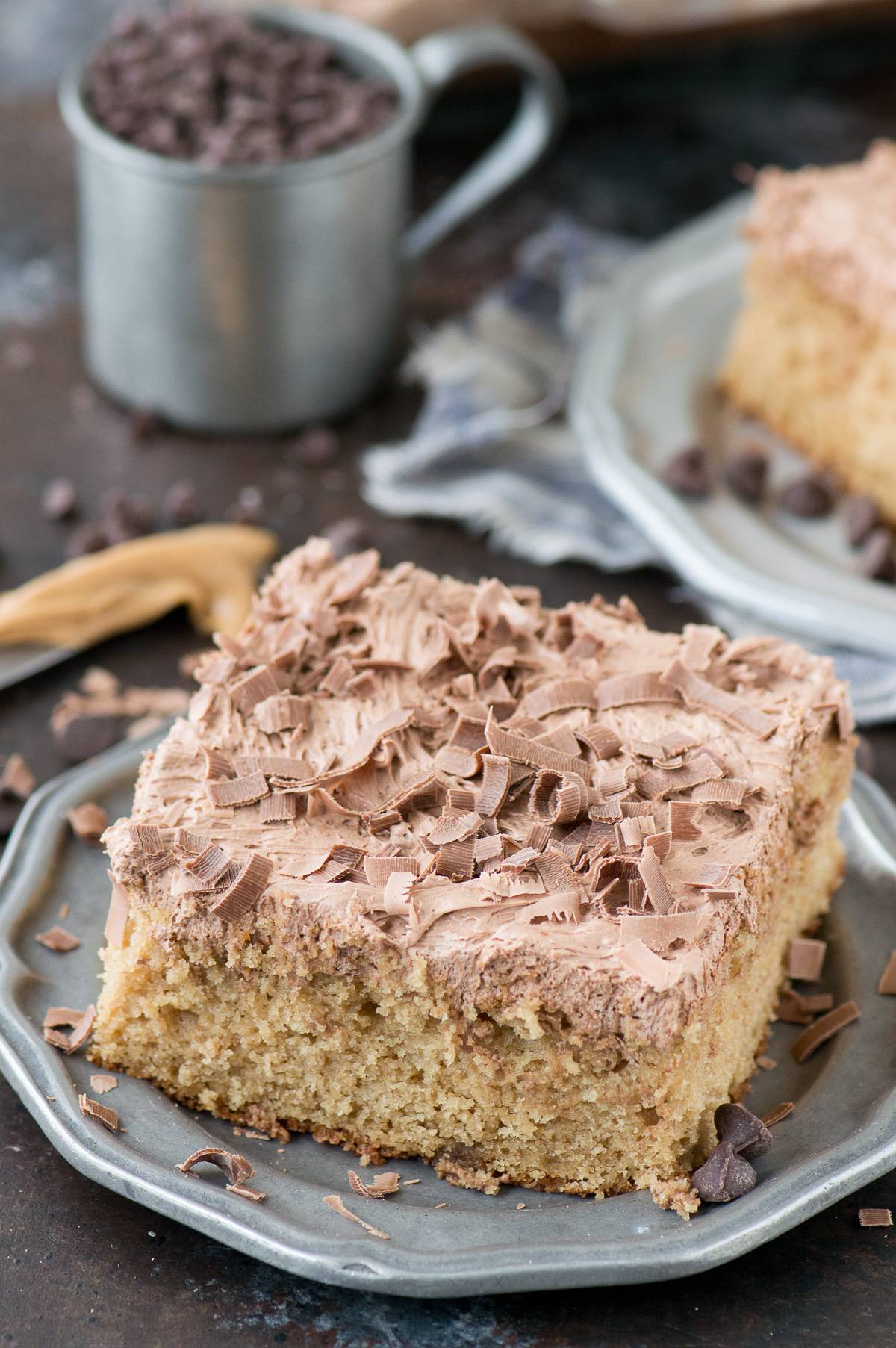 There is one thing I can't stop thinking about…
those tiny delicious Reese's peanut butter cup eggs that you see in the stores around this time!
Ryan LOVES them, as in he could eat 2 packs in one day… so they are kind of "off limits" in our house.
So I've taken to walking by them slowly when I'm at the grocery store, thinking about how peanut buttery they are. And then thinking about how thirsty they make you!! Right?!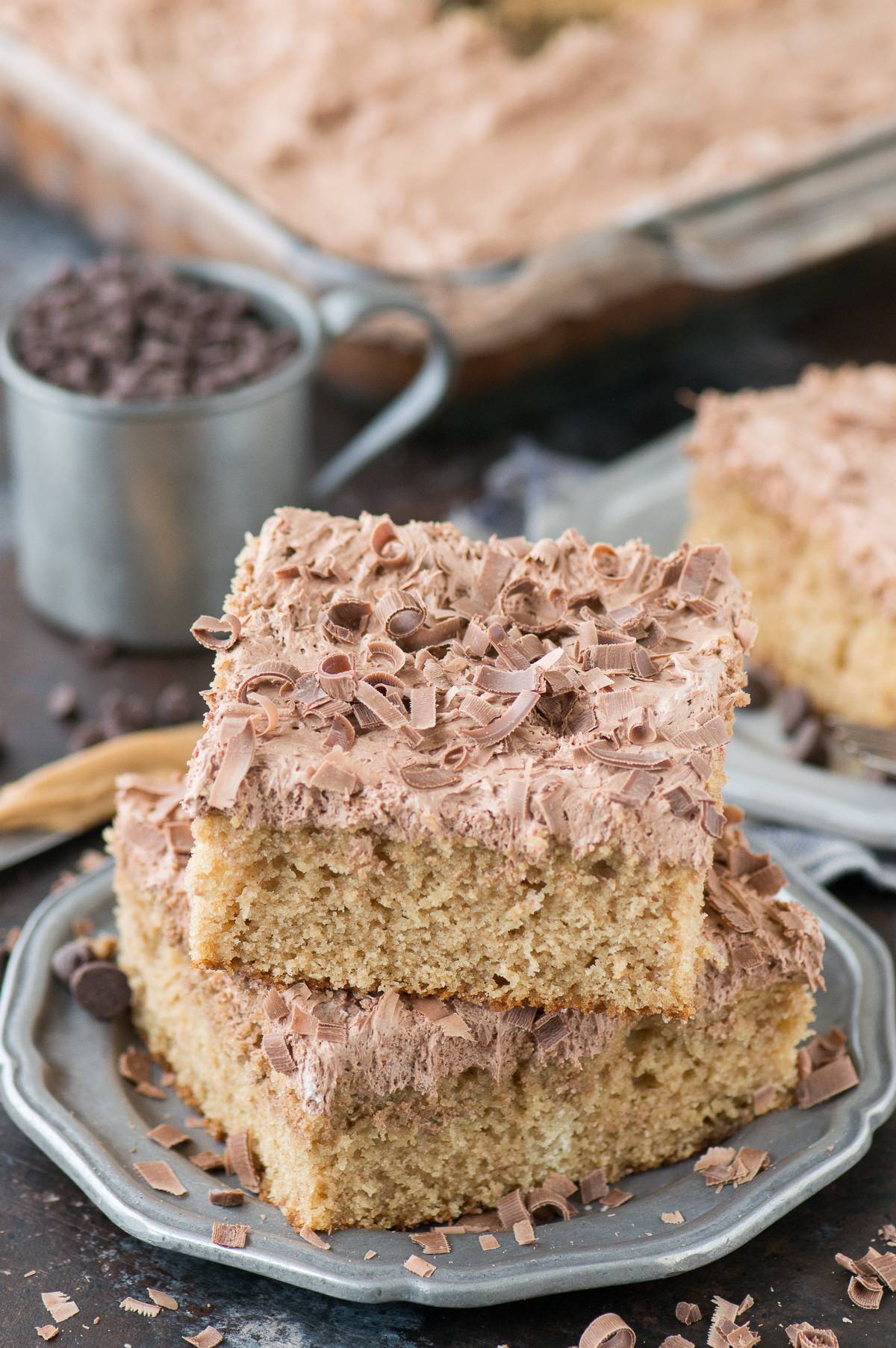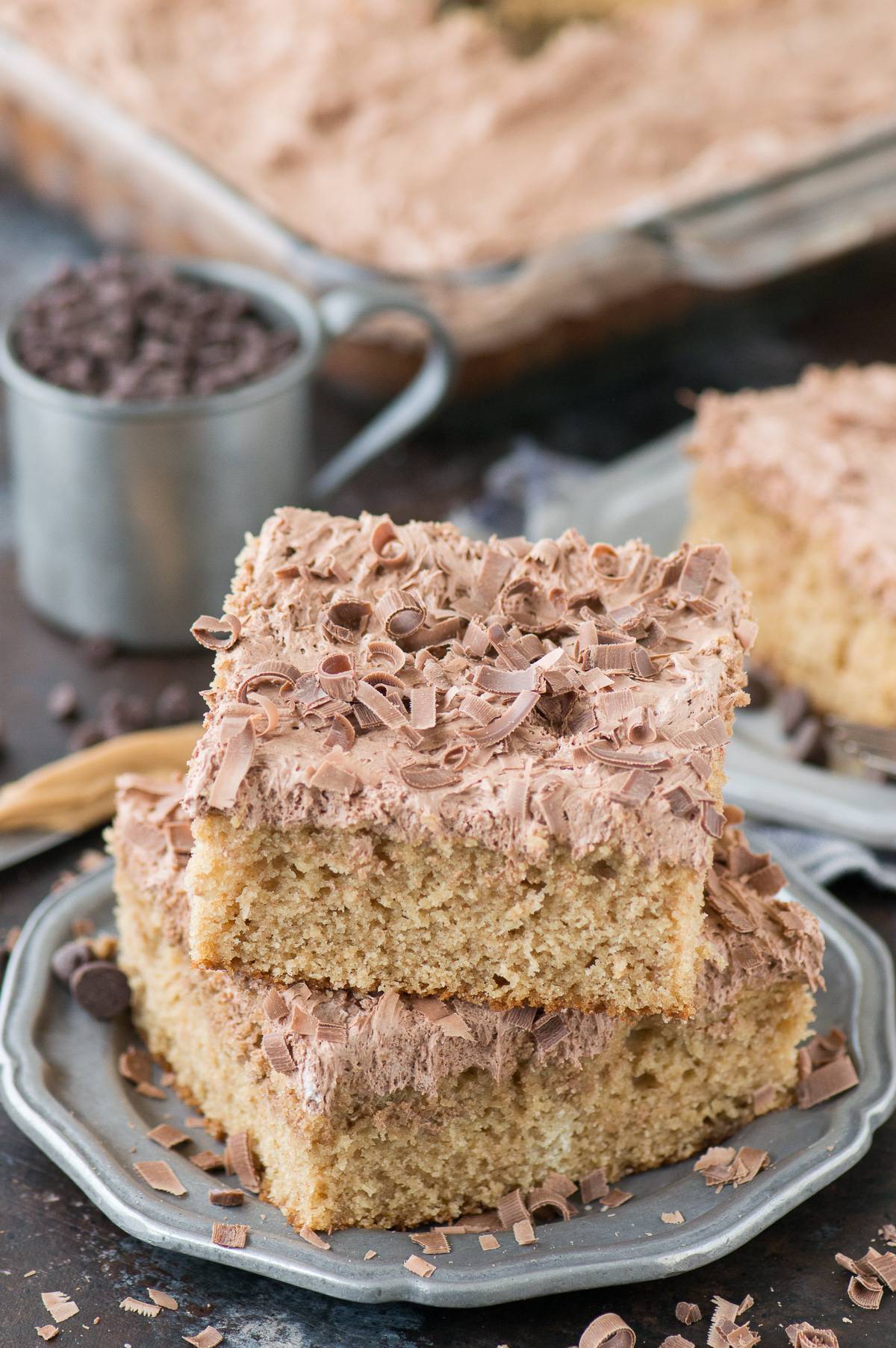 I channeled all that peanut butter goodness into this recipe for peanut butter sheet cake! It's moist, quite peanut butter-y and makes you want to drink a glass of milk :)
You make this sheet cake in a 9×13 inch pan. I know some people don't think a 9×13 inch cake is considered a sheet cake, but I do, haha, so that's what I'm calling it!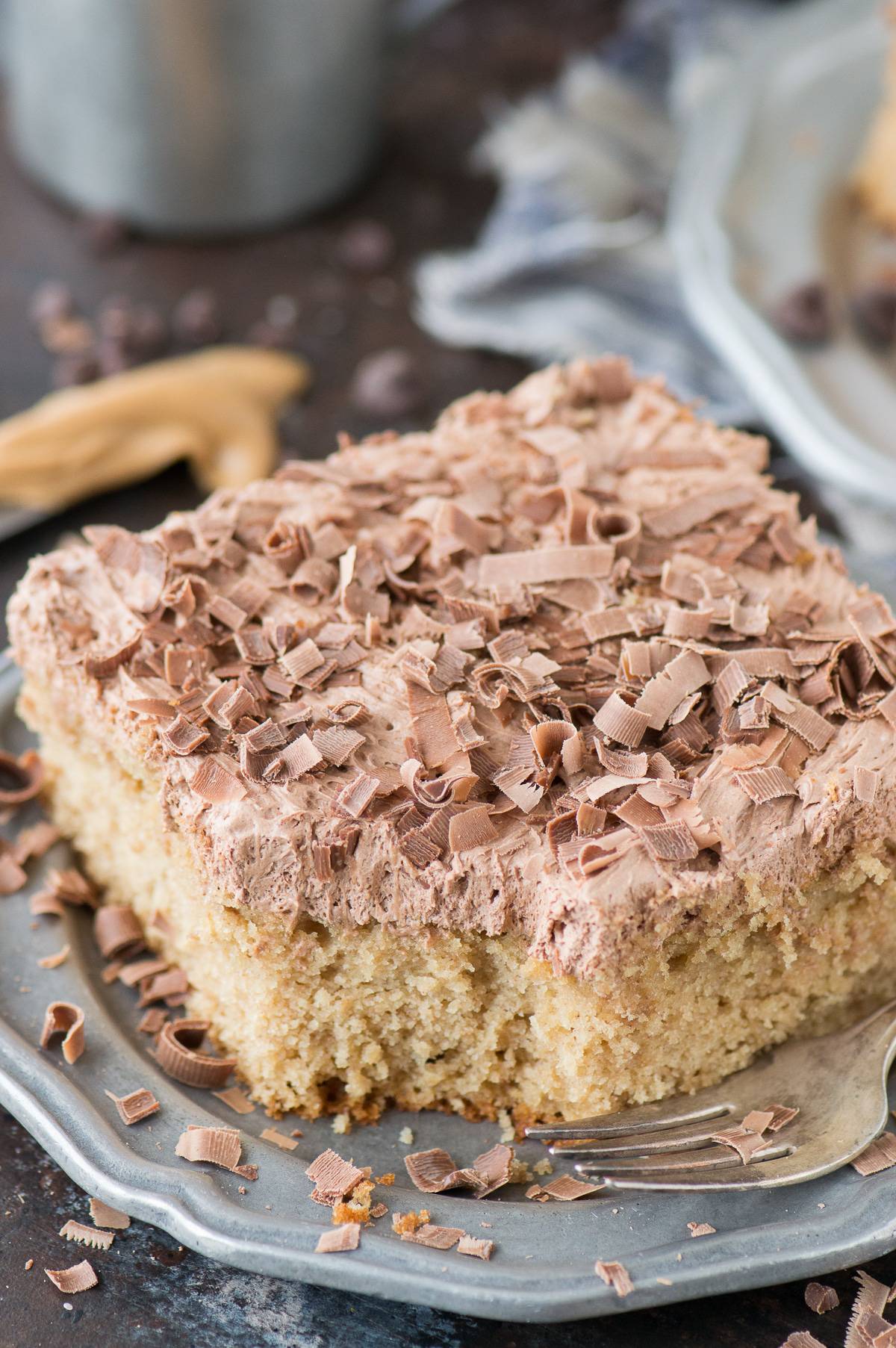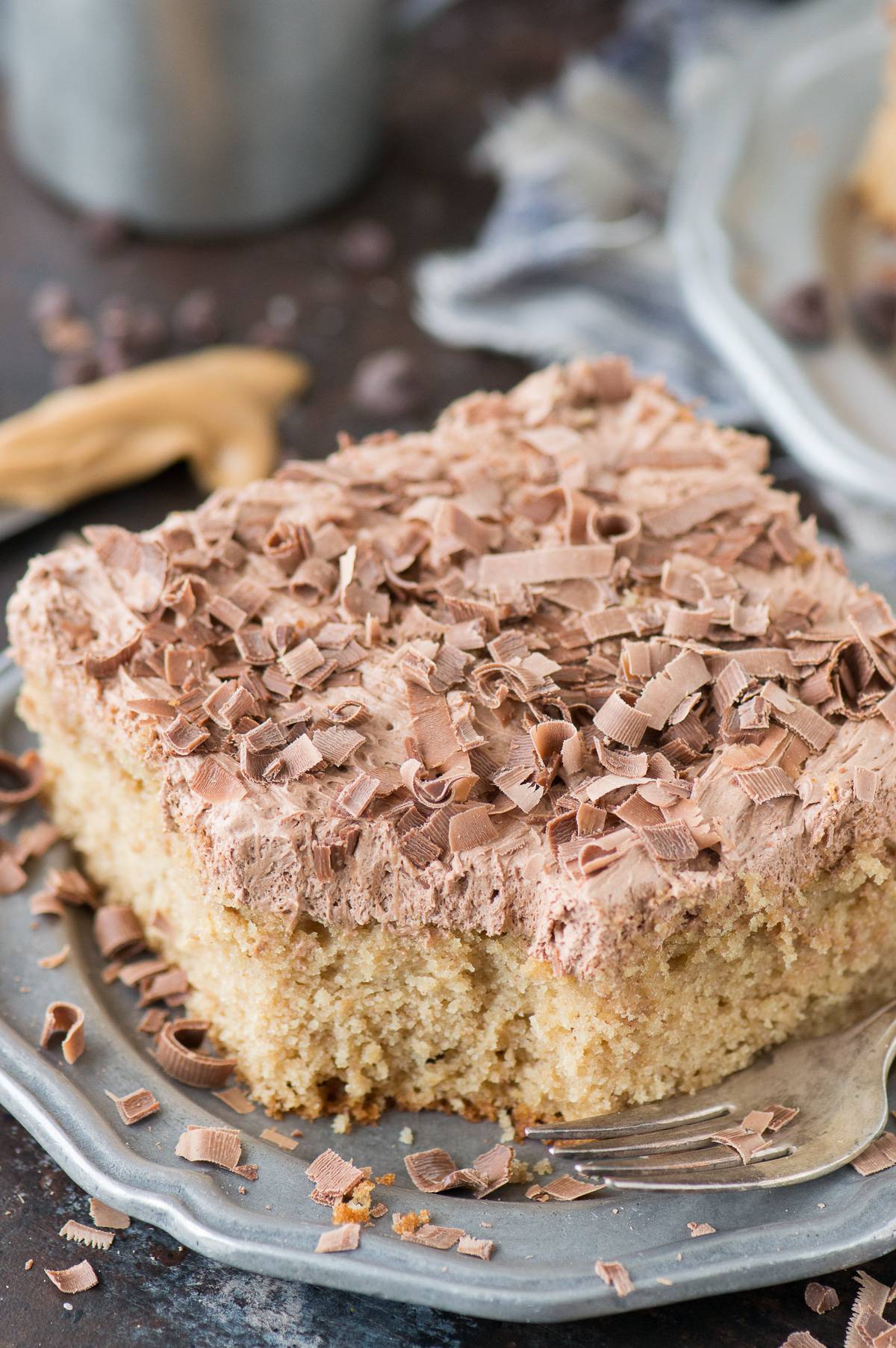 Since the cake itself is rich (in a great way!) I decided to use a lighter frosting – cool whip mixed with melted chocolate. It's magical. I first fell in love with it in this healthy chocolate fudge cake recipe.
You could definitely pair this cake with chocolate buttercream, and I see myself using both frostings on this cake in the future. I'll give you recipes for both frosting options in the recipe section below.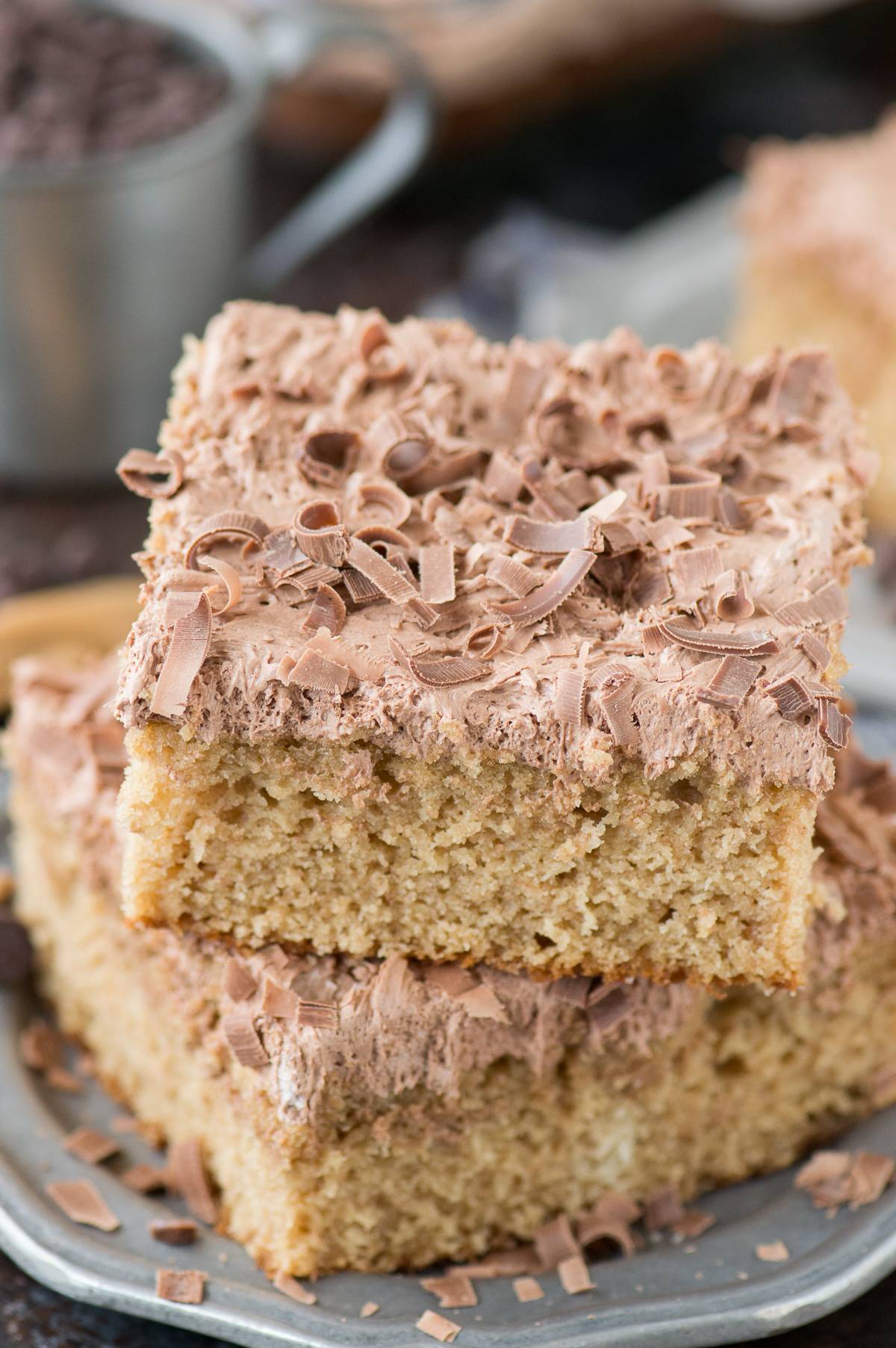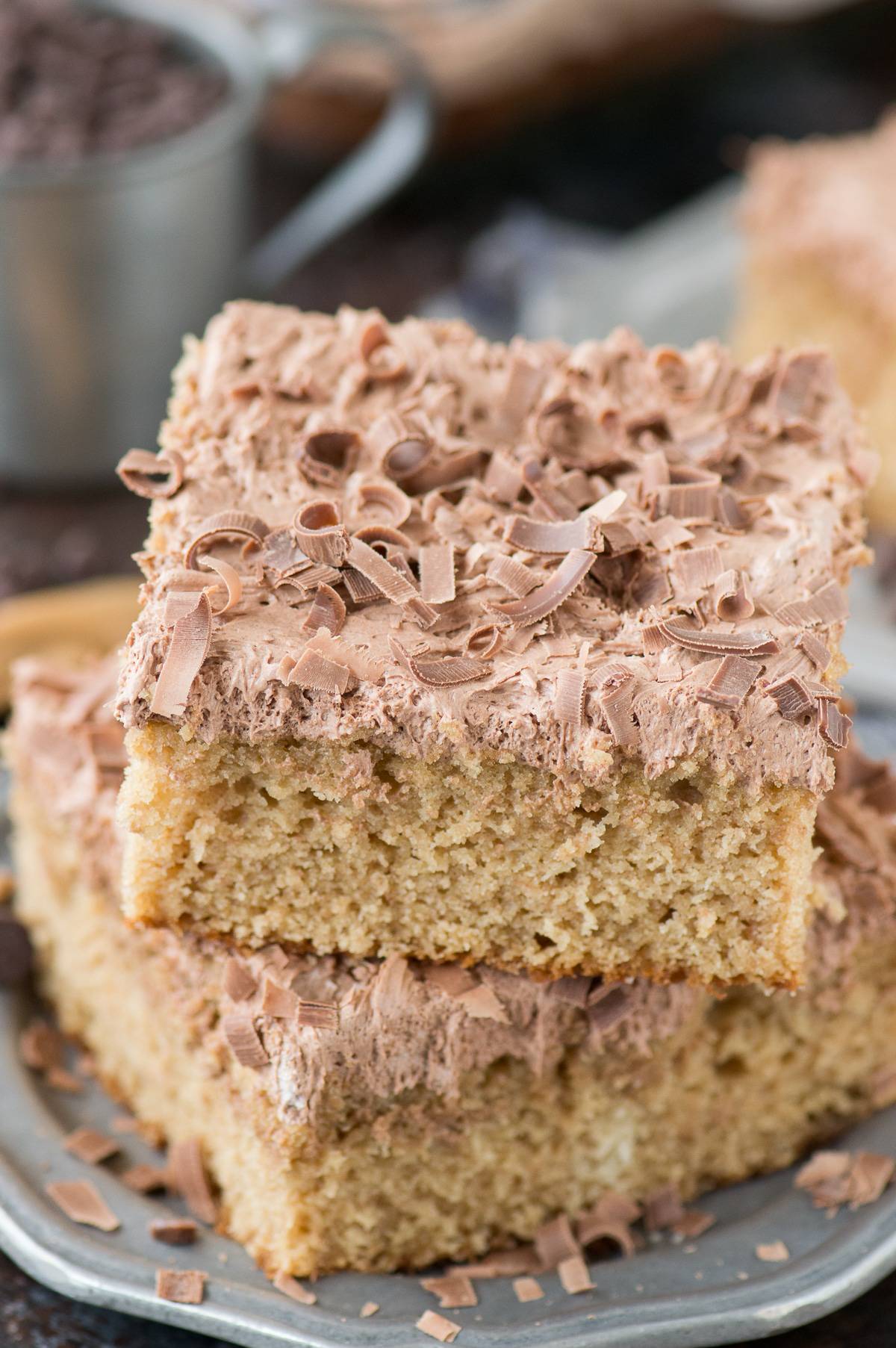 To give this cake a little pizzazz I added chocolate shavings. I literally took a hershey's bar and used a vegetable peeler to make shavings.
Voila! Instant chocolate shavings.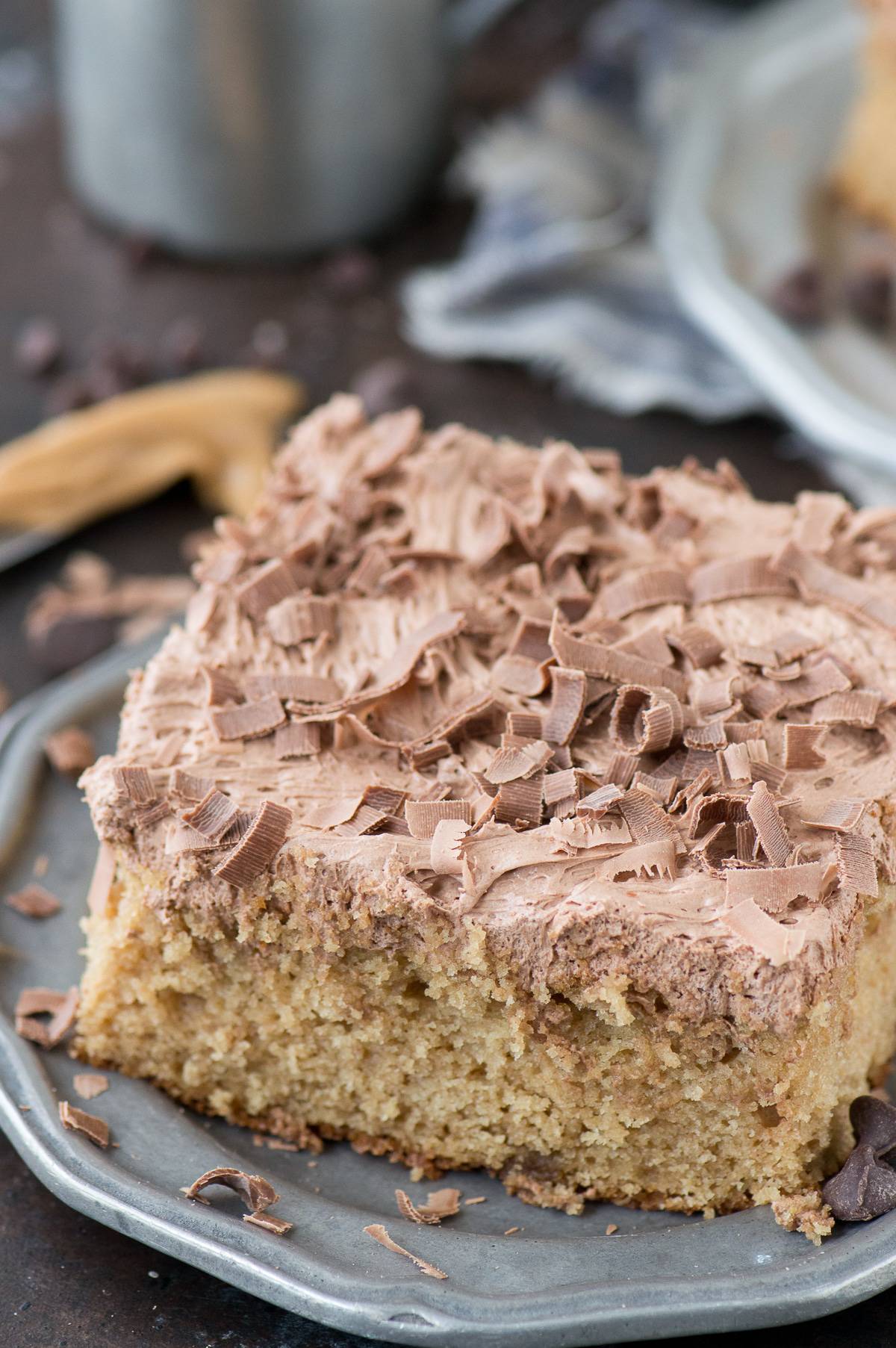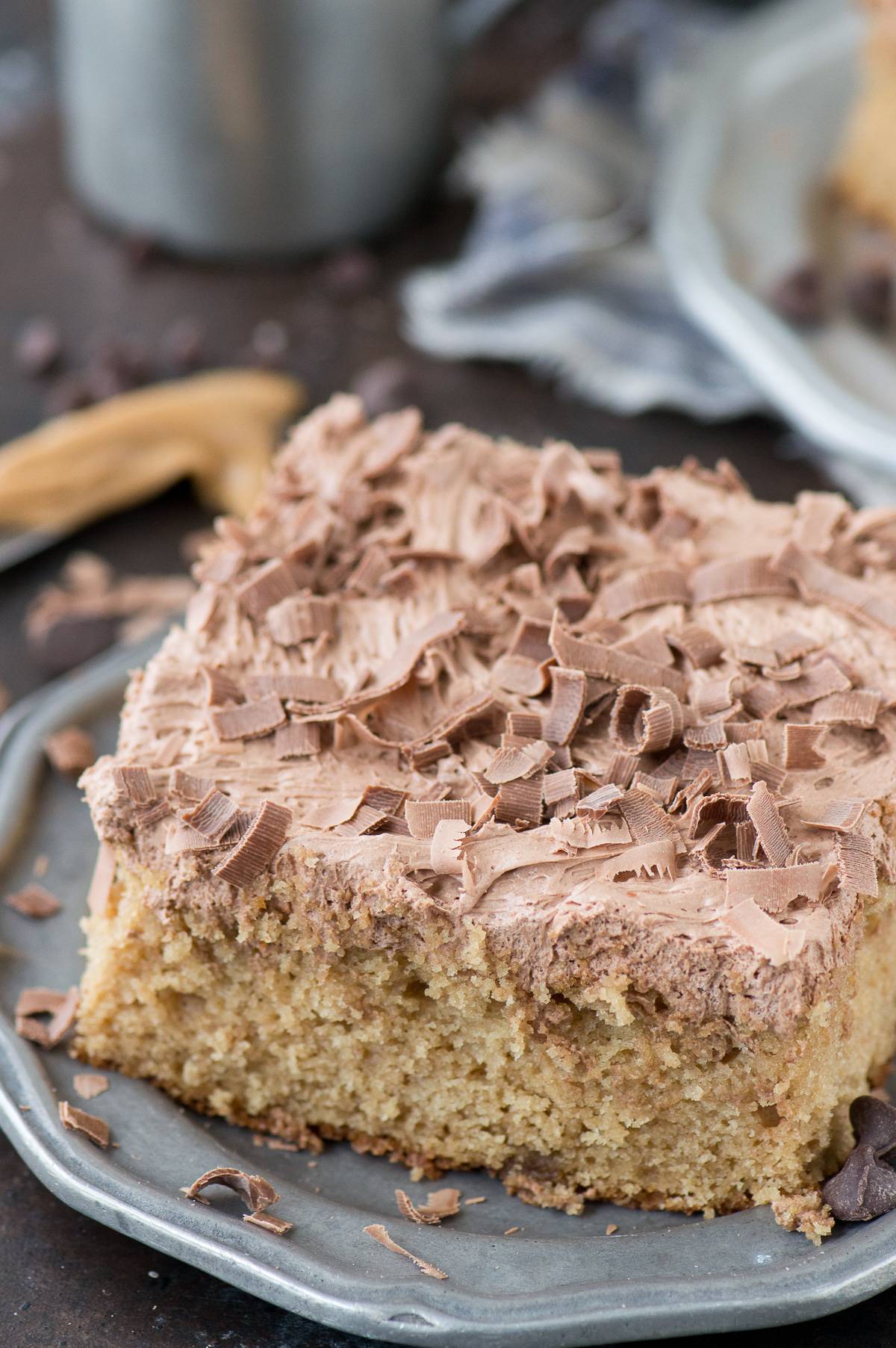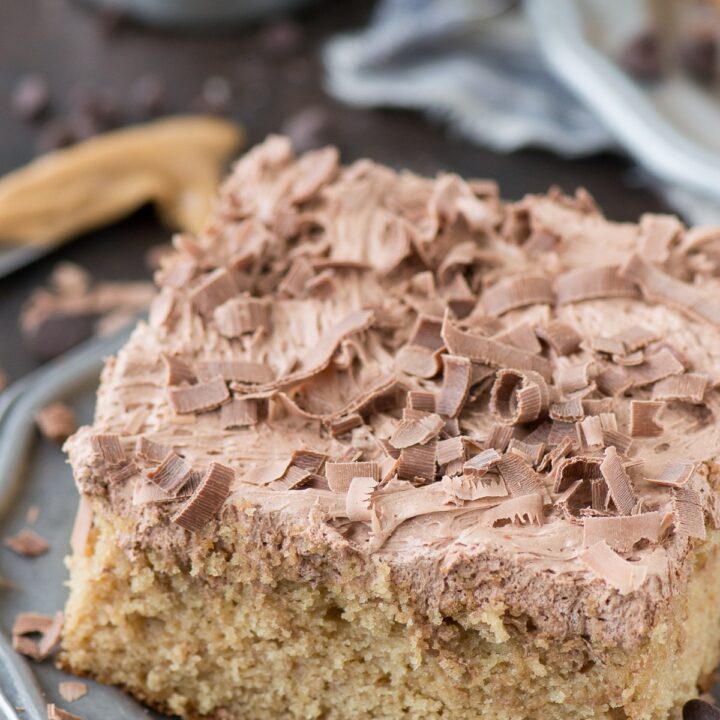 Peanut Butter Sheet Cake
From scratch moist and peanut buttery PEANUT BUTTER SHEET CAKE! Pair this cake with chocolate frosting!
Ingredients
Cake
2 & 1/4 cups all purpose flour
1 tsp baking soda
2 tsp baking powder
1 tsp salt
2/3 cup creamy peanut butter
1/2 cup vegetable oil
1 cup brown sugar
4 eggs
1 tsp vanilla extract
1 cup buttermilk
Simple Cool Whip and Chocolate Topping
1 & 1/2 containers cool whip, 8 oz each
1 cup semi-sweet chocolate chips, melted
Or Chocolate Buttercream Topping
2 sticks butter, room temperature
1/2 cup vegetable shortening
1 tsp vanilla extract
2/3 cup cocoa powder
2 cups powdered sugar
dash of milk or heavy cream if frosting becomes too thick
Instructions
Cake
Preheat the oven to 350ºF. Spray a 9x13 inch pan with non-stick cooking spray.
In a bowl combine the flour, baking soda, baking powder, and salt. In a separate bowl, combine the peanut butter, oil, and brown sugar, beat together using an electric mixer. Add in the eggs and vanilla, beat again. Add the flour mixture and buttermilk, alternating between the two and mixing by hand until everything is incorporated.
Pour the batter into the 9x13 inch pan and bake for 22-25 minutes or until a toothpick inserted in the center comes out clean. Allow the cake to cool completely before frosting.
Cool Whip and Chocolate Topping
Place the cup of chocolate chips in a microwave safe bowl and microwave on 50% power until melted. To help the chocolate melt without burning you can add a very small amount of oil. Allow the chocolate to cool for 5 minutes.
In a mixing bowl, combine the melted chocolate and cool whip, stir until combined. Spread on top of the cooled cake. The cake can be covered and refrigerated until ready to serve.
Chocolate Buttercream Topping
In a mixing bowl, combine the butter and vegetable shortening, beat using an electric mixer until fluffy. Add in the vanilla extract and cocoa powder, gently mix by hand with a spatula. Begin to add the powdered sugar, about 1 cup at a time, mixing by hand. Continue adding powdered sugar until the frosting no longer looks wet and tastes good to you. Then I use my electric mixer one last time to make sure the powdered sugar is really incorporated and ready to go. If the frosting becomes too thick, add a dash of milk or heavy cream. Spread on top of the cooled cake.
Notes
Choose between the cool whip & chocolate topping or the chocolate buttercream topping.
Products used to make this recipe
(may include affiliate links)