Out of the Kitchen May 2020
We're back with another out of the kitchen post – here's what we've been up to for the month of May!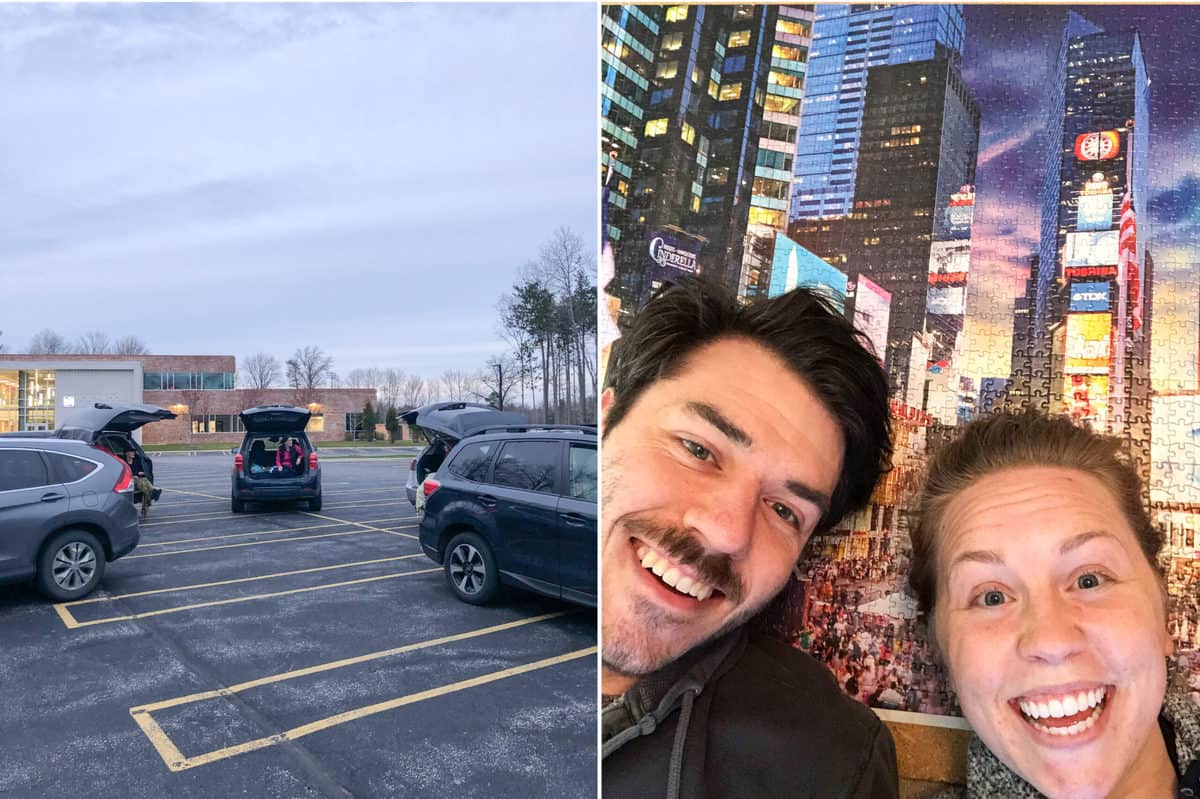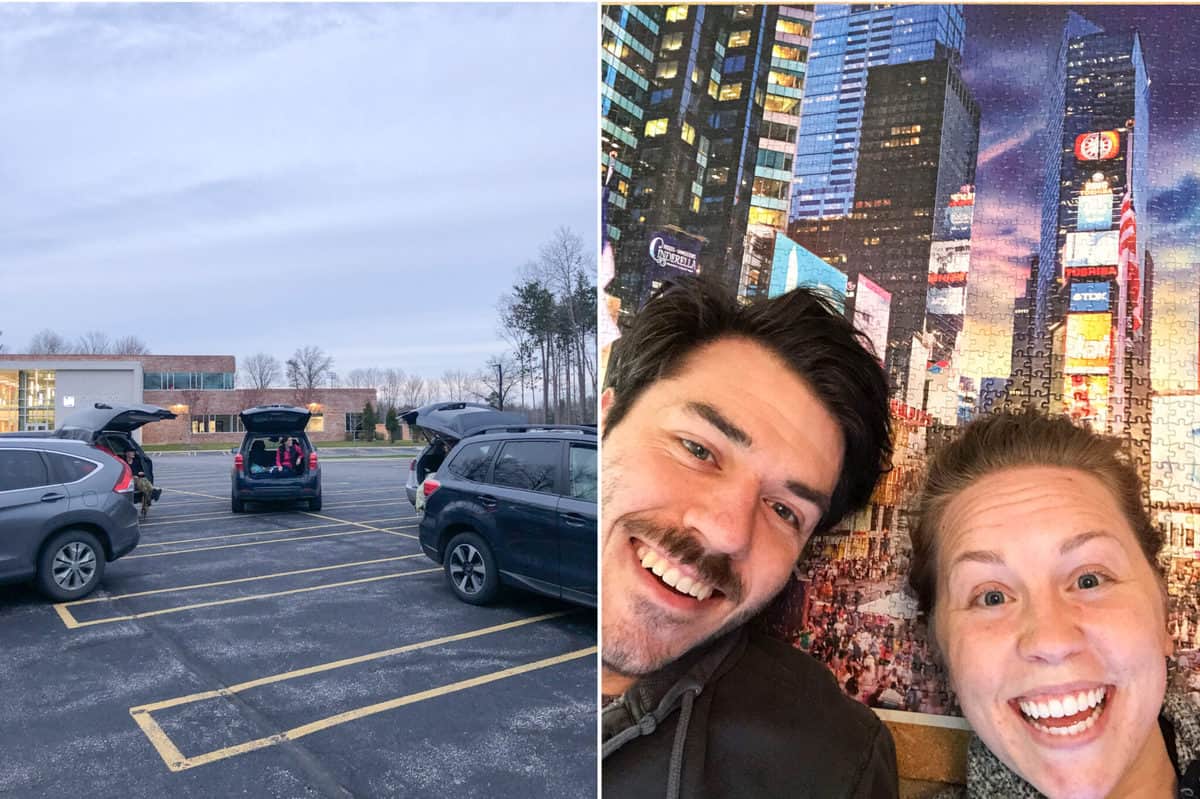 The beginning of May seems so long ago. So much has happened to our city this month and I'll get into that later in the post.
The girls in our life group gathered for a safe car hang out, it was so good to be able to see them in person! The second photo – Ryan and I completed our first 2,000 piece puzzle of Time Squares. Every time we finish a puzzle we attempt to take a photo in front of the puzzle that looks like we were actually there, its kind of fun ?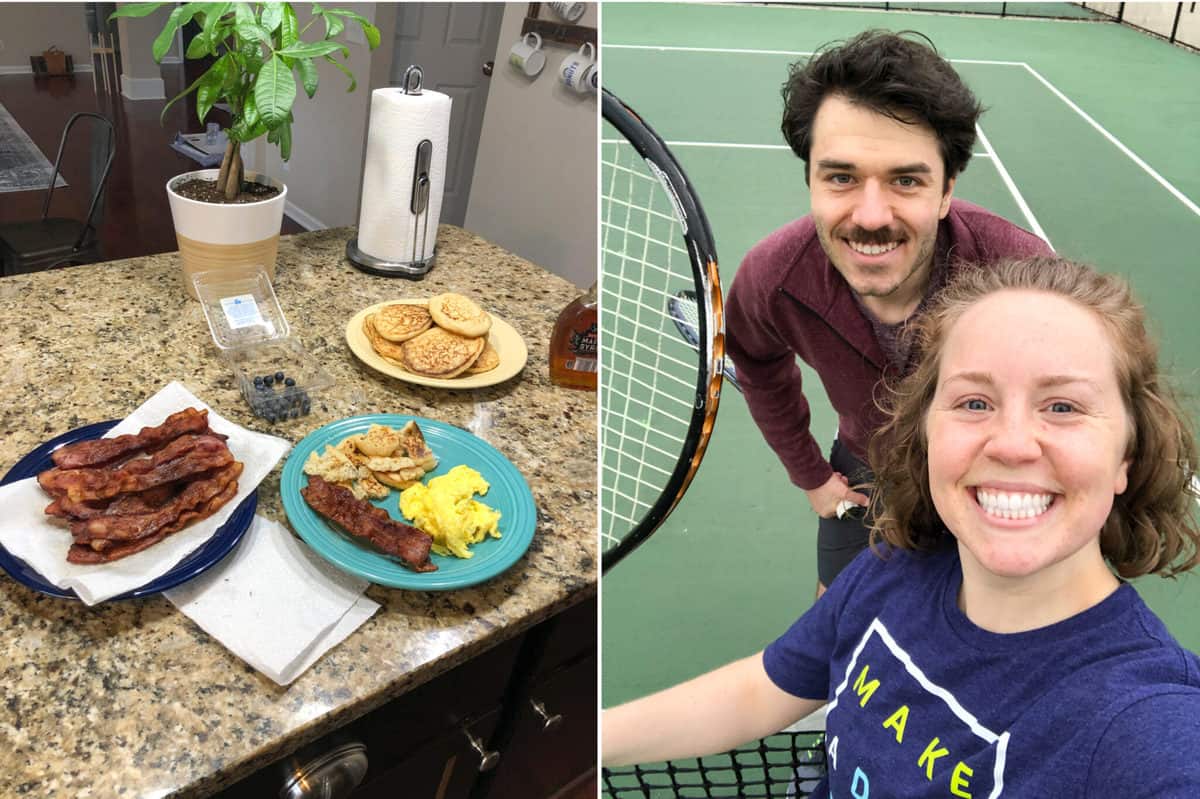 Nothing beats a good breakfast (or dinner) like pancakes, bacon and eggs. The second photo – I can't believe this is our first time playing tennis in Michigan – we've been living here for 3 years! We used to play tennis all the time when we lived in Urbana. Ryan has a love for tennis because he played in high school.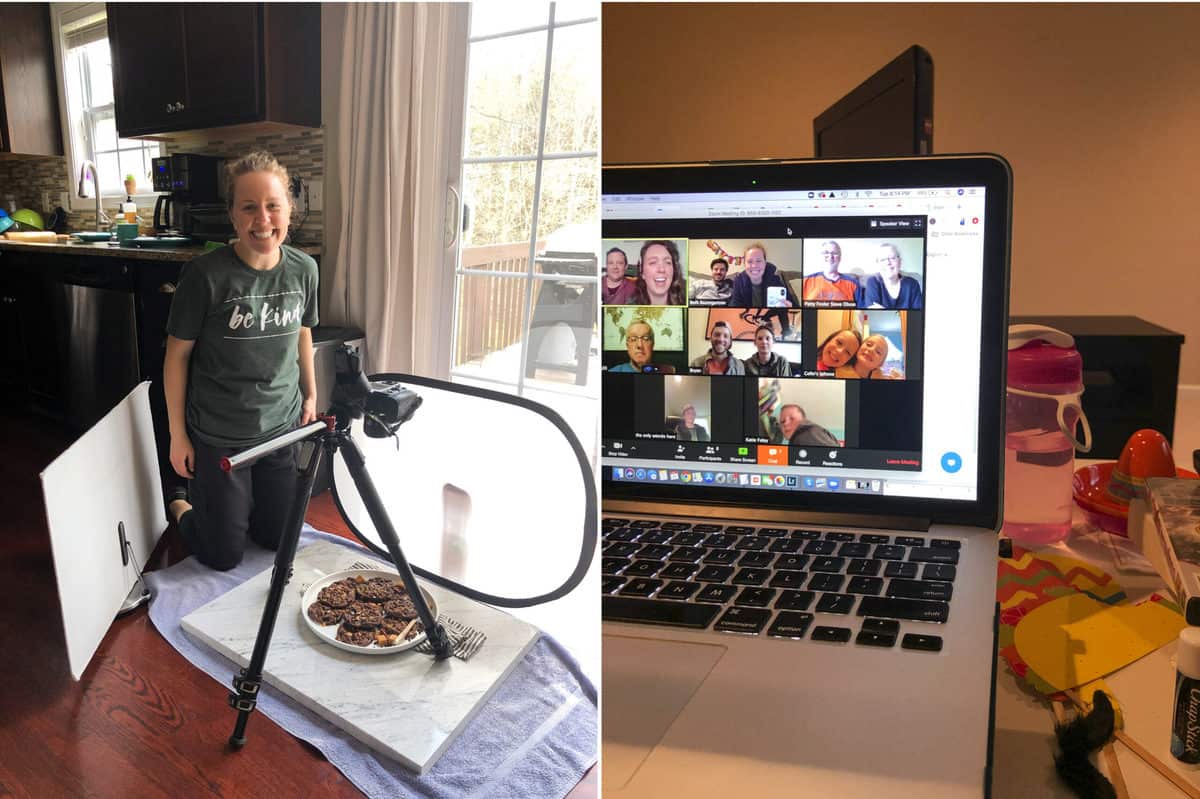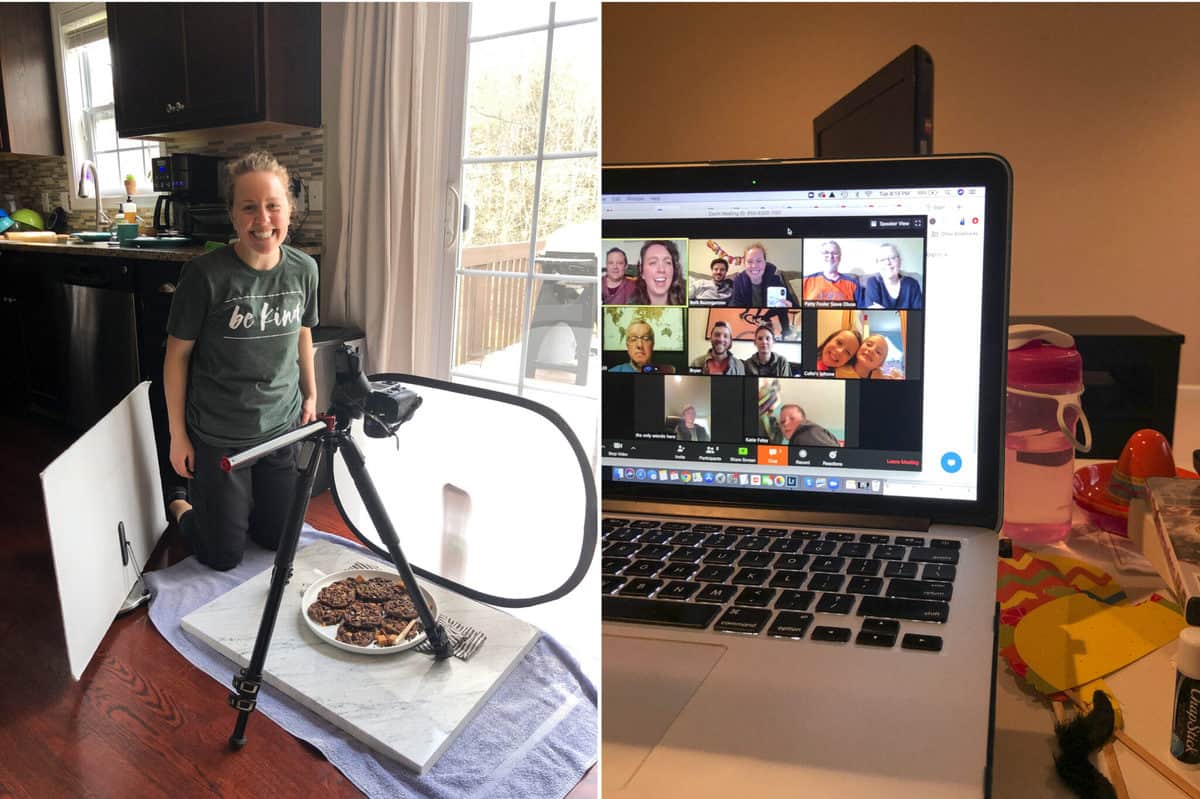 In May I updated 20 recipes! That's a lot of old recipes that got "face lifts" with additional SEO and photos! Some of my favorite are turtle cookies, oreo cheesecake, and mixed berry galette. The second photo – we had a zoom session with my family on cinco de mayo and I busted out the fiesta decorations, fake mustaches and sombreros. I love making the holidays special by decorating.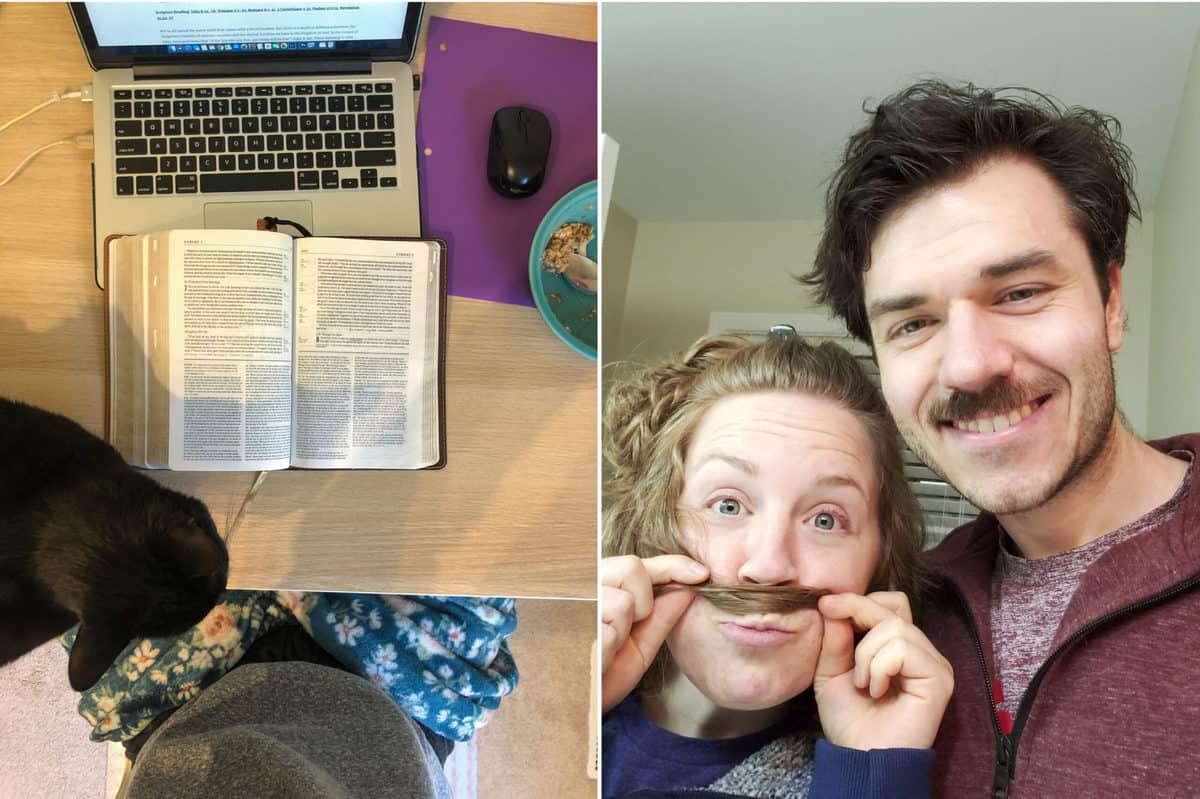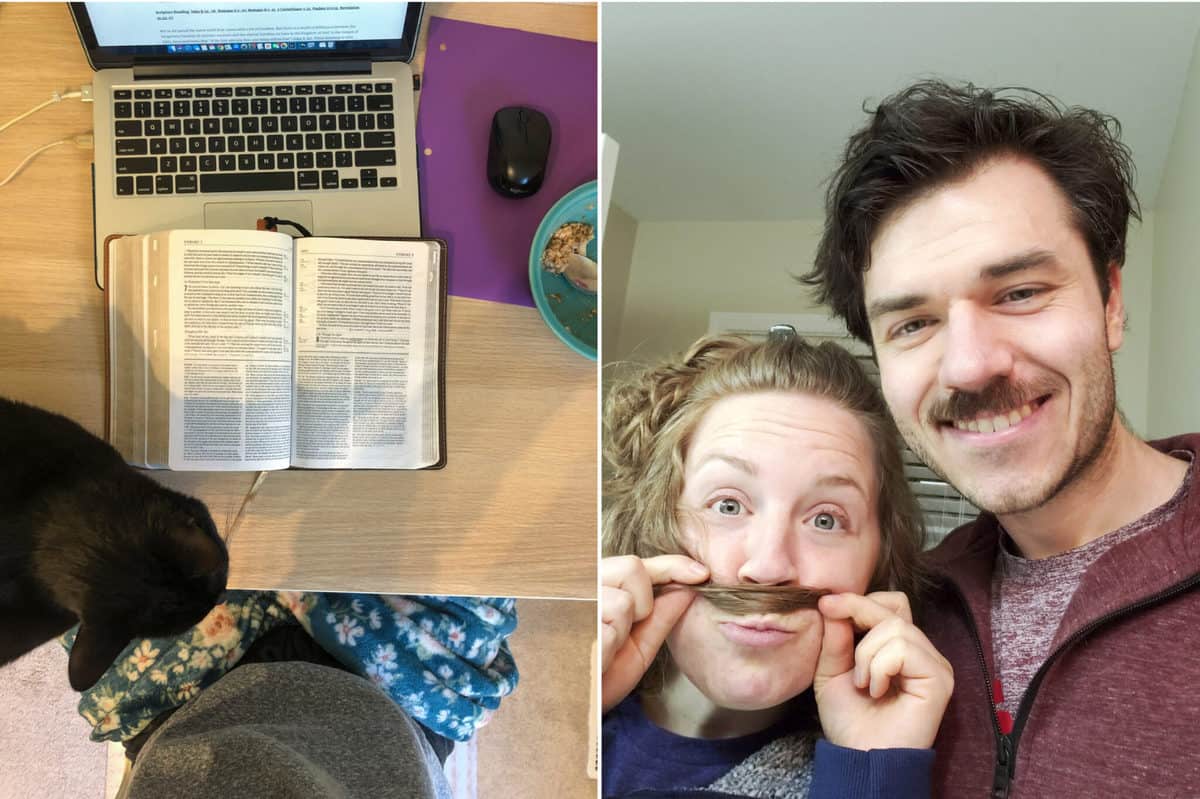 One morning Salsa snuggled up on my desk while I was doing my morning devotional! The second photo – Ryan grew a mustache during quarantine. It's gone now (plus he got a haircut) and now I tell him everyday how handsome he is ?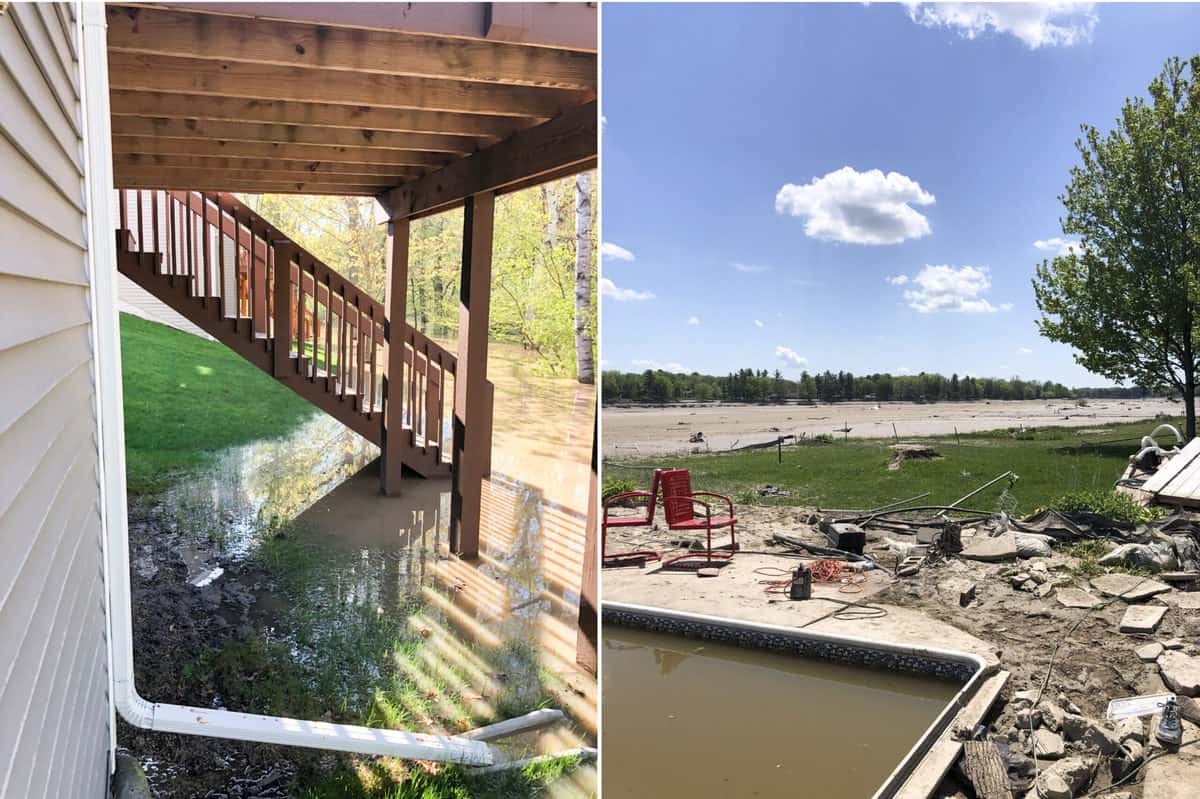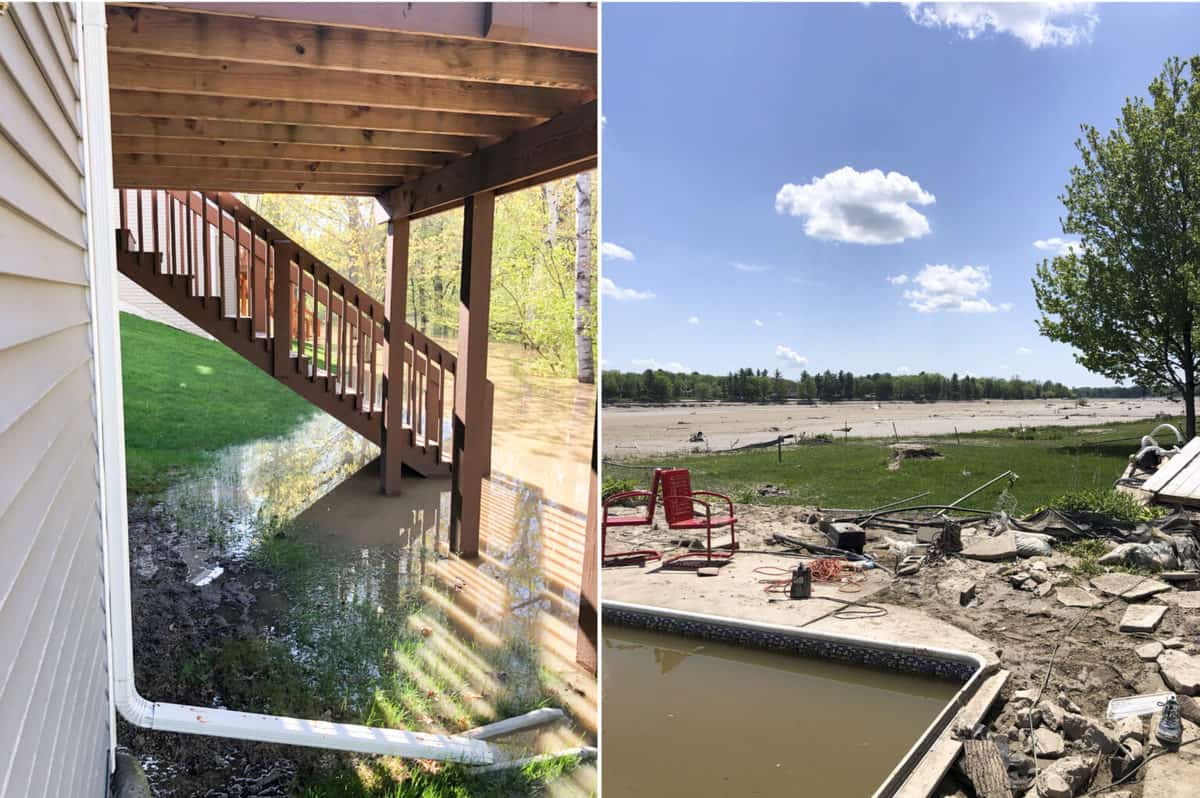 On May 19th at 6pm we got an emergency alert notification saying that we needed to evacuate our house, along with 10,000 other residents in our city. We had received quite a bit of rain within 24 hours, causing the 2 dams in our area to fail. Tuesday night into Wednesday was filled with a lot of anxiety. It took us 45 minutes to travel 2 miles in our city to check on our house because a lot of roads were flooded. When we got to our house the water was about 2 feet from our foundation. We franticly pulled everything out of the basement because at that time the flood waters were still suppose to increase 3 feet. It was a huge blessing and relief for our community when the national weather service revised the crest, saying the water had already crested. Ryan and I are extremely blessed that our basement didn't flood. But so many families in our community lost everything. Entire neighborhoods are gutted. Multiple sewer stations in our city had to be shut off because they were underwater and wouldn't function, this caused sewage to back up into people's homes, on top of flood waters.
The first photo is looking outside our walk out in our basement when we arrived at the house Wednesday morning. The second photo is a view of Sanford Lake, which is no longer a lake, and might not be a lake again for 10 years. I was able to help out at this house. We had to rip this woman's entire 2 story house to the studs. Nothing was salvageable.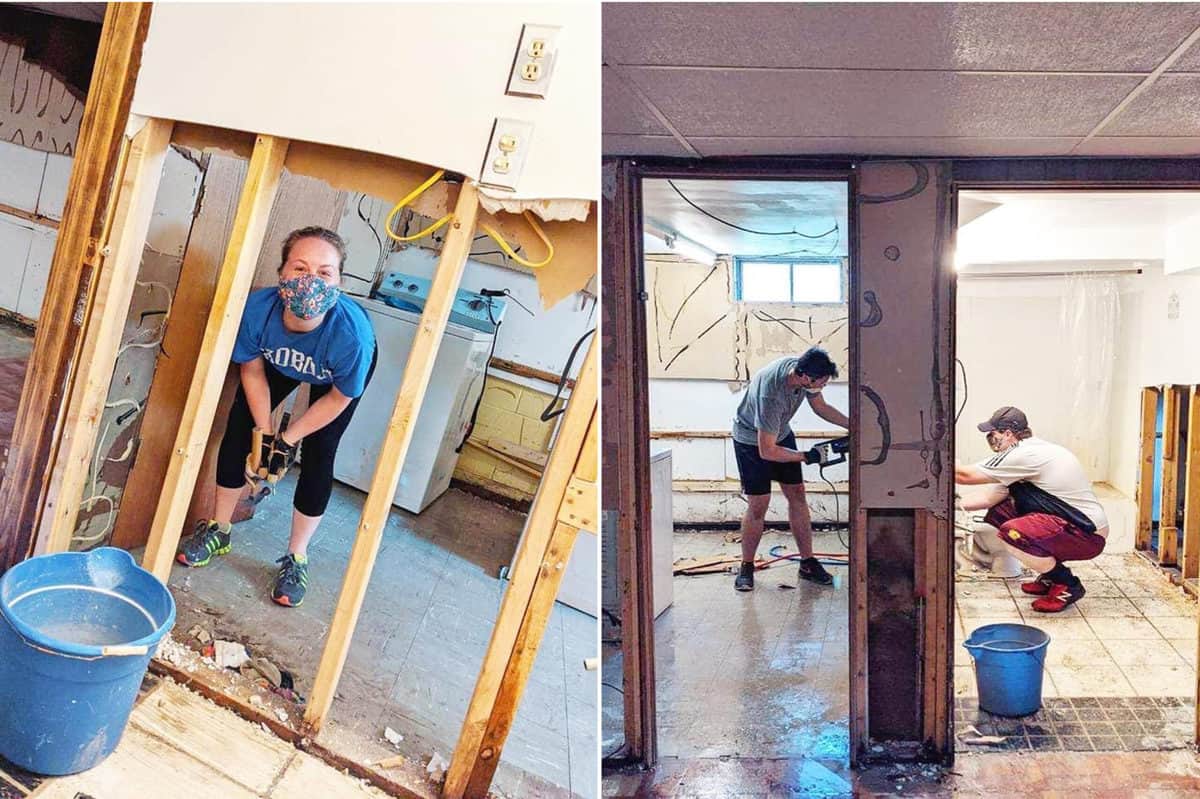 Ryan and I volunteered for flood clean up at 9 different houses. A lot of the work involved removing damaged debris / household items and putting that on the curb, removing baseboards, carpet, tile floor, drywall, doors, etc. It was amazing to see our community come together. While we were at one particular house, 3 different community members stopped at this house to: offer the family a free mattress and bedding because one of the kid's rooms was in the basement and she lost her bed, another person came and started mowing this family's lawn which was a blessing because they didn't have a lawn mower and the grass was pretty tall, and last, women in our church were picking up sewage soaked clothes from this family, cleaning and treating them at their homes and returning the fresh laundry back to the family. Such an awesome outpouring of support.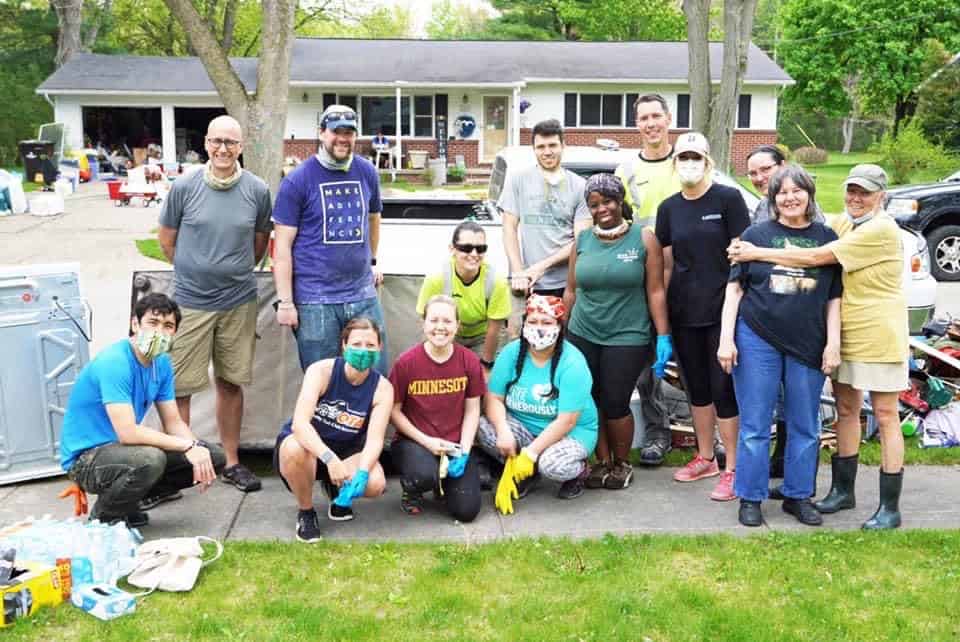 It was amazing to meet volunteers who traveled from neighboring cities and even from 3 hours away to help with clean up.
The focus in our community is shifting from clean up to restoration, which is going to take a long time.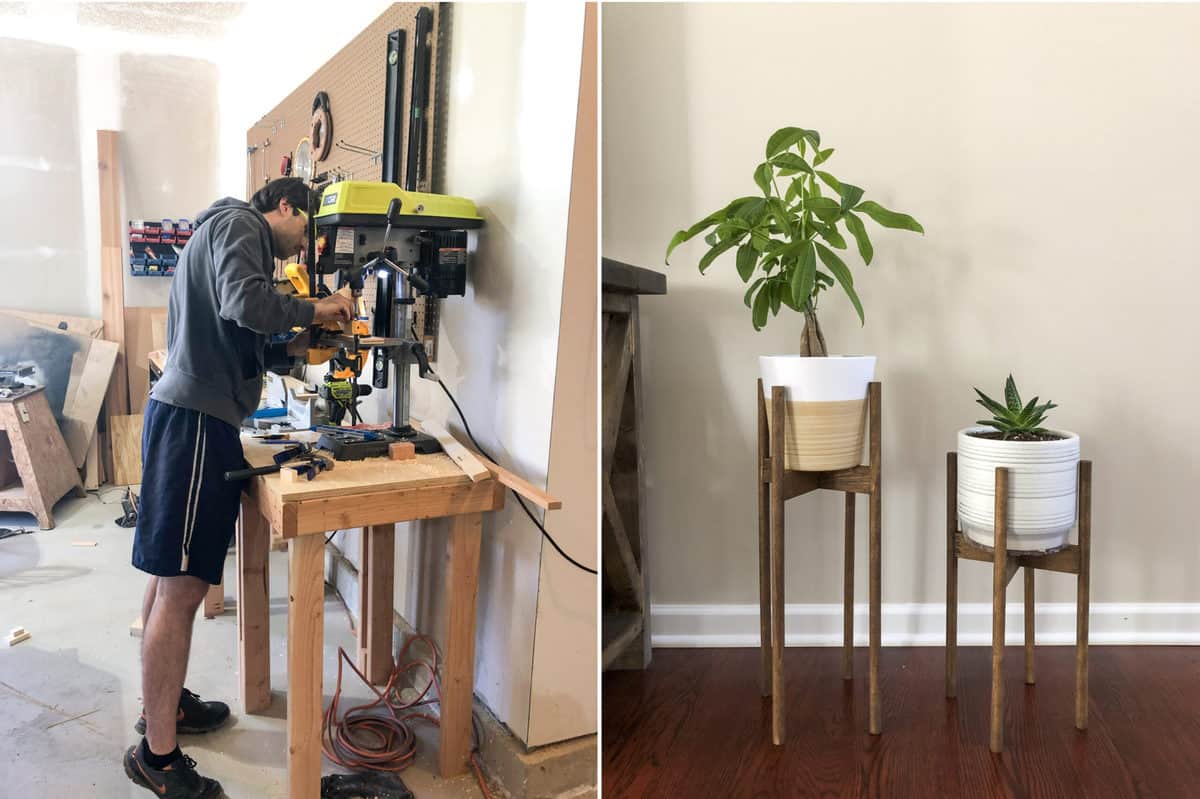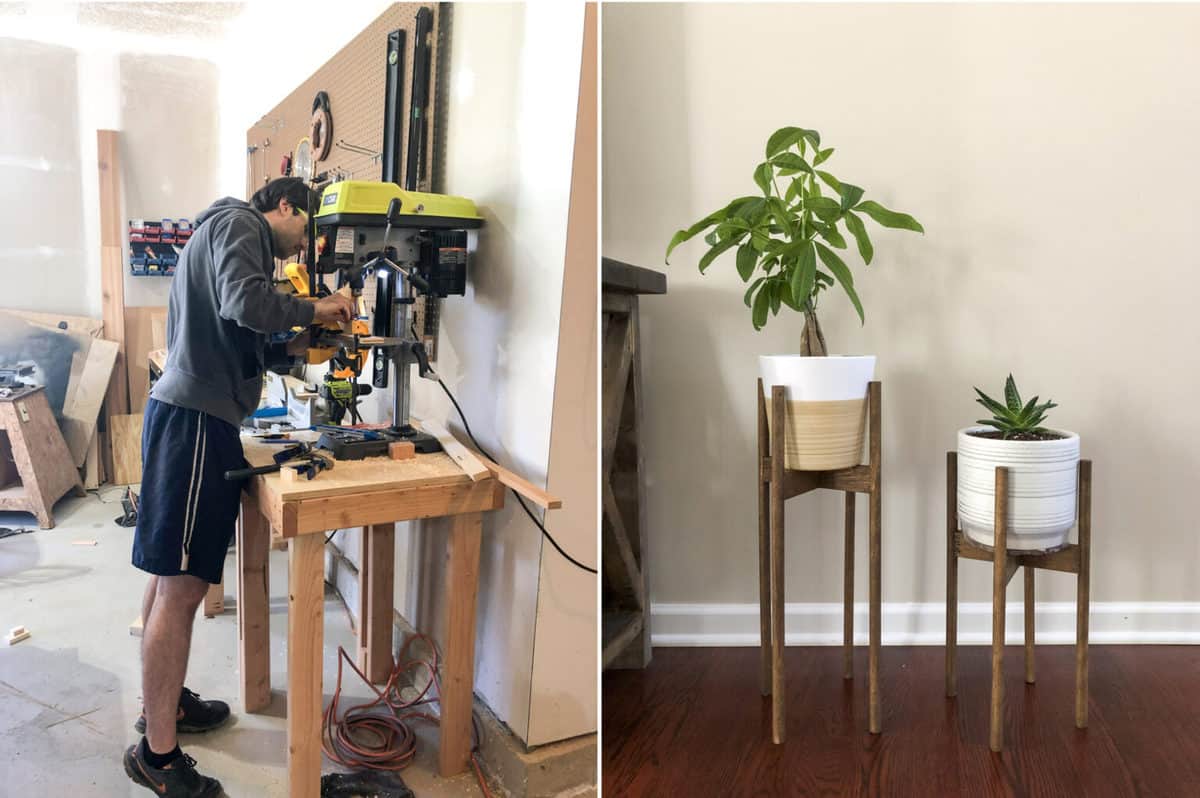 After we had some time to rest from clean up, Ryan and I worked together to make these cute modern plants stands. It was a little more difficult than excepted because it was hard to drill straight holes into the round dowels we used as legs.. but at least they look cute ?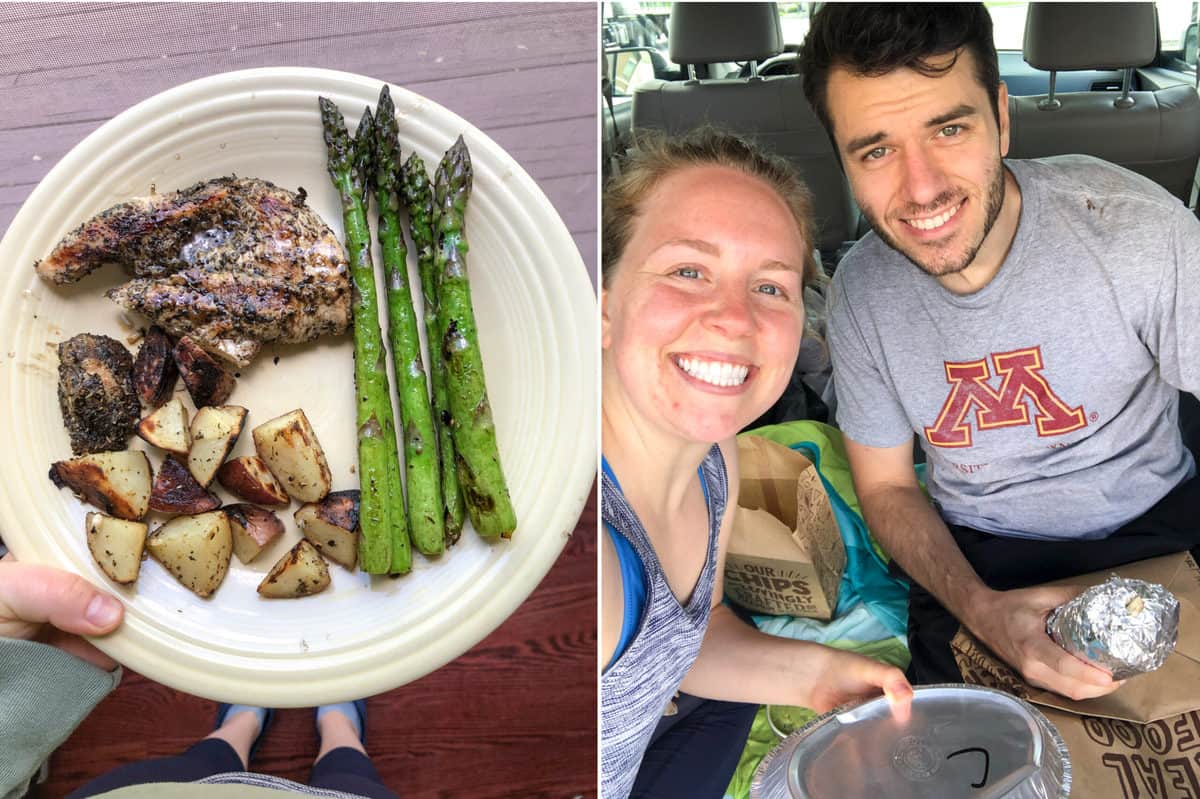 We had an awesome grilled dinner on Friday and then went on a "date" to Chipotle the following evening. We had a picnic in the back of the car with our Chipotle which was fun! 
---
SEE MY PREVIOUS OUT OF THE KITCHEN POSTS.