Out of the Kitchen March & April 2020
We're back with another out of the kitchen post – here's what we've been up to for March and April!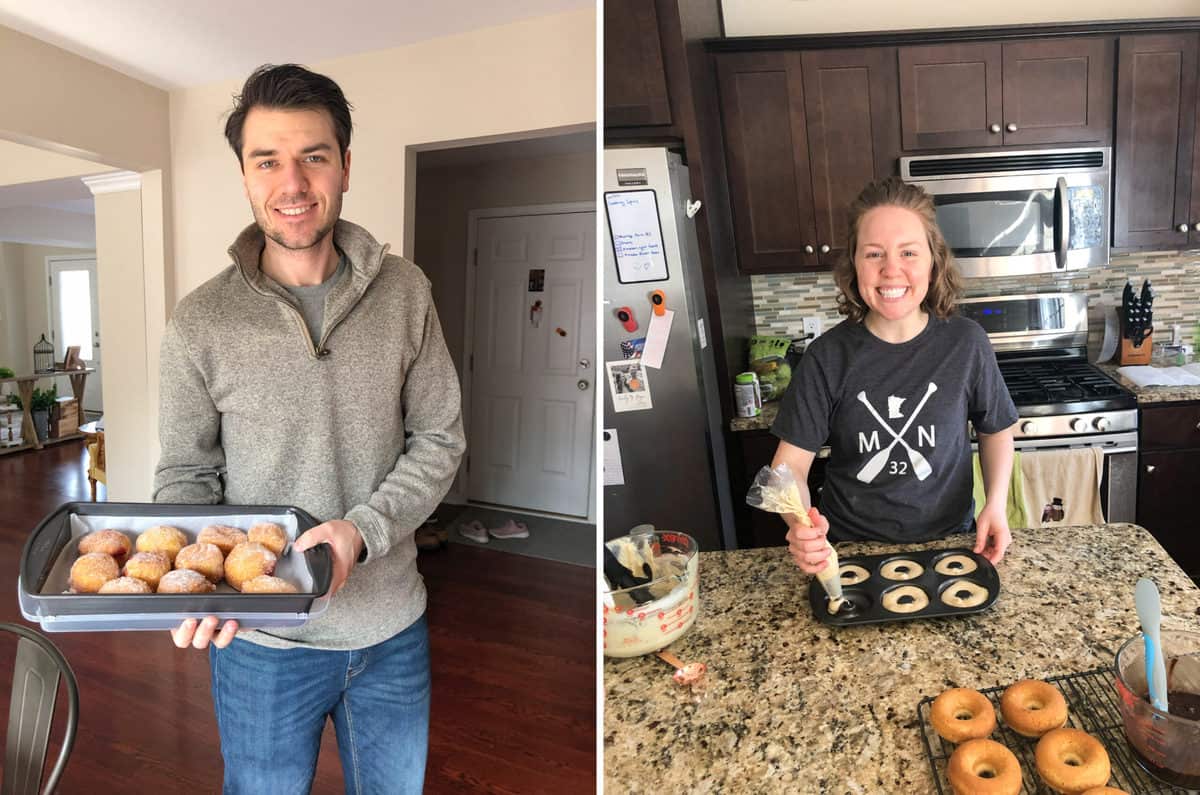 I never got around to posting March's Out of the Kitchen post, so here is March and April! In March, Ryan and I were both on a donut kick. Ryan learned how to make jelly filled donuts (fried and everything!) and I made my favorite baked vanilla donuts, they turn out awesome with GF flour. We also tried making fried gluten free donuts.. those were terrible and we need more practice. Yeast and gluten free flour aren't friends.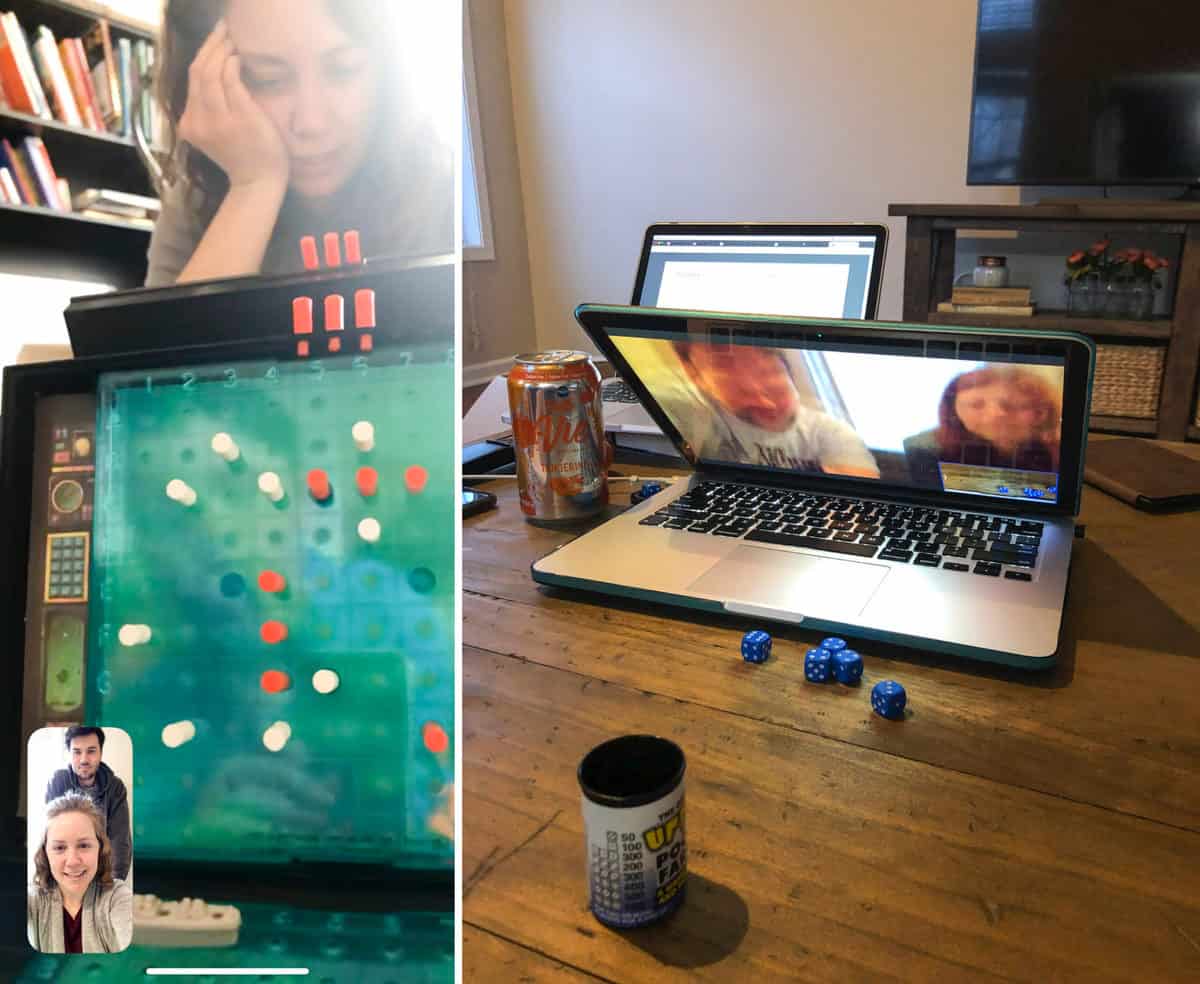 And this is were we enter the beginning of the stay at home season. The first few weeks were nerve wrecking but also fun and challenging having Ryan home. We had a few video chats – we played battleship with my sister and nephew in Minnesota and had a game night with friends, we played heads up and farkel!
Sweatpants are the new way of life. I thought I owned enough comfy clothes before this, but I'm practically living in sweats or workout clothes these days. I put on jeans to go to the grocery store – and my mask of course! And I haven't put on make up in 8 weeks. I'm concerned I won't remember how to do my make up at the end of this ?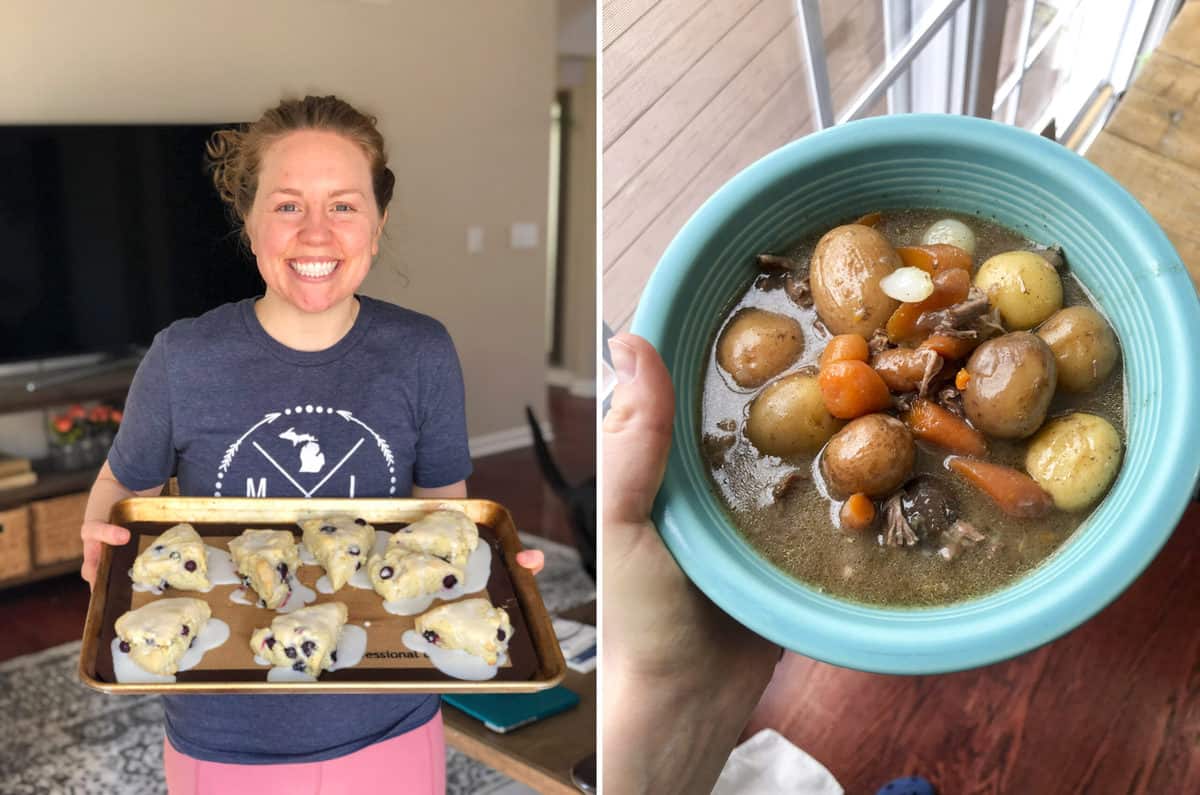 We've been baking and cooking a lot. Ryan and I tried our hand at lemon blueberry scones (2 or 3 times) and we finally nailed down the perfect recipe. Ryan has been spoiling me with cooking dinner, here is a picture of beef stew he made. It was delicious.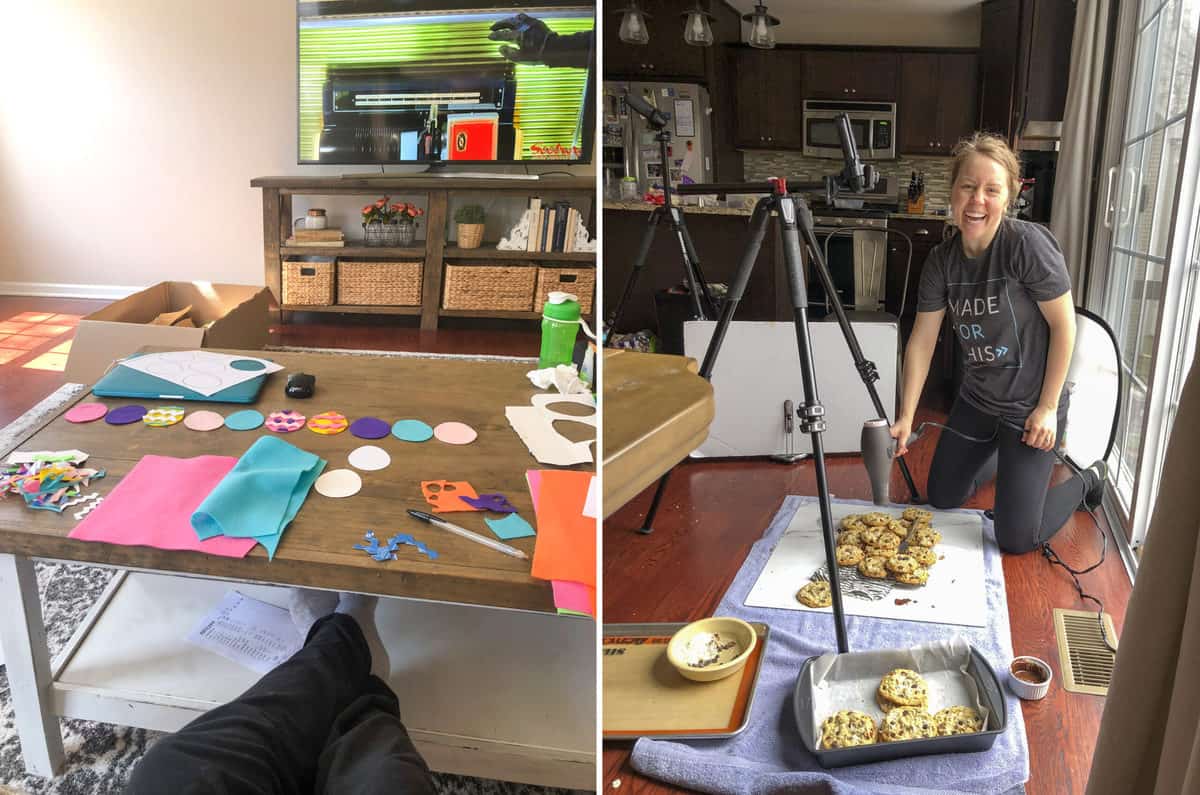 I stocked up on some craft supplies and made a felt easter egg garland for the mantle. I have plans to make a birthday garland and one for 4th of july too. The second photo – food blogger secret!! Use a hair dryer to heat up chocolate chips on cookies so they look fresh out of the oven and melty for photos.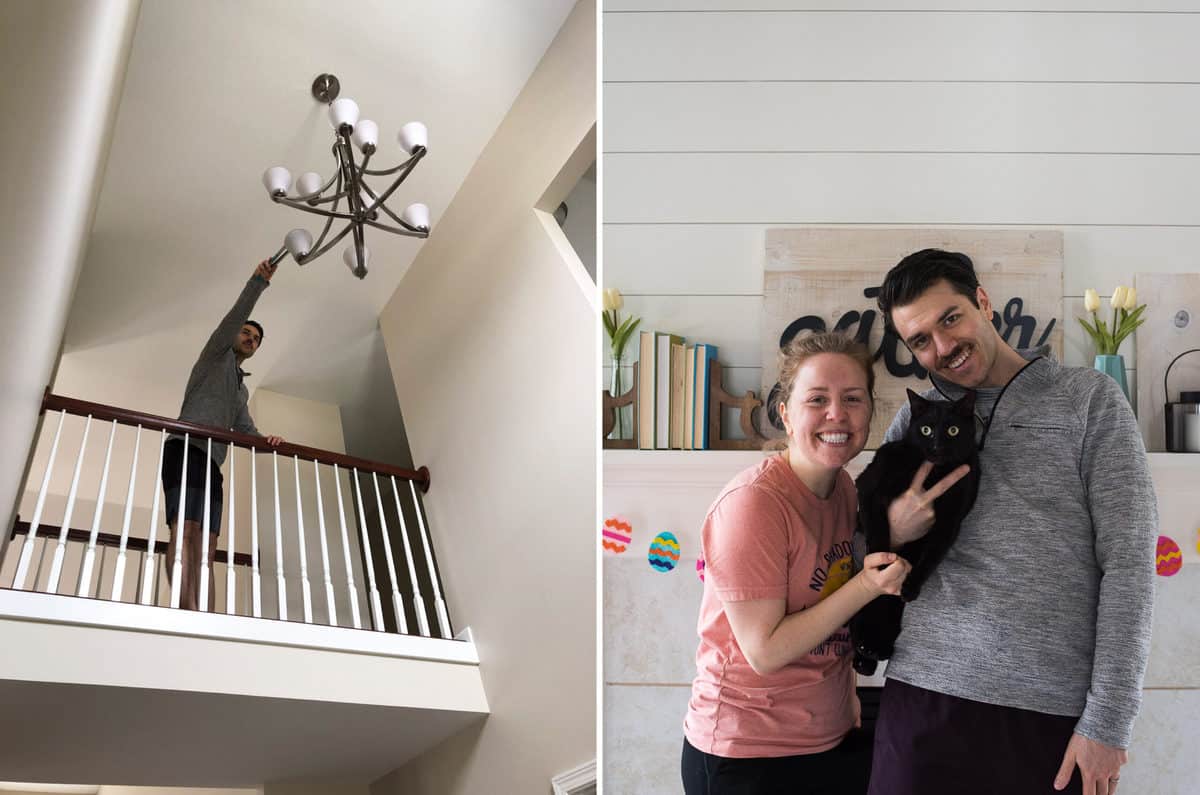 On Easter, Ryan and I hid reese's eggs for each other to find. Ryan hid one of my eggs inside the chandelier.. like I was ever going to find it ? I asked him to show me how we got it in there.. he used the kitchen tongs! The second photo – our easter picture featuring Ryan's mustache and Salsa's creepy eyes. Ryan has been experimenting with growing a mustache while he's working at home.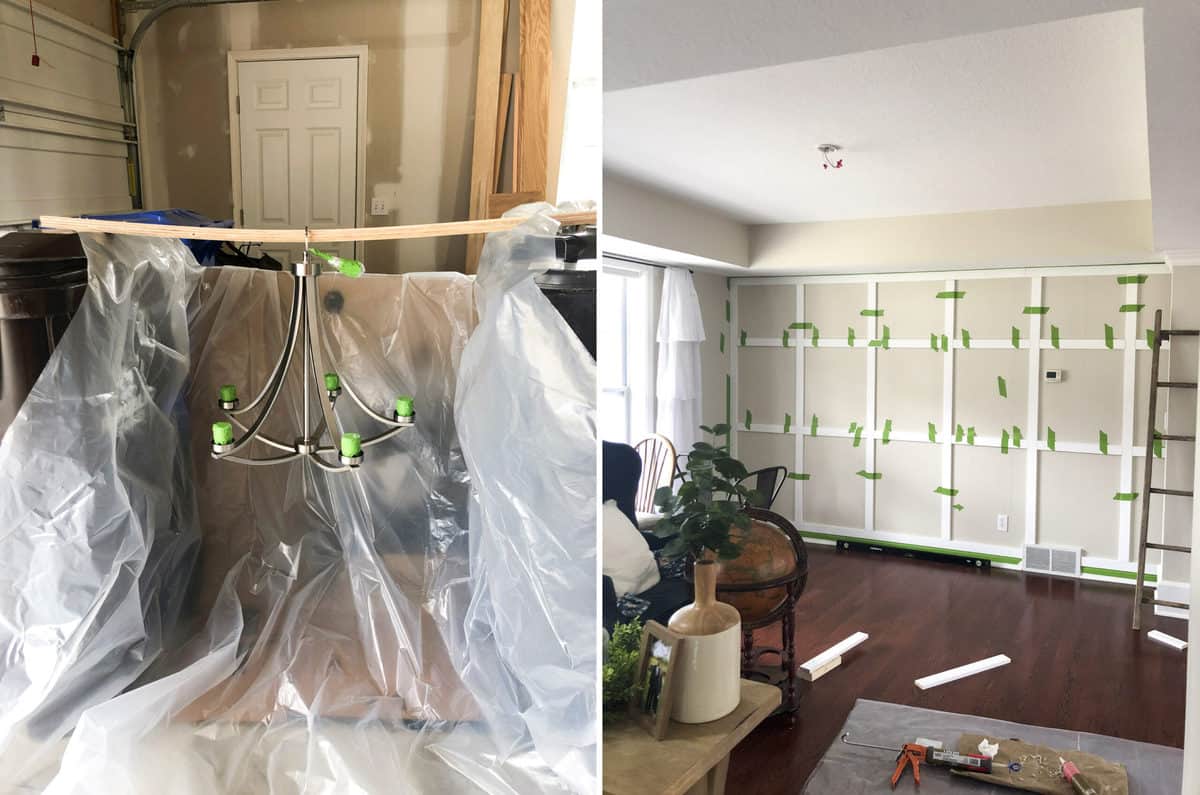 All this staying at home is making me crazy so I've been channeling that into a few house projects. I spray painted our chrome chandelier black, it looks more modern now! And I put up board and batten in our sitting room.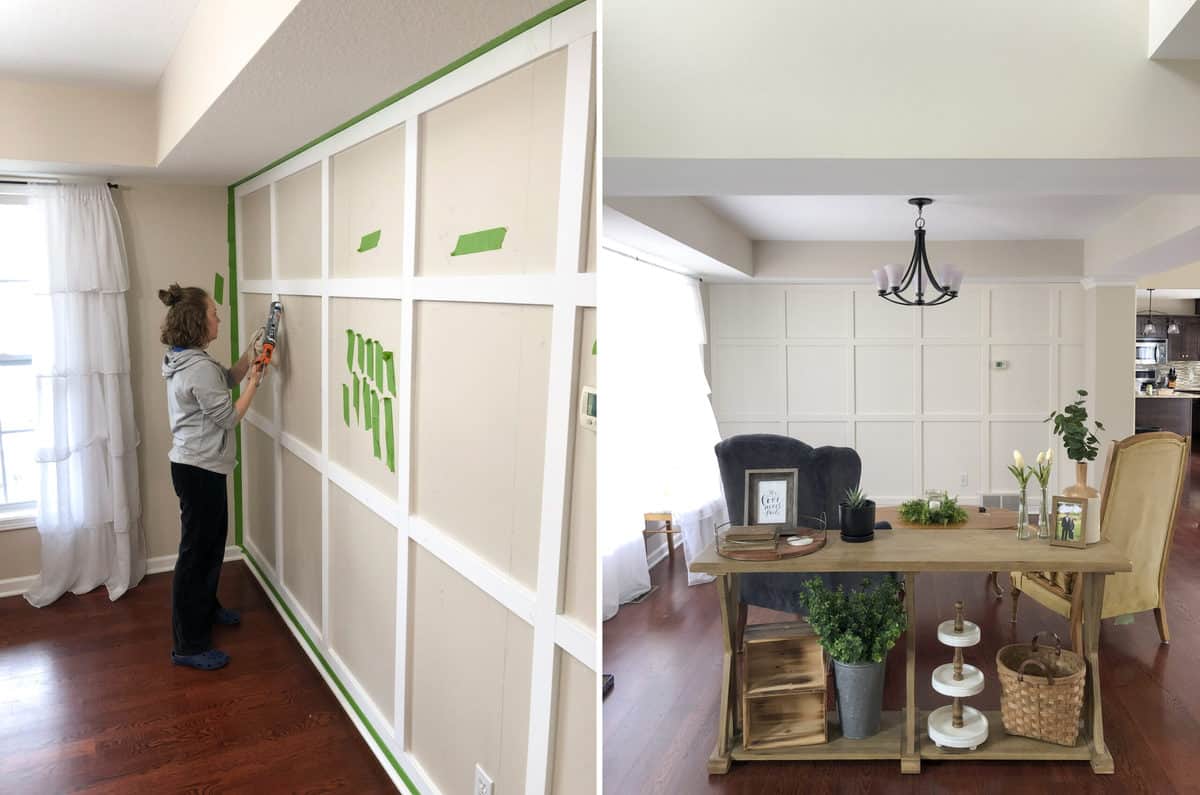 I used MDF boards and attached them with nails when they matched up with the studs and liquid nails when they didn't. I caulked around all the seams and then painted the entire wall – it turned out so good! I think it's my favorite wall in the house now!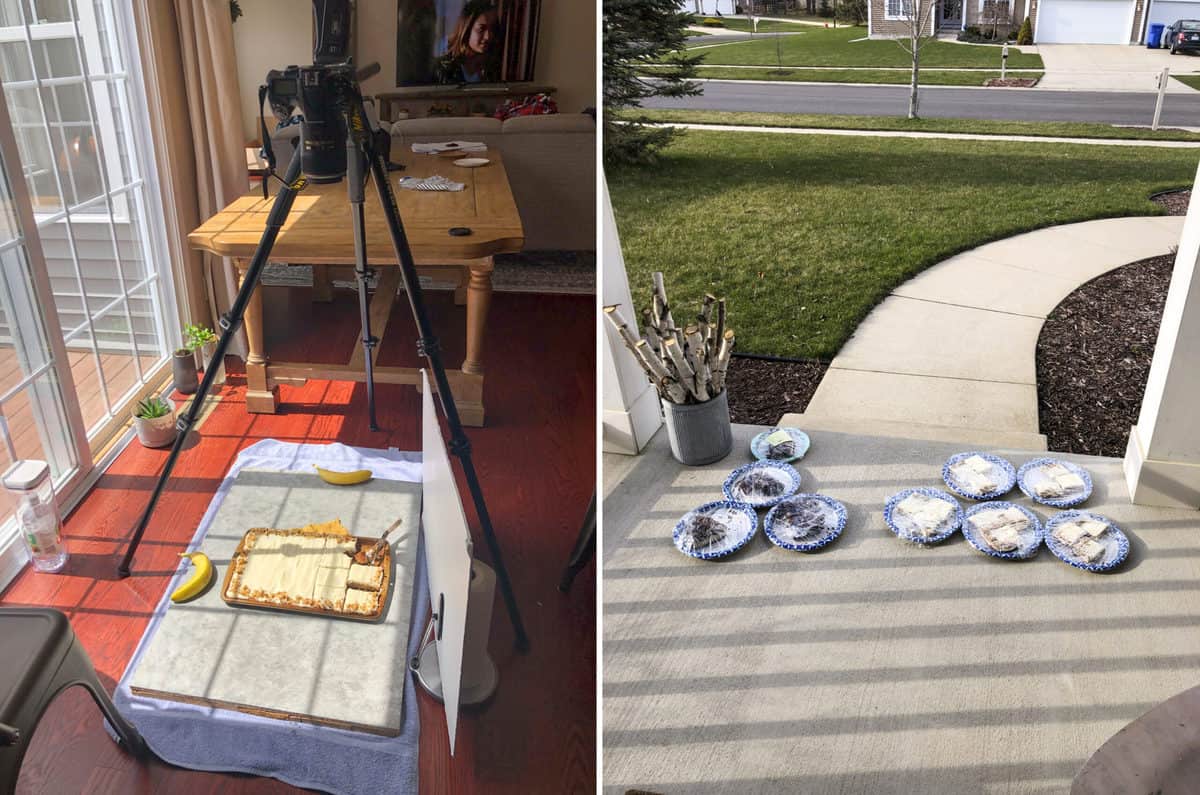 I've been busy rephotographing old recipes, updating posts for better SEO, and testing new recipes. Plus I'd say our local friends and neighbors are really lucky because they've been able to pick up lots of goodies from our porch.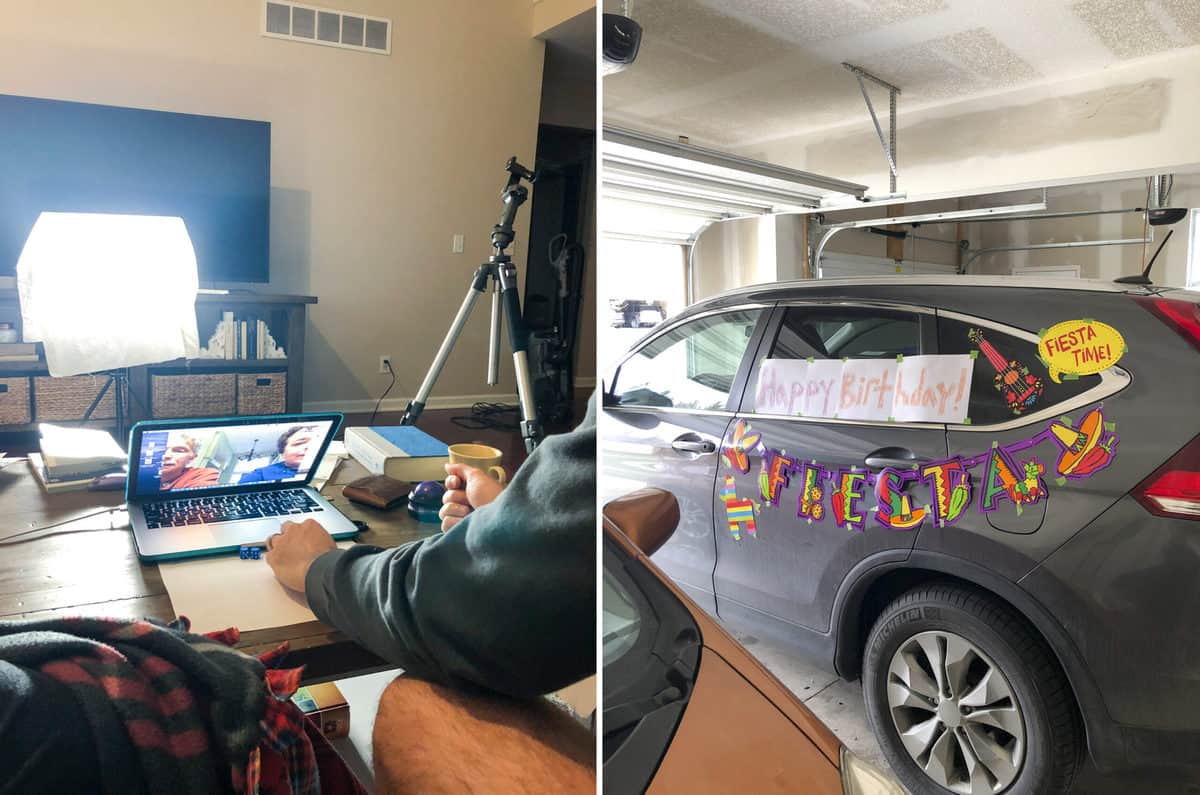 Video chats, zoom meetings, and online church are the new way of life. We've been able to play farkel virtually with Ryan's family and now his family challenged us to a drawing competition. We drew names and each have to draw a portrait of someone in the family. This will be entertaining! The second photo, we celebrated a friend's 30th birthday with a drive by parade! It was so good to be able to see friendly faces from 6 feet apart.
——–
SEE MY PREVIOUS OUT OF THE KITCHEN POSTS.