Baked Vanilla Donuts
This is hands down our favorite baked vanilla donut recipe! With options for chocolate or white chocolate glaze, we love adding lots of sprinkles!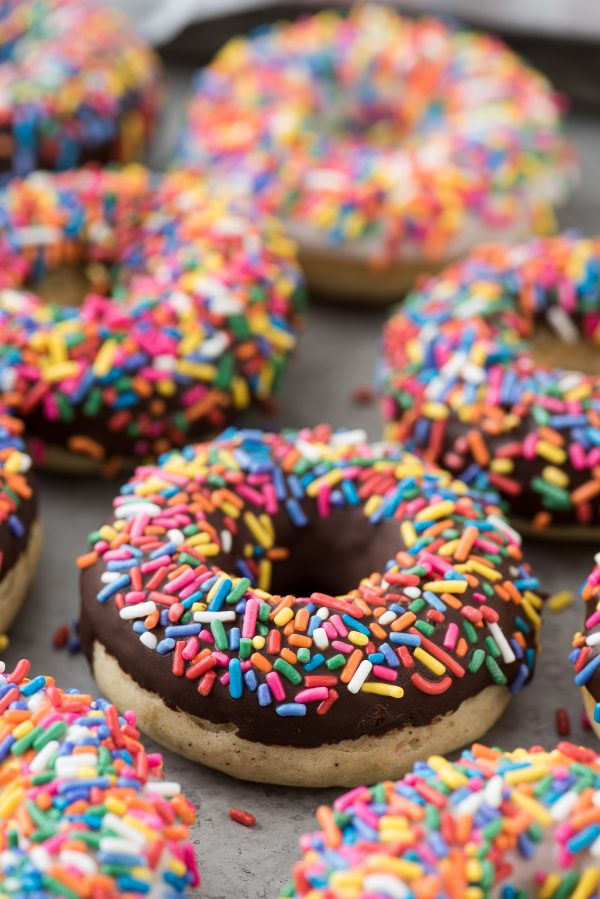 Donuts are my jam.
I don't think it was until I found out I had a gluten allergy that I actually started to like donuts. So I missed all my glutinous donut opportunities!
When we were living in Illinois, we made a few trips to Chicago because they have the best gluten free donuts there – I would literally buy a dozen just for myself and freeze them!
Now whenever we go to a new city, I always google to see if there is a gluten free donut shop. This girl will never pass up on a donut. I might not eat it right away, but it's always a good idea to get one.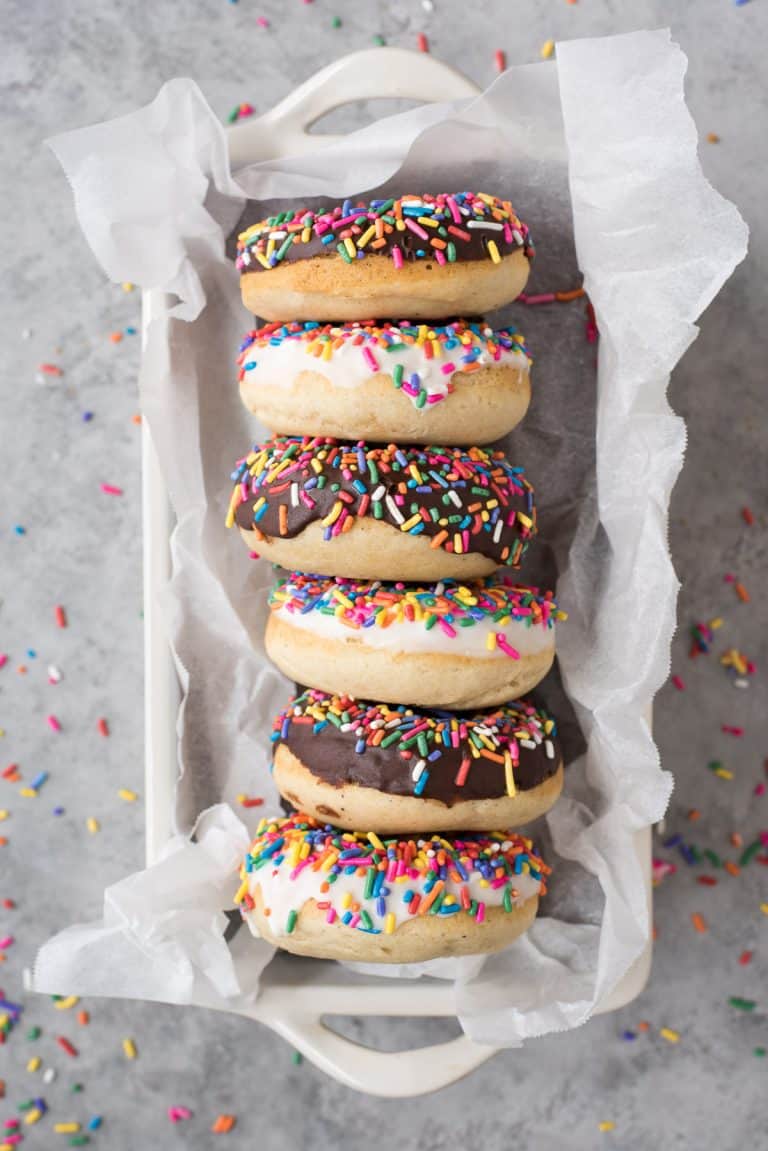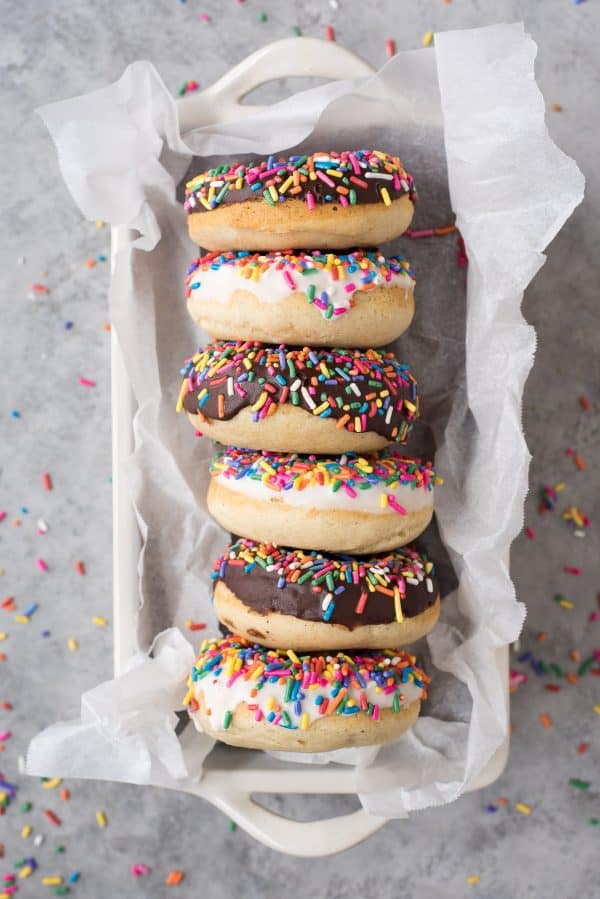 I've made a few donut recipes over the years but I haven't written down the recipe for a classic baked vanilla donut until now. And oh my gosh, I like mine with chocolate glaze and lots of sprinkles.
I've never been a fan of white chocolate, but I did include that as a frosting option!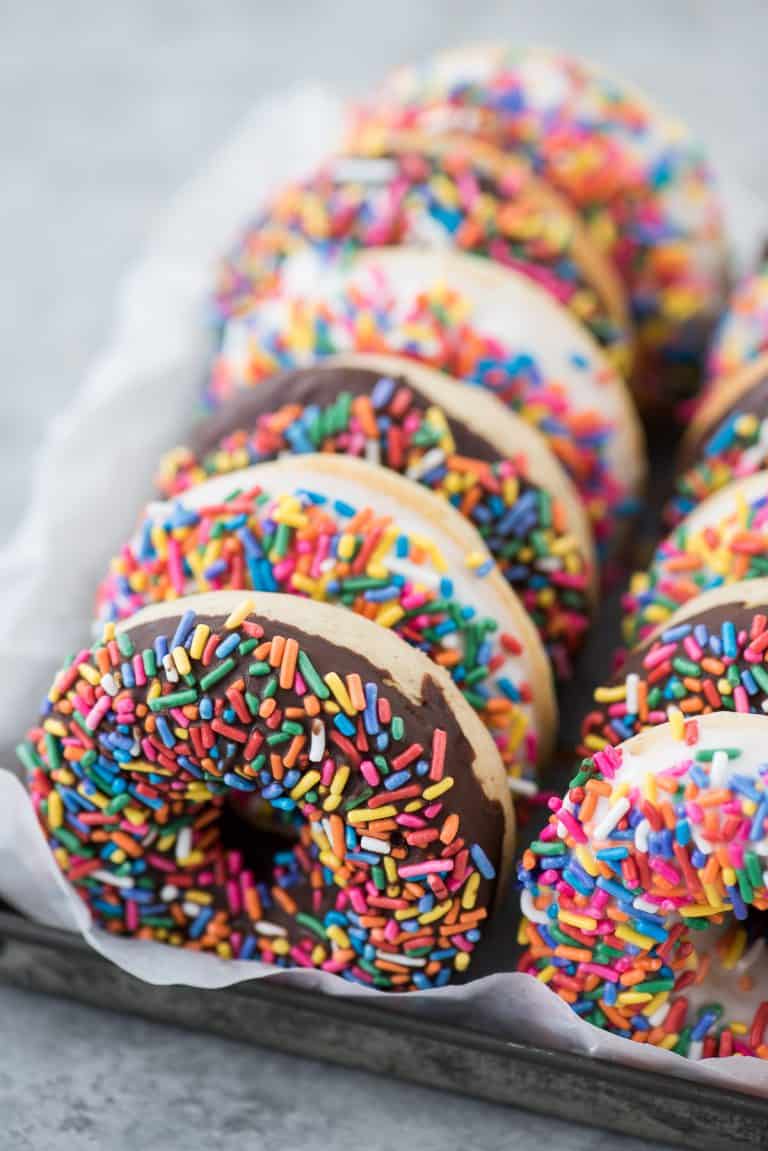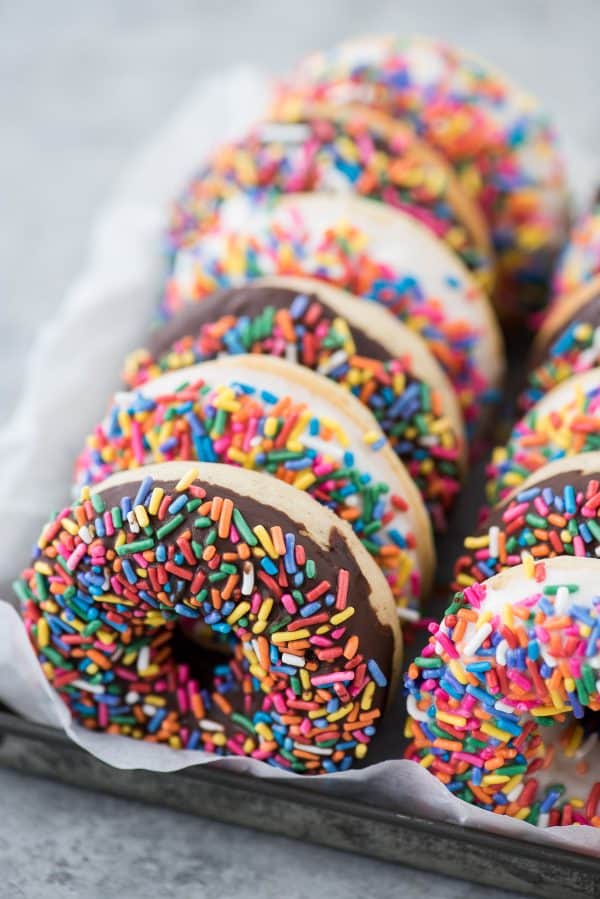 I've been gluten free for 12 years so I've had a lot of gluten free flour experience, and experience with what recipes work and don't work with gluten free flour.
That being said, I don't market my blog as a gluten free exclusive blog because I've learned that almost any recipe can be made with gluten free flour. The only one I've struggled with are gluten free cinnamon rolls – but everything else turns out amazing!
Our baked vanilla donut recipe can be made with regular all purpose flour or with gluten free flour! My favorite is King Arthur's all purpose GF flour that comes in a navy blue bag.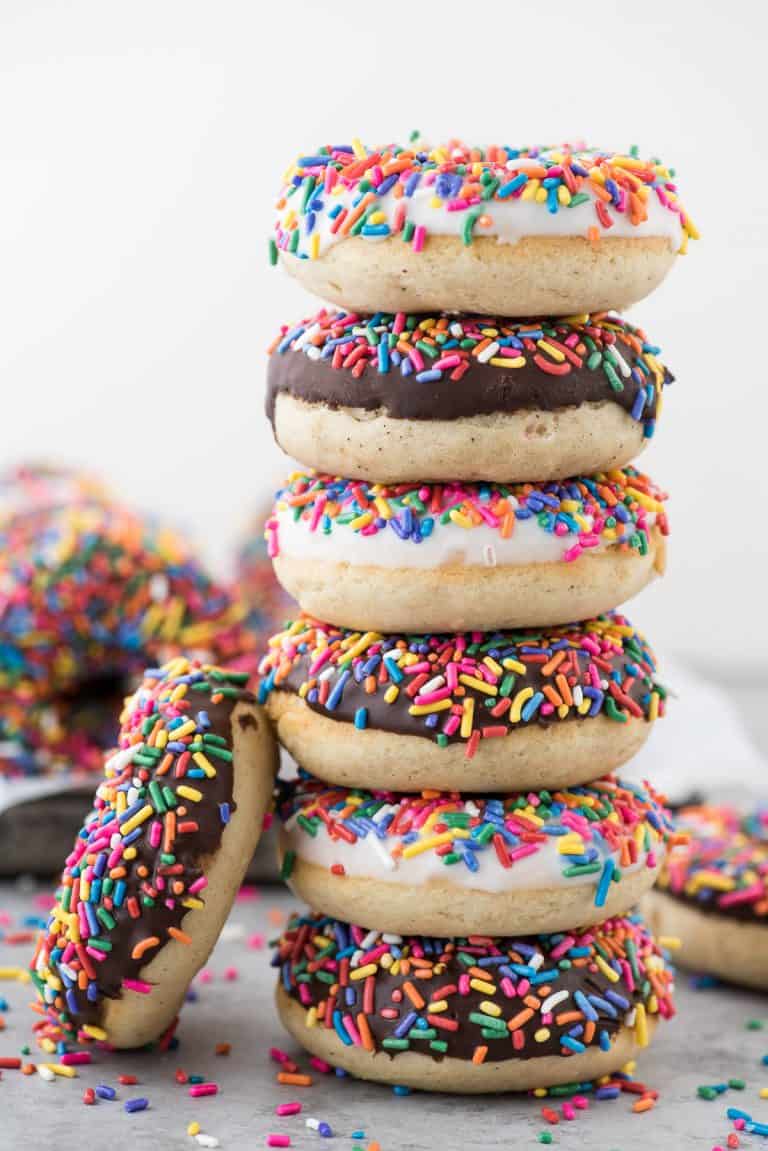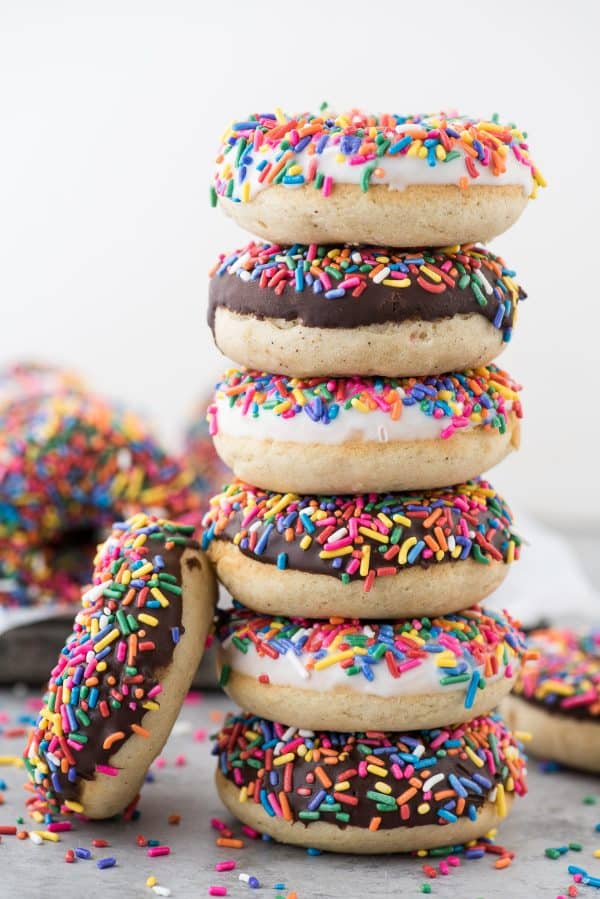 Okay – time to talk about the tops of the donuts because that's really the best part!
I wanted a donut glaze that would harden but not crack off and break when you bite the donut. So what's the magic recipe? Chocolate chips plus coconut oil. And it doesn't taste like coconut oil at all.
My absolute favorite place to buy BRIGHT multi-colored sprinkles is Walmart! I've searched high and low everywhere, and the Great Value brand sprinkles are hands down the best.
Chocolate glaze or white chocolate glaze, sprinkles or no sprinkles, customize the donuts however you want!
For a step-by-step of how to make this baked vanilla donut recipe, watch this short video: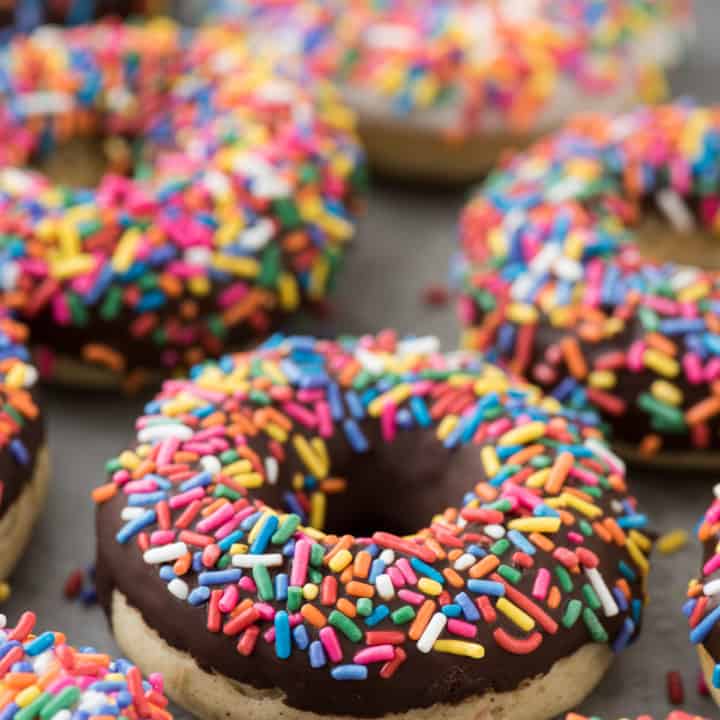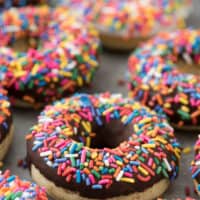 Baked Vanilla Donuts
Yield: 6 donuts
Additional Time: 1 hour
Total Time: 1 hour
This is hands down our favorite baked vanilla donut recipe! With options for chocolate or white chocolate glaze, we love adding lots of sprinkles!
Ingredients
Donuts (yields 6 donuts)
1 cup all purpose flour (or all purpose gluten free flour - I LOVE King Arthur brand!)
1/4 tsp nutmeg
1/4 cup sugar
1 tsp baking powder
1/2 tsp salt
5 tbsp milk
1 large egg
1/2 tsp vanilla extract
3 tbsp vegetable oil
Glaze
1 cup semi-sweet or milk chocolate chips or white chocolate chips
1 tsp coconut oil
rainbow sprinkles (We love the Great Value rainbow sprinkles from Walmart)
Instructions
Donuts
Preheat the oven to 350ºF. Spray a donut pan with non-stick cooking spray then use a paper towel to evenly coat the entire donut well.
In a smaller bowl, combine the flour, nutmeg, sugar, baking powder and salt, mix until combined. Set aside.
In a mixing bowl, combine the milk, egg, vanilla extract and vegetable oil, use a whisk or spatula to beat. Gradually add the flour mixture, mixing by hand with a spatula just until combined.
Transfer the batter to a piping bag fit with a round piping tip, or transfer the batter to a ziplock bag, then cut off one corner and pipe the batter into the donut wells. Use a small spatula to smooth the tops of the batter if the batter is uneven.
Bake for 10-11 minutes or until a toothpick inserted in the center of a donut comes out clean. Allow the donuts to cool completely in the donut pan, 30+ minutes. Once cool, turn the donut pan upside down and hit the pan again a counter a few times to release the donuts.
Glaze
Place chocolate chips and coconut oil in a microwave safe bowl, microwave 1 minute on 50% power, then stir. Return to the microwave and continue to heat for 30 seconds at a time on 50% power until the chocolate is melted. Stir the chocolate until smooth. Allow the chocolate to cool for 5-10 minutes before dipping. Dip the donut into the chocolate, allowing the excess to fall off into the chocolate bowl. Immediately dip the donut in sprinkles. Allow the glaze to harden or enjoy right away.