Out of the Kitchen March 2018
WE'RE BACK WITH ANOTHER OUT OF THE KITCHEN POST – HERE'S WHAT WE'VE BEEN UP TO FOR THE MONTH OF MARCH!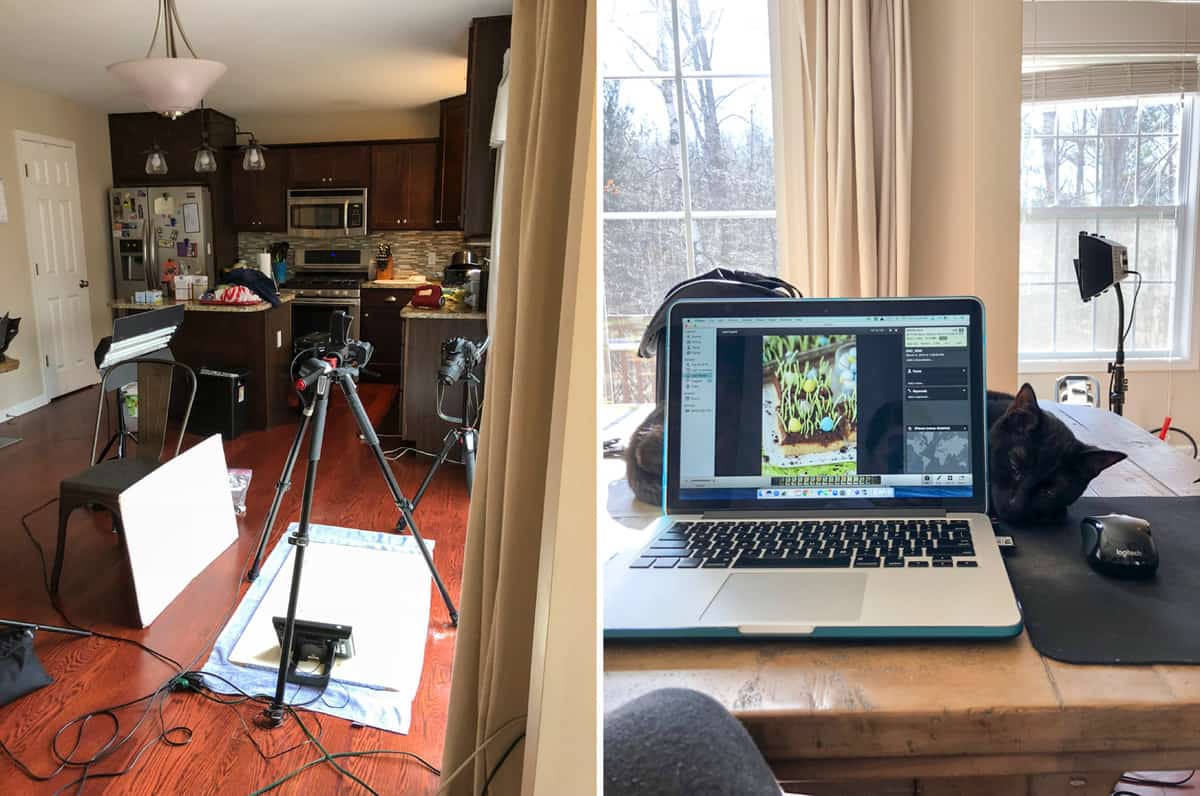 Lately I've been dragging all my equipment into the kitchen for videos. The light is so much better next to my patio door, but gosh, I wish I could just keep it up all the time and not have to tear it down all the time! The second photo – do you see my buddy? ????
Ryan was determined to make the fluffiest pancakes one Saturday. They were super fluffy.. but then you flip them and they deflate! The next weekend we made regular pancakes and enjoyed those much better! The second photo – it just happened that I had to do a shoot on a Saturday so Ryan was home to snap a behind the scenes picture! You can find those mini funfetti cheesecakes here.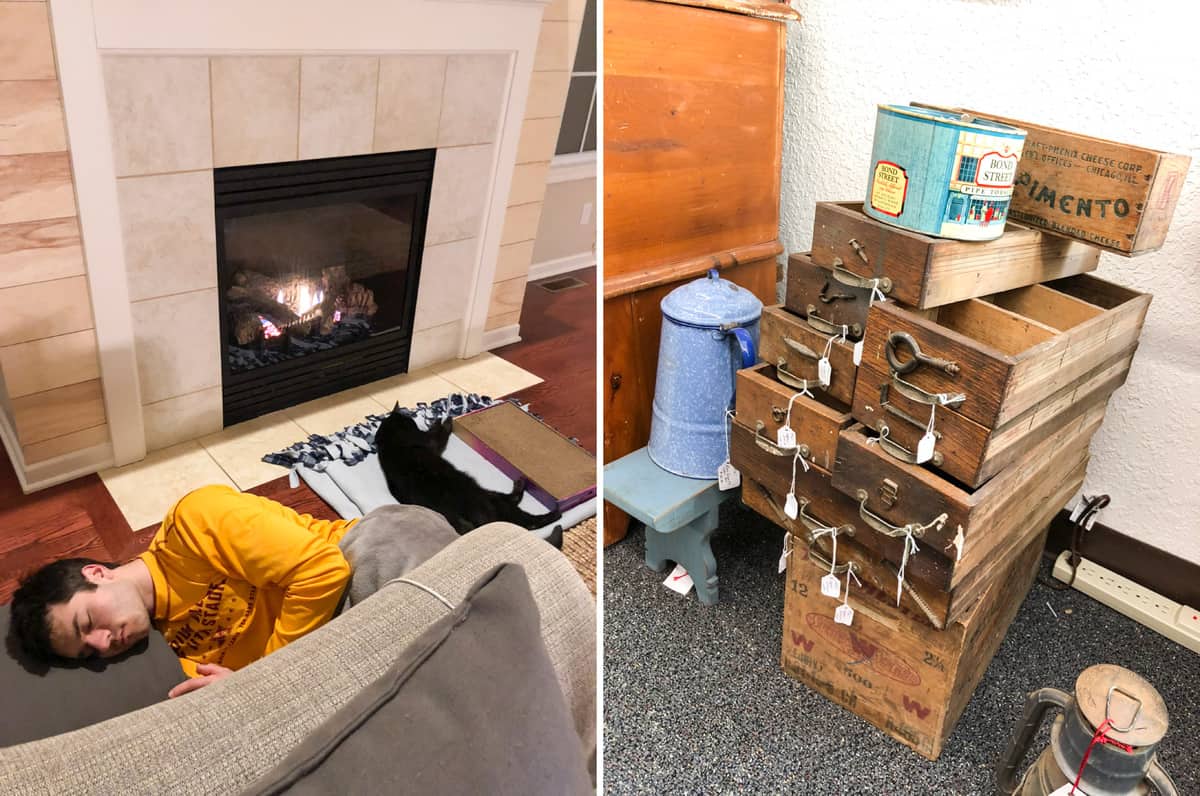 Ryan likes to cuddle next to Salsa. Salsa usually runs away because he gets mad that his space was invaded. But this was a sweet moment! The second photo – I went looking at an antique mall and found so many unique things. I was going to buy this cool pewter tray but it was less than $10 and they didn't accept credit cards for that amount. I never, ever have cash on me so I had to leave it behind.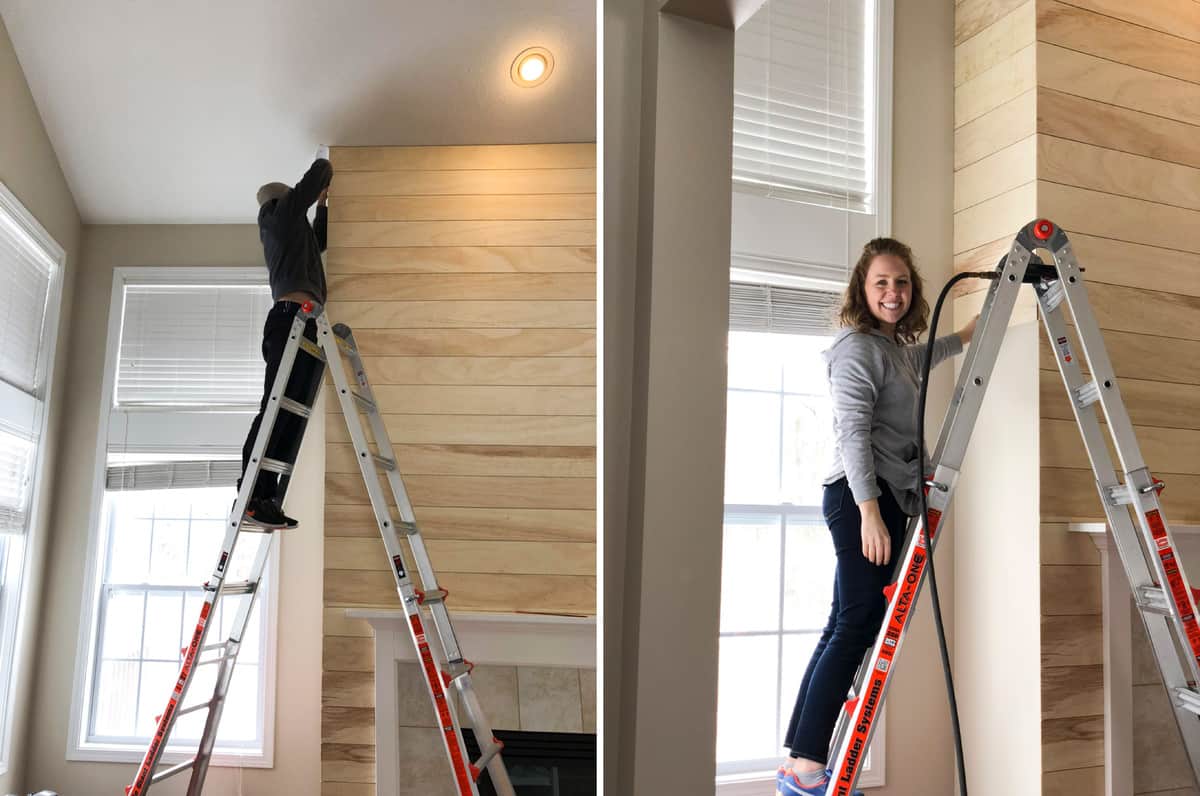 Shiplap process pictures! Ryan helped with the weird angles at the top of the walls and then I finished nailing up all the boards! I still need to sand and then paint.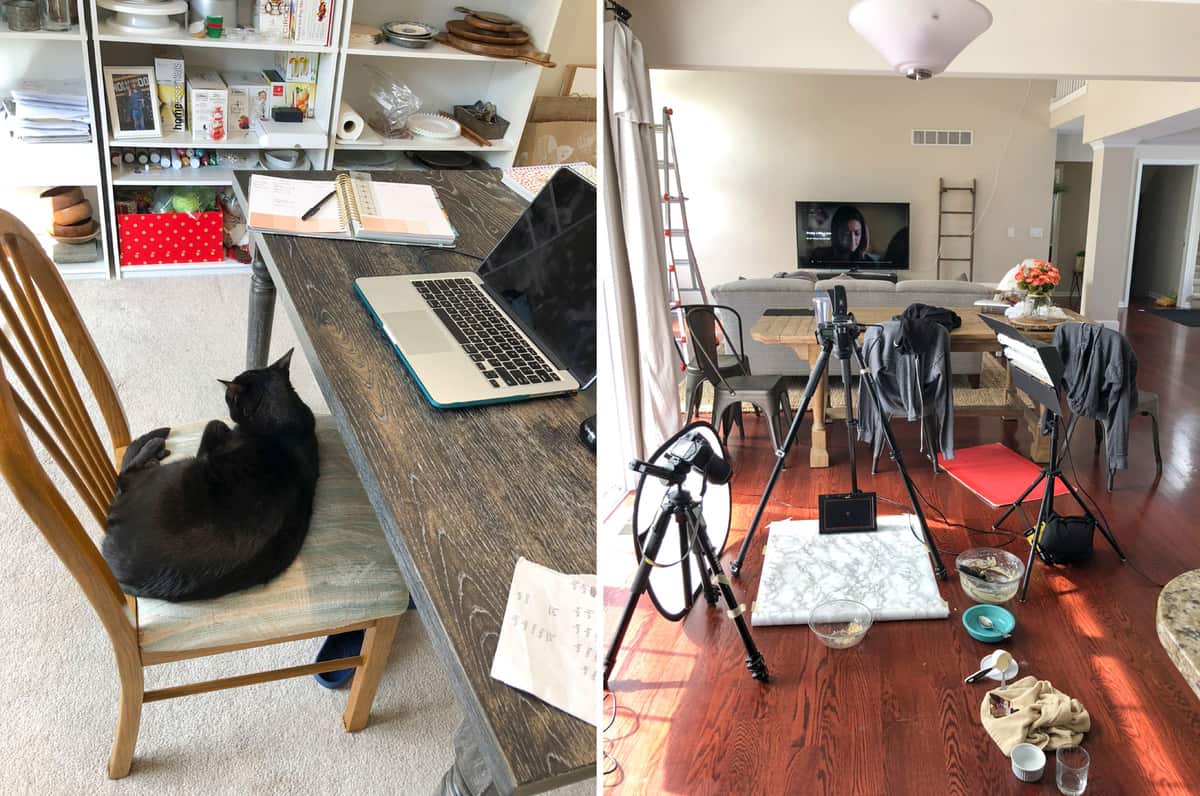 There was one day Salsa kept stealing my chair every time I left my office. He LOVES that chair. The second photo – another video shoot!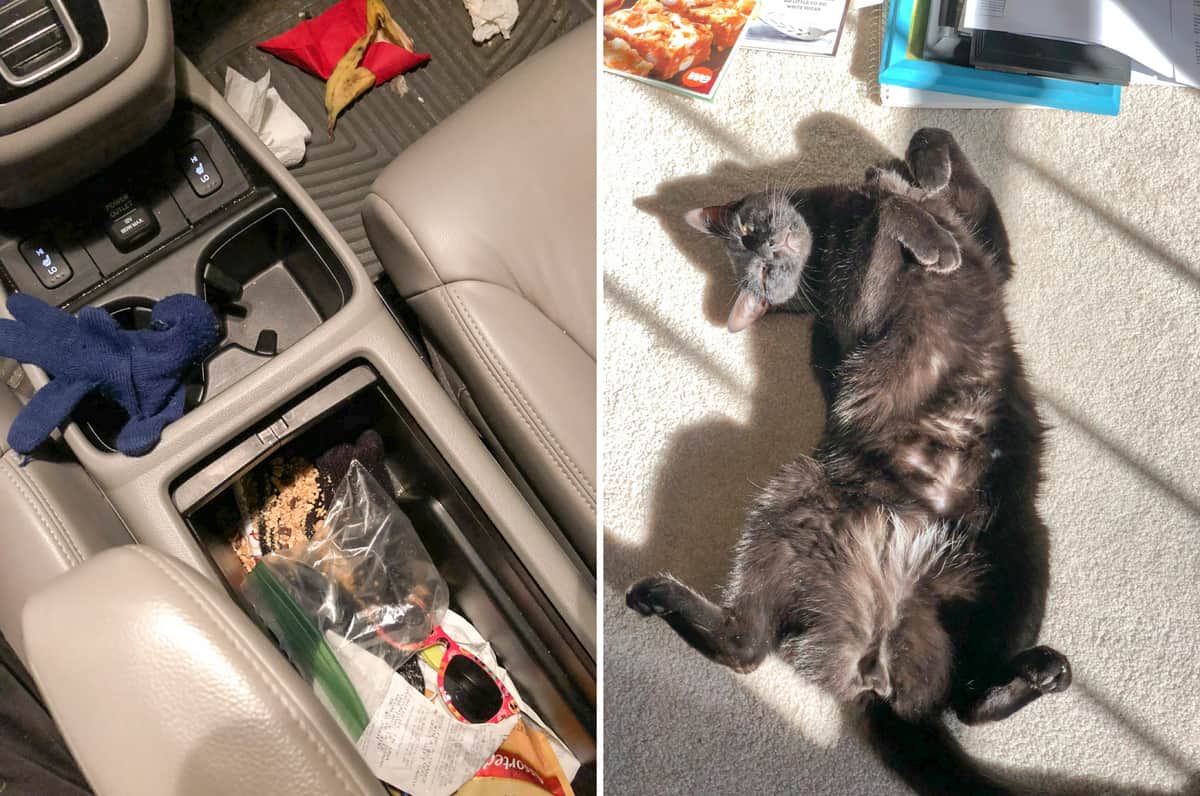 I spilt my granola while driving, luckily it all fell into the console, so I kept eating it. ???? I did vacuum the rest up. The second photo – my favorite cat just hanging with me in my office!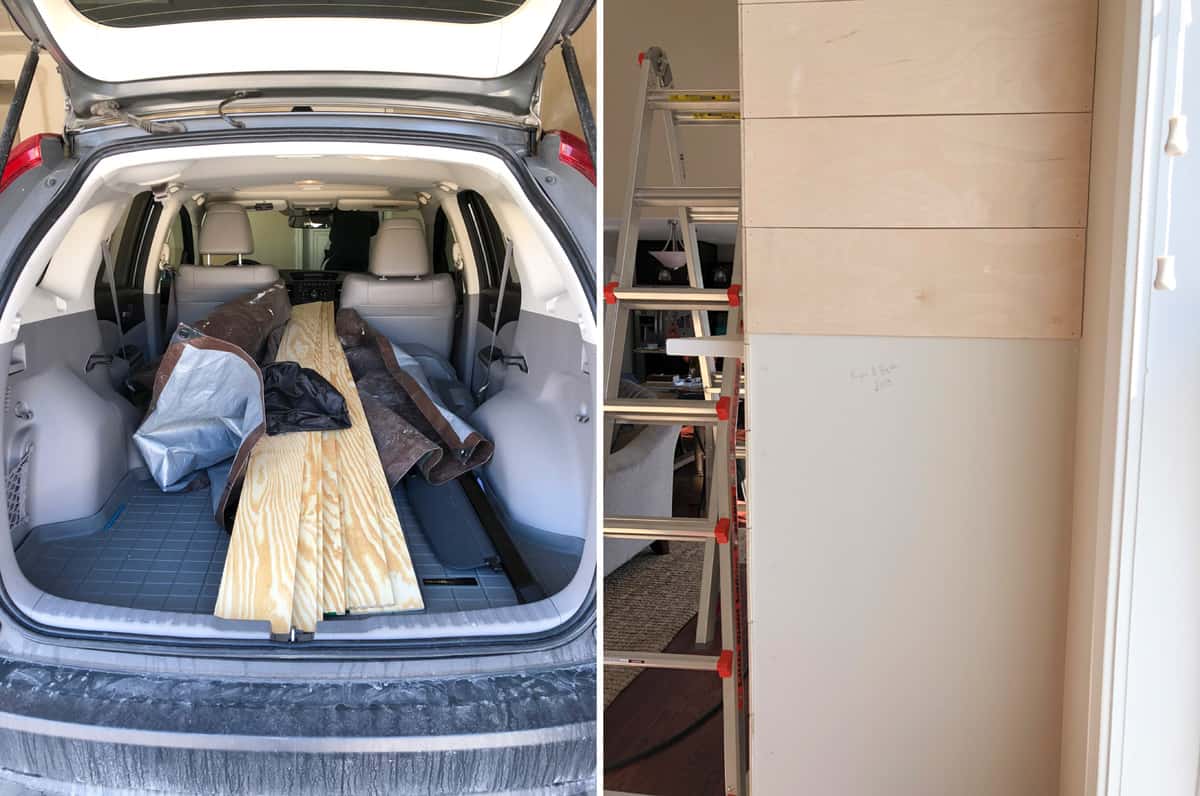 I ran out of wood for the shiplap project, so I went to Home Depot to get more, only to find out I bought the wrong kind when I got home. I had to go back and have the correct wood ripped down! The second photo – I wrote a secret note on the wall before I finished putting up the shiplap. I could have been more creative but I just wrote "Ryan & Beth 2018" haha.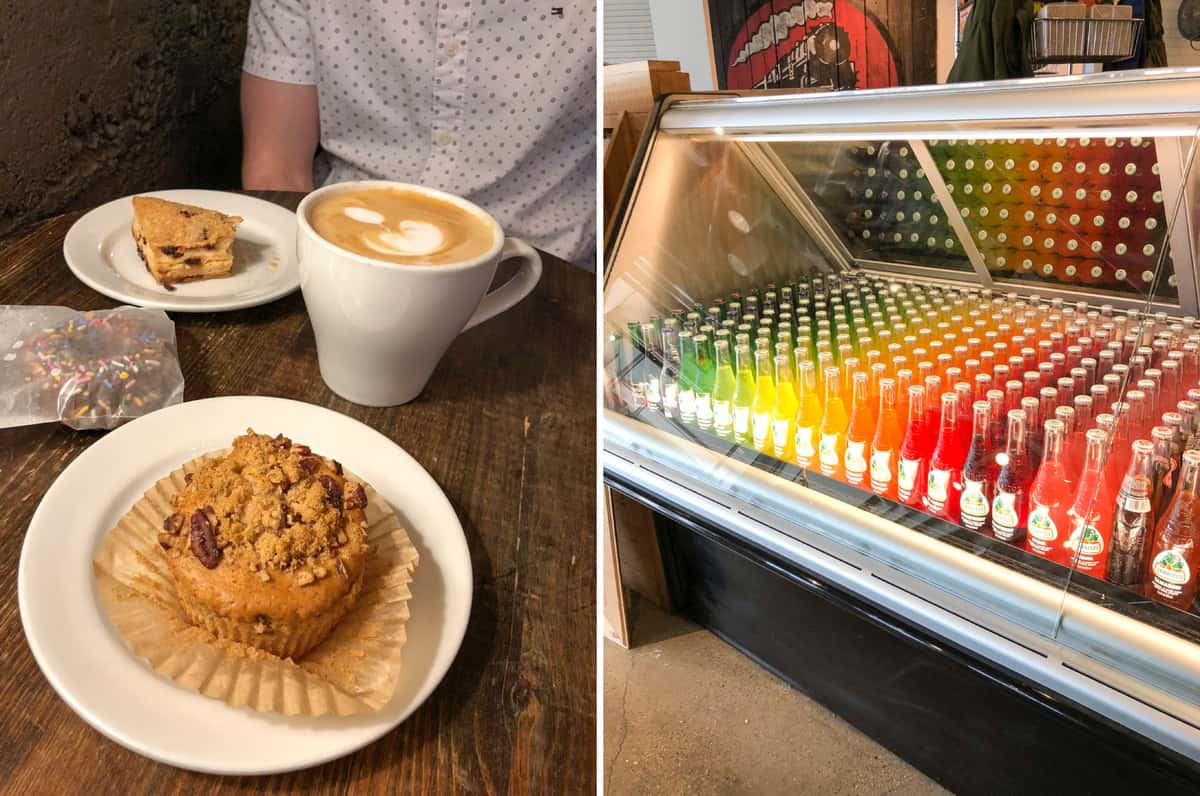 We went to Grand Rapids for the day one weekend. We ate lots of food (even gluten free muffins, donuts, and pizza!) We went to the downtown market (thats where I saw these rainbow bottles!), stopped at a few really unique vintage stores, and did a brewery tour at Founders.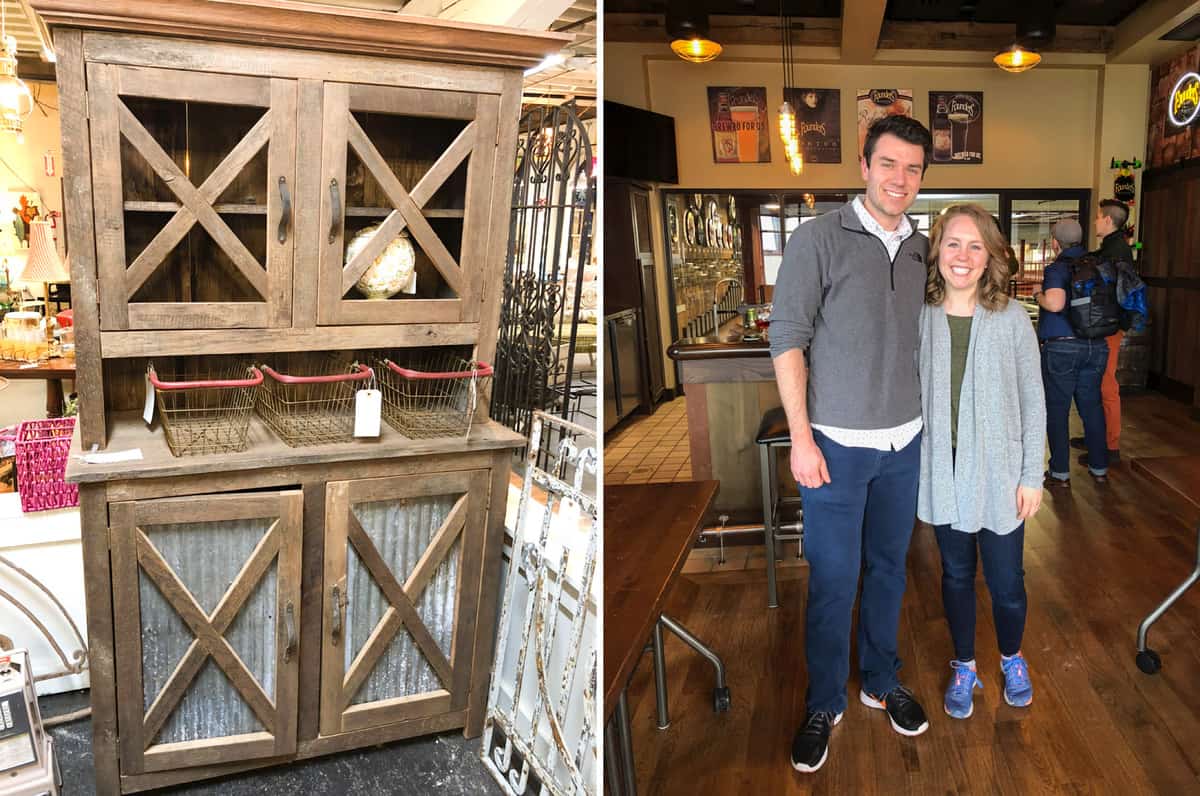 At one of the vintage stores in Grand Rapids, I saw this gorgeous piece and the tag said $58. I was trying to convince Ryan that we needed to take it home and that it would fit in our car.. but then I realized the dollar sign was actually a 5 so the price was 585. WAY out of my price range!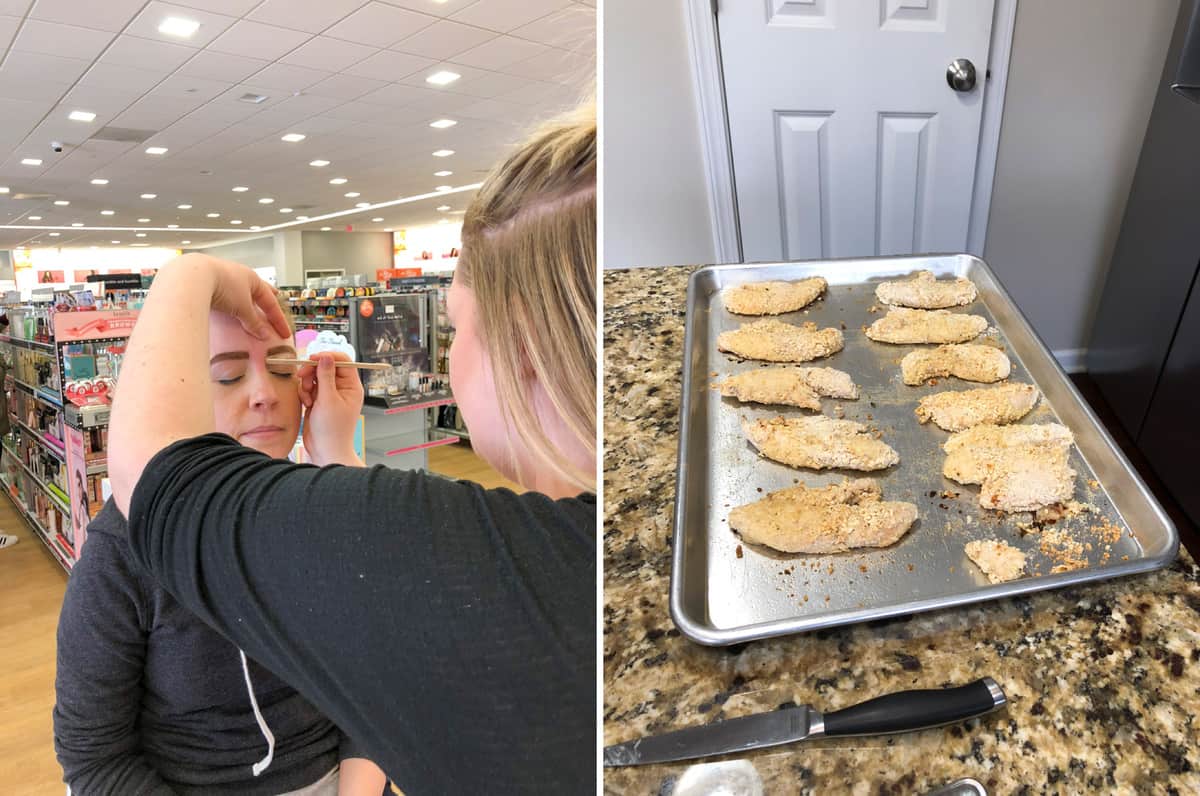 I went into Ulta to get some new concealer and I got talked into having my eyebrows waxed! I was so nervous, I never had my eyebrows waxed before, but I'm glad I was brave! I really like the shape! The second photo – we made homemade gluten free chicken tenders!! They turned out really good, the only thing is that the breading didn't really get golden, but still delicious!
OPENING UP…
March has been really good.
Before we moved from Illinois to Michigan, I would pray for our future neighbors, friends, church, small group, and Ryan's co-workers. I feel like this month in particular, I've been able to see how God has been orchestrating things "behind the scenes". A lot of those things that I had been praying for, or hoping to see in our new city, He brought into the open.
They usually are subtle things, that could pass me right by, but when I leave small group, or bible study, or an interaction with my neighbors feeling filled with joy and so grateful to be doing life with these people, I pause and in my head I say, thank you Lord for bringing us here. Thank you for the people you've placed in our lives.
It feels so good to see those small things. It's a reminder that Jesus has us right where he wants us, because it doesn't always feel easy, starting over in a new place.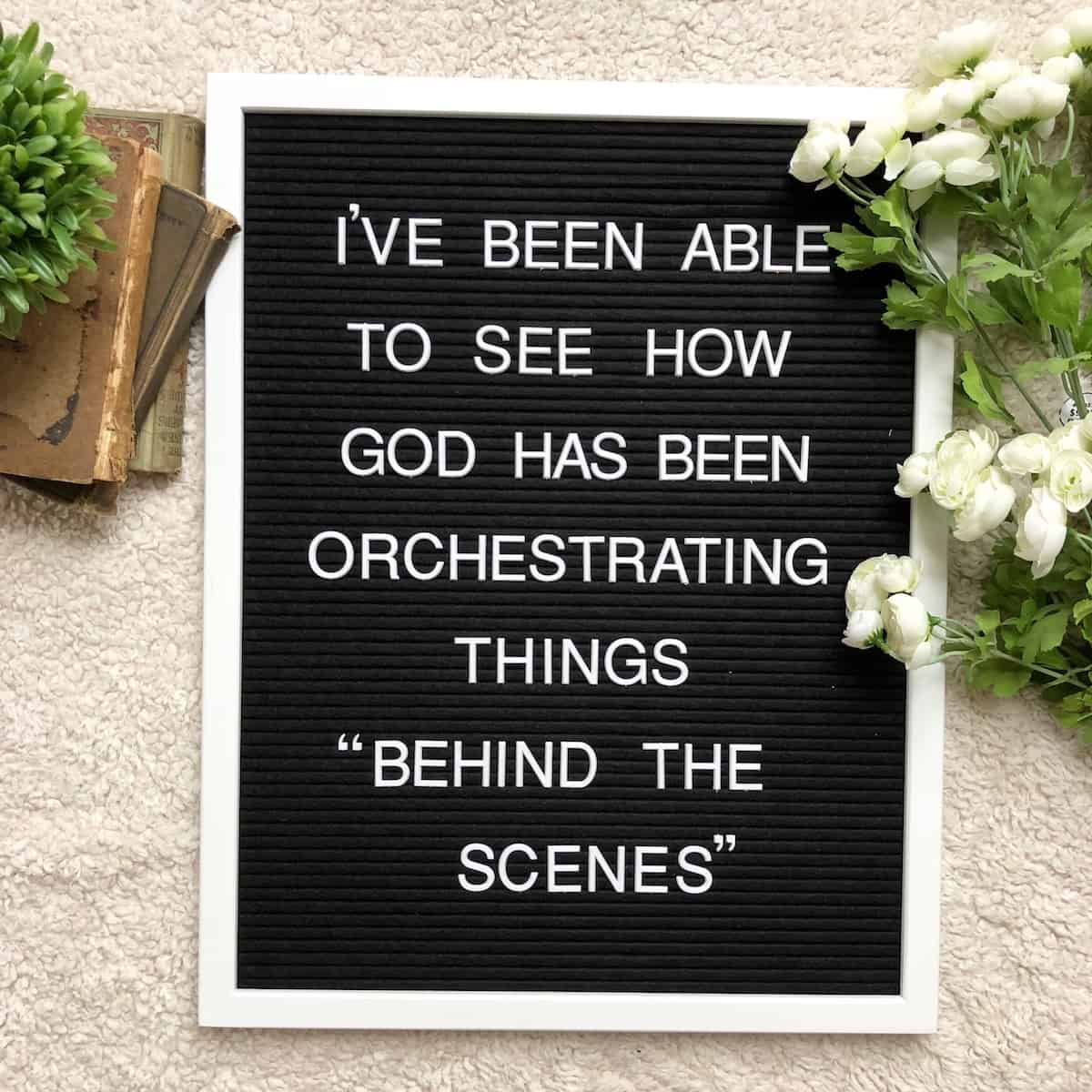 We definitely have spring fever, as I'm sure all Midwest folks do! Ryan and I love going for walks so I am looking forward to that. We're also excited to tackle what we refer to as the weed garden that the previous homeowner's left us.
Ryan and I both have this spark lately for doing wood related projects. I'm still finishing up the shiplap project and Ryan is working on building a fence for the table saw we bought in the fall at a garage sale. We've also been talking about building some small wooden shelves and figuring out what we want to do with our front room.
On a more personal level, we've been working on some communication issues in our marriage this month. We each picked 2 goals to focus on that involve the other person.
I know that when I hear about couples working on certain issues, I tend to feel jealous and think we're not doing a good enough job in our own marriage, so I want to be honest.. we're not making lightening speed progress, but it feels good to recognize these things and work on them in small ways.
I also found this podcast called One Extraordinary Marriage and it's been encouraging to listen too. I highly recommend it to any married couples!
Ryan and I have been talking through what the future may hold, and the potential of moving to Texas for a 6 month rotation for his work. It sounds scary, but 2018 is the year of trying new things and being brave!
_____
See our previous out of the kitchen posts.