Out of the Kitchen January 2016
We're back with another Out of the Kitchen post – Here's what we've been up to for the month of January!
You might be asking 'what happened to the month of December post?!' Well Christmas happened and traveling and nannying and working. It felt nice skipping it but we're back with lots of pictures!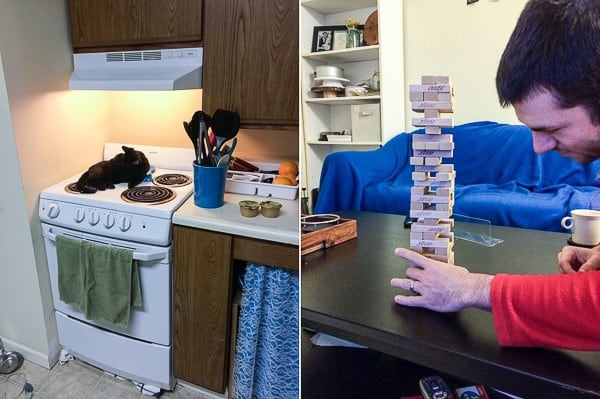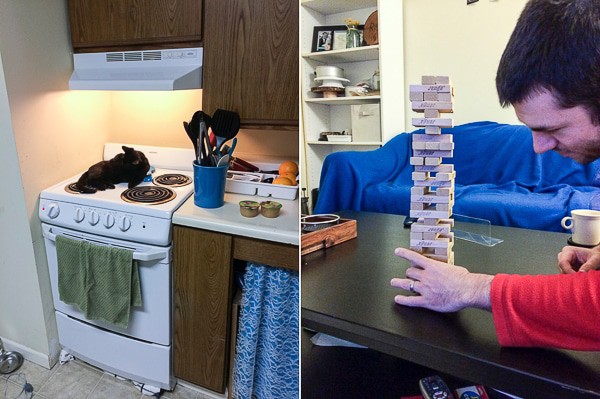 Salsa, our 'we paid off our student loans present!', has discovered a new warm place – on top of the oven! This whole we're keeping him off the counters isn't working so well – HELP! The second photo – we had a friend over for an intense game of jenga. Ryan takes this game to a whole new level.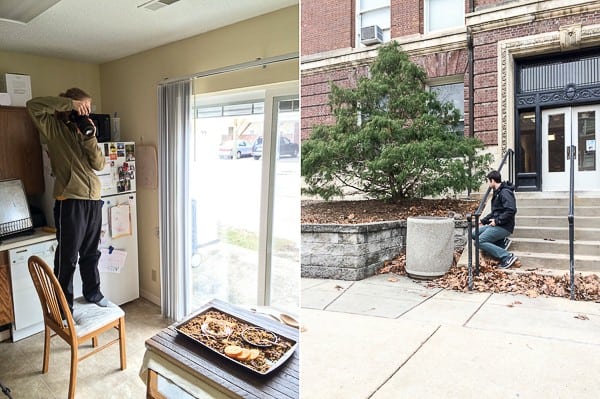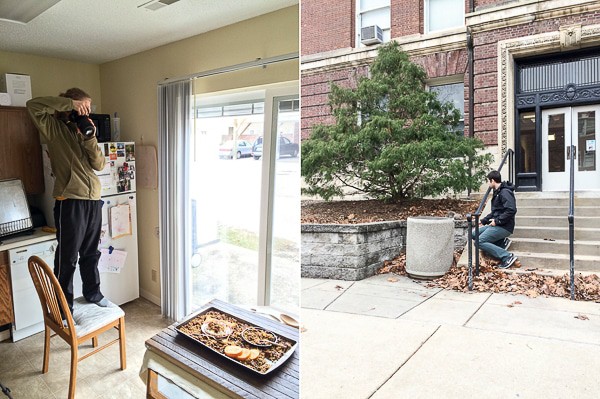 A behind the scenes from this orange cranberry granola. I've realized I need a taller tripod, good thing some friends alerted me of a deal on Amazon and I have one coming on Tuesday! The second photo – Ryan loves squirrels and he feeds them, which he probably shouldn't. But if you look really close, Ryan was feeding this squirrel some nuts and they got pretty close to each other! As you can see, I kept my distance :)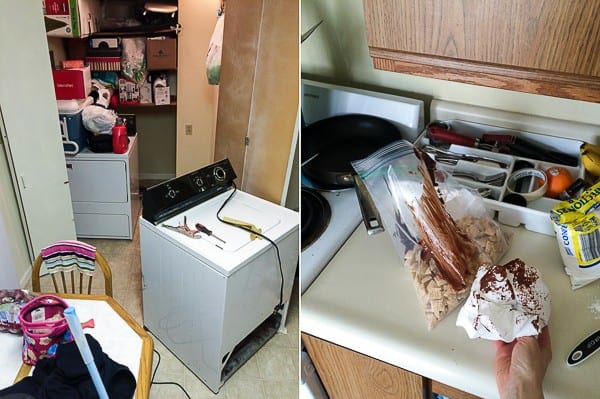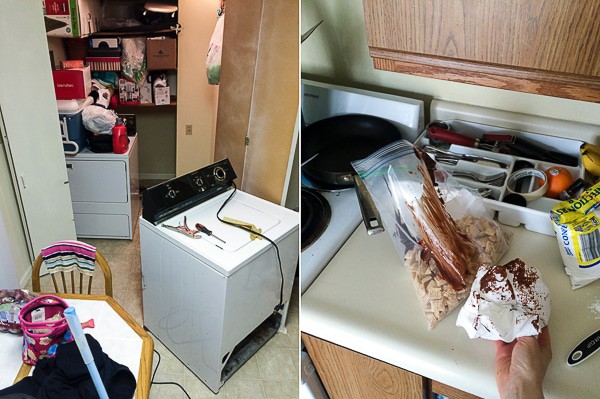 January seemed like the month of the washing machine fiasco. It was bound to happen, we have a washing machine circa 1970s and all we needed to do was replace the belt, but other things kept breaking in the process, making it the longest repair ever. Hooray for husband's who like to solve problems! The second photo – I was making puppy chow for our football puppy chow recipe and instead of pouring the melted chocolate into the bag, I accidentally poured it all of the side of the bag. Whomp whomp.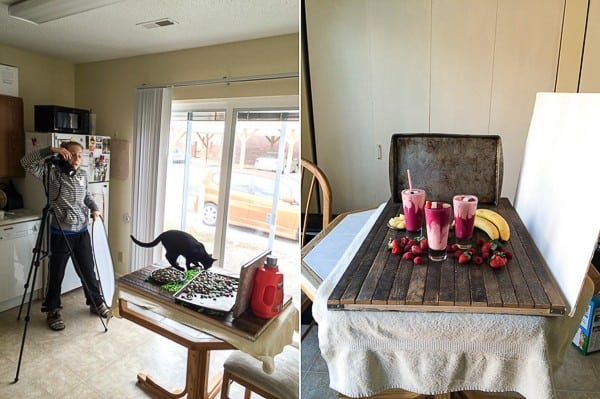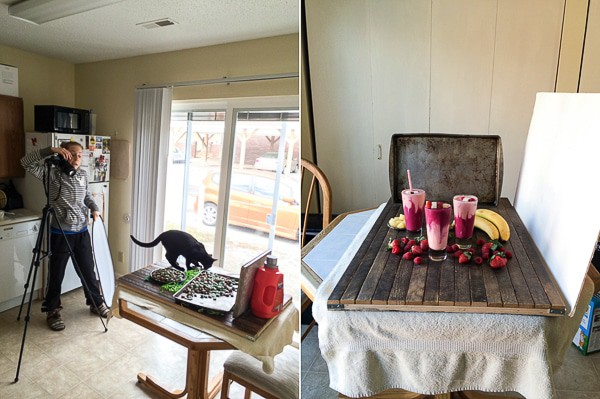 Ahh! You might be able to see my face and realize it was a moment of panic! I was shooting puppy chow and a friend joked that I guess it's cat chow now, haha! The second photo – a behind the scenes from these gorgeous berry beet smoothies that would be perfect for valentine's day!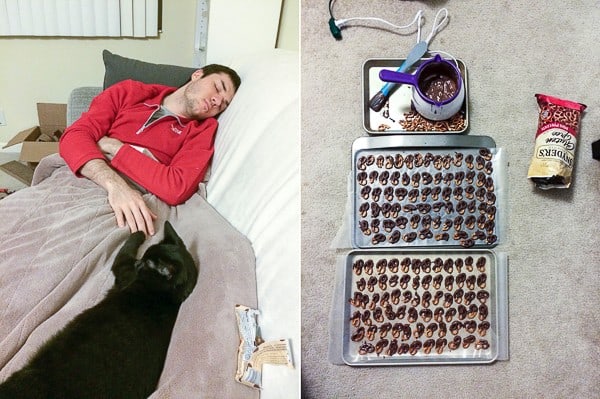 Aww, my two sleeping boys! And they are even touching hands. Cutest thing ever. The second photo – on Monday night I watched the bachelor (guilty!) and dipped a whole bag of pretzels in chocolate. Salsa was curious and kept batting his paw at them while they were still melty.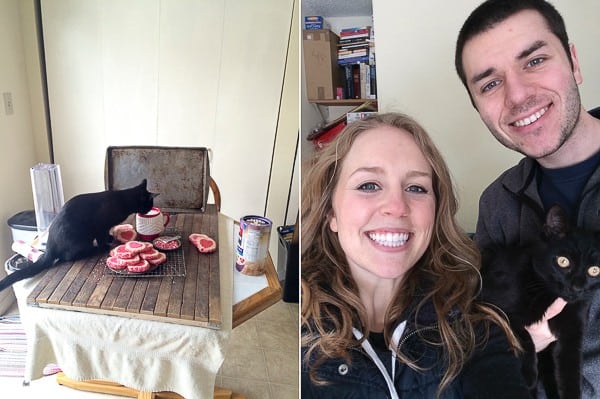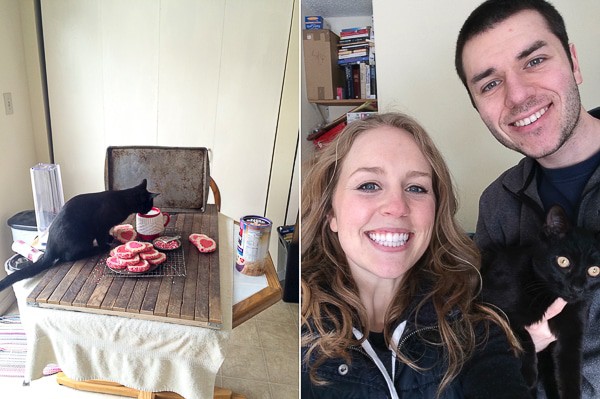 I walk away for ONE second and someone finds the milk. I promptly got him down after quickly taking this photo! And I feel like I should apologize for the massive amounts of cat pictures. I never understood those crazy people who loved their pets until I got mine own :)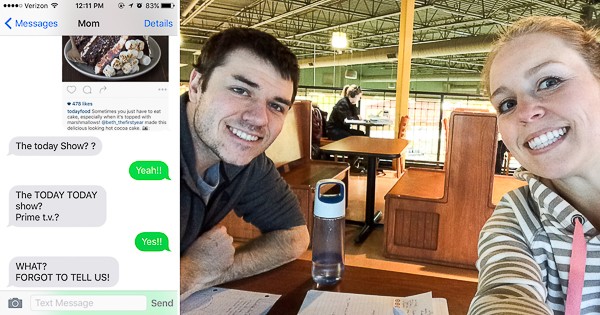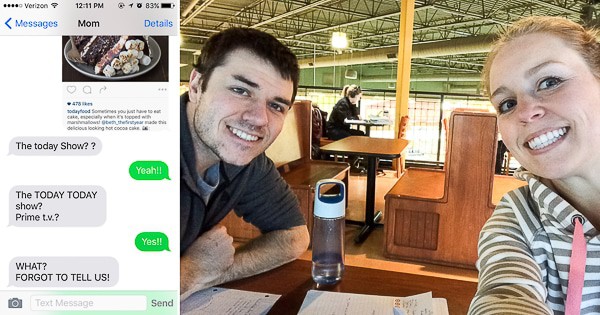 The Today Show featured one of my recipes on Instagram and that's super exciting! I texted my mom a few days after it happened saying "Hey mom, I forget to tell you, the today show shared one of my recipes" and you can see her response haha. The second photo – Ryan and I had our first ever quarterly blog meeting. He really helped me set goals for the next year and helped me establish a weekly schedule. I'm still trying to convince him to come work for the blog!
Getting More Personal..
The past month has actually been really good. December can be so stressful and usually when we're traveling my anxiety gets worse, especially having a gluten allergy I have to pack a lot of my own snacks and food to make sure I have things I can eat. I've also been learning that I am a home body, which in the past I've labeled as a negative thing, so I don't necessarily love that I am becoming one and I don't think I'm giving myself enough grace to just be who I am. It feels like everyone else around me travels a lot and likes to travel, and then there's me, who's totally content with staying in one city, or would prefer to take a one day trip versus many days. So it feels really nice to have NOTHING on the calendar in terms of traveling.
I don't mention this a lot, but I've been working as a nanny for the same family for 4 years and this month I changed my hours with them. It's bittersweet. I cut back on my hours with my family giving me more time to focus on the blog. Along with that change, Ryan helped me come up with a weekly schedule for all of the blog related tasks. Before I was a crazy woman trying to do as much as possible in one day and working all the time, but now I have allocated time each week for photography, brainstorming, scheduling social media, etc.
I also started a new bible study called The Storm Inside. The tagline is 'trade the chaos of how you feel for the truth of who you are.' One thing that it addressed that I personally struggle with is believing that God can forgive my sins. It's so easy to feel like you need to keep asking for forgiveness and apologizing, but the study listed a ton of verses all talking about how Jesus has taken my sins upon Himself, he doesn't keep a list of them, he does not associate us with our sins any longer, and once we ask for forgiveness we are forgiven and we don't need to continually offer sacrifices for that sin. These verses were encouraging Isaiah 43:25, Isaiah 44:22, Psalm 103:12, Micah 7:19, Acts 10:15, and Hebrews 10:17. He remembers them no more – Praise Jesus!
—
See previous out of the kitchen posts.