Orange Cranberry Granola
Homemade orange cranberry granola with orange zest, pecans, and dried cranberries! A soft granola that bakes in 8 minutes!
The last time we were home in Minnesota visiting our families, we stopped at a local gluten free bakery to get some sweets. We certainly left with some (brownies, coffee cake, cookies) and we bought a bag of their homemade granola.
It was AMAZING. It had a nice orange-y flavor with pecans and dried cranberries, and it was soft, not crunchy.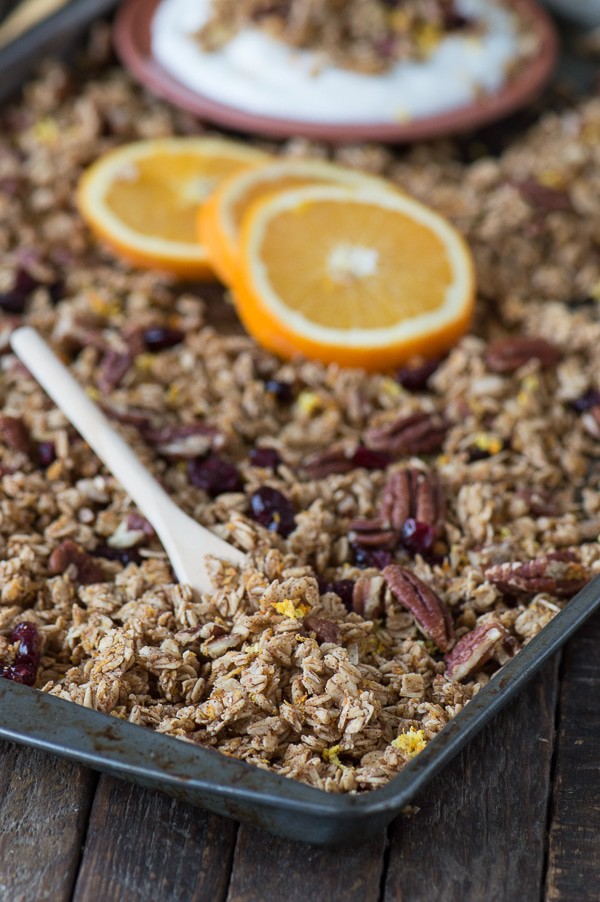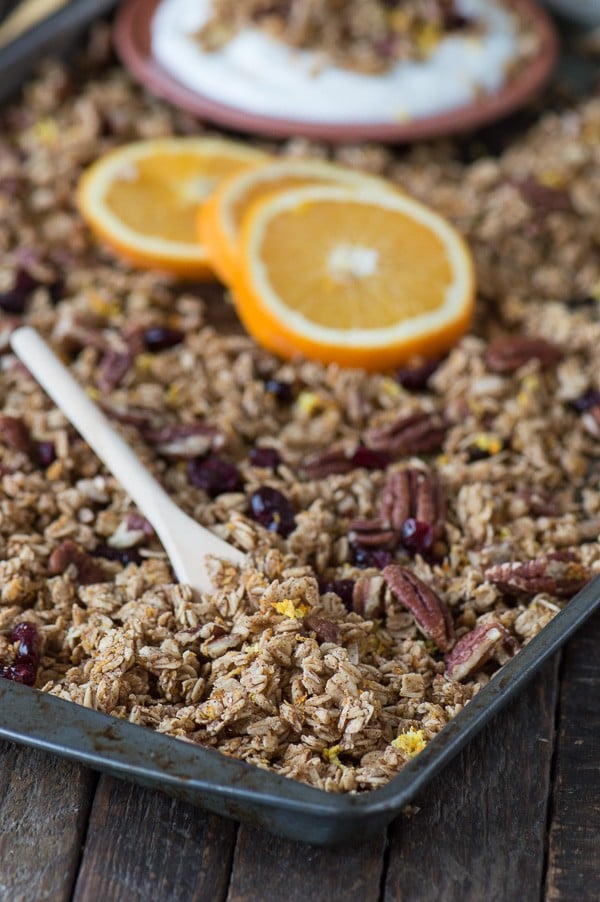 I stopped and bought another bag before we headed home. It was gone within a few days, so naturally the next thing to do was google the bakery to somehow get the recipe. Bingo! So based off of the ingredients listed on the website, I went to the kitchen to work up some granola concoctions.
Trial and error paid off big time! If you like cranberry and fresh orange flavors you will love this recipe. And if you don't have a lot of time to devote to making granola, no worries, all you need is 8 minutes and let me tell you that something magical must be going on inside the oven for those 8 minutes.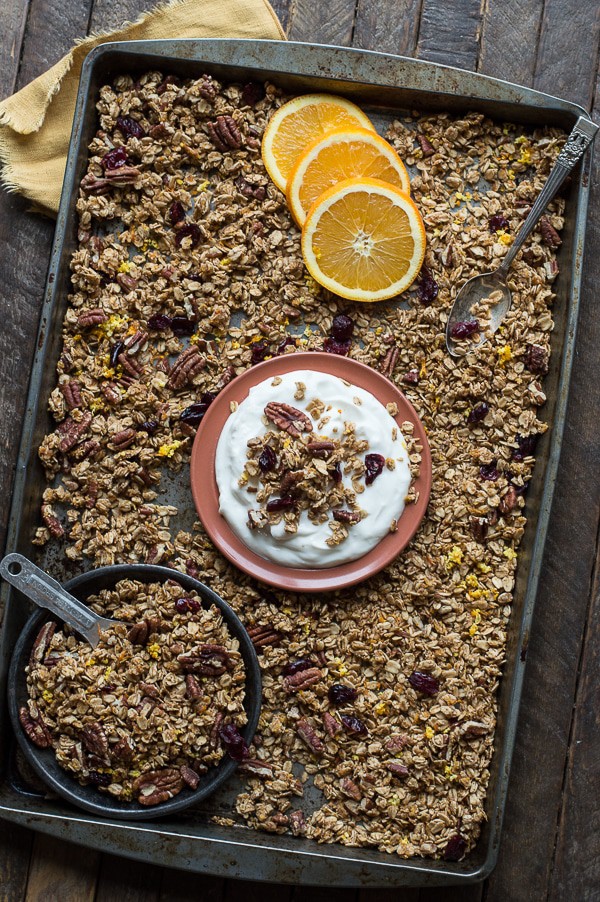 This cranberry orange granola is what I call a soft granola. It doesn't have a hard crunch, it also isn't sticky or mushy – it's just more soft in nature and I think it's perfect. I am sure you could bake the granola for a longer period of time if you prefer a more hard, crunchy granola.
You can also add mix-ins to this granola – sunflower seeds, pumpkin seeds, almond slices, maybe even some dried banana slices :)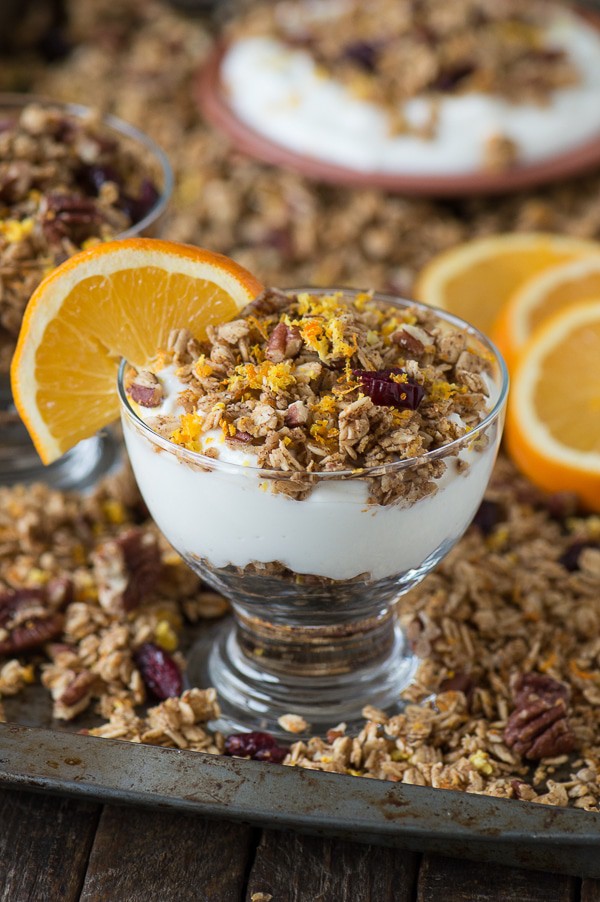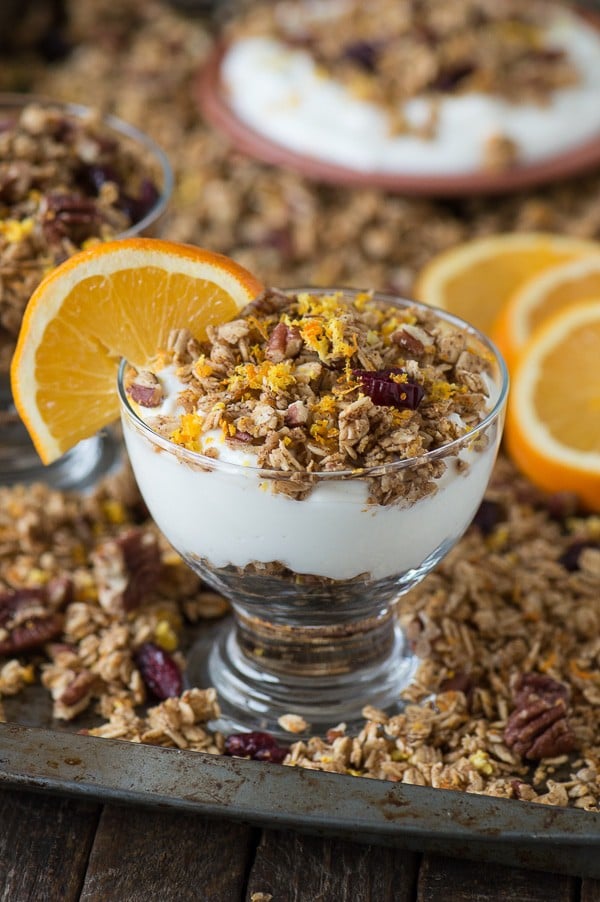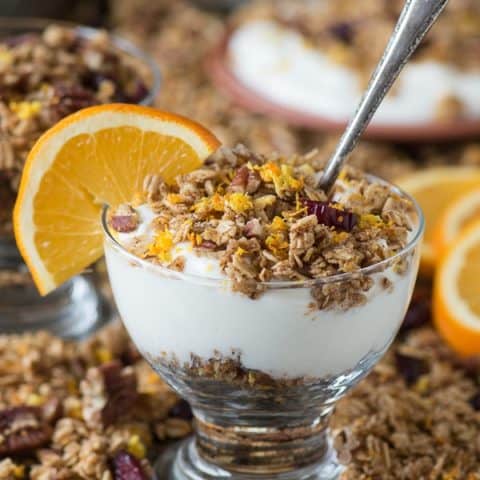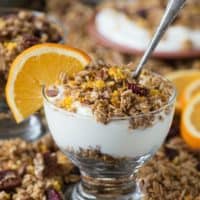 Yield: 3-4 cups granola
Additional Time: 20 minutes
Total Time: 20 minutes
Ingredients
3 tbsp butter, melted
1/3 cup brown sugar
zest from 1 & 1/2 oranges
juice of 1 orange (you can use one of the oranges that you zest)
1 tsp vanilla
1 tsp cinnamon
1/4 tsp sea salt
2 cups whole/steel oats (not quick cooking)
1 cup pecans, chopped
1 cup dried cranberries
Instructions
Preheat the oven to 350º F.
Combine the butter, brown sugar, orange zest, orange juice, vanilla, cinnamon, and salt in a bowl. Mix.
Add in the oats and stir to coat the oats.
Add in the chopped pecans, and mix again.
Spread the granola on a large baking sheet lined with parchment paper, making sure the granola is spread out as much as possible. I find that a cookie sheet with edges is best to keep the granola on the pan.
Bake for 8 minutes.
Allow the granola to cool for 10-15 minutes before removing it from the pan.
Pour the granola in a large air tight container, add the dried cranberries, shake the container with the lid on to mix.