Mint Chocolate Chip Shamrock Marshmallows
Mint Chocolate Chip Shamrock Marshmallows – a fun homemade marshmallow recipe for St. Patrick's Day. These are so fun!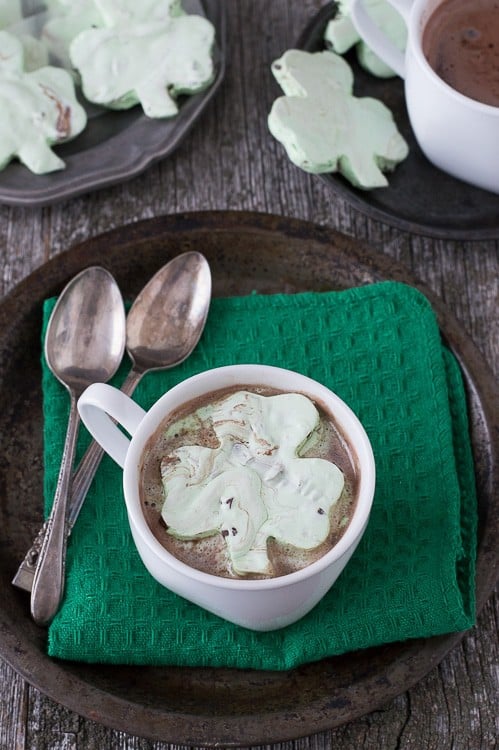 There are a few rare things that once I start nibbling on, you should either a) put them behind triple locked steel doors or b) hand over the whole batch and let me have at it.
It doesn't happen often, usually I can get my fill after one donut or brownie, but these homemade mint chocolate chip marshmallows are a weakness. I could even dare to say that they are better than a bowl of mint chocolate chip ice cream, and if you know me, I like ice cream.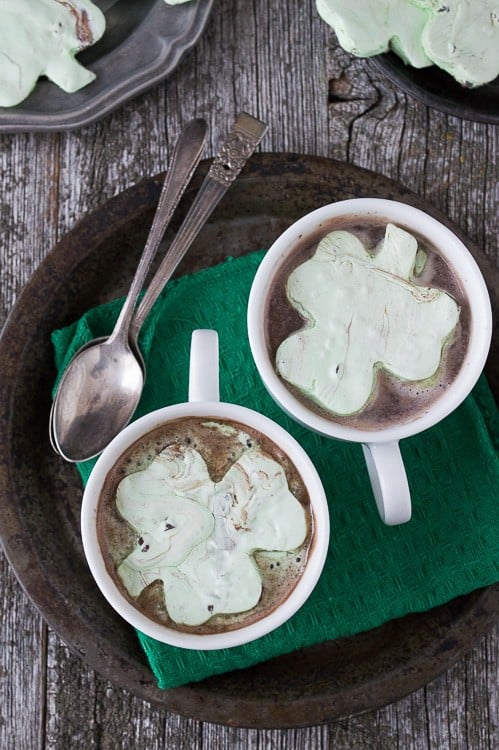 Making Mint Chocolate Chip Shamrock Marshmallows
I've seen lots of homemade marshmallow recipes swirling around internet land, and while they always looked cute, in my mind I was thinking, "No way am I going to spend time making homemade marshmallows when I can buy a bag for $1."
Put on the breaks!! WHAT was I thinking?!
Even if I write 'You need to make these ASAP!' 5 times, I'm not sure that really communicates how delicious homemade marshmallows are. If you decide to venture into marshmallow making, you'll understand why homemade marshmallows are 1000x better than any marshmallows you can buy in a bag.
You might not believe me now, but after you try them, you'll agree. :)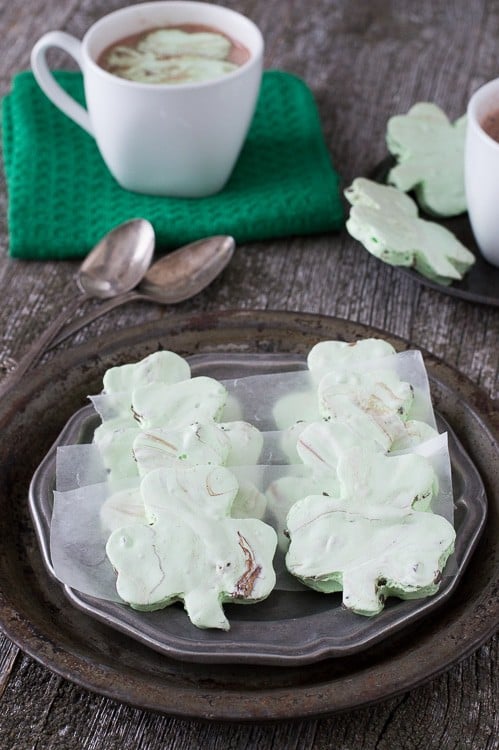 Homemade Marshmallows
But, back to the beginning of the story.. I was so sure that I wasn't ever going to make homemade marshmallows.
But then I had an idea to make Mint Chocolate Chip Shamrock Marshmallows for St. Patrick's Day.
And I couldn't take regular marshmallows and flatten them out then dye them green very easily, so if I wanted shamrock marshmallows I was going to have to make them. And I will do anything to make a cute holiday themed recipe come to life, kind of like when I sorted hundreds of fruity pebbles to make these ridiculous rainbow donuts. So I just had to make these Mint Chocolate Chip Shamrock Marshmallows.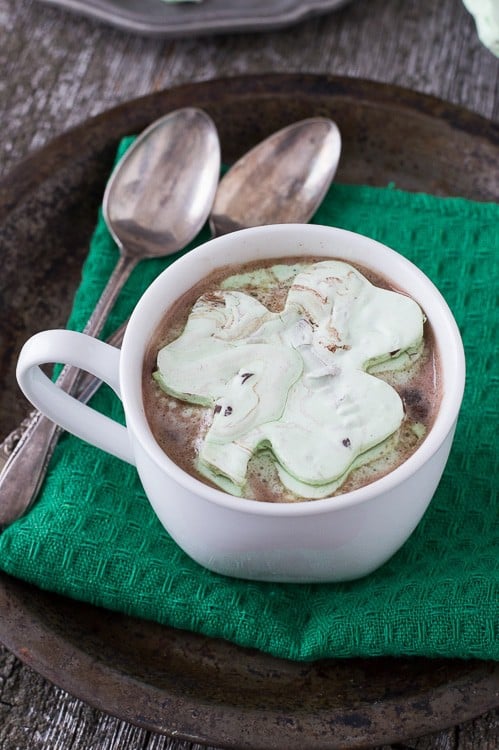 These Mint Chocolate Chip Shamrock Marshmallows are perfect in a cup of hot cocoa. But I also ate quite a few on there own :)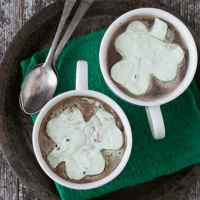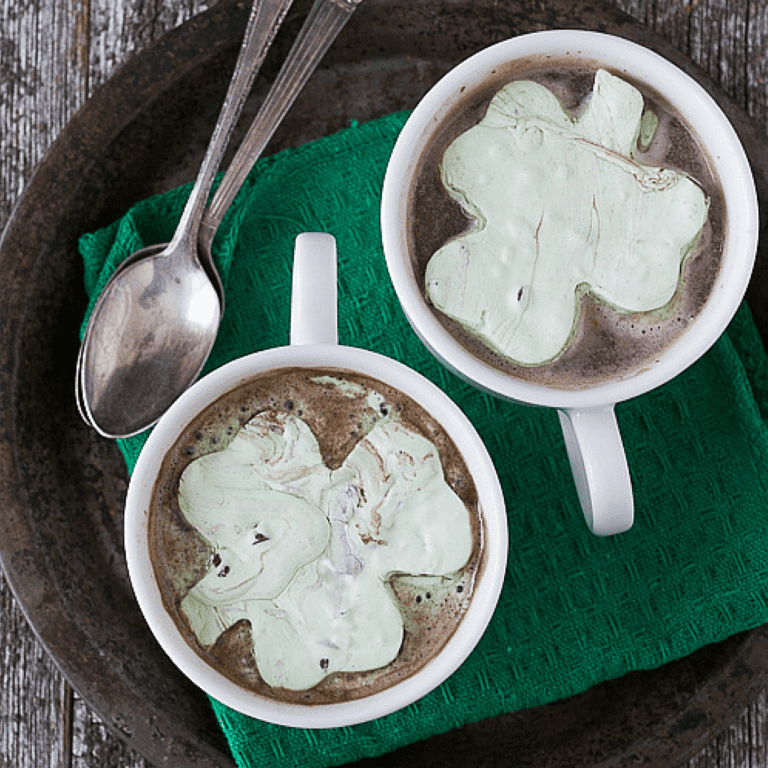 Mint Chocolate Chip Shamrock Marshmallows
A fun homemade marshmallow recipe for St. Patrick's Day. These are so fun!
Ingredients
2

envelopes

unflavored gelatin

1 ½

cups

sugar

⅔

cup

light corn syrup

⅛

tsp

salt

1 to 2

tsp

peppermint extract

green food coloring

⅓ to ¼

cup

mini chocolate chips

Non-stick cooking spray
Instructions
Spray a 12 by 17 inch rimmed baking sheet with cooking spray. Line the baking sheet with a piece of parchment paper and spray the parchment paper. Set aside. *Note if you don't have a 12×17 inch pan, you can use a another similar sized pan, the marshmallows just may be thicker.

In a mixing bowl, add 1/3 cup cold water and sprinkle the gelatin evenly over the water. Allow the gelatin to soften, about 5 minutes.

In a medium saucepan, combine the sugar, corn syrup, salt and 1/3 cup water. Cover the pan and bring the mixture to a boil. Once boiling, remove the lid and stick in a candy thermometer. Stir the mixture occasionally until it reaches 238 degrees (the soft-ball stage), about 5 minutes.

While beating the mixture on low, slowly pour the syrup in a steady stream down the side of the bowl that has the gelatin in it.

Increase the speed of the mixer gradually to high and beat until the mixture is thick and almost tripled in volume, about 12 minutes. Add in the peppermint extract and green food coloring, beat for 1 more minute or until the color is even.

Add in the mini chocolate chips and stir the mixture by hand.

Pour the marshmallow mixture onto the prepared baking sheet and even the mixture using a spatula sprayed with non-stick cooking spray. Let the marshmallows stand at room temperature, uncovered overnight.

The following day, use a shamrock shaped cookie cutter to cut out as many marshmallow as possible. If the marshmallows are too sticky, spray the cookie cutter with non-stick spray. Store the marshmallows in an air tight container.
Notes
These marshmallows aren't super thick, they are made to be thinner.
Calories:
180
kcal
,
Carbohydrates:
43
g
,
Protein:
1
g
,
Fat:
1
g
,
Saturated Fat:
1
g
,
Monounsaturated Fat:
1
g
,
Trans Fat:
1
g
,
Cholesterol:
1
mg
,
Sodium:
42
mg
,
Potassium:
1
mg
,
Fiber:
1
g
,
Sugar:
43
g
,
Vitamin A:
11
IU
,
Vitamin C:
1
mg
,
Calcium:
9
mg
,
Iron:
1
mg