Want our top 10 essential dessert recipes?
Get our favorite classic recipes in your inbox! It's 100% free, but we might make you hungry!
Lime Green Funfetti Cake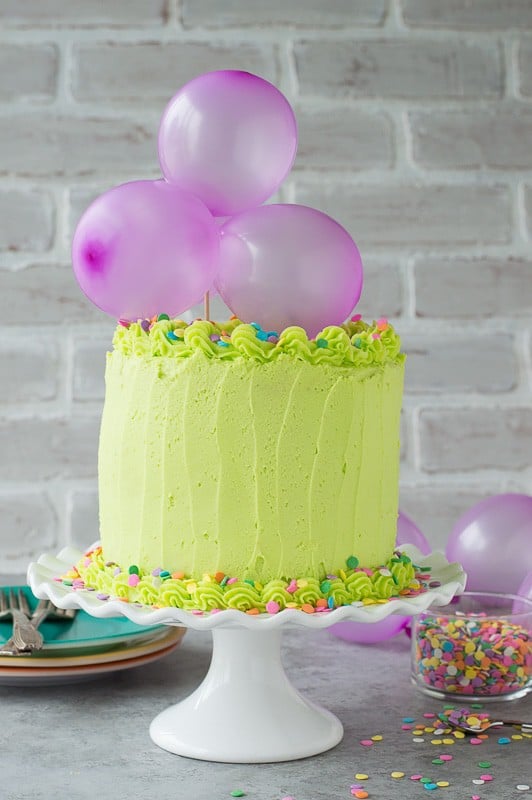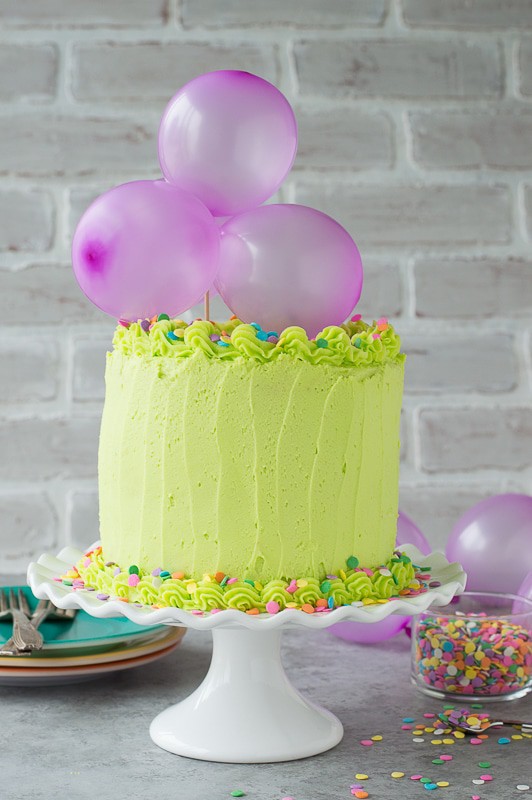 WOAH there!!
Say hello to this lime green funfetti cake! This is definitely one fun cake and it would have been perfect to share on my birthday last week, but homemade buster bars won that battle. As much as I love sharing cake recipes, if I'm the birthday girl and I get to pick dessert, I'm picking ice cream :)
BUT I'm a big believer in celebrating your entire birthday month, so this cake is arriving just in time for the party. Happy birthday to all the other july babies out there!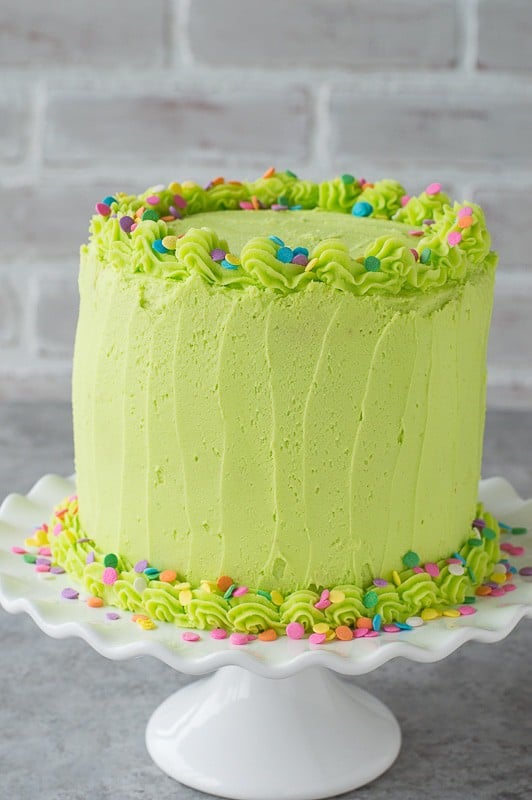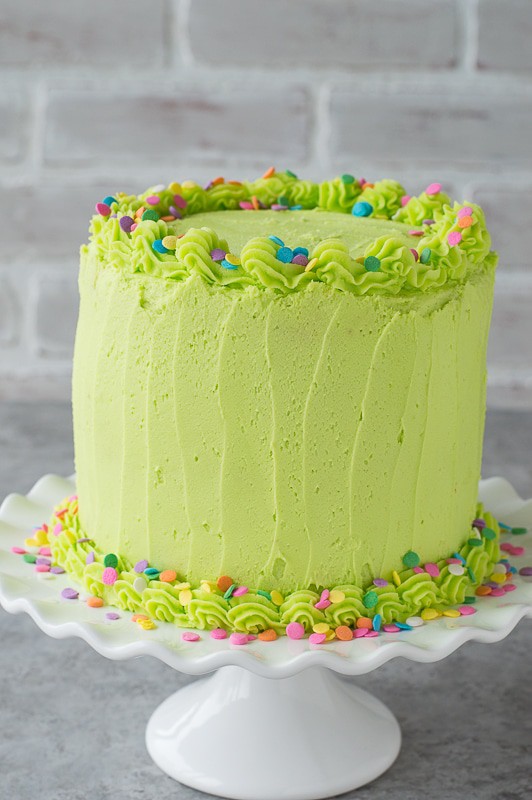 I can't decide which part I like best.. the lime green buttercream or the cute purple balloons on top. If we're being real, this cake kind of just came together in some magical way. I'm not great at making story boards for my shoots (i.e. planning everything out in advance), so things usually come together as I am literally assembling the cake.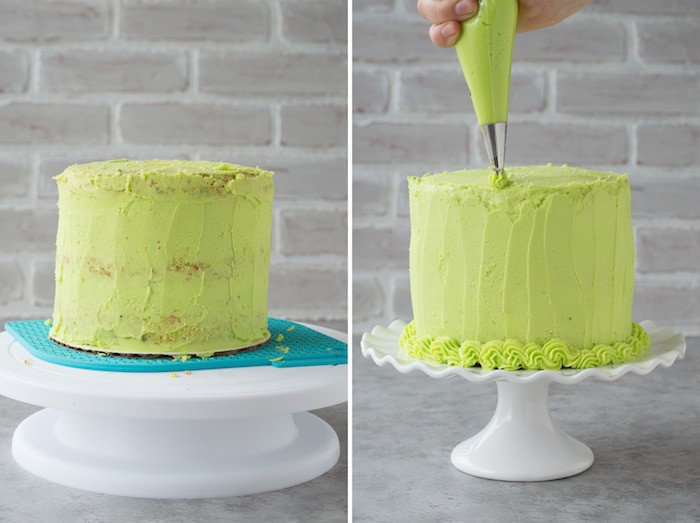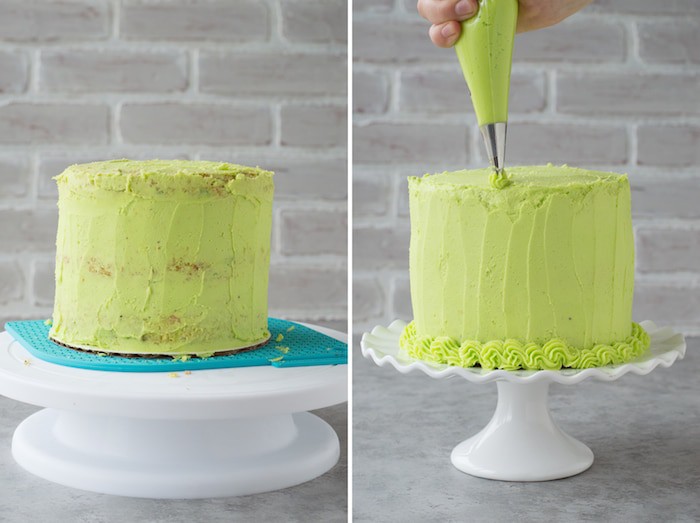 For this cake, after I piped the shell border and added the sprinkles I knew I wanted to put a topper on the cake. (Who can resist a cake topper? Not me! Just wait. We have more cake recipes coming with more cake toppers!) So I was digging through my craft supplies looking for something to top this cake and I found purple water balloons. I rigged up my own balloon cake topper using 4 water balloons, tape, and a tooth pick. Talk about last minute DIYing :)
It could be fun to cover the balloons in sprinkles or sequins the next time I pull them out. I mean, can a cake ever have too much pizzazz? I don't think so, and neither does Katherine Sabbath. Just look at Katherine's Instagram!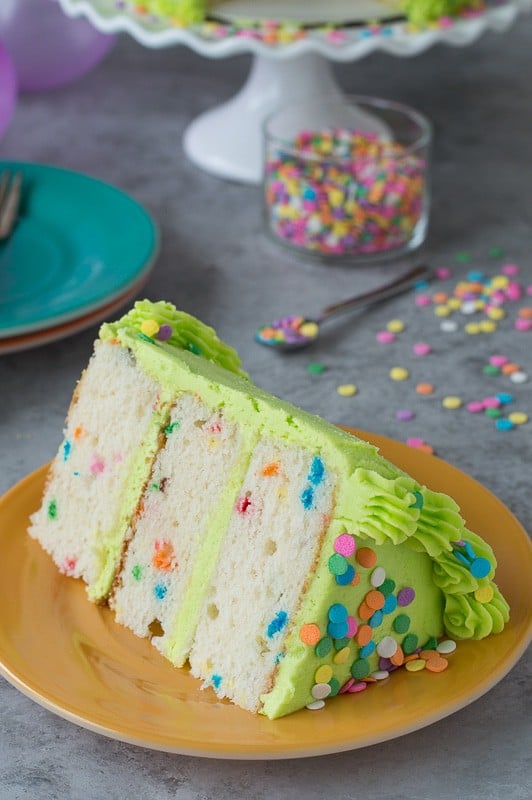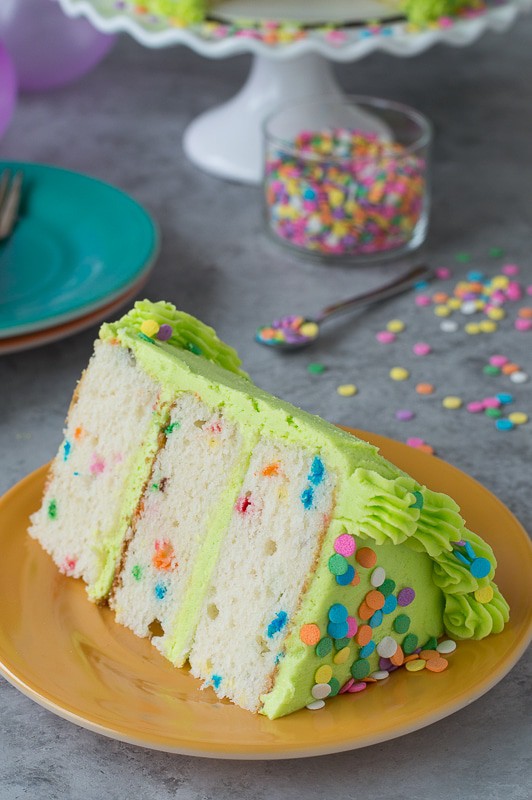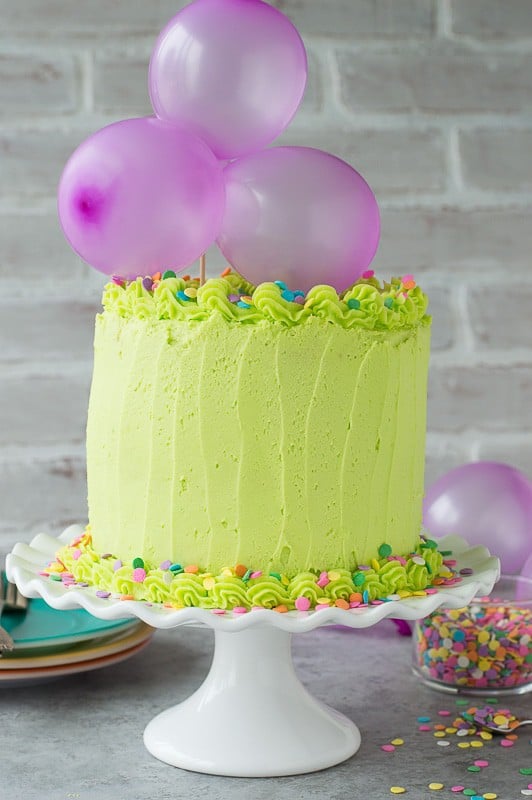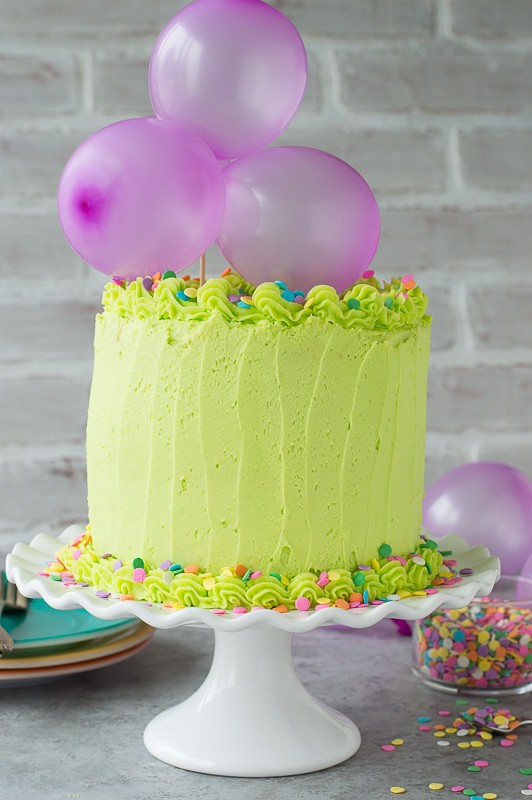 You'll want to use jimmies sprinkles for inside the cake. Those are the long skinny ones. The small circular ball sprinkles (aka non pareils) can bleed when you bake them. For decorating the outside of the cake I used confetti sprinkles. Wheew! That was our lesson for the day about the different types of sprinkles.
Lime Green Funfetti Cake
Yield: one 3 layer 6 inch cake
Ingredients:
Funfetti Cake (make this recipe 3 times, or as many times as layers you want)
3 tbsp butter, softened
5 & 1/2 tbsp sugar
1 & 1/2 egg whites
1/4 cup sour cream
1/2 tsp vanilla extract
1/2 cup + 1 tbsp all purpose flour
3/4 tsp baking powder
1/4 tsp salt
jimmies sprinkles
Lime Green Buttercream
2 sticks butter, room temperature
1 cup vegetable shortening
1 tsp vanilla extract
6-8 cups powdered sugar
green leaf and yellow gel food coloring
confetti sprinkles
Directions:
Funfetti Cake
Preheat the oven to 350º F.
Using butter, grease the bottom and sides of an 6 inch round cake pan or springform pan and line the bottom with a round piece of parchment paper. To ensure even baking, place a bake even strip around the pan. You can make your own homemade bake even strip by cutting a towel or shirt to fit the size of your pan. Get the fabric really wet, then squeeze out the dripping water but do not squeeze it too dry. Secure the fabric around the pan with a safety pin.
In a mixing bowl, combine the butter and sugar, beat using an electric mixer until fluffy. Add in the egg whites, beat again.
Add in the sour cream and vanilla extract, mix until smooth.
In a smaller bowl, combine the flour, baking powder and salt, gently mix with a spoon. Gradually add half of the flour mixture to the wet ingredients, do not dump it in, rather take spoonfuls of the flour mixture and gently shake it over the wet ingredients, as if you were sifting in the flour. Fold in the mixture until no flour remains. Repeat with the other half of the flour, folding it in and scraping the sides and bottom of the bowl to incorporate everything. Scrape the batter into the prepared cake pan, using a spatula to evenly spread it out.
Bake for 23-25 minutes, or until a toothpick inserted in the center comes out clean.
Once the cake is done, allow it to cool in the pan on a cooling rack for 10 minutes. After 10 minutes, carefully remove the cake from the pan. If using a springform pan, remove the sides and bottom. Allow the cake to cool completely on a cooling rack. Once cool, remove the parchment paper round from the bottom of the cake. If you need to level the top of your cake, do so now using either a cake lever or knife. Make sure the cake is completed cooled, then wrap the cake in plastic wrap and place it in the refrigerator. This cake is good for up to one week like this.
Repeat this process with each layer.
Lime Green Buttercream
In a mixing bowl, combine the butter and vegetable shortening, beat using an electric mixer until fluffy, 2 minutes. Add in the vanilla extract and beat again. Begin to add the powdered sugar, about 2 cups at a time, mixing by hand first, then with the electric mixer. Continue adding powdered sugar until the frosting tastes good to you.
Add in the food coloring, a little goes a long way, until you have your desired color. Use the electric mixer to incorporate the food coloring.
Assembling the cake
Spread a small amount of buttercream on a 6 inch round cardboard circle. Place your first layer of cake on top of the cardboard. Put buttercream on top of the first layer and spread it as even as possible with an offset spatula. Decide how much or how little frosting you want in-between each layer.
Repeat this process for each layer of cake. Once all of the layers are stacked, it's time to do a crumb coat. The crumb coat will help seal the crumbs in. Using your offset spatula, spread a thin layer of buttercream around the sides and the top of the cake. It's easiest to start off with more frosting on the cake and remove some as needed.
Place the entire cake in the freezer or fridge for 20 minutes to harden the crumb coat.
Begin to add the second layer of frosting, starting with the top of the cake and working your way down to the sides. Try to get the buttercream as even as possible around the cake.
Fill a piping bag fit with a wilton 21 tip with buttercream. Add a shell border around the bottom and top of the cake. Top the border with confetti sprinkles.
Serve and enjoy.
I know our recipe calls for 1 & 1/2 egg whites, which is kind of goofy. Do your best to measure out half of an egg white!