Copycat Dairy Queen Buster Bars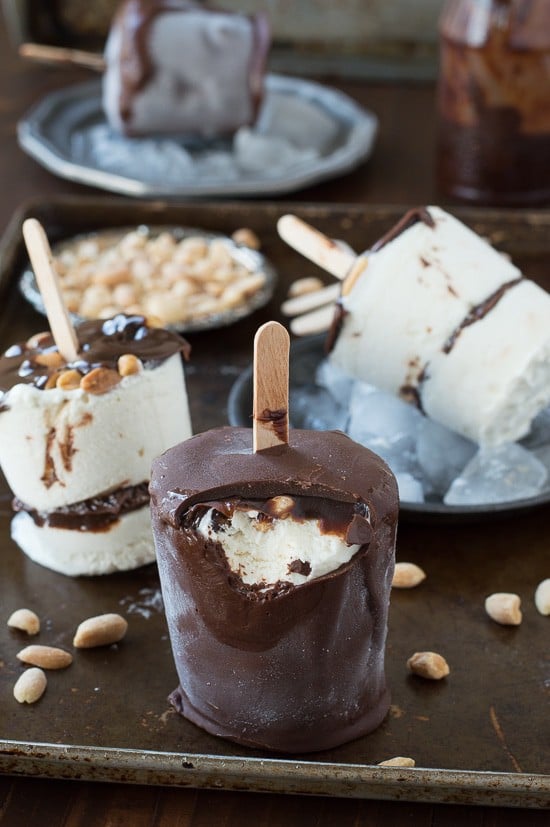 When we go out to eat, I'm the person who likes to order the same thing. I know! This probably goes against your typical perceptions about food bloggers. They are people who like trying new adventurous foods. That's totally not me. I like eating foods that I know that I like. And then there are certain categories of food that I want nothing to do with. Seafood, cheese, spicy things and mayonnaise.
I've been trying to be a little bit more adventurous, but it's such a bummer when you order a new dish and you end up not liking it. However, there are times when I try something new and I'm so glad I did.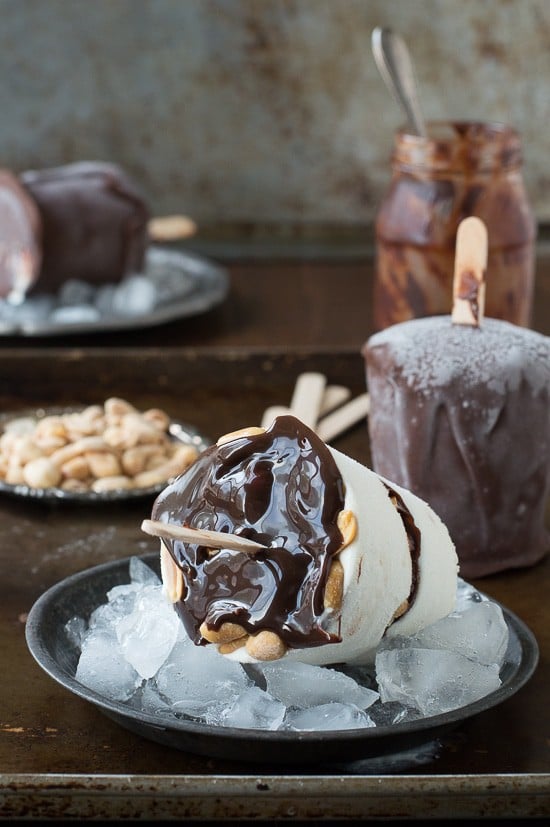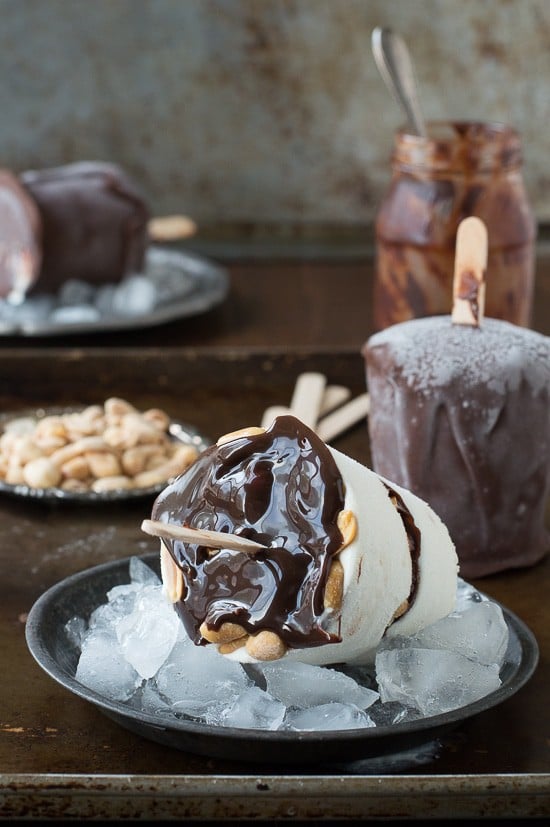 You're going to laugh, but a few years ago we were at Diary Queen getting ice cream and I decided to not get my normal go-to flavor, a reese's blizzard, and I opted to try a buster bar. I know, what a bold choice, haha. Ever since I've been smitten with DQ's buster bars. I've been known to buy the 6 pack because they are so good.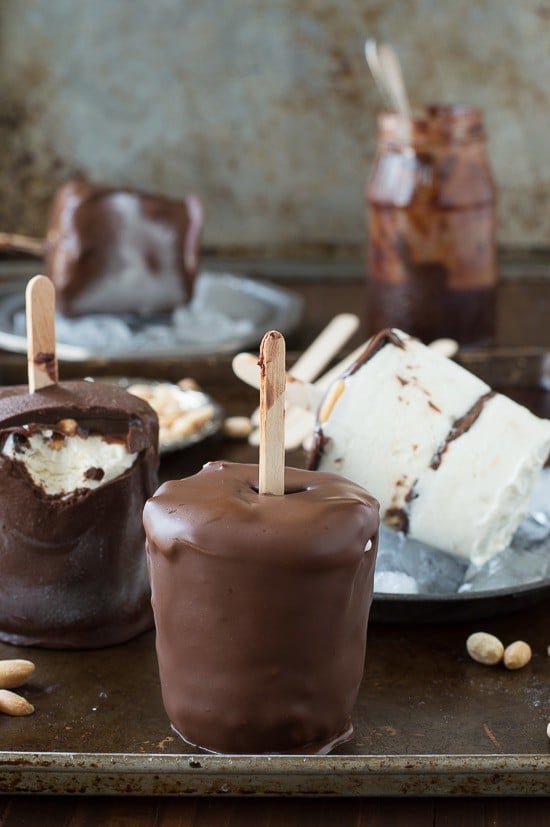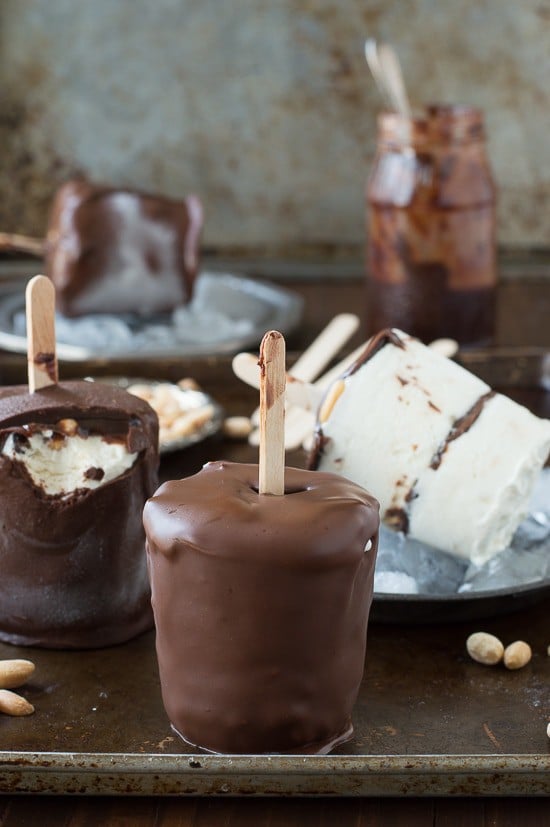 The classic buster bar has vanilla ice cream, with a ribbon of hot fudge and peanuts in the middle and then more peanuts and fudge on top and then the whole thing is dipped in chocolate to create a chocolate shell.
So I decided to take the ice cream treat that I love so much and make a completely homemade version. Homemade ice cream, homemade hot fudge, and homemade magic shell.
To assemble these buster bars you'll need standard size wax paper cups. After all of the layers are frozen, make a small cut at the top of the cup and begin to peel the cup away.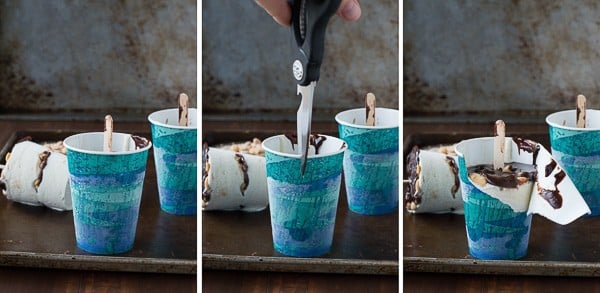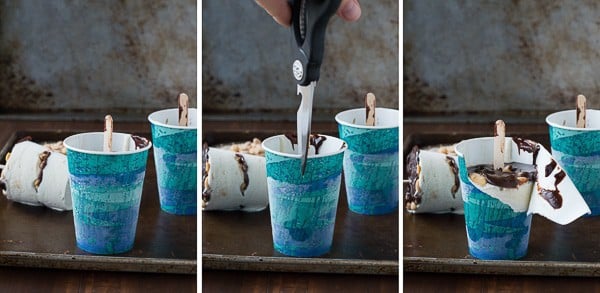 After you remove the cup, you'll want to dip the whole bar in the homemade magic shell. I have a few dipping tips.
1. After you remove the cup, freeze the buster bars again. This could be for an hour or even overnight.
2. The magic shell should be at room temperature before you dip the bars. Even hot chocolate can melt cold ice cream.
3. Transfer the magic shell to a tall, skinny container. Obviously it needs to be wide enough to fit the buster bar in, but if you use a tall, skinny container than you can simply submerge the whole bar into the chocolate, creating a nice even coating.
4. Once you dip each buster bar, return it to the freezer. After the chocolate shell hardens, you could wrap each buster bar in plastic wrap if you'd like. Keep them frozen until eating.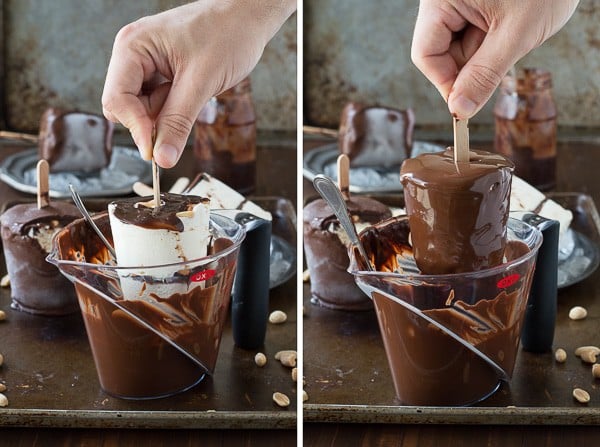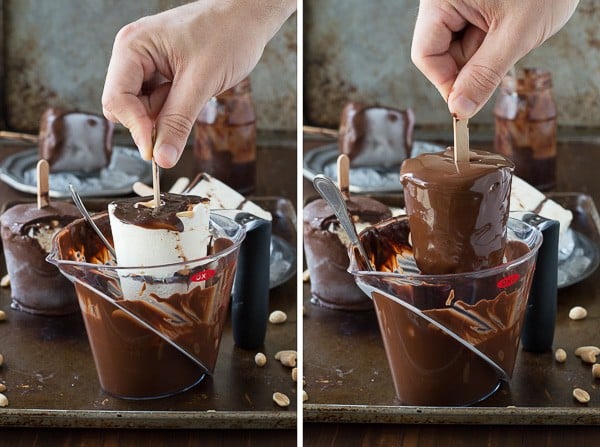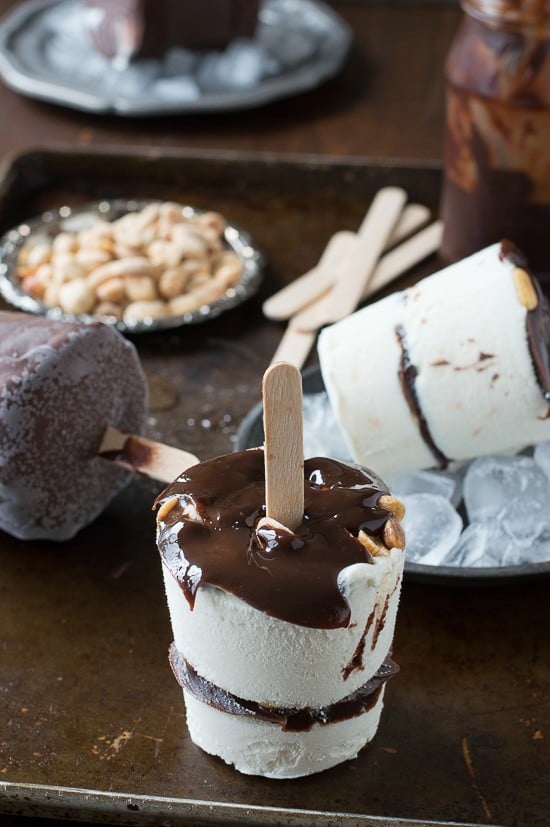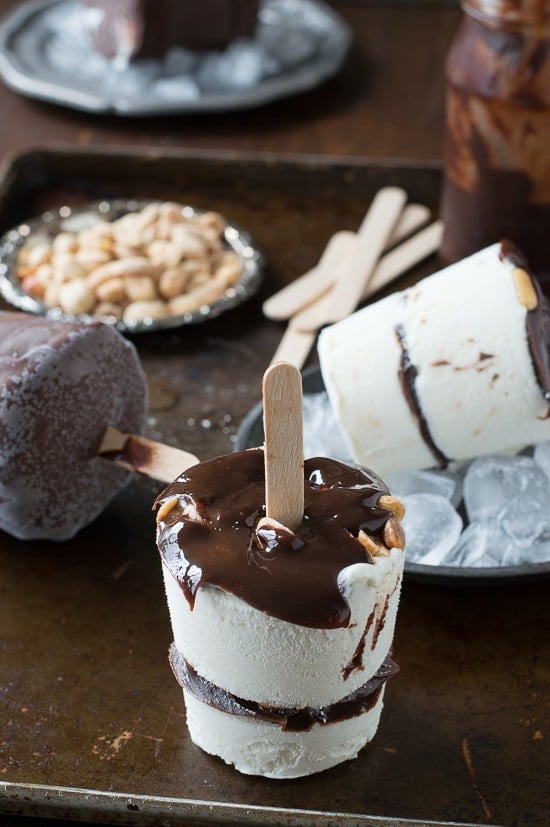 Watch out DQ! We're giving you a run for your money with our completely homemade buster bars, and they are SO good!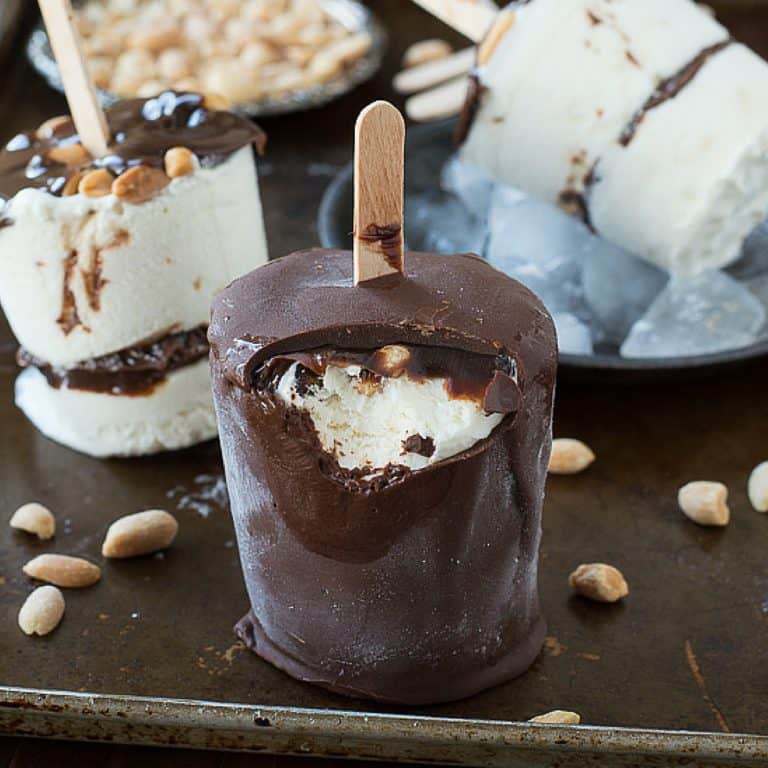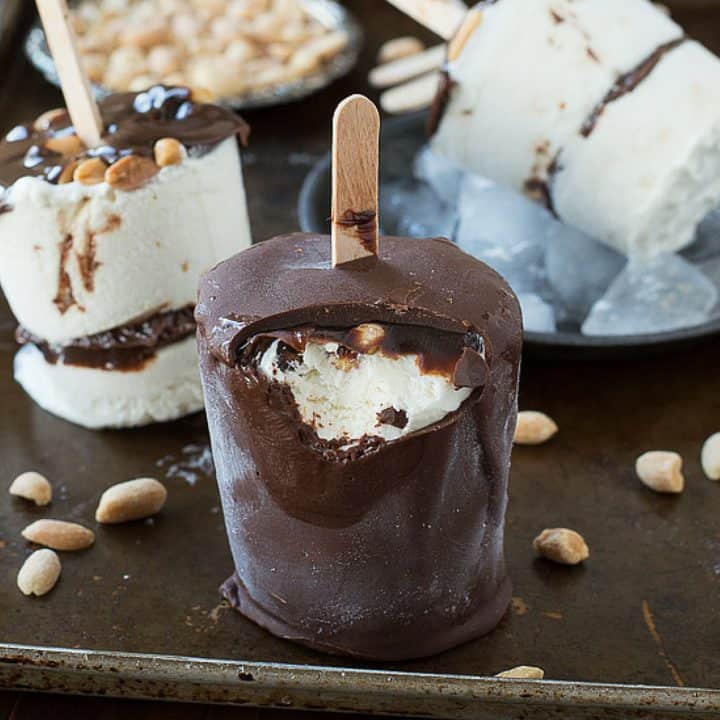 Copycat Dairy Queen Buster Bars
Ingredients
Homemade Ice Cream
1 cup heavy cream
1, 14 oz, can sweetened condensed milk
1 tsp vanilla
Homemade Hot Fudge
3/4 cup sugar
1/2 cup cocoa powder, unsweetened
1/2 cup heavy cream
4 tbsp butter
1 tsp vanilla
1/8 tsp salt
Homemade Magic Shell
2 cups chocolate chips
2/3 cup coconut oil
Other
Peanuts
Wax based cups
Popsicle sticks
Instructions
Homemade Ice Cream
In a mixing bowl, beat the heavy cream into stiff peaks.
Stir in the sweetened condensed milk and vanilla, making sure everything is incorporated.
Homemade Hot Fudge
In a saucepan over medium heat combine the sugar, cocoa, and heavy cream. Stir until the mixture is smooth.
Stirring occasionally, bring the mixture to a boil.
Add in the butter and allow the mixture to boil for 3-4 more minutes, stirring occasionally.
Remove the saucepan from the heat, stir in the vanilla and salt. Allow the mixture to cool to room temperature
Homemade Magic Shell
In a saucepan over low heat combine the chocolate chips and coconut oil. Heat and stir until the mixture is melted and smooth. Allow the magic shell to cool to room temperature.
How to assemble
Place 8 wax cups on a small baking sheet lined with wax paper.
Add 1/4 cup of the homemade ice cream mixture to the bottom of each cup. Freeze 20-30 minutes.
After the ice cream has set add a popsicle stick to each cup. Then add a layer of hot fudge and peanuts. Freeze for 20 minutes.
Add 1/4 to 1/3 cup homemade ice cream on top of the hot fudge layer. Freeze for 20-30 minutes.
Add a final layer of peanuts and hot fudge. Freeze the popsicles for 6 hours or overnight.
To remove the cups, use a scissors to cut a small silt at the top of the cups. Begin to peel the cup away.
Prepare to dip one popsicle in the magic shell at a time. Place the others in the freeze while dipping so they can stay cold.
Transfer the magic shell into a cup or container that is large enough to fit the popsicle in. Dip the popsicle into the magic shell, allowing the excess chocolate to fall back into the container. Scrape excess chocolate off the bottom of the popsicle. Return the popsicle to the baking sheet lined with wax paper in the freeze and repeat the dipping process with the remaining popsicles.
Keep them frozen until your ready to enjoy. You can wrap them in plastic wrap to keep them fresh.