Layered Strawberry Mousse Brownies
Layered Strawberry Mousse Brownie Recipe – a rich chocolate brownie topped with strawberry mousse and chocolate ganache. A favorite for Valentine's Day!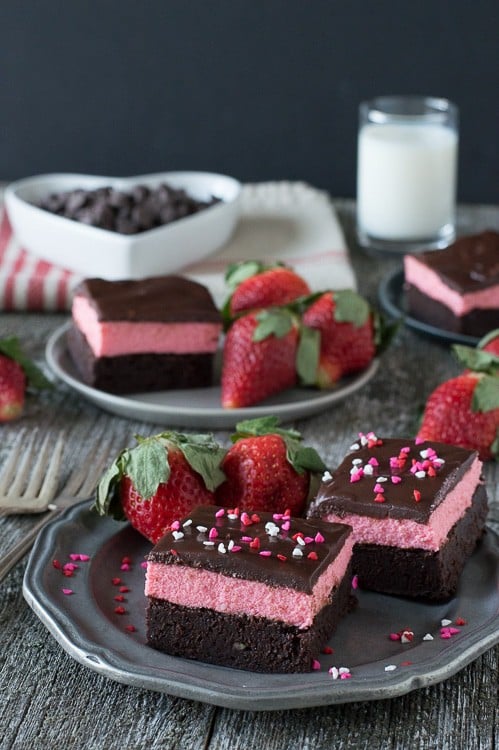 I am very thankful that Valentine's Day is not all about the color yellow.
Wouldn't that be awful? Don't get me wrong, lemons are yellow and I love citrus, but Valentine's Day requires chocolate, and lemon wouldn't be the first thing I'd pair with chocolate.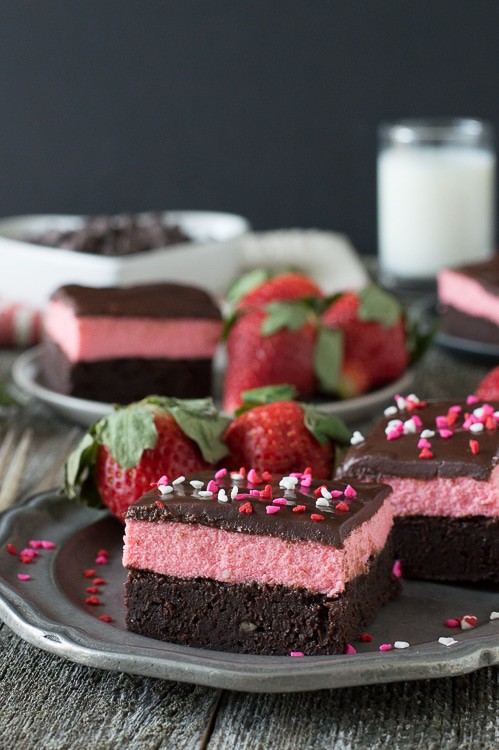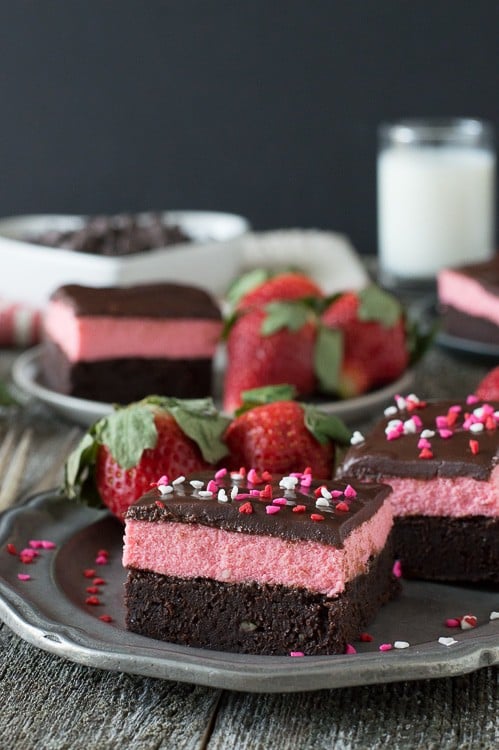 Just imagine, if Valentine's Day was about the color yellow, these mousse brownies would look like bumblebees. And you don't want your sweetie to associate bumblebees and stingers and pain with the most lovey dovey holiday.
What about these valentine's day donuts – what if they had yellow frosting instead of cute shades of pink? I think your eyeballs and mine would hurt from looking at that much yellow.
So thank you Hallmark (er, I mean Cupid..) for making Valentine's Day all about pink and red. And purple, light pink, dark pink, dull pink, and white.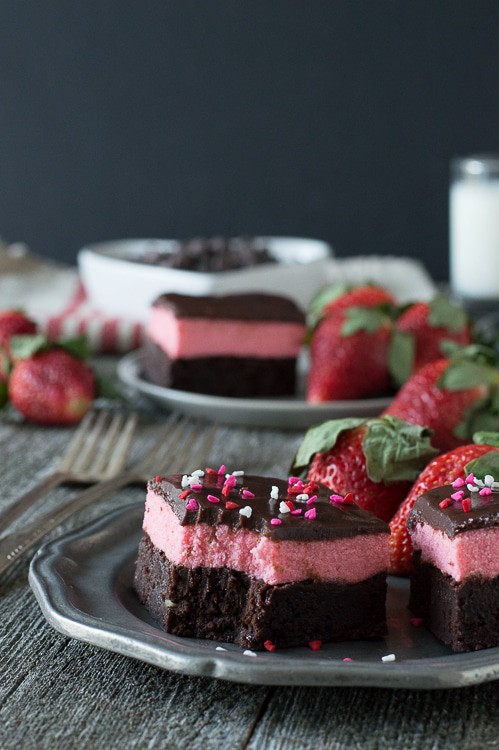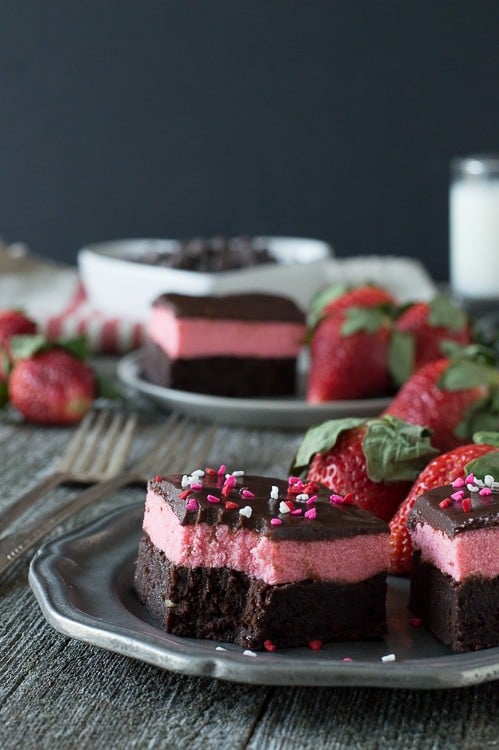 There are 3 things that this recipe calls for that you might not typically have on hand. You need one gelatin packet, strawberry extract, and valentine's heart sprinkles.
I will help you justify these purchases..
Gelatin packets: They are used when making some homemade mousse recipes, in homemade marshmallows, and can be used to make your own homemade jello cups. They can sit in your pantry for a while and will be okay to use.
Strawberry Extract: This is a fun imitation extract to have on hand if you like the flavor of strawberries. You can use it to flavor anything, like frosting or fudge.
Valentine's heart sprinkles: They are so cute and come in handy when wanting to give any dessert some extra love. In my mind sprinkles never expire, so buy a container of heart sprinkles this year and use them for the next couple of valentine's days. But if your sprinkles smell rancid or are wet, then it's time to buy new ones.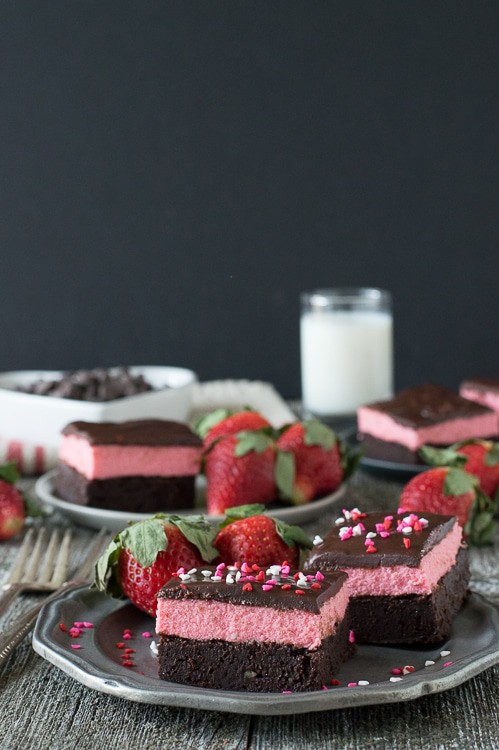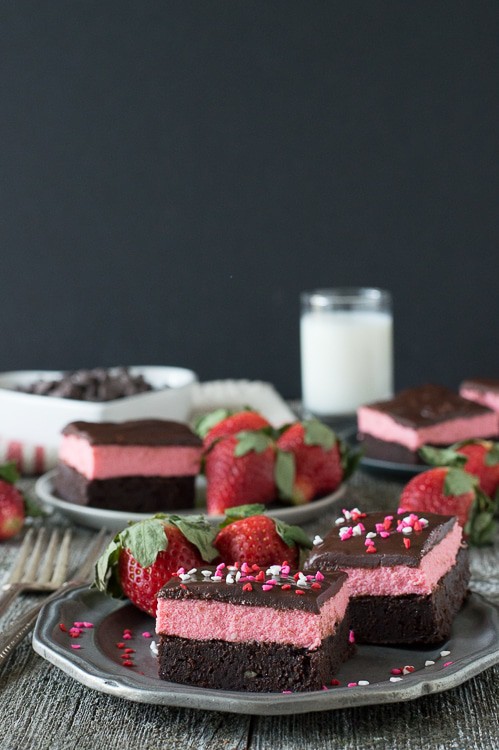 Baking Tip: To achieve clean cut lines I wipe my knife on a paper towel or dry wash cloth after each cut. I like to call this "the it will drive you crazy but you will have perfectly clean cut lines" method.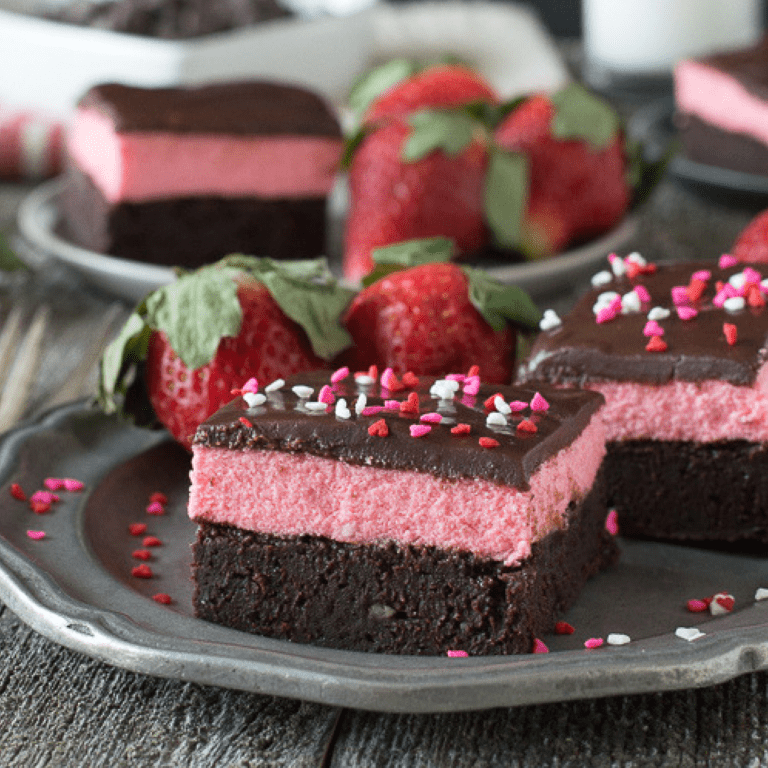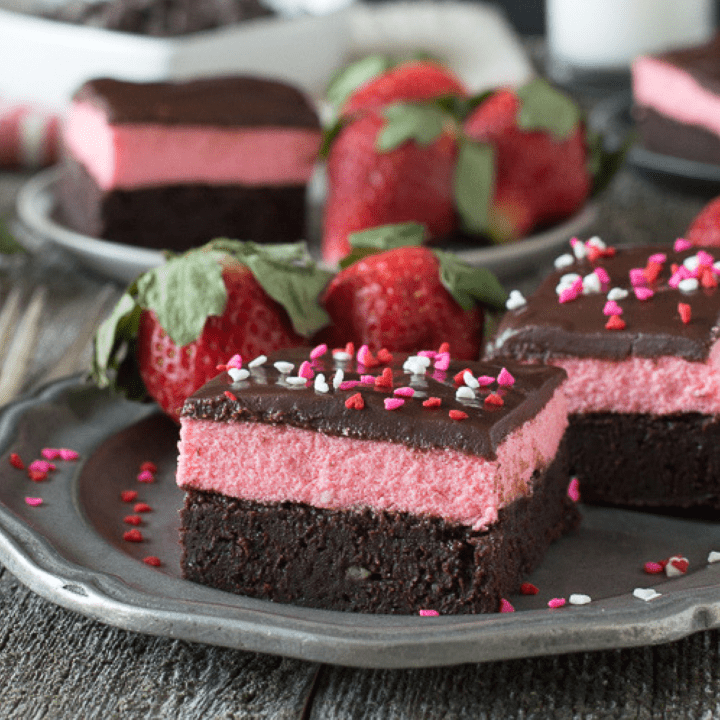 Layered Strawberry Mousse Brownies
Yield: one 8x8 inch pan
Additional Time: 3 hours
Total Time: 3 hours
Ingredients
Brownies
5 oz butter, cubed
1 & 1/4 cups granulated sugar
1/2 cup and 6 tbsp unsweetened cocoa powder
1/2 tsp salt
1/2 tsp vanilla extract
2 eggs
1/2 cup flour
Strawberry Mousse
1 cup white chocolate chips
1/4 cup heavy cream PLUS 3/4 cup heavy cream, divided use
1 & 1/4 tsp (1/2 packet) unflavored powdered gelatin
1 tbsp cold water
1 & 1/2 tsp strawberry extract
Red food coloring
Chocolate Ganache
1/3 cup milk chocolate chips
1/4 cup heavy cream
Instructions
Brownies
Preheat the oven to 350 degrees F. Line a 8×8 inch pan with foil or parchment paper, so that foil extends up and over the sides, and spray the foil with nonstick cooking spray.
Place the butter, sugar, cocoa powder, and salt in a saucepan set over medium-low heat. Warm the mixture, stirring frequently, until the butter melts and the mixture becomes grainy. Take the pan off the heat and let it cool for 5 minutes.
Add the vanilla extract and eggs one at a time, whisking well after each. As you add the eggs the mixture will go from being grainy to a shiny. Finally, add the flour and fold it in gently until no streaks of flour remain.
Scrape the batter into the pan and bake for 15-20 minutes, until a toothpick in the center comes out clean. Let the brownies cool completely in the pan. If preparing them the day before, be sure to cover them overnight.
Strawberry Mousse
In a small pot, over low heat, combine the white chocolate chips and 1/4 cup of heavy cream. Allow the mixture to melt, stirring occasionally. This may take up to 8 minutes.
While you wait for the white chocolate mixture to cool, prepare the gelatin. Whisk together the gelatin and the cold water in a small bowl, and set it aside to let the gelatin absorb the water. When the chocolate is at room temperature, microwave the bowl of gelatin for 10 seconds, until it is melted. Whisk the melted gelatin and white chocolate together. Add the strawberry extract, and several drops of red food coloring. The color should be a little more intense than you want the final mousse color to be, because it will lighten as you add the whipped cream in the next step.
Whip the remaining 3/4 cups heavy cream to firm peaks in a separate bowl. Fold the whipped cream into the chocolate. Using a spatula, spread the mousse onto the cooled brownies into a smooth even layer. Refrigerate for 30 minutes before adding the chocolate glaze.
Chocolate Ganache
In a small pot, over low heat, combine the chocolate chips and heavy cream. Allow the mixture to melt, stirring occasionally. This may take up to 4 minutes.
Evenly pour the chocolate ganache over the mousse layer.
Refrigerate the brownies to set the mousse and glaze for at least 1 hour.
Once set, remove the brownies from the pan using the foil or parchment paper. Cut and enjoy.